Table of contents
What is payroll software?
Payroll software is an on-premises or a cloud-based solution designed to manage, maintain, and automate payments to employees. When properly integrated and configured, top payroll software programs help businesses of all sizes comply with tax laws and financial regulations, as well as reduce costs. It should be noted, payroll system software is often one of the first purchases a new business makes, and it quickly becomes one of their most important investments.
Businesses can choose to do their payroll manually, to outsource it to a payroll service, or choose from a customized payroll software list to select the best payroll software package appropriate to their needs. These organizations must consistently maintain accurate records and ensure employees are paid in-full and on-time.
Payroll platforms offer a solution that eliminates the drudgery and human error that can take place when manually tracking and processing staff incomes. It provides a system that incorporates a business' banking information and employees' bank accounts. Payroll systems come with a variety of services, which includes monitoring staff hours, calculating taxes, and sending out payments to staff.
Why companies should use payroll software
Payroll software typically integrates well with other software systems and programs, assuring employees receive accurate, on-time payments, by way of direct deposit, a paycheck, or in some cases, a payment card. In many cases, employees can access the software, allowing them to edit or modify their employee information, as needed.
Businesses require payroll software programs to be reliable, easy to configure. They must be capable of managing and automating payments to employees of all types (salaried or hourly, gig workers, part time, etc.), and at different locations. Payroll processing software should simplify tasks, allowing staff to easily navigate complex rules and payroll flows, while maintaining compliance with various tax laws and financial regulations.
Many organizations have come to rely on payroll platforms to manage employee compensation and streamline the process. This software can help human resources offer enhanced levels of service and support to employees. These platforms often have expanded employee self-service portals which help to boost employee engagement. Many offer new tools for on-demand reporting. Additionally, top payroll software programs support the following advantages:
Employee self-service portals: This feature has become quite popular in recent years. Staff can access user-friendly interfaces to check their payment history and adjust payment preferences and personal information. 
Transparency: Provides a clear-cut display of an organization's finances and expenses by integrating with other software systems, such as accounting and finance. It offers real-time insights which can be easily translated into graphs and charts.
Flexibility to adapt: When a business makes changes, such as opening an office in a new location, the software automatically integrates the new rules and laws for that area.
Time savings: With significant amounts of labor becoming automated, payroll systems can save human resource departments hours of labor each month — time that can be used to assist employees, or work on other projects.
Business insights: When integrated with other business systems, companies can gain useful insights that help in developing more accurate budgets. 
Comparing the top payroll software options 
OnPay: best payroll software for usability
OnPay is a good choice for larger businesses because of its speed and flexibility, and its price and simplicity attracts small businesses. This cloud-based payroll service provides a complete payroll solution. OnPay offers multiple customizable reports, and calculates the payments of all payroll taxes. OnPay is user-friendly, and creates a pleasant work page through the use of graphics, color, and fonts. Its human resource tools are useful for larger companies. 
The OnPay self-service portal allows staff to view their own pay stubs and tax forms. Using the portal, they can update banking and personal information, view accrued time off, request time off, and find and download employment records.
Problems: Does not offer filings for local taxes. There have been complaints about their mobile apps.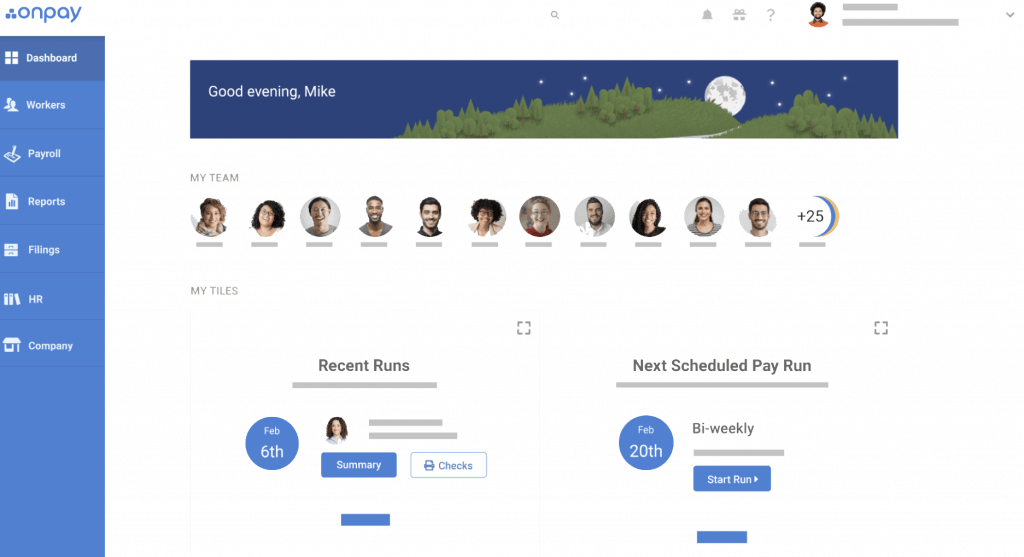 Patriot Payroll Software: best payroll software for scaling businesses
Patriot Payroll Software offers a flexible payroll process and outstanding support for new users. It is simple to use and a good choice for startups, very small businesses, and payroll managers with minimal experience. The basic payroll package includes a free set-up and ongoing support. It comes with both direct deposit and printable checks, and a self-service portal for employees.
Patriot payroll software's employee self service portal provides employees with secure access to their own pay history, pay stubs, time off balances, and W-2s.
Problems: A few complaints it is not user-friendly.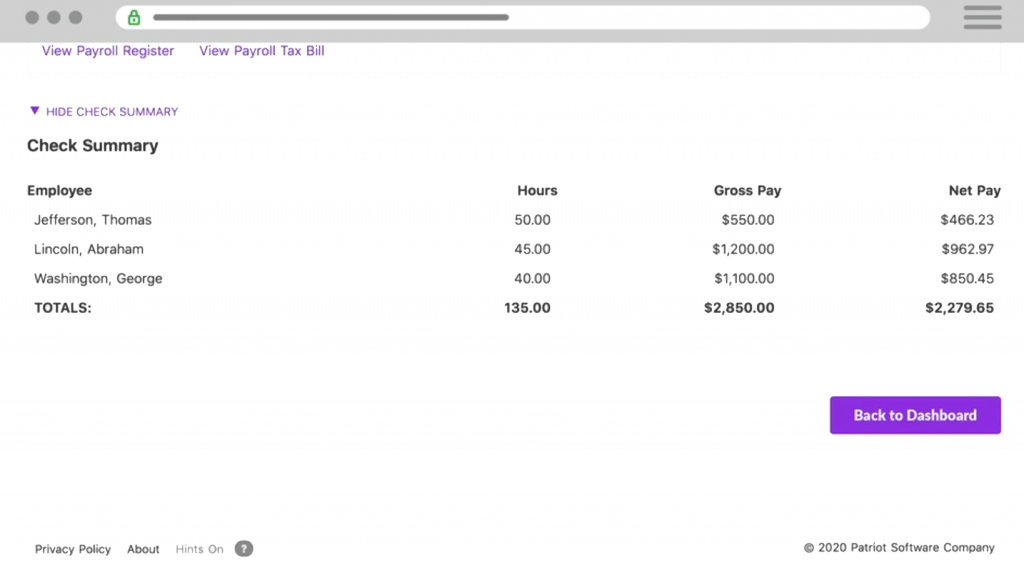 Gusto: best payroll for integrated HR and benefits
Gusto is one of the top payroll software companies that is designed for human resources and benefits administration. It is primarily for small businesses, and offers powerful payroll management functions, automation. Other features include direct deposit, payroll tax calculations, compensation insurance, and 401(k). It provides commonly-used payroll tools designed for small businesses, and is user-friendly. Gusto has steadily evolved over the years, adding helpful functions for hiring and onboarding.
The Gusto self-service portal allows employees to track hours, see their own pay stubs and W-2s, submit vacation requests, and donate to nonprofits from their paychecks. 
Problems: Gusto's live support has complaints and is only accessible between  7AM and 4PM PST.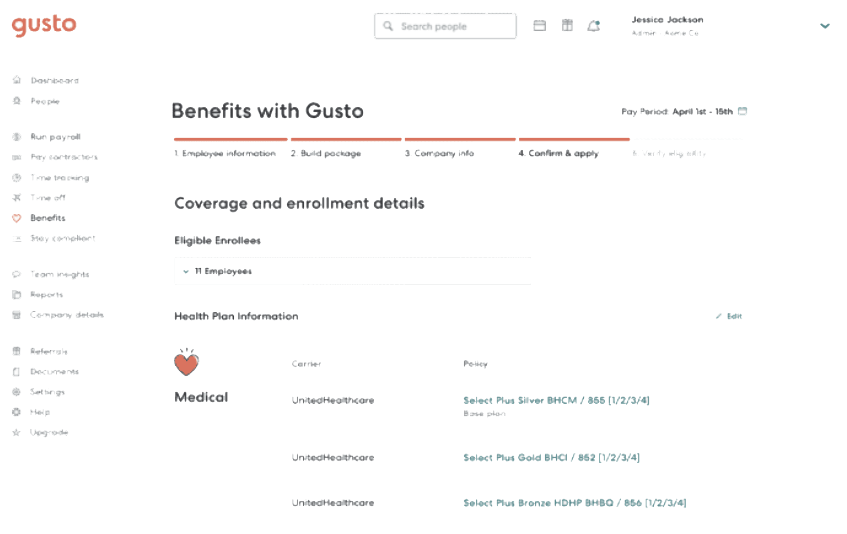 CheckMark Payroll: best on-premise payroll software
CheckMark Payroll is one of the best on-premise payroll software programs designed for small business payrolls, professional payroll services, and accountants. Its human resources services are designed to assist small businesses in streamlining their internal business functions, and stay compliant with the necessary rules and regulations. It will import hours from time clocks or spreadsheets, and track accrued sick leave and vacation time. 
CheckMark Payroll helps users print checks, run payroll, and pay employer taxes. Payments can be made via direct deposit or by printed checks. This is one of the payroll platforms that can integrate with other accounting software systems.
Problems: Does not have an employee self-service portal.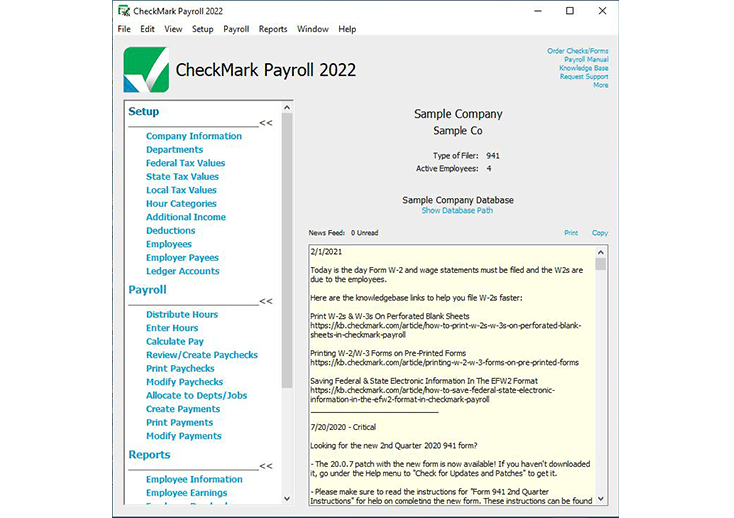 QuickBooks: best flexible payroll software solution
QuickBooks offers a variety of plans for businesses of different sizes. It supplies business accounting software for simplifying and organizing all tasks related to bookkeeping, taxes, and more. QuickBooks offers its software in both online cloud versions and on-premise versions, allowing businesses to choose the version best suited for their operations. 
Quickbooks' employee self service portal provides the ability to enter information on timesheets, view leave balances, and apply for leave. 
Problems: QuickBooks has a huge number of features, which can make the system difficult to navigate. Monthly plans can be expensive.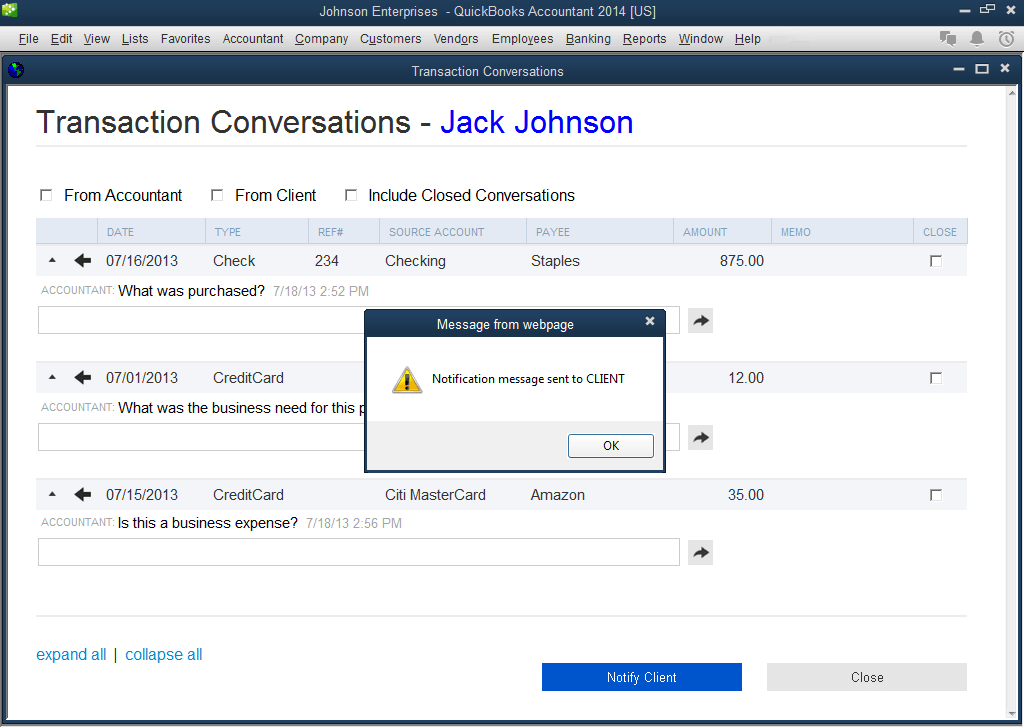 The benefits of cloud-based payroll software programs
While payroll software programs can be located in the cloud or on-premises, there are benefits in using a cloud-based payroll system. Cloud-based payroll systems normally use preconfigured options, but are easy to reconfigure to customize workflows and checklists while remaining stable. Sadly, "on-premises solutions" can become disorganized rather quickly as new pay structures and other alterations are made. Additionally, cloud-based systems scale easily, while maintaining simplicity. 
A user-friendly system that can be accessed from anywhere
Cloud-based payroll systems offer a simple, consistent experience that allows information to be accessed from anywhere per a desktop computer, a laptop, or mobile device. For example, when an employee views a dashboard on their smartphone, it is the same dashboard seen on their desktop. 
Improved automation
Automation is another far-reaching benefit of cloud-based payroll systems, which often have artificial intelligence or machine learning built in to anticipate needs and reduce errors. Common processes, such as onboarding new employees, can be automated so that every new hire for a given position is onboarded properly, following the same checklists and processes, and ensuring that nothing is missed.
Constant updates
The cloud consistently updates payroll system software to comply with federal, regional, and local regulations, laws, and taxes. When new laws are passed, the human resources department does not have to switch payroll software companies or alter the software manually. Instead, the cloud automatically updates the software to ensure continuing compliance.
Improved security
Cloud-based payroll systems provide a high level of security, another critical factor for compliance. While manual processes may contain errors, such as an employee who remains on payroll after the employee leaves the organization, the automation of payroll services helps prevent and identify these errors. 
Rules-based and role-based validation can further enhance security by limiting access to sensitive information through the employee self-service portals.
Saving money
Use of the cloud for payroll services can save money, if used properly. Payroll platforms are normally a cost-saving investment. It will automate the payroll processing tasks, which saves time and money. Because software is cloud-sourced, IT costs can also be dramatically reduced. 
Saving the environment
Big picture thinkers understand that part of the cost of doing business includes an impact on the environment. Historically speaking, the management of finances has included large amounts of paper. Working with payrolls, issuing payslips, updating timesheets, and maintaining employee records requires extensive paperwork, and paper.
The production of paper has a negative impact on nature, causing deforestation, and, in turn, global warming. Additionally, the ink and cartridges used for printing purposes contain heavy metal compounds. Disposing of ink cartridges adds to the planet's pollution problems by poisoning the soil, and eventually the water. 
Payroll platforms minimize the use of paper, and cutting back on the use of paper products saves trees from being cut down. It also saves the planet's environment from the negative effects of discarded ink cartridges. 
Payroll software improves tax and regulatory compliance
Payroll system software is very useful as a tool for calculating taxes. It makes sure the forms are filled out and filed correctly, and will pay the local, state, and federal governments their taxes. Payroll platforms ensure timely and accurate payments, as well as tax deductions, automatically adjusting to different rules and regulations when employees move, or offices open or close. The majority of payroll software companies guarantee compliance and accuracy, reducing the need to pay penalties or additional taxes. 
Payroll compliance refers to compliance with all local, state, and federal regulations governing how employees are paid. Businesses violating any of these laws can face penalties. Payroll software programs can navigate these issues, avoiding tax trouble, and keeping the business' focus on customer satisfaction and profits. 
Implementing a new payroll software: mitigate fear of change with change management
Both staff and management often fear change, and learning a new system. Because of this, organizations are often reluctant to upgrade an aging payroll system. Rationalizing their fear with the philosophy of "not fixing something that isn't broken." In several situations, the businesses have archaic, on-premise payroll platforms (possibly on an ancient computer) that has been altered and customized significantly.
Many organizations are using outdated payroll systems. However, the reality is that a failure to modernize an organization's payroll systems comes with real costs. Outdated payroll systems with heavily customized applications often call for expensive resources when changing compliance requirements, or making repairs on outdated computers. Today, a modern payroll software list will include companies that help businesses implement a change management plan and a payroll system upgrade via onboarding support and unified training.
Selecting the best payroll software
Selecting the best payroll system software for an organization will minimize administrative problems, and help to keep the workforce satisfied. Payroll platforms should reduce costs, save time through automation, and boost both management and employee satisfaction. 
The new system should allow payroll administrators to configure it without working with coding or calling IT professionals. Payroll platforms should be able to guide nontechnical staff with a few simple steps that will configure the system, while meeting the specific needs of an organization.
Although good security is often a consideration, companies need to select from a payroll software list that offer payroll platforms that can secure sensitive data from deliberate and/or accidental attacks, particularly when employee self-service portals are available. Administrators and employees should be able to access the data they need, but a rules-based and role-based identification process is absolutely necessary to protect the business and employees.
When selecting from one of the top payroll software companies, consider the desired goals for the new system, and the company's specific needs. A meeting with the head of human resources would certainly be a good idea. The following questions can be useful in determining the most appropriate software:
What size is the business?
How many employees are there?
How often are employees paid?
Are employees paid by the hour or with a salary?
What is the budget for payroll software?
What "other" features would be useful?
How "should" the payroll system work?
While understanding how the current payroll process works may not be necessary, it is important to understand how it should work. 
The size of the business
Payroll software programs are normally designed to meet the specific requirements of different-sized businesses. It will accommodate a certain number of employees (with software for fewer employees typically costing less). A business should fall into one of these categories: 
A microenterprise has 1 to 9 employees.
A small business has 10 to 49 employees.
A medium-sized business has 50 to 249 employees.
A large business has 250 employees or more.
An enterprise business is multinational or has more than 1000 employees.
Paychecks
Many businesses are currently employing a variety of people in different roles, ranging from full time staff to contractors to gig workers. Good payroll systems will be flexible enough to meet the diverse needs modern businesses face. The one you choose should support a variety of payment methods like checks, direct deposit, and debit cards and a flexible assortment of "payment frequency" options including on-demand, daily, weekly, bi-weekly, and more.
The payroll software budget
The price of payroll processing software varies greatly, based on the number of users, the number of employees, and the features offered by the software. The prices and charges for software as a service can be confusing. Costs to be aware of are: 
The software's base price and the features included.
Desired features not included in the base price, and how much those add-on features cost.
Structured pricing (for example, the monthly cost per number of employees)
Transparency is a necessity in maintaining a budget. Pricing should be straightforward and understandable. A business with 100 employees should not be paying for a payroll designed for 2,100 employees.
Warning- Seek payroll software programs that offers upfront pricing and "does not" lock the organization into a long-term contract. Avoid expensive add-on costs.
Built-in payroll reporting
Many payroll systems offer reporting, but when researching, look for reports that are simple and popular, or provide reporting dashboards that can give the important information at a glance. These options can make life easier for payroll managers and upper management. Customized, ad hoc reporting is also a useful feature when "surprises" happen. 
Time tracking
Reporting, approving, and sending hours in a timely fashion is important to a business' ability to pay employees promptly and correctly. Having a software system which can perform time tracking, combined with a user-friendly app for the employee, will modernize an organization's payroll processing. 
Making a good investment
Investing in a good payroll software platform makes good business sense. It will reduce labor for the payroll and accounting staff, provide general staff with access to their personal information, and alleviate problems with compliance. Payroll platforms make payments more streamlined, efficient, and reliable through the use of automation. This investment is worth making the time to research thoroughly.
Let us help you find the right payroll system software for your business needs. Contact us today, and one of our Technology Advisors will guide you to up to five payroll platforms that meet your needs. It's fast and free.