Choosing the best CRM for contractors or construction companies can be challenging in the seemingly endless sea of platforms. Streamlining sales and forging stronger relationships with your clients can be made easier with the right construction CRM software in place.
CRM software allows you to focus more on selling home construction projects and overseeing major projects for your clients. However, finding the best CRM for contractors can be tricky; it's easy to get overwhelmed when it comes to the selection process. But once you land on the appropriate solution that meets your business requirements, it will become easier to maintain and grow your company.
Top 7 construction & contractor CRM software
Some construction CRM software options include:
The right CRM platform for your business should have features that benefit your daily operations and are in tune with your business's unique needs. Typically, good CRM software for construction companies and contractors focuses on better managing company-wide email, project planning, bid tracking, and processing payments.
| | | | | | | |
| --- | --- | --- | --- | --- | --- | --- |
| Company | Starting Price (Per user/month) | Free Option | Quotation Tools | Mobile Option | Customer Service Type | Learn More |
| HubSpot CRM | $23 per user/month for the hub and $45 per month for two users | Yes | Yes | Yes | Online chat, email, and phone support available | HubSpot |
| Salesforce | $25 per user/month | No | Yes | Yes | 24/7 support only available on the unlimited plan | Salesforce |
| Pipedrive | $14.90 per user/month | No | Yes | Yes | 24/7 support available | Pipedrive |
| Insightly | $29 per user/month | Yes | Yes | Yes | Phone and email support available | Insightly |
| Houzz Pro | $65 per user/month | Yes | Yes | Yes | Chat and phone support available | Houzz Pro |
| SalesRabbit | $29 per user/month | No | Yes | Yes | Phone and email support available | SalesRabbit |
| BasisBoard | Information not provided by vendor | | Yes | Yes | Phone and email support available | BasisBoard |
HubSpot CRM: Best free CRM with no-cost marketing tools
HubSpot CRM is an intuitive and easy-to-use software platform. While HubSpot offers tools and services for free right from the start, it also features flexible planning bundles that you can adopt and customize for your business. HubSpot's tools are modular in nature and coincide with the growth of your company.
HubSpot CRM pros and cons
Pros
Free plan option.
Easy content creation.
Strong customer service, depending on your plan.
Free tools.
Cons
Confusing pricing tiers for available plans.
Lack of customer support in the free plan option.
HubSpot CRM key features
Flexible pricing: HubSpot CRM offers several different plans that vary in cost, with features that are often specific to each plan. The free plan carries a lot of value, is easy to use and navigate, and offers robust tools to help streamline your company's operations.
It is important to note, however, there are other plans that bundle services with solutions that are fully customizable. HubSpot's marketing, sales, customer service, and operational hubs are part of a starter bundle that carries a $45 monthly cost for two users, with options available for plan expansions.
Ease of use: HubSpot CRM is easy to use with a user interface that's simple to navigate. For most businesses, this ease of use goes a long way, which is especially important since there is a lack of customer service support when working with the free version. However, tutorials for some of the tools you regularly use are available online and should help you adequately resolve any issues. There is also a large HubSpot knowledge base that's free to access.
Content creation made easy: When it comes to content creation, HubSpot makes it easy. The drag-and-drop experience for creating custom content like landing pages, various forms, and email templates couldn't be simpler. This CRM also has an option that offers a hands-off approach to managing social media. Scheduling approved content to post online through automation frees up time and allows you and your team to focus on more important tasks.
Why we chose HubSpot
Where HubSpot excels is in offering a comprehensive, no-cost solution for managing customer relationships. Whether your business needs assistance in customer support, marketing, or sales, HubSpot is packed with scalable tools and features that address those needs.
You can utilize various modules that address whatever issues you may be facing from department to department. Coupled with how easy it is to navigate the platform, HubSpot has a lot to offer businesses regardless of their size.
Salesforce: Best cloud-based CRM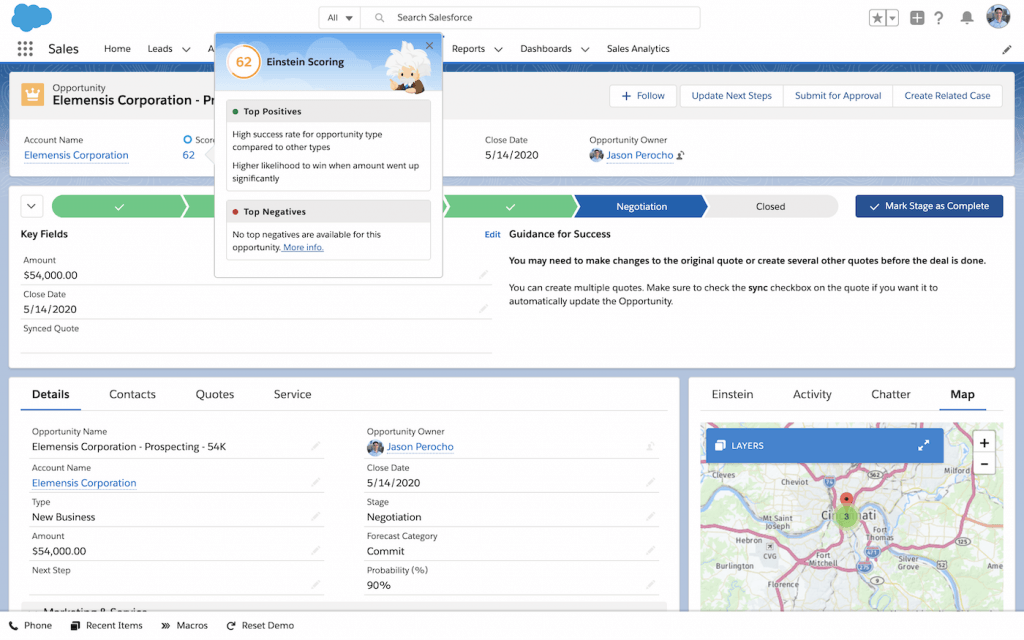 Salesforce is especially useful for established companies wishing to streamline their sales processes through automation, which makes it easier to convert leads and maintain a healthy customer base.
This CRM comes with many dedicated tools that work well, including a marketing product that offers full automation for email campaigns and keeps track of customer activity. However, while there are many add-on features that can complement your business and make it run more efficiently, smaller businesses will find the amount of money they'll need to invest to get the most out of this cloud-based CRM may not fit their budgets.
There is no free version of Salesforce, so smaller businesses will likely benefit from an alternate CRM platform.
Salesforce pros and cons
Pros
Fully customizable CRM with powerful add-on tools
Platform integrations
Cons
Very costly
Time-consuming maintenance
Salesforce key features
Customization: Salesforce is a powerful software solution for large businesses that can easily integrate a vast number of tools to work together seamlessly. There are few CRMs that can compete with Salesforce when it comes to the sheer amount of features that can be integrated and fully customized.
If you're looking to fully optimize your customer support system and automate your workflow, then Salesforce is among the best options available.
Why we chose Salesforce
As one of the largest CRM solutions on the market, Salesforce can cater to every type and size of business, making it a standout contender as one of the top construction CRMs.
Its customizable features, including project management, forecasting, and robust analytics are invaluable resources for managing complex construction processes.
Pipedrive: Best for centralizing multi-channel data and automation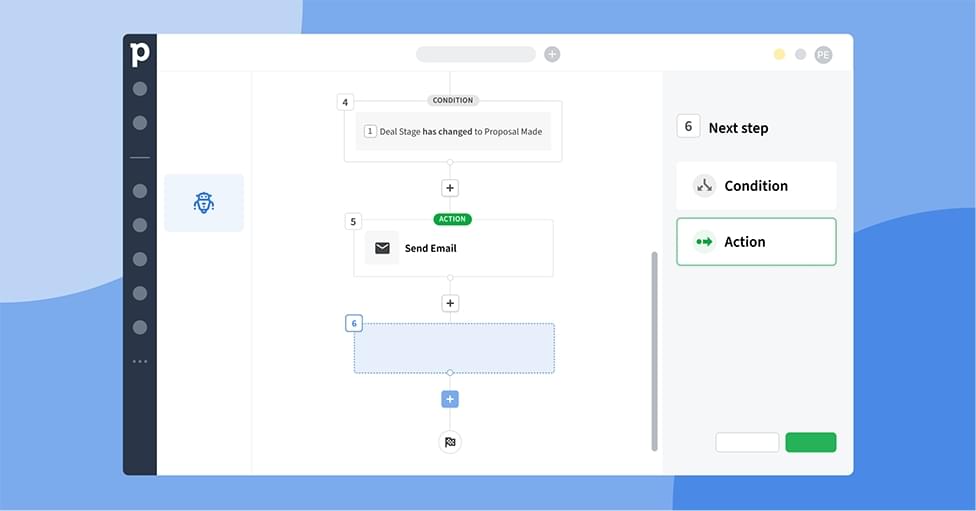 Pipedrive is another cloud-based CRM platform that's geared toward improving a company's sales figures. This CRM is designed from the ground up to facilitate sales teams and is a more affordable option for small-scale businesses that would benefit from an easy-to-use and fully customizable software solution.
Lower-tier versions of Pipedrive can be limited, so your company stands to benefit more from paying extra for a higher-tier option. Like some other CRMs, Pipedrive also offers contact management, automation, anywhere-access, and the option for mobile phone support.
Pipedrive pros and cons
Pros
Workflow automation.
Affordable paid plans.
Unlimited and fully customizable sales pipelines.
Simplified application programming interface (API) access.
Cons
No free plan option.
No phone support on low-tier plans.
Pipedrive key features
Strong sales support: Pipedrive is a fully functional CRM with support for third party add-ons but is geared more toward sales support. There is a machine-learning sales assistant software option that works in real time and tracks how your sales team uses the CRM. Pipedrive can also make suggestions on how your team should respond to future sales deals.
Why we chose Pipedrive
Pipedrive proves its mettle as a construction CRM with a stellar blend of features tailored to the industry's needs. Its intuitive visual pipeline management, coupled with forecasting and reporting capabilities, offers a clear snapshot of project progress and potential bottlenecks.
Insightly: Best overall CRM for construction contractors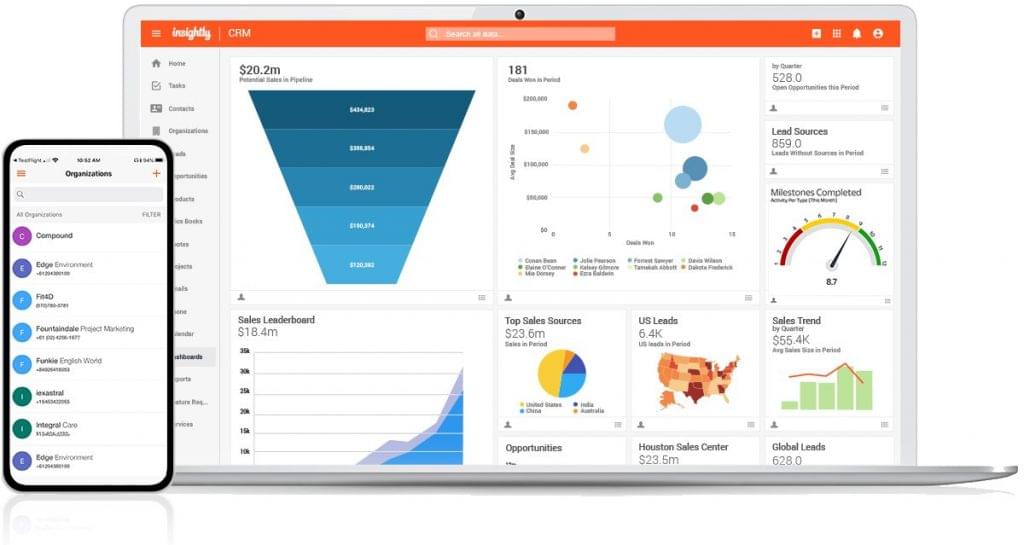 Insightly is an easy-to-use CRM that allows businesses to create data fields and modules that, when optimized, can be used to oversee projects, manage events, and complete various tasks all within one platform. At its core, Insightly is a cloud-based CRM that makes managing your sales pipeline a cinch.
There are a variety of plans you can select from that will improve workflows and optimize regular tasks. This applies to tasks for marketing and sales teams working together on general projects and events, in particular.
Insightly pros and cons
Pros
Integrations with third-party applications.
Reliable automation of workflows, various tasks, and email.
Dashboard customization.
Full web and mobile access.
Cons
Limited features available in free plan.
Lack of phone support.
Workflow automation is an option that's only available for high-tier paid plans.
Insightly key features
Unique sales tools: Unlike other CRMs, Insightly allows salespeople to take photos of business cards on their mobile phones; all of the information found on the card is then used to generate new leads within the software for easy reference.
Useful email tools: Insightly offers a unique tool that schedules customer and lead emails. Because the platform can automate tasks and workflow processes, it will save your team a lot of time and reduce the amount of work that is usually done manually.
Why we chose Insightly
When it comes to construction-focused CRMs, Insightly carves out a unique space with its dual emphasis on customer relationship and project management. Its advanced pipeline visualization and tracking, contact management, and integration with popular tools like G Suite and Office 365 make it an excellent fit for handling construction projects.
Houzz Pro: Best for streamlining payment scheduling and online invoicing
Houzz Pro is primarily designed for use by home builders, remodelers, and contractors. It offers an all-in-one marketing and client management tool to help with online advertising, profile customization, and lead generation. Team members can directly collaborate with their clients using a simple dashboard that configures estimates and creates useful design templates and 3D floor plans that can be used in future projects.
Houzz Pro pros and cons
Pros
Ease of use.
Strong customer support.
Good user interface.
Reasonably priced.
Cons
Issues syncing invoices.
The large number of features can be confusing for some users.
Houzz Pro key features
Useful tools overall: Professionals are able to do many things through available platform features like progress tracking for every project, which betters project management, and lead management, which includes growing client lists and the ability to easily communicate with them through client dashboards.
Why we chose Houzz Pro
Houzz Pro sets itself apart with its industry-specific features. Its comprehensive project management, 3D floor plan visualization, and client collaboration tools are tailored to the unique needs of construction and design businesses. With its ability to generate detailed proposals and synchronize project schedules with business goals, Houzz Pro emerges as a top choice.
SalesRabbit: Best for field sales tracking and lead management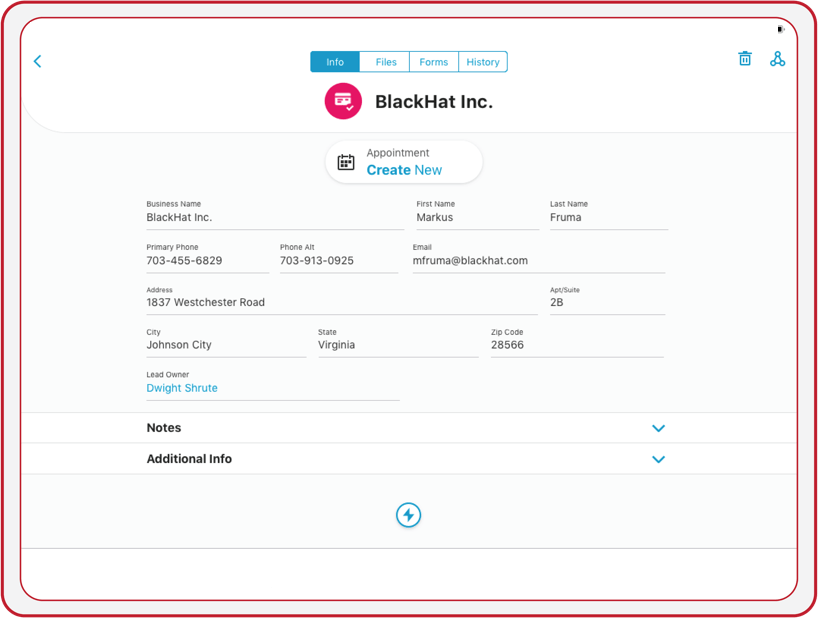 SalesRabbit tracks sales and lead management and is tailored for door-to-door field sales representatives. These professionals rely on the software to improve their sales performance and increase lead conversions.
SalesRabbit pros and cons
Pros
Well-organized user interface.
Excels at tracking a rep's progress and referencing completed sales.
Easy to use.
Cons
Software can sometimes crash.
Can be buggy when using software on Android mobile devices.
SalesRabbit key features
Exceptional sales tools: SalesRabbit's tools can improve a sales representative's pitch when in the field. With direct mobile access, sales representatives can also refer to interactive presentations, documents, and other relevant content, all of which can help them close a sale. Users can also access digital contracts from any mobile device as they meet with prospective clients who are a digital signature away from becoming a new customer.
Why we chose SalesRabbit
The tools SalesRabbit makes available to sales representatives allow them to further develop their efficiency, increase motivation, and deepen their understanding of the goals set by the company. SalesRabbit also allows management to track a rep's progress by using built-in GPS functionality.
BasisBoard: Best for bid management for subcontractors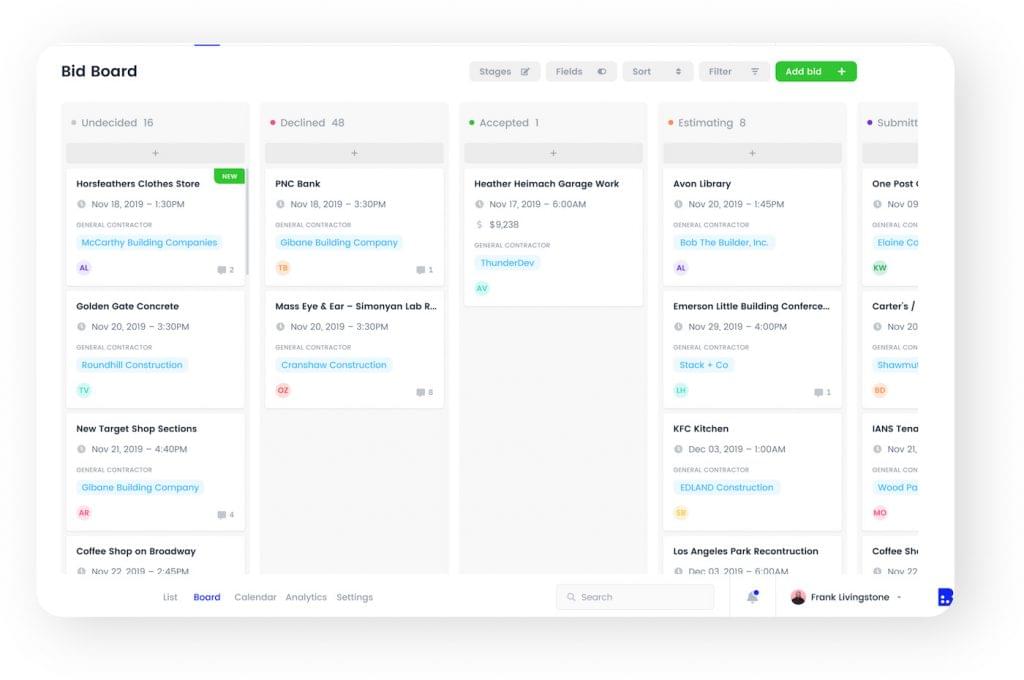 BasisBoard is an efficient software platform that is intended to be used for construction build management. The software offers features that will appeal to businesses that want to focus their attention on commercial subcontractors, material vendors, and supply houses.
BasisBoard offers a collaborative workspace that is free from tedious data entry. The software also successfully automates daily manual tasks, where repetition usually consumes a lot of time and resources.
BasisBoard pros and cons
Pros
Tracks bid deadlines and open projects through automation.
Emails are well-organized and easy to manage.
Successfully eliminates overhead.
Easy to use.
Cons
Difficulty when attempting to merge projects.
Navigating plans can be somewhat tedious.
BasisBoard key features
Excellent bid board tool: By providing a bid board, BasisBoard helps companies complete various tasks like sending proposals, responding to requests for information (RFIs), and inviting vendors to bid on projects.
Centralizing systems: Companies can use BasisBoard to organize bid invitations by placing them in a centralized hub for easy reference. This will ultimately prevent estimators from working on the same tasks.
Why we chose BasisBoard
We selected BasisBoard for its extensive bid management system. The ability to track bids from start to finish adds in an extra tool that is supremely beneficial to manufacturers. Having bid management woven tightly into CRM software creates a synergy that is hard to beat as you bounce between bidding jobs and working with existing clients.
Choosing the best construction & contractor CRM software solution
The best CRM for contractors or construction will depend on the size of your business, its budget, and whether a given software system addresses the issues your business is currently facing.
HubSpot is a great all-around CRM platform that over delivers on its free plan. While you can opt for HubSpot's paid plans with added tools and features, most contracting businesses will have a great starting point with its free CRM plan.
While costly, Salesforce is a CRM that is aimed at established businesses with larger budgets and is fully customizable, with powerful add-on tools available. Similarly, Pipedrive offers support for robust third-party add-ons, as does Insightly, which comes complete with full-tool integration.
Houzz Pro is a great option for online advertising and profile customization and is excellent for team collaboration as well, while BaisisBoard is another great option for automation and eliminating overhead. And for door-to-door infield sales, you'd be hard pressed to find a better CRM than SalesRabbit.
Looking for the latest in CRM solutions? Check out our CRM Software Buyer's Guide.
---
1

Zoho CRM
Fully-customizable Zoho CRM provides unified solutions for businesses of all types and sizes. Conduct your Sales & Marketing analytics to gain insights using Dashboard views and Automate your daily routines. Customize your CRM theme based on your industry needs using Canvas, Omnichannel communication for streamlined communication between teams and customers, handle customer support from within the platform to improve customer relationships. Get Started with Zoho CRM now!
2

Rolldog
Rolldog is a Customer Relationship Management (CRM) and Sales Enablement solution that helps companies manage their business relationships, increase revenue, and boost sales & marketing effectiveness. Ease-of-use and an intuitive browser-based interface ensures that you can securely access the information you need, whenever you need it, from wherever you are.
3

HubSpot CRM
HubSpot is an intuitive CRM that makes managing your sales pipeline a breeze. Everything you need to track important metrics, set up time-saving flows and automations, manage clients seamlessly, and grow your business is available in one tidy dashboard. Plans are available for businesses at every stage of growth, starting at 100% free. Start taking the guesswork out of business management today with HubSpot CRM.
Methodology
With so many CRM systems offering helpful software solutions for contracting and construction companies, we've compiled a list of currently trending software choices and, below that, a list of hand-picked options with more detailed descriptions.
We compared a variety of features to determine the best CRM for contractors and construction that would be essential to the average contractor or construction company, including the ability to produce quotes, project tracking, and mobility.
FAQ
Why do construction companies & contractors need CRM software?
CRM software is essential because it gives business leaders the ability to streamline business practices through features like email and workflow automation. Additionally, CRM platforms typically come with a centralized hub or dashboard portal that monitors the progress of your company and helps team members stay organized. Your team can easily reference documents and materials they need to convert leads and stay motivated, which is yet another benefit.
Choosing the best construction CRM solution.
Choosing the best CRM solution for contractors or construction comes down to the size of your business, the needs of your team, and how much you're willing to spend. Most CRMs come loaded with a lot of features and add-ons that your company may or may not need, so weighing your options and deciding which features and plans are best for your company should help narrow down your choices.
Technology Advice is able to offer
our services
for free because some vendors may pay us for web traffic or other sales opportunities. Our mission is to help technology buyers make better purchasing decisions, so we provide you with information for all vendors — even those that don't pay us.