Browse our HR Software Guide for solutions with AI features to start streamlining your HR processes.
What is AI in HR?
Artificial intelligence (AI) is a broad term referring to machines that can analyze data and make decisions without human intervention. It uses either machine learning or natural language processing to train machines to mimic human intelligence.
AI in human resources involves automating manual, repetitive functions to free up time for HR departments. With the necessary parameters and company benchmark data, AI can quickly complete high-volume functions that would otherwise take HR departments weeks to process.
Despite AI's incredible processing power, it should not replace HR staff; instead, it's better to treat AI like your favorite team player. It'll get you to the goal line, but it's up to you to take the shot. In other words, with AI taking over most of the technical work, your HR team is free to focus on company growth and innovation.
Advantages of AI in HR
AI can eliminate administrate overhead, improve employee experience, and create meaningful reports to maximize your HR team's efficiency.
Eliminate administrative overhead
AI can handle the repetitive tasks that occupy your HR team, such as automating email responses or creating company documents. As a result, your team can focus less on administrative work and more on employee experience.
Improve employee experience
AI can field multiple employee inquiries simultaneously, whereas your HR professionals are limited to answering one request at a time. Additionally, AI allows your HR teams to assist employees with critical issues, improving employees' overall satisfaction.
Create meaningful reports
AI can create robust reports based on the parameters you set. By accessing company data sets, AI can analyze and develop correlations between finances, performance, and engagement to aid in strategic decision-making — such as suggesting cost-effective solutions to inefficient company processes.
Disadvantages of AI in HR
Despite the benefits of AI, it has the potential to perpetuate biases, displace employees, expose private data, produce inaccurate results, and violate employee rights. However, by understanding these disadvantages, your team can minimize AI's risks while leveraging its time-saving benefits.
Perpetuate biases
Based on the data it receives, an AI model could make decisions that negatively affect people from underrepresented communities. For instance, using AI to screen candidates may determine one group of individuals as more suitable for a position than others based on the demographics of employees historically in that role.
Displace employees
AI could destabilize workforces doing more of their work faster and cheaper. In a paper published in 2023, OpenAI and University of Pennsylvania researchers predicted large language models (LLMs), the basis of generative AI like ChatGPT, will affect 80% of the U.S. workforce. As a result, employees may have to upskill or learn to use AI to their advantage to compensate and remain innovative in their roles.
Expose private data
Because of the large amounts of data AI accesses, including sensitive information like Social Security numbers and birth dates, there is a risk AI could expose this data to the wrong person unintentionally. This violates laws such as the GDPR and CCPA and can result in severe consequences for employees, including identity theft.
Produce inaccurate results
AI is not always right, even when it thinks it is. AI can confidently lie or produce inaccurate business predictions. Especially in HR, such actions can place companies in legal hot water or stall company growth strategies.
Violate employee rights
For the most part, the law has yet to catch up with AI, with only New York City, Maryland, and Illinois regulating the use of AI in recruitment. Nevertheless, AI could discriminate against employees of protected classes under Title VII of the Civil Rights Act, the ADA, or ADEA.
The responsibility lies with the employer, not the AI, for any violations, so employers must thoroughly understand how their AI makes decisions to uphold their employees' fundamental rights.
6 ways to use AI for HR
AI can profoundly impact all areas of HR, simplifying the tasks and experiences of HR staff and employees alike. Some of the main ways you can leverage AI tools for HR include the following:
Recruit top talent.
Automate administrative tasks.
Manage workforces.
Develop constructive performance reviews.
Optimize learning and development paths.
Ensure compliance.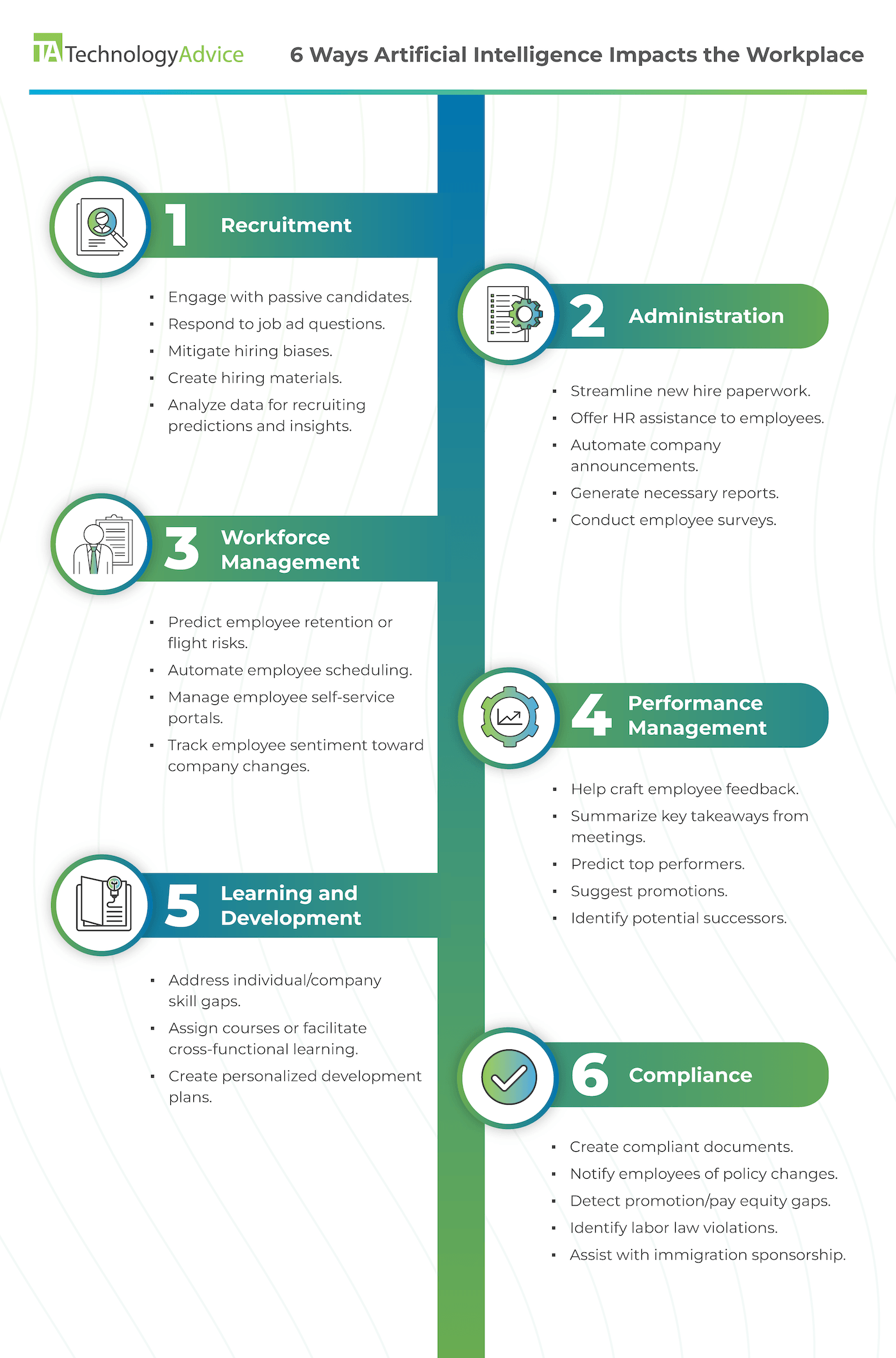 1. Recruit top talent
AI in recruitment focuses on optimizing both recruiter and candidate experiences. For recruiters, AI can reduce repetitive tasks throughout their recruitment pipelines to improve efficiency. For candidates, it can make job hunting a smoother experience.
Companies have taken advantage of AI in recruitment for some time as its ability to handle high-volume tasks, such as résumé screening, can occupy most small HR teams' time. Moreover, recruiting agencies frequently use AI tools to reach out to potential applicants, build candidate databases, and organize multiple clients' data to find the best candidates for their clients ahead of competitors.
The explosion of generative AI and chatbots has also increased the productivity and efficiency of recruiting departments and job seekers. Recruiters can now offload tasks to their AI tools, such as writing rough drafts of compliant and unbiased job ads. Having AI take over such functions frees up time for HR departments, increases consistency, and mitigates communication errors.
Most modern recruitment software and applicant tracking systems (ATS) include AI elements. For example, Zoho Recruit's AI feature suggests top candidates by identifying keywords in job descriptions and candidates' applications so that you can target qualified candidates easily. Syncing such tools with the rest of your HR tech stack can also draw insights into important HR metrics such as attrition and turnover.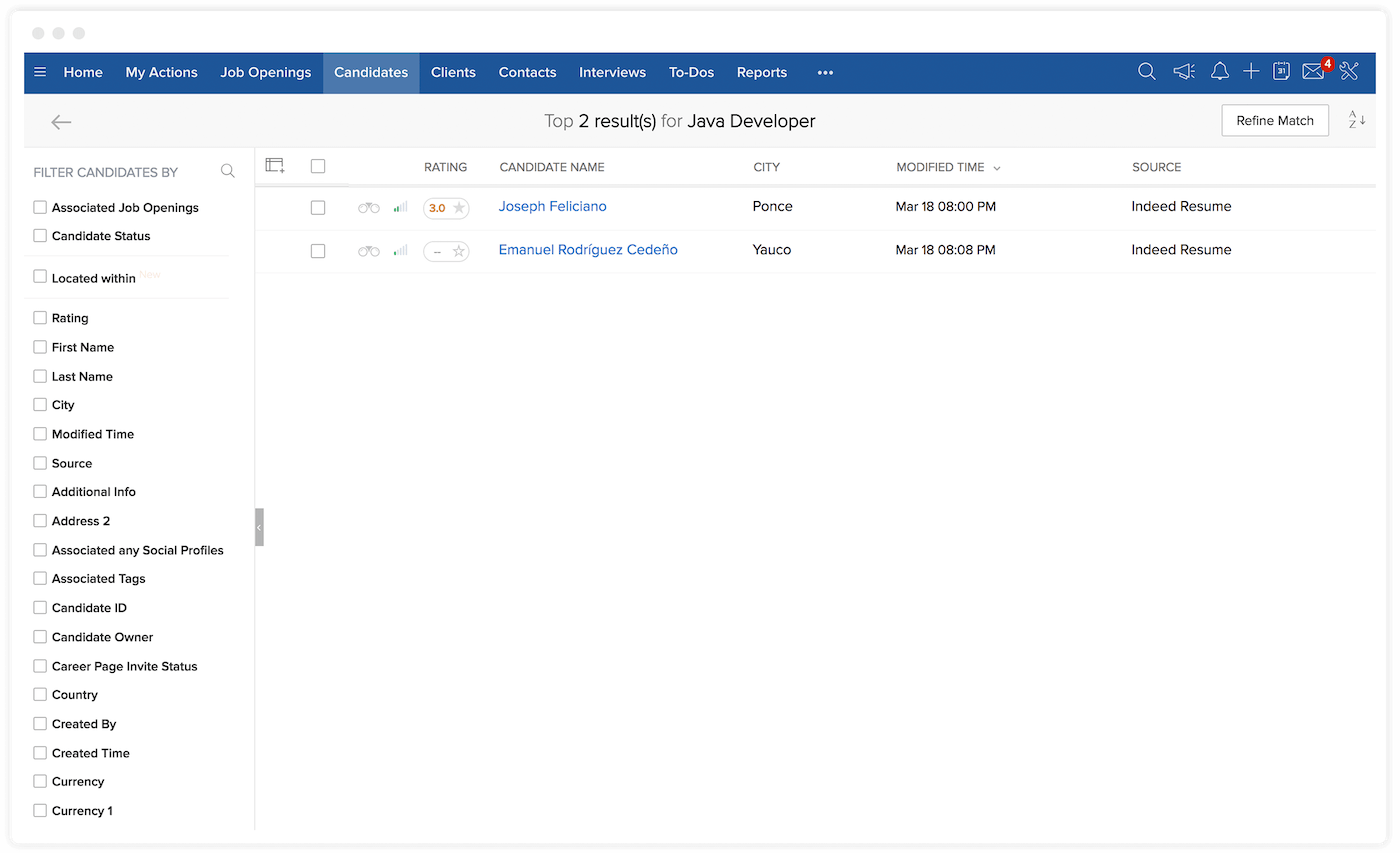 Compare Zoho Recruit to other top solutions in The Top Recruiting Tools for Effective Employee Hiring.
2. Automate administrative tasks
Like AI in recruitment, AI in administration rids HR departments of the necessary, though often mind-numbing, tasks associated with business and employee operations. Typically, AI absorbs the traditional, paper-pushing aspects of HR, such as collecting paperwork or reporting necessary data to government agencies.
Automated workflows are one of AI's most apparent ways to relieve HR teams of the back-and-forth frequently associated with administrative work. For example, such workflows can help HR teams by automatically responding to employees' email inquiries.
Zavvy can automate communications and tasks throughout the employee onboarding experience. Check it out in the video below:
Administrative AI examples
Explore our Onboarding Software, Payroll Software, and Benefits Administration Software Guides for solutions to automate your most tedious tasks.
3. Manage workforces
Like an air-traffic controller, AI in workforce management can direct employee inquiries to avoid HR jams or backups. For instance, AI can give employees access to their files or other information through self-service portals to avoid reaching out to HR departments for this information.
Meanwhile, HR teams can use workforce management AI to uncover inefficiencies in their procedures and start taking preemptive measures to optimize their processes. For example, predictive analytics tools like Bob's Attrition Indicator notify users of potential flight risks so they can plan accordingly and prevent any significant disruptions to company production.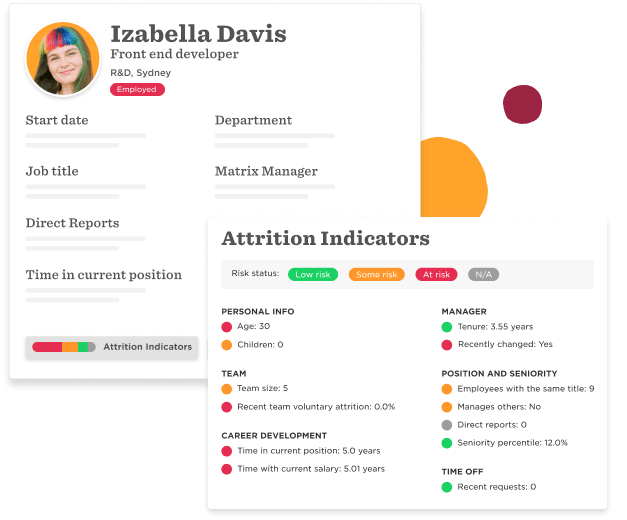 Workforce management AI examples
4. Develop constructive performance reviews
AI in performance management can help companies develop more effective and meaningful employee one-on-ones and goal-setting. Beyond automating performance review cadences so employees can act upon constructive feedback sooner, AI can aid employers in fairer promotion and compensation practices to support DEI goals.
For instance, top performance management solutions like Lattice use their AI to provide managers with historical and market benchmarking compensation data. As a result, companies can ensure fair pay practices that focus on data and the employee's performance history.
Performance management AI examples
5. Optimize learning and development paths
Leveraging AI in learning and development (L&D) can help companies provide personalized training courses to drive employee engagement and retention. According to TalentLMS's The State of L&D in 2022 study, 76% of employees agree that they are more likely to stay with a company that offers continuous training.
Because everyone learns differently, AI can adapt to specific learning models not always available in traditional company training programs. While AI does not substitute experiential learning, it can remove barriers associated with employee development plans, such as time and money.
For example, Obrizum uses AI to create dynamic learning paths for employees. Instead of following linear learning courses, Obrizum's AI allows employees to take detours or go back and redo courses to reinforce what they learned.
Learn more about Obrizum in this video:
Learning and development AI examples
Check out our Top Human Capital Management (HCM) Software for solutions to address wide-scale talent development goals.
6. Ensure compliance
AI can help companies stay abreast of new regulations that will impact them, especially for companies with global workforces. Similarly, AI can examine existing data for labor law violations so HR teams can address these issues before they become significant problems.
Rippling, for instance, includes a dynamic employee portal that changes depending on where the employee lives. Its AI also automates payroll tax updates and alerts employers of labor law infractions. As a result, HR departments can worry less about continually monitoring risk to ensure compliance.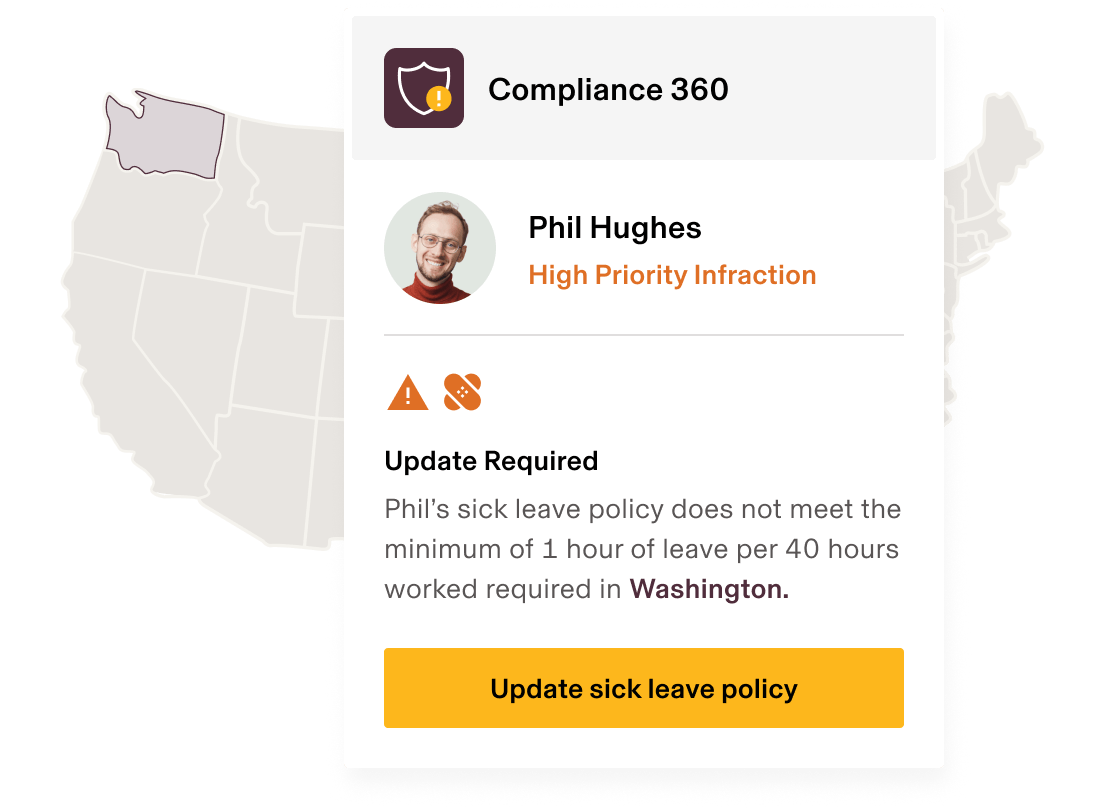 How AI can solve HR challenges
AI is an essential tool to transform HR professionals from paper-pushers to employee experience innovators. Through AI, HR departments can ensure they address employee needs timely and completely while proactively driving forward-thinking company and employee initiatives.
However, AI should not completely replace the "human" element of "human resources." Instead, AI should remain a tool to coordinate administrative tasks, employee requests, and compliance obligations. And HR departments should put back all the time they save into improving their workplaces.
If you want to optimize your HR department, check out the Top Human Capital Management (HCM) Software or HR Software Guide for top options.
Featured partners: HR software
1

Rippling
Rippling is the first way for businesses to manage all of their HR, IT, and Finance — payroll, benefits, computers, apps, corporate cards, expenses, and more — in one unified workforce platform. By connecting every business system to one source of truth for employee data, businesses can automate all of the manual work they normally need to do to make employee changes.
2

Paylocity
Paylocity's modern HR and payroll software just doesn't simplify administrative tasks to save you time and money. Our flexible solutions can help you attract the talent you need and keep them engaged – improving retention, productivity, and the bottom line. See the Paylocity difference and get to know your people better so you can build a thriving, resilient workforce for the future.
3

Paycor
Paycor's HR software modernizes every aspect of people management, which saves leaders time and gives them the powerful analytics they need to build winning teams. Paycor provides a full suite of HCM solutions with a single source of truth for employee data, so users never have to switch platforms, log-in to multiple systems, re-key data or open multiple spreadsheets. Everyday processes become simplified, allowing organizations to focus on their most important work.
Technology Advice is able to offer
our services
for free because some vendors may pay us for web traffic or other sales opportunities. Our mission is to help technology buyers make better purchasing decisions, so we provide you with information for all vendors — even those that don't pay us.