What is project management software?
Project management software helps project managers (PMs) and teams collaborate and meet goals on time while managing resources and cost. Functions may include task distribution, time tracking, budgeting, resource planning, team collaboration, and many more. People also refer to project management software as Task Management Software, Project Manager Software or Project Portfolio Management (PPM).
Project managing software has grown increasingly complex over the past decade. This often leads to large projects—particularly information technology undertakings—finishing past due, over-budget, and with a lower than predicted return on investment. Business professionals often rely on a project management system to help them oversee multiple endeavors. Similarly, companies today can more easily mitigate risk by identifying failing aspects of a project using time tracking and project tracking software that forecasts completion dates for each phase of the project.
In this guide, we'll provide a comprehensive project management system comparison based on common features. We'll also discuss how this project software can help your business gain a competitive edge. To receive a free shortlist of the best project management software for your business, complete the form at the top of the page or in the right sidebar.
Find your new project management software
The best project management software
monday.com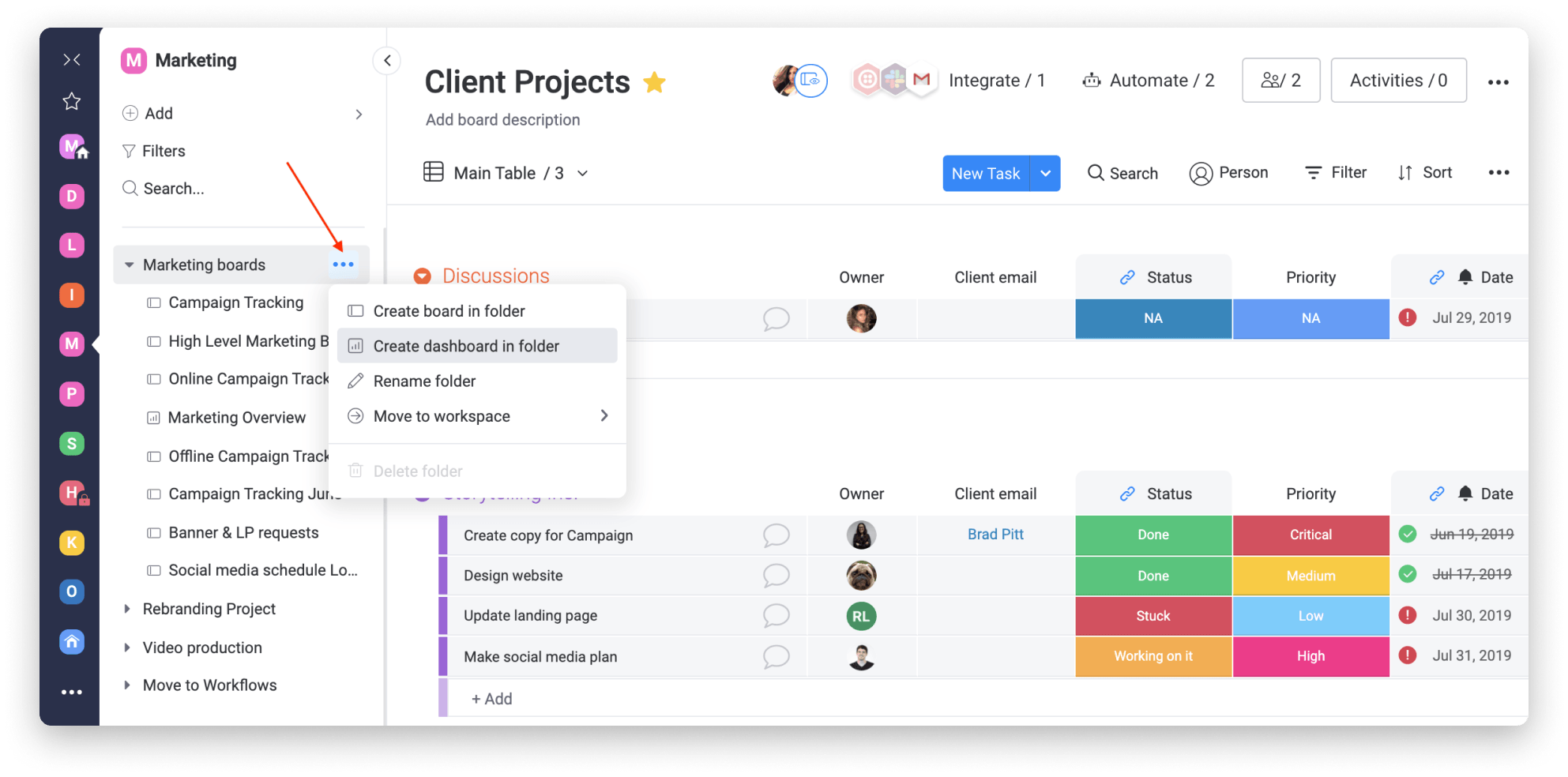 TechnologyAdvice rating: 4.41/5
monday.com is a cloud-based system designed for all business sizes to handle projects, processes, and everyday work. It features color-coded boards helpful for seeing project progress at a glance. monday.com makes team collaboration easy with task-specific features for centralized communication, file sharing, document management.
Pros of monday.com
Task-specific features for team collaboration. Has a wide range of integrations to support what your company is already using.
Cons of monday.com
Lowest pricing tier can be limited in functionality for large enterprises.
---
Smartsheet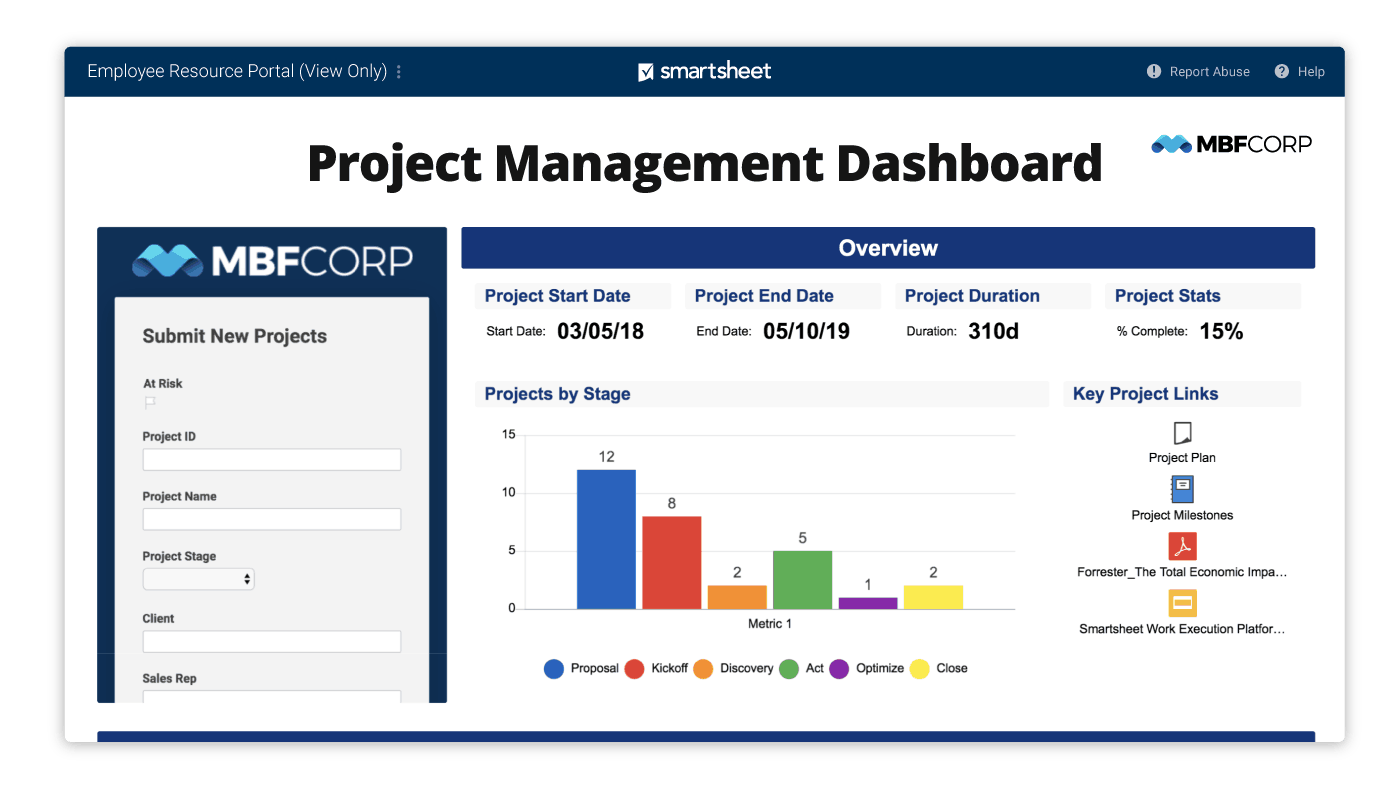 TechnologyAdvice rating: 4.32/5
For those who work best with spreadsheets, Smartsheet features an intuitive, spreadsheet-like interface that offers automative and collaborative functions. Self-service reports and dashboards give insight into your analytics. Gantt charts and work automation features within Smartsheet make project management easier.
Pros of Smartsheet
Easy to use for those familiar with Excel. Conditional formatting provides a clear visual aid.
Cons of Smartsheet
Dashboard widgets are somewhat limited.
---
Wrike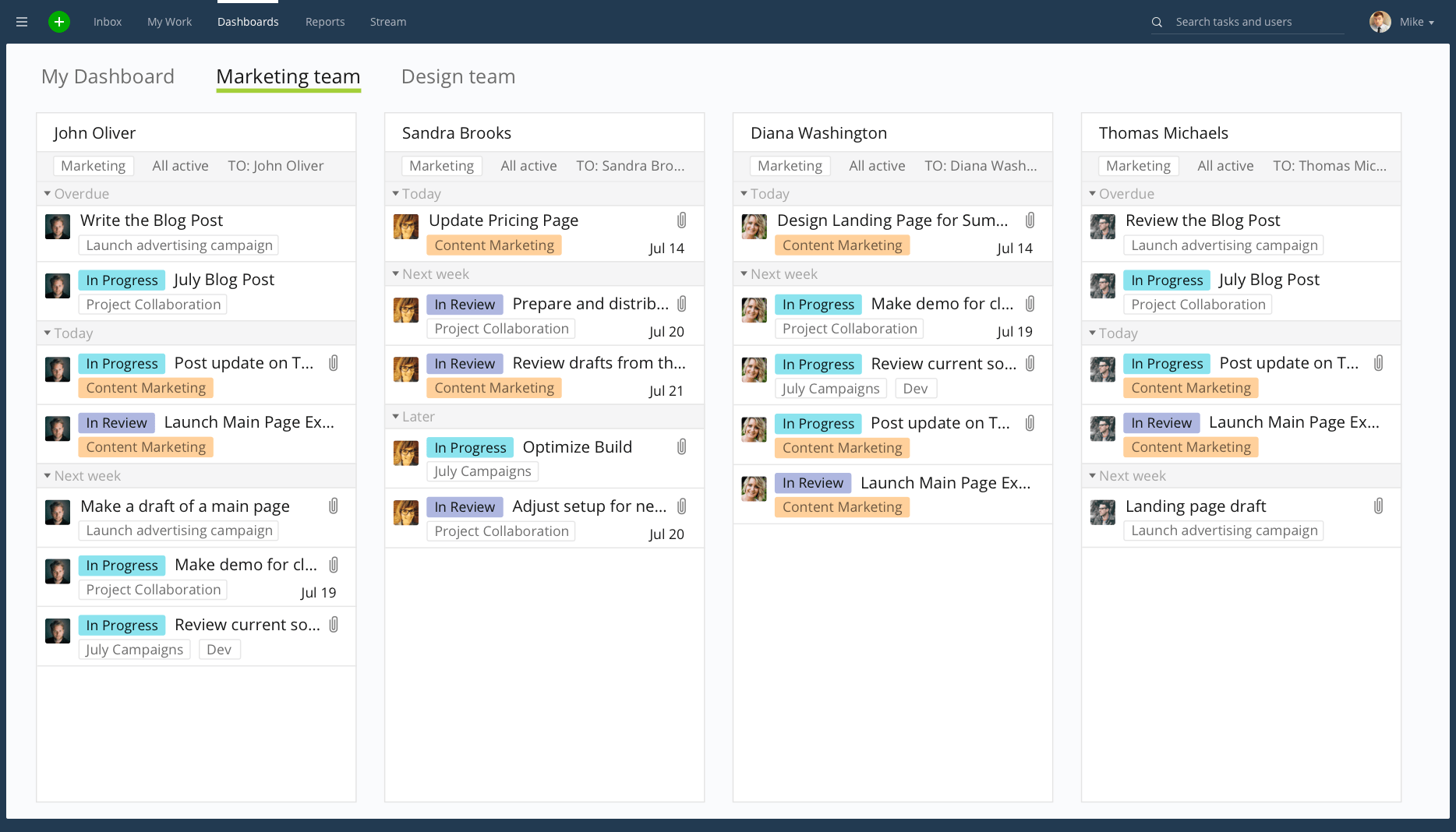 TechnologyAdvice rating: 4.34/5
Wrike is a powerful project management solution that works for businesses of all sizes. It has useful project tracking software features that allows you to track time and manage projects on the go via its mobile app. While it is a little bit pricier than some of its competitors, Wrike is a quality choice that can help you tackle projects of any size.
Pros of Wrike
Time-tracking is built in. Timeline view for projects. Mobile project management app available.
Cons of Wrike
Slightly more expensive than similar project management programs like Asana and Jira.
---
Workzone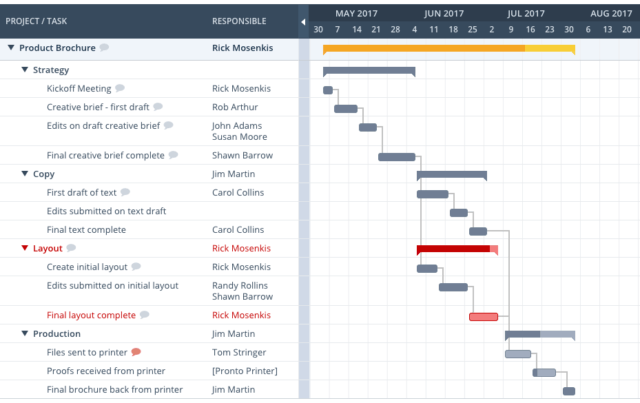 TechnologyAdvice rating: 4.5/5
Workzone is marketed as a middle-ground solution, having more features than entry level project planning software, but easier to use than specialized applications. It is a complete and balanced system, with a platform that has the right features, a workflow that lets you sustain existing or create a new work processes, and a helpful support team.
Pros of Workzone
Templates are easily customizable for specific tasks and projects. Email alerts are helpful reminders about upcoming due dates and projects.
Cons of Workzone
If a project is delayed on one task, dates and timelines for dependent tasks are not automatically updated.
---
Asana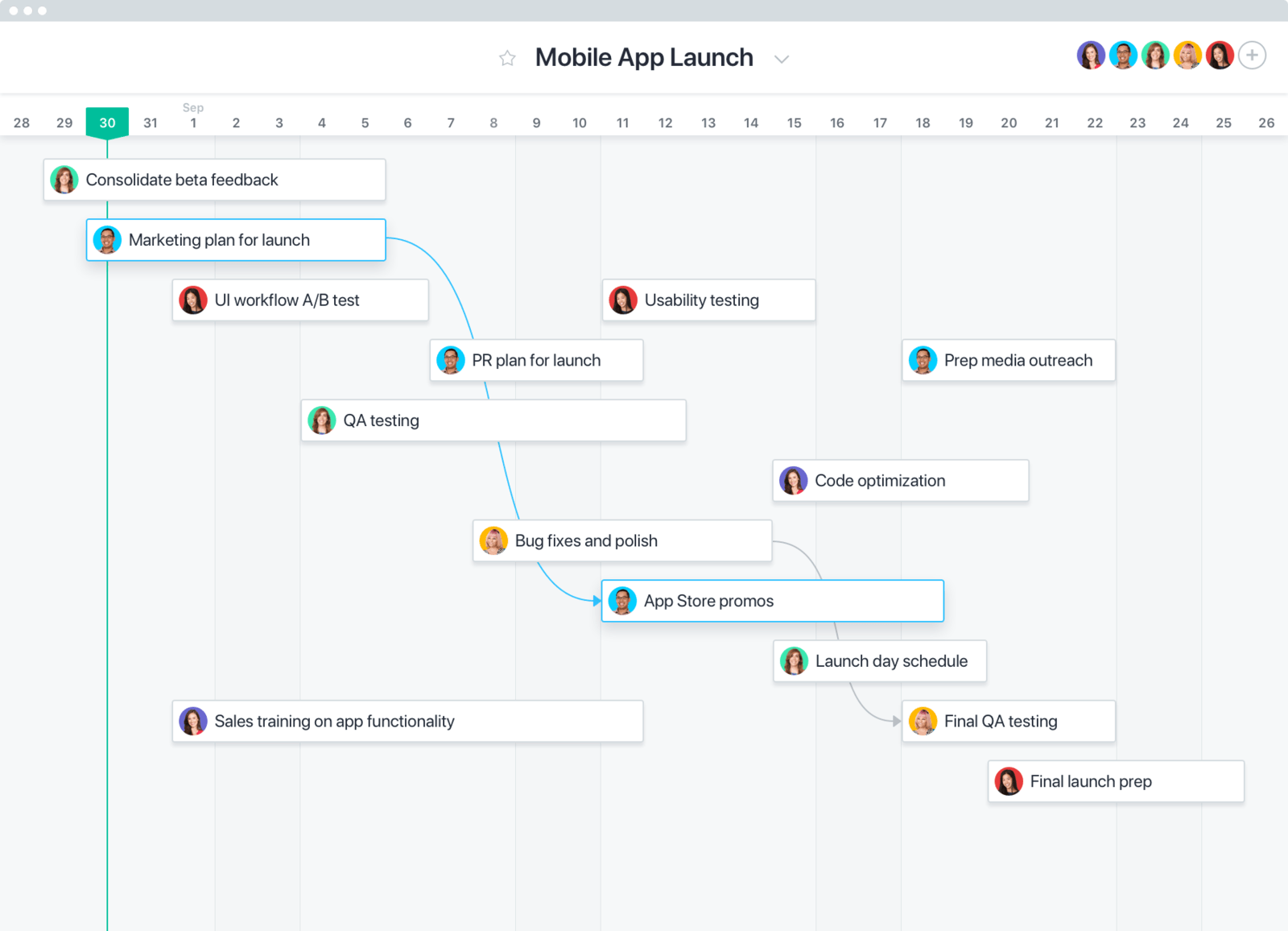 TechnologyAdvice rating: 4.21/5
It's hard to go wrong with Asana, one of the top project planning software solutions for teams of all sizes. The software makes it easy to plan projects and track progress, and task dependencies make sure you don't get ahead of yourself. This solution also offers a free tiers that allows up to 15 people to collaborate.
Pros of Asana
Clean and intuitive user interface. Generous free tier.
Cons of Asana
Kanban view is limited compared to other PM software vendors.
---
Jira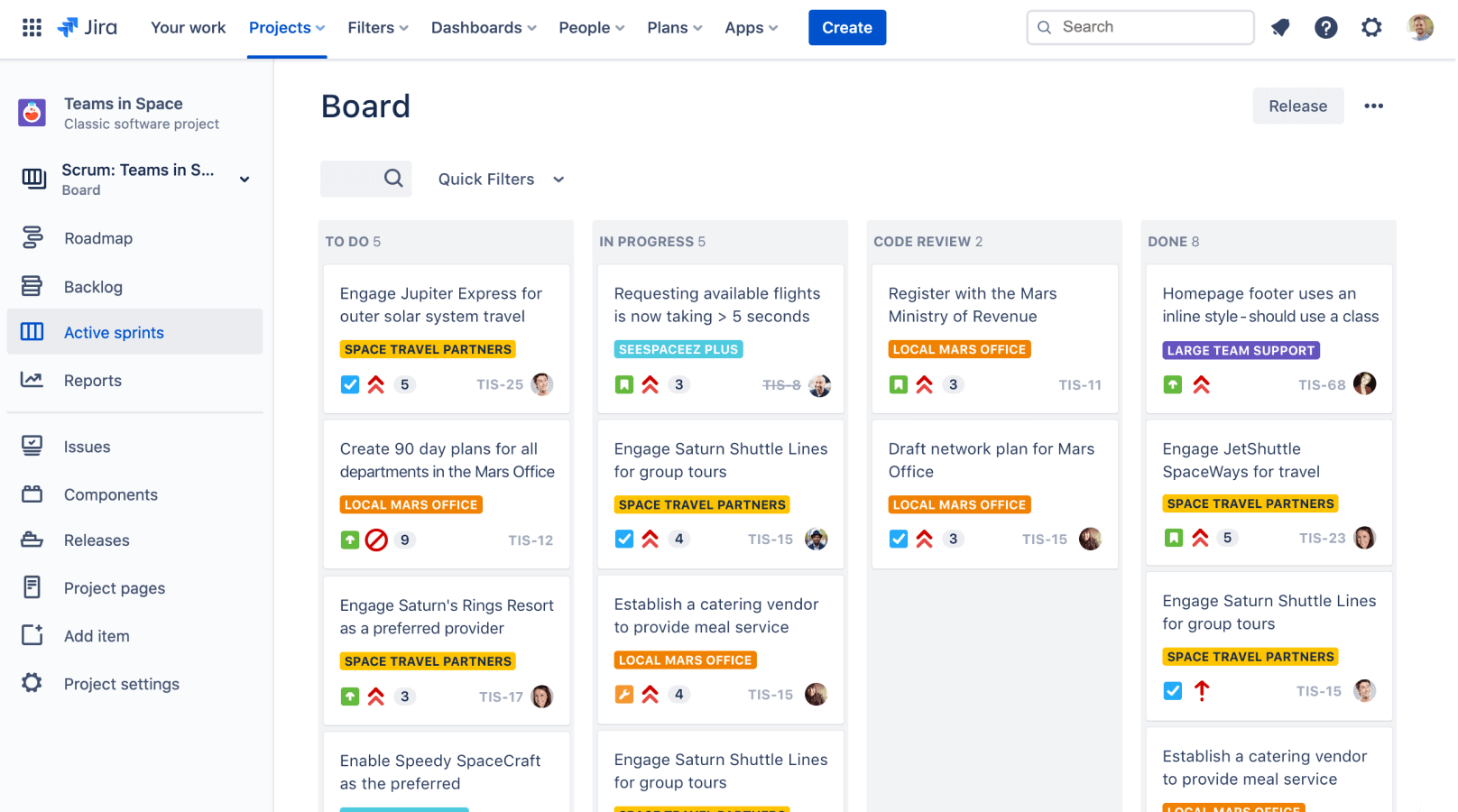 TechnologyAdvice rating: 4.2/5
Jira started out as a bug and issue tracking application, but the program management software now comes in several editions, including Jira Core for project management. Tasks in Jira Core are still called "issues," and you can easily use these to organize projects, set priorities, measure team bandwidth, and more. As one of the more affordable options in this roundup, Jira doesn't offer as many features, but for smaller teams, it will help increase productivity.
Pros of Jira
Ability to filter Kanban boards by due date. Multiple report options available for visualizing project status.
Cons of Jira
Lighter on features than other comparable project managing software.
---
LiquidPlanner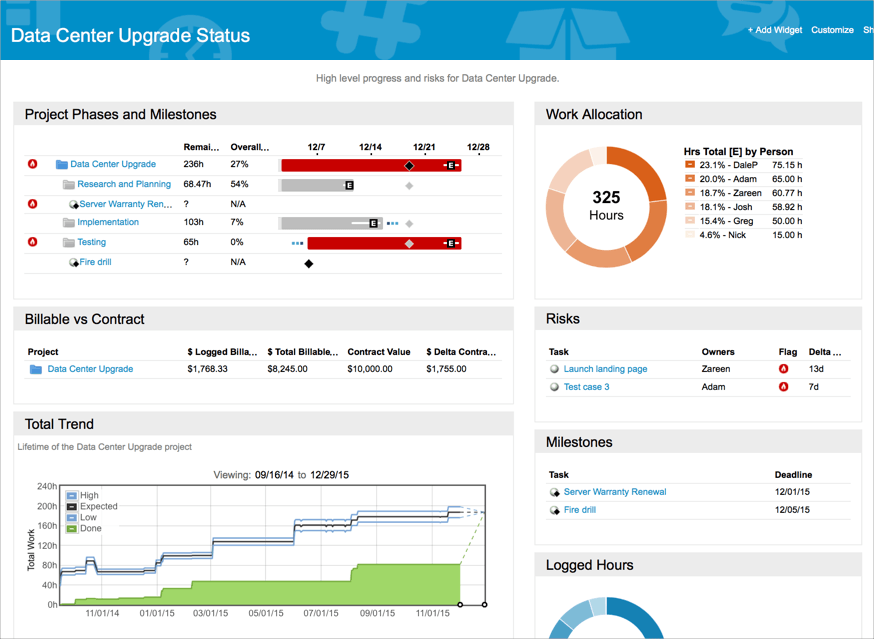 TechnologyAdvice rating: 4.4/5
For large businesses and enterprises, many consider LiquidPlanner to be the best software for project management on the market. LiquidPlanner excels in lending visibility to large projects, so estimated completion times stay up-to-date and project managers always know how many resources and staff they have at their disposal. Pricing may be prohibitive for smaller companies, but larger teams will count it as a good investment.
Pros of LiquidPlanner
Expected completion dates change when resources shrink. Highly customizable to meet the needs of large teams.
Cons of LiquidPlanner
Expensive compared to other project management solutions. Implementation can be time-consuming.
Learn more about LiquidPlanner
Which Project Management software is right for your business?
Project management software covers a range of platforms, each with a slightly different mix of functionality. A good project management software will have features that allow the team to build a project plan, track tasks through the different stages of the project, and collaborate on tasks to ensure on-time completion.
Not every project management system will include all of these features, but many solutions are designed to help a small team or enterprise corporation equally. When you prioritize the features you need from your project software, you're better equipped to find the right project management app for the projects you manage.
If you're looking for specific types of project management tools, visit our other project management categories for product overviews, reviews, and to get recommendations:
Scheduling
Scheduling a project involves constructing a project timeline, delegating tasks, and outlining the known checkpoints within the project. Project management software includes several different types of scheduling features that give teams alternative ways to visualize their projects.
While some project management software will use a traditional calendar view, more complex solutions like Gantt charts and horizontal project timelines can help teams break large or complicated projects into manageable tasks. Scheduling features in a project management tool will help your team go from mind map to a project plan quickly by giving insight into both time and resource management.
Forecasting
Forecasting features in PM tools use data from previous projects to understand the time and resource management considerations that the team will need to complete the project. This project manager software feature helps project managers calculate the ROI of a project before major resources have been invested.
Forecasting takes into account the time spent on each task and the resources required to complete each task relative to the organization's budget constraints and revenue goals. A forecasting tool can also predict potential risks and limitations within a given project.
Resource management
Similar to forecasting, resource management features in project managing software help project managers visualize where their business invests time, energy, and materials, so the business can assess or change their plan when unforeseen challenges arise. It can be time-consuming to enter and set up a detailed inventory of company and human resources, but doing so allows project managers to anticipate bottlenecks and allocate resources.
Budgeting and expense tracking
Although software that budgets for projects, and businesses in general, comes in standalone versions, certain PM software vendors include budgeting functions as well as expense tracking. These help companies run multiple projects at the same time while staying within budget constraints.
While budgeting software is somewhat self-explanatory, expense and project tracking software can provide PMs with the added benefit of knowing how team members accrue expenses throughout the lifespan of the project. Similar to time tracking, expense tracking provides valuable data that can be used to forecast future project costs and build budgets into upcoming project plans.
Project, task, and contractor time tracking
As the name implies, time tracking software tracks the amount of time each project contributor spends on their assigned tasks. Besides simply measuring productivity, time tracking software also builds an archive of valuable data that can help businesses forecast completion dates for similar tasks or projects in the future.
Time tracking is especially helpful when managing a remote team, contract workers, or part-time employees. In combination with collaboration features like messaging and alerts that enhance the project planning and execution experience, time tracking can keep the entire team on schedule. The image below shows the time tracking interface of Wrike.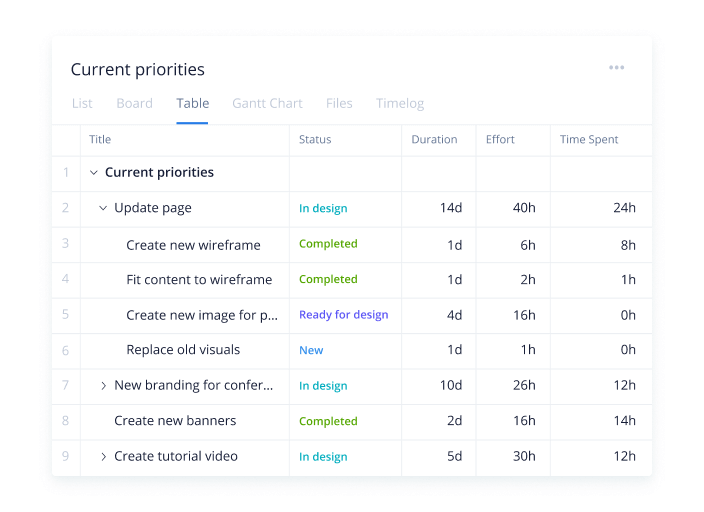 Task management
Task management refers to the assignment of different responsibilities to various members of the project team. Being able to quickly determine who's contributed to what part of the project lets managers better identify bottlenecks and stay on top of the project's progress. Task management software is often used by solopreneurs and small teams, while project management software can manage hundreds of tasks that roll up to a larger project or set of projects.
Also Read: Choose the Right Task Management Software: Types and Considerations
While the concept of task management is simple, the software can actually be fairly robust. In the case of large, complex projects or multiple projects that span different departments, tasks are very often interconnected or dependent on others. Certain project management programs geared towards these types of undertakings will feature the ability to assign tasks and dependencies to tasks, which helps managers determine where a breakdown in productivity is occurring and assign the necessary resources to fix the problem. These features have increasingly added automation to speed the transition of tasks among team members and across the project workflow.
Kanban charts for task management
Some PM tools rely on the Kanban or project board method to visualize the working state of projects that require separate concurrent tasks. In a Kanban board project timeline, you organize each task on a digital card, and move those cards across vertical lanes that represent work states.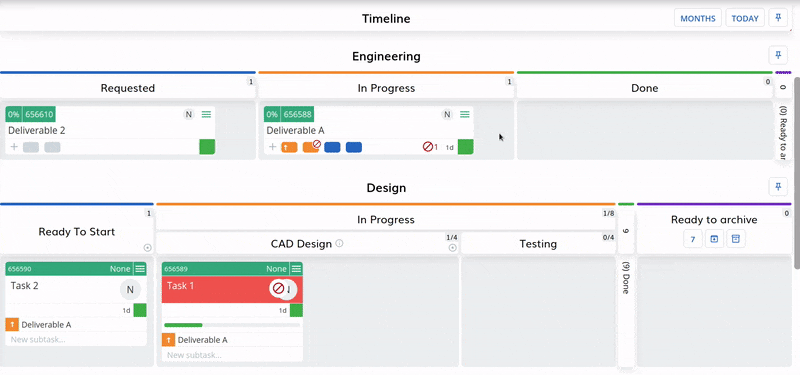 The project managing software Kanbanize lets users visualize task completion status by assigning tasks to cards that users can move between several progress lanes.
Gantt charts for task management
Task dependencies are often represented through Gantt charts that show the estimated amount of time a task will take to complete. These project planning software charts also show the next tasks the team should perform, documents who will be in charge of each of the tasks, and can facilitate work hand-offs or approvals. Gantt charts are a useful visual representation of the full project plan in a compact space, and they can often be expanded or condensed to show more or less context where needed.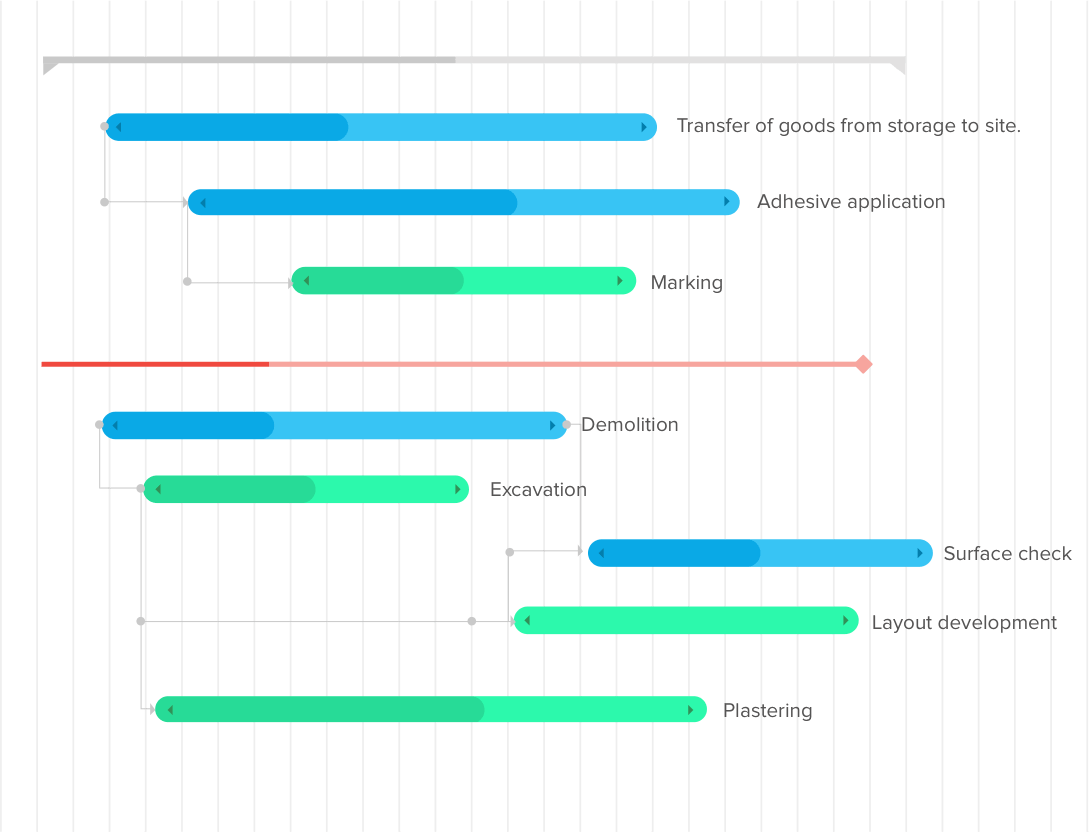 Zoho Projects offers a flexible Gantt chart feature that shows priorities, task assignments, and more in a single interface. Zoho Projects can also help your team automate the tasks between dependencies to speed project completions.
Other common features of task management include notes, tags, and linking between tasks to show dependencies. Adding notes to a task helps keep track of individual changes to the project or provide references for the strategy associated with each task. Adding tags to tasks makes them easier to filter and find through unlimited projects in the management tool's native search functionality. Linking tasks reminds stakeholders of other dependent tasks, gives further context to a single task, or provides context on interdependent tasks in multiple projects.
Permission settings
Permission settings allow a PM to decide who can view, edit, or change tasks and functions within the project. To manage a project effectively, a PM must judiciously mete out permissions and access across the software. Granular permission settings, in project manager software, help project managers avoid having to track down the sources of unauthorized changes to tasks or entire phases of the project. Permission settings are especially important for teams that administrate multiple projects across many departments in the same project software. Look for pre-set or role-based permission settings to manage unlimited users efficiently from a single dashboard.
Automation
Task and workflow automation helps speed projects to completion. The software is programmed to respond to a defined event with an immediate response, which saves time across many areas. For example, project assets may be sent for approval upon completion or alert notifications will be sent if budgets exceed a pre-set threshold. Automation features may also automatically schedule recurring tasks for completion, which reduces the amount of manual work the project manager is required to do on any given day.
Analysis and report dashboards
Analysis and reporting functions let project managers visualize project data in ways that uncover time, resource, and work inefficiencies. This type of data can be critical to making mid-project pivots, especially if it's presented in a dashboard that can provide a quick visual reference. If a task needs additional resources or a department is moving slower than others, in-depth analysis features will help PMs rectify or leverage the situation.
Document sharing
While email remains a mainstay of the collaboration-focused work environment, project management and cloud computing software has enabled teams to share documents in ways that improve productivity and increase efficient use of time. Many project managing software will allow users to upload documents and attach them to projects or tasks, making it easy to locate that project's resources.
The depth of such functionality varies from the simplicity of a collaboration system such as Google Drive to full-fledged wikis that house all of a project's relevant materials. Some systems rely on message boards that team members can use to discuss ongoing issues or communicate updates.
Comprehensive sharing solutions often feature audit trails and version control that record the history of each task and project. Audit trails let project managers view task progress and investigate challenges that team members may be experiencing.
Mavenlink might just offer the most collaboration features out of any project management system. Upload files to discussion threads to proof important documents and request feedback on design mockups. Additional features such as @ mentions, requests, approvals, and email notifications make it easy for businesses to collaborate.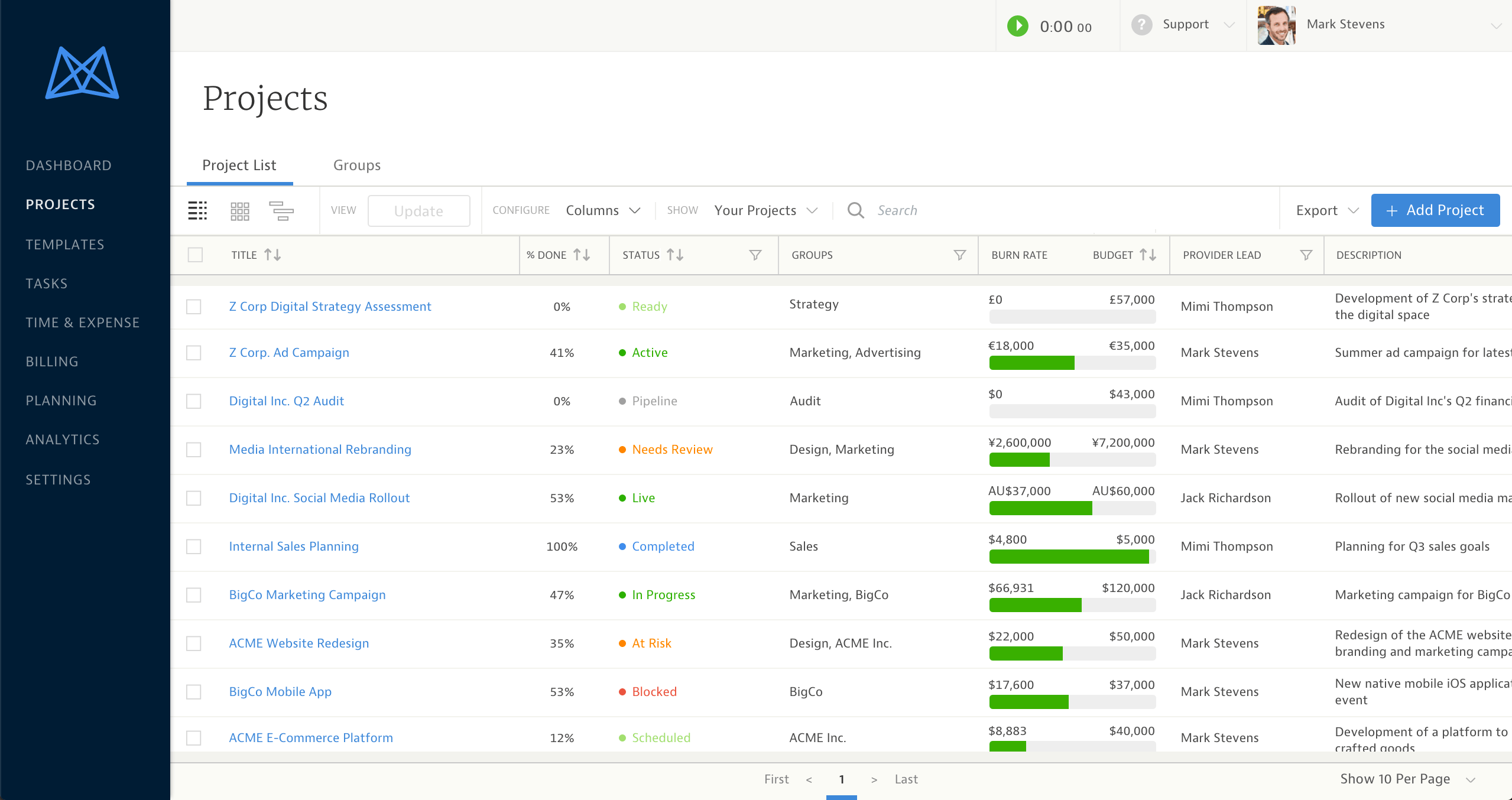 Internal messaging
Messaging and meeting functions that are built into the tool or integrated with the system strengthen communications between team members. These features come in stand-alone versions, but can also be found in comprehensive or all-in-one project management solutions. Messaging software let teammates comment on documents, send messages directly to one another, and provide context in full-group documents.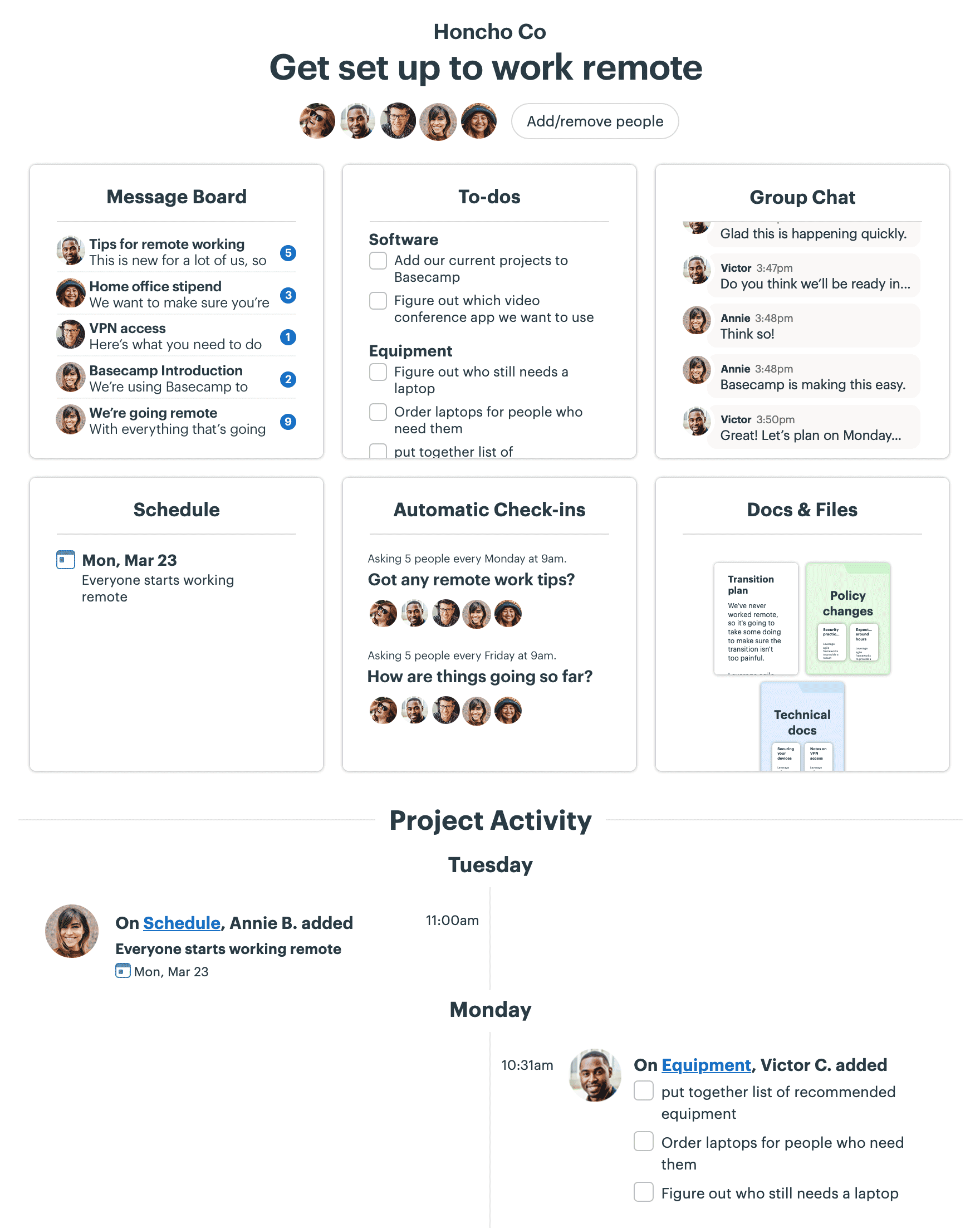 Basecamp has built collaboration at the center of each project, where stakeholders can build message threads in the context of documents and project assets. Basecamp is especially useful for teams with document or asset-based projects, as the team has full visibility into the asset and any messages.
Which Project Management software is right for your business?