This post has been updated for 2021.
Table of contents
Compare top HRIS software
What is HRIS software?
Vital employee information for use across a business's many human resources functions lives within a human resources information systems (HRIS) software. HR enters personal information related to payroll, benefits, time tracking, and performance for every employee into the system, which makes that information available for analysis and reporting. An HRIS also ensures that a company complies with regional and federal regulations regarding employment documentation, benefits, pay, time off, and the secure storage of employee contact information.
An employee accesses their contact information, address, and government ID numbers in the HRIS via a self-service portal. HR staff can update records across the software and integrated apps, and employees can use the self-service portal to keep their records up to date. The system then uses that employee data for key HR functions, which reduces the amount of manual data entry each HR team member must perform, thus reducing time and money lost to human error.
Human resources staff controls employee data and organizational tasks in the HRIS. Today's best tools help companies save money by combining features found in standalone software systems
Employee benefits management tools
Self-service portals
Large and growing businesses can find additional recruiting software and applicant tracking software features in their HRIS. Other software options manage accounting software tasks by integrating with payroll features. Many HRIS vendors also improve employee engagement metrics with valuable features from performance management software, learning management software, or gamification software.
HRIS software systems come in all sizes, but they are best suited to medium and large businesses. The software can be complicated and expensive to implement, so smaller companies may build similar capabilities from interconnected standalone options.
For some companies, an HRIS isn't the best option. Large, multinational, and enterprise businesses integrate key financial and supply chain data with HR data within an enterprise resource planning (ERP) software. These combined data points provide context that can then be used for forecasting and hiring trends.
Because HRIS software contains personal identifying information for all of the company's employees and contractors, these systems are key targets for hackers looking for unsecured data. Companies purchasing an HRIS should consider how the vendor will protect their data. Research encryption standards, the security of cloud or on-premise database options, and the vendor's track record of visibility into any previous breaches.
With so many human resources information systems (HRIS) on the market that vary greatly in terms of user experience, performance, features, and hosting options, we wanted to recognize some of the best HRIS systems out there today. We chose these systems based on our professional opinion and user reviews left on TechnologyAdvice.
These HRIS platforms may be some of the most highly-rated solutions by popular agreement, but they won't be right for everyone. Use our Product Selection Tool or click the banner below to get a shortlist of the best HR software for your business.
Key features of HRIS platforms
While there are many HRIS systems on the market, most of them incorporate these key features.
Applicant tracking system
An applicant tracking system (ATS) makes hiring easier by consolidating information about applicants, job postings, and interviews into a single location. ATS can also make the candidate experience better by streamlining the application process and improving recruiters' workflows, so they can contact good candidates faster. An ATS features a searchable database that lets you look for previous candidates who might now be a good fit for your company and reach out to them, saving you money on job board postings.
Onboarding
Onboarding new hires is a time-consuming process, but an HRIS can streamline it and make it easier. The software can automatically send new hire paperwork, prompt your new employees to create logins for the necessary sites or applications, and collect tax and payroll information. Many HRIS platforms also include learning management features to make training easier and more effective. By automating these processes, an HRIS reduces the workload for your HR staff and improves the new hire experience.
Time and attendance tracking
HRIS software should include time and attendance tracking to simplify payroll and leave requests. Many platforms include an employee self-service portal where employees can request time off, track the amount of paid time off (PTO) they have left, and see their hours for the week. By making this information available for employees, you can reduce the amount of time HR staff has to spend answering questions about it.
Payroll
Payroll features in an HRIS work with the time and attendance tracking to make payday easier. It automatically pulls and consolidates timesheets to pay your hourly employees accurately. It also automatically calculates taxes and benefits to withhold the correct amount. Many payroll systems include an employee self-serve portal where employees can upload receipts or mileage for reimbursement and look at their pay stub.
Also read: The Role of Payroll in Company Culture
Top HRIS Systems
For more information on each vendor, click on the product name to jump to a full overview.
​​​​
| | | | | |
| --- | --- | --- | --- | --- |
| | Applicant Tracking System | Onboarding Features | Time and Attendance Tracking | Payroll Management |
| Namely | Yes | Yes | Yes | Yes |
| | No | No | Yes | Yes |
| | Yes | Yes | Yes | Yes |
| | Yes | No | Yes | Yes |
| | no | No | Yes | Yes |
If these systems don't have what you're looking for, here's a few more options to choose from:
Namely
TechnologyAdvice rating: 4/5
Sporting a clean user interface and intuitive design, Namely made our list of top HRIS systems for its ease of use and quality of features. Namely offers all the features expected from a comprehensive HR platform without skimping on performance, and a partnership with business intelligence vendor Looker provides users with detailed insights to help managers make sense of HR data.
Namely did lose points for customer support, which some users reported as lacking compared to other HRIS systems. Despite some inconsistencies in this area, Namely deserves to be recognized as a great choice for businesses of any size seeking a core HR software solution.
Standout features:
Partnership with Looker gives Namely users a market-leading analytics tool.
Transparent and guided implementation from legacy HRIS systems.
Easy-to-use interface makes employees more likely to use the self-service portal, freeing up HR from answering as many employee requests.
---
Workday
TechnologyAdvice rating: 4.5/5
Built for the cloud, Workday is one of the top HRIS systems in terms of market share and performance. While it may seem that enterprise HRIS systems are unattractive, slow, and difficult to use, Workday is living proof that efficacy does not have to come at the expense of good user experience. This solution also offers integration with Salesforce for sharing financial data.
Some Workday users take issue with the company's approach to sharing pricing information, specifically with the need to contact Workday for such details. Apart from this transparency concern, most user reviews praise the solution's functionality and ease of use.
Standout features:
Salesforce integration speeds the process of sharing data between Salesforce and Workday Financial Management.
Workday is cloud-based and accessible from its mobile and tablet apps.
Learning feature lets managers create internal courses for employee training and continued learning.
---
BambooHR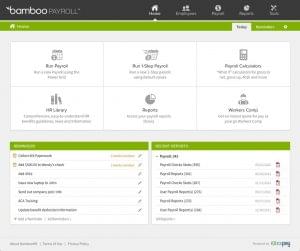 TechnologyAdvice rating: 4.5/5
Best-suited for small to medium-sized businesses, BambooHR offers a comprehensive HR platform at a low price point. HR managers recruit and onboard talent through this solution's simple user interface, and employees can easily find important documents and update their personal info. BambooHR also offers custom reporting and time tracking features for companies with hourly employees.
A mobile application for employees makes BambooHR attractive to companies with on-the-move workforces, but many users have voiced frustration with the app, citing limited functionality. Overall, BambooHR is a useful platform for SMBs that won't break the bank.
Standout features:
Job posting syndication across multiple job boards.
Time tracking available for companies with hourly employees.
Mobile apps for employee self-service portal and applicant tracking, respectively, allow users to access BambooHR from anywhere.
Also read: Best HR Software for Small Business
---
Exelsys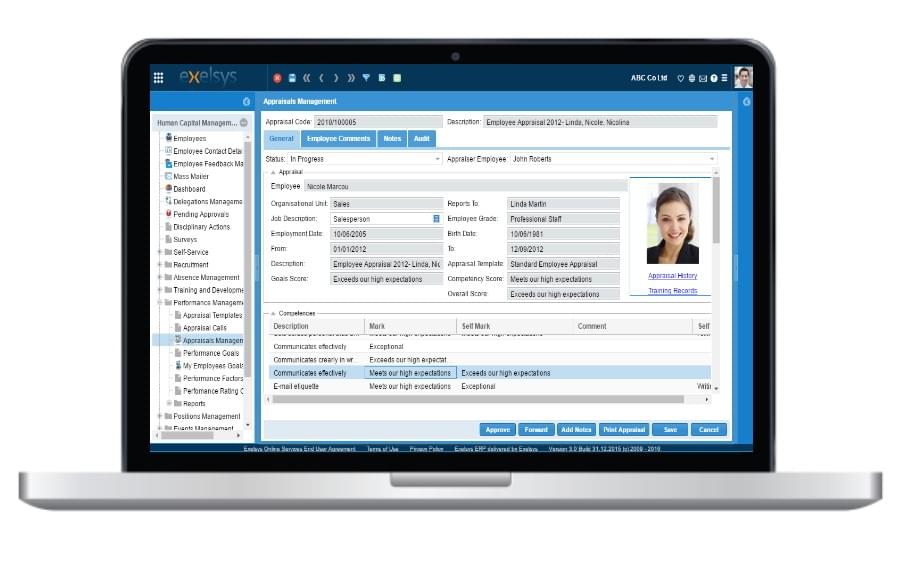 TechnologyAdvice rating: 4.5/5
Based on reliable and secure servers from Microsoft Azure, Exelsys is a cloud-based HRIS system that offers ease of use and a short time to implement. The solution is customizable to a company's individual purposes and supports international operations for multiple different countries.
Though it doesn't have a huge impact on the platform's performance, reports in Exelsys do appear dated. This may come as a surprise to users accustomed to working in other HRIS systems, but user reviews remain high in spite of this detail.
Standout features:
Hosting on the Microsoft Azure Cloud Platform ensures top-notch security and maximum uptime.
Support of multiple languages, curries, and national workflows and procedures makes Exelsys an attractive option for multinational companies.
Built-in performance management saves users money by eliminating the need to find a third-party performance management solution.
---
Optimum HRIS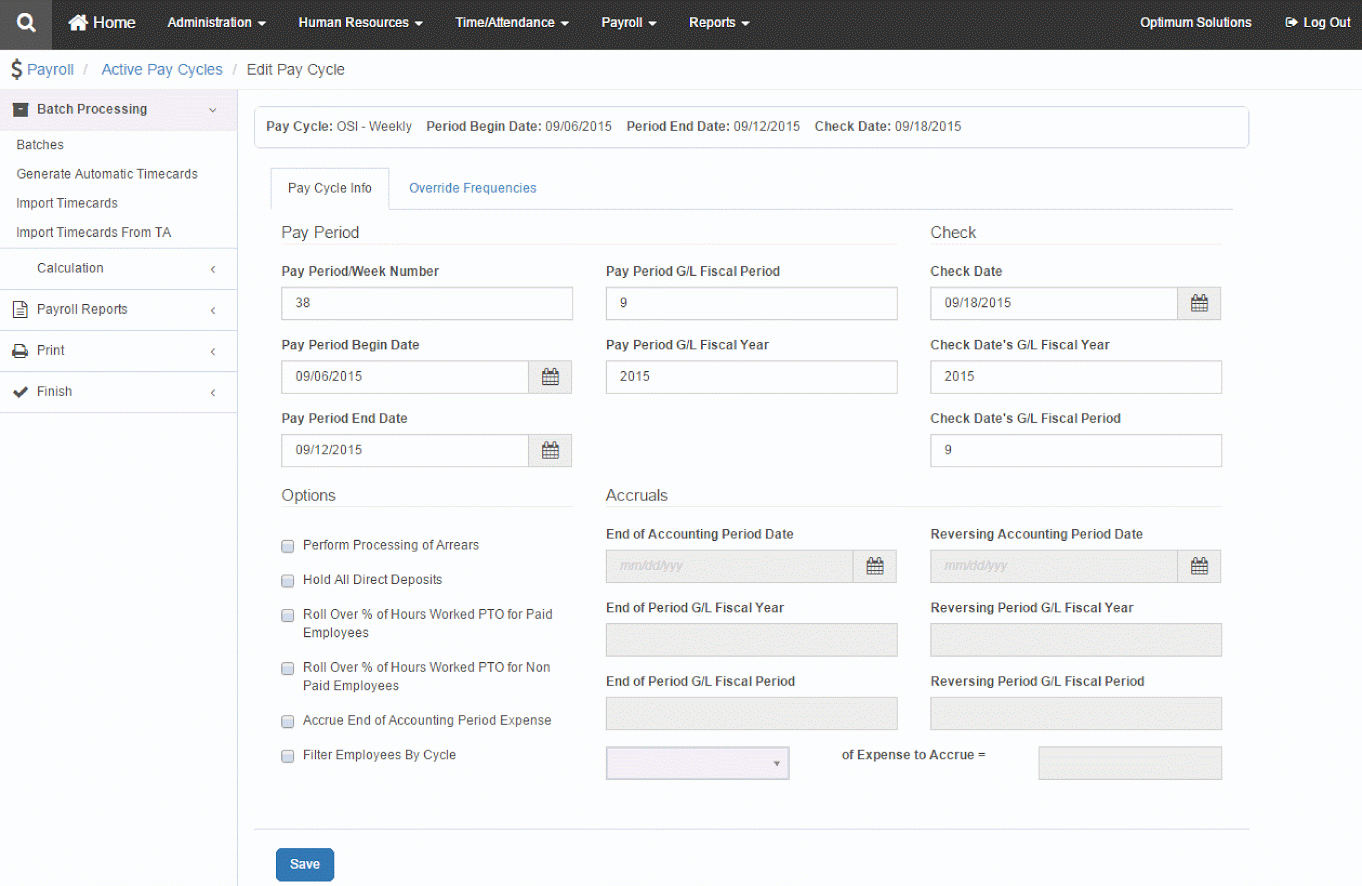 TechnologyAdvice rating: 4/5
Offering flexible hosting options, Optimum HRIS can be deployed in the cloud or on-premise for Microsoft and IBM users. The system lets managers track applicants, manage time and attendance, and run payroll, all without looping in a third-party software solution. Those who already use a third-party applicant tracking system (ATS) can integrate their existing solution with Optimum HRIS.
The user interface leaves something to be desired, but for companies seeking a no-frills solution to handle all core HR functions, Optimum HRIS is a worthy contender. In addition to a high-performing software system, Optimum users also enjoy quality, personalized customer support.
Standout features:
Available as a cloud-based or on-premise solution, with support for Microsoft and IBM systems.
Personalized and responsive customer support.
Performs essential HR functions all in one system but integrates with third-party systems for added flexibility.
---
Choosing the best HRIS for your business
The best HRIS for your business will depend on your company size and the features and functions you want to prioritize. If your company is rapidly growing, an HRIS with a robust ATS will probably be the most beneficial for your HR department. If your organization is an enterprise business with a lot of employees, streamlining payroll and time and attendance tracking may be your priority.
Still not sure which HRIS is right for you? Use our Product Selection Tool to get a short, unbiased list of software tailored to your company's needs.