Human resources information systems (HRIS) software serves as a centralized data repository for employee information. Though a true HRIS is an employee database at its core, many solutions also include features for payroll, workforce management, benefits administration, recruiting, learning management, and more.
Given their rich dataset, HRIS solutions are valuable for making data-driven decisions and aligning HR functions to overall business strategy. They help centralize employee data and optimize HR processes, while also providing insight into future business needs.
Several HRIS solutions are available on the market today, making it tough to decide which one is the right fit. There's a lot at stake in the decision about an HRIS solution, including efficiency, functionality, and user-friendliness. Therefore, it's essential to consider your business's unique needs when comparing the best HRIS systems.
Currently Trending HRIS Systems
Top 5 HRIS Recommendations
Our top five HRIS software picks offer a wide range of benefits for businesses with different HR software needs:
ADP Workforce Now is best for flexibility in its capabilities, payroll methods, and ways to track employee time and attendance.
BambooHR is best for automating core HR processes to save HR teams time.
Workday HCM is best for companies that want to keep DE&I top of mind when recruiting, paying, and promoting employees.
Paylocity is best for employee engagement and a connected workplace culture.
UKG Pro is best for AI functionality to streamline HR tasks at larger companies.
ADP Workforce Now: Best HRIS for flexibility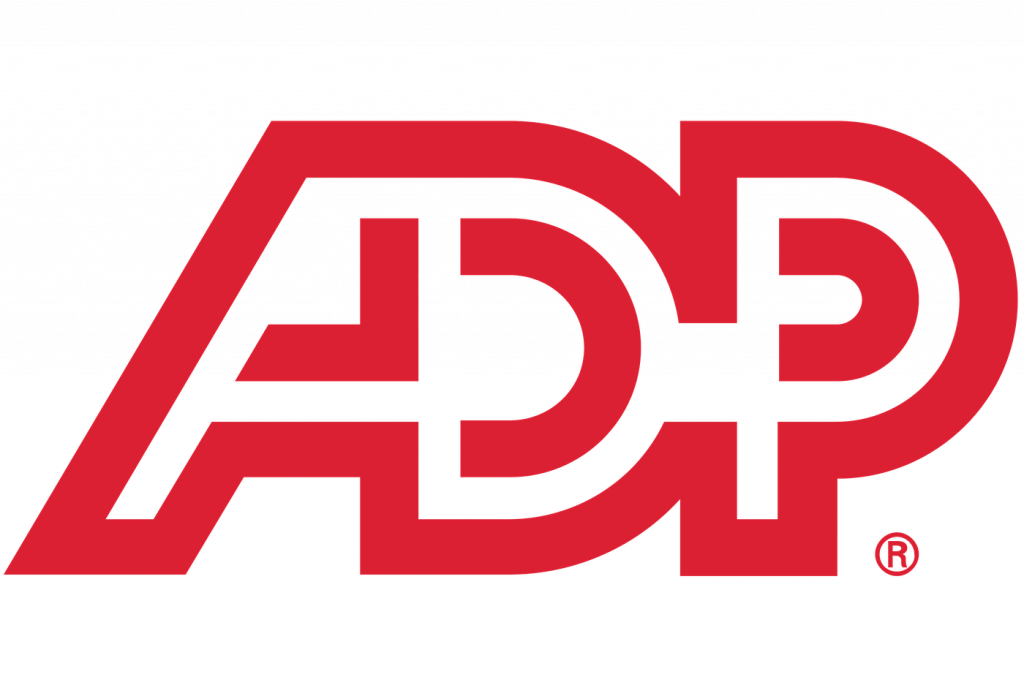 ADP is known for its standalone payroll software, but ADP Workforce Now is a comprehensive solution that provides small and midsize businesses with the following capabilities and more:
Benefits administration
Payroll
Workforce management tools, such as time and attendance tracking
Talent management tools, such as recruiting, onboarding, and performance management
ADP Workforce Now is best for companies that need a flexible, scalable HRIS. It comes in three packages to meet different business needs: Essential, Enhanced, and Premium.
The Essentials package works for businesses that only need core HR and payroll capabilities, whereas the Enhanced package adds benefits administration features. The Premium package, which ADP indicates is its most popular offering, combines the features in the other two packages and adds time tracking for comprehensive workforce management.
Tools for talent acquisition, performance management, compensation management, learning management, and other modules are available as add-ons to existing plans. For growing businesses, this means extra flexibility to add functionality as needed.
ADP Workforce Now pros and cons
Pros:
Support for payroll in more than 140 countries
Easy tracking of employees' benefits elections and changes
Great customer service with a dedicated account rep for businesses of all sizes
Straightforward tools for onboarding new employees
Cons:
Difficult-to-use reporting for generating, filtering, and modifying customized and standard reports
Employee scheduling only syncs with Microsoft Outlook calendar
No dedicated employee engagement tool
Learning curve
Difficult set-up
ADP Workforce Now key features
Payroll: Employees can choose from multiple payroll methods and divide their paychecks into as many as four direct deposit accounts. This means employees can get paid faster and in the way that works best for them. ADP automatically keeps a record of payments and determines wage requirements to ensure compliance.
Time and attendance tracking: ADP Workforce Now offers several ways to manage employees' time and attendance via computer terminal, mobile device, and even voice and facial recognition in the Time Kiosk tool. Regardless of the way employees clock in and out, ADP automatically tracks and calculates the time worked and transfers that data to payroll services. It's worth noting, however, that this feature is limited to the more expensive Premium package.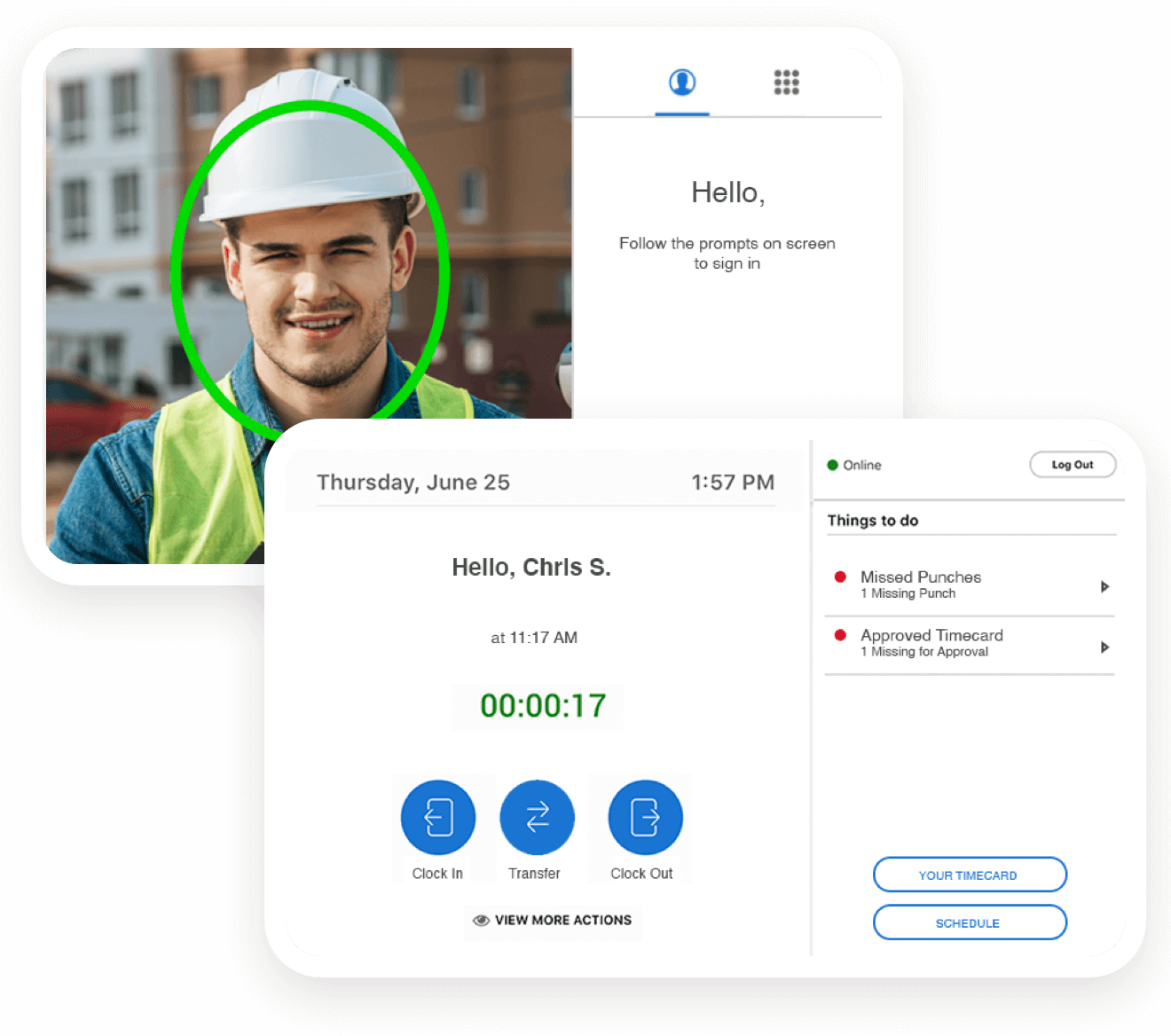 BambooHR: Best HRIS for automation

BambooHR is one of the best HR software solutions for small businesses that want to eliminate spreadsheets and automate administrative tasks in a centralized database. It streamlines core HR processes, which frees up HR staff to undertake more meaningful work that aligns with the company's broader goals.
BambooHR offers just the right amount of automation for small and medium-sized businesses. The ability to automate repetitive manual tasks significantly helps small businesses that have small, even one-person, HR teams. However, as a business grows, it will need to reassess its needs and perhaps upgrade to a solution with more advanced features.
Pros:
Intuitive interface that enables employee self-service
Simplified onboarding features
Easy-to-use time-off features, such as requests and tracking
Cons:
No built-in learning management system (LMS) for talent development and training
No built-in scheduling
No full-service payroll
Lack of granular levels of access control
Lack of customization for forms, reports, and performance reviews
BambooHR key features
Auto-populated forms: BambooHR's recruiting and hiring document templates automatically populate with new hire details to save time and facilitate quicker employee onboarding.
Automated employee record management: Automation and organization come together in BambooHR's HRIS. Employee records are stored in one place, sync to the cloud automatically, and are accessible anywhere, anytime, and from any authorized device.
Automated employee engagement: With BambooHR, users can send automated assessment reminders on a regular basis to promote employee engagement and feedback on job satisfaction.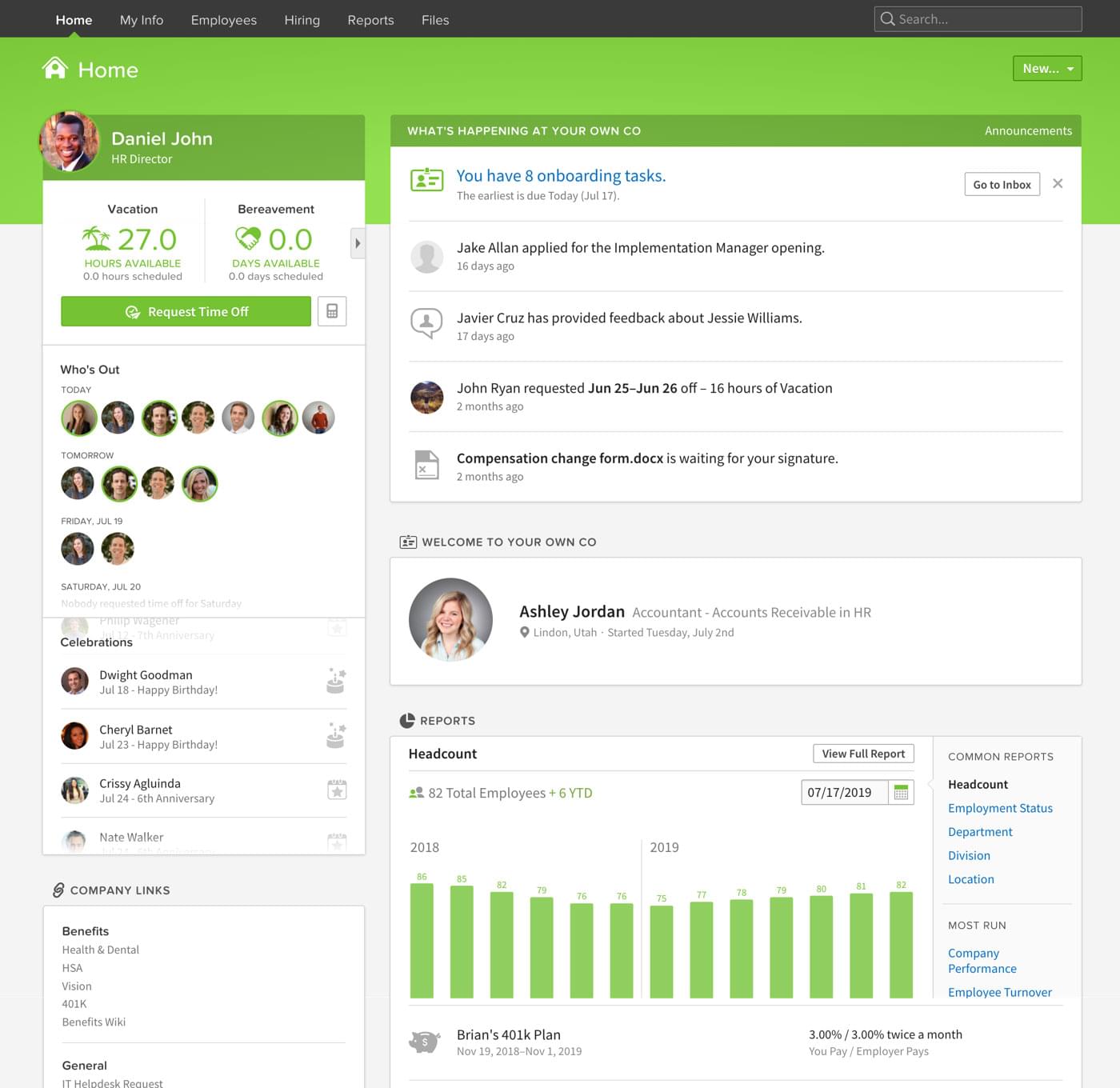 Workday HCM: Best HRIS for DE&I support

Workday helps HR teams manage talent, compensation, and more in a way that is adaptive and proactive to changing company needs and workforce conditions. In this way, Workday offers flexibility similar to ADP Workforce Now.
However, Workday stands out from the rest for its tools that promote diversity, equity, and inclusion (DE&I) in core HR functions — namely recruiting, performance management, and compensation management. These measures help employers create equitable compensation review and pay structures, which can benefit employee retention and maintain compliance in states that require pay transparency, like New York.
Workday HCM is a powerhouse for larger, forward-thinking companies. It helps them anticipate various scenarios, such as a hiring crisis and workforce skills gaps. Plus, Workday includes a range of features to help companies recruit a diverse and inclusive workforce.
Workday pros and cons
Pros:
Employee sentiment and engagement tool called Workday Peakon Employee Voice
Employee mental health and well-being tools
Predictive workforce modeling
Pay transparency and collaboration in compensation management
Cons:
No native social collaboration tool
Difficult to navigate
Limited international payroll
Workday HCM key features
DE&I in recruiting: Workday hides identifying details about candidates, reducing the chance of implicit bias at play in the hiring process. In addition, Workday provides internal and external diversity metrics. These hold the company accountable to its own DE&I goals and help leaders understand how the company stacks up against competitors in the industry.
Pay Equity Dashboard: administrators and managers use this to identify inequities among employees with the same title and experience but different pay. The dashboard also informs the creation of data-driven compensation review processes to uphold fair and equitable promotion procedures.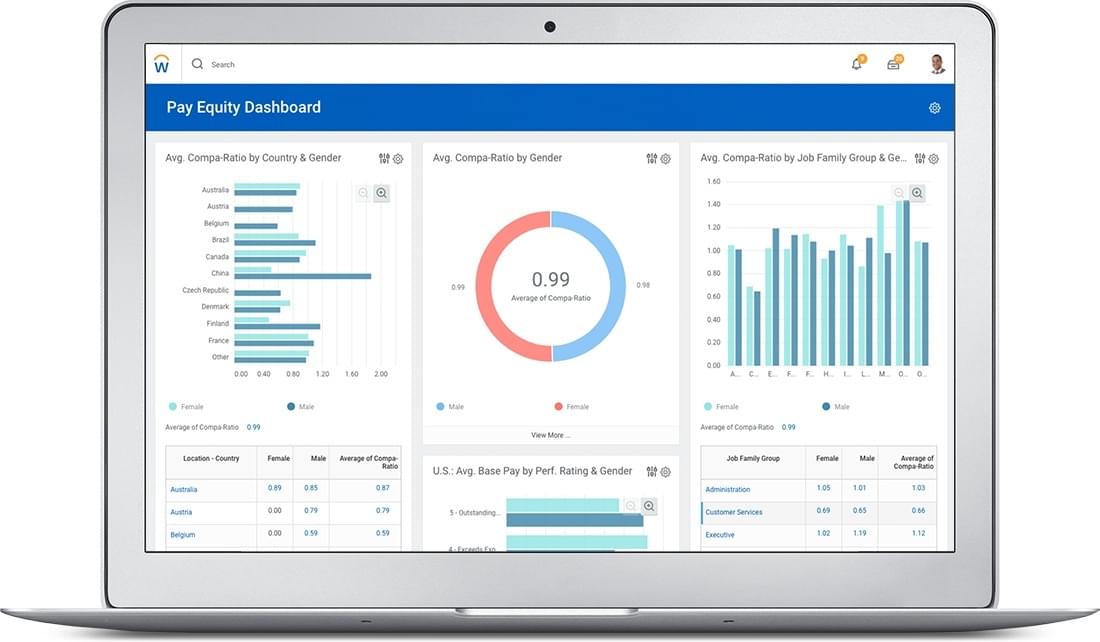 Paylocity: Best HRIS for employee experience
Paylocity offers an entire suite of products to cover the biggest HR needs, so users don't have to worry about third-party integrations. Paylocity's modules include:
Payroll
Workforce management to cover time and attendance tracking, employee scheduling, and more
Employee self-service portal
Employee data and record management
Talent management features such as recruiting and performance management
Employee experience with recognition and survey tools
Paylocity stands out from Workday and UKG Pro for its employee experience products that offer a variety of ways for employees to stay in touch and collaborate with each other. Even those who don't have corporate email accounts can take advantage of these features. This is a plus for companies that employ remote contractors and freelancers, as it keeps them in the loop on critical work processes.
A company with a distributed workforce should consider Paylocity to cultivate a consistent, connected workplace culture regardless of where employees are located.
Paylocity pros and cons
Pros:
Employee satisfaction tools
Native social collaboration tool
User-friendly interface
Responsive customer support with a dedicated account representative
Cons:
Needs more training course variety in LMS
Lack of customization in reports
No monthly calendar view of employee schedules
International payroll limited to Canada
Paylocity's key feature
Employee experience platform: Paylocity goes beyond automated employee check-ins and pulse surveys by streamlining communication in its native social collaboration tool. Employees can give and receive recognition, easily share files, and chat with each other via instant messaging — no integration with Slack is required.
UKG Pro: Best HRIS for AI functionality

UKG Pro, formerly known as Kronos, is a cloud-based platform that helps companies manage a wide variety of HR functions. These include:
Employee data
Payroll
Compliance
Talent through recruiting tools
Workforce through analytics
Customers appreciate the breadth and robustness of UKG Pro's features, but precisely for this reason, it might be overwhelming to users and provide way more functionality than smaller businesses need.
UKG Pro's software stands apart because of its AI and automation capabilities. Offering more than just chatbots, UKG Pro integrates AI into nearly all of its workforce management tools to help companies optimize their processes and provide a better employee experience.
UKG Pro pros and cons
Pros:
Easy-to-use benefits administration and time-off request tracking
Organized, secure employee data management
Cons:
File sharing is separate from the UKG Talk tool
Reporting tools need improvement
Interface isn't intuitive
UKG Pro key features
AI for scheduling: UKG Pro intelligently schedules meetings and recommends the right person for the job, based on skills, availability, and more to avoid scheduling headaches.
AI for time tracking: UKG Pro's time tracking tool enforces work and pay rules and their exceptions, which helps businesses avoid costly payroll errors.
AI for compliance: Using UKG Pro's online knowledge base and alert service helps HR navigate ever-changing data management rules and regulations.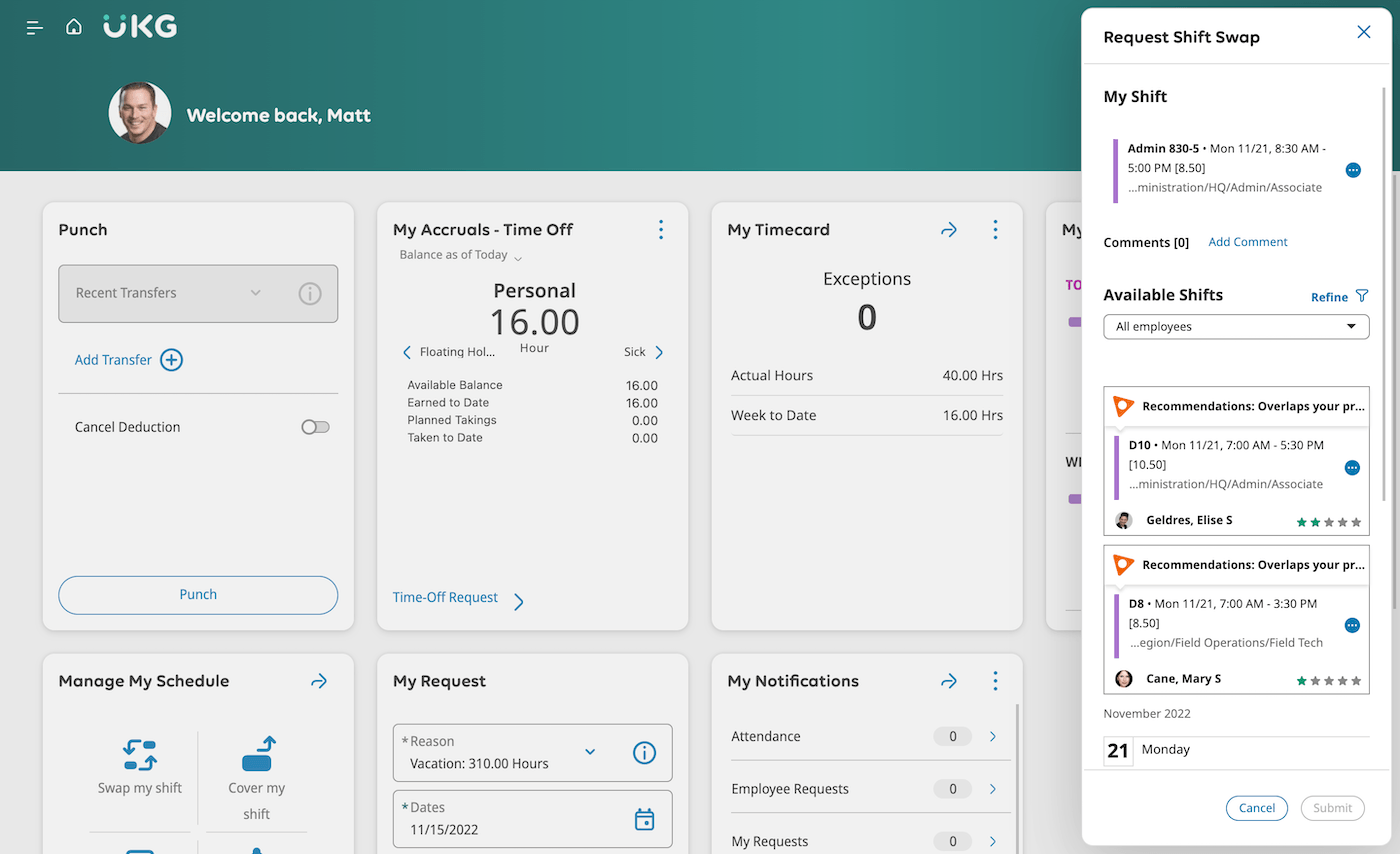 How to Choose the Best HRIS System?
HRIS platforms come in all sizes, and they can be complicated and expensive to implement. The right solution depends on a company's biggest HR needs.
ADP Workforce Now gives businesses the flexibility to start with basic HR functions and upgrade for more functionality when the time is right. Similarly, Workday helps businesses balance future workforce needs with the present demands of their staff.
Workday's DE&I features also give companies the right tools to weave equity into the fiber of their compensation management and recruiting structures. When it comes to company culture, though, companies that want to offer the best employee experience should check out Paylocity for its surveys, recognition, and collaboration features.
BambooHR might be a good fit for small businesses that want to automate repetitive, manual tasks without too much complexity. If artificial intelligence ranks high on the list of desired features, UKG Pro's intelligent scheduling, time tracking, and compliance tools might offer the right amount of efficiency and insight.
If none of these HRIS solutions seem like the right fit for your business, check out our comprehensive HR Software Guide to explore other options.
Technology Advice is able to offer
our services
for free because some vendors may pay us for web traffic or other sales opportunities. Our mission is to help technology buyers make better purchasing decisions, so we provide you with information for all vendors — even those that don't pay us.