This post has been updated for 2021.
Pulse surveys are a simple, effective way to gather employee feedback. While many departments check in with their employees monthly, quarterly, or yearly, pulse surveys are designed to take a team's temperature in shorter intervals. Used in conjunction with an employee rewards program, pulse surveys can go a long way to improve engagement and retention.
ALSO READ: Employee Rewards Aren't All About the Money
Good engagement surveys are goal-oriented, frequent enough to show trends in behavior and sentiment, and result in positive change. Bad surveys will ask non-pertinent questions, are immune to individual feedback, and don't compel action by team members.
Good engagement surveys are goal-oriented, frequent enough to show trends in behavior and sentiment, and result in positive change.
To get started with a custom list of the best pulse survey software for your company, use our Product Selection Tool. Our Technology Advisors will match you with the right software according to your needs. Click on the image below to get started.
Top Pulse Survey Solutions
6Q

6Q boasts that its average pulse survey response time is 1 minute, 52 seconds. Even for a weekly survey, 2 minutes doesn't take a lot of time from important work. These surveys are limited to six questions, which may help your team narrow its focus. On the other hand, six questions may feel restricting to some organizations. All surveys are mobile-ready, include peer-to-peer recognition, and don't require employee logins.
Managers using 6Q can compare their teams to industry-specific benchmarks from around the world. Surveys also have the option for anonymous or named responses. This platform is all about speed; once the reply deadline passes, leaders receive emailed reports within minutes. 6Q offers a whopping eight pricing tiers, plus a custom enterprise option. That may feel like a lot of options, but it keeps you from paying for surveys you don't use.
15Five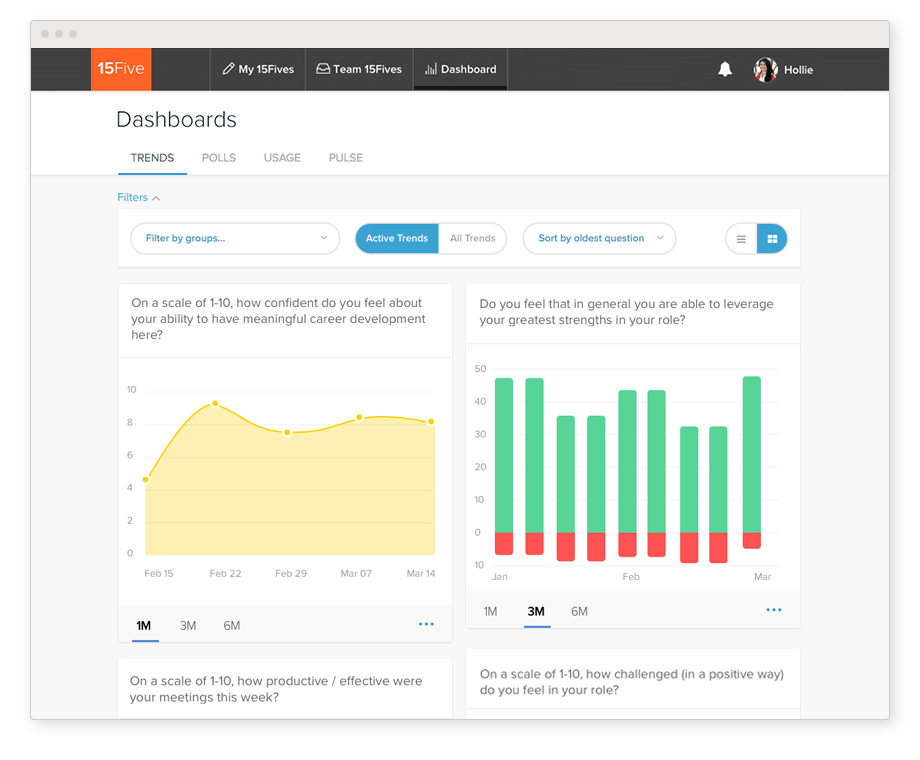 15Five encourages feedback and in-person communication with a model that combines online surveys and 1:1 reviews. Each week, an employee dedicates 15 minutes to fill out the survey. This is followed up with a five-minute meeting for managers to review responses. Surveys become a meeting agenda for 1:1 meetings, which keeps all members on track and reduces lost time.
15Five has mobile capabilities for easy access to surveys and results. It also includes several features you may be familiar with in other platforms. Feedback is easily shared up the management chain with a dedicated button on all responses. To recognize a peer, simply @mention them in your response. You can even give a virtual "high-five." 15Five offers three pricing plans, plus an enterprise platform.
GetFeedback
This platform is built to handle all of a company's surveys, not just employee satisfaction. GetFeedback helps marketers, HR professionals, and managers build beautiful, branded surveys that work on any device. They provide templates for online and email and integrate with social media and CRM platforms. There's even a special pricing tier for Salesforce integration that includes extra features.
While some of the other platforms are HR and employee engagement-focused, providing sample questions and modeling for that specific market, GetFeedback is an all-in-one tool for surveys. This means you'll need to come up with your own goals and questions, and peer recognition isn't included. What you lose in guidance you may make up in design and ease of use, however.
TINYPulse

TINYPulse is committed to building great company culture through anonymous surveys. Understanding that it's hard for many managers to open themselves up to anonymous feedback, TINYPulse has refined their system to allow cloaked messaging for following up on feedback. This allows managers to ask more questions or gather clarifications without exposing the identity of the responder.
TINYPulse offers a company-wide dashboard that updates in real time after five users submit their answers. It also features peer recognition capabilities to help promote employee engagement and positive reinforcement amongst team members. Surveys and reports are available in desktop, mobile, and exported versions.
OfficeVibe

In an effort to simplify employee engagement surveys, OfficeVibe uses a five-question pulse survey model. Employees respond anonymously, and management can provide feedback and comments on those answers. A reporting dashboard provides visual data of the overall company responses and trends according to 10 employee engagement metrics.
Where OfficeVibe stands out from competitors is in their content recommendations. In their commitment to improving employee relations, OfficeVibe suggests content based on how the organization measures up against those 10 engagement metrics. OfficeVibe is great for small companies or those who want some outside guidance.
Pulse survey best practices
1. Begin with outcomes: If you don't know where you're going, how can you build the map? Make sure you define a couple of short-term goals and a few long-term goals that you'd like individuals or teams to achieve.
2. Cut unnecessary questions: You may want to know all the things, but surveys are especially subject to fatigue. The shorter the survey, the more likely your team will actually complete it. Keep your questions list in the 5-10 range for best results.
3. Be intentionally redundant: Pulse surveys are designed to track employee trends over time, so repeat questions and topics often. Maybe set a quarterly goal and ask a similar question about that goal every week. This will help you gauge individual and team improvement. For some question ideas, try this list of 100 employee engagement questions.
4. Share results: Secrets don't help anyone improve, so share what you learn with your team. Make sure you share in an accessible manner. Try posting the results on a central dashboard so team members can browse when it's convenient. This visibility can also increase engagement: as the results come in, that's a subtle reminder for slackers to fill out their surveys and be included next time.
5. Let results guide decisions: Pulse surveys are useless if they don't impact future outcomes, so pass feedback and analysis up the management chain. Remind stakeholders to review the reports. Use what you learn to adjust policy and process in measurable ways. In conjunction with iterative policy and project management, pulse surveys can shape the future of your business.
Choosing the right pulse survey software
Pulse surveys are easy to implement and helpful when your organization is looking for actionable ways to improve employee satisfaction. With a little bit of foresight and planning, you can implement a survey solution in less than a day and see results almost immediately — very low barrier to entry, and very high potential for gain.
Still don't see the feedback and engagement tool you're looking for? Use our Product Selection Tool to browse more options, read reviews, and get a custom recommendation.
Top Human Resources Software Recommendations
Rippling is the #1 Rated All-In-One HR Platform. You can onboard new hires in 90 seconds, and easily manage your company's payroll, benefits, HR, and IT -- all in one, modern system. It brings all of your employee systems and data together, and helps automate your busy work. Take onboarding, for example. With Rippling, you can click a button, and take care of a new hires' I-9, offer letter, payroll, health insurance, and more -- 100% online and paperless.
Processing routine HR tasks by hand and entering data in multiple systems can be time consuming and risky. That's why leaders depend on Paycor for a modern, adaptable, and unified system for all things HR. From engaging employee self-service, mobile push notifications and company updates to unlimited workflows, reminders, and notifications, Paycor's HR software helps you get out of the weeds so you can focus on bigger priorities like attracting, retaining and developing employees.
monday.com is a collaborative platform that allows HR managers to manage the entire employee lifecycle in one place. Track the recruitment process of all candidates at a glance, onboard new employees with pre-made templates, plan team-building activities to engage current employees, and leverage data-driven insights with analytics built into your daily workflows. Finally, integrate monday.com with Gmail and 40+ tools you already use so the platform supplements your current workflows seamlessly.
Need a Little Help?
Talk with a software expert for free. Get a list of software that's great for you in less than 15 minutes.