ADP is one of the world's largest providers of payroll and HR software. Despite its popularity, ADP isn't the right solution for every company. Its HR tools aren't as sophisticated as many competitors, and the number of features it offers for the price isn't always cost-effective for small businesses.
There are many ADP alternatives that address all of these drawbacks and more. It's important to keep your business's unique needs top of mind to know whether any of these solutions could be a match. However, these are not the only options worth considering; if none of the vendors on this list seem like the right fit, check out our HR Software Guide to browse a complete list of solutions.
Top ADP Alternatives
ADP's strengths as a payroll software solution are hard to top for midsize businesses. However, businesses that are very small, very large, or in need of a robust suite of comprehensive HR tools might be unsatisfied with what ADP offers. In these instances, an alternative like Paychex, Gusto, Paycor, Workday, TriNets Zenefits, or BambooHR might be worth considering.
Paychex: Best for small businesses
As the name suggests, Paychex specializes in payroll, but it also offers simple HR tools for smaller companies and growing businesses.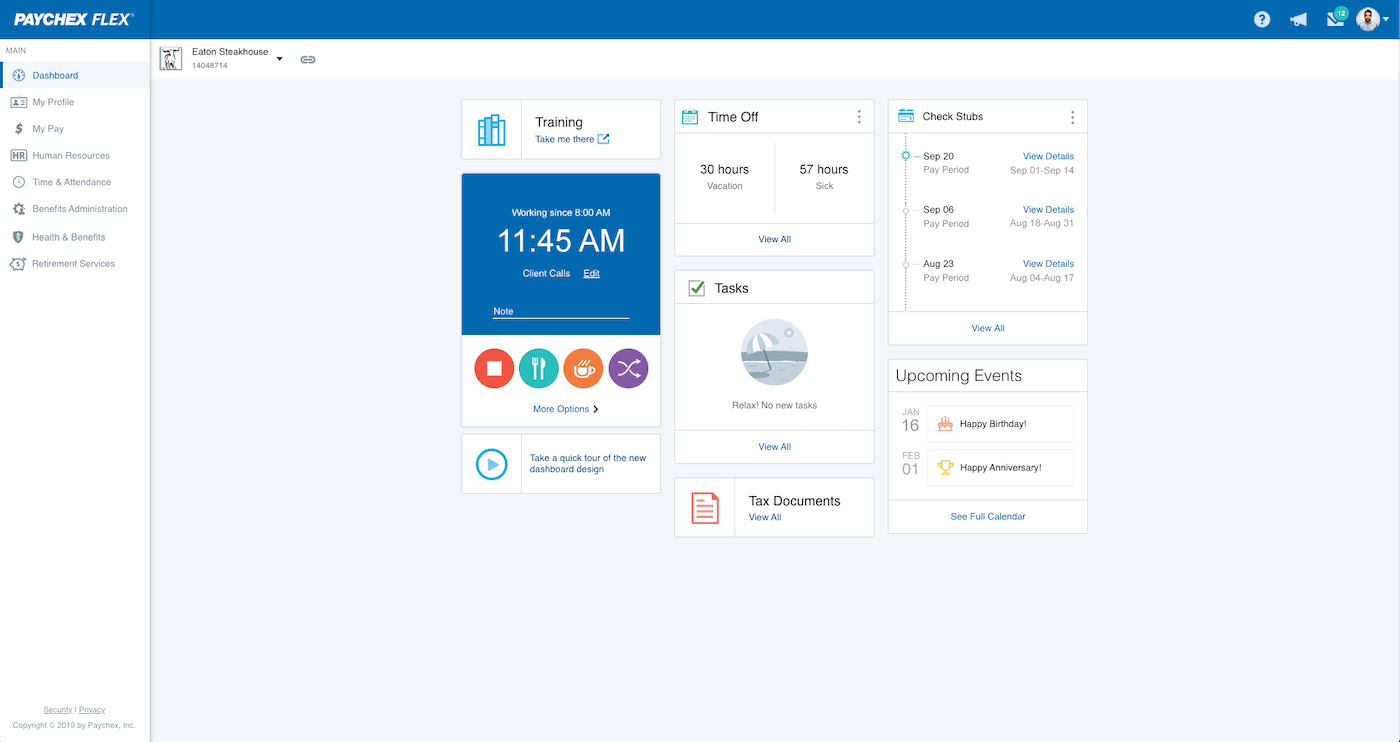 Payroll
Paychex's payroll is specifically designed with small businesses in mind. It offers a 24/7 year-round service platform, so business owners can do payroll when it's most convenient for them. It also automatically calculates taxes to make deductions simple and ensure your business remains compliant with federal, state, and local laws.
Time and attendance
Paychex also offers a native time-tracking app that fully integrates with the payroll software. This makes it easy to pay employees for the time they have worked and means HR teams don't have to deal with the hassle and expense of integrating a separate time-tracking software.
Why choose Paychex over ADP?
ADP can be rather overwhelming for very small businesses and often presents a lot of excess features with a price tag to match. Paychex is a great solution for very small businesses looking for payroll and time-tracking support, as well as some basic HR tools.
While it's not a comprehensive human resources information system (HRIS), it will get the job done for small business owners looking to get started with a highly-rated payroll software.
Workday: Best for large companies
Workday provides enterprise-level software for large companies, including human capital and financial management capabilities.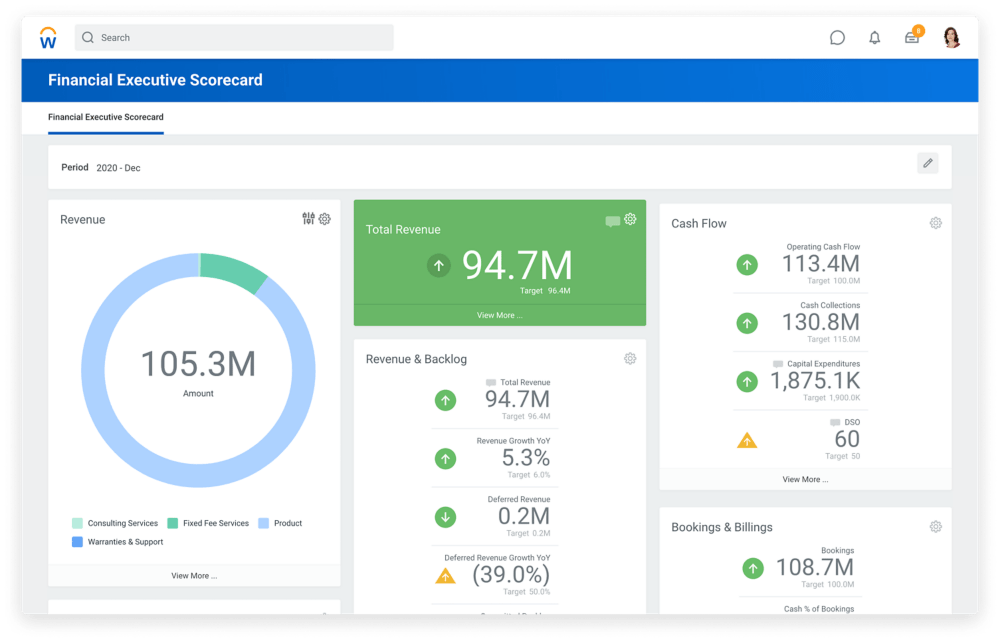 Financial management
Workday goes beyond payroll to offer enterprise-level financial management tools for large businesses, including always-on auditing and analytics powered by machine learning. For payroll needs specifically, customers can choose between Workday's optional add-on or a third-party integration.
Human capital management
Workday's human capital management features include talent management programs, augmented people analytics, compensation and benefits tools, workflow automations, and more. Workday also offers a feature called Peakon Employee Voice, which embeds employee engagement tools and data in the same platform as other HR information to create a more holistic view of the company's workforce.
Why choose Workday over ADP?
Workday was designed to be an enterprise-level, cloud-based software solution focused on enterprise resource planning (ERP) and human capital management (HCM). This makes it a good choice for large businesses that have maxed out the capabilities of ADP and need a more comprehensive software solution that can match their growth and complexity.
Gusto: Best for scalability
Gusto is another payroll-focused platform that competes directly with ADP, but it also offers a more extensive range of HR tools than Paychex and other entry-level software.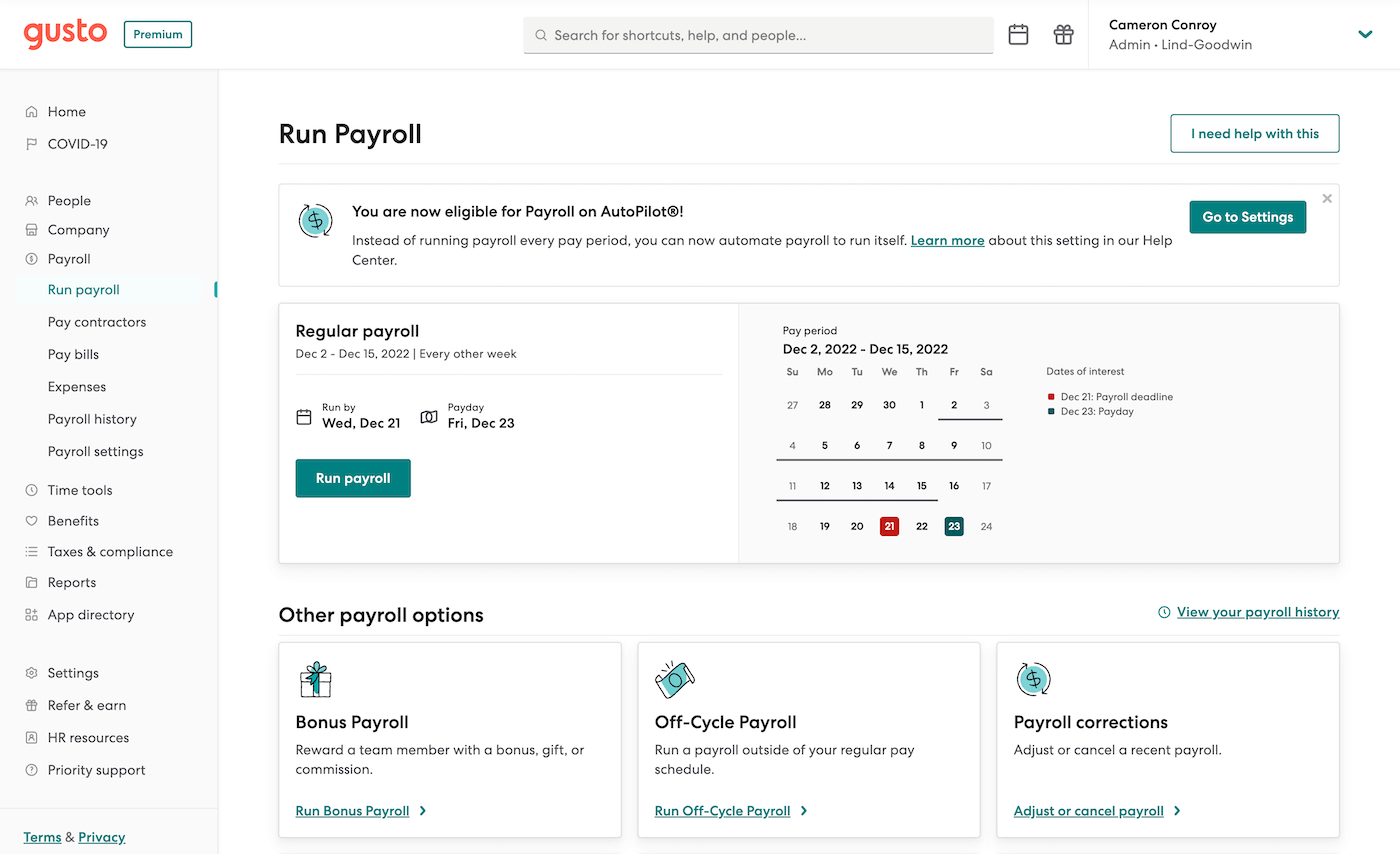 Payroll
Gusto's basic plans offer a lot of payroll features that are only available on more advanced plans or via an add-on with ADP. These capabilities include wage garnishments, benefits administration, and workers' compensation. This often makes Gusto a more convenient and cost-effective choice for small businesses.
Hiring and onboarding tools
Besides payroll, Gusto also offers HR tools to help businesses hire and manage employees. With Gusto, HR teams can create job posts and offer letters, put together onboarding checklists, integrate with leading ATS, sign and store documents online, and more.
Why choose Gusto over ADP?
Gusto is a payroll-focused HR tool with a transparent pricing schedule that scales naturally as the business grows and adds more employees. This contrasts with ADP, which forces customers to switch from the ADP Run plan over to Workforce Now once they reach 50 employees. For businesses that have plans to grow their teams quickly, Gusto's flexibility may be more appealing.
Gusto also offers more HR features than Paychex and similar platforms, so it's a good fit for slightly larger businesses that want a tool with more capabilities besides just payroll.
Keep reading: Gusto vs ADP
Paycor: Best for integrated recruiting features
Paycor is a direct competitor with ADP that offers a comprehensive suite of human capital management (HCM) tools in addition to payroll.
Recruiting
Growing businesses need to hire the right staff in order to keep succeeding, which is why Paycor has a whole range of recruiting tools. Paycor's talent management modules let users set up a candidate dashboard, make custom hiring workflows, hire candidates virtually with remote integrations, create post-interview scorecards to standardize feedback, and more.
Benefits administration
Benefits administration can be tedious, but it's necessary for maintaining compliance with laws like the Affordable Care Act (ACA) and Consolidated Omnibus Budget Reconciliation Act (COBRA). Paycor makes this effort easier by providing automated workflows to reduce rote tasks, EDI connections to transfer data to major insurance carriers, and process guides to optimize open enrollment periods.
Why choose Paycor over ADP?
Paycor is a more comprehensive HCM platform and thus offers more of a direct comparison with ADP. If ADP almost suits your business's needs and you're searching for a comparable alternative, Paycor is a great option. It's ideal for midsize companies looking for a platform that combines robust payroll software with HR tools.
BambooHR: Best for integrated talent management
BambooHR is a highly rated HR software platform that also offers the option to add payroll functionality for U.S.-based employees only.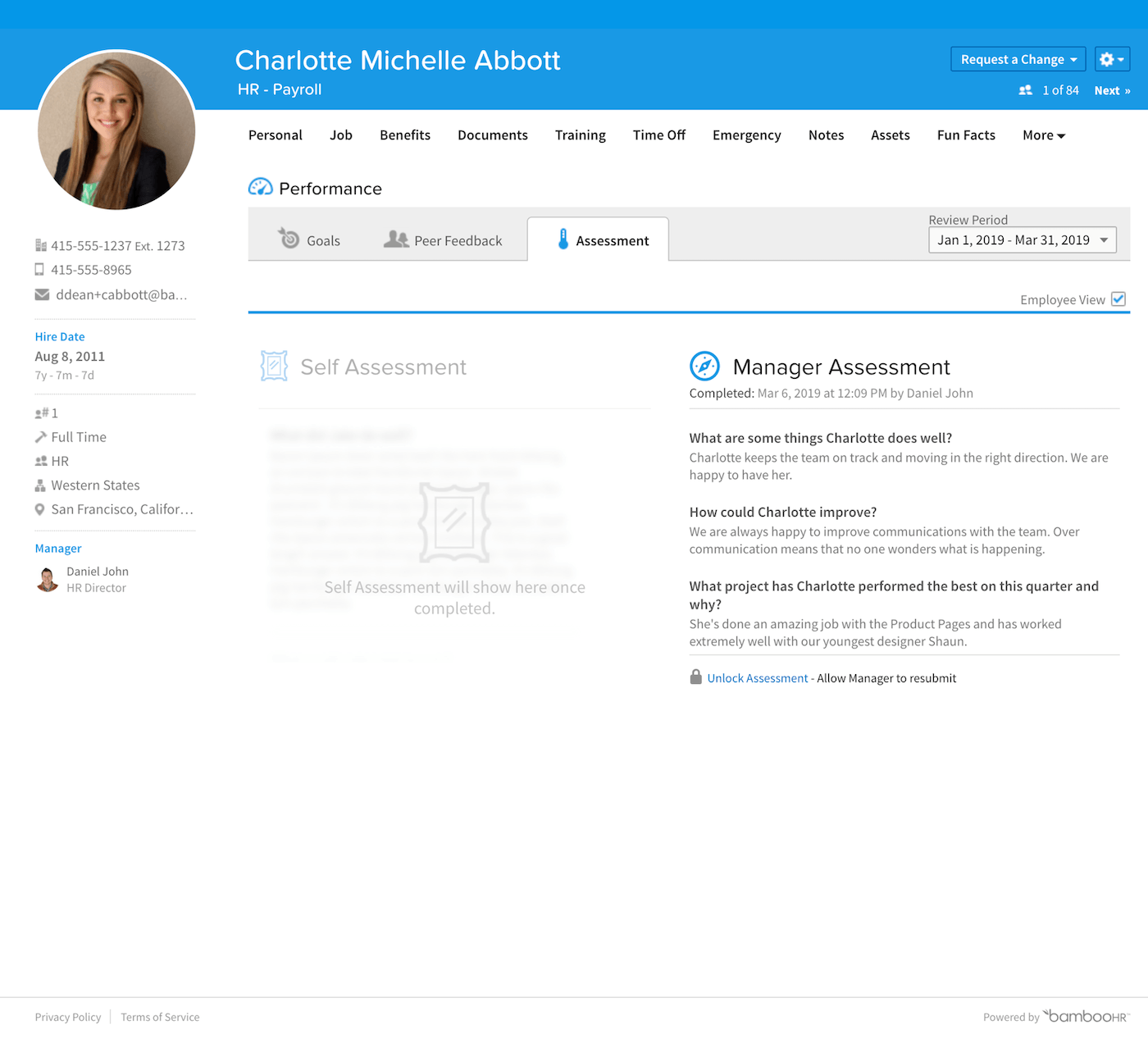 Applicant tracking system
BambooHR gets high marks for its applicant tracking system (ATS), which helps users identify promising candidates and fill open spots more quickly. The BambooHR ATS offers centralized candidate data, automatic alerts, in-system messaging, offer letter templates, and a mobile hiring app, so hiring teams can review and respond to candidates instantly.
Performance management
Once employees are hired, HR teams can continue to support their development using the performance management modules from BambooHR. The software supports self and manager assessments, customizable performance evaluations, check-in scheduling, and more.
Why choose BambooHR over ADP?
BambooHR has a great reputation for offering comprehensive yet easy-to-navigate HR tools for midsize companies, so it's an excellent ADP alternative to explore if that's what your company is looking for.
However, it's worth noting that the BambooHR payroll add-on is available for U.S. employees only, so businesses that are searching for payroll tools for international employees will need to look elsewhere or choose a third-party integration.
TriNet Zenefits: Best for HR administration
​TriNet Zenefits offers an extensive suite of HR tools with the option to include payroll as an add-on.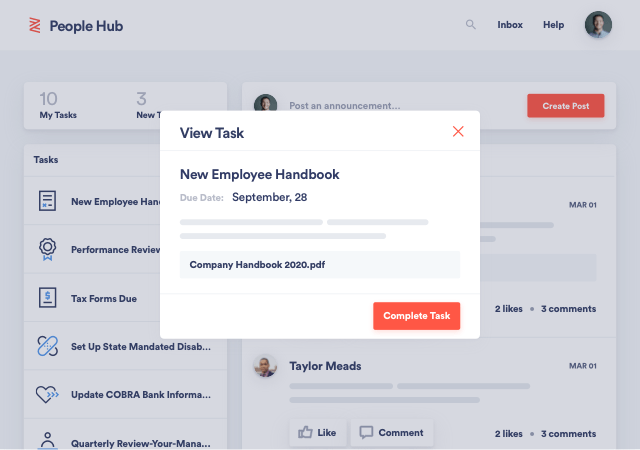 HR administration
Zenefits provides comprehensive HR tools that cover the entire employee lifecycle for streamlined workforce management. The software also includes business intelligence reports, so decision-makers can delve into the analytics and optimize processes based on that.
People Hub
The People Hub is what Zenefits calls its suite of communication tools, which allow HR to interact with employees directly from the Zenefits interface. The People Hub also makes it easy to send engagement surveys and solicit employee feedback, so HR and business leaders can understand employee sentiment more deeply.
Why choose Zenefits over ADP?
ADP is more of payroll software with some HR tools added, whereas Zenefits is HR software with payroll added. In fact, payroll is optional with Zenefits, whereas it is included in ADP plans by default. If you are looking for more of a full-service HR platform that includes payroll, then Zenefits is a good option to consider.
ADP Limitations
ADP is one of the leading payroll solutions, but it may not work for all needs.
Its primary focus on payroll features means its HR capabilities often can't match the sophistication of competitors that are HR-forward. If you are looking for a comprehensive HRIS solution, ADP might not offer the right tools to support your goals.
ADP also targets the middle of the market, so if you are an enterprise-level company or a small business just starting out, then ADP might offer either too many capabilities or not enough.
Choosing the Right Alternative to ADP
If your business has outgrown ADP or found that it no longer meets your HR needs, there are many alternatives to consider. Small businesses may find success with Paychex, whereas large companies should look to Workday for more advanced functionalities. TriNet Zenefits is a good option for businesses with broad HR administration needs.
Gusto is a strong contender for businesses needing a scalable HR platform that can grow alongside their teams. Similarly, businesses that are looking to expand quickly may benefit from Paycor's integrated recruiting features, and BambooHR might work for businesses that need to juggle internal and external talent management.
Still not sure what ADP competitor is right for your company? Explore our HR Software Guide to learn more about your options.
Currently Trending HR Software
Simplify payroll, automate processes, and stay tax compliant, all in one spot. Our tools help you tackle the day-to-day, so you can focus on your people. Empower employees to view checks, request time off, clock in/out and update their personal data with Employee Self Service. Pull expense reimbursements into paychecks and run custom reports to get the data you need. Build a better future for your organization with a scalable solution focused on your business outcomes, priced for your budget.
Rippling is the first way for businesses to manage all of their HR, IT, and Finance — payroll, benefits, computers, apps, corporate cards, expenses, and more — in one unified workforce platform. By connecting every business system to one source of truth for employee data, businesses can automate all of the manual work they normally need to do to make employee changes.
Justworks makes it easier to start, run, and grow a business by giving entrepreneurs and their teams access to big-company benefits, automated payroll, compliance support, and HR tools in one simple platform. Using Justworks means that you can focus on what matters most – running your business. Justworks also offers access to ancillary benefits like 401, life/disability insurance, workers' comp, and more, all seamlessly integrated into the platform. The best part? Justworks offers 24/7 support.
Need a Little Help?
Talk with a software expert for free. Get a list of software that's great for you in less than 15 minutes.
Technology Advice is able to offer
our services
for free because some vendors may pay us for web traffic or other sales opportunities. Our mission is to help technology buyers make better purchasing decisions, so we provide you with information for all vendors — even those that don't pay us.