This post has been updated for 2021.
The HR software market is constantly changing and growing as HR departments do. According to the 2019 KMPG Digital Trends Survey, "two-thirds of HR executives believe that HR has undergone or is undergoing a digital transformation," but many companies feel they'll only succeed in driving digital transformation by making a large software purchase, which requires a reliable — and often large — budget. Luckily, HR software for small business doesn't have to break the bank.
What if you can't afford a major technology purchase? For a small business or startup, buying the latest incarnation of Peoplesoft sounds about as realistic gifting employees a total of $10 million for their Christmas bonus.
Despite tighter budgets and limited IT resources, small businesses need to centralize workflows and be efficient, especially when it comes to HR systems for small businesses. In this article, we'll take a look at some of the best HR software for small businesses — modern, cloud-based systems with industry-leading functionality at an affordable price point.
Table of contents
Best HR systems
To shorten your research time, we've put together this list of the top HR software.
Best Payroll systems
If you're looking to focus specifically on payroll solutions, without the need for broader features, we recommend the solutions below.
Small business pain points
Villanova University cites change management, leadership development, and effectiveness measurement as some of the top challenges HR faces.
Businesses of every size are impacted by the need for more efficient record keeping and answers to employee burnout, and the software industry is evolving to meet these demands. At the industry level, things are looking up, but small businesses still face many nuanced challenges.
No dedicated HR staff
Many small businesses either assign HR responsibilities to a cross-functional manager or to a single, in-house HR administrator. In both scenarios, a single person handles payroll and benefits, time tracking, grievances and disciplinary action, hiring, and promotions, which can be overwhelming.
While HR software can't replace an HR administrator, it can make it easier on the staff you do have. It simplifies and even automates certain HR processes, like sending new hire paperwork and benefits enrollment, your team can focus on the tasks that most need their expertise.
Record-keeping and regulatory compliance
HR regulations are constantly in a state of flux. Small businesses must balance healthcare reform, tax codes, and labor laws. Armed with only a file cabinet and the Sunday paper, this is sure to result in mistakes, processing delays, and in worst cases, legal fees.
HR software organizes your records and makes them easily searchable and accessible. Many HR tools also automatically calculate tax and benefits withholdings to reduce the chances of human error and keep you compliant.
Employee attrition
According to a TechnologyAdvice Employee Satisfaction and Loyalty study, 42.6 percent of employed workers are actively seeking or are at least open to a new job. Without a strategy for investing in talent and building an attractive work culture, small businesses lose good employees to competitors that offer higher salaries and better benefits.
The right HR software can actually lower operating costs, so you can afford to invest more in your people. Through automating and streamlining processes, HR software reduces the workload of your HR staff, meaning they'll likely be less stressed as well.
Performance gaps
With smaller teams, it quickly becomes apparent if certain employees aren't pulling their weight. But without a formal performance management or training system in place, how do you orchestrate consistent improvement?
Many HR platforms feature performance management tools to standardize the review process and ensure that everyone's meeting expectations. This can also improve metrics for bonus payouts to reward employees going above and beyond and motivate those that aren't.
Also read: Bonus Time: Using Performance Metrics for Payouts
Key features of HR software for small business
The right HR software for small business can alleviate small business pain points by automating administrative tasks, record-keeping, and compliance, and by giving HR coordinators tools to find and retain the best talent. In the current market, most solutions are moving toward mobile access, multi-channel talent management, internal collaboration models, and self-service portals.
In order to get the highest return on your investment, it's important to choose a small business HR solution that offers modern capabilities and intuitive access. Although solutions vary from vendor to vendor, a full-featured HR management platform will offer some combination of the following features:
Employee self-service
Applicant tracking and onboarding
Compensation and succession planning
Benefits administration
Performance management
Time and attendance tracking
Social recruiting
Collaboration tools (newsfeeds, internal messaging)
Reporting/analytics
Mobile access (through native app or web interface)
If you're ready to get personalized small business HR solutions for your business, use our Product Selection Tool, or click the banner below to get started.
Types of small business HR solutions
There are many ways to package HR software for small businesses. Most are cloud-based, which saves upfront cost and eliminates the need for IT infrastructure. Beyond deployment models, there are three primary classes of small business HR solutions structured around use intent:
Core HR
Core HR solutions help businesses perform the administrative functions of managing a workforce — payroll, benefits administration, time and attendance tracking, workforce planning, and regulatory compliance. The self-service portal — which lets employees access their work-related data and enter updates and requests — is also an integral feature for most core systems.
Strategic HR
The primary focus of strategic HR solutions is to hire, retain, and develop the best employees, which is why it's often referred to as "talent management." These solutions mostly address recruitment, performance management, training and development, and succession planning. Some may even be best-of-breed applications designed to address a specific aspect of talent management, such as the hiring process.
Integrated HR suites
These solutions provide end-to-end functionality across most or all areas of HR management including administrative aspects as well as recruitment, talent management, and e-learning (or learning management systems). Some product suites are sold in modules, which can be purchased according to need.
7 top solutions for small business
Namely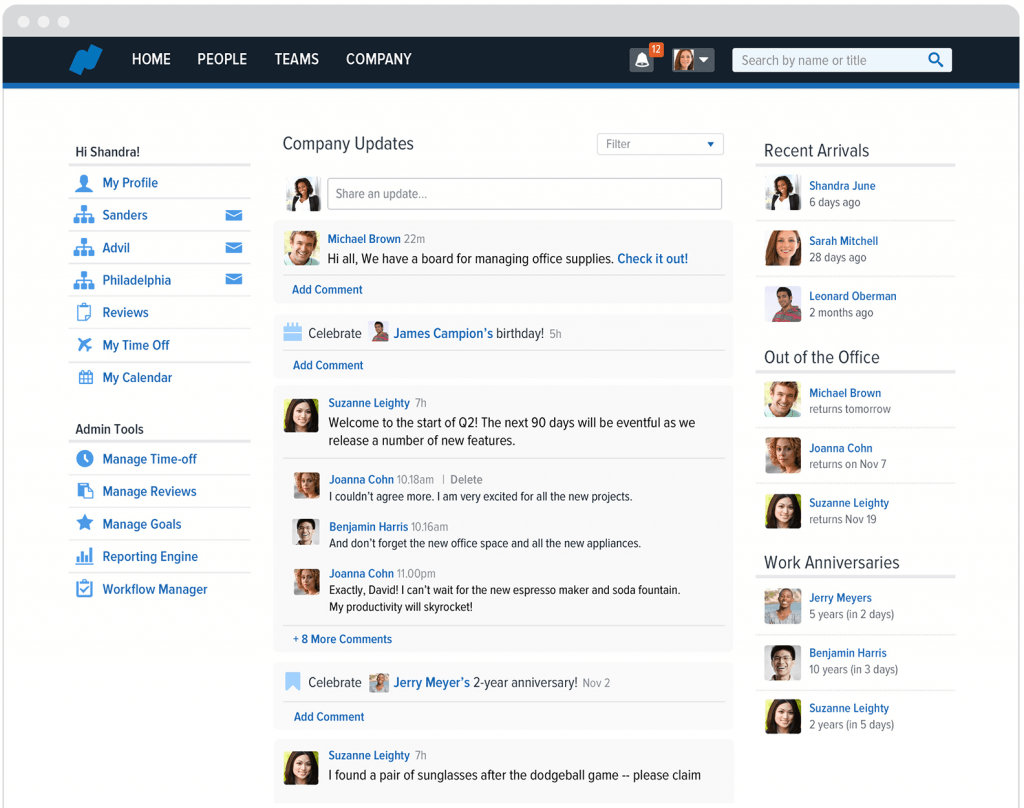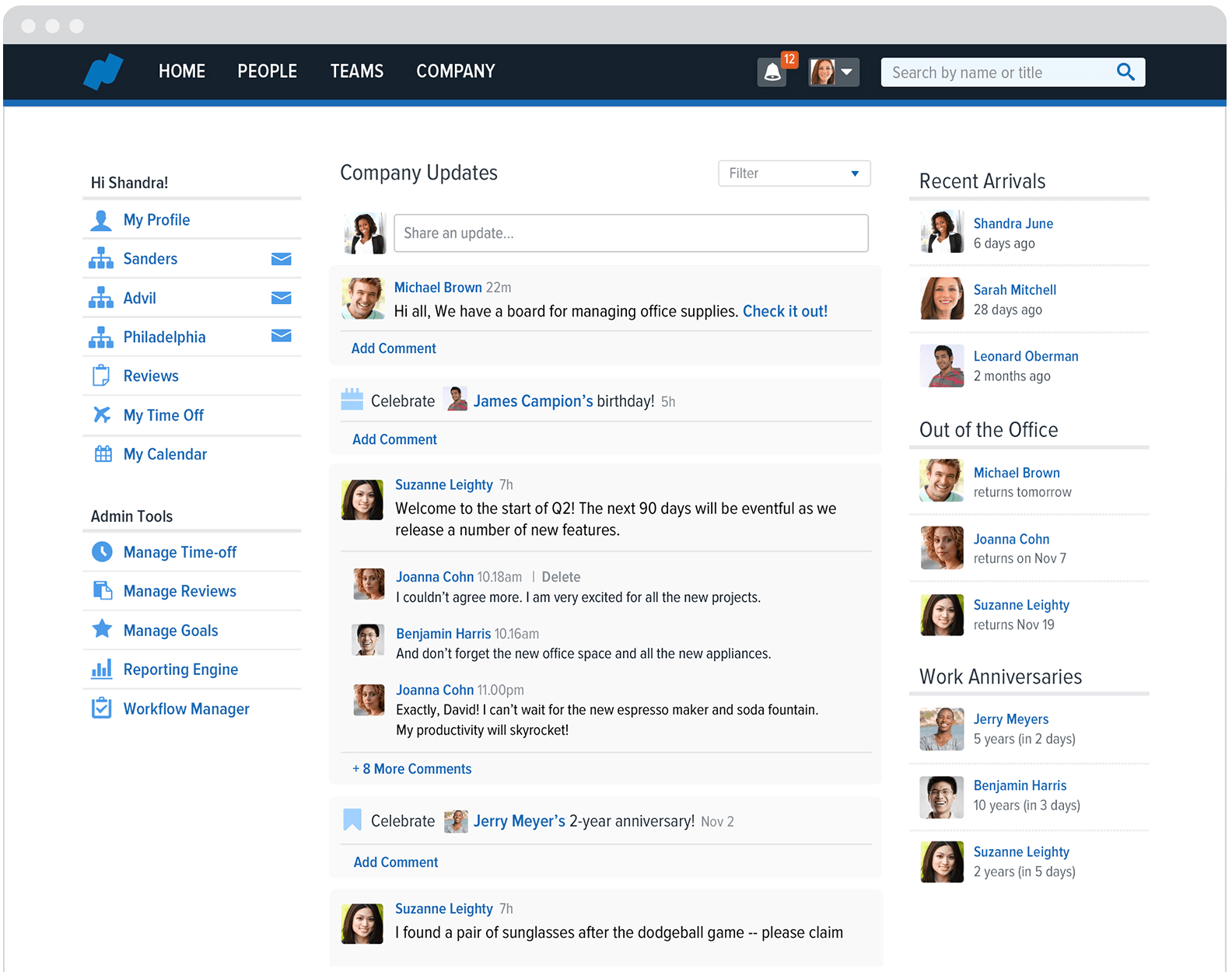 Namely is a web-based platform specializing in core HR and talent management for growing companies. Their product covers payroll and benefits administration, time tracking, and performance reviews, and it serves as a system of record for all of your employee data. Namely also offers a built-in social news feed and custom reports for individual and team metrics.
The system is designed to be adaptable and user-friendly, which makes it stand out against more complicated enterprise solutions. But Namely's penchant for small and growing companies doesn't mean they skimp on resources: business clients receive 24/7 customer service through a dedicated Namely account manager. Namely has been used by thousands of small businesses across the globe, as well as larger brands like Kayak, Mashable, and Vimeo. Full disclosure: TechnologyAdvice currently uses Namely to help with our HR needs.
While Namely has a ton of great features, it doesn't offer an applicant tracking system (ATS), which can make recruiting more difficult. It also isn't built for multinational businesses, but most smaller companies won't need to worry about that.
JazzHR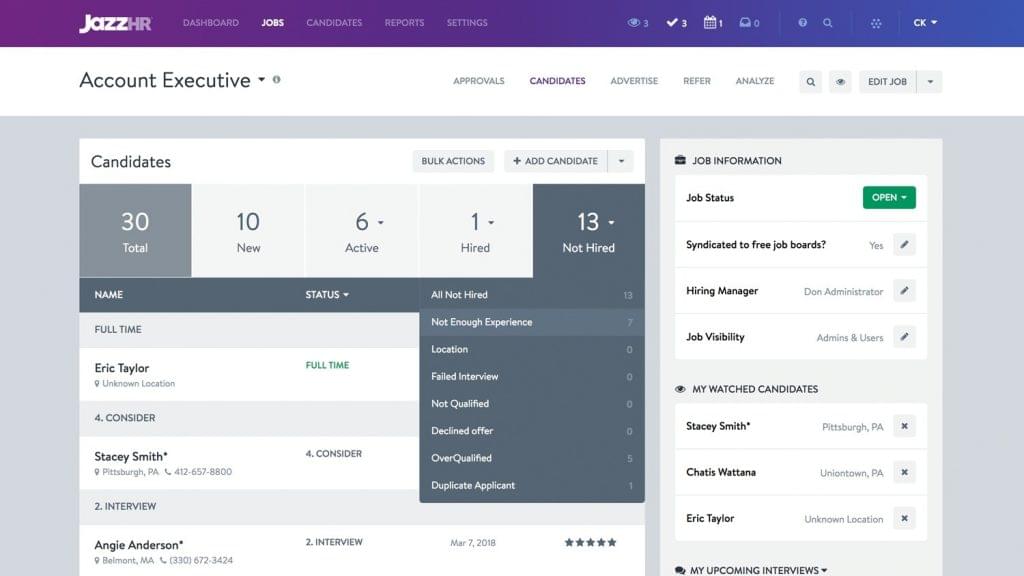 Unlike Namely, JazzHR is a best-of-breed HR solution, meaning it's designed for specialized use — in this case, applicant tracking and interview management. JazzHR helps companies post jobs, screen applications, and manage the interview process through a centralized, real-time platform. Managers can create custom recruiting stages with automated to-dos (e.g. follow-up emails, reminders), and add stakeholders to the process as users with varying permissions and privacy levels.
Post directly to job search sites like Indeed, Glassdoor, and CareerBuilder, and use built-in SEO tools to make sure you have the right title and job description. JazzHR also offers social recruiting, employee referral programs, applicant screening, background checks, resume review, branded career sites, interview guides, and recruitment calendars.
Although it doesn't have a native mobile app, career sites and interfaces are automatically optimized for the device in use. While JazzHR is great for recruiting new talent, it doesn't offer much in the way of talent management. Once you find the right people, you'll need a separate tool to manage them.
Cezanne
Cezanne offers comprehensive HR management tools that are accessible to smaller companies but designed to scale with future growth and advancement. The system is priced on a monthly subscription according to modules implemented and the number of users.
The core module, People Management, offers features for training and development, disciplinary actions and grievances, health and safety compliance, document management, and reporting. Clients can choose additional modules, including absence management, time tracking, performance management, and applicant tracking. Unlike larger vendors with complicated pricing structures, Cezanne offers each module for the same flat rate per user, so you know exactly what you'll pay ahead of time.
Beyond its primary feature sets, Cezanne also provides workforce analytics tools and complementary solutions for payroll. The platform is accessible to employees and managers on the go through a native mobile app for Android and iOS devices.
The system is only available on the cloud, meaning you'll have to have an internet connection to access it. Additionally, it doesn't offer as much flexibility as some of the other tools on this list.
BambooHR
BambooHR is a cloud-based core HR solution designed to meet small business administrative needs and give employees efficient self-service access. Although BambooHR doesn't offer some of the robust features of its competitors, the price point is hard to beat, and the user experience is simple.
The web application serves as a central repository of employee information, such as job and salary history, benefits, and training. Employees can access company documents, request time off, view, and edit their personal data all from a single dashboard.
With varying levels of custom access, administrators can manage time-off requests, set accrual policies, and generate custom reports based on any data in the system. For expanded use, BambooHR integrates with many popular applications for applicant tracking, eSignatures, payroll, and performance management. The system is also accessible on mobile devices through native apps for iOS and Android.
The recruiting aspect of BambooHR doesn't include background checks, so you'll need another way to handle those. Additionally, it doesn't have any tools for goal management or employee recognition that could help keep your staff engaged and motivated.
Zenefits 
Zenefits started out as a free, core HR solution, but their product (and company) has come a long way in recent years. Zenefits now offers built-in payroll, time tracking, native mobile apps, and impressive integrations in addition to the platform's main functions: HR management and benefits administration.
To make pricing simple, Zenefits offers two tiers with a monthly subscription cost per employee plus add-on apps. What you pay will depend on which features you need, but in general, the cost is still much lower than solutions from the enterprise market.
While Zenefits offers HIPAA compliance features, it doesn't offer similar features for OSHA, FDA, or ISO. Overall, its compliance management features are fairly light, meaning it probably isn't the right choice for businesses in heavily-regulated industries.
Zoho People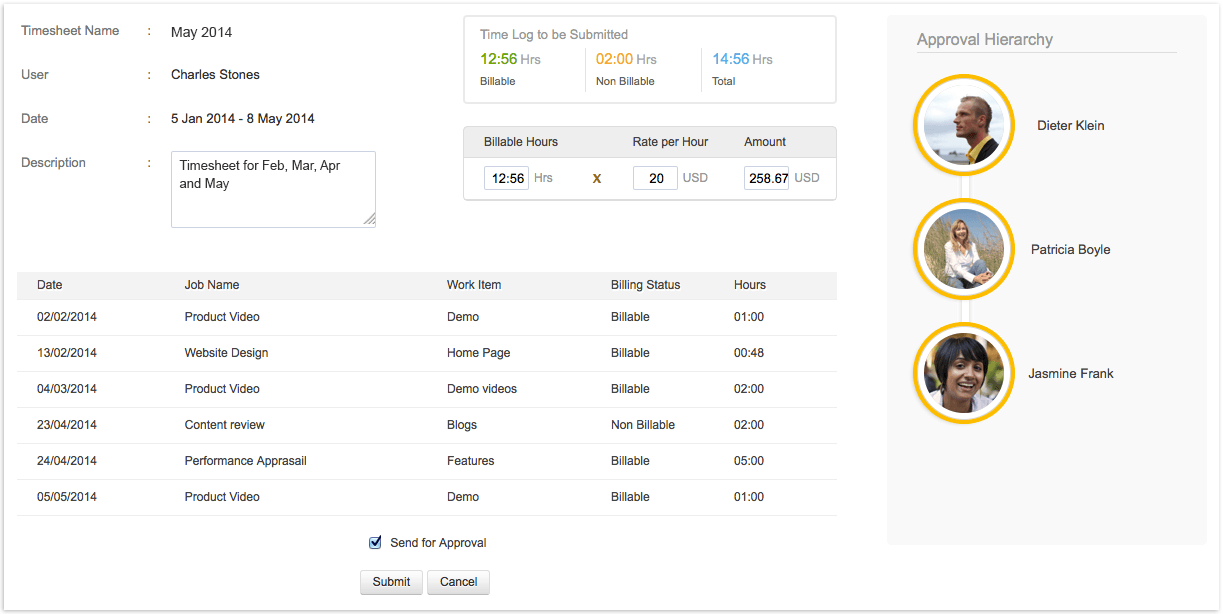 Zoho People is a core part of Zoho's online suite of productivity apps for businesses. Zoho tends to play the less-expensive underdog role in a number of other software categories, and their human resource management is no exception.
Zoho People bills itself as a "complete online HR solution," but if you look closer, it's mostly an administrative HR tool with a basic performance appraisal feature. The good news is, if you need to expand your HR stack into recruiting/ATS, the software integrates with Zoho Recruit and for that matter, every other app in the Zoho universe. Other features include time and attendance tracking, leave management, custom forms and permissions, and employee self-service. Users can access the system online or via native mobile apps for iOS and Android, so they can request time off even when they're not in the office.
Zoho People doesn't offer payroll management because Zoho Books, an accounting software, takes care of that. To get the most out of this software, you'll want to integrate it with other Zoho applications.
EffortlessHR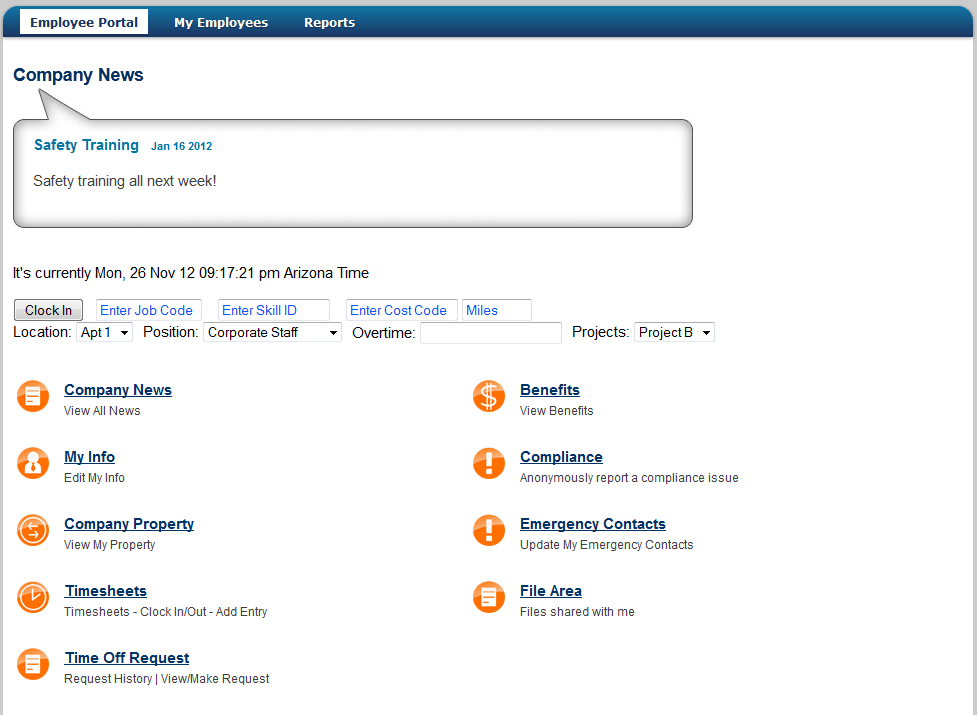 EffortlessHR is a Tucson-based provider of online HR software designed specifically to solve HR problems for small and medium-sized companies. The platform simplifies personnel management, PTO, and time tracking and includes an employee self-service portal. Applicant tracking is available as an add-on.
While EffortlessHR isn't one of the more robust systems on this list, they are one of the more affordable — priced at a flat rate per month instead of charging per employee. That gives you the flexibility to grow your team without upgrading pricing tiers every time you add a few more employees. Another nice feature is that EffortlessHR comes out-of-the-box with over 100 HR form templates, so you won't have to create common workflows and documents from scratch.
EffortlessHR is another software that doesn't offer payroll management, which is arguably one of the most complicated parts of HR. According to some customers, the PTO tracking system also takes quite a bit of manual work to get it right.
Choosing the best HR software for your small business
Thanks to modern innovations like software-as-a-service (SaaS), the market is brimming with affordable hr software for small businesses. Even if all you need to do is track time off and digitize employee records, a centralized HR system for small business can help you do this more efficiently and accurately. With a little luck, your business will start to grow, and you'll be glad when your small business HR solution can grow with you.
Need help choosing the best HR software for your small business needs? Use our Product Selection Tool to get a personalized recommendation based on your industry, company size, and the features you value most.