With an open source CRM, you can save time and money. Learn what open source CRM is, the benefits of using it, and the most popular software solutions.
Below are some of the top open source CRM providers in the market, each with unique features and functions that make them best suited to specific needs.
---
| | | | | | |
| --- | --- | --- | --- | --- | --- |
| Product | Contact Management | Customer Management | Cloud Platform Available | Task Management | Mobile Application |
| Odoo | Yes | Yes | Yes | Yes | Yes |
| OroCRM | Yes | Yes | Yes | Yes | No |
| SuiteCRM | Yes | Yes | No | Yes | Yes |
| HubSpot | Yes | Yes | Yes | Yes | Yes |
| VTiger | Yes | Yes | Yes | Yes | Yes |
What is an open source CRM?
What sets open source CRMs apart from proprietary solutions is that its source code is publicly available. Developers and users can access, modify, and distribute the software freely. 
The concept of open source CRMs can be traced back to the 1990s and early 2000s when open source software started gaining popularity. The rise of open source CRMs was driven by a growing demand for customizable and cost-effective solutions to manage customer relationships and the increasing awareness of the benefits of open source software. 
Top open source CRM solutions for 2023
Odoo: Best all-in-one
Odoo is more than a CRM, it is an all-in-one solution that combines finance, HR, sales, and other software. Known as enterprise resource planning (ERP) software, Odoo can automate every aspect of your business. 
The platform's comprehensive features, modular design, and flexibility have skyrocketed it to one of the most popular CRMs in 2023. Users can add or remove applications based on their needs and its highly scalable design allows the suite to grow with the business. 
Built on open source code, Odoo offers an open source model known as the Community Edition and open core model called the Enterprise Edition. 
Odoo pros and cons
Pros
Cost-effective CRM solution
All-in-one ERP
Cloud and on-premises deployment solutions
Active developer community
Scalability
Modular approach
Cons
Steep learning curve
Limited official support
Non-intuitive integration
Customization costs
Customization costs
Odoo key features
CRM: As an ERP, Odoo offers a built-in CRM to manage leads, opportunities, and customer interactions and data
Modular architecture: Odoo has a wide range of apps that can be integrated and customized to fit specific business needs
Suite of apps: An integrated suite powered by AI can handle everything from HR to project management, accounting, marketing, and more
Pricing
Open source (Community Edition): Free
Open core (Enterprise Edition): $6-$25/month per app
Why we chose Odoo
Odoo made the list due to its outstanding adaptability and its comprehensive suite of integrated applications, from sales to inventory, offers a unified, cost-effectve business solution. The robust community backing is a significant plus, and the modular, scalable design further cements Odoo as a top open-source option.
OroCRM: Best for scalability
OroCRM advertises itself as the most flexible CRM on the market — and for good reason. The platform's flexibility is one of its core strengths, offering a customizable data model that enables users to create custom fields to match their unique customer data requirements and sales workflows. Like Odoo, OroCRM features a modular architecture that allows developers to easily extend its functionality by creating custom modules, plugins, and integrations. 
Configurable workflows — again an extension of the platform's flexibility — allow users to implement custom workflows for processes such as lead qualification, customer support, and opportunity management. Scalability, multi-channel support, and integration capability are just a few of the other features adding to the flexibility of the platform. 
OroCRM pros and cons
Pros
Customization
Multi-channel support
Scalability
Cons
Learning curve
Resource-intensive
Maintenance cost
OroCRM key features
360-degree customer view
Reporting and analytics
Flexible modular architecture
OroCRM pricing
Open source (Community Edition): Free
Open core (Enterprise Edition): Contact OroCRM
Why we chose OroCRM
We selected OroCRM for its strong focus on e-commerce businesses, offering a multitude of features specifically tailored to industry needs. Its ability to track, analyze, and manage customer data across multiple channels is a significant draw. OroCRM's flexibility as an open source solution allows users to customize it to fit specific requirements, making it a powerful tool in any company's arsenal.
SuiteCRM: Best for community support 
Developed in 2006, SuiteCRM has benefited from more than 15 releases. Being one of the few early CRMs to continue into the 2020s means developers have had ample time to adjust, update, and add to the platform. The result is a well-oiled machine with a considerable community of developers and advocates. 
SuiteCRM also offers a fully supported version of the software called SuiteAssured that includes additional service and support compared to the self-hosted, open source version. 
SuiteCRM pros and cons
Pros
Open source
Community support
Customizable workflows
Cons
Learning curve
Limited out-of-the-box features
Limited documentation
SuiteCRM key features
SuiteCRM 8: The latest upgrade to the platform offers better control of data and business solutions
Sales territory management: Users can define and manage sales territories, enabling assignment of leads based on region
Security suite: This feature provides advanced security options including role-based access control, group-based permissions, and customizable user roles
SuiteCRM pricing
Open source (Community edition): Free
Fully-supported (SuiteAssured edition): Contact SuiteCRM 
Why we chose SuiteCRM
SuiteCRM boasts an impressive balance between powerful features and cost-effectiveness. It offers comprehensive CRM capabilities, including sales automation, marketing campaigns, and customer support. The added bonus of being an open-source platform, providing customization flexibility and a vibrant community support, makes SuiteCRM an obvious choice.
HubSpot CRM: Best for ease-of-use
HubSpot CRM offers a wealth of free tutorials, resources, and extensive documentation and guides to get users started. The catalog of available training videos helps speed up adoption of the software, and provides articles, guides, and step-by-step guides to augment the training process. While HubSpot CRM is not strictly an open source platform, HubSpot's Products and Services include free and open source software developed by third parties. 
HubSpot pros and cons
Pros
User-friendly interface
Third-party integrations
Documentation and resources
Cons
Free version limited features
Customization limitations
Scaling limitations 
HubSpot key features
Contact management: Easily keep track of interactions and sales
Pipeline management: Track deals through each stage of the sales process 
Integration with HubSpot ecosystem: Integrate the free CRM with with other HubSpot tools and third-party applications
HubSpot pricing
Limited version: Free
Cloud-hosted version: Contact HubSpot
Vtiger CRM: Best for customization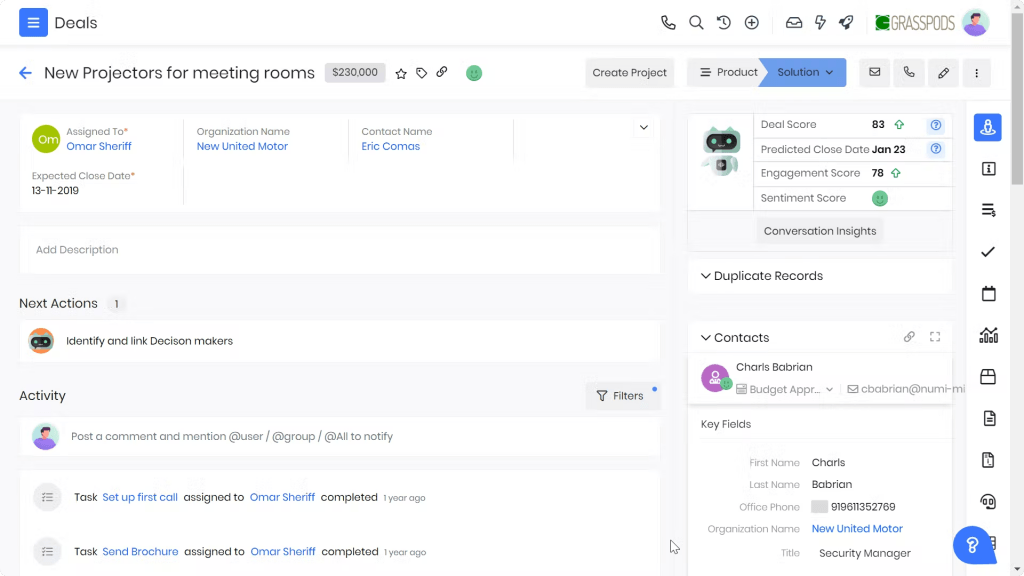 If you are looking for full-customization and scalability capability, look no further. Built on the LAMP/WAMP (Linux/Windows, Apache, MySQL, and PHP) stack, Vtiger CRM enables extensive personalization. As an open source solution, Vtiger allows users to tailor the platform to their unique needs by offering custom fields and modules, layout and user interface customization, custom views and filters, and much more. 
However, because of VTiger's innate customization features, novice users can find the CRM overwhelming. This is a platform for the CRM veteran, and works best when businesses have developers available to update and customize the software on a regular basis. 
VTiger Pros and cons
Pros
Comprehensive features
Customization options
Third-party integrations
Active community
Cons
Limited documentation
Learning curve
User interface
Performance and resource usage 
VTiger key features
Layout and UI Customization: Modify the user interface by rearranging fields, sections, and related lists
Custom API development: Utilize Vtiger's RESTful API to build custom integrations or develop new features
Extension marketplace and third-party integrations: Vtiger's extension marketplace offers a variety of plugins and add-ons to extend the platform's functionality
VTiger pricing
Open source: Free
Open core (VTiger One): Contact VTiger
Which software is right for your business?
Advantages of open source code
For businesses of every size, there are myriad advantages to opting for open source CRM solutions. 
Businesses can tailor the CRM to their specific needs as they have access to the source code. This allows for more flexibility in meeting unique requirements. 
Open source CRMs are also generally more affordable than proprietary alternatives. There are no licensing fees and users can benefit from the contributions of a large community of developers. Open source projects offer the benefit of a robust development community, resulting in a strong and reliable CRM platform. 
Advantages of proprietary software
While open source CRMs offer numerous benefits, there are some advantages to using proprietary CRM solutions. Each business is unique and must find what works best on an individual basis. 
Proprietary CRM vendors can provide dedicated customer support, including technical assistance and troubleshooting. Community support is available with open source CRMs but can be slow and less efficient than assistance from established software vendors. 
Proprietary CRMs also come with regularly scheduled updates and upgrades. Regular updates promise quick bug fixes and enhanced security — crucial elements for businesses that lack the in-house technical expertise to manage software updates. Businesses could arguably use more resources on handling updates and integrations than would be used with a monthly subscription for proprietary software. 
Many essential features and tools are readily available with proprietary CRMs. These platforms are specifically designed to cater to individual business needs. These features can save businesses a significant amount of time in customization and configuration. 
Looking for the latest in CRM solutions? Check out our CRM Software Buyer's Guide.
How we choose our top picks
At TechnologyAdvice, we assess a wide range of factors before selecting our top choices for a given category. 
To make our selections, we rely on our extensive research, product information, vendor websites, competitor research and first-hand experience. We then consider what makes a solution best for customer-specific needs.
For our Top Open Source CRM list, we looked at 20 options before whittling them down to the five that cover all accounting needs for startups all the way up to enterprises.
Featured partners
1

monday Sales CRM
monday sales CRM is the customizable, no-code CRM that allows you to control your entire sales funnel and close more deals, while simplifying communication and collaboration. Automate manual work, capture and import leads, and centralize deal and contact info, all in one place.
2

HubSpot CRM
HubSpot is an intuitive CRM that makes managing your sales pipeline a breeze. Everything you need to track important metrics, set up time-saving flows and automations, manage clients seamlessly, and grow your business is available in one tidy dashboard. Plans are available for businesses at every stage of growth, starting at 100% free. Start taking the guesswork out of business management today with HubSpot CRM.
3

Zoho CRM
Fully-customizable Zoho CRM provides unified solutions for businesses of all types and sizes. Conduct your Sales & Marketing analytics to gain insights using Dashboard views and Automate your daily routines. Customize your CRM theme based on your industry needs using Canvas, Omnichannel communication for streamlined communication between teams and customers, handle customer support from within the platform to improve customer relationships. Get Started with Zoho CRM now!
FAQ
What is an open source CRM? 
Open source CRM (Customer Relationship Management) software is developed and distributed under an open source license, allowing users to access and modify the application's source code. 
What are the benefits of open source CRM?
Small and medium-sized businesses can benefit greatly from open source CRM software because it is free to use and modify while offering the same functionality as expensive proprietary CRM software without the cost.
Technology Advice is able to offer
our services
for free because some vendors may pay us for web traffic or other sales opportunities. Our mission is to help technology buyers make better purchasing decisions, so we provide you with information for all vendors — even those that don't pay us.