Take a look at our Onboarding Software Guide for platforms to help streamline your employee onboarding processes.
What are the best practices for onboarding new employees?
Onboarding is an important time to introduce new hires to the company's core values, history, culture, and employees. By developing a set of employee onboarding best practices for your company, you can excite, motivate, and retain talent so that they can contribute to the productivity and success of your business.
Whether you are onboarding onsite or remote employees, some onboarding best practices to reduce employee turnover include the following:
Preboard them before day one.
Prepare their workspace.
Get the whole team excited.
Create an orientation schedule.
Develop and track their training.
Provide opportunities for feedback.
Check out our list of the Best HR Software for Small Business to explore all-in-one HR software solutions to make your onboarding processes more efficient. Or, watch our video round-up below:
Preboard them before day one
Preboarding is the period between when the employee accepts their job offer and their first day of work at their new job. Companies can leverage this time by:
Completing the paperwork associated with onboarding.
Providing new hires with their first week's schedule, organizational charts, handbook policies, and codes of conduct.
Acquainting them with team members, company culture, and expectations.
Some human resources (HR) software includes preboarding elements to bridge the gap between the new hire's interview stage and orientation. For instance, BambooHR allows new hires to enter all of their information and e-sign necessary paperwork, such as employment contracts, W-4s, and I-9s, ahead of time. This way, companies spend less time on these administrative tasks during the new hire's first day and more time training them for their new role.
Prepare their workspace
HR staff or managers should remove old notes, paperwork, memorabilia, or equipment from the new hire's workspace so that it is free of all remnants of the former employee. IT staff should also make sure the new employee has the equipment needed to be successful, such as:
A desktop computer or laptop with all necessary software.
Monitors, cables, and adapters.
Company cellphones.
If the new hire is not working at a desk, clear their workstation of all items aside from the materials they need to perform their role. Managers should also ensure the new hire has a safe place to store personal belongings, such as a locker or cubby.
Besides technology, HR staff and managers should ensure new employees have all the right auxiliary equipment, such as:
Employee handbooks or manuals.
Safety gear and pamphlets.
Name badges.
Uniforms.
Business cards.
Headsets.
Additionally, IT departments will need software to manage remote employee equipment from afar. Rippling, for example, offers device management software to help ship, maintain, and offboard remote employee devices.
Watch an in-depth review of Rippling in the video below:
Get the whole team excited
HR staff and managers should work together to get current employees excited about the new hire's arrival.
Managers should prepare direct teammates to be open and gracious toward the new hire as they acclimate to their new role. Meanwhile, HR staff should give the new hire a taste of company culture to ease their anxiety before their first day.
Some ways managers can get the new hire's direct team members excited include:
Assigning a new hire buddy: Enlist a peer as the new hire's go-to for questions to promote company core values and team spirit.
Notifying stakeholders of the new hire's schedule: Provide team members with the new hire's schedule to let everyone know what the new member's first few weeks will look like.
Scheduling team icebreaker activities: Give new hires and team members opportunities to bond over fun activities can help foster important working relationships.
Some ways HR teams can get the new hire excited include:
Sending countdown or preboarding reminder emails before their first day.
Having the onboarding buddy introduce themselves via email and offer to answer any questions.
Shipping a welcome package with company-themed trinkets and gifts. (HR teams should check if the new hire has any allergies or restrictions before sending food-related items.)
Create an orientation schedule
HR professionals and managers should not drop their new hires into the deep end on their first day and expect them to swim. Instead, the HR department and the new hire's manager should work closely to develop an orientation schedule for the new hire's first day to a few weeks.
The orientation schedule should focus on introducing the new hire to the main aspects of their position and the company. For example, employee orientation schedules could include the following:
Introductions to team members and executives.
A tour of the company facility and workspace.
Explanation of hot desking procedures, if applicable.
Time to explain company procedures, values, history, and employee handbooks.
Lunch with their supervisor and teammates.
Training and self-guided learning opportunities.
One-on-one supervisor meetings.
Some companies may include unique orientation experiences in their schedule. For example, some businesses hold group orientation sessions, including activities and training with several new hires.
Others may have office employees do ride-alongs with service technicians, shadow line workers, or watch sales associates sell the company product so new hires understand the business from end to end.
Whatever the case, orientation schedules are essential to easing new hires into their new positions while providing a cushion to make mistakes and ask questions as they learn.
Develop and track their training
Extensive and personable training is essential to the new hire's onboarding. Great training can help new hires feel confident and productive in their new roles quickly, resulting in a higher chance of employee retention. On the other hand, inadequate training can cause new hires to feel stressed and frustrated in their position, produce poor work, or start looking elsewhere for a job.
Depending on the role, training could involve several things, including training on:
Software programs.
Safety.
Workplace violence and harassment prevention.
Company culture.
Diversity, equity, and inclusion (DE&I).
Phone etiquette.
Companies should expect a ramp-up period for new hires as they slowly handle more responsibilities over the first few months to a year.
HR teams and managers should work with their new hires to develop KPIs or SMART goals to measure the new hire's success in acclimating to the role. Companies can leverage learning management systems (LMSs) and performance management software to create and track training.
Some solutions even include gamified elements to make learning feel less like a chore. EdApp, for instance, allows employees to learn on their mobile devices and unlock lesson-specific achievements.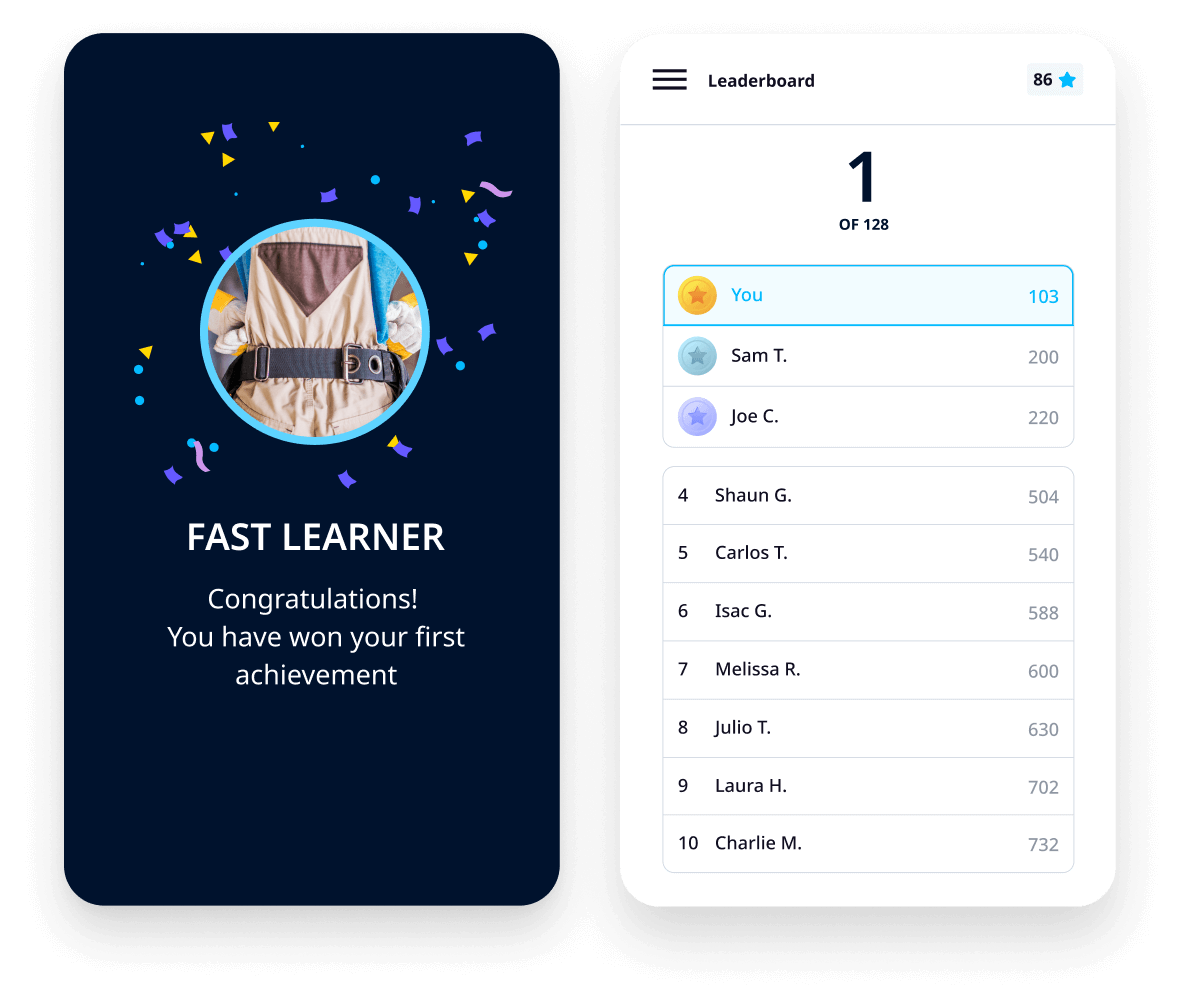 Provide opportunities for feedback
Companies can learn how to develop and improve their onboarding programs by following up with their new hires after the onboarding period has ended. Allowing new hires to provide feedback on their onboarding experience gives businesses critical information on what worked and what didn't.
For instance, anonymous new hire feedback could pinpoint unhelpful lessons or reveal knowledge gaps that could benefit from additional training. Companies can then use this feedback to create more effective onboarding processes.
Businesses can also use engagement software solutions to gather and track new hire feedback with little effort. 15Five, for example, supports pulse surveys and continuous feedback cadences so employers can take action to improve inadequate training or initiatives immediately.
What software can help with employee onboarding?
Software can help companies start onboarding before their new employees even walk through the company door. However, knowing what platforms to choose for each aspect of onboarding is not so black and white. Take a look at our guides below to get started.
By investing in the right software solutions, companies can create dynamic and successful onboarding experiences to help new hires feel comfortable and productive in their new roles faster.
1

GoCo
GoCo automates your hiring and onboarding workflow so you can greet your next new hire with a smile on the first day – instead of a stack of paperwork. GoCo's intuitive, modern interface allows employees to complete their onboarding and sign documents from any computer or mobile device. Streamline the collection of necessary payroll data from general employee info to direct deposit, W-4 and state tax withholdings. GoCo will ensure you have everything you need to accurately set up payroll.
2

BambooHR
BambooHR is an award-winning HR platform that helps your growing organizations automate, centralize, and connect your people data all in one place. It gives you a one stop shop to manage data, hire talent, run payroll, and help employees grow.
Technology Advice is able to offer
our services
for free because some vendors may pay us for web traffic or other sales opportunities. Our mission is to help technology buyers make better purchasing decisions, so we provide you with information for all vendors — even those that don't pay us.