Find the right recruitment software
No obligations, just personalized recommendations from our expert advisors.
What are the most successful recruitment strategies?
Here are the top recruiting strategies to attract and hire qualified candidates:
1. Develop a clear employer brand
Your company brand isn't just important for reaching potential customers; it's also a key element of any effective recruitment strategy. Your brand affects candidates' perception of you as an employer and shows them why they should (or shouldn't) work for you. Employer branding should reflect your business's mission, culture, and values.
Here's a strong example from Bolt:
When developing your hiring materials, think about questions such as:
Why would someone want to work for this company?
Does your company support a diverse workforce?
What percentage of your current employees would recommend your company as a great place to work?
Once you have answers to these questions, check that your business's "about" page, social media profiles, and advertisements align with your branding and recruitment plan.
2. Create job posts that reflect your company
Writing a clear, thorough, and concise job post is both an art and a science. Since your job post is one of the first impressions the candidate will have, it's an early opportunity to establish a reputation for being organized and professional while still showing off your company culture and employee value proposition.
For example, Zapier links to its culture and values, code of conduct, and diversity and inclusion pages in every single job posting so that applicants will know what the company is about. By employing a similar strategy, you will attract qualified candidates who are better aligned with your company values.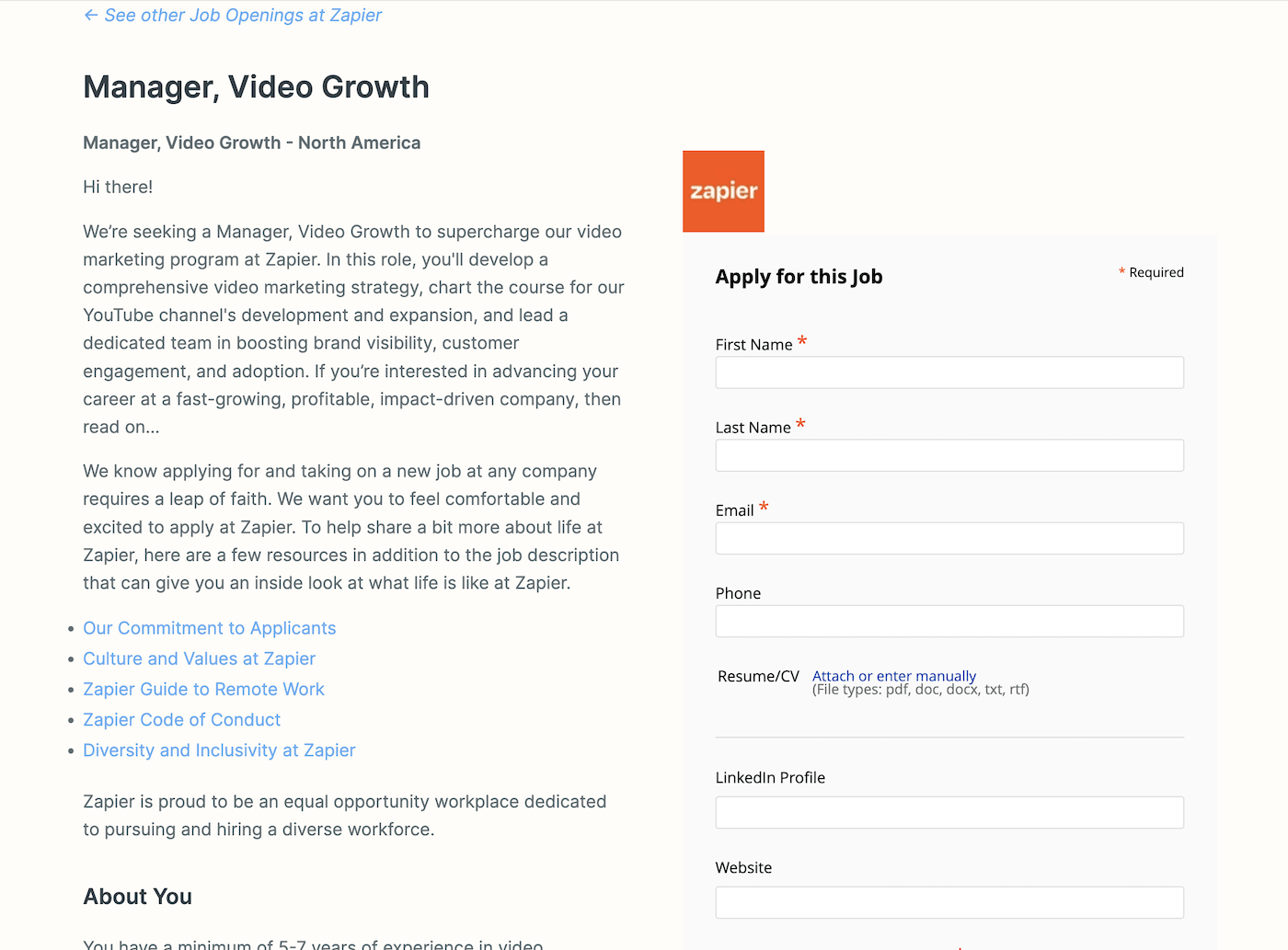 This creative recruitment strategy will help you acquire a higher volume of qualified candidates who are best suited to the role. Don't forget to do a final editing pass to confirm that your job descriptions are aligned with your company's branding — such as color, typography, and logo — to convey professionalism.
3. Invest in an applicant tracking system
You can save your hiring managers time and your company money — not to mention speed up the recruitment process — by investing in an applicant tracking system (ATS). An ATS is a software tool that automates the process of posting jobs and finding qualified applicants with the power of AI recruiting. This often includes one-click job posting to multiple sites, applicant sorting, interview scheduling, automated onboarding, and more.
Some ATS features are built into a comprehensive HR software suite, such as BambooHR. However, you can also find standalone ATS options like JazzHR if you only need an ATS or need to take your applicant tracking capabilities to the next level.
4. Use social media to target talent
Social media recruiting involves leveraging social media to source talent, advertise jobs, and communicate with potential candidates. Many brands have been successful in finding quality talent on LinkedIn, Facebook, Twitter, and Instagram. Be sure to create a presence on the channels that make the most sense for your company.
It's also important to focus on sharing content that reflects your company's values. For example, if your company values philanthropy, share photos or videos of a recent successful philanthropy campaign that your organization spearheaded. Current employees can also share job vacancies on their social media networks, which will then reach people in their network who may be potential candidates.
Many companies also encourage their employees to share behind-the-scenes content about the company to demonstrate that it's a desirable place to work. For instance, L'Oreal and its employees around the world use hashtags like #lifeatloreal, #meettheinnovators, and #lorealproud on Instagram to paint a picture of what it's like to work there:
5. Explore niche job boards
Depending on what job you are hiring for, it may be difficult to find talent on one of the many large job market sites. If your company falls into a smaller, more defined category, try looking into recruitment marketing on niche job boards. These are smaller job sites devoted to a specific niche industry — like Dice, which is dedicated to technology jobs — that often have a community of job seekers and recruiters.
You can also find job boards that increase visibility for women, people of color, LGBTQIA+ applicants, and other marginalized groups. Posting to these job boards helps cultivate a diverse talent pool and reach prospective employees who may not otherwise see your job opening.
Choosing an ATS with lots of job board integrations can make it easier to find and post to these specific job boards, speeding up the recruiting process. For instance, recruiters can connect Greenhouse to platforms like Diversity Jobs, InHerSight, and Leap to widely promote job openings with just a few clicks.
6. Pay to boost job postings
Paying to promote your job postings can be an effective way to increase the number of qualified applicants who see your job openings. This can be very helpful for more popular job boards such as Indeed and LinkedIn, where the sheer number of other posts will immediately push your job ad down.
If you have the extra budget, you might also find it helpful to pay for ads on social media sites as part of your recruitment process. If you pay for ads, you can target profiles that match the candidate personas you are trying to reach, which can increase the number of qualified candidates who make it through the pipeline.
7. Revisit silver medalist candidates
Just because a job candidate wasn't the right fit for one role in the past doesn't mean they won't be perfect for a different job opening in the future.
If you've been using an ATS for a while, your hiring team should have a big database of resumes from past job openings — these are called silver medalists. Your team can search through this talent pool using keywords and screening rules to find candidates who are qualified for your current roles, even if they weren't a good fit in the past.
8. Engage passive candidates
Passive candidates are people who are currently employed and not actively looking for a job. Engaging in passive recruiting involves personally reaching out to them, and it should definitely be one of your company's strategies. This recruitment method shows that you are truly interested in their talent and will be sure to grab their attention.
Using social media and personal connections will help you identify potential candidates as well as raise awareness for your company. Some ATS also harness the power of machine learning to help your talent acquisition team quickly find passive candidates who are qualified for open roles.
For instance, Zoho Recruit's Source Boosters feature helps recruiters identify promising candidate profiles:
9. Consider college recruiting
College campus recruiting can help you discover emerging professionals in a particular industry, while also aligning your company with internship hiring opportunities and campus connections. You can grow your college candidate pool in many ways, including attending career fairs or job fairs, volunteering to speak at events for your industry, and being featured on campus online job boards.
For example, Salesforce's Futureforce University initiative helps college students find internships and entry-level roles within the company. But you don't need to dedicate an entire team of recruiters to finding newly graduated talent — start with just one candidate recruiter and build your program from there.
10. Attend industry events and job fairs
Attending local career events and job fairs can connect your company with job candidates from a wider range of backgrounds. If your local area doesn't already have these events in place, then offering to host them can also connect you to fellow businesses in the area as well.
An ATS with a mobile hiring app makes it easier to add candidate information and upload resumes onsite, so your team can move a job seeker through the recruiting process as quickly as possible.
11. Conduct effective interviews
It's important to remember that the interview process is a two-way street. While you are interviewing your candidate, they are also interviewing you. Whether you are meeting remotely or in person, be sure to make it comfortable and low-stress to create a positive candidate experience. Remember that you are looking for both values alignment as well as professional qualifications.
When interviewing qualified candidates, be aware of unconscious hiring bias that might lead your HR team to unfairly overlook an otherwise qualified candidate. Standardizing interview questions and having an objective rating system will help your team avoid this unconscious bias when interviewing diverse candidates and making your final job offer selections.
12. Consider an employee referral program
Employee referral programs allow existing employees to refer qualified candidates for open positions within your business. These programs usually offer rewards such as gift cards or cash bonuses to encourage employee participation. Some ATS platforms, such as Workable, come with an employee referral tool built into the system to make it easy to gather employee referrals and reward them for their recommendations.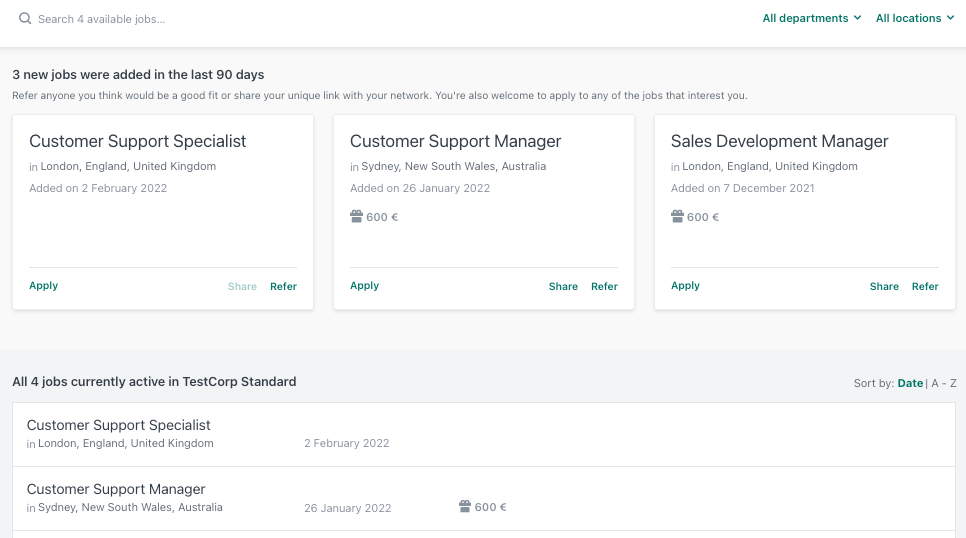 Employee referral programs help source qualified candidates with minimal effort from the recruiting team. That's why companies like Accenture offer substantial bonuses for referring employees who are hired — up to $20,000 for "hot jobs" that are difficult to fill and $1,000–5,000 for other jobs. Referral programs also often improve the most important recruiting metrics, including time to hire, cost per hire, quality of hire, and retention rate.
However, referral programs can sometimes impede DEI recruitment efforts if employees are only referring candidates who are from a similar demographic or background. To promote diversity in the referral program, it may be beneficial to increase the reward value for referrals who are from an underrepresented group.
Recruitment strategy FAQs
Featured partners: Recruiting software
1

ClearCompany
Create best-in-class candidate experiences while simplifying onboarding and compliance with a modern, user-friendly experience. ClearCompany Recruiting helps your company find, hire, and onboard top talent with advanced text, video, and interview scheduling features. ClearCompany helps modernize and scale your company's recruiting strategy to increase candidate pipeline, job offer acceptance rates, and new hire success.
2

Workable
Hire the best candidates faster with Workable's recruiting software. Post to over 200+ job sites with one click, automate processes and manual tasks, and then seamlessly onboard your new hire.
3

PCRecruiter
PCRecruiter is the ATS/CRM hybrid used by successful recruiting and staffing pros for over 20 years. Featuring highly configurable fields, forms, and workflows, plus Gmail, Outlook, and RingCentral integrations, automations, responsive job board, analytics, and the PCR Capture plugin for importing and updating info from the web. PCR's public API facilitates direct integrations with many popular services and custom projects. All of this comes with secure hosting and an award-winning service team.
Technology Advice is able to offer
our services
for free because some vendors may pay us for web traffic or other sales opportunities. Our mission is to help technology buyers make better purchasing decisions, so we provide you with information for all vendors — even those that don't pay us.