Human capital management (HCM) solutions support strategic alignment between a company's workforce and overarching business objectives. An HCM platform's broad toolset helps companies develop and leverage employee strengths on a broader scale to increase the return on investment (ROI) of the workforce.
Large companies that track and manage data in various departments outside HR need an HCM platform to acquire more complex analytical insights. These insights drive compensation strategies and succession planning, to name just a couple of examples.
These top HCM software solutions are designed to help businesses optimize their workforces and develop internal talent, but if none of these solutions fit your needs, check out our HR Software Guide.
Top HCM software
ADP Enterprise HR: Best for scalability
ADP Enterprise HR is designed for companies of 1,000 or more employees, offering customizable payroll, compliance services for taxes and HR, and ADP DataCloud for strategic HR management.
This solution stands out from the other vendors here in terms of the add-on options that other HCMs already include. This allows companies to scale up their capabilities as needed, adding tactical tools like recruiting later if they choose.
ADP Enterprise HR pros and cons
Pros
Add-on functionalities to scale as needed
AI-generated "headlines" for data digests from ADP DataCloud
Internal and external benchmarking data
Variety of customizable dashboards
Cons
Compliance services rather than built-in, automated compliance features
Add-ons drive up cost compared to all-inclusive alternatives
No built-in expense management to ensure budget-aligned HR strategy
ADP Enterprise HR key feature
ADP Data Cloud: ADP DataCloud powers ADP Enterprise HR's analytical capabilities and helps companies identify workforce trends based on internal data, such as skills gaps or staffing shortages. It also provides benchmarking insights based on external, industry-standard data related to HR, payroll, recruitment, and other areas.
DataCloud draws from market averages and aggregated HR data from ADP's broader client database. Pulling internal and external metrics helps HR leaders understand how their organization stacks up against competitors. ADP DataCloud's storyboards also provide data visualization to help HR leaders develop and refine data-driven HCM strategies.
ADP Enterprise HR makes strategic HR tools accessible to smaller businesses that want core HR functions as well as higher-level analytics that more expensive, comprehensive HCM platforms provide.
Modular set-up: For added functionality, customers may integrate the platform with other software or use ADP's own add-on tools, such as:
Recruiting and onboarding
Talent management to develop employees, track their performance, manage compensation, and conduct succession planning
Benefits administration streamlined with ACA compliance
Time and attendance to manage labor costs, simplify compliance, and configure automatic scheduling
Alternatively, ADP customers can upgrade to ADP Vantage HCM which bundles core and auxiliary functions within one platform.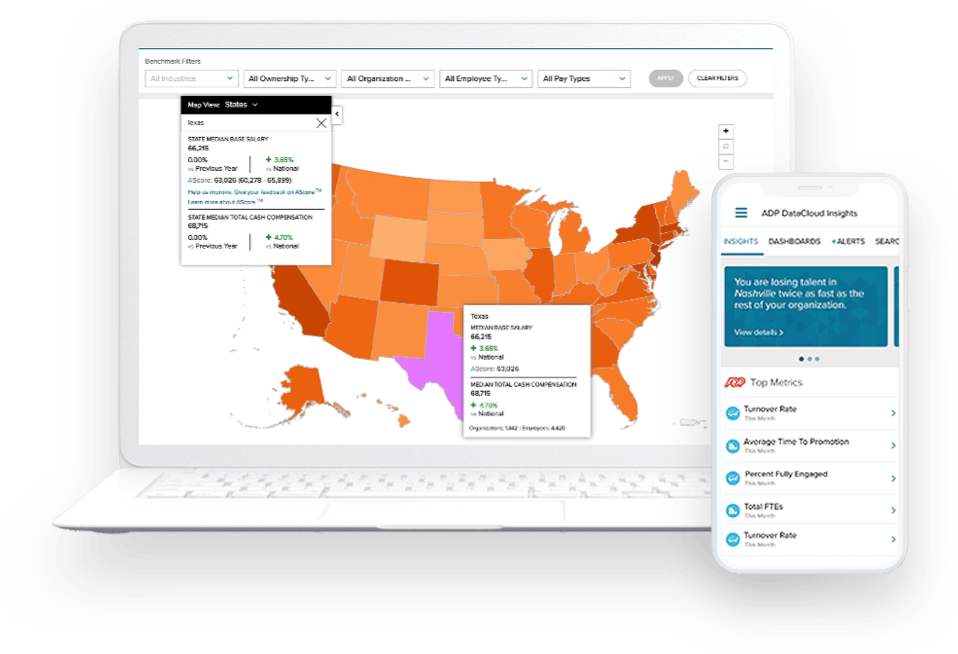 isolved: Best for budget-aligned HR strategy
isolved's HCM platform includes HR and payroll, talent acquisition, workforce management, and talent management modules, so its bundled capabilities might provide cost savings compared to ADP's modular add-on setup.
isolved pros and cons
Pros
Included features that other vendors offer as add-ons
Expense management
Predictive analytics with natural language processing
Cons
Lack of automation in identifying and matching talent with job openings
No external benchmarking data like ADP
No compensation strategy tools
isolved key features
Expense management: Its workforce management tools, in particular, include expense management. As a company invests money in the initiatives that support its strategy, isolved's expense management keeps track of overall expenditure on people-focused initiatives to ensure it aligns with the company's budgeting goals and policies.
For example, expense management helps track cash flow for expenses, such as reimbursements for employee meals or tuition, that support employee engagement at company events or employees' professional development. As such, expense management connects HR with accounting and tracks infrequent, one-off expenses. Payroll, in contrast, has its own separate reporting and analytics on employee wages and salaries.
isolved's expense management also automates approvals instead of requiring multiple manual approvals. That's a win for the employee because the reimbursement process is simplified and expedited, and it's a win for the company as well because it keeps the employee happy while staying compliant and within budget.
Predictive people analytics: isolved's AI-powered people analytics allow HR leaders to visualize workforce metrics, such as average tenure, gender ratio, and more, to get a better understanding of the current workforce and build a strategic HR strategy. The platform provides comprehensive benchmark data to forecast attrition at the department or employee level.
People analytics draws on historical trends within the company's internal data and predicts how that historical data might unfold in a specified future time period. Predictive modeling in isolved is like a sandbox where HR leaders can focus on factors that have the biggest impact on the future of human resource management. For example, users can model different compensation scenarios to understand the relationship between compensation strategy and turnover. In this way, isolved's people analytics tool enables HR to test out a strategy before executing it.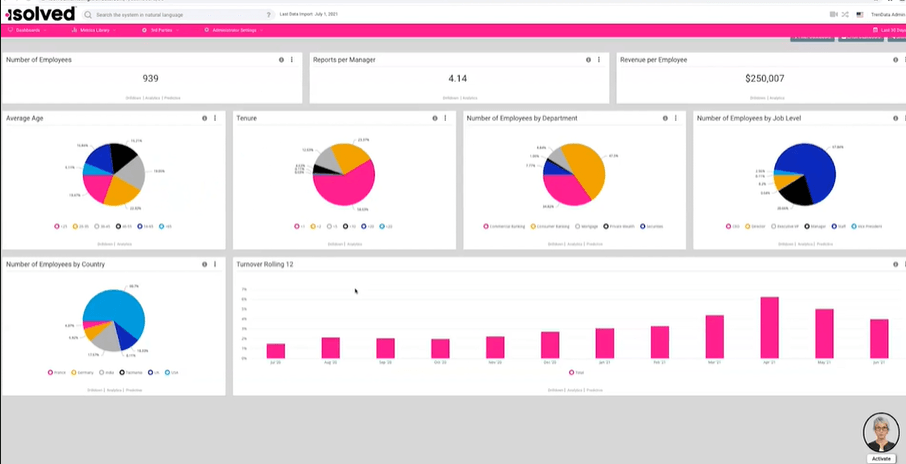 Paycor: Best for succession planning
Paycor is a comprehensive HCM platform that serves as a one-stop shop for employees, managers, HR, and company leaders. It has built-in, customizable expense management, compensation planning, and career management tools.
Paycor pros and cons
Pros
Benchmarking based on internal and external data
Governmental data for macro-level comparisons
Compensation planning with scenario testing for equitable, competitive compensation practices
Career management tool to support succession planning
Career management, talent development, and LMS as trifecta for optimal employee experience and retention
Cons
Limited reporting and analytics customization
Lack of natural language processing to navigate analytics
Limited predictive analytics
Paycor key features
People analytics: Paycor analytics provides benchmarking data from external as well as internal data sources to track how a company is doing in terms of employee retention or compensation, for example. Unlike ADP, Paycor leverages EEOC government data rather than data from other Paycor customers. Government data provides a more macro-level view of how a company stacks up, while ADP can provide more industry-specific comparisons.
Paycor's analytics module provides answers to hundreds of pre-built questions about a company's workforce but doesn't offer customizable reports, so it won't be able to answer specific questions an HR leader or manager might have. It also offers predictive analytics for employee turnover, absences, and more, based on the company's historical data. Paycor's analytics interface is query-based, meaning it doesn't accommodate varied interactions like isolved analytics does through natural language processing (NLP).
Compensation planning: Paycor helps companies make informed decisions about how much to pay and how often to reward employees. Paycor's compensation planning tool syncs with its people analytics tool to monitor pay equity and help HR leaders make sense of compensation trends that inform equitable and competitive compensation decisions.
Before implementing a compensation strategy, HR and company leaders can test scenarios to see how pay increases impact the rest of the business. Upon making a data-informed decision about how to act on compensation strategy, Paycor takes it from there through customized automated workflows based on rules that HR creates. These rules can be based on factors like start date or department.
Career management: Paycor's career management solution is distinct from but related to its performance-oriented talent development tool. The career management tool supports a company's succession planning efforts that involve upskilling, developing, and ultimately promoting employees from within.
In Paycor, HR can set up role profiles to give employees a clear understanding of their current roles and what they need to do to move up in the organization. Employees can take assessments that gauge their readiness for a promotion or role change. Knowing where an employee stands and what possibilities await them incentivizes employees to work toward their professional goals and removes the guesswork about their future with the organization.
Career management informs employee-manager interactions in the talent development module as well as employee activity in the learning management system.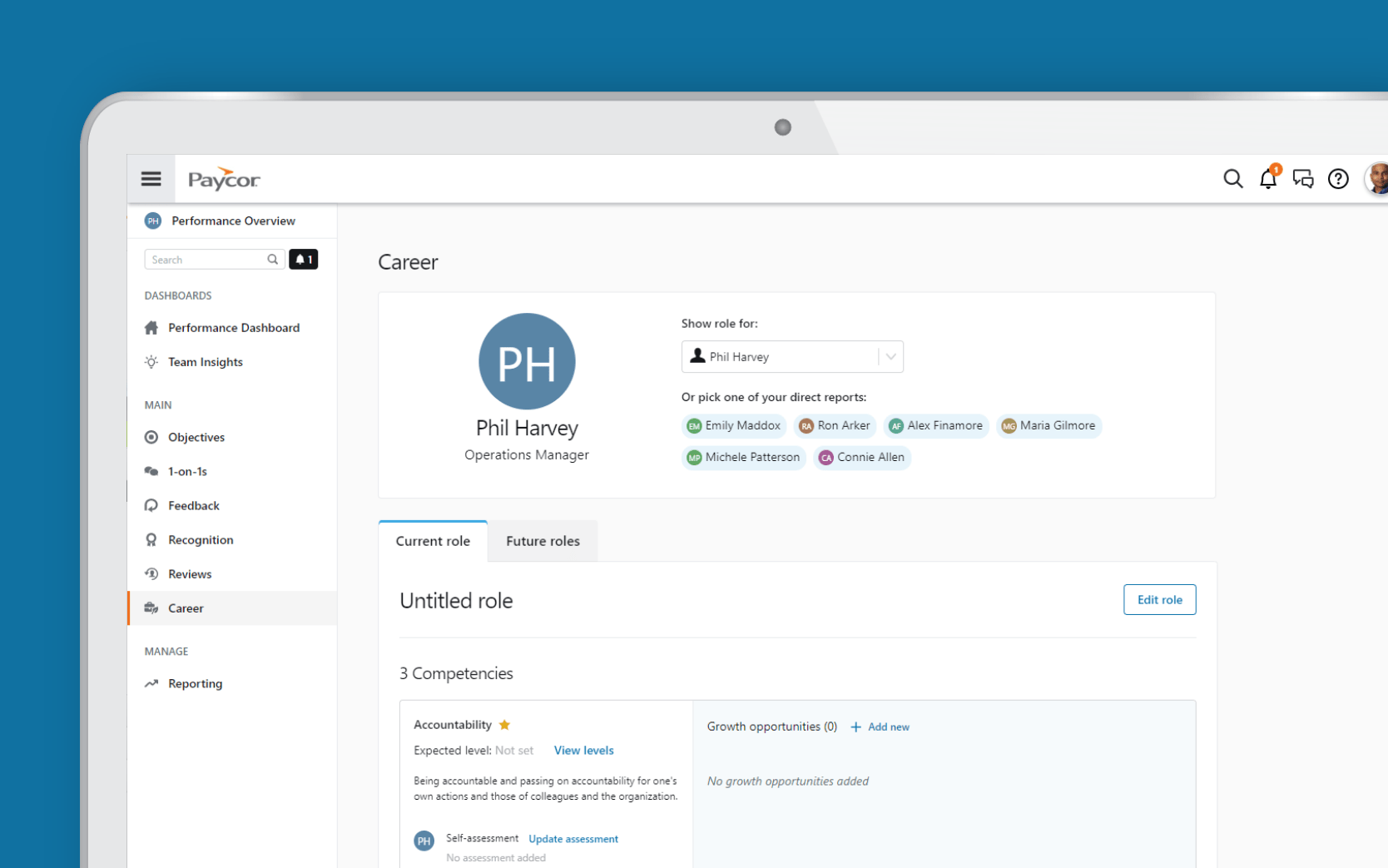 Oracle Fusion Cloud HCM: Best for strategic workforce planning
Oracle Fusion Cloud HCM helps companies prepare and navigate change as they scale up. Within Oracle's HCM platform, customers get tools for:
HR
Payroll
Talent management
Workforce management
Oracle Fusion Cloud pros and cons
Pros
Internal talent promotion through opportunity marketplace
Comprehensive data integration and modeling capabilities across HR, finance, and operations
Collaborative strategic workforce planning
Built-in "My Wellness" module to positively influence employee wellbeing
Compensation management benchmarking data based on role and location
Cons
Compensation management lacks modeling capabilities
Oracle Fusion Cloud HCM key features
Dynamic Skills: This is an AI-driven feature that helps fortify a company's workforce with the skills it needs to contribute to organizational goals. The skills the system recommends and assigns to users adapt and respond over time based on the organization's skills landscape and continued employee interaction.
Dynamic Skills hosts an inventory of skills and job data tailored to a company's culture and industry to ensure employees develop relevant skills. The system assigns skills to employee profiles as well as job candidate profiles, and employees can earn skills by taking assessments.
This differs from the Learning module, which is Oracle's LMS and features courses and training. It functions instead as a skills database from which employees collect skills and endorse others' skills, managers identify employees who are ready for promotion, and leaders identify and address skills gaps.
Workforce planning: Oracle Fusion Cloud enables workforce modeling and predictions to anticipate employees who are at risk of leaving the organization and to see what might happen if someone gets promoted or takes extensive time off.
Oracle stands out in terms of predictive people analytics because it shows the impact that changes have not just in HR but in finance and operations as well. It also enables collaborative strategic workforce planning where organization leaders can create and edit planning scenarios at the same time.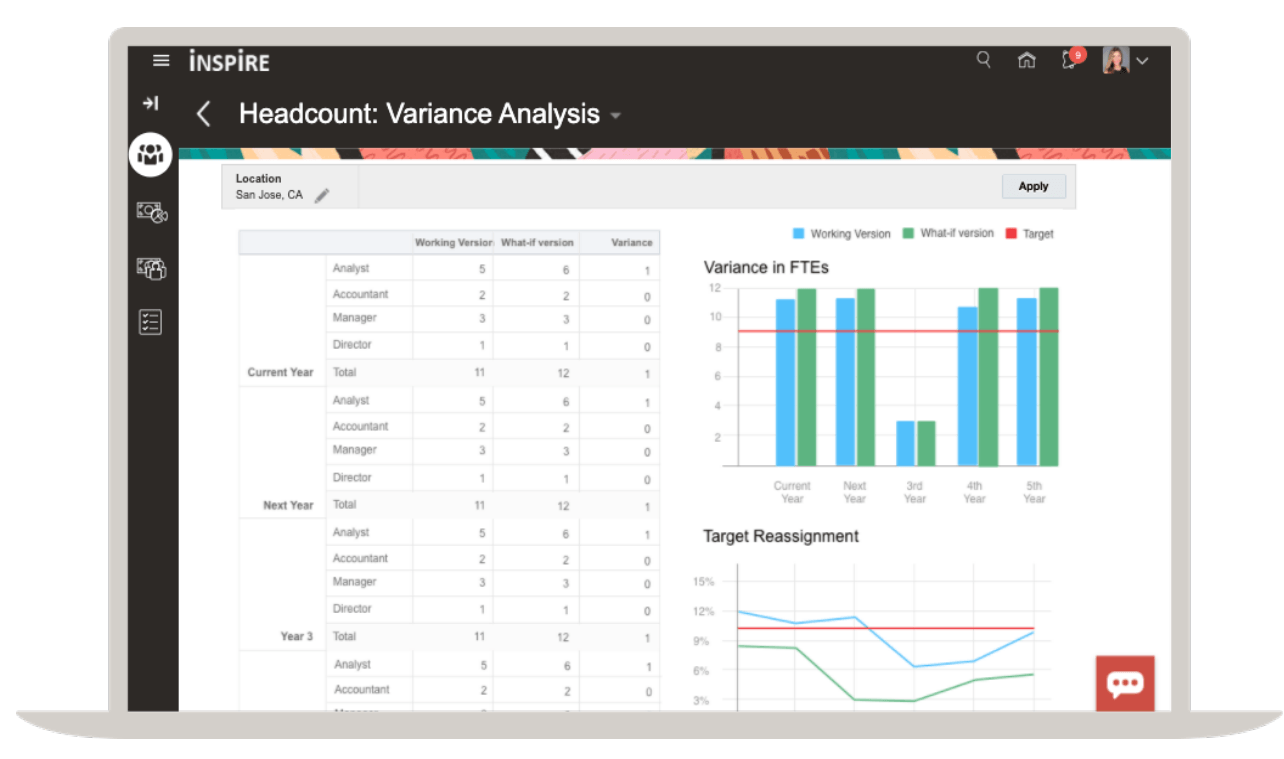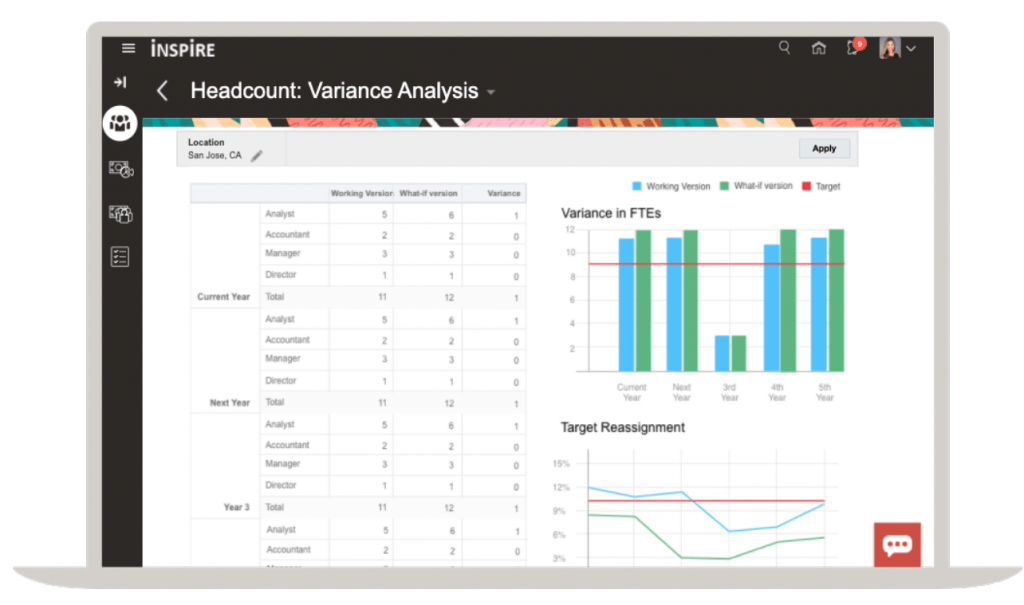 Workday HCM compensation strategy and execution
Workday provides CHROs with high-level insight into how the makeup of the workforce affects revenue growth and resilience in the face of change.
Workday HCM pros and cons
Pros
Collaborative compensation planning
Pay equity dashboards
Concrete tools for building and improving a compensation package
Recruiting-focused workforce planning
Cons
Lacks the predictive modeling capabilities that Paycor's compensation management has
Workforce planning lacks the collaborative elements that Oracle includes
Workday HCM key features
Workforce planning: Workday's Adaptive Planning unites HR, finance, and operations data to plan and prepare for workforce changes. Users can:
Model workforce dynamics and test cost impact
Identify and close skills gaps across business units and functions
Monitor open positions and the cost of filling them vs leaving them vacant
Workday has recruiting-focused workforce planning tools. These inform recruiting strategy by delivering data about current and needed skills capacity by location which is great for companies with geographically dispersed workforces. HR, in collaboration with managers, can decide the best course of action, be it training, hiring, or reassigning employees.
Workday's workforce planning tools are quite similar to Oracle's, however, they lack collaboration. This makes a difference in more democratically-led organizations that take a variety of key stakeholders' perspectives and ideas into consideration.
Also read: Workday vs Oracle HCM
Compensation management: Workday takes a collaborative approach to its compensation management by allowing multiple stakeholders to build out a merits process. Workday provides benchmarking data from multiple sources to help management craft a compensation strategy that's equitable and competitive for the industry.
External benchmarking data provides insights into pay range and its relation to retention, for example. Workday has additional built-in tools to help a company continuously refine its compensation strategy:
Pay equity dashboards
Compensation analysis
Compensation review
Executive compensation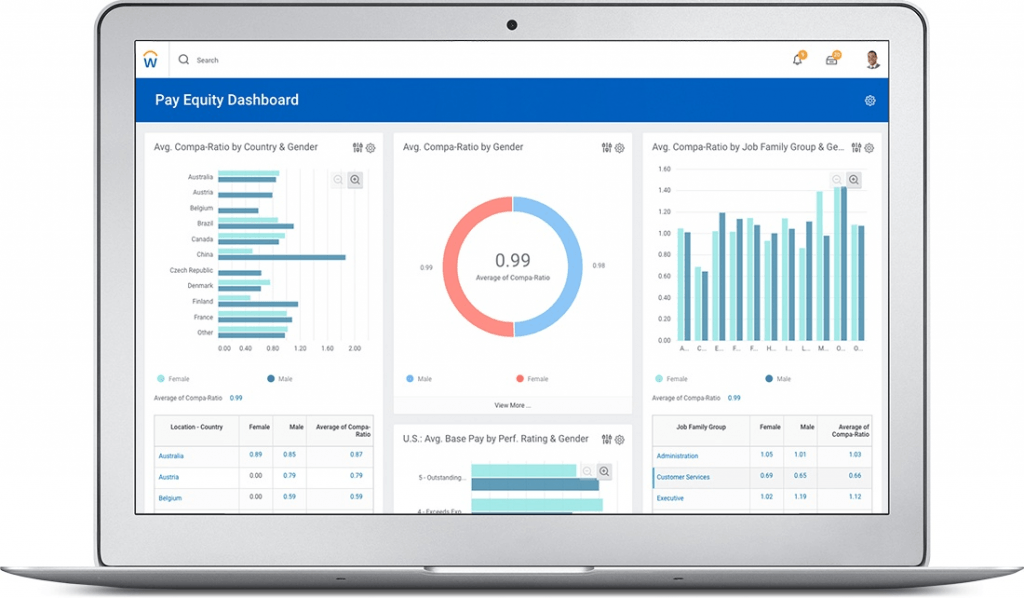 Choosing the best HCM solution
To strategize and execute on the areas of HR that spell long-term growth for the company as a whole, a company needs to invest in the right solution that fits its priorities and goals. These HCM solutions support most or all the key areas that HR needs in order to successfully align people with business goals.
However, these are just a sampling of the top HCM vendors on the market, so if none of them address your current approach to HR strategy, check out our HR Software Guide.
1

Rippling
Rippling is the first way for businesses to manage all of their HR, IT, and Finance — payroll, benefits, computers, apps, corporate cards, expenses, and more — in one unified workforce platform. By connecting every business system to one source of truth for employee data, businesses can automate all of the manual work they normally need to do to make employee changes.
2

Paycor
Paycor's HR software modernizes every aspect of people management, which saves leaders time and gives them the powerful analytics they need to build winning teams. Paycor provides a full suite of HCM solutions with a single source of truth for employee data, so users never have to switch platforms, log-in to multiple systems, re-key data or open multiple spreadsheets. Everyday processes become simplified, allowing organizations to focus on their most important work.
3

Darwinbox HR Software
Darwinbox is a unified HRMS platform that lets you manage the complete lifecycle of your employees – from hire to retire. Built for large enterprises, Darwinbox is used by 2M+ users across 700+ global companies such as Mahindra, Tata AIA, More Retail, Adani, Sembcorp, Kopi Kenangan, and more. It is a mobile-first platform that offers self-service capabilities and a great user experience to all your employees.
Technology Advice is able to offer
our services
for free because some vendors may pay us for web traffic or other sales opportunities. Our mission is to help technology buyers make better purchasing decisions, so we provide you with information for all vendors — even those that don't pay us.