Top Business Intelligence (BI) Tool Recommendations
We've researched the best business intelligence software according to user popularity and major features. Compare the top BI tools in the chart below, and read on to learn more about how these data analytics tools can improve your enterprise outcomes. For a custom set of recommendations of the best BI software for your company, try our Product Selection Tool at the top of the page.
first

Product

SAP BusinessObjects

Features

TA Rating
4/5
Data Analytics
Yes
Natural Language Processing
No
Real-time Reporting
No
Embedded Analytics
Yes

SAP BusinessObjects is a BI tool that works on its own or as a part of a larger SAP technology stack.

first

Product Dundas BI

Features

TA Rating
4.5/5
Data Analytics
Yes
Natural Language Processing
No
Real-time Reporting
Yes
Embedded Analytics
Yes

Dundas BI is a business intelligence tool that suggests the right visualizations for the data and gives non-analytst access to deep insights from flexible visualizations.

first

Product

SAS Viya

Features

TA Rating
4.5/5
Data Analytics
Yes
Natural Language Processing
Yes
Real-time Reporting
Yes
Embedded Analytics
Yes

SAS Viya is a business intelligence platform that combines insights from AI and analytics with data management. The cloud-native and flexible architecture improves outcomes and lowers time to results.

first

Product Geckoboard

Features

TA Rating
4.5/5
Data Analytics
No
Natural Language Processing
No
Real-time Reporting
Yes
Embedded Analytics
No

Geckoboard is a dashboard software that lets companies connect to existing software and display key metrics on dashboards.

first

Product Sisense

Features

TA Rating
4.5/5
Data Analytics
Yes
Natural Language Processing
Yes
Real-time Reporting
Yes
Embedded Analytics
Yes

Sisense is a business analytics software that combines data directly from SaaS products and databases for analytics for every user.

first

Product Oracle BI

Features

TA Rating
4/5
Data Analytics
Yes
Natural Language Processing
No
Real-time Reporting
Yes
Embedded Analytics
No

Oracle Business Intelligence is middleware run on the Oracle business stack that provides businesses with far-reaching data analytics tools.

first

Product Tableau

Features

TA Rating
4.5/5
Data Analytics
Yes
Natural Language Processing
No
Real-time Reporting
No
Embedded Analytics
Yes

Tableau is a leading BI tool for data analysts and businesses.

first

Product Domo

Features

TA Rating
4/5
Data Analytics
Yes
Natural Language Processing
No
Real-time Reporting
Yes
Embedded Analytics
No

Domo is a business intelligence software that combines native connections to apps with data processing software.
Table of contents
What is business intelligence software?
Business intelligence (BI) software is a set of business analytics solutions used by companies to retrieve, analyze, and transform data into useful business insights, usually within easy-to-read visualization like charts, graphs, and dashboards. Examples of the best BI tools include data visualization, data warehouses, interactive dashboards, and BI reporting tools. In contrast to competitive intelligence that analyzes data from outside sources, a BI solution pulls internal data that the business produces into an analytics platform for deep insights into how different parts of the business affect one another.
As big data — the tendency for companies to collect, store, and mine their business data — has gained in prominence, so has the popularity of BI software. Companies generate, track, and compile business data at a scale never before seen. And the ability to integrate cloud software directly with proprietary systems has further driven the need to combine multiple data sources and take advantage of data preparation tools. But all this data is nothing if we can't make sense of it and use it to improve business outcomes.
To make informed choices, businesses need to base their decisions on evidence. The mountains of data that businesses and their customers produce contain evidence of purchasing patterns and market trends. By aggregating, standardizing, and analyzing that data, businesses can better understand their customers, better forecast revenue growth, and better protect themselves against business pitfalls.
Business intelligence has traditionally taken the form of quarterly or yearly reports that report on a defined set of key performance indicators (KPIs), but today's BI reporting software is backed by data analytics tools that work continuously and at light speed. These insights can help a company choose a course of action in a matter of minutes.
BI software interprets a sea of quantifiable customer and business actions and returns queries based on patterns in the data. BI comes in many forms and spans many different types of technology. This business intelligence tools comparison of software vendors breaks down the three major stages data must go through to provide business intelligence, and provides considerations for purchasing BI tools for different sized businesses.
Top business intelligence tools list of software vendors, by category
Business intelligence tools and platforms come in several forms for varying business needs. Companies looking to provide data services to business users will find self service BI software will meet the needs of most of their users. Data visualization tools are helpful for teams that are dipping their toes into data analytics but may not have lots of extra development resources available. Data warehousing tools provide the underlying infrastructure that can house and cleanse data before serving it up through visualizations. And BI tools provide end-to-end dashboard tools to store, cleanse, visualize, and publish data.
Data storage for business intelligence
Data lives in a number of systems throughout an organization. For the most accurate analysis, companies should ensure standardized formatting across data types from each of these systems. For example, large enterprises could have information about their customers in their customer relationship management (CRM) application, and have financial data in their enterprise resource planning (ERP) application, and several other key revenue data sets in various cloud software applications. These separate programs may label and categorize data differently and the company will need to standardize the data before analysis.
Some business intelligence platforms pull data for analysis directly from the source applications via a native API connection or webhook. Other business intelligence tools require the use of a cloud data storage system to aggregate diverse data sets in a common location. Small businesses, single departments, or individual users may find that a native connection works well, but large corporations, enterprise companies, and companies that generate large data sets will need a more comprehensive business intelligence setup.
If they choose a centralized storage solution, businesses may use a data warehouse or data mart to store their business information and purchase an extract, transform, and load (ETL) software to facilitate their big data storage. Alternatively, they may use a data storage framework like Hadoop to manage their data.
Which business intelligence software is right for your business?
Analyzing big data with BI
Regardless of whether businesses choose to store their data in a data warehouse, a cloud database, an on-premise server, or run queries on the source system, data analysis and the resulting insights make the field appealing to business users. Data analytics tools vary in terms of complexity, but the general method of combining large amounts of normalized data to identify patterns remains consistent across business intelligence platforms.
Data mining
Also known as "data discovery," data mining involves automated and semi-automated data analysis to uncover patterns and inconsistencies. Common correlations drawn from data mining include grouping specific sets of data, finding outliers in data, and drawing connections or dependencies from disparate data sets.
Data mining often uncovers the patterns used in more complex analyses, like predictive modeling, which makes it an essential part of the BI process whose growth is correlated directly with the rise of big data in businesses of all sizes.
Of the standard processes performed by data mining, association rule learning presents the greatest benefit. By examining data to draw dependencies and construct correlations, the association rule can help businesses better understand the way customers interact with their website or even what factors influence their purchasing behavior.
Association rule learning was originally introduced to uncover connections between purchase data recorded in point of sale systems at supermarkets. For example, if a customer bought ketchup and cheese, association rules would likely uncover that the customer purchased hamburger meat as well. While this is a simplistic example, it works to illustrate a type of analysis that now connects incredibly complex chains of events in all sorts of industries, and helps users find correlations that would have stayed hidden otherwise.
Also Read: Find the Canary in Your Data: Data Mining Techniques for Non-Analysts
Predictive analytics with business intelligence software
Perhaps one of the most exciting aspects of BI, advanced analytics features like predictive and prescriptive analytics function as a subset of data mining. The tools use existing data sets and algorithmic models to help companies make better business decisions.
As the name suggests, predictive analytics forecast future events based on current and historical data. By drawing connections between data sets, these software applications predict the likelihood of future events, which can lead to a huge competitive advantage for businesses.
Predictive analysis involves detailed modeling, and even ventures into the realms of artificial intelligence (AI) and machine learning (ML), where software actually learns from past events to predict future consequences. The three main forms of predictive analysis are predictive modeling, descriptive modeling, and decision analytics.
Predictive modeling
The most well-known segment of predictive analytics, this type of software does what its name implies: it predicts, particularly in reference to a single element. Predictive models use algorithms to search for correlations between a particular unit of measurement and at least one or more features pertaining to that unit. The goal is to find the same correlation across different data sets.
Descriptive modeling
Whereas predictive modeling searches for a single correlation between a unit and its features — in order to predict the likelihood of a customer switching insurance providers, for example — descriptive modeling seeks to reduce data into manageable sizes and groupings. Descriptive analytics works well for summarizing information such as unique page views or social media mentions.
Decision analytics
Decision analytics take into account all the factors related to a discrete decision. Decision analytics predict the cascading effect an action will have across all the variables involved in making that decision. In other words, decision analytics gives businesses the concrete info they need to predict outcomes and take action.
Also Read: Top 10 Predictive Analytics Tools, By Category
Natural language processing
Data comes in three main forms: structured, semistructured, and unstructured. Unstructured data is the most common, and includes text documents and other types of files that exist in formats that computers can't read easily.
Unstructured data can't be stored in neatly categorized sets of similarly-formatted data rows or columns, which makes it impossible for traditional data mining software to analyze. However, this data is often crucial to understanding business outcomes. With so much data in unstructured form, text analytics should be a key consideration when researching the best business intelligence tools.
Natural language processing (NLP) software, also known as text analytics software, combs large sets of unstructured data to find hidden patterns. NLP is particularly interesting for businesses that work with social media. Using the right software mix of data ingestion and AI, a business can set up rules to track keywords or phrases — a business's name, for example — to find patterns in how customers use that language. Natural language processing tools also measure customer sentiment, provide actionable insight into lifetime customer value, and learn customer trends that can inform future product lines.
Which business intelligence software is right for your business?
Business intelligence software for corporate reporting
The previous two applications of business intelligence software dealt with the mechanics of a business intelligence system: how business data is stored, and how software refines this data into meaningful intelligence. Business intelligence reporting focuses on the presentation of these findings.
Online analytical processing (OLAP)
Online analytical processing (OLAP) uses multidimensional databases to enable users to query data warehouses and create reports that view data from multiple perspectives. OLAP gives business intelligence software the ability to combine data, drill down into single metrics, and view data for combinations of single metrics that are unobtainable in a traditional spreadsheet setup.
For example, a supply chain's data metrics can include location, SKU, date of purchase, salesperson, and expiration date. OLAP tools can provide the analysts with a clear picture of any combination of these metrics. That provides analysts with the power to surface insights that would otherwise be hidden within two or three-dimensional spreadsheets.
Data Visualization
One of the more popular trends in BI, data visualization allows companies to graphically display the results of data mining or other analytics. Presenting findings in a visual format like a graph, chart, or on a map, provides immediate insight into the most important metrics — awareness that does not surface within the context of a spreadsheet. As part of a broader shift towards better BI usability, the data visualization UX may become a larger factor in the software purchasing decision.
Dashboards
Not every business user needs full access to everything available in the dashboard. Most employees only need access to a dashboard of their most important metrics. It gives at-a-glance access to a range of predefined visualizations. While each company can define its own dashboards based on custom business needs, some possible dashboard tools provide:
Sales dashboards that includes the total number of leads and prospects in each stage of the sales funnel, KPI metrics of the total number of meetings scheduled per salesperson, a total revenue leaderboard, gas gauge tool that shows total revenue toward monthly goal
Marketing dashboards that shows a line chart with the total number of marketing qualified leads per day, top performing blog posts per month, latest social posts
Customer success dashboards with visualizations for the total number of open tickets, number of closed tickets per day, average time to close, ticket totals leaderboard
IT support dashboards with key metrics regarding sprint progress, total number of open bug tickets, current on-call developers, feature request leaderboard
Some BI solutions also offer interactive dashboard tools where business users can manipulate the data visualizations, dig for a more detailed view, and zoom out for more context.
Alerts and notifications
While interactive dashboards and reports greatly extend the usability of business intelligence software for non-IT users, alerts and notifications can provide even further practical applications for all business users. Alerts notify users who don't spend most of their time in the tool to data changes that need immediate attention.
When companies set alerts for thresholds of high and low performance, they can track when they need to mobilize a response or investigate an issue before it becomes an emergency. Even better, companies that set alerts for goal metrics can celebrate and recognize their team efforts early and often.
Embedded analytics
BI applications promise to clarify data analytics tools for the most non-technical of employees, which has driven the demand for embedded BI. These features let companies build data visualizations within their cloud BI software, and dynamically serve those visualizations to internal and external customers within company apps.
Visualizations, reports, and dashboards that are embedded in a company webpage or cloud app save companies thousands of hours and hundreds of thousands of dollars they would otherwise use to build BI reporting tools and analytics dashboards from scratch to track business performance. These tools now give business users access to custom, plug-and-play visualizations, greatly speeding the time to market.
Recommended BI vendors with standout features
It's hard to find the best bi tool with all of the features you need plus the ones you really want. We recommend these business intelligence software options because of their standout features.
QlikView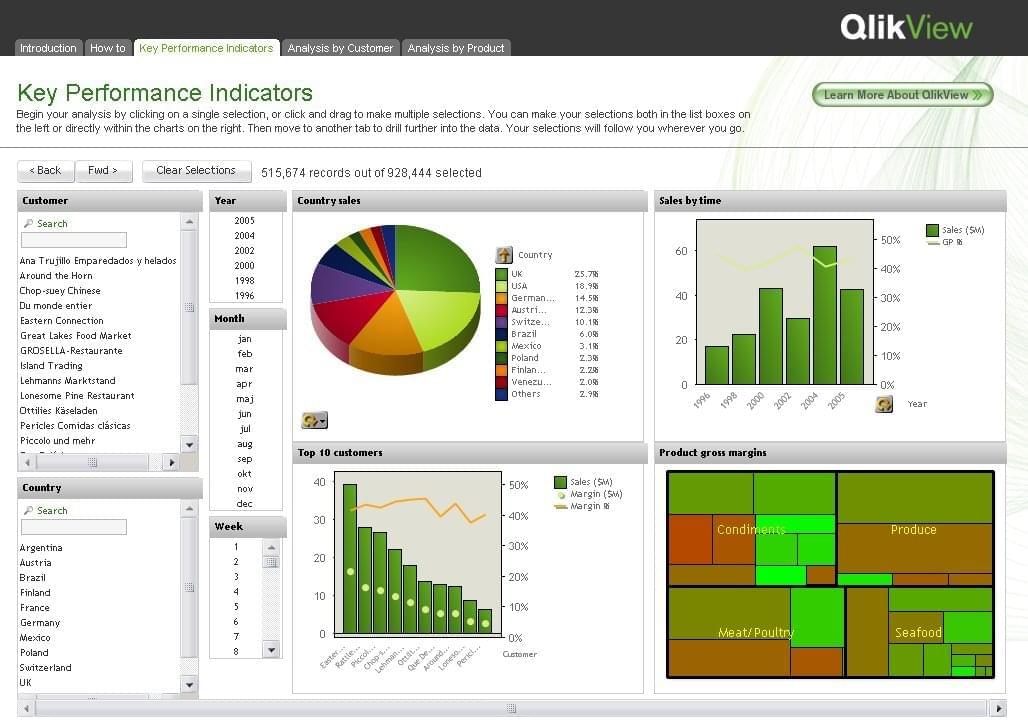 QlikView business intelligence from Qlik is a powerful tool trusted by huge corporations such as Cisco, Raymond James, and KitchenAid, and it's easy to see why. User-friendly interfaces and flexible customization make the tool an ideal self-service BI for your team to use, and users report excellent customer support and training.
Standout feature: Qlik's Data Literacy program helps ensure that everyone at your company can get involved in business intelligence and understand reports, relieving some pressure from your business intelligence team to educate.
Birst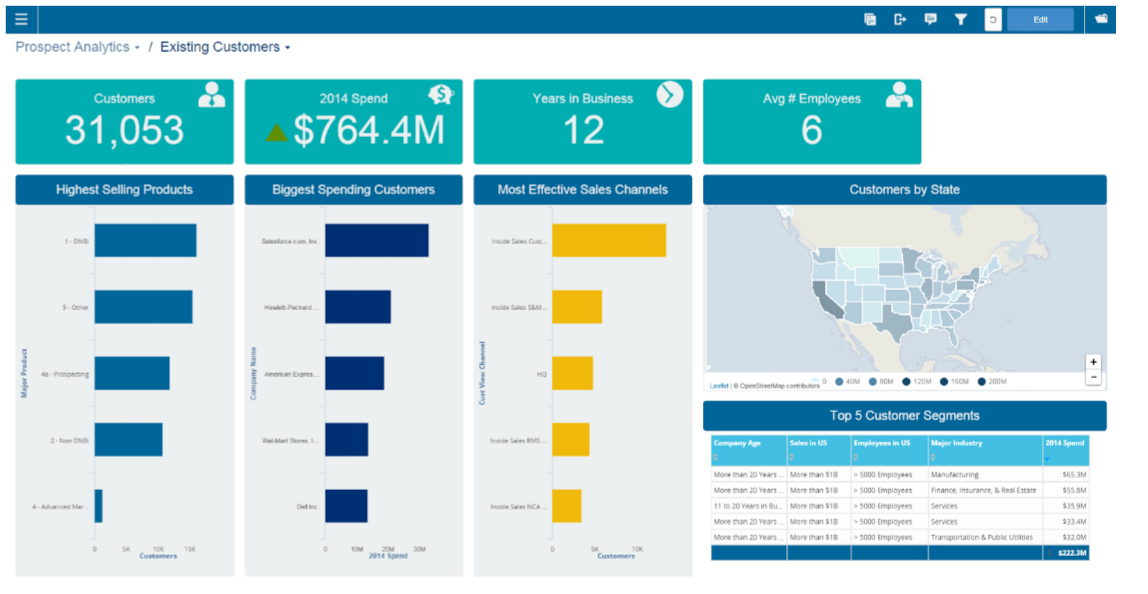 Best suited for enterprise-level businesses, Birst offers a user-friendly experience for both developers and end-users, including a complete API that allows you to integrate other tools and automate simple tasks. Birst also provides both governance and agility in its platform, allowing for centralized, controlled data while also letting you source data from multiple points across your business.
Standout feature: Birst is one of the only BI tools that offers governance and agility in one platform, giving companies the power to keep a single source of truth for data while remaining nimble.
GoodData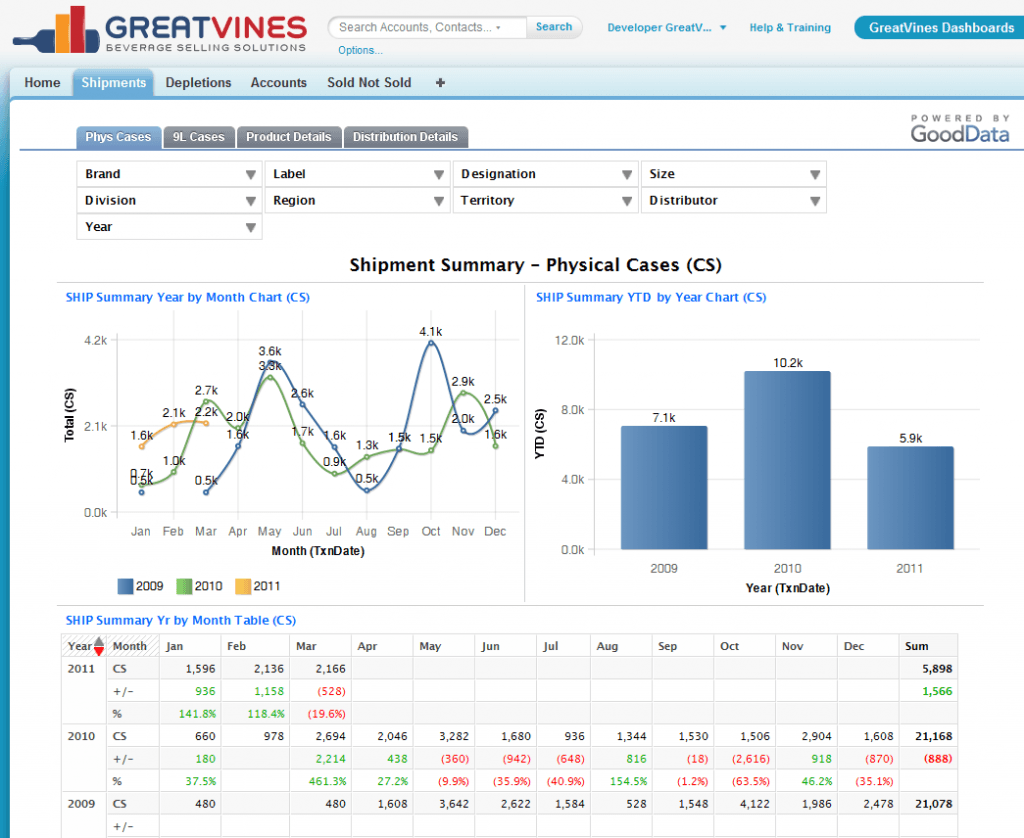 Consistently ranked as a top BI solution and backed by reputable venture capital groups Andreessen Horowitz, Intel Capital, and more, GoodData provides BI features best-suited for the insurance, retail, financial services, and ISV industries. Not only does GoodData provide the kind of analytics and BI reporting you'd expect from an industry leading software, it also offers user-friendly report-building and top-notch security features.
Standout feature: GoodData's security and privacy features meet requirements for SOC 2, HIPAA, GDPR, and ISO 27001.
Hubble
If you're looking for easy integration with JD Edwards and Oracle E-Business Suite, look no further than Hubble. Hubble is a BI tool with these ERP solutions in mind, taking the hassle out of running reports using your ERP alone. In addition to easy integration, Hubble allows for custom reports in addition to pre-built templates.
Standout feature: Built specifically for JD Edwards and Oracle E-Business Suite users, removing the time-consuming need for IT to create reports.
Tableau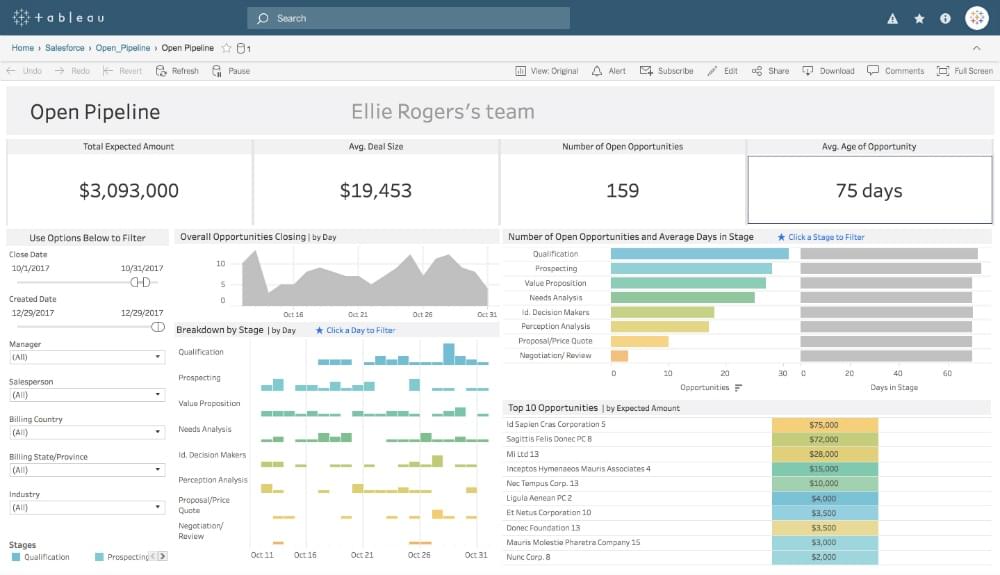 Considered an industry leader among BI solutions, Tableau's platform certainly lives up to the hype. In addition to easy-to-use reporting, a full API, report sharing, and good customer support, Tableau also allows you to mix data from multiple dat sources, be it Excel, SQL, Oracle, and more.
Standout feature: Tableau allows you to pull from an array of cloud software and data preparation sources, including but not limited to Excel, SQL, and Oracle.
Looker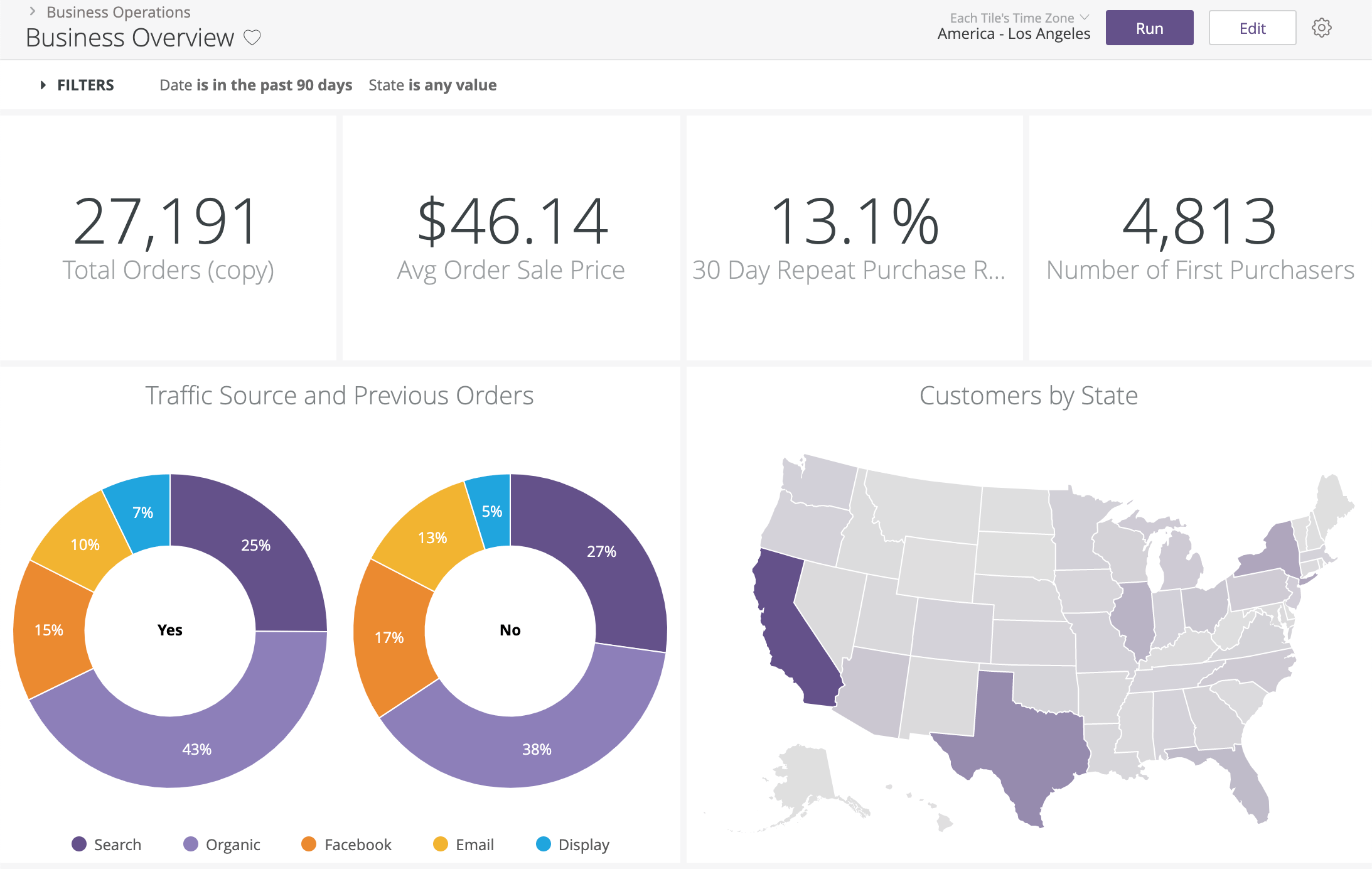 Looker is another bi tool that's grown in popularity in recent years. The tool offers easy and attractive reporting, but unlike many other BI tools, Looker updates dashboards regularly, providing you with the most up-to-date information in real time.
Standout feature: Ongoing and real-time reporting provides you with actionable insights the moment data is available.
MicroStrategy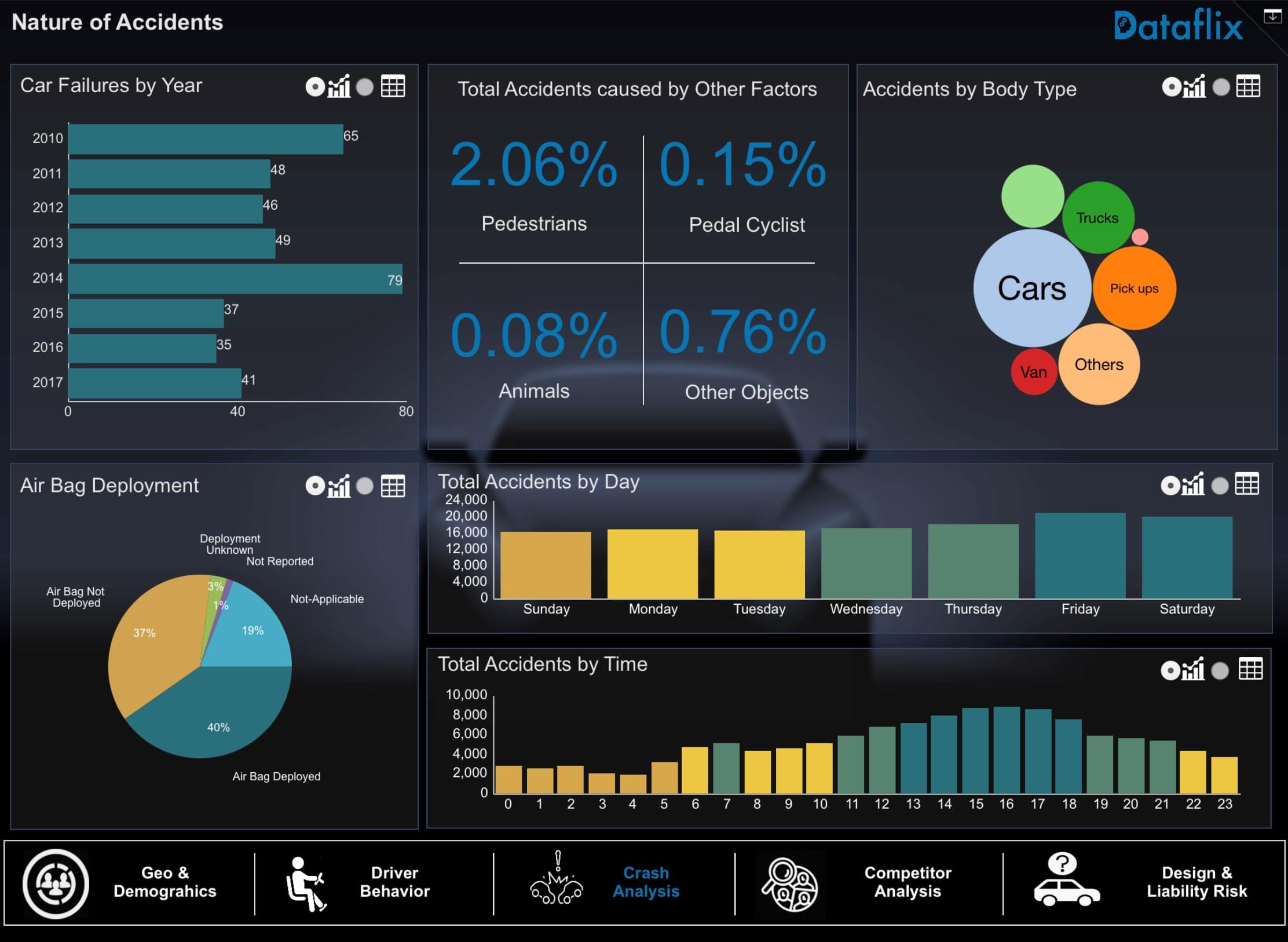 As a pioneer among business intelligence tools, MicroStrategy was one of the first BI tools to be picked up by large corporations after McDonald's signed a $10 million contract with the company in 1992. The tool continues to deliver today, offering fast and comprehensive reporting tools and best-in-class security features.
Standout feature: MicroStrategy's digital ID and telemetry allow you to send digital badges for login access and other actions to protect your company's data, devices, and more.
Domo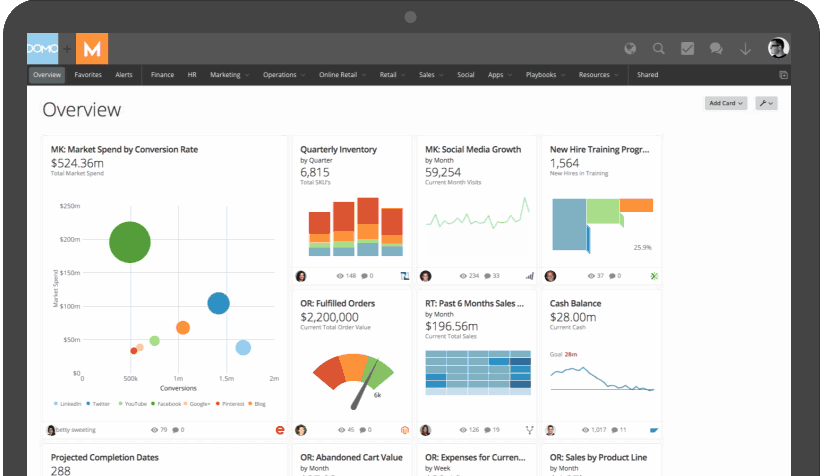 The first BI tool to run completely on the cloud, Domo is a quickly growing system that allows you to access insights about your business from anywhere. Domo offers over 500 data connectors, and its own app store allows you to plug in apps specifically tailored to your industry.
Standout feature: The Domo Appstore gives you the power to make the most of the system, offering hundreds of apps to suit your industry.
ALSO READ:Domo vs. Tableau: Choosing the Right Business Intelligence Solution
BOARD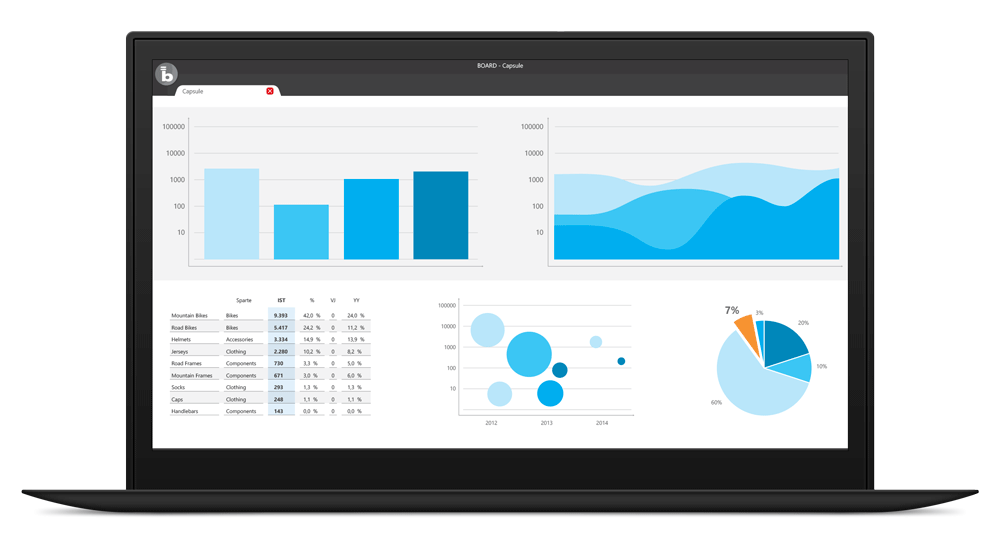 While it is best known as one of the top business intelligence tools on the market, BOARD also offers performance management, analytics, and data discovery solutions all in one platform. Combine its all-in-one approach to business intelligence with clear data visualization tools, and it's easy to see why BOARD is among our top picks for business intelligence solutions.
Standout feature: BOARD bundles business intelligence, performance management, analytics, and data discovery all in one system.
Microsoft Power BI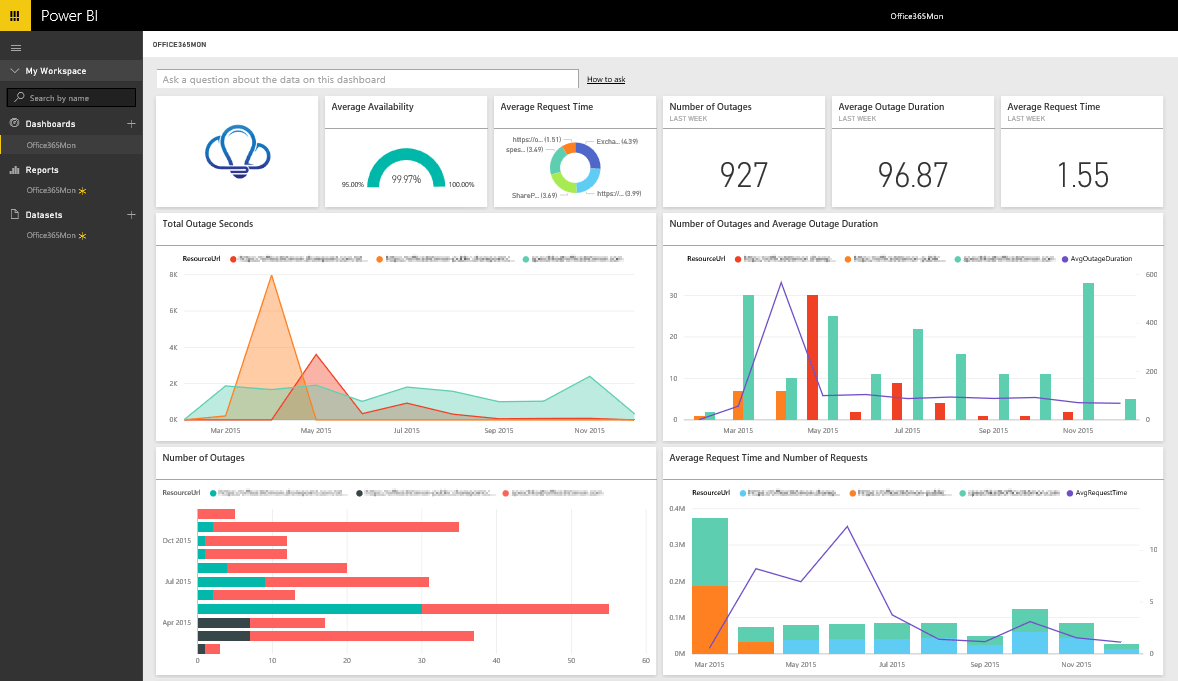 Consistently recognized as one of the best BI solutions around, Microsoft Power BI offers flexible plans for businesses of all sizes and integrates with your Microsoft office tools such as Excel. In addition to sourcing data from a variety of cloud and on-premise sources, Power BI can also collect data from IoT devices.
Standout feature: Leave no stone unturned with the ability to source from hundreds of data preparation and connection sources, including IoT devices.
Oracle BI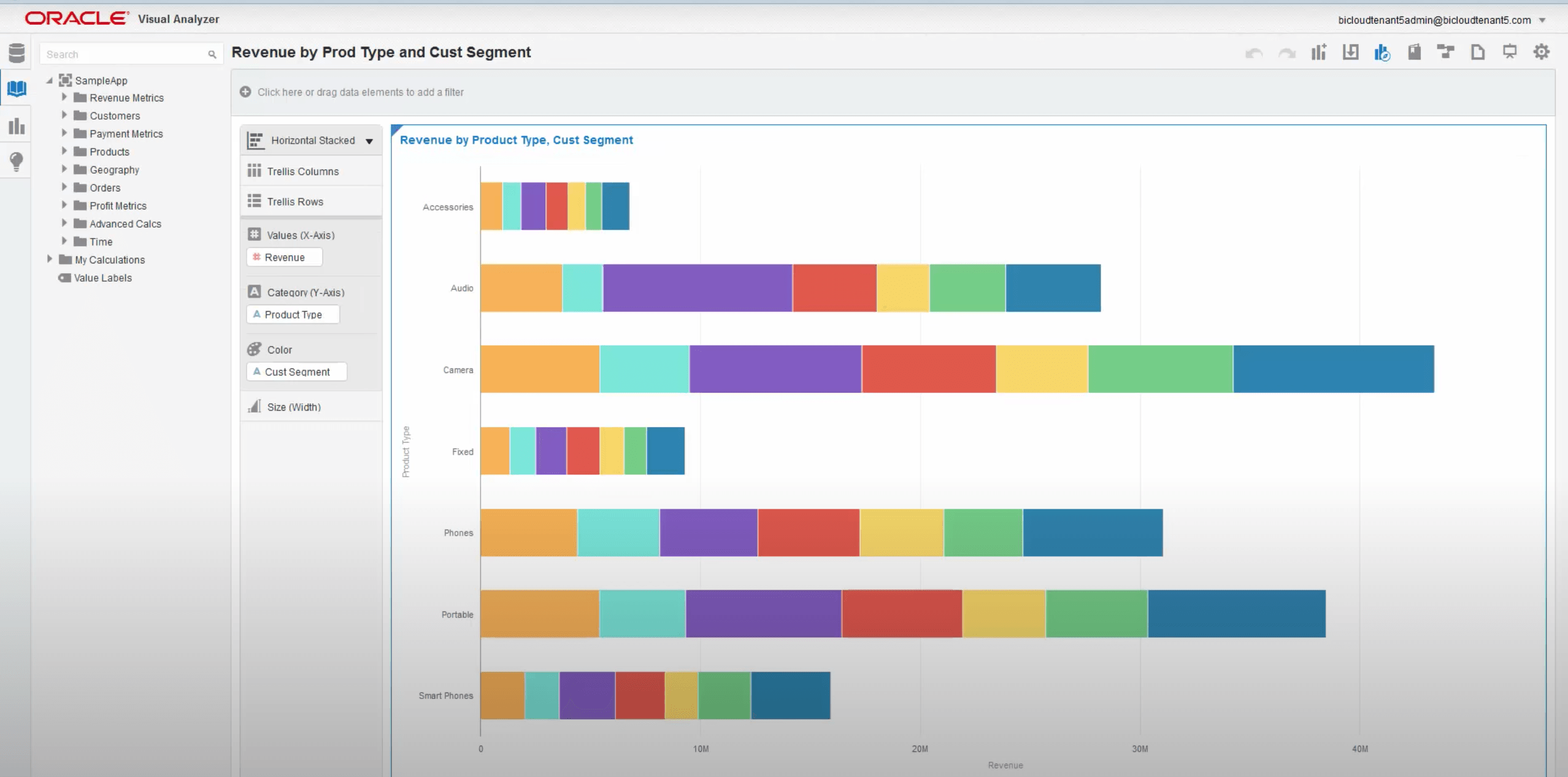 Largely recognized as an industry leader in business software products, Oracle also offers a business intelligence tool that integrates seamlessly with other products such as Oracle ERP, Netsuite, and more. For businesses that aren't quite the size of an enterprise, Oracle is a good option as a scalable solution that grows with your business.
Standout feature: Oracle BI works as a scalable solution, allowing you to start with a core set of features and add on additional features as your business needs evolve.
InsightSquared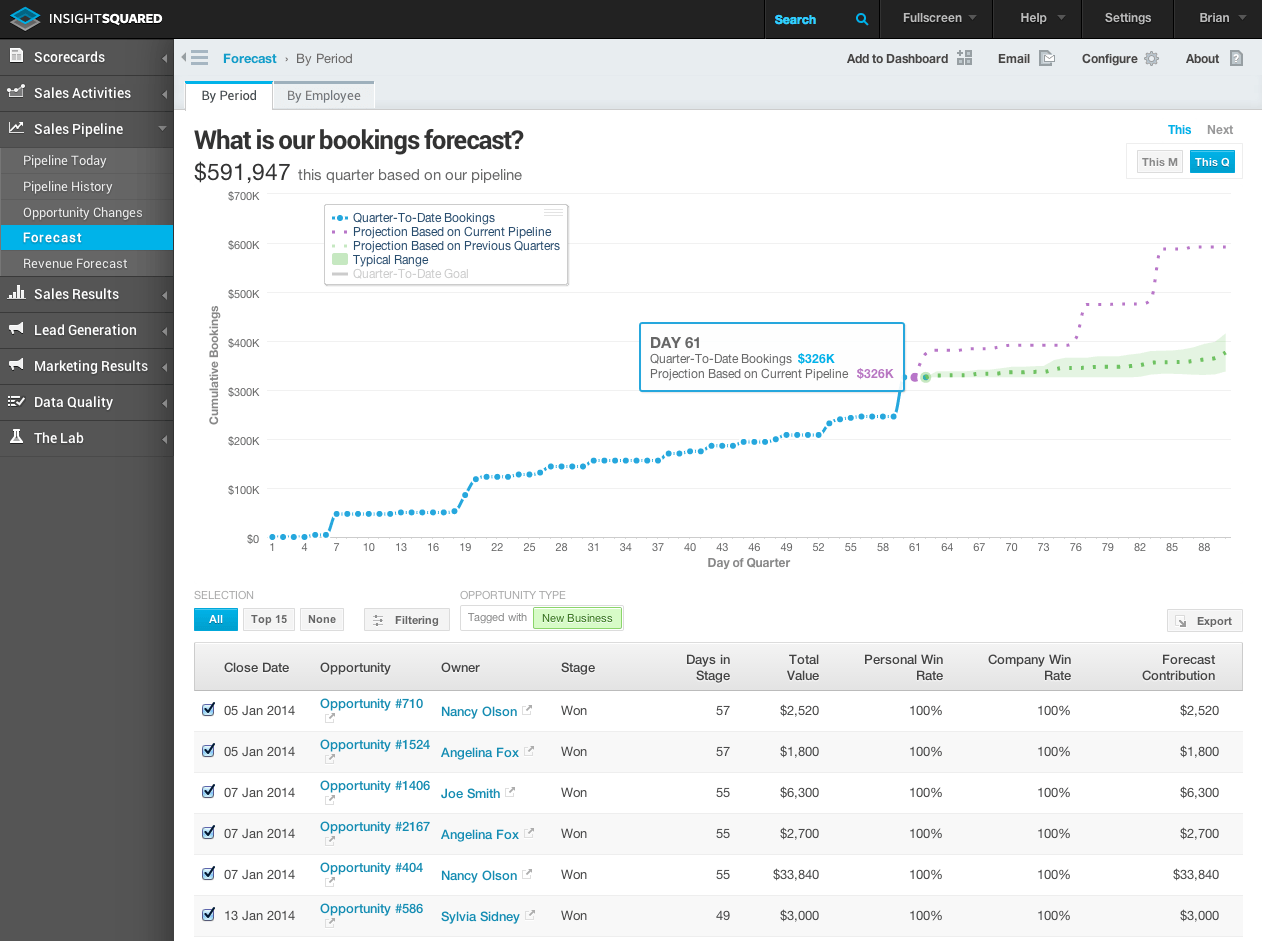 Built specifically to help with sales, marketing, finances, staffing, and support services, InsightSquared is perfect for detailed insights about specific aspects of a company's operations. In addition to data analysis and reports, InsightSquared also allows you to forecast closed business deals, sales success rates of certain salespeople, and more.
Standout feature: Integrating InsightSquared with Salesforce gives users access to predictions about which prospects are most likely to lead to a sale, which salespeople are likely to win the most sales, and more.
Logi Analytics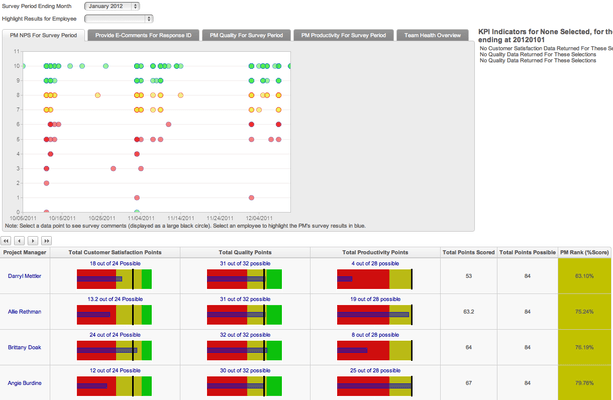 If you're an app developer, many of your end-users want access to analytics to help them run their business, but coding analytics for each app is very time-consuming. Using Logi Analytics, you can embed customizable, white-labeled analytics into all your apps, making it easier for your customers to check in on their businesses.
Standout feature: Logi Analytics allows you to create customizable and white-labeled analytics dashboards, creating a seamless and enjoyable experience for your end-users.
Sisense for Cloud Data Teams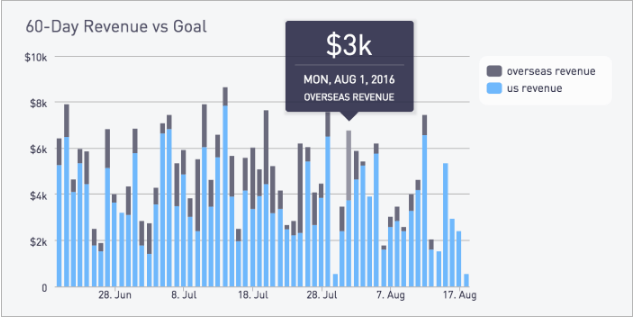 Running reports can take a long time, but Sisense for Cloud Data Teams syncs data to analytics clusters to return results in a manner of seconds. This BI tool is built with data teams in mind and offers a platform built for running easy queries that can be stored in a query library for easy access.
Standout feature: Query libraries with snippets keep you from starting routine queries from scratch every time you need to pull a report.
Alteryx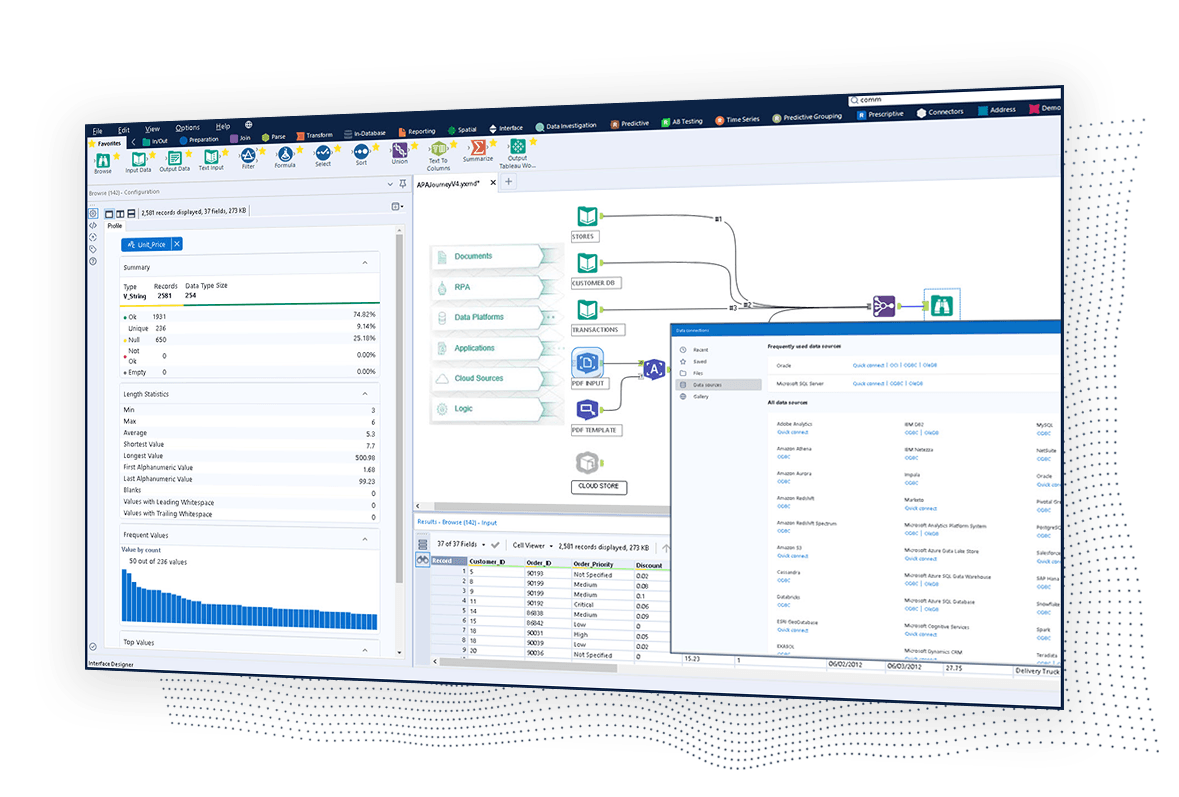 Alteryx provides extensive customization options through coding and a full data analytics platform. For analysts who have big ideas for their data, this platform offers the flexibility needed to bring those ideas to fruition.
Standout feature: Alteryx Connect is a community-based feature that helps users find answers to their data-based questions. This social and collaborative environment connects you with other BI professionals so you can find help to specific hurdles.
Trends in business intelligence software
The best BI tools are evolving quickly, but these trends are making their way into common usage for most BI software.
Machine learning and AI
Artificial intelligence (AI) and machine learning (ML) are computing trends that have touched nearly every corner of the technology industry because of their abilities to spot patterns and learn from existing data. BI in particular is ripe for the growth of ML products because the tools thrive in high data-density environments. AI and ML algorithms can be used on existing data to learn, predict, and better forecast for businesses.
Cloud computing — and the databases that it produces — give companies thousands of daily data points to train machine learning algorithms. Companies that use BI will find that data integration between AI tools and their cloud data warehouses is often the logical next step.
In-memory database
In-memory database processing utilizes RAM instead of disk or hard drive processing in order to read information. Accessing information in this manner increases the application performance exponentially. The increasing power of RAM in our cloud or on-premise computing environments coupled with the demand for more agile systems means this software has a large stake in the future of BI. Dramatic drops in memory prices are making it a more popular option than running data analysis through multidimensional databases and cubes.
Use of business intelligence software across business departments
More and more, BI users aren't IT staff; they're employees with a standard amount of technological savvy that want to harness the power of cloud BI to get a competitive advantage.
Consequently, the design of reporting mechanisms and ease of use of analytics platform functions are being driven toward a lower barrier of access. No longer is it enough to have excellent analysis features or data warehouse access; they must be usable by both IT experts and business users with no analytical experience.
Many of the major BI vendors — SAP, IBM, Microsoft, and SAS — all responded to the rise of new companies that offered easy to use visual functions by totally redesigning their interfaces. A Dresner Advisory Services report found that the major motivation for BI adoption comes from business executives, operations, and sales divisions. Several vendors are specializing in the 'self-service' BI space, including Tableau and TIBCO Spotfire, which we compare in our post Tableau vs Spotfire.
Choosing the best BI tools
Comparing all the features these tools offer side by side can be a daunting task, but we can help you shave hours off your software search. Contact us today or fill out the form at the top of the page to start the process. We'll send you a set of recommendations that fit your feature requirements and data needs.
Which business intelligence software is right for your business?