Key takeaways
Each company's paid time off policy differs and requires collaboration between executives, human resources, management, and employees.
Although employers aren't required to provide employees with paid time off, companies should research whether they're subject to state and local laws or collective bargaining agreements when developing their own paid time off policy.
PTO is a necessary component of a company's benefits package and a significant contributor to employee workplace satisfaction and engagement.
A lot rides on a company's paid time off (PTO) policy because it's one of the main ways to attract and retain top talent. As a result, writing PTO policies can be challenging, as companies must make sure these policies are competitive, compliant with all state and local laws, and aren't disruptive to core business operations.
No two PTO policies are the same and determining what works best for each company is an important business decision. However, understanding what goes into the best PTO policies can be the difference between a company of dedicated employees and a company of unmotivated employees suffering from burn out.
Check out our HR Software Guide for solutions to help administer your own PTO policy.
How to write the perfect PTO policy
Unlike traditional leave policies, PTO policies combine paid vacation, sick, personal, bereavement, and parental leave policies into one, all-purpose, time off policy. Some companies also include their holiday time off under their PTO policy.
Creating a PTO policy requires collaboration between executives, human resources (HR), management, and employees to determine a PTO system that is both valuable to the workforce and financially and logistically in reach for the company. However, whatever the company decides, the PTO policy must be written down, signed off by employees upon hire, and easily accessible to everyone as needed.
1. Choose a PTO system
The first step of writing a PTO policy is establishing what does and does not count as PTO and what PTO system your company will use. The most common PTO systems are lump sum, accrual, and unlimited.
Lump sum
A lump sum PTO system — or flat-rate, frontloaded, banked, or allotment — provides a set amount of PTO for employees to use at the beginning of a benefit year. The amount of PTO allotted is at the employer's discretion and could be represented in a number of hours or days — for example, forty hours or five days.
Benefits of a lump sum PTO system:
Access to all PTO at the beginning of a benefit year.
No waiting to use PTO for emergencies.
Easier for employers and employees to monitor and track.
Drawbacks of a lump sum PTO system:
Risk for disproportionate use of PTO at the beginning of a benefit year.
Accrual
Under an accrual PTO system, employees accumulate PTO throughout a benefit year based on time worked for the company. For example, employees could accrue one hour of PTO for every forty hours worked. Alternatively, say an employer wants employees to accrue eighty hours of PTO in a benefit year. If employees work a forty-hour work week for fifty-two weeks, the employee accrues PTO at a rate of 0.038 hours for every hour worked.
Benefits of an accrual PTO system:
Employees must dedicate time to the organization before receiving PTO.
More cost-effective for employers.
Drawbacks of an accrual PTO system:
Difficult to track.
More prone to errors.
Places employees at a disadvantage when they do not have accrued PTO for emergencies.
Unlimited
An unlimited PTO policy allows employees to take off as many days as they want during a benefit year. This type of PTO system is becoming increasingly popular among major tech firms like Microsoft. However, there are caveats to such a system, like a more stringent approval process, advanced notice requirements, performance requirements, and waiting periods.
Benefits of an unlimited PTO system:
Attracts and retains top talent.
No tracking is required.
Easy administrative lift for small HR teams.
Drawbacks of an unlimited PTO system:
Employees may be reluctant to use PTO with no set limit.
Complicated approval process.
Risk of favoritism or discrimination if not consistently and equitably enforced among all employees in the same situation.
2. Determine employee eligibility
Many employers place limits on which employees are eligible for their PTO policies as a cost-savings measure. Typically, eligibility requirements are based on employee classification and when they started with the company.
For example, you may decide that only full-time employees are eligible for PTO; part-time, seasonal, or temporary staff aren't eligible. You may also require full-time employees to wait 30, 60, or 90 days from hire before they can use PTO to incentivize them to complete their onboarding period.
3. Outline the approval process
Most companies require PTO approval to prevent PTO abuse. When not an emergency, a PTO request usually involves submitting a formal request for time off that is then reviewed by the employee's direct manager or a member of the HR team for approval.
Each company's approval process looks different, so your PTO policy should provide instructions for how employees request PTO usage. Some questions to consider when writing your approval process include:
How much advance notice do employees need to provide to use PTO when there isn't an emergency?
How do employees request PTO for emergencies, such as sickness or childcare issues?
Do you require proof from employees to substantiate their need for PTO in particular circumstances, such as a doctor's note, school note, or funeral?
How do employees submit a request to use PTO?
Who approves an employee's PTO request?
4. Define payout procedures
You must define when and how employees receive their PTO once it's approved. In most cases, employees can see their PTO on the paycheck following the date they used PTO, depending on your paycheck and pay period cadence.
Some employees may also have unique pay schemes, such as frequent overtime, commissions, shift differentials, bonuses, or other incentives that supplement their base pay. Because employees may rely on these payments as part of their normal paychecks, you should indicate whether PTO payouts factor in these supplemental payments.
5. Explain PTO upon termination
Some states mandate employers pay out accrued PTO to employees upon termination; however, employers have the choice in states with no PTO payout termination laws. Paying out PTO upon termination provides employees with a financial cushion and could strengthen company severance agreements. However, it may not be the most cost-effective option for employers in high-turnover industries.
6. Consider company needs
The above steps outline the basics of most PTO policies; however, you will need to consider the needs of your business and employees to further optimize your PTO policy. The below questions can help you add the finishing touches to your company's unique policy:
How do you define the PTO benefit year: by calendar, employee anniversary, or fiscal year?
In lump-sum or accrual PTO systems, does the amount of PTO employees receive in a benefit year increase based on company tenure?
In lump-sum or accrual PTO systems, can employees carry over or roll over unused PTO from one benefit year to the next, or must they "use it or lose it?"
In lump sum PTO systems, do employees receive a prorated amount of PTO if they start in the middle of a benefit year?
In accrual PTO systems, can employees borrow against their PTO bank before accruing it?
What's the smallest increment of PTO that employees are allowed to use?
Are there limitations on how much PTO employees can use at one time?
Does your company have PTO blackout periods?
What disciplinary actions will you take if employees do not follow PTO procedures, such as missing time after exhausting all their PTO?
7. Ensure legal compliance
PTO policies are subject to specific state and local laws, so you should have your PTO policy checked by knowledgeable legal experts before implementation. Legal experts can make sure your policy remains attractive to your employees, competitive within your field, and compliant with all applicable government regulations.
8. Review the policy regularly
The last step before finalizing the PTO policy is receiving approval from executive management and determining how often you will review the policy. As your business's circumstances change, your PTO benefits will also change to accommodate new or reduced revenue streams. Although a yearly review cadence is typical, you may decide to address PTO benefits sooner if workforce data indicates the current PTO policy is the cause of employee discontent or decreased company productivity or efficiency.
9. Use software for tracking
After finalizing the PTO policy, you can leverage HR software to communicate, administer, and track your employees' PTO. For example, HR software can:
Send PTO policies to employees to view and electronically approve.
Track and administer PTO on employee paychecks.
Provide a self-service portal for employees to request PTO.
For example, GoCo is HR software that allows companies to upload and distribute a company policy to employees to sign electronically. In addition, employees can send PTO requests to managers and keep track of their PTO banks on their timesheets and paychecks.
HR software can save companies time and money and help them comply with changing federal, state, and local labor laws. Thus, even HR teams with limited resources can track and maintain a PTO policy with minimal effort.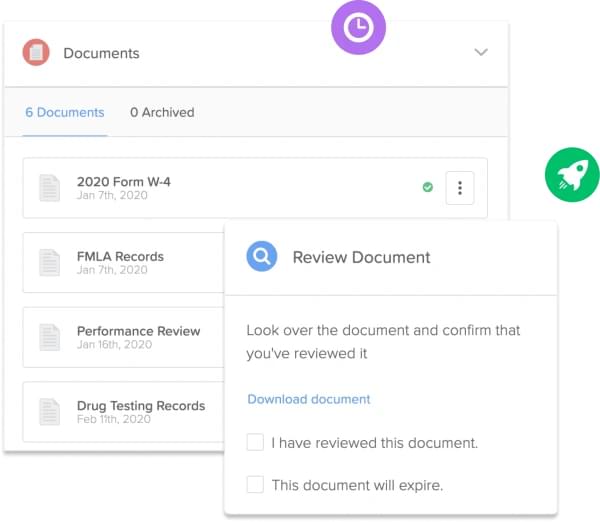 Also read: Leave Management Tools and Best Practice
Is PTO required?
Private-sector employers aren't required to offer their employees a PTO policy. However, you should research whether you are subject to collective bargaining agreements or state or local laws before writing your PTO policies.
For example, many states require employers to offer paid sick leave to their employees, so their PTO policies should provide, at minimum, the benefits outlined in those laws. Many states also require employers to pay unused, accrued PTO to employees upon termination. In Massachusetts, for example, failing to abide by this rule is considered a misdemeanor and could result in hefty fines.
PTO should be part of a complete benefits package
A PTO policy is necessary to attract and retain talent; however, it is only one part of the puzzle driving employee engagement and satisfaction.
For example, employers who provide unlimited PTO aren't necessarily better places to work if employees feel they cannot take off due to heavy workloads or their company's rise-and-grind culture. Instead, employers encouraging employees to take time off, such as requiring mandatory PTO, could be more valuable to employees.
According to a study by the U.S. Travel Association, 68% of employees are happier with their jobs if their employers encourage them to take a vacation. This implies that providing employees with the opportunity to rest and relax via PTO is an essential company benefit. Through plentiful opportunities to take PTO, flexible working arrangements, and access to mental health support, companies can ensure employees take care of themselves so that they, in turn, can take care of the business.
Check out our HR Software Guide for solutions to help administer, track, and maintain your company's PTO policies.
1

Rippling
Rippling is the first way for businesses to manage all of their HR, IT, and Finance — payroll, benefits, computers, apps, corporate cards, expenses, and more — in one unified workforce platform. By connecting every business system to one source of truth for employee data, businesses can automate all of the manual work they normally need to do to make employee changes.
2

GoCo
Elevate your HR with a modern, easy-to-use HRIS designed for small businesses. GoCo is a secure, compliant hub for sending, digitally signing, and organizing your sensitive HR documents and data. Manage records, performance, time off, onboarding, benefits, and more – all in one place. With the best support in the industry, every GoCo customer is assigned a dedicated Customer Success Team that is readily available to provide guidance and ensure a smooth and reliable HRIS experience.
3

Paycor
Paycor's HR software modernizes every aspect of people management, which saves leaders time and gives them the powerful analytics they need to build winning teams. Paycor provides a full suite of HCM solutions with a single source of truth for employee data, so users never have to switch platforms, log-in to multiple systems, re-key data or open multiple spreadsheets. Everyday processes become simplified, allowing organizations to focus on their most important work.
Technology Advice is able to offer
our services
for free because some vendors may pay us for web traffic or other sales opportunities. Our mission is to help technology buyers make better purchasing decisions, so we provide you with information for all vendors — even those that don't pay us.