Table of Contents
The solutions in this guide are divided into three categories: enterprise, agency, and small-to-medium business (SMB). However, SaaS deployments make modern software more flexible and scalable than ever before.
Though the core functions of all solutions in this niche are the same, there is additional functionality that different business sizes and types might look for.
Compare the top recruiting software for enterprise, agency, and SMB based on major features and TechnologyAdvice ratings. Many of the vendors compared below offer tiered solutions to accommodate businesses of any size or type.
Recruiting software for small business (SMB) comparison
Agency recruiting software comparison
Enterprise recruiting software comparison
What is recruiting software?
Recruiting software is a category of human resources management (HRM) that handles the process of posting jobs and attracting top talent for vacant positions within a company. From posting jobs to reviewing resumes and interviewing candidates, recruiting software streamlines the entire candidate search and hiring process, automating when possible to lessen workloads. By eliminating paperwork and offering powerful resume and candidate search functions, the software makes it easier for organizations to find and hire employees.
Nearly every HR software vendor offers recruiting features, so choosing the best recruiting system can be a daunting task. To simplify the buying process, this guide lists the best recruiting software vendors, recruiting software trends and features, and what to look for in enterprise, agency, and SMB recruitment tools.
The best recruiting software vendors
The recruiting software market
Recruiting is, unfortunately, a time-consuming process. Recruiters and hiring managers face resume overload. After they sort, rank, and send applications to the correct person for review, they then have to collaborate with managers to screen, interview, and onboard qualified candidates. And along the way, everyone in the process must communicate with follow-up emails, internal messages, and offer letters.
It's high volume. It's complex, and losing track of candidates may mean losing a chance to hire the best employee for the opening, or diminishing the company's hiring brand in the candidate marketplace.
Thankfully, the entire process has gone digital.
Companies have replaced dated systems and paper resumes with modern technology that offers social media recruiting, online assessments, automatic workflows, and real time analytics. Now, recruiters can take a systematic approach to hiring. This not only saves time, energy, and resources but leaves candidates with a pleasant brand experience as well.
Recruitment tools can provide a platform for companies to improve their candidate experience levels. When job seekers have a positive experience with your company, they tend to tell their friends and family who are also looking for jobs. Not only does this increase your talent pool, but it can also increase brand loyalty among your customers. In fact, 71 percent of candidates are more likely to do business with a company that they had a positive experience with during the recruitment process.
Additionally, by streamlining the recruitment process, you can make offers faster and avoid missing out on a top candidate because you weren't quick enough. Approximately 40 percent of applicants reject job offers because they received one from another company first.
Hundreds of vendors now crowd this market with software that contains seemingly identical functionality. As yesterday's cutting-edge features become today's standard, differentiators like usability, customizations, analytics, and data management become increasingly important. TechnologyAdvice can help you cut through the noise and find a list of vendors that meet your needs. Click on the banner below to get your recommendations.
How employment trends affect recruiting software needs
Unemployment levels change regularly, and not all industries fluctuate in the same way. The current unemployment levels will affect how you use your recruitment software. Choosing recruiting tools that offer advantages for periods of both high and low unemployment improve your company's chances of getting the right candidates, regardless of the employment landscape.
Recruiting during high unemployment periods
When unemployment is high, you're likely to get a lot more applicants to each job you post. You'll need to simplify the way you screen these candidates, so it's critical to choose recruiting software that either contains an applicant tracking system (ATS) or easily integrates with one.
Additionally, social media provides a huge opportunity to source high quality candidates during periods of high unemployment. Even if your followers aren't looking for a new job, chances are, they know someone who is. To take full advantage of these referrals, you need recruiting tools that integrate with social media, so you can post on multiple platforms at once.
Responding to low unemployment
Companies looking to grow their workforce despite low unemployment numbers have to get creative. In addition to passive recruiting, reverse recruiting, and internal recruitment efforts, companies in high-growth areas have turned to alternatives to the traditional methods of hiring best-skills-fit candidates. According to the 2019 trends report from Monster, more companies will hire based on candidate potential instead of proven skills during periods of low unemployment. As low unemployment narrows the candidate fields across all industries, companies want candidates with track records that show adaptability and learning behavior.
Also read: 4 Ways to Recruit Passive Candidates
Recruitment marketing practices
In addition to alternative recruiting methods, some HR departments have turned to traditional marketing practices to attract qualified and interested candidates. HR departments use social media, online job boards, and in-person events alongside traditional methods to attract best-fit talent. These recruitment tools promote the company's culture, benefits, and perks, and often suggest that interested candidates apply — even if the company doesn't have a perfect-fit opening. Recruiting software often includes the ability to create careers websites, post to multiple job boards, post openings to social media platforms, and analyze the effectiveness of recruitment marketing efforts.
Social recruiting analytics
Social recruiting taps into the social media network of employees and other HR professionals to promote the company's hiring brand. Companies use social media platforms like LinkedIn, Facebook, and Twitter to advertise open positions, interact with potential candidates, and attract passive candidates. Recruiting tools that can import analytics from social media sites help HR personnel better understand where their social recruiting efforts make an impact and help the team refine their marketing practices.
Mobile recruiting tools
More individuals are doing business on their mobile phones, and that includes applying to jobs. Recruiters have caught on, demanding mobile-friendly career sites and job boards that include mobile-ready applications, forms, and messaging apps. Mobile-first recruiting tools also attract and cater to candidates who may not have a personal computer outside of their smartphone.
Recruiting software features
Recruiting software is the linchpin to any company's talent acquisition strategy. It provides a central location and database for all recruitment efforts. At the enterprise level, recruiting tools are often offered as a module of an enterprise resource management (ERP) system, HR suite, financial management solution, or human capital management (HCM) system, rather than standalone software. These systems provide centralized databases for employee and customer data and improved analysis capabilities. Recruiting modules expand upon these features.
There's even specific recruiting software for small business that can be included in larger HR or ERP systems or purchased as a standalone, best of breed system. Best of breed recruiting tools often communicate with other business software via direct integration or API.
Regardless of how a recruitment tool is packaged, having a database for recruiting makes it easier to narrow the number of applicants by searching applications for specific candidate criteria. Hiring managers can save information, customize workflows, apply search filters, and ensure they comply with federal employment and anti-discrimination laws all in a single software.
Functionality for most recruiting software is built around the following pillars:
Workforce Planning: creating pools of internal and external candidates
Sourcing: job posting management, advertising, social media promotion
Candidate Acquisition: referrals, screening, assessments, selection
Applicant Tracking: interviewing, background checks, candidate communication
Onboarding: meetings, orientation, training
Analytics: reporting and metrics embedded throughout the system
HR teams should look for a collaborative system that aligns with their internal hiring process and gives candidates a positive experience. Streamlining these functions increases efficiency by screening out unqualified applicants early in the process, reducing administrative burden across all functions, and providing analytics about the entire process.
With so many vendors to choose from, it's easy to get overwhelmed. The following trends — and the features in our comparison charts — will help you differentiate vendors and choose the right provider for your business.
Cloud and SaaS solutions
Most HR software vendors are moving away from on-premise solutions. Companies are choosing to use cloud-based systems, rather than buying a one-time license and housing the software onsite. The software-as-a-service (SaaS) model means you pay a subscription fee per month or per year to use the software.
Not only is SaaS licensing typically cheaper than hosting software on-premise, but it also frees up server space for the data companies can't or don't want to put in the cloud. Smaller companies might not even have on-premise servers, so cloud-based software keeps them from having to purchase expensive hardware and hire staff to maintain it.
AI and automation
Many recruiting software systems add artificial intelligence and automation features to assist HR professionals with repetitive tasks. Recruiting tools use automation to parse resumes for job-related keywords that the HR team has designated. The software then builds pools of candidates based on shared skills and experience levels, quickly removing unqualified candidates. Because these tools scan databases for candidates, previously disqualified candidates can remain in the system for a job they'll be better qualified for. This feature is most helpful during reverse recruiting efforts where HR contacts previous applicants to match them with new job openings.
Integrations and suites
As the HR tech stack continues to grow, you must consider how your next recruiting software will integrate with your existing technology. If your company has existing HR systems, such as payroll software or a learning management system (LMS), any solution you choose should integrate with them.
On the other hand, if you're looking for an all-in-one system that handles other HR processes in addition to recruiting functionality, then you'll need a vendor that offers a full HR suite like an HRIS or HCM system. We can help you figure out which system is best for you and take hours off your research process. Fill out the form at the top of the page to get fast, free recommendations.
Top enterprise recruiting software vendors
HR or ERP systems that integrate with recruiting software provide critical functionality for large organizations. In-house recruiters need strong collaboration features that facilitate sharing applicant data and receiving feedback from hiring managers. Enterprises may also prefer a solution that offers a branded careers page, application portal, and internal job board. These features facilitate internal hiring and employee referral programs. We've compared several of the top enterprise recruiting platforms based on automation, analytics, recruitment marketing, and candidate assessment features.
The heavy-duty needs of enterprise recruitment call for a heavy-duty recruiting system. Enterprise systems should integrate with your existing HR system, use continuous candidate engagement (CCE) and offer features for employee referrals, detailed filtering and reporting, and resume parsing.
Also read: The Best HR Software for Enterprises
Jobvite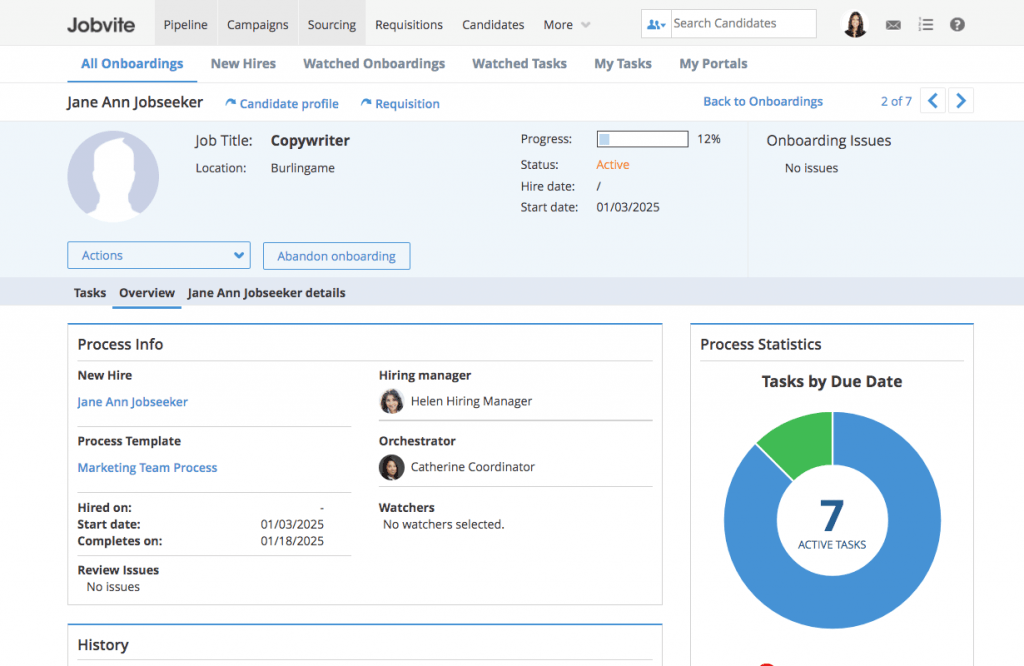 TechnologyAdvice rating: 4/5
Jobvite is a feature-rich recruiting platform for enterprises. Create career sites and manage applicants with the applicant tracking system (ATS) feature, and re-engage passive candidates for hard-to-fill positions. Jobvite supports onboarding tools, and users can text candidates and request video interviews without leaving the system. Jobvite takes a continuous candidate engagement (CCE) approach to hiring, and the system integrates with HR solutions like Workday, ADP Workforce Now, and Namely.
iCIMS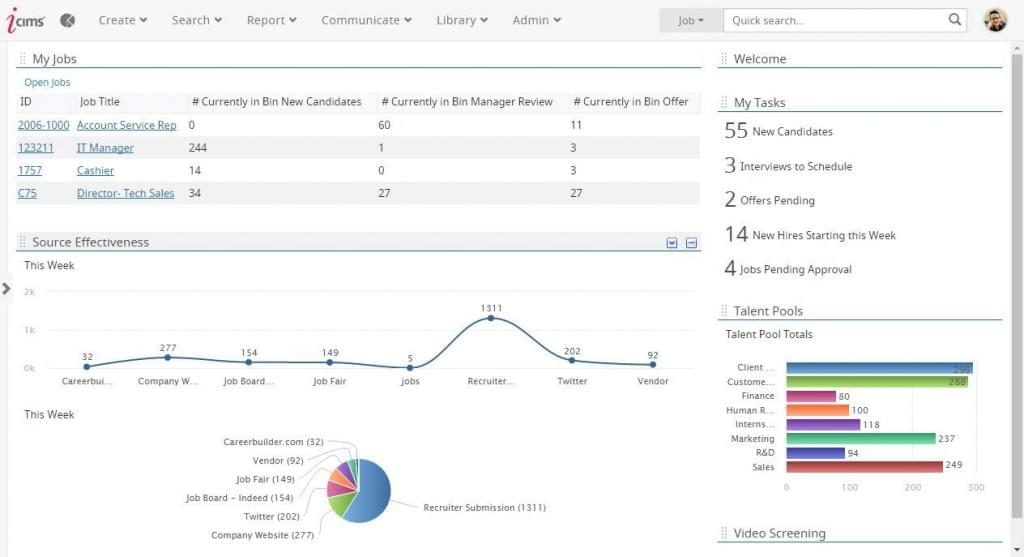 TechnologyAdvice rating: 4/5
ICims offers a suite of recruiting tools, from an applicant tracking system (ATS) to candidate relationship management to employee onboarding, to name a few. Enterprises can create and share job listings to their website and job sites, advertise openings, optimize listing SEO, receive applications via text message, and more. Artificial intelligence (AI) and natural language processing give a boost to the candidate engagement feature, and the platform as a service (PaaS) offering allows recruiters to add apps and customize their experience. ICims integrates with Namely, Peoplesoft, and ADP Workforce Now for HR.
Zoho Recruit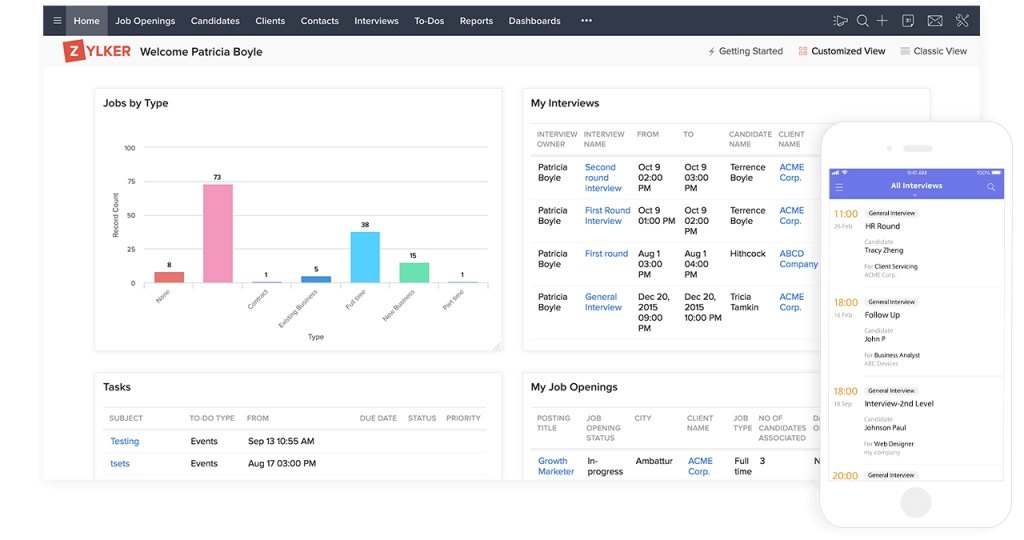 TechnologyAdvice rating: 4/5
Zoho Recruit helps enterprises find and retain talent through a diverse list of features. Hire for multiple positions at once, create a custom careers page, and receive referrals through employee referral portals. Sort out candidates that don't match your requirements and request video interviews from those that do. Zoho Recruit also offers digital onboarding and lets you send offer letters, and powerful reports help you learn from each hiring experience. This system works best when paired with other Zoho products, but you can also create custom integrations using Zapier.
Top recruiting software for small business
Though SMBs benefit from recruiting technology in the same ways as their larger counterparts, they often need simpler and less expensive systems. Small- to medium-sized businesses need recruiting tools that integrate with existing systems to better use their existing data. Most of the time, they turn to standalone tools rather than full HR software suites.
Growing companies will want a dedicated recruiting software for small business that can scale along with their business. For very small businesses, many vendors offer free versions with limited functionality.
These top vendors provide fully-featured recruiting software options for small to medium-sized businesses.
BambooHR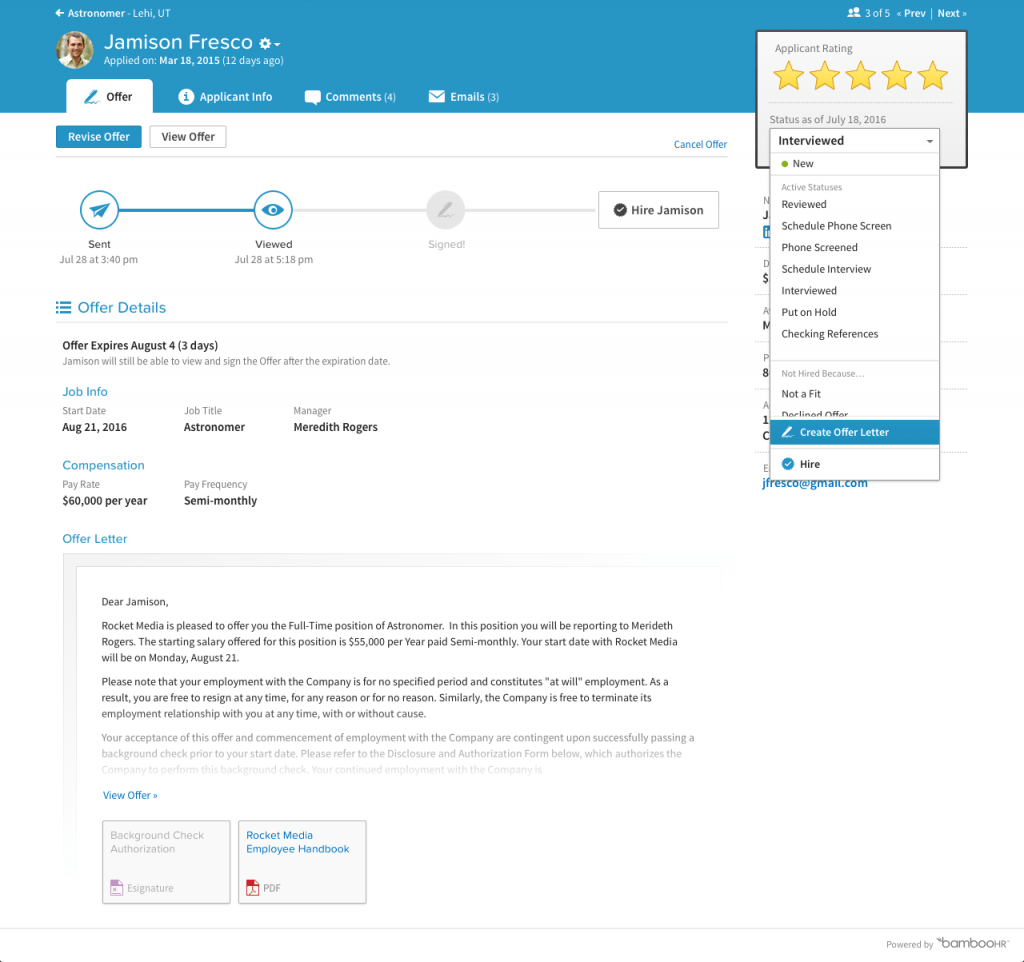 TechnologyAdvice rating: 4.5/5
BambooHR is a comprehensive small business HR solution that also includes ATS and onboarding features. Create a custom careers page for your website and syndicate job postings across Glassdoor, Indeed, LinkedIn, and Craigslist. Social media sharing tools make it easy to post the application link to your company's social channels, and reporting features show you how candidates hear about the opening. Once you've found a good match, you can send white-labelled offer letters and have new hires sign employment contracts digitally.
Breezy HR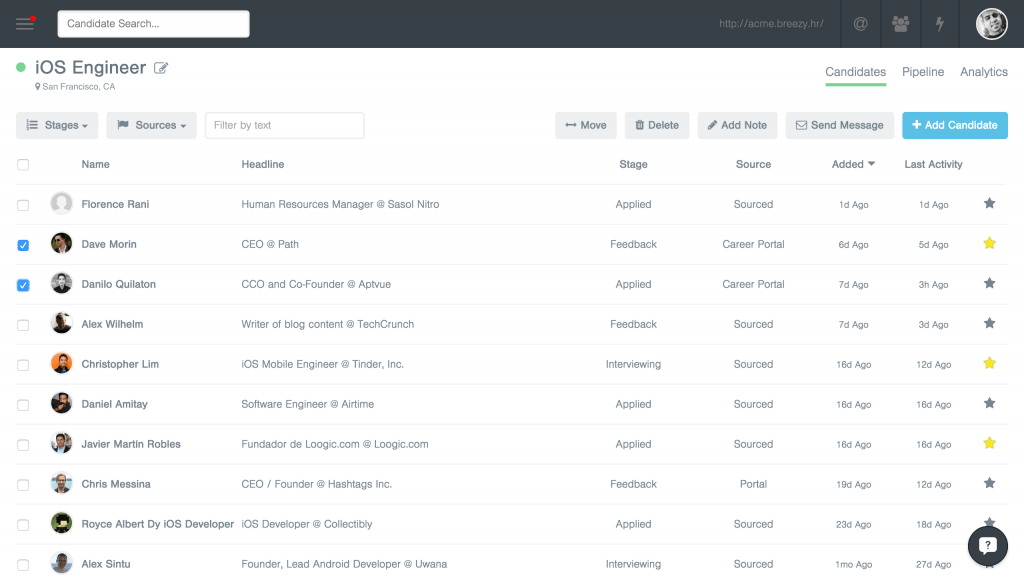 TechnologyAdvice rating: 4.5/5
Breezy HR may not offer an end-to-end HR solution, but it does offer a top-rated recruiting software that's small business-friendly. Create an attractive careers page for your website, sort through candidates using a Kanban-style view, evaluate them using scorecards, request background checks, contact references, and send offer letters — all without having to leave the system. Breezy HR is a recruiting software for small business that posts to popular job boards, and it comes with out-of-the-box integrations with HR systems like Namely, BambooHR, Zenefits, and more. If you use another HR system not mentioned here, Breezy HR also works with Zapier so you can create custom integrations.
Workable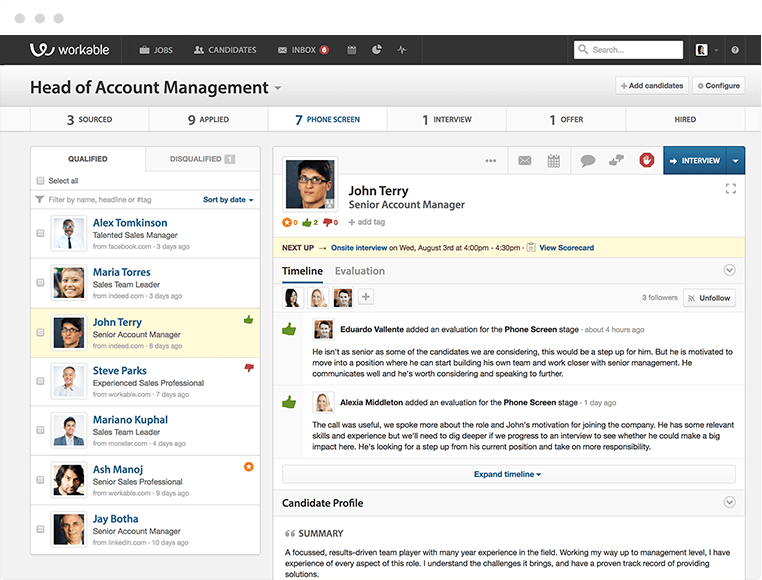 TechnologyAdvice rating: 4.5/5
Workable posts your job openings to over 200 job sites in addition to granting you access to their proprietary database of 400 million candidate profiles. A built-in artificial intelligence (AI) makes candidate recommendations based on your criteria, and internal referral features help you tap into your existing human capital resources. This popular recruiting software for small business also offers mobile applications for recruiters so you can find candidates on the go. Look for integrations with Namely, BambooHR, and more to sync your information.
Choosing the best recruiting software
The first step to finding the right provider is to identify your goals and the must-have features that will support them. Whether you need recruiting software for small business or large enterprise, pinpointing the reasons you're seeking recruiting software will help you define your business goals and better navigate the market. Have a list of your must-have and "nice-to-have" features. If you come across two comparable vendors that meet the mandatory criteria, this gives you a secondary elimination method. If you come across a software package missing one of your must-haves, then it's an automatic deal-breaker.
Next, you should examine vendor track records to find accreditations, case studies, and testimonials for customer service. These could be the determining factor between two similar vendors.
Then test each contender using a demo or a free trial before you choose a solution. You'll want to experience the software in action to make sure it suits your needs and isn't masking subpar functionality behind great interfaces and a well-made website.
To cut down some on your research time, use our Product Selection Tool by clicking on the banner at the top of this page. After answering a few questions, you'll get a short, unbiased list of software that will meet your company's needs.