Pre-employment testing software can be a major time saver for recruiters. Instead of spending extra time during interviews asking candidates detailed questions about their qualifications, recruiters can have candidates complete skills assessments as part of their applications. There are many pre-employment testing vendors out there, so we put together a shortlist of the best ones, in no particular order.
Smarter recruiting software can speed up your hiring process, and TechnologyAdvice can speed up your software research. Use our HR Product Selection Tool to get a free list of personalized HR software recommendations. We'll give you a short quiz to find out what you need and then match you with five vendors we think you'll love. Click the banner below to get started.
WonScore from Wonderlic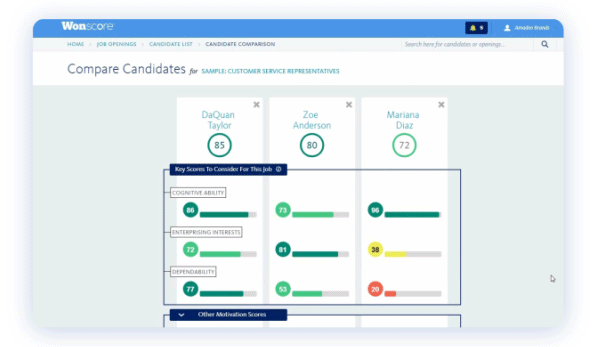 TechnologyAdvice rating: 4.5/5
WonScore from Wonderlic takes its name from a clever play on words. The software gives candidates three tests on cognitive ability, motivation, and personality to see if they're a good fit for your company. Results from all three tests are combined into one score (get it?) and then sent to recruiters for review. Recruiters can see a list of applicants ranked from highest to lowest scores so they don't waste time reviewing candidates who are most likely to be a poor fit.
---
eSkill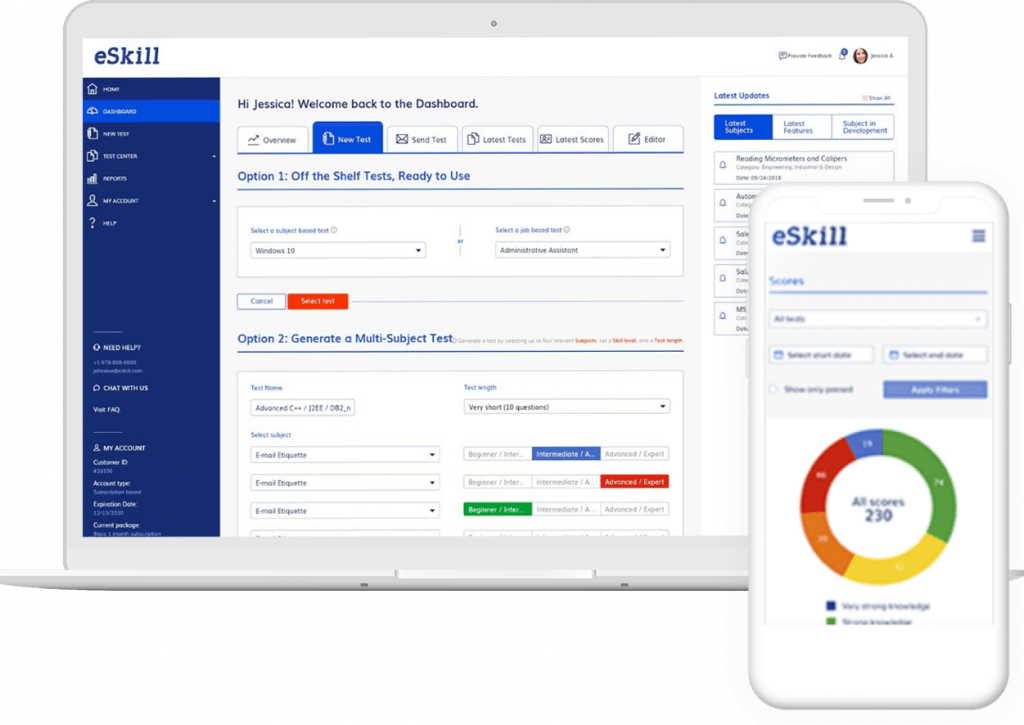 TechnologyAdvice rating: 4.5/5
eSkill lets you test candidates using four different assessment methods:
Modular assessments
Subject-based assessments
Job-based assessments
Video interviewing
You can either create your own tests for applicants to take, or you can choose from over 800 different pre-built tests. If you'd rather make your own test, eSkill lets you write your own questions, choose from a list of their questions, or a mix. You can also use software simulations for applications like Microsoft Office to test applicants' ability with certain tools. After candidates complete an assessment, eSkill prepares a report of their results for hiring managers to review.
---
Vervoe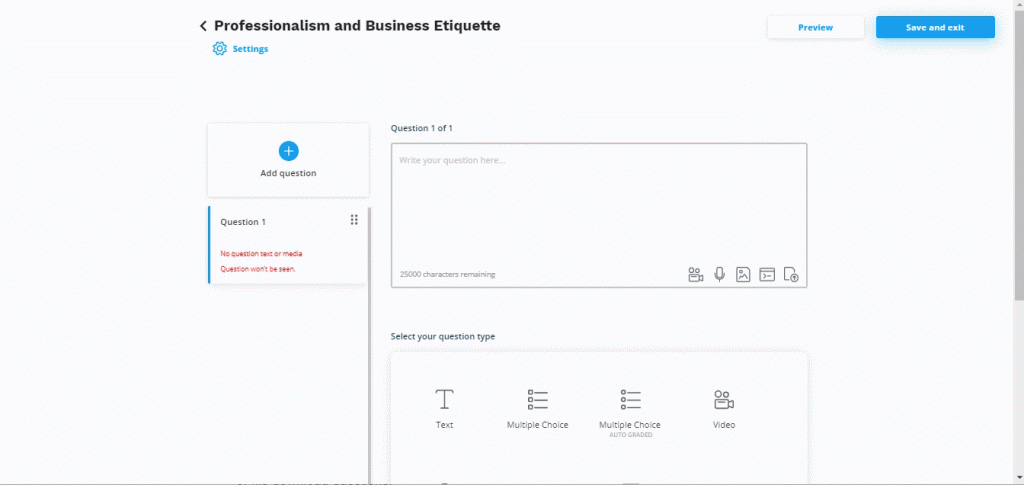 TechnologyAdvice rating: 4.5/5
Vervoe not only helps companies ensure they hire someone who can do the job, but it also helps companies to be more inclusive. Approaching applications by "screening in" candidates instead of screening them out, Vervoe uses skills assessments to determine if a candidate is qualified instead of only looking for certain items on their resumes. If a candidate does well on their assessments, recruiters can see their full background, request a video interview, and decide if they want to move forward or not. Plus, Vervoe uses AI to grade responses for you, including submissions like writing and coding.
Also read: The Best Recruitment Software For Agencies
---
HireSelect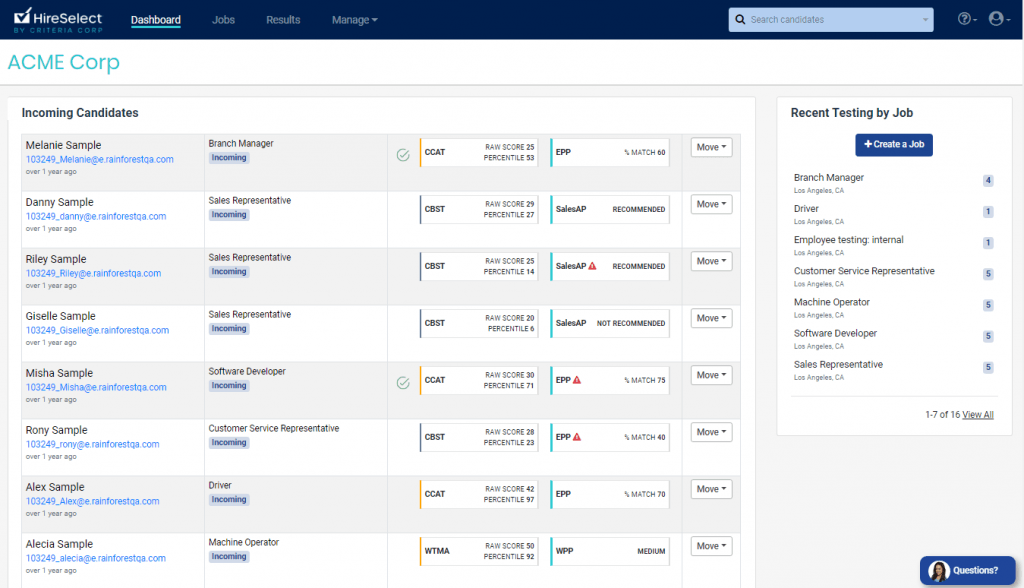 TechnologyAdvice rating: 5/5
HireSelect uses a mix of aptitude, personality, and skills tests to help you find the right candidates for the job. Aptitude tests focus on skills like critical thinking and problem solving, while skills tests focus on testing a candidate's ability to perform the essential functions of a job. This system comes at a custom flat price, billed annually, and allows for unlimited test use. The flat price does vary depending on the size of your company, but companies of all sizes use the tool.
---
Interview Mocha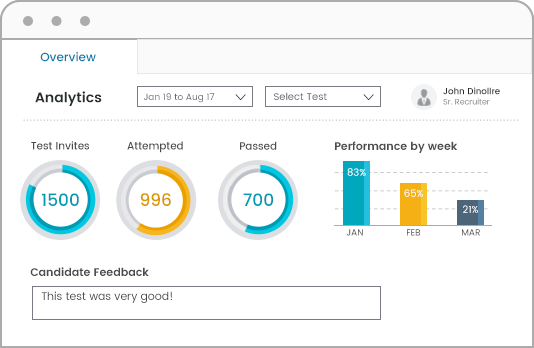 TechnologyAdvice rating: 4.5/5
Interview Mocha is powerful skills assessment tool that works especially well for companies in the tech industry. Users gain access to Interview Mocha's library of skills assessments, which include tests for IT and over 20 coding languages. The software also comes with cognitive tests and industry-specific tests to determine how knowledgeable candidates are about the field you work in. Analytics and reporting come with the software, and one-click integration with many popular ATS solutions makes for a seamless hiring process.
Only compare the best software for your needs
You use pre-employment tests to find the best candidates for your company — why wouldn't you take a similar approach to finding the best business software? Use our HR Software Product Selection Tool to get a free list of personalized HR software recommendations. We'll examine your specific needs and match you with five vendors that we think could be your perfect fit. Getting started is easy and takes less than five minutes.
Top Human Resources Software Recommendations
Say Goodbye to outdated processes like spreadsheets and inbox recruiting, and Hello to powerful, user-friendly hiring tools designed to streamline your entire candidate-to-employee journey. With JazzHR you can easily post jobs, screen resumes, schedule interviews, collaborate with your team, extend offers and more from one central location. Get started today for as little as $39/month.
Rippling is the first way for businesses to manage all of their HR, IT, and Finance — payroll, benefits, computers, apps, corporate cards, expenses, and more — in one unified workforce platform. By connecting every business system to one source of truth for employee data, businesses can automate all of the manual work they normally need to do to make employee changes.
Paycor's HR software modernizes every aspect of people management, which saves leaders time and gives them the powerful analytics they need to build winning teams. Paycor provides a full suite of HCM solutions with a single source of truth for employee data, so users never have to switch platforms, log-in to multiple systems, re-key data or open multiple spreadsheets. Everyday processes become simplified, allowing organizations to focus on their most important work.
Need a Little Help?
Talk with a software expert for free. Get a list of software that's great for you in less than 15 minutes.