Also read: Top Recruitment Strategies
How is AI used in recruiting?
Recruiters use artificial intelligence (AI), such as machine learning, to help reduce or automate time-consuming tasks during the hiring process. It can also assist recruiters by sourcing, screening, and organizing applicants at the top of the hiring funnel.
Typically, companies can use AI to augment their recruitment strategies in the following instances:
Candidate sourcing.
Applicant screening.
Interview assistance.
Predictive analytics.
Recruitment chatbots.
Many recruitment software solutions already include several of these AI elements. Understanding where and how to use AI in these tools can help companies source great talent faster.
Candidate sourcing
AI-powered candidate sourcing features help recruitment teams speed up top-of-funnel hiring processes. Where it once took recruitment teams ages to craft job ads and manually post to various online job boards or social media sites, AI can now automatically handle these tasks.
Besides saving recruiters time, AI embedded in recruitment tools and job boards can make candidate sourcing more intentional. ZipRecruiter's AI, for example, identifies the main attributes of a job ad, scans its database of thousands of résumés, and invites qualified candidates to apply.
Other AI tools can help make candidate sourcing more diversified while mitigating unconscious bias. For example, HireEZ's outbound recruiting tool uses AI to scan millions of profiles and pinpoint individuals from underrepresented or minority groups that meet the job ad's requirements.
On the backend, HireEZ masks candidates' profile names, images, addresses, and schools so recruiters can focus on only contacting candidates whose skills best match the job description.
Watch this video to learn more about HireEZ:
Intelligent candidate sourcing tools can:
Applicant screening
The primary function of AI in applicant screening is to help recruiters quickly sort candidates and identify top contenders. Applicant screening is one of the most time-consuming recruitment steps according to a 2020 Yello survey, so implementing AI tools in this stage can drastically improve time-to-hire and other recruitment metrics.
For instance, AI can automatically disqualify candidates if they do not meet pre-determined screening requirements, parse applicant résumés for experience related to the open role, and rank candidates with the most promise. This way, recruiters can spend more time evaluating candidates farther down the recruitment funnel.
However, companies should be wary of depending solely on AI tools for candidate evaluation. The legal landscape around these tools is evolving, and AI can reflect our human biases. To prevent a fate similar to Amazon's AI recruiting tool and avoid the risk of developing homogenous workforces, companies should monitor their applicant screening AI and periodically review disqualified candidates for problematic patterns.
Applicant screening AI can:
Interview assistance
AI helps optimize the interview experience for candidates and interviewers through scheduling and note-taking features.
First, automating interview scheduling can significantly reduce the back-and-forth between recruiters and prospects to find the best interview time. LeverTRM, for example, emails interview stakeholders' availabilities to candidates so they can pick the best time. The chosen time is then synced across everyone's Google or Microsoft 365 calendars.
Learn more about LeverTRM's interview scheduling tools in this video:
AI also allows recruiters to hold more productive and meaningful conversations. For example, generative AI tools like ChatGPT can prepare interview questions based on job descriptions beforehand. Meanwhile, other tools, like Otter, record, transcribe, and produce key takeaways from interviews so recruiters and hiring managers can focus on getting to know the candidates rather than taking notes.
Interview assistance AI can:
Predictive analytics
Predictive analytics uses machine learning to analyze past and present candidate pipelines and HR software data to predict when particular actions will occur. As a result, companies can act quickly to improve their recruitment efficiency based on current predictions.
For instance, Greenhouse's Predicts feature applies machine learning to historical data to determine when a company will make a job offer for an open role and when the new candidate will start. Companies can use this information to optimize their hiring processes and make better forecasts.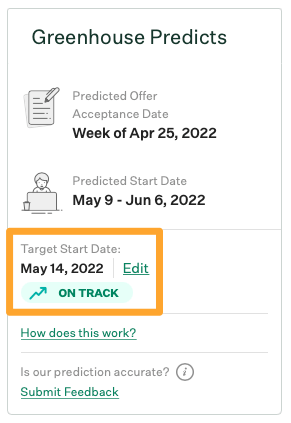 Additional predictive AI tools can notify recruiters when potential bottlenecks in recruitment processes will occur, provide accounting teams with forecasts on compensation spend, or even determine a new hire's quality of hire before starting.
Predictive analytics should not serve as a company's absolute source of truth as their predictions are not always accurate. Nevertheless, they are a great tool to assist recruiters in managing their time and provide hiring managers with realistic expectations of their job's time-to-fill.
Predictive analytics AI can:
Greenhouse is one of our favorite ATS solutions — learn more about its top features in our Lever vs. Greenhouse Comparison.
Recruiting chatbots
Recruiting chatbots are AI messaging tools that use natural language processing to answer candidate questions, commonly at the top of the hiring funnel. Although marketed as a tool to improve a candidate's recruitment experience, chatbots give recruiters and hiring managers more time for other priorities by fielding common questions or requests.
Companies typically implement chatbots on their career sites to provide prospects with answers to questions like available jobs, required skillsets, compensation and benefits, or steps in the hiring process. Jobvite's chatbot functionality, for instance, can guide prospects through an application process by collecting contact information and résumés, screening applicants, and scheduling interviews.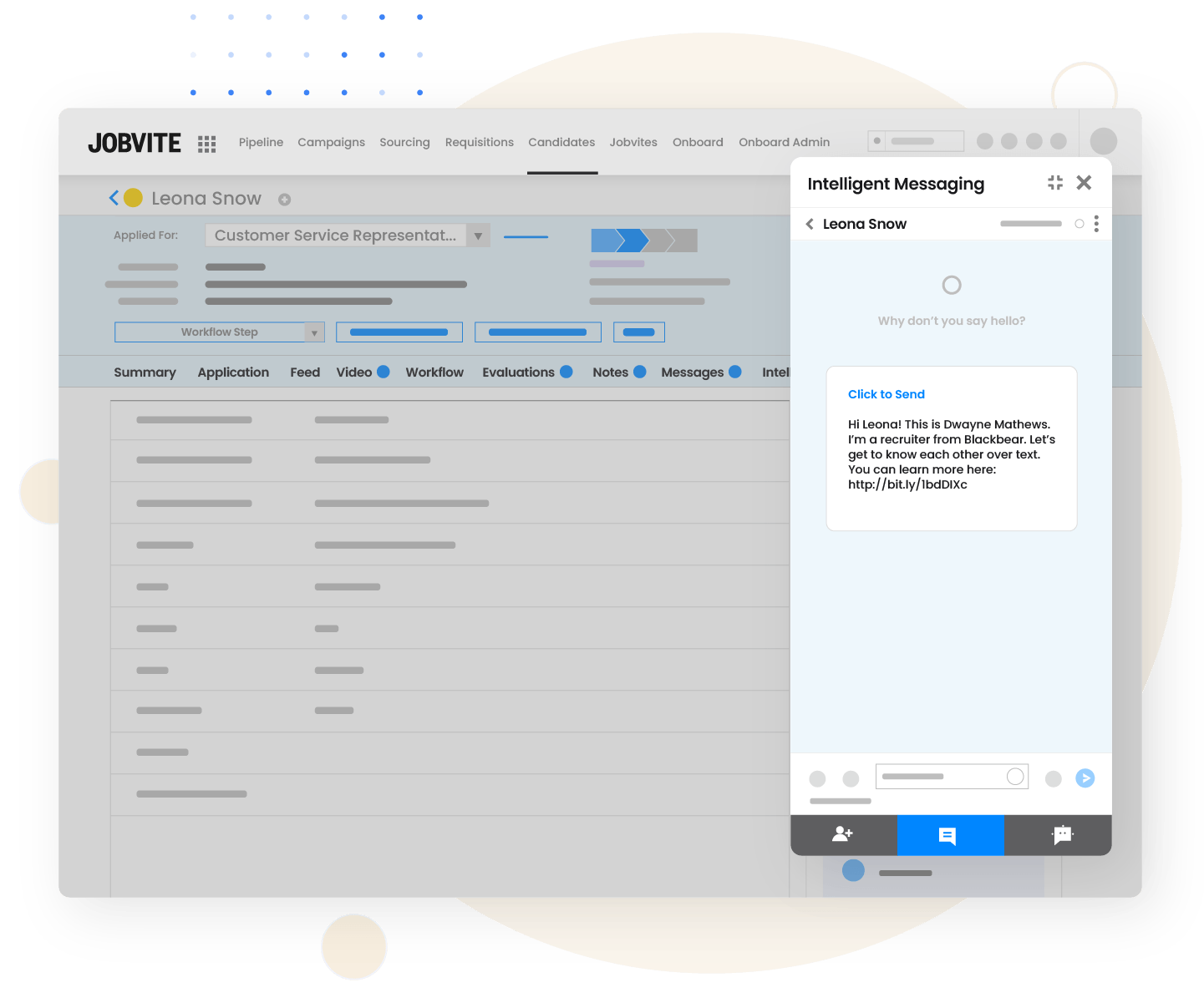 Text-to-apply chatbots function similarly by directing applicants to career sites or collecting required application data through text. As a result, chatbots make it easier for candidates to apply and improve recruitment departments' overall candidate conversion rates.
AI recruitment chatbots can:
Advantages of AI recruiting
Saves recruiters' time
AI can help prevent recruiters from focusing on the small yet necessary tasks involved in hiring, such as automating email drip campaigns, writing job descriptions, posting job ads, or pre-screening applicants. Offloading these tasks can give time back to recruitment teams to concentrate on improving candidate experiences and enticing top contenders.
24/7 availability
AI tools can work when recruiters cannot. Behind the scenes, AI is marketing job roles, answering candidate questions, assisting in applications, and engaging passive candidates. AI can maintain the baseline health of a candidate pipeline as recruitment assistants so recruiters can attend to more value-added hiring tasks.
Disadvantages of AI recruiting
AI transparency laws
As scrutiny around AI intensifies, so do regulations on its proper and ethical use. New York City, Maryland, and Illinois have enacted legislation regulating AI in screening, facial recognition, and interview videos. Companies should investigate the laws in their states and localities. Still, it is always a good idea to remain transparent with candidates on AI use and thoroughly vet how vendor AI tools make decisions.
AI hesitation
While many folks are excited about how AI can automate tedious, high-volume tasks, others are skeptical of adopting the new technology. A 2023 study by Pew Research, for example, indicates 71 % of U.S. workers oppose AI in making hiring decisions.
Besides vetting their AI tools beforehand, companies need to gauge their recruiters' enthusiasm or hesitation around the technology and ensure they adopt AI for the right reason: to make recruiters' jobs easier.
Does AI create bias?
Companies should be aware of how AI can reduce and promote recruitment bias. Just as AI can mitigate our biases by hiding candidate demographics, it can just as easily designate a demographic as better suited for a job simply because of past or present employees' backgrounds.
Remember: AI does not intend to be biased. Any outward bias AI demonstrates merely reflects the data we provide it. However, allowing AI to access more diverse data sets and proactively placing parameters on its decision-making abilities can train it to be fairer and more equitable than us.
The business impact of AI recruiting
Artificial intelligence has evened the playing field for job seekers and employers, making finding the right job and candidate easy. As we provide AI with more datasets and parameters, it will continue to evolve rapidly to help us complete tasks and make decisions faster and better than the generation of AI we have now.
And, as AI improves, so does recruiters' productivity and efficiency. Ultimately, companies that fail to utilize AI in their recruitment process will fall behind their competitors who use AI to snag the best talent from under them.
If you and your team are ready to make the AI in recruitment leap, browse our Recruitment Software Guide for the top solutions to fit your needs.
Featured partners: Recruiting software
1

ClearCompany
Create best-in-class candidate experiences while simplifying onboarding and compliance with a modern, user-friendly experience. ClearCompany Recruiting helps your company find, hire, and onboard top talent with advanced text, video, and interview scheduling features. ClearCompany helps modernize and scale your company's recruiting strategy to increase candidate pipeline, job offer acceptance rates, and new hire success.
2

Workable
Hire the best candidates faster with Workable's recruiting software. Post to over 200+ job sites with one click, automate processes and manual tasks, and then seamlessly onboard your new hire.
3

PCRecruiter
PCRecruiter is the ATS/CRM hybrid used by successful recruiting and staffing pros for over 20 years. Featuring highly configurable fields, forms, and workflows, plus Gmail, Outlook, and RingCentral integrations, automations, responsive job board, analytics, and the PCR Capture plugin for importing and updating info from the web. PCR's public API facilitates direct integrations with many popular services and custom projects. All of this comes with secure hosting and an award-winning service team.
Technology Advice is able to offer
our services
for free because some vendors may pay us for web traffic or other sales opportunities. Our mission is to help technology buyers make better purchasing decisions, so we provide you with information for all vendors — even those that don't pay us.