LeverTRM and Greenhouse Recruiting are two powerful applicant tracking systems (ATSs) with streamlined candidate tracking pipelines, diverse job distribution tools, and enhanced application and résumé management. However, where Lever focuses on accessible reporting tools and automations to maximize recruiting efficiency, Greenhouse prioritizes features that optimize user experience.
Researching which vendor is right for you can be both challenging and time-consuming. Whether you are considering switching from one vendor to the other or have narrowed down your options to either Lever or Greenhouse software, use our detailed comparison below to help make your decision.
Also read: Best Applicant Tracking System for Small Business
Lever vs. Greenhouse: Which ATS is Right For You?
| | | |
| --- | --- | --- |
| | Lever | Greenhouse |
| Candidate sourcing | Custom career page, Google Chrome extension, and job board integrations | Customer career page, Google Chrome extension, and access to job ad market |
| Candidate management | Unified pipeline | Unified and drag-and-drop pipeline features |
| Interview management | Manual scheduling and candidate self-scheduling features | Manual scheduling and candidate self-scheduling in Advanced and Expert subscription tiers |
| Recruitment analytics | Simplified report dashboards accessible to all stakeholders | Customizable report dashboards and essential reports |
| DE&I and bias eliminators | Diversity surveys and diversity, equity, and inclusion (DEI) reports | Bias-check reminders and candidate name-pronunciation recording |
Lever: Best for growing companies aiming to streamline hiring processes
Where many human resource management (HRM) solutions have expanded their software to cover other core HR functions such as payroll and onboarding, Lever remains dedicated to optimizing its recruiting platform to remain accessible to businesses in multiple industries.
Lever boasts a simple user interface (UI) that does not require hours of training to implement in an organization. With 24/7 customer support, professional service teams, and prebuilt email templates and offer letters, smaller or growing businesses aiming for quick implementation and simplified recruitment processes may find more success with Lever than Greenhouse. However, Lever lacks a mobile application for on-the-go teams, upfront pricing, or a free trial.
Pros
Integrates with popular human resource information system (HRIS) platforms like UKG Pro, Workday, Oracle HCM, SAP SuccessFactors, and Ceridian Dayforce.
Developer-friendly application programming interfaces (APIs) and webhooks.
Google Chrome extension to extract candidate data from pages like LinkedIn.
Automated email nurturing campaigns.
Access to professional service teams, recruiting consultants, and Talent Analytics teams.
Diversity surveys.
Global 24/7 customer support.
Cons
No mobile application.
Integrates features mostly from third parties instead of providing native solutions.
Must contact sales for a quote, and no free trial.
Greenhouse: Best for larger companies focused on optimizing user experience
Compared to Lever, Greenhouse focuses on providing a positive user experience to both applicants and recruiters alike. Larger companies needing to coordinate among multiple teams may appreciate Greenhouse's collaboration tools and detailed recruitment workflows.
Additionally, Greenhouse includes a variety of DE&I initiatives in every stage of its recruiting process, such as candidate name pronunciation recordings. Companies aiming for candidates to feel more invested and involved in the hiring process may value these features in Greenhouse over Lever. However, because of Greenhouse's conscientious approach to hiring, it may not be the best solution for companies hoping to source and hire quickly.
Pros
Mobile application.
400+ integrations.
Job ad market with over 1,000 niche and traditional job boards, including international.
Candidate name pronunciation recording and pronoun selection.
Candidate experience surveys.
Collaboration through @ mentions.
Cons
Must contact sales for a quote, and no free trial.
Additional costs for integrations outside of "customer-preferred."
Google Chrome extension does not parse LinkedIn data accurately.
Live email and chat customer support only available during limited hours Monday through Friday.
Lever vs. Greenhouse: A Detailed Comparison
Candidate sourcing
Lever and Greenhouse offer solutions to obtain a robust applicant pool for any position. Like most ATS solutions, Lever and Greenhouse take advantage of candidate sourcing opportunities through options like career pages and online job board distribution. However, where Lever focuses on simple tools to gather candidate information quickly, Greenhouse provides recruiters with multiple methods of sourcing candidates, including a mobile application to source candidates on the go.
| | | |
| --- | --- | --- |
| | Candidate Sourcing | |
| | Lever | Greenhouse |
| Career Page Builder | Yes | Yes |
| 3rd-Party Job Board Integrations | Yes | Yes |
| Mobile Application | No | Yes |
| Chrome Extension | Yes | Yes |
| Internal Referral Program | Yes | Yes |
Lever
Lever focuses on simplistic processes to start sourcing candidates as soon as possible. Recruiters can create a new job opening through Lever's application and choose to post it either internally, externally, or both. Once users make a job opening, they can post the opening to their career site, online job boards, or through social media referral links.
Career page
Users can post their job openings on a custom career page through Lever's server. Lever will generate a URL for the company to add to its website or to share with potential candidates. Applicants can then apply through the career site and sync their LinkedIn accounts.
Lever's career pages cater to small businesses with limited resources or no IT staff. With minimal technical knowledge, users can customize their internal and external career pages with open postings, company logos, and colors to match their brand. Meanwhile, businesses with web developers can use Lever's API to connect with their organization's custom job site or modify Lever's hosted job site to suit their company's needs better. Lever even allows more advanced users with third-party tracking cookies to embed tracking pixels on their career page to record candidate conversion rates.
Job board integrations
Lever offers over 30 job board integrations, including native solutions with Indeed and LinkedIn. If a job board integration is unavailable through Lever, users can manually post their job on another job site and then record the posting on Lever for tracking purposes.
For example, suppose a business wants to post an opening on a university's job site. In that case, they can post their job opening manually on the university's website, copy the job opening link, and paste it for tracking in Lever. Thus, businesses looking to post their jobs in more niche areas can still collect valuable recruitment metrics to determine the quality of candidates from varying job boards.
Manual sourcing methods
Lever allows users to manually add prospects through direct input or internal employee referrals. Lever also includes a Google Chrome extension that parses candidate information from sites like LinkedIn, Gmail, Facebook, GitHub, and Wellfound (formerly AngelList).
Suppose the prospect does not have a candidate profile created for them in Lever. Lever's Chrome extension will parse information from their profiles and attach them to a specified job opportunity. This feature is handy for companies looking to save time from manually inputting prospects they discover by happenstance.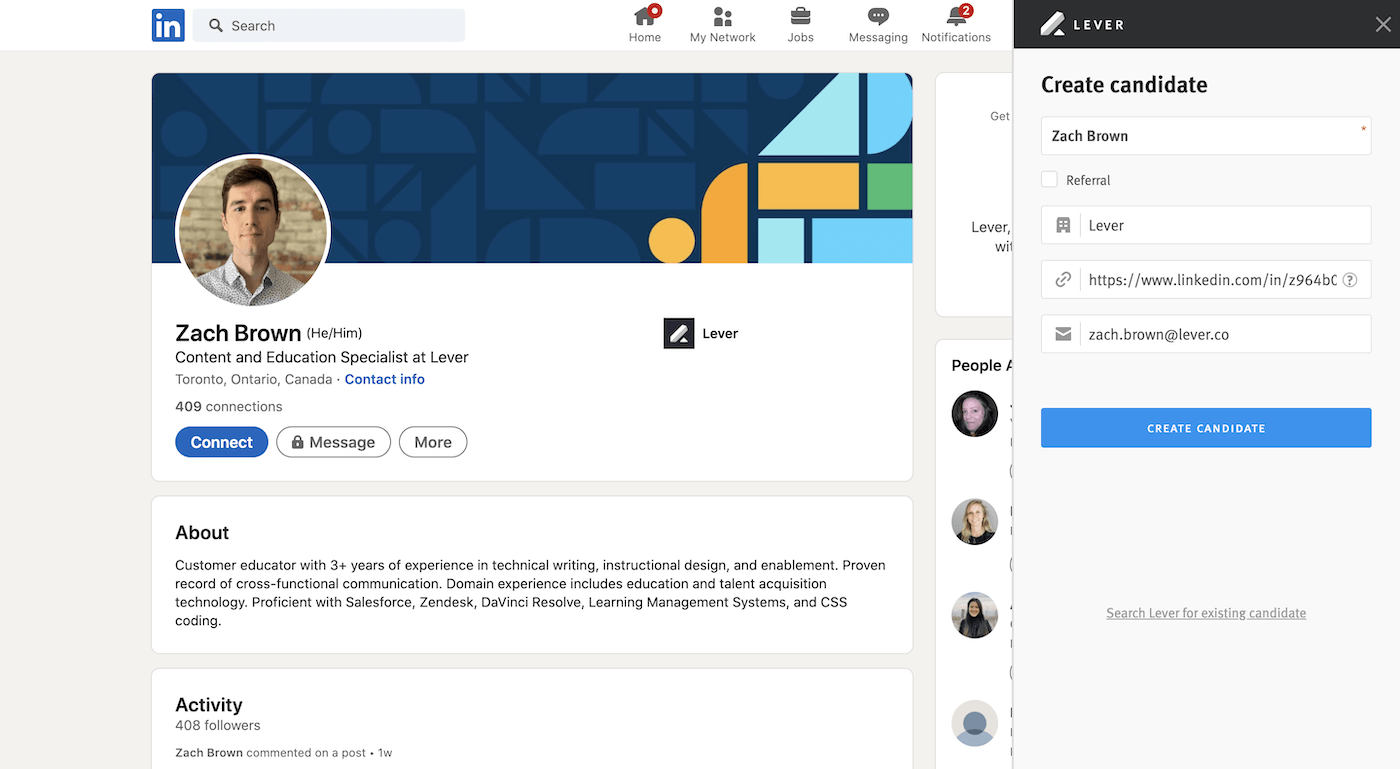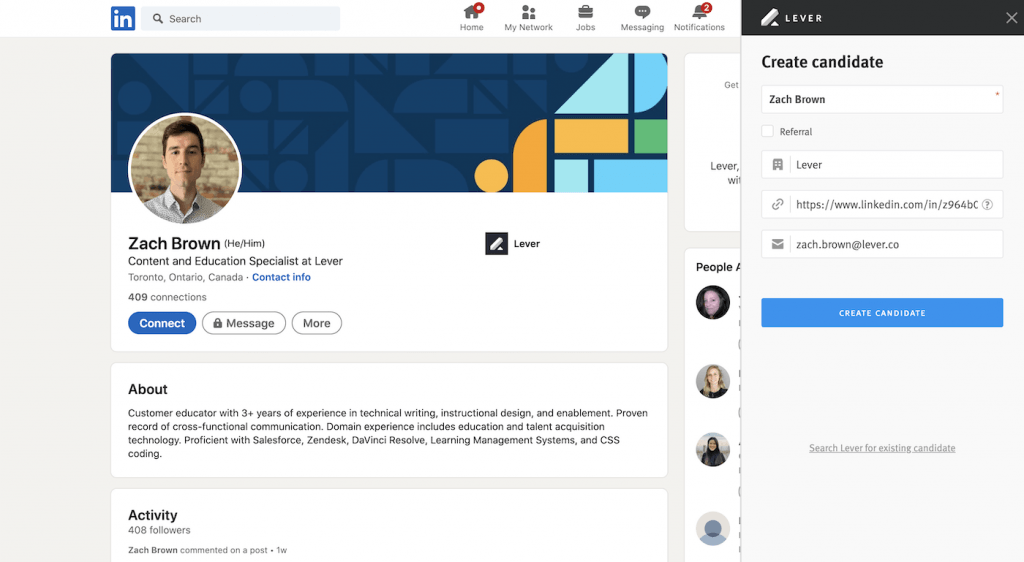 Greenhouse
Compared to Lever, Greenhouse offers a much more extensive array of both native and third-party job board ATS integrations for candidate sourcing. Additionally, Greenhouse takes a more accessible approach to its candidate sourcing by offering creative ways to gather prospects' data, including an in-person option. Greenhouse's goal is to provide multiple, customizable avenues to source candidates instead of the quick, out-of-the-box features valued by Lever.
Career page
Like Lever, users can create external company job boards hosted by Greenhouse. Alongside the job opening, employers can customize job boards with videos, images, or company logos. However, companies must purchase the Greenhouse Recruiting Advanced package to access additional career page features, such as internal-only job boards and support for integration with an API-driven company career page. In contrast, all of these come standard in Lever's starter tier.
Greenhouse also integrates with LinkedIn, Indeed, and SEEK right from their company career page. So instead of prospects manually entering their information to apply, they can sync their data from these sites to simplify the application process.
Job board integrations
Native integration with traditional job boards, such as LinkedIn, Indeed, Monster, ZipRecruiter, and Arbeitnow, comes standard with Greenhouse. But while users can make job posts for free on these platforms, posting to additional or more niche boards comes with an extra cost. Nevertheless, Greenhouse boasts a job ad market with over 1,000 job boards. Therefore, businesses looking for talent in highly specialized roles, like coding or engineering, or hoping to diversify their workforce, may find this feature especially useful.
Manual sourcing methods
Like Lever, Greenhouse users can manually input prospect data or use a Google Chrome extension for parsing candidate data from Wellfound, GitHub, Indeed, and LinkedIn. In addition, recruiters can manually upload or drag and drop résumés into the extension for data retrieval. Unlike Lever's extension, however, Greenhouse's extension maintains overwhelmingly negative user reviews in the Chrome Web Store from users, arguing its lack of functionality and poor navigation.
Yet, a rather unique feature of Greenhouse is its Mobile Events Application for iOS devices. The app is designed for HR teams sourcing in-person candidates from recruitment events. For example, if an employer participates in a job fair or hosts a company event, prospects can input their own data in the app to be added for consideration. The applicant can also take a photo of their résumé to include with their application. From there, hiring teams can add additional feedback or notes to the candidate's application for follow-up later.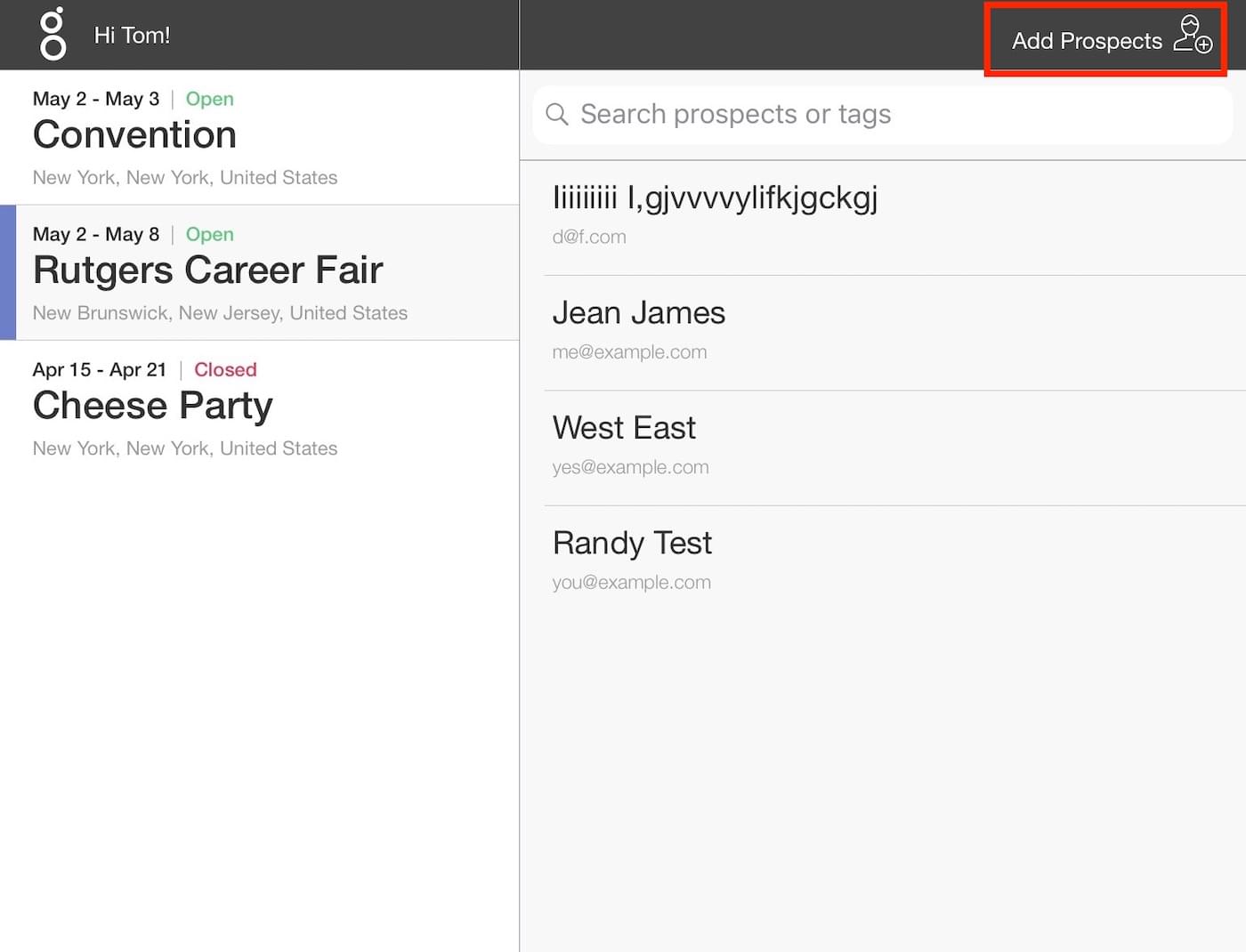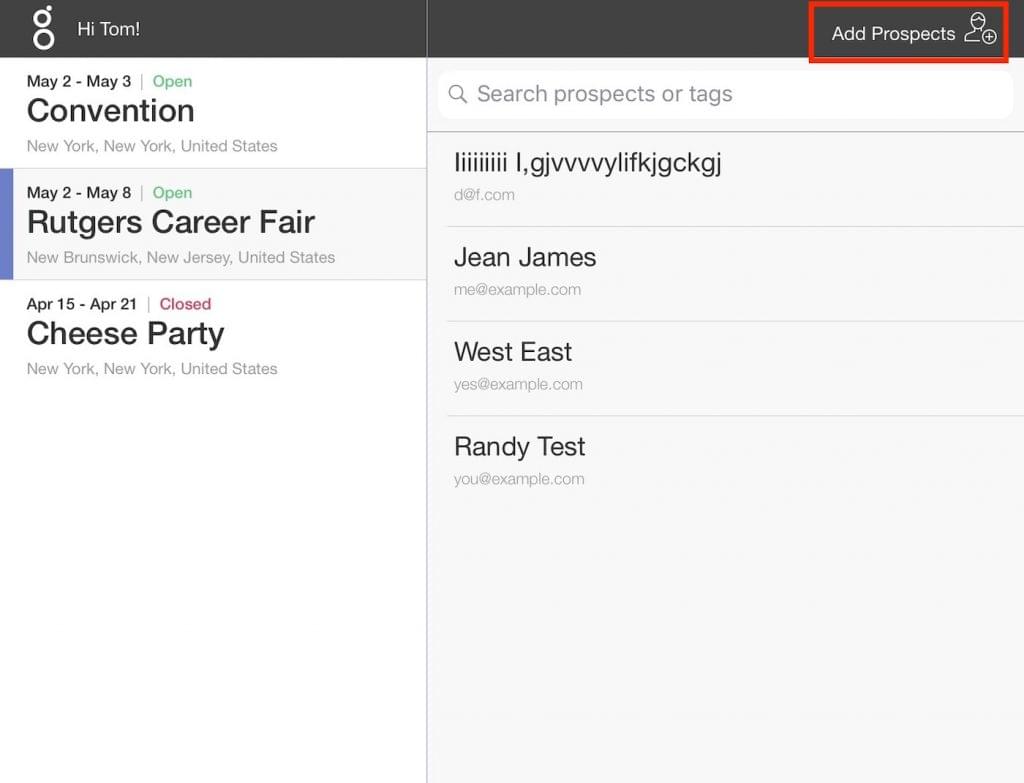 Which to choose for candidate sourcing
Greenhouse. Here's why: Although Lever features a more user-friendly career page builder and stable Google Chrome extension, Greenhouse offers more varied methods to source candidates from diverse environments. Moreover, HR teams focused on diversity, equity, and inclusion (DE&I) initiatives can utilize Greenhouse's job ad market by posting their openings to job boards targeting underrepresented groups without manually searching and posting to these sites themselves.
Customers wishing to stick to posting openings on traditional job boards will also appreciate Greenhouse's free native integration with LinkedIn, Indeed, Monster, ZipRecruiter, and Arbeitnow compared to Lever's LinkedIn and Indeed. Thus, Greenhouse customers have more opportunities to streamline job posts across multiple platforms compared to Lever.
Candidate management
Lever and Greenhouse take similar approaches to candidate tracking, preferring unified pipelines that favor a holistic view of the company's overall hiring efforts. Users must utilize filtering and tagging to categorize candidates by job, origin, or source. During the interview process, users can advance applicants to the next stage directly from their profiles. Alternatively, users can leverage bulk actions to reject or move candidates through the hiring process en masse.
However, where Lever focuses on targeting and moving the candidates through the hiring process at speed, Greenhouse takes a more leveled and thoughtful approach to candidate management. Determining which approach works depends on what is more valuable to the hiring team: automation or customization.
| | | |
| --- | --- | --- |
| | Candidate pipeline and application management | |
| | LeverTRM | Greenhouse |
| Candidate Pipeline | Yes | Yes |
| Drag-and-Drop Stage Progression | No | Yes |
| Automated Workflows | Yes | Yes |
Lever
Lever's candidate management is structured to give everyone in the organization an overarching view of the company's recruitment efforts. Its goal is to provide users with similar user interfaces, so recruitment teams can navigate incoming candidate applications with minimal training.
Candidate pipeline
All candidate applications for all positions are located in Lever's dashboard. Users can organize their candidates in multiple ways through tabs and filters, such as by interview stages, job postings, origins, or sources. To progress or reject candidates in the hiring process, recruiters must enter the candidate's profile through the particular opportunity they applied for and move them to the appropriate stage.
All users can automatically progress candidates to different stages of the interview process based on when they communicate with the applicant. With Lever's additional automation add-on, users can create more customized automated workflows to free up time from repetitive pipeline tasks.
For example, recruiters can create a conditional formatting rule to archive or progress candidates in the hiring process based on answers to application questions, such as years of experience in a field. As a result, HR teams with a high volume of candidates can save countless hours by manually moving candidates from one stage to the next.
Application review
Although users can review candidate applications and résumés manually through a candidate's profile or applied opportunity, Lever's Fast Resume Review can speed up the process significantly. Users can review all applications sprint-style by selecting an open job opportunity and advancing, archiving, or skipping applicants in one module. At the end of the sprint, Lever records the length of time and the number of applicants screened for businesses needing to make decisions on efficiency.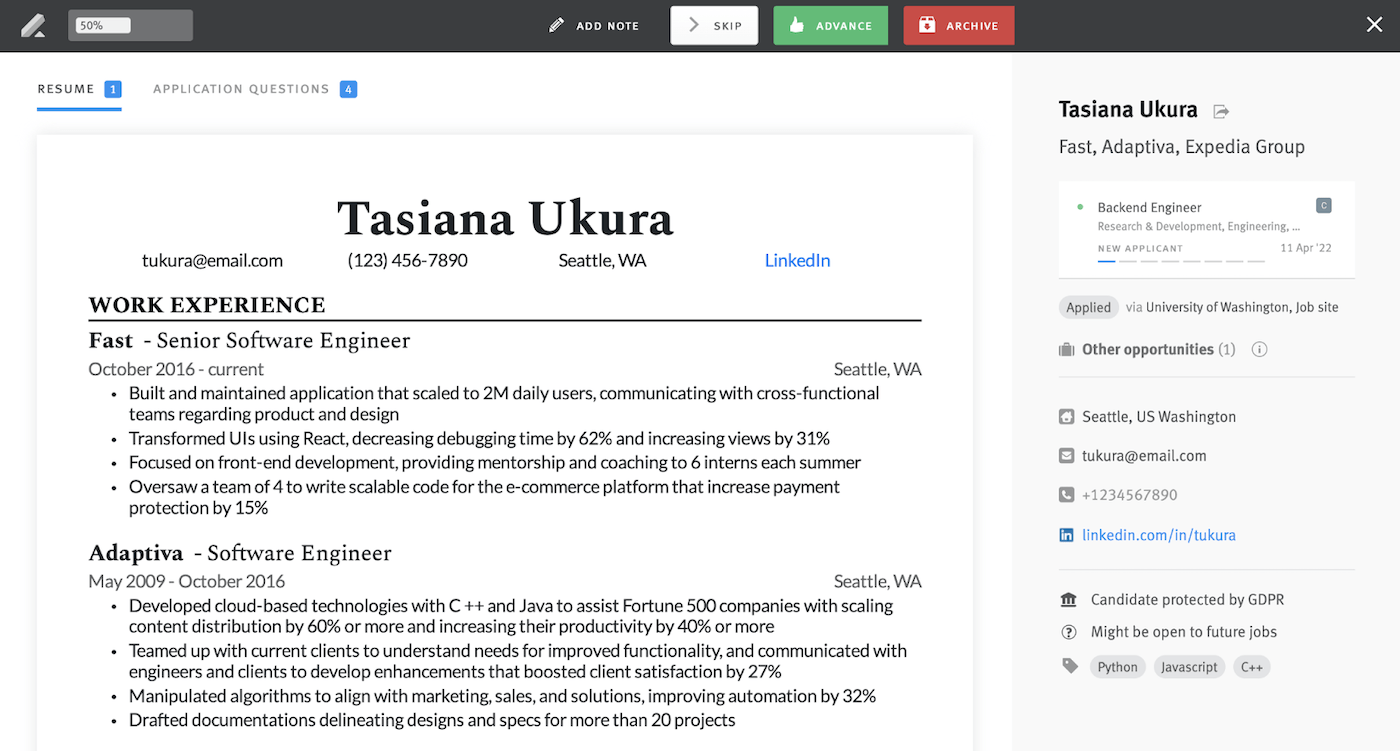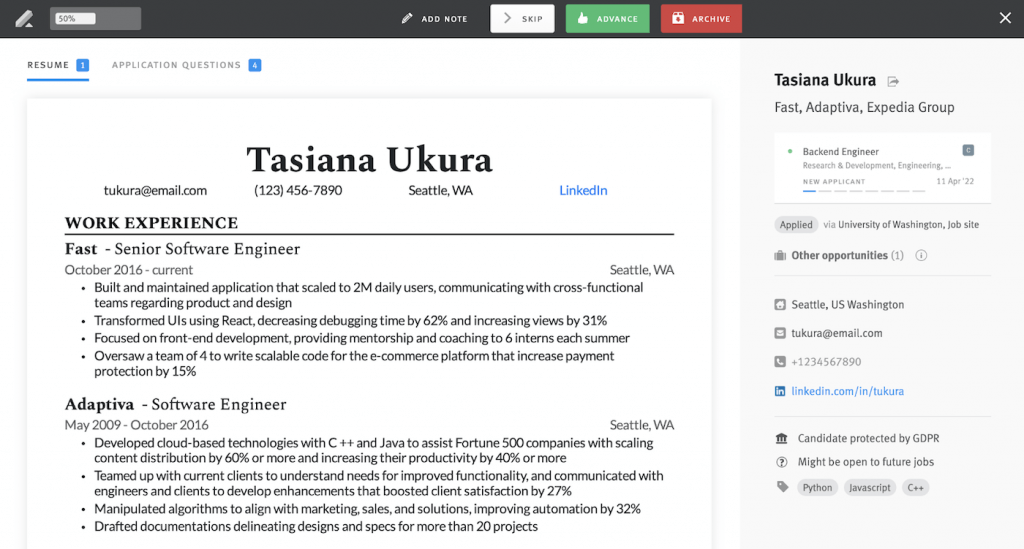 Greenhouse
Greenhouse users have more customization over their pipelines, offering both list and visual views for candidate stage progression. Despite this, Greenhouse offers few automated features in its starter package, with more options available with its automation add-on.
Candidate pipeline
Candidates move through the hiring funnel in Greenhouse much the way they do in Lever. Recruiters can access a candidate's application through a specific job and choose to progress or reject the candidate to the next stage. Similar to Lever, there are options for users to select several candidates to move forward or reject in bulk.
What stands out in Greenhouse is its Visual Pipeline, which provides companies with a summary view of the active candidates in a particular job's hiring funnel. Within this view, users can drag and drop candidates to different stages without accessing their profiles. Likewise, users can quickly see how many candidates are in each funnel section to decide where to focus most of their recruitment efforts.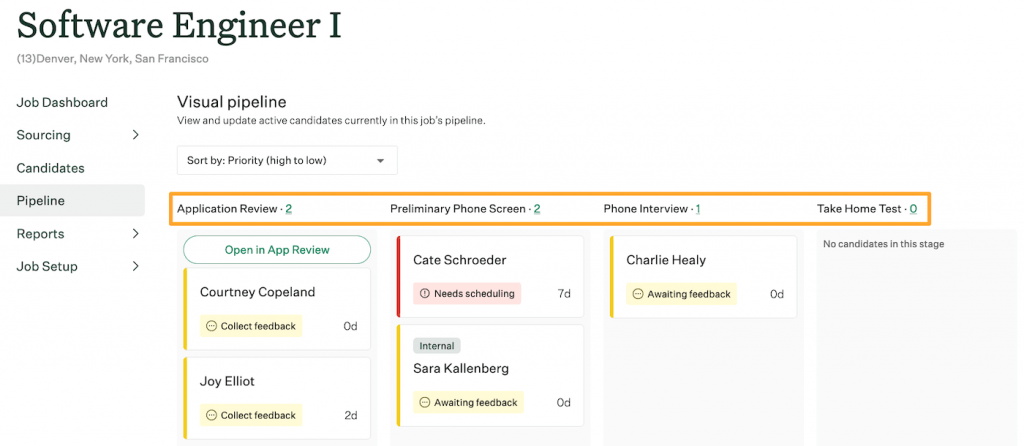 Although Greenhouse includes automations to remind internal teams to take specific actions, such as completing an interview scorecard, Greenhouse Recruiting Essentials does not come with any other workflow automations. As a result, HR teams looking for auto-advance or -reject capabilities based on particular job application criteria must purchase either Greenhouse Recruiting Advanced or Greenhouse Recruiting Expert tiers.
Application review
Like Lever, Greenhouse users can select applicants one at a time to review and progress or reject to the next stage of the hiring process. To review several applications at once, users have a process similar to Lever's Fast Resume Review known as their Application Review stage. Greenhouse users can also add a subset of candidates to review by employing their bulk application review option. Users can progress or reject a specific set of candidates within Application Review, outside of the total number of applicants for that particular job opening.
Which to choose for candidate management
It's a tie. Here's why: For teams needing to hire quickly, Lever users can take advantage of its prebuilt candidate stage automations and Fast Resume Review to get as many qualified candidates as possible into the interview phase. Meanwhile, Greenhouse offers several methods to view and advance or reject candidates, which is ideal for users requiring more diversified workflows.
Interview management
Lever and Greenhouse take a structured interview approach to hiring. This involves hiring managers creating interview rubrics for a position, so that every candidate for a particular role is judged by the same set of criteria. The goal of structured interviewing is to promote consistency among all interviewers for a position and reduce bias.
Lever and Greenhouse employ interview kits and candidate scorecards to put structured interviewing into practice. Additional candidate feedback can be left within the scorecards or notes for the team to review. Hiring teams can also use mentions to ping other team members for further input or thoughts on candidate progression.
Where Lever and Greenhouse differ in interview management is in their approach to interview scheduling and email outreach programs.
| | | |
| --- | --- | --- |
|   | Interview Management |   |
|   | LeverTRM | Greenhouse |
| Candidate interview self-scheduling | Yes | Yes (on Advanced or Expert tiers) |
| Calendar integrations | Yes | Yes |
| Interview scorecards | Yes | Yes |
| Team collaboration | Yes | Yes |
| Email automation/outreach | Yes | Yes |
Lever
Lever continues prioritizing automation in every aspect of its interview management, from interview scheduling to calendar synchronization and email outreach campaigns.
Interview scheduling
Users schedule interviews entirely within Lever without having to email candidates individually. Although users can manually schedule interviews and set up interview panels within one window, HR teams can economize their time by utilizing Lever's Easy Book feature. Through Easy Book, users sync their Google Workspace or Microsoft 365 accounts to Lever to integrate calendars. Interviewers then email candidates a Lever-created URL, wherein candidates can select an open timeslot in the recruiter's schedule that works best for them.
Once the interviewee selects the time that works best for them, Lever automatically emails both the recruiter and interviewee of the desired interview, including any necessary video call links to Zoom, Teams, or Google Meet. Easy Book also allows users to add multiple interviewers to the event, select the timeframe the interview event is open for, and set an expiration date.
Email outreach
A standout feature of Lever's interview management is its Nurture automated email campaigns. The goal of a nurture campaign is multifold: companies can entice passive candidates into applying for an open position or keep applicants engaged during the interview process.
For example, HR teams can customize their Nurture campaigns by sending one to three "touchpoint" emails to candidates at specific points in time regarding details of open positions or interview updates. This ensures a steady supply of potential candidates in evergreen positions, and an applicant does not go cold in case an interview does not work out.
Greenhouse
Unlike Lever, Greenhouse emphasizes a positive candidate experience during the interview phase of the recruitment process by having employers cater to candidate availability. However, this results in HR teams spending significantly more time in back-and-forth communication with candidates before the interview.
Likewise, with a shortage of interview-related automations in the Greenhouse Recruiting Essentials tier, users are forced to spend more time on administrative tasks related to applicant engagement instead of creating insightful interview plans.
Interview scheduling
Like Lever, Greenhouse integrates with Google Calendar and Outlook 365, along with the added integration of Calendly. To schedule an interview, recruiters must access a prospect's profile and manually schedule the interview itinerary based on the candidates' and other interviewers' availability.
Greenhouse does offer candidates the ability to self-schedule their interviews in much the same way as Lever's Easy Book feature. However, candidate self-scheduling is exclusive to Greenhouse Recruiting's higher-paying Advanced or Expert subscription tiers compared to Lever's Easy Book.
Email outreach
With Greenhouse's Sourcing Automation add-on, users can create custom email campaigns to both source and engage candidates in much the same way as Lever's Nurture feature. Users can create a series of emails to target prospects after a series of predetermined triggers—for example, not hearing from a candidate after a certain amount of time. In addition, users can customize the number of steps to take within each email campaign to ensure a steady stream of candidates between interviews.
Which to choose for interview management
Lever. Here's why: Big and small HR teams can take advantage of the time savings associated with Lever's interview management automations. Because of Greenhouse's candidate-focused recruitment approach, employers have to spend more time during the recruitment process on communications with candidates. However, with Lever, users do not have to sacrifice cost for basic time-saving automated features compared to the required add-ons or higher paying tiers for similar functions in Greenhouse.
Recruitment analytics
Recruitment analytics are integral to understanding where bottlenecks occur in the recruiting funnel, so employers can take appropriate action to rectify any inefficiencies in their processes. Lever and Greenhouse include basic reporting metrics in their lowest subscription tiers, such as time to hire and source quality, with more customizable functions that can be added with their subscription tiers and add-ons.
| | | |
| --- | --- | --- |
| | Recruitment Analytics | |
| | LeverTRM | Greenhouse |
| Time to Hire | Yes | Yes |
| Time to Fill | no | Yes |
| Offer Acceptance Rate | Yes | Yes |
| Postings Analytics | Yes | Yes |
| Pipeline Analytics | Yes | Yes |
| Sources Analytics | Yes | Yes |
| Interview Analytics | Yes | Yes |
Lever
In August 2022, Lever moved from its legacy reports system to its Visual Insights dashboards. In doing so, Lever aimed to make quality recruitment metrics more accessible to everyone in an organization, including employees with little experience with data analytics. Customers have several different dashboards where they can select from preassembled reports and charts highlighting particular metrics.
For example, users can navigate to their Pipeline Dashboard in Visual Insights to view analytics related to a candidate's movement through the recruitment pipeline, such as time to hire or the average time spent in any one particular stage. Users can configure the available charts further by manipulating filter parameters.
Lever also includes basic DE&I analytics, including an Equal Employment Opportunity (EEO) and Diversity Dashboard featuring anonymized reports outlining the diversity of a company's current talent pipeline. Users can receive even more dashboards, including candidate surveys, requisition, and nurturing as well as the time to fill metrics with Lever's Enterprise subscription. With Lever's Advanced Analytics add-on, users can also access a predictive analytics tool and Lever's Data Explorer to build custom reports and visualizations.
Greenhouse
Like Lever, companies can access recruitment analytics by accessing multiple dashboards in Greenhouse's Reports tab. Dashboards include Offers and hiring, Recruiting efficiency, Sourcing, and Pipeline health. Clicking on a particular dashboard brings users to a summary page with widgets outlining major recruitment statistics. For example, Recruiting efficiency includes quick stats like average time to fill and average time to hire upfront without having to run a report manually.
Users can configure their dashboards with select widgets and filters for a quick view of particular metrics. For more in-depth reports, all Greenhouse users can access the Essential reports section for other reports like pipeline demographics and candidate surveys.
A standout feature of Greenhouse on all subscription tiers is user access to Greenhouse Predicts, which uses machine learning to analyze current pipelines to forecast when a candidate will accept an offer and start with the organization. The predictions can assist recruiters in determining which areas of the recruitment pipeline they need to focus their efforts on while providing estimated turnaround times to hiring managers and executives.
Finally, in Greenhouse Recruiting Advanced or Expert subscription tiers, users can create and save unique reports through Greenhouse's Report Builder. Through custom columns and filters, recruiters can build reports to answer more specific questions to their organization, such as analyzing recruiting efforts between particular office locations.
Which to choose for interview management
Greenhouse. Here's why: Greenhouse offers more customizable reporting features and basic predictive analytics across its subscription tiers than Lever. With the combination of dashboards and essential reports, HR teams of all sizes can benefit from robust reporting capabilities without having to purchase more expensive subscription tiers or add-ons.
DE&I and bias eliminators
Lever and Greenhouse each include specific elements, such as report analytics and DE&I dashboards, to assess DE&I strategies during the hiring process. However, where Lever primarily focuses on its reporting and analytics for employers to draw meaningful insights on DE&I initiatives, Greenhouse makes an effort to include DE&I in several ways, from facilitating structured hiring kick-off meetings before a job opening to candidate-focused communications.
| | | |
| --- | --- | --- |
| | DE&I and Bias Eliminators | |
| | LeverTRM | Greenhouse |
| Integrations with job boards targeting underrepresented groups | Yes | Yes |
| Candidate name pronunciation recording | N | Yes |
| DE&I analytics | Yes | Yes |
| Candidate surveys | Yes | Yes |
| Unconscious bias checks | N | Yes |
Lever
Lever provides HR teams with various reporting options to facilitate organizational DE&I efforts. For example, HR teams can gain insight into bias in their pay practices by accessing Lever's EEO or Diversity dashboards to compare compensation based on particular demographics.
Lever users can also take advantage of third-party integrations that modify Lever's programming and aid in making recruitment unbiased. For example, Unbiasify is a third-party application that integrates with Lever and hides candidate names and faces when sourcing them from websites such as LinkedIn or Twitter. This way, hiring teams can ensure a candidate was sourced based on predetermined job criteria while mitigating bias.
Candidates can also select the pronouns they are most comfortable with when they apply to a job opening. However, Lever users must manually enable this question while setting up their job post's application; Lever does not make this a standard candidate question during the hiring process.
Diversity surveys
Lever's Diversity Surveys allows users to collect voluntary and anonymized demographic information from applicants after applying for the job. Unlike EEO surveys, diversity surveys are entirely customizable and intended to help with an organization's DE&I initiatives. For example, users can create multiple diversity surveys to target specific locations to assess diversity within that area.
Companies with remote workers or sourcing a global talent force can use this data to compare the diversity in their domestic and international locations. Moreover, recruiters can determine which groups are over or underrepresented in certain job positions and take action to fix it.
Greenhouse
Like Lever, Greenhouse integrates with third-party applications, like MeVitae, to anonymize protected characteristics within résumés and CVs. Users can also use Greenhouse's job ad market to distribute their job posting to underrepresented groups and its candidate surveys and reporting tools to identify inequalities between groups in their recruiting pipeline.
However, instead of limiting DE&I functionality to candidate sourcing tools and reporting, Greenhouse intentionally includes such features in every aspect of its software. For example, before recruiters post a job opening or begin sourcing candidates, Greenhouse encourages hiring teams to participate in structured hiring role kick-off meetings. These meetings define the job's business objective, identify the skills and qualifications of an ideal candidate, and outline the hiring team's responsibilities. Greenhouse even provides job kickoff forms to facilitate these discussions.
By outlining the qualifications and experience needed for a role before job posting distribution, hiring teams are less likely to base their hiring decision on things prone to bias, such as intuition.
Candidate-focused features
While Lever users must choose to include a pronoun selection question in their job posting questions, in Greenhouse, this feature comes standard during the interview phase. Additionally, Greenhouse allows candidates to record their name pronunciation when they receive their interview calendar invite.
By offering these candidate-focused features, Greenhouse assists companies in making their DE&I efforts explicit to incoming talent. As a result, companies can promote a positive brand while making candidates feel seen and heard.
Unconscious bias nudges
Another unique callout for Greenhouse is their unconscious bias "nudges." Users can configure these reminders to appear at various points in the hiring process, such as when creating a job post, reviewing candidate applications, or scoring a candidate after an interview. Nudges remind hiring teams to check their personal biases and to focus on qualifications relevant to the job.
Often, candidates from underrepresented backgrounds may be at a disadvantage when it comes to applications or interviews. Nudges can assist hiring teams in recognizing these circumstances, so they can make hiring decisions that promote the diversity of the overall organization.
Which to choose for DE&I initiatives and bias eliminators?
Greenhouse. Here's why: Unlike Lever, Greenhouse's software allows employers to be reactive and proactive in their DE&I efforts. For example, Lever leaves the responsibility to employers to enact candidate pronoun recognition or to take action when reporting reveals inequitable hiring practices. In contrast, Greenhouse's candidate name pronunciation and unconscious bias nudges remind organizations to be objective in their hiring. They also highlight to candidates the ways the company is striving toward inclusivity.
Lever vs. Greenhouse: Ready to Choose?
Choosing which software is best for your business depends on your hiring goals. If you value efficiency, Lever's lowest-paying tier comes with many standard automations for teams to source and hire a candidate quickly. If you value a positive candidate experience to promote brand awareness and boost sourcing efforts, choose Greenhouse to include in your HR tech stack.
However, if neither software meets your needs, check out our ATS Software and Recruitment Software guides to browse other solutions.
1

Workable
Find the best candidates with Workable's applicant tracking software. Workable helps you source, track, and hire candidates, all in less time. Whether you're hiring Employee #2 or 200 new employees, Workable's scalable tools, know-how, and support comes wrapped in enterprise-grade tech that's as easy to use as your favorite app.
2

ClearCompany
Create best-in-class candidate experiences and efficient recruiting processes for hiring success. ClearCompany helps your company find and hire more top talent with modern text, video, and interview scheduling tools. ClearCompany incorporates your job-specific requirements to optimize requisitions, elevate interview conversations, evaluate candidates fairly, and hire top talent aligned with your company's culture and mission.
3

BambooHR
BambooHR is an award-winning HR platform that helps your growing organizations automate, centralize, and connect your people data all in one place. It gives you a one stop shop to manage data, hire talent, run payroll, and help employees grow.
Technology Advice is able to offer
our services
for free because some vendors may pay us for web traffic or other sales opportunities. Our mission is to help technology buyers make better purchasing decisions, so we provide you with information for all vendors — even those that don't pay us.