Browse our Recruiting Software Guide to find solutions that can help you cultivate a diverse talent pool. You can also check out our video overview on diversity hiring below.
What is diversity hiring?
Diversity hiring is a recruitment strategy that aims to identify top talent in diverse candidates by correcting for bias in the talent acquisition process.
In other words, diversity hiring is a way to reduce implicit bias that influences hiring decisions in sneaky ways. Societal and cultural stereotypes influence our thoughts, actions, and attitudes surrounding age, gender, religion, ability, and other protected classes outlined by the Equal Employment Opportunity Commission (EEOC).
Diversity hiring is commonly misunderstood as a means to fill a quota by hiring someone from a marginalized community because of their identity instead of their skill set or background. This understanding and approach ultimately hurt both the candidate and the business.
Hiring for diversity is about removing barriers and widening the net to attract, hire, and retain talent from a variety of skill sets, backgrounds, and life experiences.
How to increase diversity in hiring?
The following practices promote diversity, equity, and inclusion throughout the hiring process:
Building partnerships with diversity-focused organizations
Designing a more inclusive career site and job descriptions
Posting to a variety of job boards
Hiring for skills instead of credentials
Tracking DEI metrics
Build partnerships
Reach out to and build relationships with organizations that can provide resources for making your hiring process more inclusive of underrepresented communities.
National Industries for the Blind (NIB), for example, guides employers on how to hire and effectively work with people who are blind. It provides resources on assistive technology and mobility instruction.
A company can also establish relationships with local colleges and universities to offer paid internships to college students. This helps boost company awareness and branding in the community.
In 2017, Sephora launched its All Abilities Hiring initiative in cooperation with local advocacy groups and educational partners to recruit and train employees with disabilities. Over the past six years, Sephora has provided employment opportunities to 246 candidates with disabilities. This initiative is part of a broader Sephora campaign, Sephora Accelerate, to mentor and train the next generation of Sephora talent that's more representative of the U.S. population.
Craft a more inclusive career site
The career site can be a job candidate's first impression of your company. It's therefore important that everyone can navigate and interact with your career site.
Accessibility
Clearly marked menus, proper heading hierarchies, and specific image alt text are essential for site accessibility. These features assist screen readers and make it easy for users to navigate the site using only their keyboard.
Visual treatments like contrast, font size and weight, and hover behaviors should be optimized to help blind, colorblind, and low-vision users interact with your site as easily as someone without those disabilities. Similarly, Deaf and hard-of-hearing visitors rely on closed captioning and audio transcripts to engage with videos and audio content you feature on your career site.
Language
Some platforms like Recruitee automatically translate job listings, application information, offer letters, and other materials into multiple languages, including custom translations. This removes language barriers at every phase of the hiring process and enables employers and candidates to communicate better.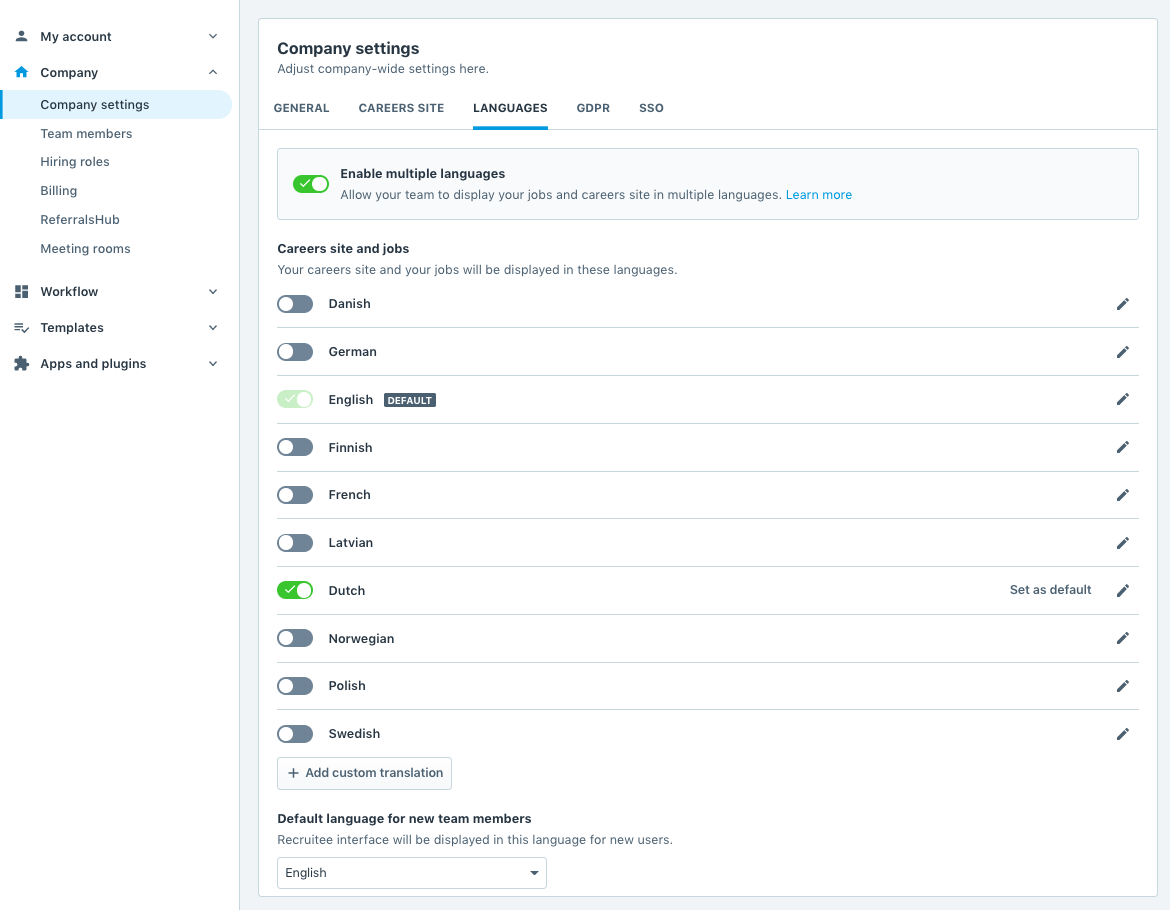 Also read: Cultivating Cultural Competence in the Workplace
Write more inclusive job descriptions
Even minor tweaks may help your job description speak to a broader range of candidates. Keep these tips in mind:
Use gender-neutral and age-neutral adjectives to describe an ideal candidate
Distinguish between essential and preferred qualifications
Minimize jargon, sarcasm, and idioms to avoid deterring neurodivergent applicants
Also read: Neurodiversity in the Workplace: What Employers Should Know
Post to a diverse range of job boards
Despite their large databases of job seekers, mainstream job boards aren't always the best way to find diverse talent. Consider posting your open roles on job boards that target specific communities like veterans or women of color, for instance.
This extra effort doesn't necessarily require more time or resources — platforms like Entelo, Breezy HR, ZipRecruiter, and Greenhouse integrate with a wide range of job boards to help companies tap into diverse talent pools.
Watch our video for more general tips to improve the recruitment process: 5 Employee Recruitment Strategies To Improve Your Hiring Process
Make the application process more inclusive
Given all the text-based fields that applicants must fill out to apply for a job, those who aren't able to enter their candidate data into those fields will find it difficult to apply. A company's application process should be outfitted to accommodate a range of application submissions, including video or audio submissions. Zoho Recruit, for instance, lets candidates record and upload one-way video interviews.
Don't forget the value of connecting with candidates at in-person events like career fairs. These events help job candidates overcome potential technology and connectivity barriers associated with a completely digital hiring process. Employer Assistance and Resource Network on Disability Inclusion (EARN) is an organization that, among other things, helps companies plan accessible hiring events.
Conduct assessments for skills-based hiring
Résumés aren't always the best indicator of a candidate's potential. Indeed, practical skills assessments create a level playing field for applicants that might have nontraditional career paths or educational backgrounds. Pre-employment testing software or blind hiring platforms like GapJumpers let employers conduct candidate assessments to let results surface the best talent.
Additionally, recruiting software can also promote inclusion by mitigating bias throughout the hiring process. For example, Jobvite and Workable include anonymous screening.

Track DEI metrics
Most diversity hiring goals don't carry much weight unless they can be measured and tracked over time. Therefore, it's essential to include anonymous application questions about the candidate's race, gender, and other demographics. This information can provide valuable insight into the success of your diverse hiring practices.
Specifically, layering demographic data with key recruiting metrics like interview-to-hire ratios, applicant source, and offer acceptance rate can indicate areas where unconscious bias might be lurking.
Learn more: DEI Metrics: The Key to Building an Effective DEI Program
Why diversity hiring is important
Diversity hiring is an essential part of a winning recruitment strategy. For one, a diverse and inclusive workplace is what employees and job candidates have come to expect. In addition, hiring for diversity makes a company more competitive and enables better decision-making. A diverse workforce also boosts profitability and productivity.
Check out our Recruitment Software Guide to support your company's commitment to diversity hiring.
Featured partners: Recruiting software
1

ClearCompany
Create best-in-class candidate experiences while simplifying onboarding and compliance with a modern, user-friendly experience. ClearCompany Recruiting helps your company find, hire, and onboard top talent with advanced text, video, and interview scheduling features. ClearCompany helps modernize and scale your company's recruiting strategy to increase candidate pipeline, job offer acceptance rates, and new hire success.
2

Workable
Hire the best candidates faster with Workable's recruiting software. Post to over 200+ job sites with one click, automate processes and manual tasks, and then seamlessly onboard your new hire.
3

PCRecruiter
PCRecruiter is the ATS/CRM hybrid used by successful recruiting and staffing pros for over 20 years. Featuring highly configurable fields, forms, and workflows, plus Gmail, Outlook, and RingCentral integrations, automations, responsive job board, analytics, and the PCR Capture plugin for importing and updating info from the web. PCR's public API facilitates direct integrations with many popular services and custom projects. All of this comes with secure hosting and an award-winning service team.
Technology Advice is able to offer
our services
for free because some vendors may pay us for web traffic or other sales opportunities. Our mission is to help technology buyers make better purchasing decisions, so we provide you with information for all vendors — even those that don't pay us.