Quick summary
Many recruiting software systems seem identical, but there are some big differences you'll want to pay attention to, depending on the size of your organization.
Read our recruiting software comparison below for advice on choosing the best solutions for an enterprise, medium, or small sized business.
---
You're seeking candidates for a job opening, but you just can't seem to find the right people. You list the job posting on your website, LinkedIn, Indeed, Monster, but no one bites. What gives?
While it's true that recruiting is especially hard right now, using a poorly-matched recruiting software only makes it harder. Candidates won't bother with an outdated system that's hard to use, and your competitors could be using a system that engages candidates better.
This is why we've compiled a comparison list of the best recruiting software by enterprise, medium, and small business. Read on for our take on each solution, or contact us today to get a free, no-hassle shortlist of the best recruiting software for your business. Getting started is easy and takes less than five minutes.
Table of contents
Enterprise recruiting software
The heavy-duty needs of enterprise recruitment call for a heavy-duty recruiting system. Enterprise systems should integrate with your existing HR system, use continuous candidate engagement (CCE) and offer features for employee referrals, detailed filtering and reporting, and resume parsing.
Also read: The Best HR Software for Enterprises
Jobvite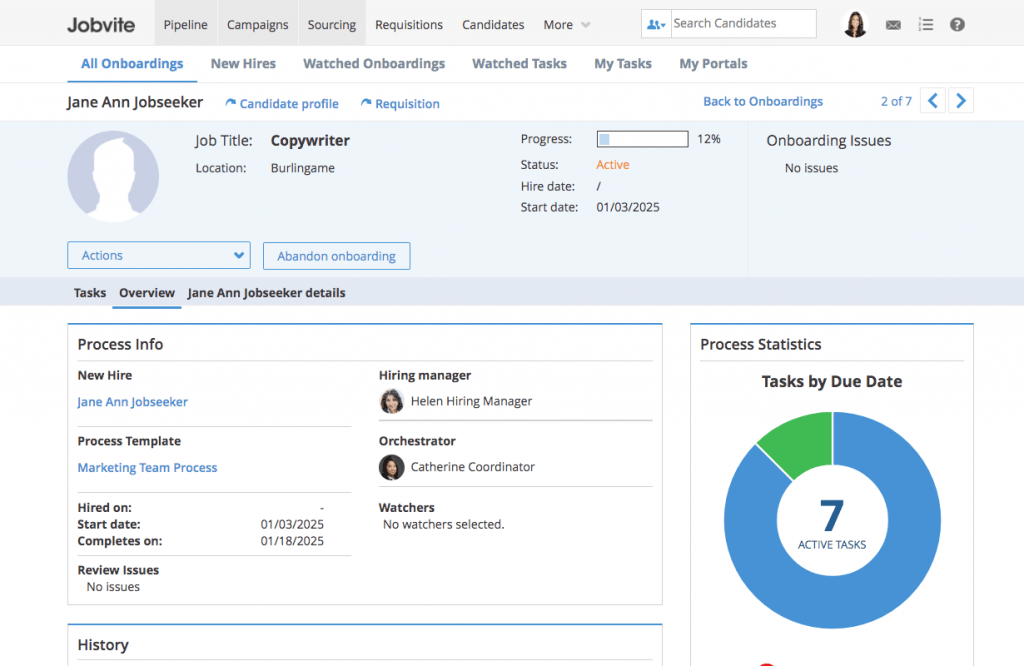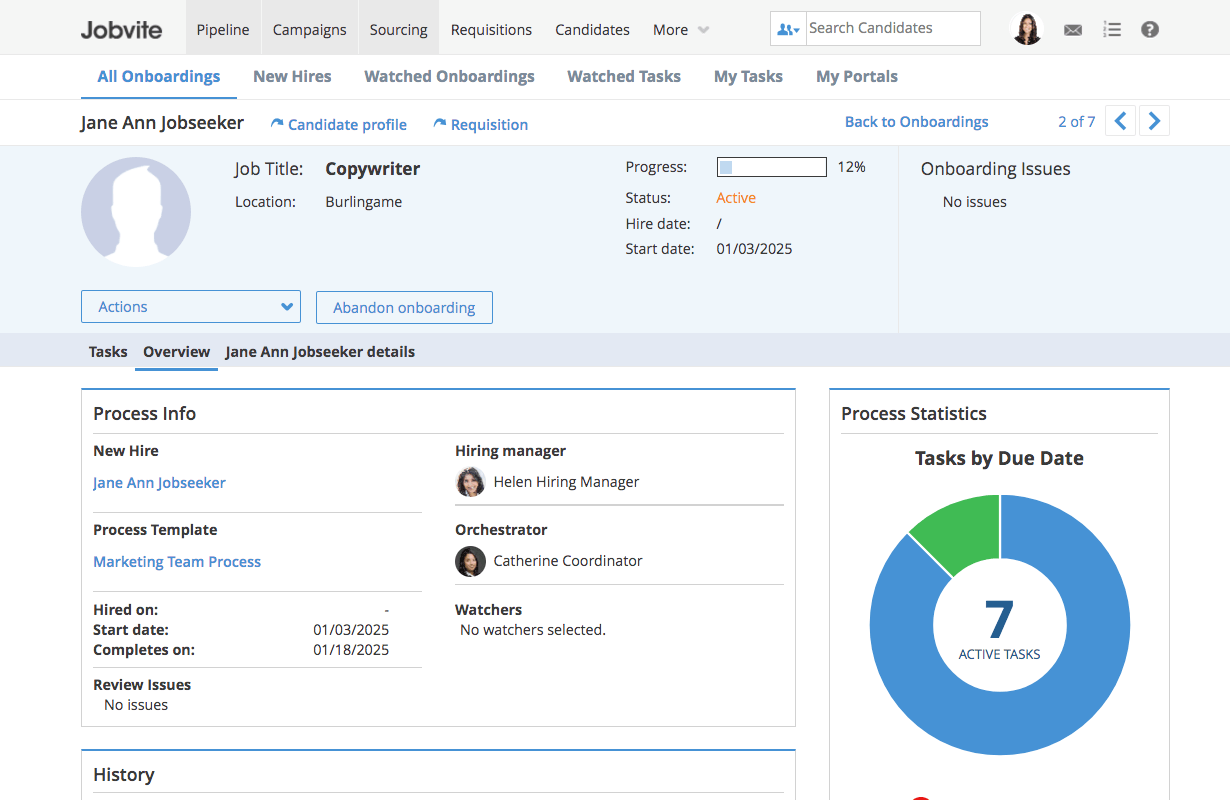 TechnologyAdvice rating: 4/5
Jobvite is a feature-rich recruiting platform for enterprises. Create career sites and manage applicants with the applicant tracking system (ATS) feature, and re-engage passive candidates for hard-to-fill positions. Jobvite supports onboarding tools, and users can text candidates and request video interviews without leaving the system. Jobvite takes a continuous candidate engagement (CCE) approach to hiring, and the system integrates with HR solutions like Workday, ADP Workforce Now, and Namely.
---
iCIMS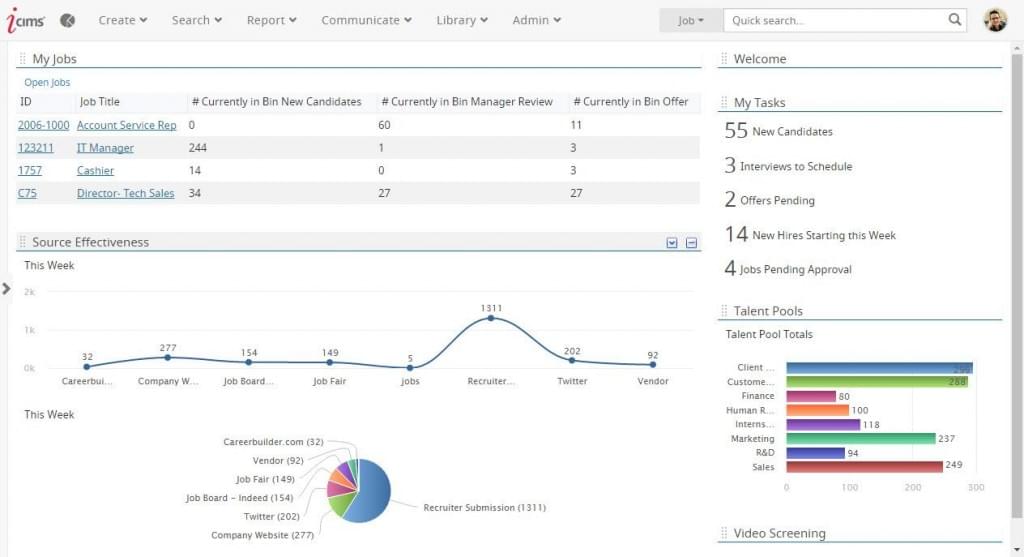 TechnologyAdvice rating: 4/5
ICims offers a suite of recruiting tools, from an applicant tracking system (ATS) to candidate relationship management to employee onboarding, to name a few. Enterprises can create and share job listings to their website and job sites, advertise openings, optimize listing SEO, receive applications via text message, and more. Artificial intelligence (AI) and natural language processing give a boost to the candidate engagement feature, and the platform as a service (PaaS) offering allows recruiters to add apps and customize their experience. ICims integrates with Namely, Peoplesoft, and ADP Workforce Now for HR.
---
Zoho Recruit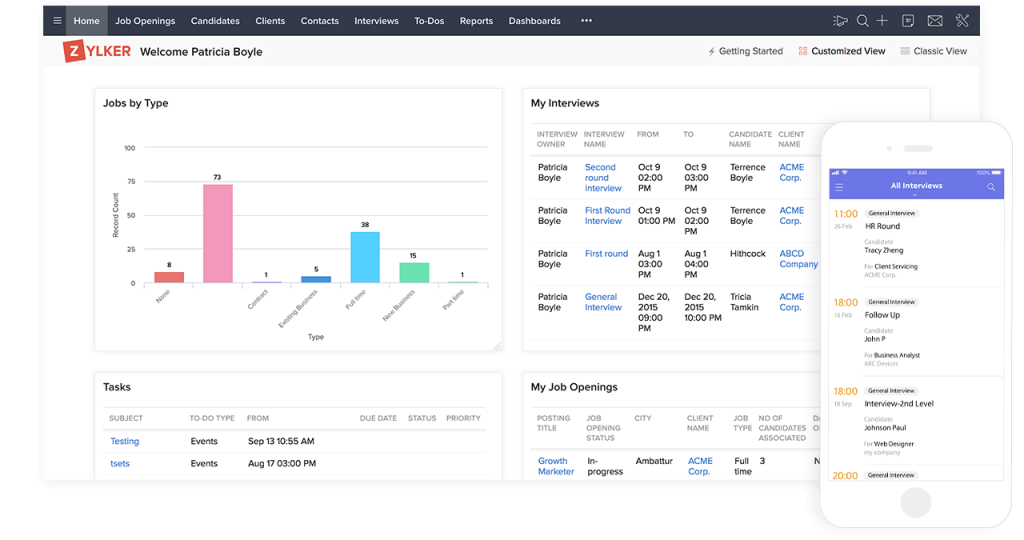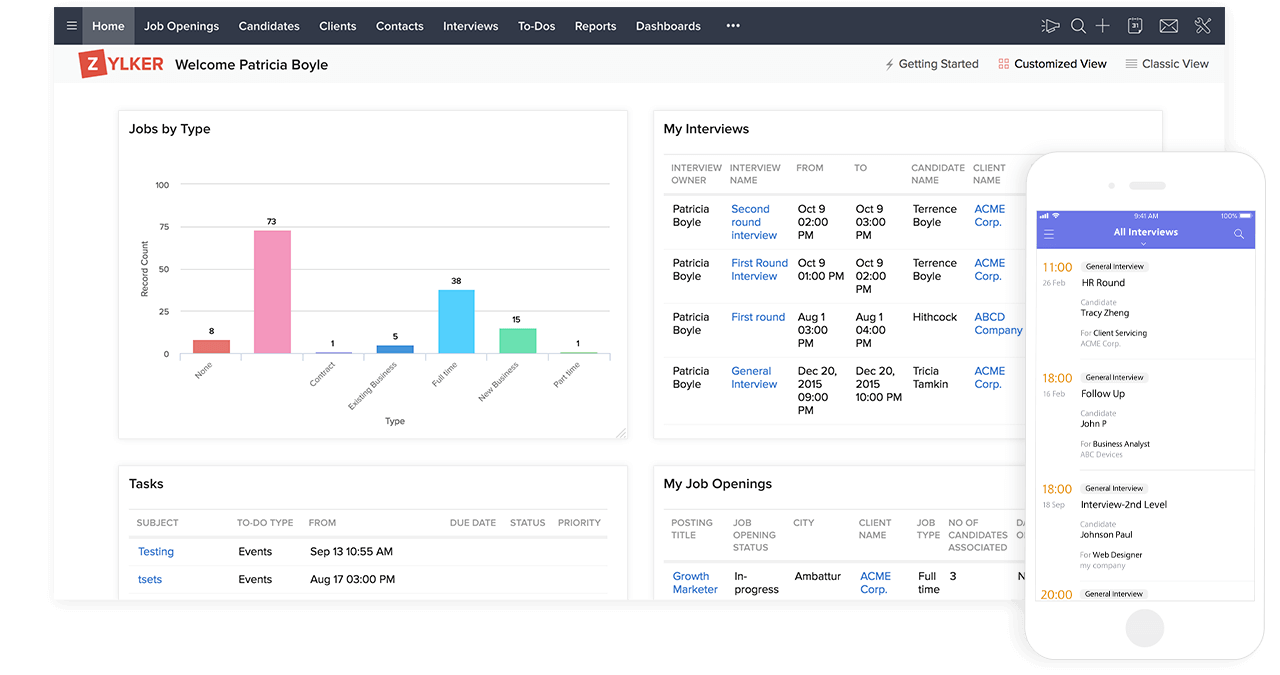 TechnologyAdvice rating: 4/5
Zoho Recruit helps enterprises find and retain talent through a diverse list of features. Hire for multiple positions at once, create a custom careers page, and receive referrals through employee referral portals. Sort out candidates that don't match your requirements and request video interviews from those that do. Zoho Recruit also offers digital onboarding and lets you send offer letters, and powerful reports help you learn from each hiring experience. This system works best when paired with other Zoho products, but you can also create custom integrations using Zapier.
Medium sized business recruiting software
Most medium sized businesses won't need as many features as enterprises, but they do need a fast and scalable recruiting system. For companies growing steadily, it's important to find a solution that can grow with them.
Also read: A Breakdown of the Best Applicant Tracking Software
JazzHR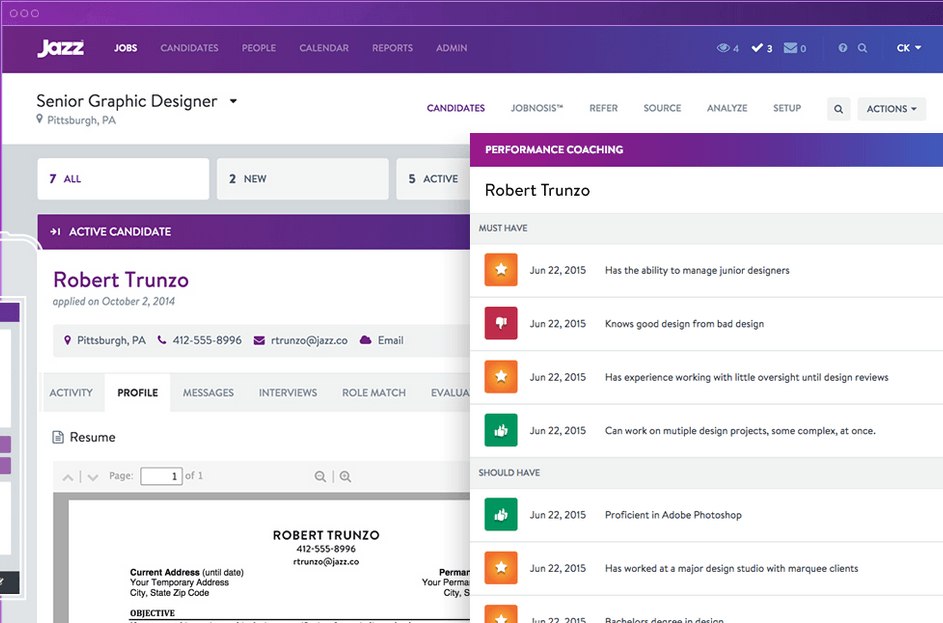 TechnologyAdvice rating: 4.5/5
With features similar to what you might expect from an enterprise recruiting system and with powerful tools for team collaboration, JazzHR is one of the best recruiting solutions on the market for medium sized businesses. Collaborate with other recruiters by using @ mentions and keep your team on track using the system's task management features. What's more, JazzHR allows unlimited users, candidates, and job syndication, so you don't have to worry about finding a new recruiting system after a few years of company growth.
---
JobAdder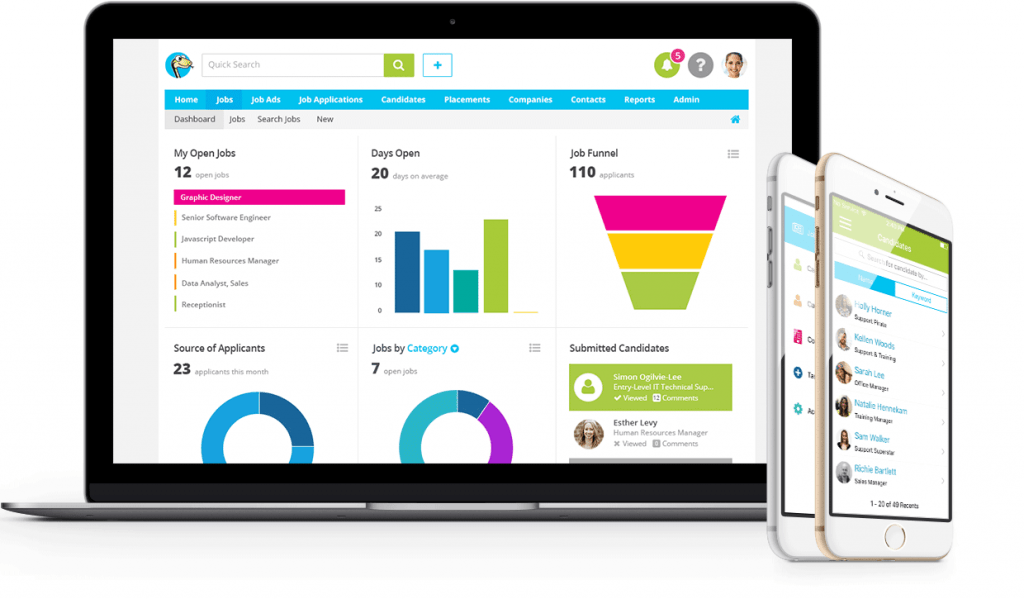 TechnologyAdvice rating: 4.5/5
Built for in-house recruiting teams and recruitment agencies alike, JobAdder lends a personal touch to the often impersonal-feeling recruiting process. Allow candidates to update important resume details after submitting an application, collect video cover letters, and stay engaged with applicants throughout hiring using a candidate portal. In-house teams can share job details with third-party recruiters to beef up hiring efforts, and users can manage advertising for open positions without leaving the system. JobAdder doesn't offer its own document management features, but it does integrate with third party apps for processes such as digital signatures and onboarding.
---
PCRecruiter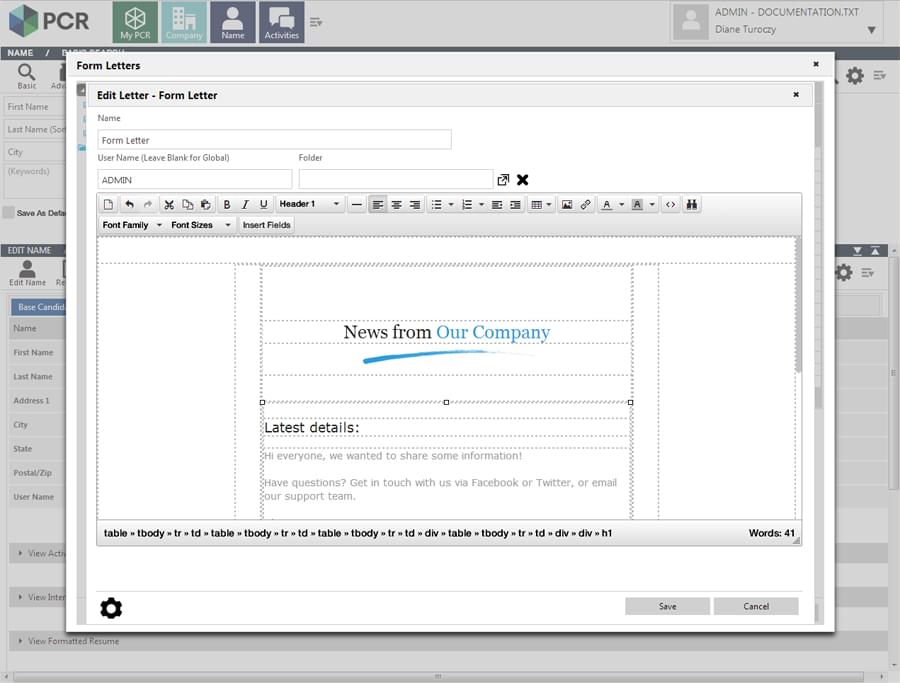 TechnologyAdvice rating: 4.5/5
Out of all the three recruiting solutions for medium sized businesses listed here, PCRecruiter may offer the most robust features. Search through candidates and notes using Boolean logic, and use the diversity tracking and EEO/OFCCP tools to stay compliant. Set triggers to automate certain repetitive tasks and workflows, and install the Google Chrome extension to parse candidate data from anywhere on the web.
Small business recruiting software
If you're looking for a small business solution, the software you choose should at least integrate with your existing HR solution. Bonus points for HR vendors that include solid recruiting features. Look for an affordable system with a decent applicant tracking system (ATS) and the ability to post to job boards like Indeed and Craigslist.
BambooHR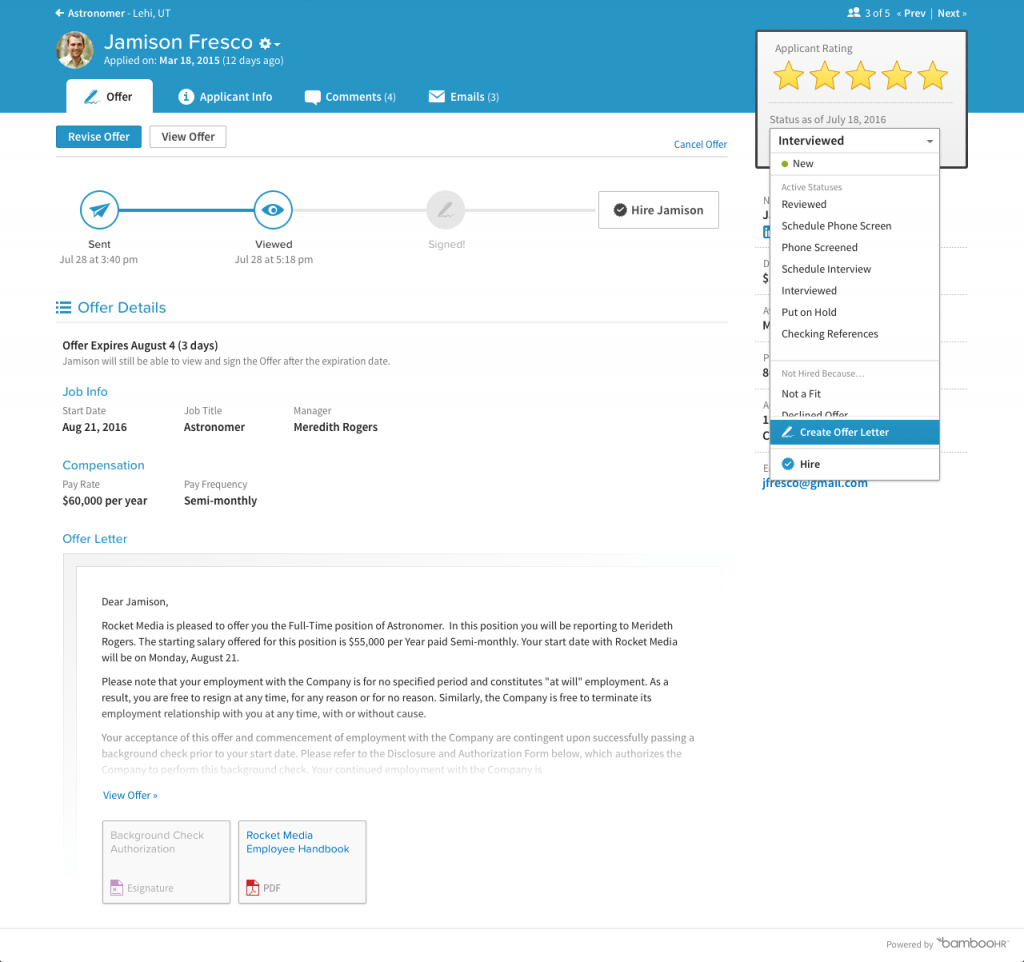 TechnologyAdvice rating: 4.5/5
BambooHR is a comprehensive small business HR solution that also includes ATS and onboarding features. Create a custom careers page for your website and syndicate job postings across Glassdoor, Indeed, LinkedIn, and Craigslist. Social media sharing tools make it easy to post the application link to your company's social channels, and reporting features show you how candidates hear about the opening. Once you've found a good match, you can send white-labelled offer letters and have new hires sign employment contracts digitally.
---
Breezy HR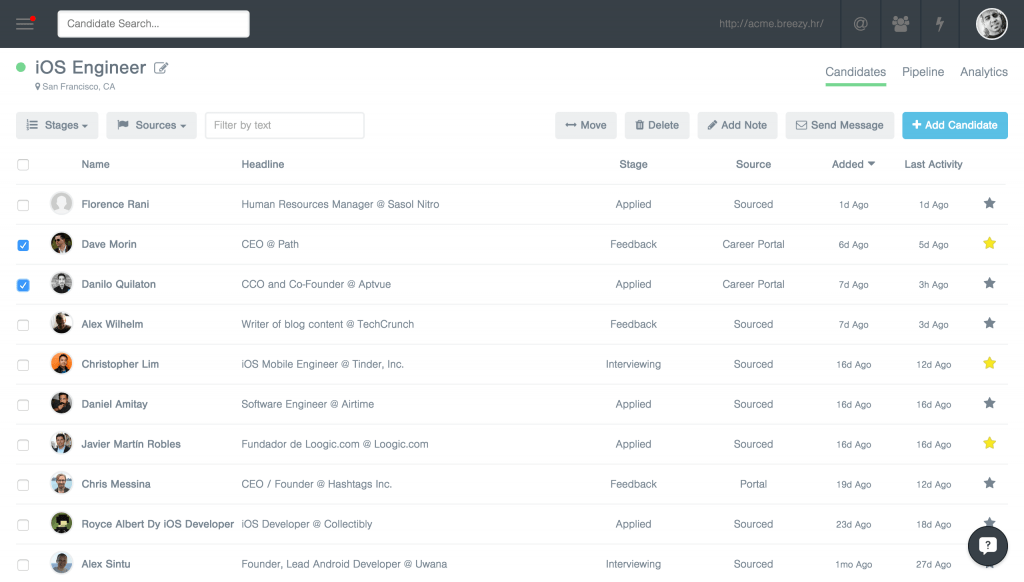 TechnologyAdvice rating: 4.5/5
Breezy HR may not offer an end-to-end HR solution, but it does offer a top-rated recruiting software that's small business-friendly. Create an attractive careers page for your website, sort through candidates using a Kanban-style view, evaluate them using scorecards, request background checks, contact references, and send offer letters—all without having to leave the system. Breezy HR posts to popular job boards, and it comes with out-of-the-box integrations with HR systems like Namely, BambooHR, Zenefits, and more. If you use another HR system not mentioned here, Breezy HR also works with Zapier so you can create custom integrations.
---
Workable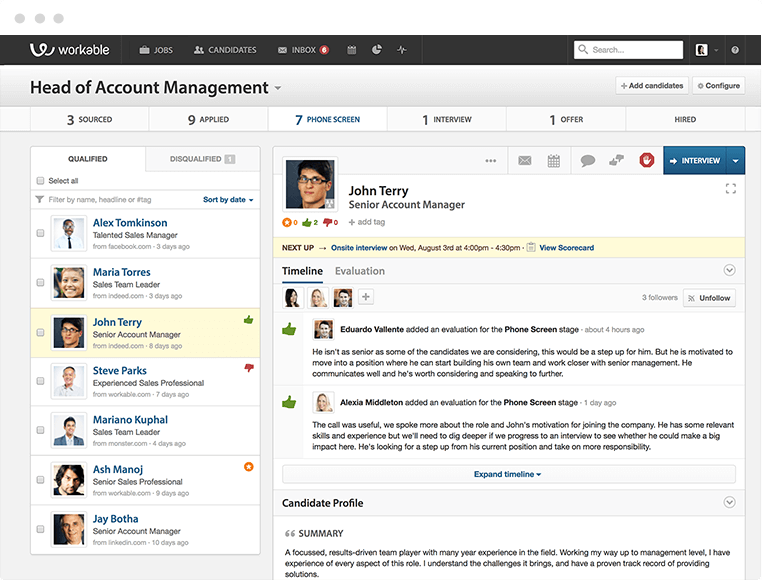 TechnologyAdvice rating: 4.5/5
Workable posts your job openings to over 200 job sites in addition to granting you access to their proprietary database of 400 million candidate profiles. A built-in artificial intelligence (AI) makes candidate recommendations based on your criteria, and internal referral features help you tap into your existing human capital resources. Workable also offers mobile applications for recruiters so you can find candidates on the go. Look for integrations with Namely, BambooHR, and more to sync your information.
Finding the right recruiting software shouldn't be harder than finding the right person for the job
Comparing the top recruiting software solutions for your company size is a great place to start, but your search shouldn't end there. Check out our recruiting software page for more information, and complete the form in the right sidebar to request your free, no-hassle shortlist of the best recruiting software. Researching business software can take hours—we'll get you the information you need in as little as five minutes.