According to an SHRM report, the number of candidates for any given position has nearly doubled. Not only are the recruiting pools bigger, but now everything is done virtually.
Even when employers find a candidate they want, that candidate may not be looking for a new job. According to the same report, the uncertainty in the market means many potential candidates aren't willing to risk taking a new position right now. Unless they're already unemployed, they may not want to leave their current job.
What's a recruiter to do in these trying times? The answer lies partially in finding the right recruiting technology.
To keep up with virtual hiring processes, demand for the recruitment software market is on the rise. The global recruitment software market was valued at $2.55 billion USD in 2021, and it is expected to be worth $3.85 billion USD by 2028, according to a recent SkyQuest report.
Of course, there are a ton of recruiting platforms out there, so figuring out which one will help your company find the right candidates can be difficult.
In addition to the tools below, this course will help you improve your recruitment skills.
Top Recruiting Software Recommendations
Here, we look at six of the best recruiting software vendors that help recruiters source better talent. But, if you want a quicker option, check out our
Product Selection Tool
. Answer a few questions, and get a short list of talent recruitment software vendors tailored to your company.
Zoho Recruit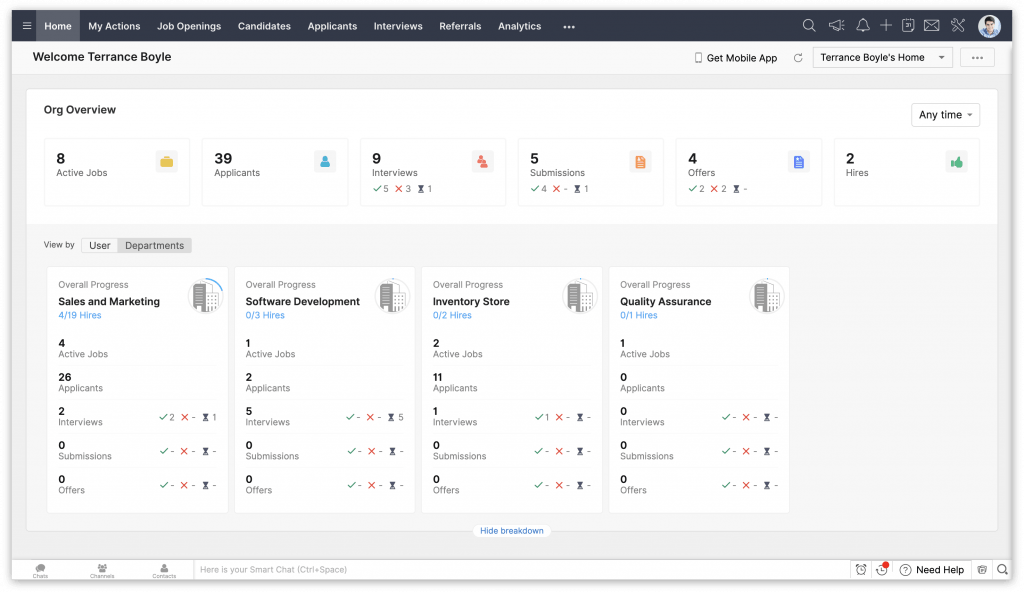 Zoho Recruit is a trusted recruitment software and all-in-one applicant tracking system (ATS) for reaching qualified applicants. The ATS comes with many helpful features for talent acquisition, such as automated job board posting, résumé storage, and interview scheduling. Organizations can also attract talent by taking advantage of Zoho Recruit's customized company careers pages.
Zoho also provides custom recruitment marketing software features like employer branding that set businesses apart in the competitive job market. The recruitment marketing platform even boosts candidate experience by integrating with other professional services like LinkedIn Easy Apply, simplifying their end of the recruiting process.
Hiring managers can ensure they connect with qualified applicants by using the résumé parsing feature, which helps identify the candidates most likely to fit the job qualifications. Additionally, Zoho Recruit uses artificial intelligence (AI) to let organizations quickly store and filter candidate profiles for easy access.
Gusto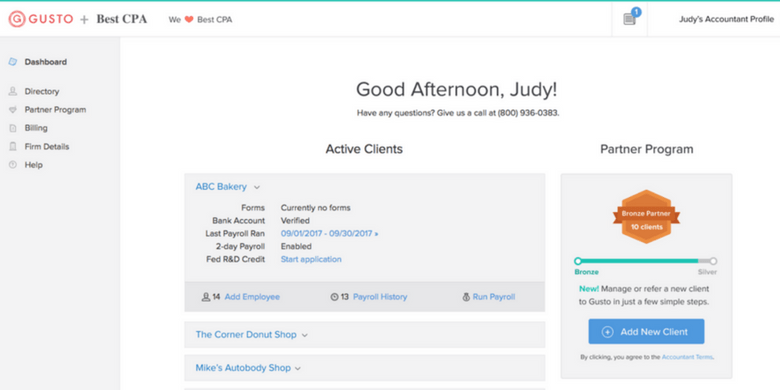 Gusto's people platform has services for recruitment and other talent management purposes, including payroll, benefits, human resources (HR) — you name it. 
The software helps hiring and HR teams in each step throughout the talent acquisition and hiring process. When a business has a job opening, it can advertise the listing to a large pool of applicants with Gusto's people platform.
The recruiting software makes onboarding easier and less time-consuming. Organizational hiring teams can establish customized onboarding checklists for officially introducing new staff members to the team.
BambooHR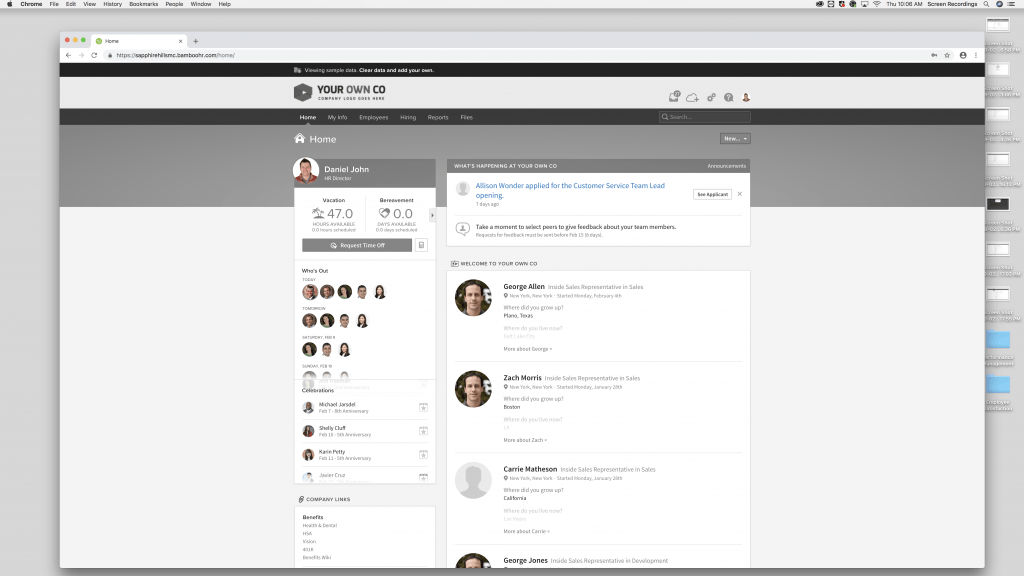 While BambooHR does provide several features for the onboarding and hiring process, its software is more commonly known as an HR management resource than a recruiting platform. Still, its recruiting software features help hiring managers connect with job seekers and suss out the best job candidates, all with the added benefit of integrated HR management capabilities.
BambooHR has job description templates to simplify the process of designing the right job post to reach the right candidates. And once the best candidate is selected for the job, users can continue the hiring process using customizable offer letter templates that auto-populate with the correct info.
The recruiting software also discourages users from wasting time on passive candidates. With in-system messaging and automatic alerts, businesses can stay on top of their side of communication, so they never miss out on the opportunity to cultivate relationships with quality talent.
Workable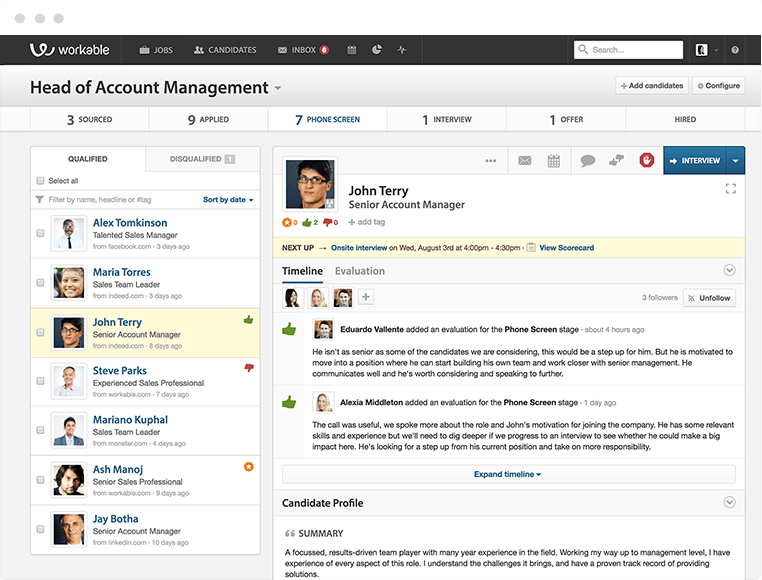 Sourcing talent can be especially difficult for startups and small businesses. These organizations have neither the manpower to put a dedicated recruiter on the job, nor the budgets to hire agencies or purchase expensive recruiting software.
Workable is a possible hiring solution for these businesses because it's comparatively inexpensive for the most basic plan. It's also a web-based platform, which means teams can get started with recruiting tasks right away without needing to worry about downloads or complicated implementation.
Workable gives businesses access to all the trappings of recruiting tech: career sites, one-click posting to multiple job boards, and custom applications. Sure, there are a lot of other solutions that do the same thing, but few can compete with Workable's scalability.
ALSO READ: 7 Workable Competitors To Help With Your Hiring Efforts
Hired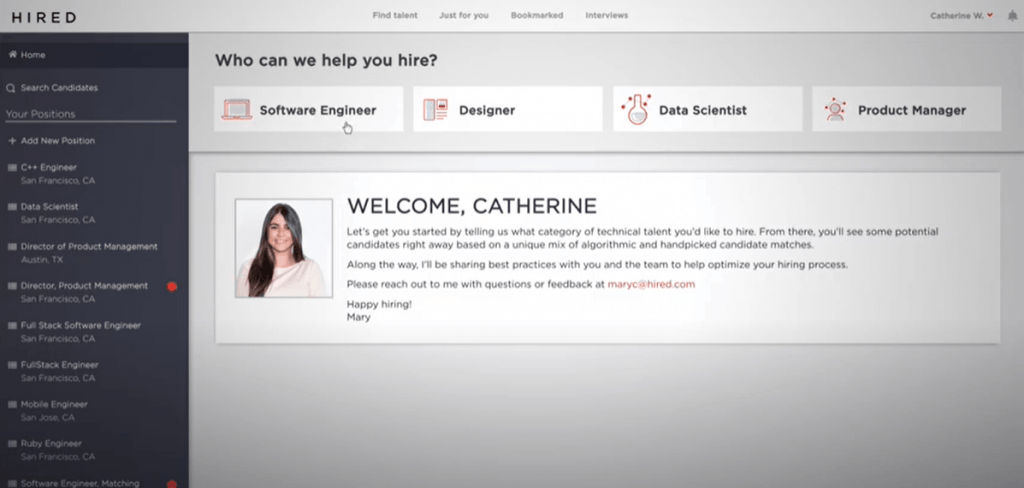 Hired is another compelling candidate sourcing solution for businesses looking to secure top talent for their most valuable positions. This particular platform flips the hiring process upside down. Candidates create profiles, and employers and recruiters then sort through those profiles and send interview requests to the candidates they like.
Basically, on Hired, the employers apply to the candidates, rather than the candidates applying to the employers. This process requires a little extra effort, and some employers won't enjoy shifting the power balance, but it's worth it to find the right candidate.
iCIMS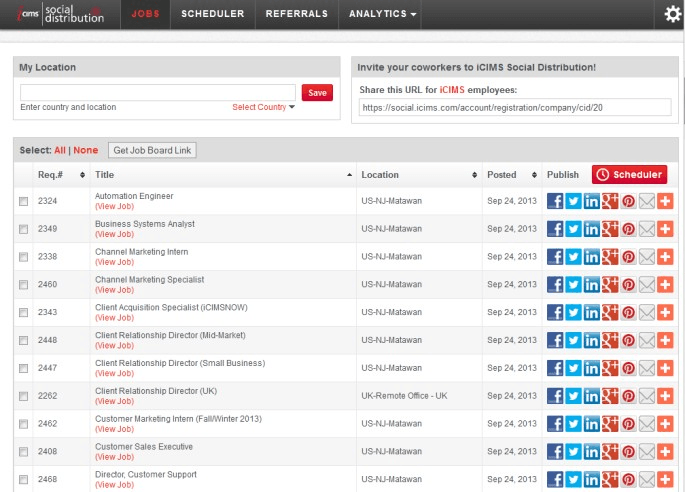 iCIMS is one platform that does everything from social recruiting and applicant tracking to talent pipelining and onboarding. iCIMS is the sourcing solution for organizations that don't want to stop at sourcing. 
If you don't need a comprehensive solution right away, you don't have to purchase all of iCIMS's talent acquisition and recruitment marketing services at once. You can opt for just iCIMS Recruit without also buying iCIMS Connect and iCIMS Onboard. 
Still, its add-on services can be helpful, like the Applicant Tracking System, which can be purchased as a part of the iCIMS Talent Cloud to improve onboarding efficiency.
Source better candidates with the right recruiting tool
For every recruiting challenge an employer faces, there's a technology vendor out there trying to solve it. If your biggest challenge is finding the right candidates, we suggest starting with this list. It might contain exactly the solution you're looking for. To see a complete list of applicant tracking and recruiting platforms, visit the TechnologyAdvice Product Selection Tool.