BambooHR is one of the best systems on the market for SMBs that want to ditch spreadsheets and start automating administrative tasks in a centralized database.

Translation: less HR tasks, more meaningful work.
Serving tens of thousands of employees in 70 countries worldwide, BambooHR is known for its custom pricing model, simple and intuitive interface, and fervent dedication to their customers.
However, that doesn't make it the best choice for your business.
BambooHR Alternatives
As good as BambooHR is, it's not for everyone. In fact, there are several reasons this system may not be the right choice for you.
Maybe you need a system that includes an LMS or full-service payroll. Or you may have a really, really small budget (Read: no budget). Maybe you even love BambooHR, but your company's outgrown the system's small business niche.
Or perhaps you just like to research what's out there before making a choice, so you can make an informed decision.
But the truth is: there's a lot out there.
The HR software market is filled with vendors scrambling for your business. Human Resources software is one of the fastest growing segments in business IT, valued at over $14 billion globally — with most research firms predicting further expansion in coming years.
So we've taken the time to research BambooHR alternatives for you. Read on to learn about the HR software vendors that should be on your shortlist next to BambooHR.
---
Zenefits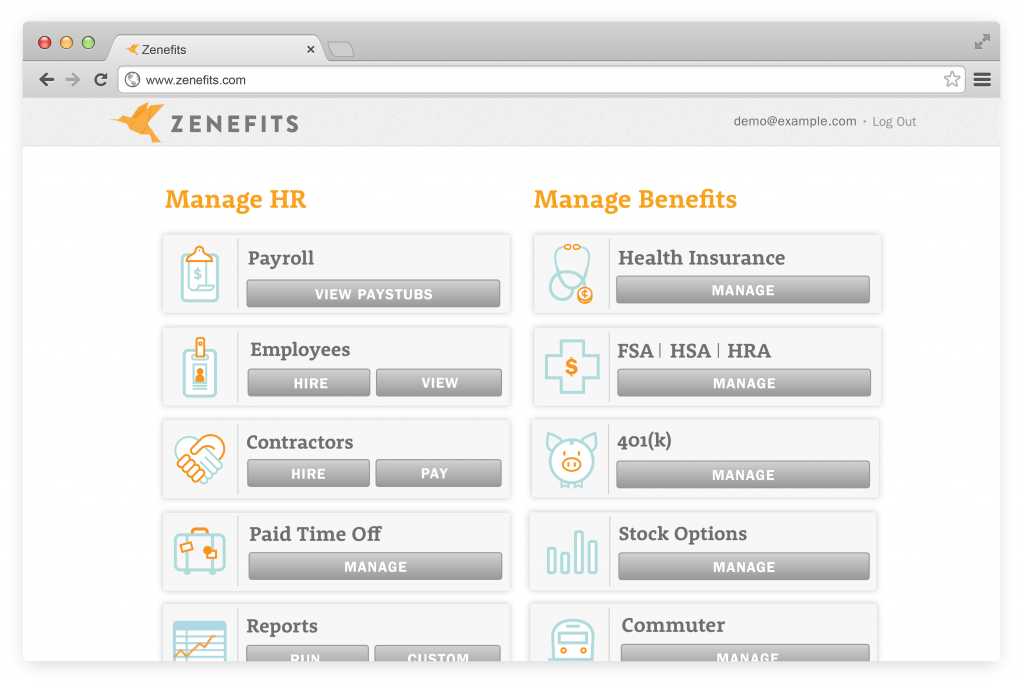 Zenefits is a free, cloud-based Human Resources Information System (HRIS) that includes benefits administration, time/attendance management, stock options, and more. The simple to use interface and easy setup and make it a great choice for small companies that lack an in-house HR department. However, the system does scale to businesses of all sizes in any industry.
This is a perfect HR system for small businesses with little to no budget, because it's free. Yes, free.
Zenefits is able to offer their software at no cost thanks to an innovative business model. They get paid by benefits providers — such as your health insurance carrier — if you choose to manage your benefits through Zenefits. You obviously still have to pay the providers for your underlying benefits, but they offer the platform at no cost.
Even if you don't add your benefits, the Zenefit's Core HR Platform is available completely free with a few à la carte options. Here's a look at what's included: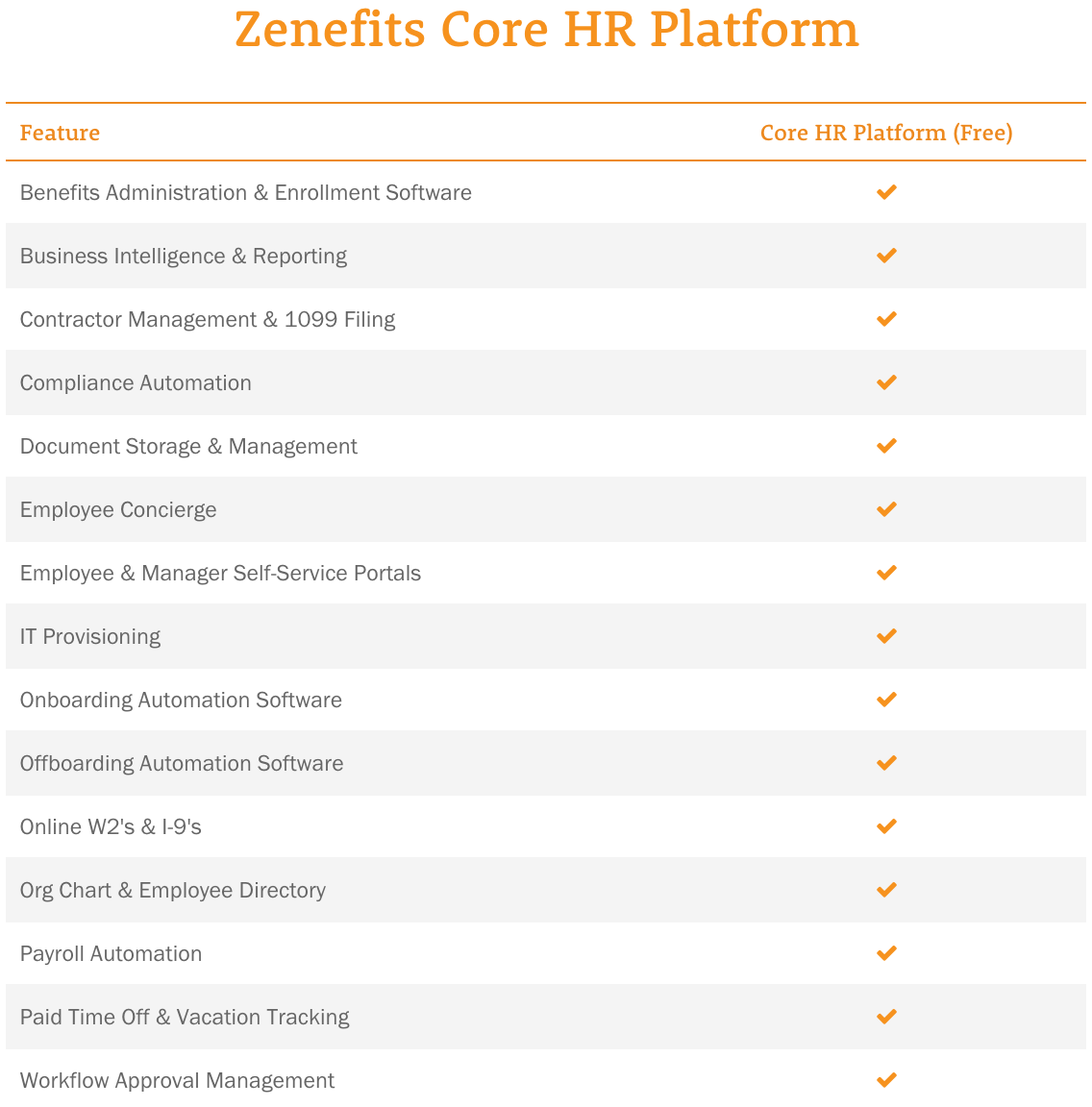 Easy self-service lets employees access paystubs, change or view benefits information, and time-off requests. Onboarding is also quick and easy: HR simply fills out 5 fields for new hires, then employees can complete and sign onboarding documents electronically.
Drawbacks: Though you can manage payroll through the Zenefits platform, you'll still need to pay a third-party provider to service it. Additionally, you may not get all the features you need from a free system (performance management, recruiting), so you might find yourself in the buyer's seat again after 6-18 months. However, Zenefits is a solid option for any SMB that needs to simplify their core HR processes right away.
---
Cezanne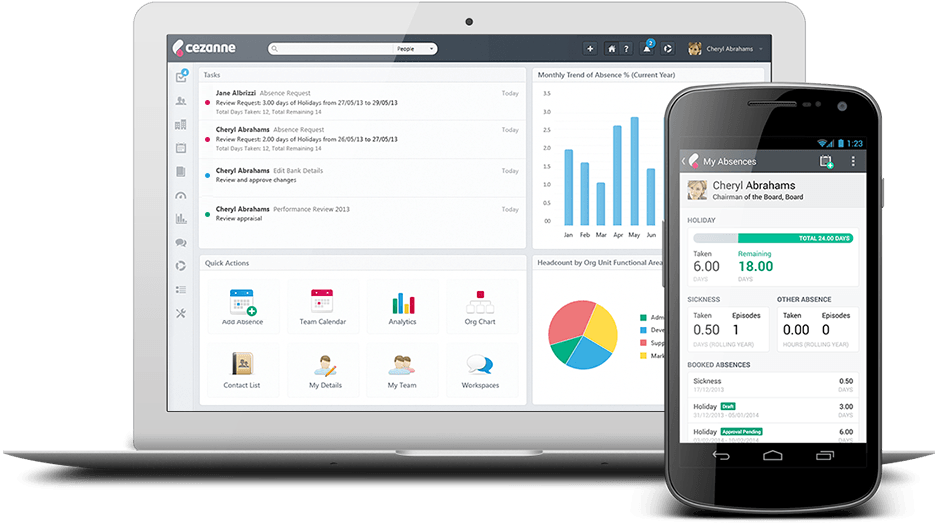 Cezanne is global HR software that allows companies to manage their human resources via cloud deployment. Geared toward growing and mid-sized enterprises, Cezanne goes beyond people and absence/PTO management by offering performance management, online recruitment, time tracking, payroll integration.
One of their features worth looking at a bit closer is the HR portal and social workspaces. Think of it as a work-related Facebook news feed. You can create spaces for HR activity, as well as spaces where departments can collaborate, post news, start discussions, and gather ideas and feedback. You can also use these team communities as a virtual filing cabinet to store, organize, and share important documents and images.
Cezanne's core module starts at just $2 per employee per month and includes:
Employee Self Service

HR & Employee Portal

Training & Development

Disciplinary & Grievance

Health & Safety

Document Management

Org Charts & Dashboards

Query & Reporting

Global Capabilities

Mobile Apps
Drawbacks: Cezanne does not provide full-service payroll, but you can either use their partner USA Payroll for your needs, or stay with your current payroll provider. Cezanne only offers Absences, Performance, Time, and Recruitment as optional modules, which are each an additional $2 per employee per month. However, this does mean you only pay for systems you'll actually use, and only rounds up to a $10 per employee per month price tag.
---
Namely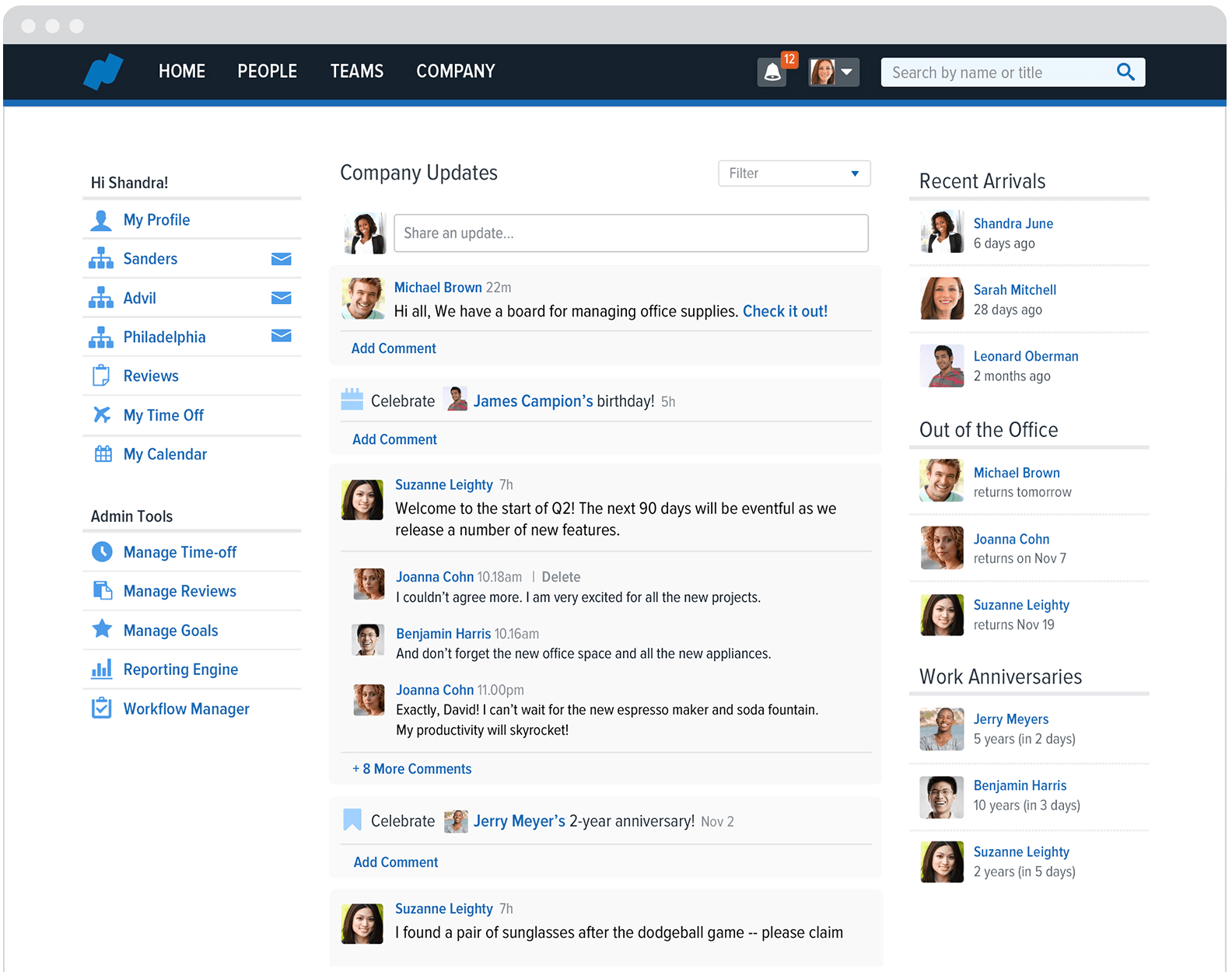 Namely is a cloud-based platform for growing companies. They offer a modern employee database with employee profiles, time and attendance tracking, a company calendar, reporting, and a social news feed. In addition to intuitive core HR and benefits administration, Namely also provides talent management, onboarding, and performance reviews.
The cherry on top? Full-service payroll
You can process your payroll, run reports, and have your tax withholdings, year end tax reporting, and ongoing compliance taken care of all in one system. Pile document storage, task management, and an open API onto the meager price tag and you've got a powerful HR system for any sized company.
Drawbacks: Namely is a simple, intuitive platform, but the performance reviews can be tricky to navigate. While the news feed is a helpful way to keep up with the entire company's activity, it would be nice to have a space for team or department related content. Lastly, like many vendors gear toward the midmarket, Namely lacks an LMS. However, they do have an open API to integrate with your learning management experts such as Saba or Cornerstone OnDemand. 
---
Cornerstone OnDemand
Cornerstone OnDemand is a powerful, fully integrated talent management suite designed to ensure businesses can recruit, train, and effectively manage their workforce on one configurable HR platform. It's also the first on the list to move into HR software for enterprise territory, so if you're looking for a system more robust than BambooHR, Cornerstone is a strong contender. Modules include: 
Applicant Tracking

Recruiting

Onboarding

Learning Management

Performance Reviews

Competency Management

Compensation Management

Succession Planning

Workforce Analytics
You can build a system that uses only the modules you need, or build a unified talent management system. For businesses under 400 employees, Cornerstone offers a Growth Edition of their platform. The company is known for their outstanding learning management system, and recently partnered with TedTalks to create a modern learning experience for employees.
Drawbacks: Although it's a robust platform, Cornerstone OnDemand is not as streamlined as some of the alternatives on this list; there's a learning curve to get started and the user experience can be slow at times. As companies continue to grow, they may need an HR solution that integrates more closely with their ERP software in order to gain deeper analytics about the company.
---
Workday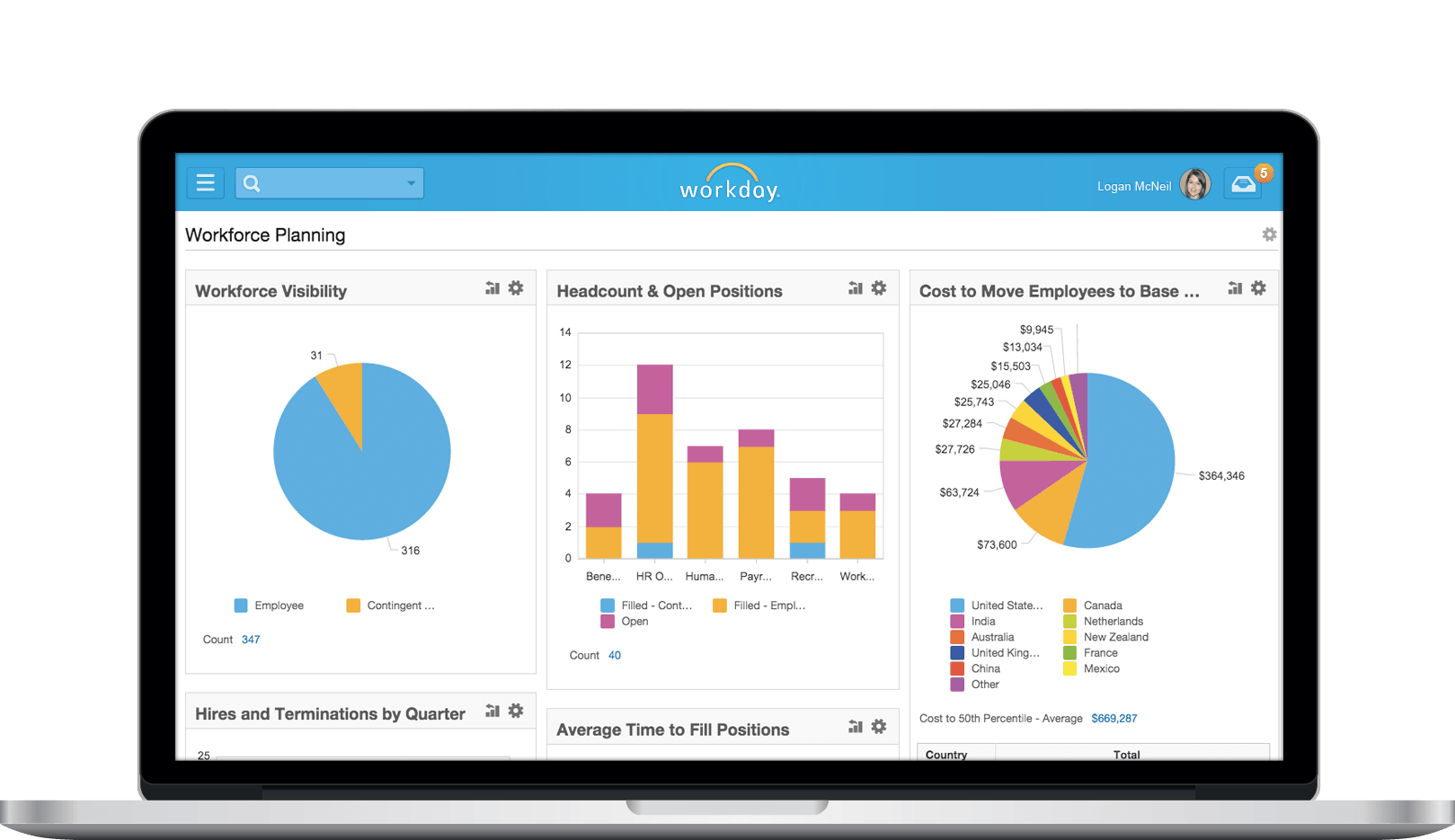 Workday was developed as a next-generation enterprise-grade technology. The company provides global, horizontal HR and ERP solutions to help enterprises standardize processes and increase organizational efficiency.
Historically, global enterprises required large suites of on-premise applications in order to manage complex and dynamic operating environments. Workday was designed from the ground up as a SaaS alternative to these systems, eliminating the up-front investment and annual maintenance fees inherent in traditional software implementations.
Workday offers a robust product for the enterprise, including modules for:
Financial Management

Human Capital Management

Benefits and Administration

Payroll

Recruiting

Talent Management

Service Automation

Student Solutions

Procurement

Insights/Analytics
Companies that appreciate BambooHR's modern user experience will be pleased with Workday's clean interface. Workday is an innovative platform built for the modern workforce, and their technology aligns with current IT trends. Their beginning as an HCM platform provides human resources professionals with a system designed with the workforce and financials in mind, while their continuous updates and enterprise focus makes them a viable choice for a variety of companies.
Drawbacks: Workday does not offer an LMS; however, they provide seamless integration with LMS industry leaders Cornerstone OnDemand and Saba. Not only does Workday continually evolve to release new features, but they focus on providing partnerships to bridge gaps in their offerings.
---
Making Your Final Decision
These five platforms represent some of the strongest HR players on the market — but this is by no means a comprehensive list. There are hundreds of all-in-one or standalone technologies to meet your needs.
If you're still struggling to choose, then just throw a dart and see which system it lands on.
Actually, don't do that. Do this instead:
Use our HR software comparison tool to get free personalized recommendations, call one of our in-house advisors to discuss your specific needs, or download the guide below to learn how to vet software vendors.
Don't go with what's popular, the first system you find, or anything you haven't taken for a test drive. Keep in mind that choosing the best HR software isn't about labeling a vendor "bad" or "good." It's about defining your business requirements and workflow, then finding the right fit — for your needs, for your budget, and for your workforce.