Human resources software is anything but immune to this decade's surge of cloud and mobile innovation and the software-as-a-service revolution.
Modern solutions are more affordable, easier to install, and require very little maintenance, which means many companies are ditching their legacy systems for sleeker, faster options. Others are considering a purchase for the first time.
ALSO READ: Best HR Software for Small Business
If you're shopping for HR software, you've probably come across Namely and Zenefits. These two cloud-based vendors, although young, have become favorites among small-business and some mid-market HR teams. Both of their solutions are an affordable way to simplify human resource management and get away from paperwork, but they have different strengths and different price tags.
To help you decide which is right for your business, we'll compare Namely vs. Zenefits based on systems, pricing, features, and brokerage services.
Namely vs. Zenefits: Company Overview
Namely was founded in 2012 by Matt Straz as a solution designed to "free people from the shackles of back-office HR administration," and help them ". . . become strategic drivers of employee culture and engagement."
Since then, Namely has raised over $100 million in venture funding. Although still a private company, they've secured contracts with over 500 clients. Notable customers include Kayak.com, Vox Media, and Upwork.
Zenefits found its roots a year later as a benefits administration platform and insurance brokerage serving the small business and startup community. Between 2014 and 2015, the company grew revenue by a factor of 20. They've received over $583 million in venture funding from a number of different firms.
Zenefits now boasts over 20,000 small business customers in the U.S., including BetterCloud, FiscalNote, and DUFL.
Systems and Pricing
Zenefits offers a free "core HR" solution (yes, actually free) that includes most of the features you'd expect to see in a best-of-breed app: onboarding, ACA compliance, PTO tracking, employee directory, and basic reporting. The software is free because Zenefits makes most of their money from brokerage services, which earn a hefty commission from third-party providers.
You will pay a monthly fee per employee, however, if you add time and attendance tracking. Other fees may apply to health savings accounts and commuter services. Zenefits' payroll feature will remain free until December 2016.
While Namely doesn't offer a free platform, their software is packaged in modules, so you'll only pay for what you use. They offer a core HR module, payroll, benefits management and brokerage, and a "talent" module. On average, you'll pay more per month for Namely but gain access to a wider range of features. Whatever features you purchase will be accessible from a single login page and web-based application.
Administrative Features
Solutions that focus on the administrative aspects of human resources (time tracking, payroll, benefits admin) are often referred to as "core HR software." While these tasks aren't necessarily the most glamorous, they are some of the most mission-critical, so it's important to choose a vendor that covers your bases.
Namely's administrative features are built around a central employee database with custom employee profiles. Managers can track and approve time-off requests, create workflows for salary changes and promotions, keep a company calendar, and pull reports on HR data, as needed. Important company documents can be stored directly in the system.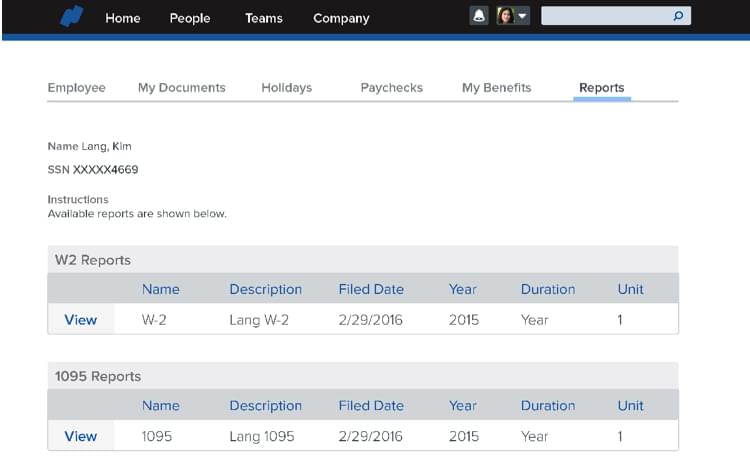 Namely makes payroll a breeze with automatic syncing and benefits deductions. The system can also manage all of your tax filing and year-end reporting, from W2s to 1099s and ACA forms. The built-in time tracking feature lets you feed hours worked directly into your payroll calculations. If you have questions or need help, you can contact the dedicated payroll and tax support team.
For the moment, Zenefits includes payroll with their free edition, but they charge a per-user fee for time and attendance tracking. Let's be honest; it'll be difficult to administer accurate payroll if you don't know how long and when your employees are working, so you'll probably need both features. You can make calculations and file payroll taxes in all 50 states from directly within the system or update your data each period by syncing with another provider.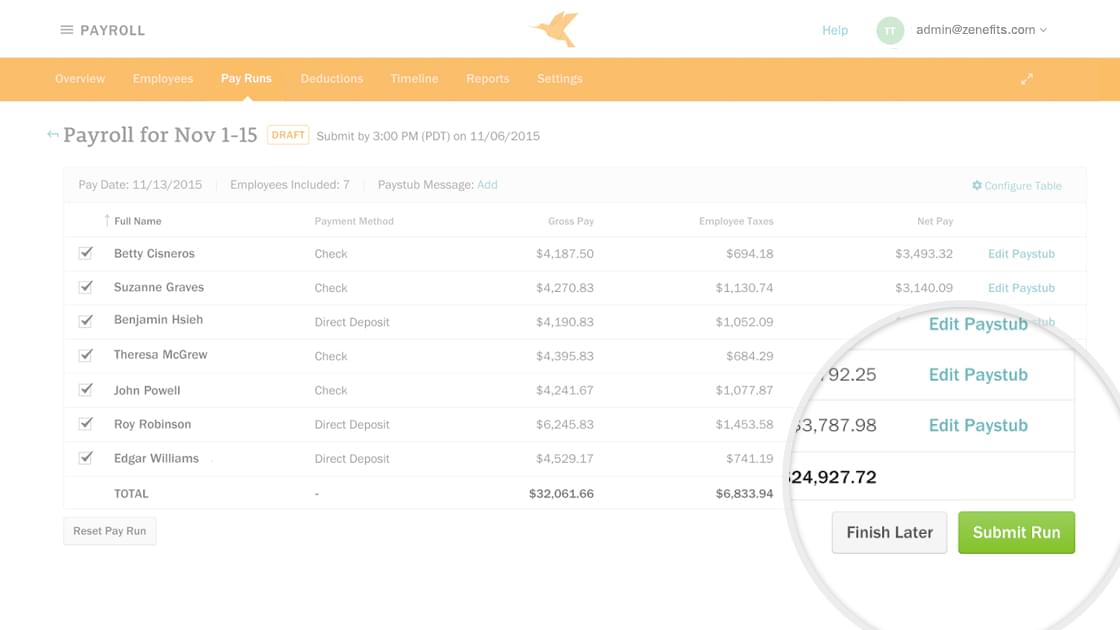 Other core HR features included with Zenefits' free edition include benefits/insurance administration, onboarding, employee records management, ACA reporting, and time-off tracking. Zenefits also integrates with COBRA, so you can manage coverage and premiums without logging into a separate system.
Strategic HR Features
Strategic HR is another subset of the software category that refers to aspects of HR management beyond basic administration. Most tools in this category cover some portion of the "talent management" spectrum, from basic recruiting/onboarding to employee development and training.
This is where Namely shines. Unlike its competitor Zenefits, which stops at onboarding, Namely helps HR managers cultivate, measure, and reward talent among employees. You can create custom performance reviews and unique goals for each employee, as well as team and company goals.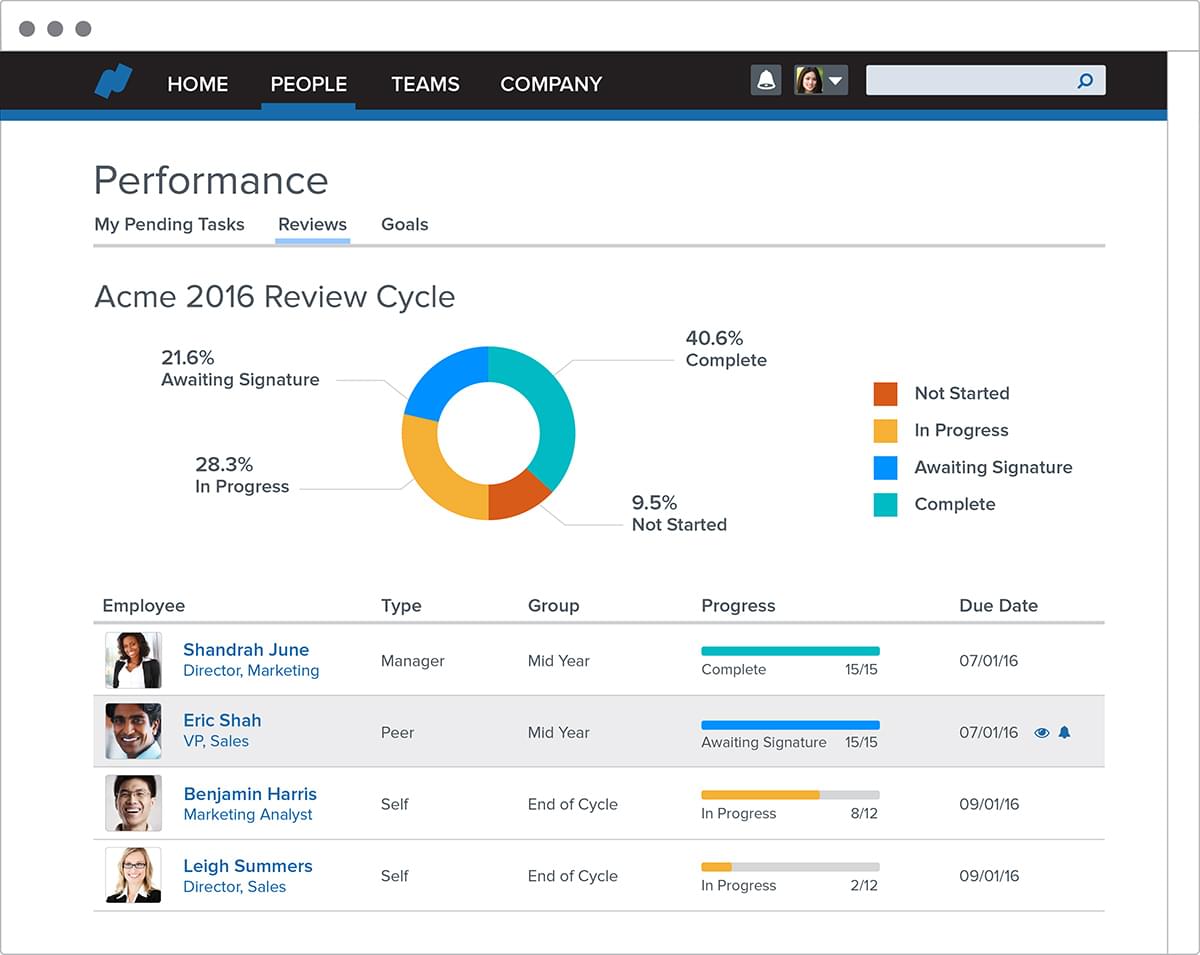 Employees can track news and updates in the company social feed and congratulate each other on recent accomplishments (e.g. a work anniversary, a promotion). They can also submit confidential feedback through company surveys (assuming you send these out).
Taken as a whole, these features will help your team focus on growth, visibility, and improvement without the usual cloak and dagger office politics.
Zenefits can't compete on any of these features yet, but then, they don't pretend to be a talent management solution.
Benefits Brokerage
Both vendors give you the option — at no additional cost — to use their services to find insurance plans and providers that meet your needs. Picking an insurance provider can be quite a hassle, as you well know. The ability to search plans directly from your HR platform and get expert advice means can save you countless hours and the inconvenience of working with an outside broker.
Of course, you'll need to list the software vendor as your "broker of record," but that shouldn't have any significant impact on financials or compliance.
Namely Brokerage Services:
Medical, dental, vision, life & disability, FSA & HSA

Unique plans like pet and identity theft insurance

Expert consulting team

"Deep" carrier relationships

Open enrollment support

COBRA, ERISA, and ACA compliance

Partnership with Cigna (online benefits marketplace)
Zenefits Brokerage Services:
Medical, dental, vision, life & disability, FSA & HSA

Expert guidance

31,000 insurance plans with 400+ carriers

Benefits "debit card" to manage HSA, FSA, and commuter benefits

COBRA integration
Making Your Final Decision
In the end, Namely and Zenefits both have their own strengths and drawbacks. If you're looking for the cheapest, easiest way to manage basic HR data and payroll, it's hard to beat Zenefits' free (or almost free) platform.
If you're looking for a system to run your whole HR strategy including performance and talent management, Namely is the obvious choice. Thanks to their flexible, per-user subscription, cost stays manageable while you're small and scalable while you grow.
If you still can't decide between Namely vs. Zenefits or want to compare other HR software products, use our HR software category page to get a custom recommendation.
Top Human Resources Software Recommendations
Rippling is the first way for businesses to manage all of their HR, IT, and Finance — payroll, benefits, computers, apps, corporate cards, expenses, and more — in one unified workforce platform. By connecting every business system to one source of truth for employee data, businesses can automate all of the manual work they normally need to do to make employee changes.
Elevate your HR with a modern, easy-to-use HRIS designed for small businesses. GoCo is a secure, compliant hub for sending, digitally signing, and organizing your sensitive HR documents and data. Manage records, performance, time off, onboarding, benefits, and more – all in one place. With the best support in the industry, every GoCo customer is assigned a dedicated Customer Success Team that is readily available to provide guidance and ensure a smooth and reliable HRIS experience.
Paycor's HR software modernizes every aspect of people management, which saves leaders time and gives them the powerful analytics they need to build winning teams. Paycor provides a full suite of HCM solutions with a single source of truth for employee data, so users never have to switch platforms, log-in to multiple systems, re-key data or open multiple spreadsheets. Everyday processes become simplified, allowing organizations to focus on their most important work.
Need a Little Help?
Talk with a software expert for free. Get a list of software that's great for you in less than 15 minutes.
Technology Advice is able to offer
our services
for free because some vendors may pay us for web traffic or other sales opportunities. Our mission is to help technology buyers make better purchasing decisions, so we provide you with information for all vendors — even those that don't pay us.