Key takeaways
Gusto and TriNet Zenefits offer many capabilities HR professionals need in a software solution, but each vendor offers customers a unique advantage.
Choose Gusto if your business needs a powerful and budget-friendly payroll system with extra tools for managing a small team.
Choose Zenefits if your team is growing quickly and your business needs a flexible solution that will add efficiency to your HR processes and scale alongside you.
Gusto and TriNet Zenefits are two of the most popular HR software platforms for small and medium-sized businesses. They're not too complex for small teams to manage, and they both balance functionality and cost. However, each one stands out for different reasons — Gusto for its payroll strengths and Zenefits for its focus on efficiency.
So, whether you're looking to switch from one of these vendors to the other or you've narrowed down your shortlist to Gusto and Zenefits, compare these two platforms in terms of features and pricing to determine which one might better fit your company's needs.
Gusto vs Zenefits: Which is better?
| | | |
| --- | --- | --- |
| | Gusto | Zenefits |
| Pricing | Cost effective for small teams | Better value for growing businesses |
| Benefits administration | À la carte | Comprehensive |
| Payroll | Fully automated | Limited automations |
| Time/attendance tracking | Only syncs with payroll | Syncs with payroll, scheduling, and other time management features |
| Recruiting | Limited functionality outside of integrations | Embedded JazzHR partnership |
| Onboarding | Checklist with task delegation to HR staff | Self-onboarding |
| | Try Gusto | Try Zenefits |
Watch: Gusto vs Zenefits
Who is Gusto best for?
Gusto is best for small companies that are focused on optimizing payroll. The company started out as a payroll SaaS provider, and it's clear that payroll is its specialty. However, the software has since expanded to perform a range of capabilities.
Its intuitive user interface, market-leading support, and affordable price point make it a popular HR software solution for many SMBs. Specifically, very small companies or those with complex payroll requirements are likely to find more success with Gusto than Zenefits.
Pros:
Employee financial wellness tools
Onboarding checklist
Onboarding integrates with ATS
International payroll
Automated pay runs with Gusto's AutoPilot
Built-in recruiting
180+ integrations
More affordable for very small businesses
Cons:
Some employee benefits incur extra cost
No EDI for carrier management
Less onboarding automation than Zenefits
No syndicated job posting
No mobile app (excluding Gusto Wallet)
Read more: Top Gusto Alternatives and Competitors
Who is Zenefits best for?
TriNet Zenefits is better for growing companies that are focused on HR efficiency. It's an HRIS solution that delivers core HR functionality and flexible add-ons, which provides a lot of value for companies experiencing rapid growth. Growing companies may also favor Zenefits' robust recruiting and onboarding tools.
Further, Zenefits is preferable for businesses that need a way to schedule employee shifts in addition to time-tracking capabilities, since Gusto doesn't offer scheduling features. Customers needing flexibility will enjoy more robust options with Zenefits compared to Gusto.
Pros:
Comprehensive benefits offering without incurring extra cost
Employee mental health tools
Compliance Assistant
EDI for carrier management
Self-guided onboarding
Complete mobile app accessibility
Range of payroll report types
Compensation management
Built-in employee scheduling
Better value for businesses with 50+ employees
Cons:
Limited payroll automation
Payroll and recruiting require an extra fee
Minimum requirement of 5 employees
Fewer integration options than Gusto
Some integrations require an additional fee
Read more: Top Zenefits Competitors
Gusto vs Zenefits: A Detailed Comparison
Pricing
Zenefits and Gusto approach their pricing in unique ways, making it challenging to understand which vendor is more cost-effective. The cost analysis depends on what a company needs to accomplish and the size of its staff.
Gusto
Gusto's pricing structure starts with a low base price and scales up depending on the number of users. It's worth pointing out, however, that Gusto has a five-employee minimum. This means that even if a company has only three or four employees, they will be paying the same rate as if they had five.
Gusto offers three tiers of pricing for most businesses. The features each package includes are broken down in the table below:
| | | | |
| --- | --- | --- | --- |
| | Simple | Plus | Premium |
| Base cost per month (USD) | $40 | $60 | Contact sales |
| Cost per user, per month (USD) | $6 | $9 | Contact sales |
| Payroll | Single-state | Multi-state | Multi-state |
| Onboarding | Basic | Advanced | Advanced |
| Recruiting | Not available | Basic | Basic |
| Gusto-brokered benefits administration | Included | Included | Included |
| Bring-your-own-broker | Not available | Add-on | Included |
| Time tracking | Third-party integration | Included | Included |
| Performance management | Not available | Not available | Included |
| Employee engagement | Not available | Not available | Included |
| Analytics | Basic | Advanced | Advanced |
| Customer support | Basic | Full, with optional upgrade available | Dedicated |
| Advisory services | Not available | Add-on | Included |
| Mobile app | Not available | Not available | Not available |
Gusto also offers a contractor-only plan for businesses that outsource all of their staffing needs to freelancers and other contract workers. This plan includes unlimited contractor payments in all 50 states, plus the option to pay an additional fee for international contractor payments if needed. It also includes some necessary compliance features, like 1099-NEC forms and new hire reporting for required states.
The contractor-only plan is more affordable than the other plans, with a base cost of $35 (USD) plus $6 per contractor. However, the plan does not include any features for managing full-time employees, so it won't be suitable for businesses that use both full-time staff and contractors.
Additionally, Gusto offers a range of services that companies can add to supplement the core features. These include:
International contractor payments
State tax registration
Bring-your-own-broker
Workers' compensation
HSAs and FSAs
Life and disability insurance
401(k) retirement savings
529 college savings
Commuter benefits
R&D tax credit services
Priority support
Federal and state compliance alerts
Direct access to certified HR experts
HR Resource Center
Some add-ons, like workers' compensation and commuter benefits, are available with all plans, but many are only available for the mid-range Plus tier. For example, customers who opt for the Simple tier don't have the option to use their own health insurance broker, but Plus subscribers can pay an extra fee for this flexibility. Premium customers have this option included in their plan.
As a company's list of needs grows, they may consider upgrading to the Premium tier rather than paying for each add-on individually. In these instances, Gusto's total cost will likely be higher than what customers would pay for the same functionality with Zenefits.
Zenefits
Zenefits' approach to pricing is a bit more straightforward, but the per-user cost is higher than Gusto. However, Zenefits includes a wider range of core HR features in each plan rather than listing them as separate add-ons, so the total cost may be lower for businesses that need robust employee management tools.
The features included in each plan are broken down in the table below:
| | | | |
| --- | --- | --- | --- |
| | Essentials | Growth | Zen |
| Cost per user, per month (USD) | $8 | $16 | $21 |
| Payroll | Add-on | Add-on | Add-on |
| Automated onboarding | Included | Included | Included |
| Recruiting | Add-on | Add-on | Add-on |
| Zenefits-brokered benefits administration | Included | Included | Included |
| Bring-your-own-broker | Add-on | Add-on | Add-on |
| Time tracking | Included | Included | Included |
| Performance management | Not available | Included | Included |
| Employee engagement | Not available | Not available | Included |
| Analytics | Pre-set dashboard | Full people analytics and compensation management suite | Full people analytics and compensation management suite |
| Customer support | Included | Included | Included |
| Advisory services | Add-on | Add-on | Add-on |
| Mobile app | Included | Included | Included |
Zenefits' list of add-ons includes:
Payroll
Advisory services
Bring your own broker
Recruiting
Which to choose for pricing?
It's a tie. Here's why: There are three primary distinctions to highlight in terms of pricing between Zenefits and Gusto. The first is payroll: Gusto includes payroll functions in every plan, whereas Zenefits only offers it as an add-on. The second is recruiting: Gusto offers basic recruiting tools in its Plus and Premium plans, but Zenefits' recruiting add-on is arguably a better investment for teams that need substantial recruiting support. Finally, Zenefits' middle package includes features like performance management, while Gusto users have to upgrade.
Gusto is more cost effective for small businesses that have relatively basic needs beyond payroll. Zenefits, on the other hand, has more value for its price for a larger number of features and users. A smaller company that wants to keep costs down would likely find the right balance of budget and functionality with Gusto — that is, until the headcount warrants an upgrade to Gusto Premium or a switch to Zenefits Growth.
To illustrate, a company with 50 or more employees saves at least 15% in total cost when choosing Gusto's middle plan, but adding on more functionality reduces the savings. For example, at $6 per month per employee for bring-your-own-broker, adding this to Gusto's middle tier will cost $300 more per month, while Zenefits' add-on would cost $250 more.
With this context in mind, Zenefits' approach to pricing will have the biggest benefit for midsize companies that have ambitious growth plans for the near future, as they will money and stress in the long run, even if it means the short-term cost is higher than it would be with Gusto. Smaller companies, however, may prefer Gusto's flexibility in adding extra functionality as needed.
Gusto vs Zenefits: Benefits administration
Both Gusto and Zenefits allow customers to keep their existing benefits brokers, although this comes at an extra cost. This is valuable for companies that already have a benefits package but are looking to switch platforms for payroll, onboarding, or other functionalities.
Regardless of what benefits companies choose with these vendors, both of them help keep businesses compliant with the Affordable Care Act (ACA). Moreover, Gusto and Zenefits integrate data across employee onboarding, payroll, and benefits administration modules, eliminating the need for repetitive data entry.
In spite of great overlap in terms of benefits administration, Gusto and Zenefits differ in terms of set-up, compliance, carrier management, and mobile accessibility.
Here's a quick overview of how Gusto and Zenefits compare in terms of benefits administration. They both offer compliance and bring-your-own-broker (BYOB) support, but they're mirror opposites in their electronic data interchange (EDI), mobile app, and financial wellness offerings.
| | | |
| --- | --- | --- |
| | Benefits Administration | |
| | Gusto | Zenefits |
| EDI | no | y |
| Mobile app | n | y |
| Financial wellness | y | n |
| Compliance | y | y |
| BYOB | y | y |
Gusto
Gusto's benefits administration features are included with every plan. This is beneficial for businesses that need help with benefits as well as payroll, but companies that have an existing payroll solution may be paying for additional Gusto capabilities that they don't need.
Benefits selection
Gusto's licensed advisors assist companies with benefits selection to put together competitive benefits packages for the right price. Not only does this save time, but using these brokers also saves money, since bring-your-own-broker incurs an additional fee and isn't available with Gusto's lowest pricing tier.
Gusto offers a variety of no-cost (included), low-cost, and premium financial and health benefit options. While these á la carte benefits allow customers to customize their benefits packages, the costs may add up quickly.
For example, upgrading to one of the two higher price tiers (Plus and Premium) unlocks access to more of Gusto's benefits, which include:
Workers' compensation
Health savings accounts (HSAs) and flexible spending accounts (FSAs)
Commuter benefits
With Zenefits, on the other hand, customers can add most benefits without worrying about increasing the total cost of maintaining the software.
Compliance
Gusto helps companies remain compliant and file the right paperwork with the right government agencies. It offers assistance with:
Yet, Zenefits helps with ACA, COBRA, and ERISA compliance but not for HIPAA. Moreover, Gusto has automated compliance alerts for state and federal regulations but only in its top two plans. Zenefits' Compliance Assistant, on the other hand, is available with all plans.
EDI
One drawback to consider is that Gusto's benefits administration features don't support electronic data interchange (EDI). EDI connection provides a secure, convenient way to automatically communicate changes to carriers, such as an employer's changes to the benefits package or an employee's changes to their selection.
Not having EDI means HR teams will likely need to spend extra time and energy contacting carriers and making benefits changes manually during open enrollment.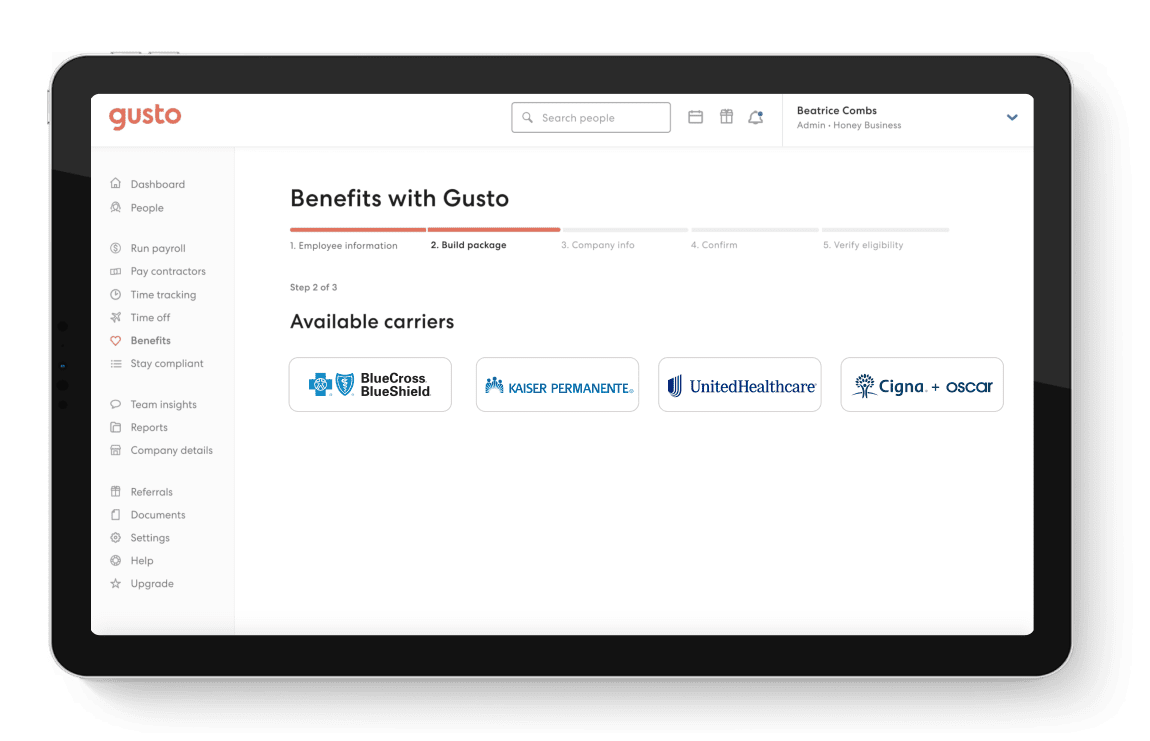 Zenefits
Zenefits' benefits offering is straightforward because it doesn't separate benefits into different pricing groups like Gusto does. This makes Zenefits' approach beneficial for businesses that want to manage a wide range of benefits from a single platform without adding to the overall cost.
Benefits selection
Zenefits helps companies without a benefits strategy put together a customized benefits package but for an extra fee. Gusto, on the other hand, provides help via licensed advisors for all its plans.
Compliance
While Gusto offers federal and state compliance alerts in its top two plans, Zenefits has more robust automation features for benefits administration compliance. Zenefits automates compliance through its Compliance Assistant, which is included in all plans.
The Compliance Assistant helps companies stay on top of federal compliance regulations for benefits, payroll, and HR. It allows users to set custom deadline reminders and sync them to work calendars, so they never miss a deadline.
The Compliance Assistant dashboard provides at-a-glance information about the status of the company's compliance. This feature relieves HR staff of the burden of staying current with changing regulations.
EDI
EDI connection with insurance carriers is available with TriNet Zenefits as an add-on. This is especially useful for companies that offer a wide range of benefits and/or have a large workforce that exceeds the capacity of what the HR team can handle manually.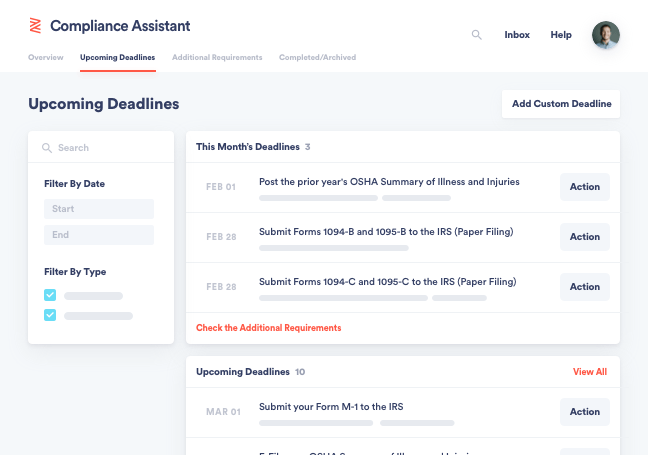 Which to choose for benefits administration?
Zenefits. Here's why: Zenefits offers a more comprehensive benefits package that allows customers to choose from a wide variety of employee benefits without worrying about cost fluctuations.
In addition, bringing your own benefits broker to Zenefits' system incurs an add-on fee, but this option is available for all plans. Its compliance features are also more robust than Gusto's, which offers peace of mind for small HR teams that don't have the bandwidth to monitor compliance measures closely.
Also read: 7 Questions to Consider Before Choosing a Benefits Administration System
Gusto vs Zenefits: Payroll
Both Gusto and Zenefits facilitate data integration between payroll and the rest of the HR ecosystem, namely onboarding, time tracking, and benefits. This prevents payroll errors associated with manual entry and eliminates the need to enter information more than once.
They also both offer assistance with compliance by automatically calculating taxes and facilitating organized, properly-formatted tax document management.
Gusto and Zenefits both offer a lot of automated features in their respective payroll systems, such as automatic tax calculations and filings. However, what exactly each one automates differs slightly.
| | | |
| --- | --- | --- |
| | Payroll | |
| | Gusto | Zenefits |
| International payroll | y | n |
| Robust reporting | n | y |
| Automated payroll | y | n |
Gusto
Gusto offers full-service payroll in different scopes depending on the plan. The Simple tier includes single-state payroll, while Plus offers multi-state payroll. Companies with distributed, remote work models that opt for Gusto will likely need to start out with the Plus plan. Gusto also offers international payroll in more than 80 countries, which is a plus for companies that employ staff around the globe.
Gusto's winning feature is its AutoPilot, which allows HR to set up payroll to run automatically. Zenefits offers automations to remind staff to run payroll on time, but this pales in comparison to the benefits of Gusto's fully automated system.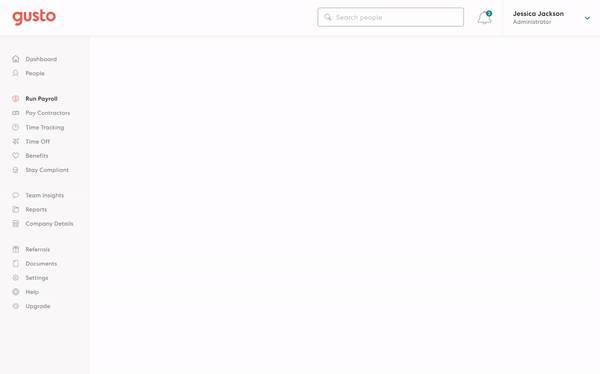 Gusto integrates with Quickbooks, but they're also competing payroll vendors. Compare them: Gusto vs Quickbooks
Zenefits
Zenefits offers payroll as an add-on module for its all-in-one HR platform or as a standalone product. This provides customers the flexibility of using existing payroll software while benefiting from the rest of the Zenefits platform.
When syncing with onboarding, Zenefits automatically prorates payment based on an employee's date of hire. It also automatically calculates deductions from paychecks based on what the employee selects during self-onboarding or annual open enrollment periods. This means that no one from HR has to manually enter the appropriate payroll deductions; the employee selects benefits, and Zenefits adjusts paycheck deductions accordingly.
Zenefits offers a variety of report types, so HR leaders can surface insights on virtually any aspect of their payroll operations. These types include:
Payroll timeline reporting
General ledger reporting that syncs with accounting software
Job cost and labor distribution reporting
Gusto offers similar reporting features, but they're found in its time-tracking module.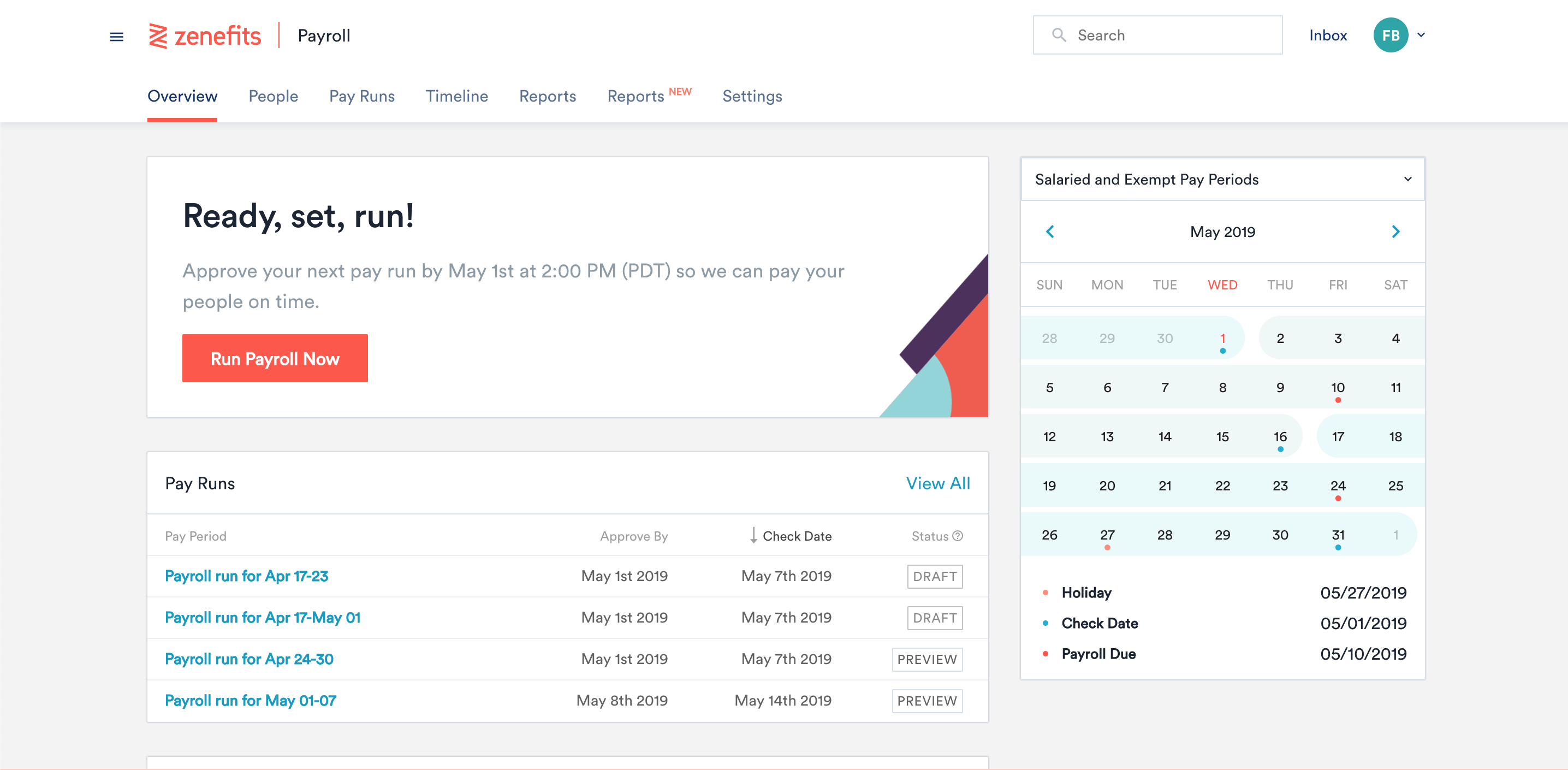 Which to choose for payroll?
Gusto. Here's why: Gusto's set-it-and-forget-it AutoPilot feature for automating payroll is a winner. Its international payroll capability is an added bonus that Zenefits does not offer.
Gusto vs Zenefits: Time and attendance tracking
Both vendors enable remote clock-in and clock-out and offer reporting tools to gain insight into key metrics such as total workforce costs and how much time is being spent on various projects.
Zenefits' and Gusto's mobile and desktop apps facilitate easy clock-in and clock-out, so employees can log their work at the right time and place. Both also offer geolocation features to give a manager visibility into an employee's location when they start and stop work and prevent time card fraud.
The geolocation feature is particularly useful to help field service management companies optimize service routes and boost employee accountability, among other benefits.
| | | |
| --- | --- | --- |
| | Time and Attendance Tracking | |
| | Gusto | Zenefits |
| Geolocation | y | y |
| Built-in scheduling | n | y |
| Integration with payroll | y | y |
Gusto
Gusto offers a time-tracking tool that's only available in its top two price tier, but its most basic plan allows for integration with a company's own time-tracking tool of choice.
Its native time-tracking tool integrates with payroll but not with other areas of HR, which makes it tricky to align employee time-off benefits with the amount of time they request and receive. This may require managers and employees to cross-check between the time-tracking and benefits modules when managing time off.
HR teams can customize PTO policies and select paid holidays through the time-tracking tool that then syncs with payroll
Employees manage time-off requests directly in Gusto's time-tracking tool, which is more intuitive when compared to Zenefits' approach. Approved time off syncs with both payroll and with Gusto's built-in calendar. Alternatively, users can integrate Gusto with a third-party calendar such as Google, Outlook, or iCal. However, employee scheduling requires integration with a third-party app like When I Work or ClockShark.
Gusto features time-tracking reports that are similar to what Zenefits offers but with some variation. For instance, in Gusto's time-tracking software, users can generate workforce cost reports based on hours worked but not by labor type, which may be a drawback for companies that work with employees as well as contractors.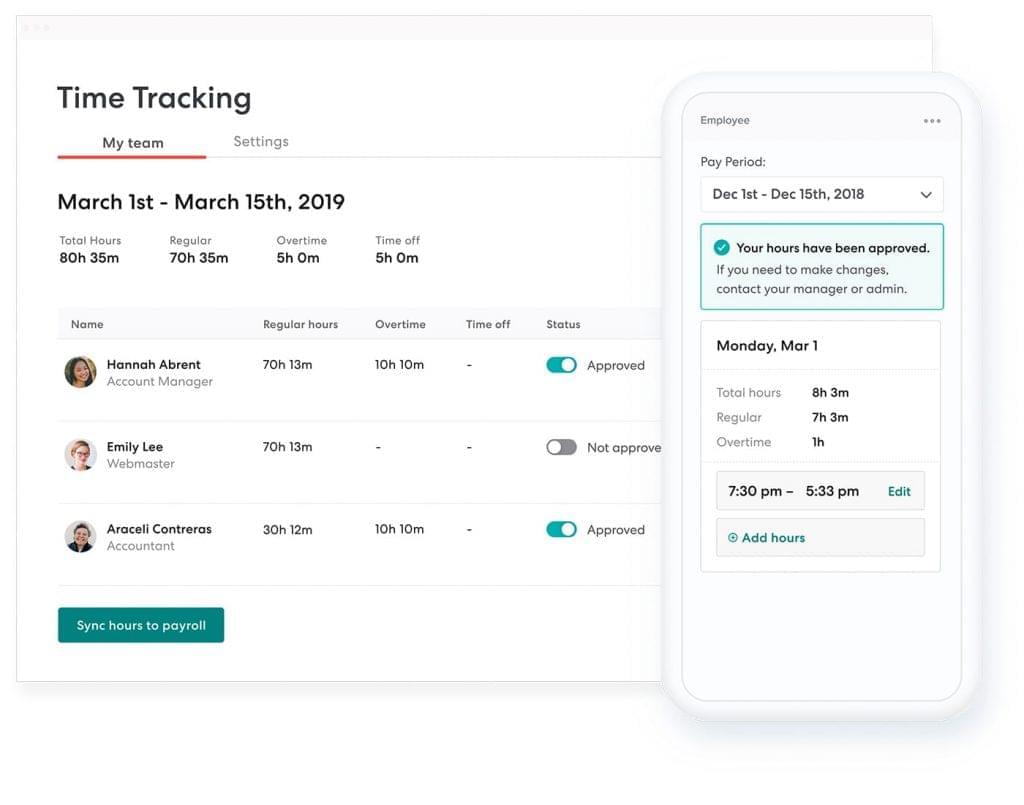 Zenefits
Employee time tracking is included in all Zenefits plans and syncs with the HR, benefits, and payroll modules. Zenefits' differentiator is that it packages time tracking with employee scheduling.
Zenefits has a built-in scheduling tool that enables shift managers to create and edit shifts and send push notifications to employees when schedules are ready. It syncs with time-off requests in the HR module, so managers don't mistakenly schedule employees during their time off.
Zenefits has built-in compliance tools to keep the company compliant with labor laws related to employee break time and overtime. It also includes time card fraud protection features. For example, businesses can require employees to take a picture of themselves at clock-in to ensure it's actually the designated employee using the clock-in mechanism. This helps prevent buddy punches and reduces the need to closely monitor the time clock.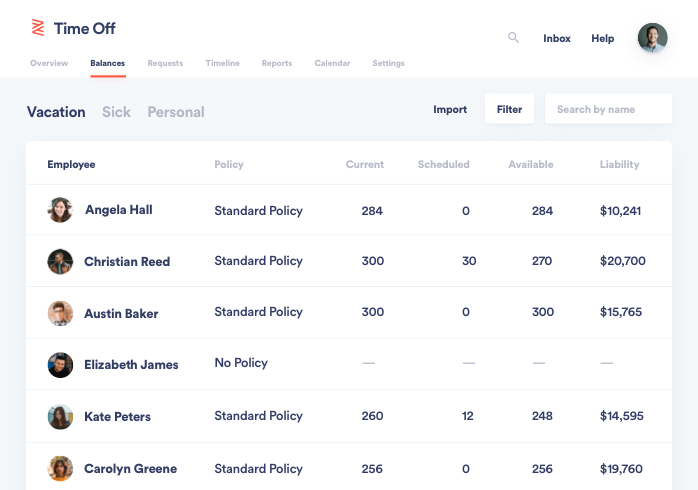 Which to choose for time and attendance tracking?
Zenefits. Here's why: Gusto and Zenefits both offer comparable time-tracking tools. However, Gusto doesn't provide access to its native time-tracking feature with all plans like Zenefits does.
Furthermore, Gusto doesn't have built-in features to manage time tracking, time off, and employee scheduling all in one place. The comprehensive data syncing with Zenefits' built-in tools means there's a smaller chance of incompatibility with third-party tools.
Gusto vs Zenefits: Recruiting
Zenefits and Gusto enable recruiting in different ways. Gusto's recruiting tools are native to the software, whereas Zenefits users reap the benefits of its partnership with JazzHR. Both platforms integrate with popular recruiting tools like Greenhouse and Lever.
| | | |
| --- | --- | --- |
| | Recruiting | |
| | Gusto | Zenefits |
| Candidate screening tools | n | y |
| Syndicated job posting | n | y |
| Applicant tracking | y | y |
Gusto
Companies can use Gusto's built-in recruiting tools to create job listings and track candidates. However, companies should note that these features are not available in Gusto's basic plan, which means customers must upgrade their entire package to be able to use the software for hiring purposes.
Alternatively, customers can integrate third-party recruiting software. This approach comes with its own set of technical challenges and budgetary considerations, but it may be more effective for ambitious hiring goals.
Gusto Recruiting enables job posting and applicant tracking, but it doesn't syndicate job posts, so recruiters are responsible for sharing the post link manually. When assessing candidates, hiring teams can collaborate by sharing feedback on candidate scorecards.
Gusto's recruiting features allow hiring teams to transition candidates who have accepted offers into the onboarding process. This helps ensure the new hire experience is as smooth as possible. Plus, having these tools connected provides HR with more comprehensive analytics and insights about how to improve the hiring process.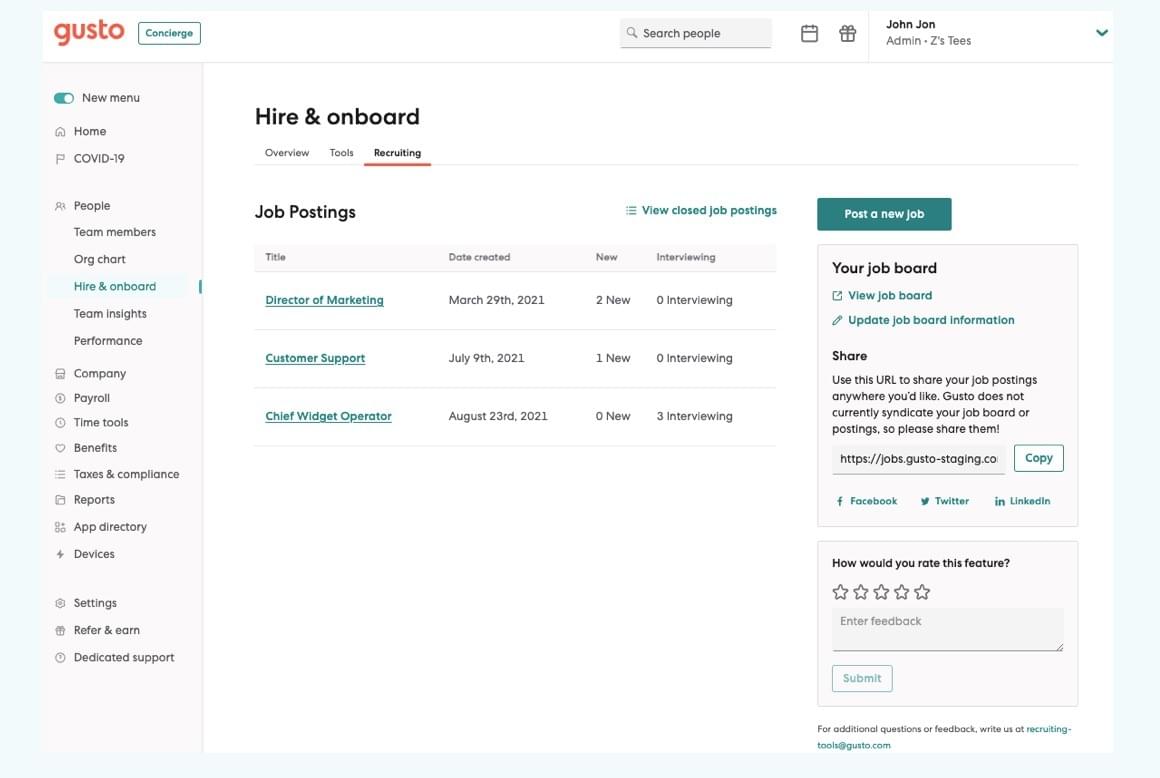 Zenefits
Zenefits offers recruiting as an add-on powered by JazzHR at any pricing level. In contrast, Gusto doesn't offer job posting, ATS capabilities, or other advanced recruiting features in its basic package. With Zenefits, users can leverage the power of JazzHR to recruit, track, and hire candidates without leaving the Zenefits platform.
Companies that opt for the recruiting add-on can syndicate job posts across various job boards and social media networks to improve hiring efficiency and reach a wider pool of candidates. The applicant tracking system allows hiring managers to rank and track applicants through the application journey.
Zenefits also features automation for matching sought-after skills with the right candidates. This kind of screening capability is not available with Gusto at any subscription level.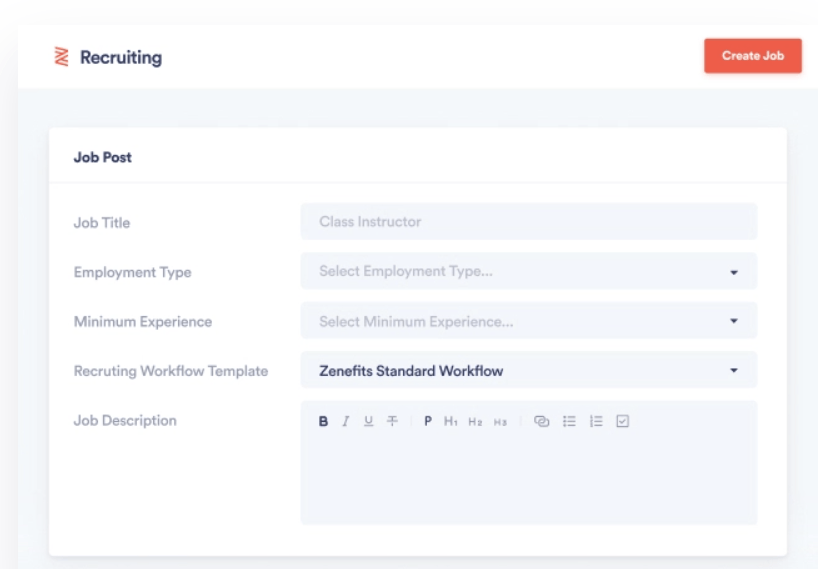 Which to choose for recruiting?
Zenefits. Here's why: Zenefits offers recruiting as an optional add-on for any price tier, while Gusto's recruiting features are only available for the top two tiers.
Compared to Gusto, customers who opt for Zenefits' recruiting add-on also have access to a wider range of hiring features like syndicated job posts, automated communications, and candidate screening. These extra features add to the overall cost of the platform, but they provide a level of functionality that's unavailable with Gusto.
Gusto vs Zenefits: Employee onboarding
Both Zenefits and Gusto offer tools to streamline the process of getting new employees up to speed quickly. However, each vendor's approach offers unique advantages for different kinds of businesses.
In terms of similarities, Gusto and Zenefits provide customizable templates for key documents in the onboarding process, such as confidentiality agreements and direct deposit forms. With both vendors, new employees can sign documents digitally, and HR teams can set up automatic app provisioning for third-party tools like Slack and Google Workspace.
From there, these two differ in how they approach the rest of the onboarding process.
| | | |
| --- | --- | --- |
| | Onboarding | |
| | Gusto | Zenefits |
| Templates | y | y |
| Background check | n | y |
| Integration with ATS | y | n |
| Self onboarding | n | y |
| Mobile app | n | y |
Gusto
Gusto features an onboarding checklist that includes suggestions of typical stages in the onboarding process, but HR professionals can add steps that are tailored to their company's particular needs. For example, tasks on the onboarding checklist may include setting up the new hire's email account, adding them to payroll, ordering their business cards, and giving them an office tour.
The various tasks on the checklist can be delegated to an entire HR team, which can help keep things running smoothly and ensure nothing slips through the cracks. However, the lack of automated onboarding capabilities means that the whole process will take more time and manual effort than it would with Zenefits.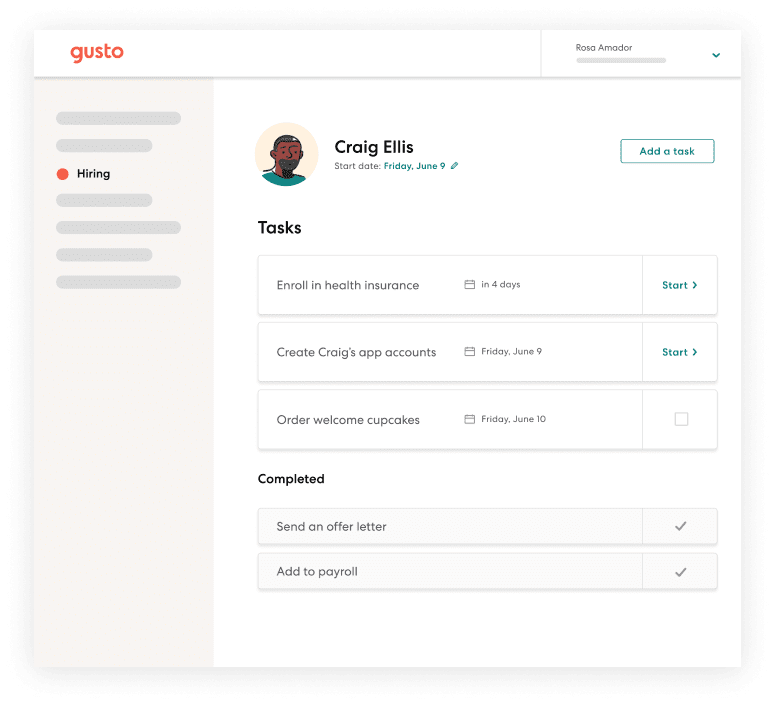 Zenefits
Zenefits' employee onboarding works on a browser and via the Zenefits mobile app. The software empowers employees to take control of their own onboarding process without needing to reach out to HR every step of the way. HR administrators can monitor new employees' progress to ensure all tasks are completed in a timely manner.
Thanks to its partnership with Checkr, Zenefits also conducts fast and comprehensive background checks on new hires directly from the platform to expedite the process.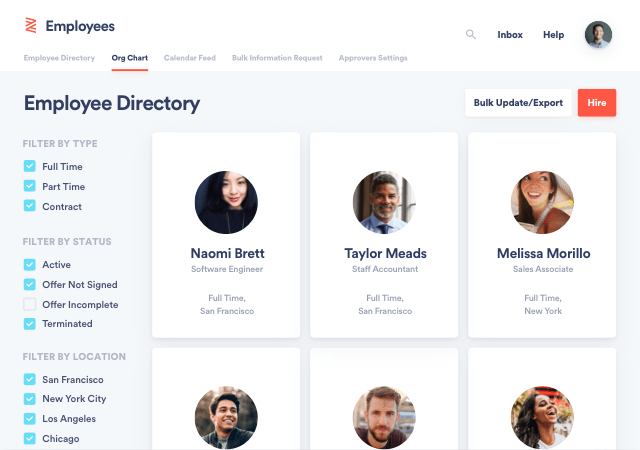 Which to choose for employee onboarding?
Zenefits. Here's why: Zenefits puts onboarding completely in the hands of the employee, requiring little to no touch from HR along the way. Zenefits also includes integration with a background check tool, which is a crucial part of any company's hiring process.
Gusto vs Zenefits: Ready to choose?
Zenefits and Gusto are two of the most popular HR software solutions on the market, and for good reason. They both offer a range of functionalities at a more competitive cost than larger platforms like SAP SuccessFactors and UKG. Each vendor offers unique advantages for different types of buyers, but the right choice will support your company's HR goals now and in the future.
If neither software meets your company's unique needs, explore other solutions on the market through our HR Software Guide​​.
1

Rippling
Rippling is the first way for businesses to manage all of their HR, IT, and Finance — payroll, benefits, computers, apps, corporate cards, expenses, and more — in one unified workforce platform. By connecting every business system to one source of truth for employee data, businesses can automate all of the manual work they normally need to do to make employee changes.
2

Paycor
Paycor's HR software modernizes every aspect of people management, which saves leaders time and gives them the powerful analytics they need to build winning teams. Paycor provides a full suite of HCM solutions with a single source of truth for employee data, so users never have to switch platforms, log-in to multiple systems, re-key data or open multiple spreadsheets. Everyday processes become simplified, allowing organizations to focus on their most important work.
3

Darwinbox HR Software
Darwinbox is a unified HRMS platform that lets you manage the complete lifecycle of your employees – from hire to retire. Built for large enterprises, Darwinbox is used by 2M+ users across 700+ global companies such as Mahindra, Tata AIA, More Retail, Adani, Sembcorp, Kopi Kenangan, and more. It is a mobile-first platform that offers self-service capabilities and a great user experience to all your employees.
Technology Advice is able to offer
our services
for free because some vendors may pay us for web traffic or other sales opportunities. Our mission is to help technology buyers make better purchasing decisions, so we provide you with information for all vendors — even those that don't pay us.