Most HRIS solutions are expensive and clunky compared to the needs of a small or medium-sized business (SMB), but standalone payroll tools often don't do enough. This is why so many SMBs choose lighter HR tools such as Zenefits and Gusto.
But even these tools differ significantly. Zenefits is an HRIS solution built specifically for SMBs while Gusto is a payroll solution with additional features. This makes for an interesting overlap, with both solutions offering many of the same core features:
| | | |
| --- | --- | --- |
| | | |
| | Zenefits | Gusto |
| ACH payment processing | No | Yes |
| API | Yes | Yes |
| Benefits management | Yes | Yes |
| Compliance management | Yes | No |
| Employee onboarding | Yes | Yes |
| Payroll management | Yes | Yes |
| Quickbooks integration | Yes | Yes |
| Time-off requests | Yes | Yes |
| Time-tracking | Yes | Yes |
| Vacation-tracking | Yes | Yes |
| Org charts | Yes | Yes |
| HR experts | No | Yes |
Doing a side-by-side comparison of these core features gives you a general sense of which software may be better for you, but both tools also offer their own unique features. Depending on what you're looking for, these could be helpful or unnecessary.
In this article, we'll take a look at some of the unique features offered by both solutions to help you decide which is best for you.
Zenefits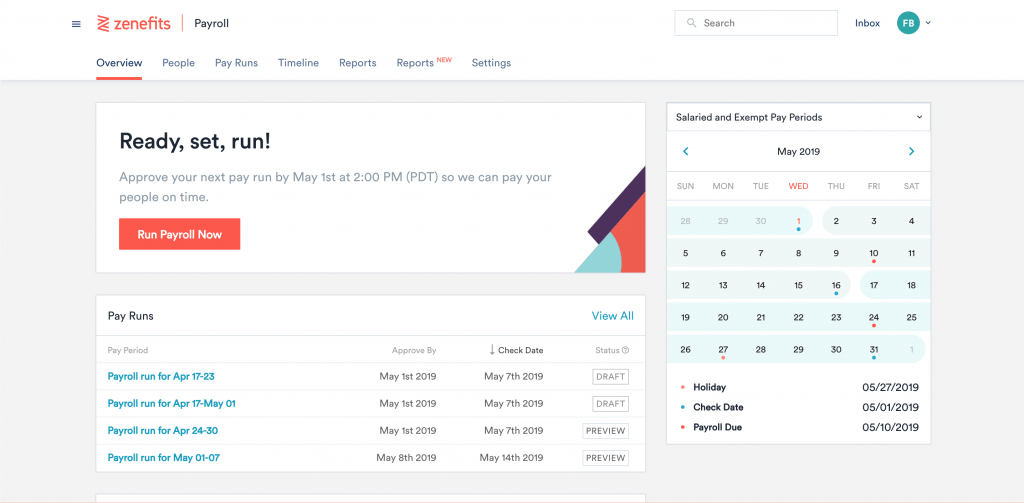 Being an HRIS, Zenefits is heavier on features than Gusto. But this doesn't necessarily make it better-suited for larger companies. Zenefits offers core features useful for businesses of any size. Its additional features add more value for companies in high-growth stages, making it a good choice for SMBs.
Compensation management
Thanks to the sheer volume of businesses using Zenefits, Zenefits can provide insights into how your business pays its employees compared to other companies in your industry or geographic location.
Zenefits sources anonymized salary data from the companies using its platform to help you determine whether or not you're offering competitive salaries. You can filter salary views by position type to see if people in similar positions at competing companies typically make more or less money than what you offer.
This can be invaluable when trying to recruit for hard-to-fill positions such as software engineers.
Compliance Management
Compliance is a huge deal in HR because you can end up in a lot of trouble if your business isn't found to be compliant. Zenefits automatically calculates payroll taxes, so you don't have to worry about human error. Additionally, you can create and file W-2s and 1099s right in the software.
Zenefits also makes it easy to report new hires to the necessary agencies and ensure that you're complying with all Fair Labor Standards Act (FLSA) overtime pay regulations. It even has built-in overtime safeguards, automatically reminding employees to take required breaks.
When you onboard a new employee, Zenefits will collect their tax information and confirm their eligibility. During offboarding, the software sends any mandatory notices and calculates any final payments.
Well-being
Stress is costly — not just to your mental health, but to your company's bottom line as well.
In addition to harming company culture, stress leads to burnout. The Washington Post's Jenny Rough reports, "Ninety-five percent of human resource leaders say burnout is sabotaging workplace retention." Zenefits wants to help companies manage this.
By partnering with Thrive Global (Arianna Huffington's stress-management app company), Zenefits gives you the tools to provide employees with educational reading, track major stressors across employees, and know when to intervene.
Also Read: Top Zenefits Competitors 2022
Business intelligence (BI) reports
Many companies are realizing the power of business intelligence (BI) tools, and Zenefits wants to help even more businesses leverage their data.
While BI tools used to be something only enterprise-sized companies had the resources to use, many small businesses now use BI tools as well. With Zenefits' BI tools, you can see preconfigured and custom reports to gain insights into all aspects of your company's HR data.
You can run reports on everything from headcounts to diversity goals to employee birthdays. Zenefits won't completely replace a business intelligence tool such as Tableau or Looker, but it will certainly help you make more informed HR decisions.
Gusto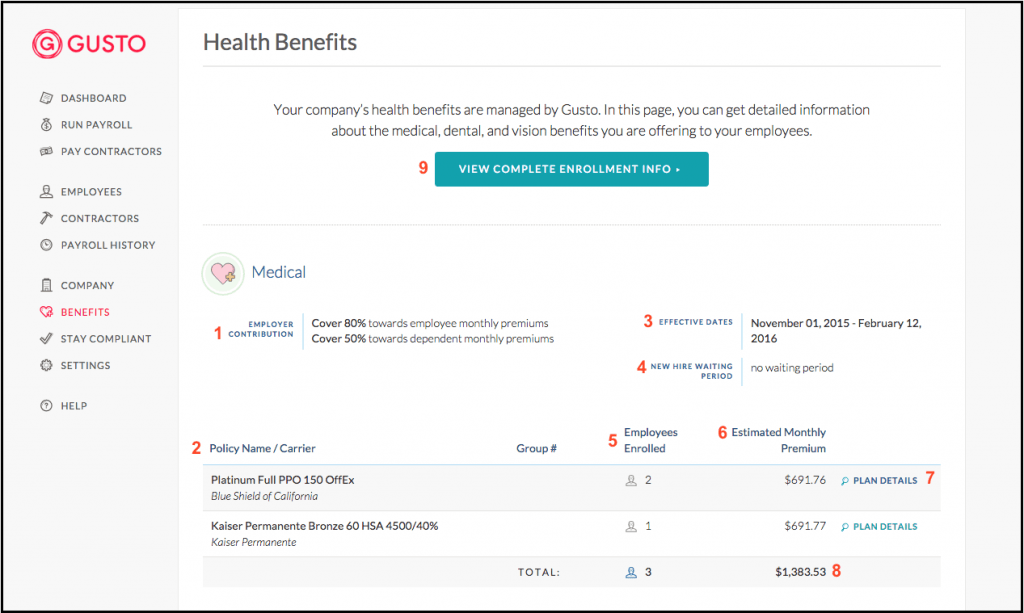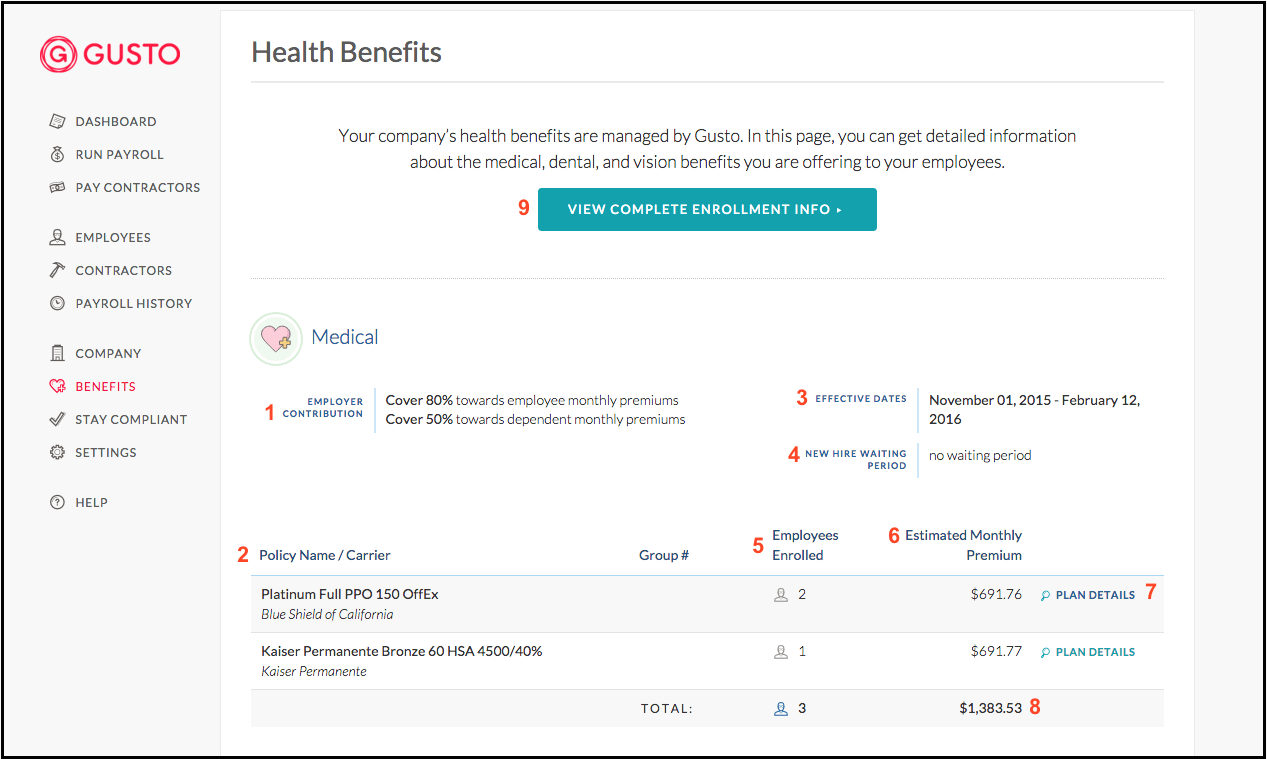 Gusto started out as a payroll SaaS company, but it now performs many core HR functions as well. Gusto is made for small businesses, and its intuitive user interface, market-leading support, and affordable price point make it a popular HR software solution for many SMBs. Many of the HR features Gusto offers, Zenefits offers as well (and more), but these are the features you will only find in Gusto.
Automated payroll
Gusto's automated payroll feature does not disappoint.
While this feature can present problems for businesses with irregular or abnormal pay cycles, Gusto takes a normally time-consuming task and cuts it down to a couple of minutes. Gusto calculates all taxes and withholdings, so you don't have to stress about making payroll errors.
Also Read: 3 Expensive Payroll Error Laws You Need to Follow
What's more, employees also get email notifications on payday to let them know when their direct deposits come through.
Employee financial tools and support
With Gusto, you can show your employees that you actually care about their financial stress and well-being because the software offers tools and support to help them manage their finances. Gusto Cashout is a free tool that lets your employees access money to cover unexpected expenses and then automatically repays it from their checks.
There are no fees and no interest for these payments, and it doesn't cost you anything either. It employs smart limits to help protect your employees from over-borrowing. 89 percent of users reported less financial stress thanks to the tool, and 73 percent said it kept them from having bank overdraft fees.
HR pros and services
Perhaps Gusto's biggest edge is HR pros and services. Unlike most HR or payroll vendors (including Zenefits), Gusto provides personal support from certified HR experts when you sign up for the Concierge plan, Gusto's highest pricing tier.
With this plan, you can email or call to discuss in-depth questions with an HR pro. Gusto also sends you alerts about new laws to help you stay compliant.
SMBs don't always have deep coffers like enterprises do, so paying extra to stay on top of new regulations can be worth it if it means avoiding expensive fines.
Employee handbook builder
Gusto's employee handbook builder is another valuable tool for SMBs. You don't have to spend any more time putting together detailed templates for employee handbooks, job descriptions and offer letters, performance evaluations, and others. Gusto offers a library of templates for its customers, so you can download the template you're looking for and tweak it to meet your needs.
This feature also includes additional training materials that companies have to pay extra for, including harassment prevention training.
We'll help you choose the best HR software for your business
Finding the right HR software solution for your business can feel like panning for gold, but with unbiased, original research from TechnologyAdvice, the process is much easier.
If you're still conducting research, visit our HR Product Selection Tool to learn more about HR software, read product reviews, and compare vendors. After answering a few simple questions, you'll get a list of software recommendations tailored to your business's needs.
Top Human Resources Software Recommendations
See why over 8,500 small and growing businesses trust JazzHR to find their next great hire. Try JazzHR commitment-free for 21 days (no credit card required!) and instantly access crowd favorite tools like one-click job posting to dozens of free and premium job boards, pre-screening questions with auto-reject features, integrations with all of the HR tools you need like Zoom video interviewing, and much more. Post your first job for free today.
Rippling is the first way for businesses to manage all of their HR, IT, and Finance — payroll, benefits, computers, apps, corporate cards, expenses, and more — in one unified workforce platform. By connecting every business system to one source of truth for employee data, businesses can automate all of the manual work they normally need to do to make employee changes.
Paycor's HR software modernizes every aspect of people management, which saves leaders time and gives them the powerful analytics they need to build winning teams. Paycor provides a full suite of HCM solutions with a single source of truth for employee data, so users never have to switch platforms, log-in to multiple systems, re-key data or open multiple spreadsheets. Everyday processes become simplified, allowing organizations to focus on their most important work.
Need a Little Help?
Talk with a software expert for free. Get a list of software that's great for you in less than 15 minutes.