Human resource (HR) metrics are a necessary starting point for assessing the health of the current workforce and ways the company manages its people. Beyond that, however, HR metrics drive the visions and goals for strategic human resource management by aligning HR processes and people management with business goals.
With so many different metrics an HR team can possibly focus on, specific measurements of core HR practices and talent management are two data areas to focus on first. Grouping the metrics in this way is a good starting point for conceptualizing HR dashboards or configuring current ones.
Core HR metrics
Core HR metrics are typically tracked within a human resources information system (HRIS) that holds basic employee data, such as hours worked, time off, payroll, and more.
Time tracking
The information captured in time tracking metrics gives HR a sense of how much time employees spend on and off the job relative to the cost of their employment. In turn, this information helps craft strategic time off policies that suit the needs of the company and its employees.
| | | |
| --- | --- | --- |
| Metric | Measurement | Impact |
| Absence rate | Average number of days employees are absent in a given time period, excluding time off that was approved in advance. | Contextualizes unexpected dips in productivity. |
| Percentage of vacation days used | Percentage of vacation days employees used, typically within a one-year period. | Helps detect burnout and measure employee work-life balance. |
| Overtime hours percentage | Percentage of overtime hours in total hours worked. | Improves staff scheduling and workforce planning. |
Related: Employee Burnout: Top Signs & Prevention Tips
Payroll
Payroll metrics in the HRIS feed into compensation metrics, which are found in human capital management (HCM) platforms. These metrics are the building blocks that inform compensation metrics and strategies like role banding. HCM platforms compare current payroll and compensation metrics to industry and market benchmarks.
| | | |
| --- | --- | --- |
| Metric | Measurement | Impact |
| Cost of payroll | Total payroll administration expenses. | Helps monitor the return on investment (ROI) for the software and/or services a business uses to run payroll. |
| Accuracy rate | Percentage of incorrect payments to employees divided by the total number of payments. | Helps businesses avoid compliance issues with relevant tax and labor laws. |
| Time to run payroll | Total length of time it takes to calculate and distribute paychecks to employees. | Monitors the efficiency of payroll processes. |
Benefits administration
These metrics help gauge the effectiveness of a company's benefits package and decide which benefits to add, remove, or keep.
| | | |
| --- | --- | --- |
| Metric | Measurement | Impact |
| Benefit participation rate | Percentage of employees enrolled in a specific benefit plan through their company. | Reveals benefits that are underutilized. |
| Healthcare costs per employee | Average cost of employer-sponsored health insurance. | Signals a need to switch carriers or renegotiate rates with the current insurance carrier. |
Talent management metrics
Talent management metrics measure the effectiveness of employee recruiting, development, and retention. The data that informs these metrics are typically found in human resource management (HRM) systems.
Talent acquisition and onboarding
Recruiting and hiring metrics help track talent acquisition costs and improve the recruiting and onboarding processes.
| | | |
| --- | --- | --- |
| Metric | Measurement | Impact |
| Offer acceptance rate | Number of candidates who accept job offers divided by the total number of offers made. | Reveals the competitiveness of the company's job offers. |
| Cost per hire | Average expense of hiring a new employee. | Highlights recruiting inefficiencies that impact overall recruiting costs. |
| Time to hire | Duration between the moment a candidate enters the recruiting pipeline and the moment they accept the job offer. | Indicates how quickly recruiting teams are able to identify and engage top candidates. |
| Time to productivity | Number of days between a new employee's start date and the point at which they are meeting performance expectations. | Tracks onboarding efficiency and effectiveness. |
| New hire turnover rate | Segment of voluntary turnover rate that reflects new employees leaving a role within a set period of time, usually the first year of employment. | Flags issues with the recruiting strategy or onboarding process. |
Employee experience
HR can gain insight into what it's like to work for a company by analyzing metrics related to employee satisfaction, turnover rate, and more.
| | | |
| --- | --- | --- |
| Metric | Measurement | Impact |
| Employer net promoter score (eNPS) | Difference in the percentage of employees who would recommend the company as a good place to work and the percentage who wouldn't. | Tracks employee sentiment and satisfaction over time. |
| Total turnover rate | Percentage that measures the number of employees leaving a role within a given timeframe divided by the average number of total employees within the same period. | Monitors how frequently employees leave a role. |
| Attrition rate | Percentage that measures the number of employees who leave and aren't replaced divided by the total number of employees at the start of the measurement period. | Captures the rate at which a company's workforce shrinks over time. |
| Voluntary turnover rate | Percentage that measures the number of employees who leave and aren't replaced divided by the total number of employees at the start of the measurement period. | Monitors how frequently employees voluntarily leave a role and an organization entirely. |
| Retention rate | Percentage that measures the number of employees who remained employed through the end of a certain timeframe divided by the total number of employees who were employed at the beginning of the same time frame. | Tracks the number of employees who remain at an organization over a certain time period. |
Employee performance
Performance data reveals whether employees are equipped to do their jobs well and develop themselves to further grow in the organization. This is tracked via self-assessments, peer reviews, manager evaluations, or a combination of these methods.
| | | |
| --- | --- | --- |
| Metric | Measurement | Impact |
| Time since last promotion | Average duration of time between promotions. | Adds context to employee engagement and sentiment metrics. |
| Average performance rating | Sum of performance scores divided by the number of performance evaluations conducted. | Helps identify top performers and at-risk performers. |
| Goal tracking | Percentage of progress made toward a particular goal. | Provides a high-level overview of performance on individual, team, and company levels. |
Learning and development
Metrics for learning and development measure the degree to which the organization is future-proofing its workforce and maximizing the value of the skills they bring.
| | | |
| --- | --- | --- |
| Metric | Measurement | Impact |
| Skills assessment data | Varies by skill. | Reflects how skilled the workforce is, where employees are most skilled, and where there are skills gaps that need to be filled. |
| Training completion rate | Percentage of employees who successfully complete a training course among those who are eligible. | Helps learning and development teams evaluate the content of the training material. |
| Time to completion | Average amount of time it takes for an employee to complete a given training program. | Affects how far in advance HR teams should notify employees of required training. |
| Training cost per employee | Average expenses associated with each employee's training and development, including the cost of the material and facilitation. | Provides the basis for return on investment (ROI) analysis for employee training programs. |
| Training participation rate | Percentage of employees who are actively engaged in a training program among all employees at a company. | Captures the effectiveness, accessibility, and enticement of a company's training program as a whole. |
What are HR metrics?
HR metrics are data points HR leaders track in order to gauge the effectiveness and efficiency of people management.
These metrics, when captured in an HR dashboard, help business leaders get a sense of what's working, what's not, and how they can better prepare their workforce for future needs.
HR metrics track and measure information about employees, such as tenure, salary, and employee engagement. They also track HR-specific activities, such as recruiting, training, and onboarding. With this data, HR can identify reasons for workforce trends as well as areas for improvement.
How do you use HR metrics?
HR needs to not only track HR metrics but also, more importantly, analyze the data that HR metrics reveal. Analyzing HR metrics reveals patterns and helps HR initiate ways to address people management issues. This analysis can also prompt further investigation into a particular area of HR and the employee life cycle.
HR metrics can be used to launch new initiatives that maximize the value of a company's workforce in addition to identifying urgent problems. As such, HR metrics can drive HR strategy and help HR managers set actionable goals that align with strategic business goals.
HR metrics are only as good as their analysis and the ways they're shared with stakeholders. It's critical to report key HR metrics to the right audience. Recruiters, for example, should know about new-hire turnover and the cost to hire, but the CEO doesn't necessarily need this information. Rather, the CEO would be interested to hear about broader workforce analytics that affect the future and vision of the company.
Applying demographics to metrics to uncover inequities
Drawing from demographic data in the HRIS, HR gets a sense of who employees are and what their experiences are like in the organization. This data, therefore, serves as the foundation for measuring a company's diversity, equity, and degree of inclusion across virtually all other HR metrics.
HR can legally ask its workforce to voluntarily self-report on characteristics that might not already be accounted for in the HRIS, such as:
Age range.
Disability.
Gender identity.
Race/ethnicity.
Religion.
Sexual orientation.
HR can also gather data on situational factors like education level, marital status, geographic location, role, team, and tenure.
How to collect demographic data
It's important to note that HR doesn't have to collect data on all of these points, nor do they need to collect all this information at once. HR should be intentional about how they're collecting this information and why.
For example, when attaching voluntary demographic questions to an employee engagement survey, ask only about relevant demographics that align with the purpose of the survey and for which HR can reasonably act to improve working conditions.
To reduce employee stress and mistrust, collect demographic data anonymously and communicate to employees who will have access to their data and how it will be used.
How to use demographic data
On the broadest level, demographic data can be used to measure the representation of employees across demographics and gauge how diverse the workforce is. This information can inform recruiting and employee retention strategies.
When demographics data is applied to other HR metrics, HR can discover inequities. For example, HR professionals can use Papaya Global's DEI metrics dashboard to see the breakdown of compensation and retention metrics by age, gender, ethnicity, and other demographics. In some cases, this may reveal pay inequities or disparities in retention rates among various groups.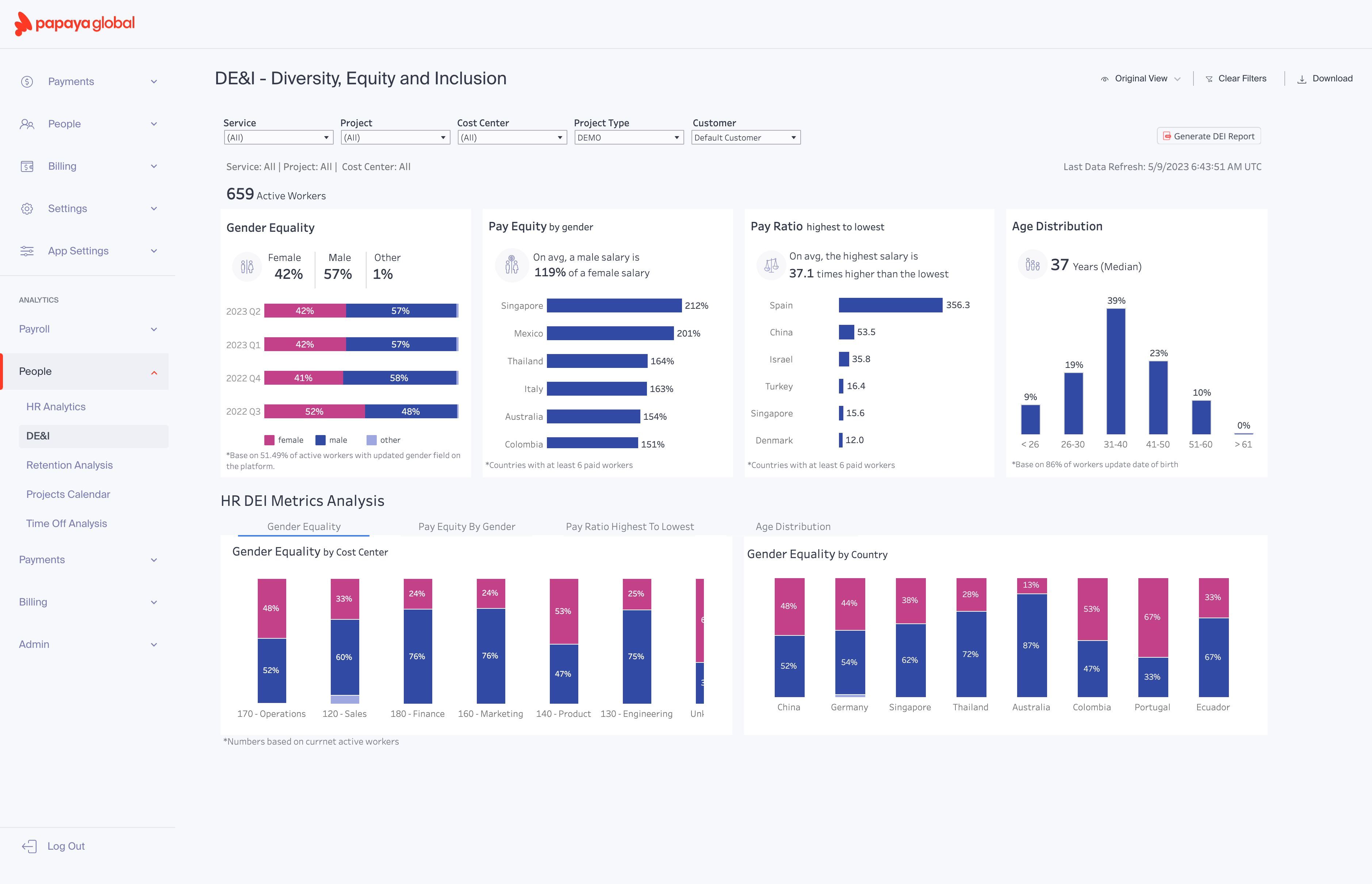 Finally, demographic information helps HR evaluate the workplace's level of inclusiveness. Demographic information enriches employee survey feedback by contextualizing the differences in employees' experiences in the company. Furthermore, demographic information about average tenure and turnover rates also provides valuable insight into how inclusive and equitable a workplace is.
Companies should be cautious about feeding demographic data into predictive algorithms, as this could lead to biased decision-making. Doing so also runs the risk of violating U.S. anti-discrimination laws, for example, when using demographic data to influence future hiring and promotion decisions.
The importance of HR metrics
HR metrics play an important role in helping HR teams make data-informed decisions by illustrating what's working well, where there is room for improvement, and what strategies and goals should be set for the future. Consistently tracking HR metrics and leveraging them to act helps HR become more effective and efficient in terms of:
Time, money, and resource allocation.
Payroll and benefits administration compliance.
Recruitment, employee retention, and professional development.
However, tracking HR metrics is only part of the story. HR dashboards help HR make sense of the data. To get started with more data-driven HR, browse our HR Software Guide for solutions that track key HR metrics.
1

Justworks
Justworks makes it easier to start, run, and grow a business by giving entrepreneurs and their teams access to big-company benefits, automated payroll, compliance support, and HR tools in one simple platform. Using Justworks means that you can focus on what matters most – running your business. Justworks also offers access to ancillary benefits like 401, life/disability insurance, workers' comp, and more, all seamlessly integrated into the platform. The best part? Justworks offers 24/7 support.
2

Rippling
Rippling is the first way for businesses to manage all of their HR, IT, and Finance — payroll, benefits, computers, apps, corporate cards, expenses, and more — in one unified workforce platform. By connecting every business system to one source of truth for employee data, businesses can automate all of the manual work they normally need to do to make employee changes.
3

GoCo
Elevate your HR with a modern, easy-to-use HRIS designed for small businesses. GoCo is a secure, compliant hub for sending, digitally signing, and organizing your sensitive HR documents and data. Manage records, performance, time off, onboarding, benefits, and more – all in one place. With the best support in the industry, every GoCo customer is assigned a dedicated Customer Success Team that is readily available to provide guidance and ensure a smooth and reliable HRIS experience.
Technology Advice is able to offer
our services
for free because some vendors may pay us for web traffic or other sales opportunities. Our mission is to help technology buyers make better purchasing decisions, so we provide you with information for all vendors — even those that don't pay us.