BambooHR is one of the best HR software solutions for small businesses that want to eliminate spreadsheets and automate administrative tasks in a centralized database. HR software like BambooHR streamlines core HR processes and frees up HR staff to undertake more meaningful work that aligns with the company's broader goals.
However, this particular solution might not meet your company's needs. We've compiled BambooHR alternatives that fill in where it's lacking. If none of the alternatives here fit your business needs, use our HR Software Product Selection Tool to request a free, personalized shortlist from us. We'll recommend five software vendors based on your specific criteria.
What BambooHR Offers
BambooHR is a popular HR software solution for small businesses. It's known for its:
Custom pricing model
Intuitive interface that enables employee self-service
Simplified onboarding features
Time-off features, such as requests and tracking
Excellent customer support
In spite of these attractive features, BambooHR may not be the best choice for your business.
Why BambooHR May Not Work For Your Company
As good as BambooHR is, it's not the best option for every small business if your company needs:
A built-in learning management system (LMS) for talent development and training
Built-in scheduling
Full-service payroll
Clear, granular levels of access control
Customization for forms, reports, and performance reviews
Top 5 BambooHR Alternatives
While BambooHR's strengths lie in its intuitive and helpful onboarding and time-tracking features, consider the five alternatives below if BambooHR doesn't meet your company's needs.
TriNet Zenefits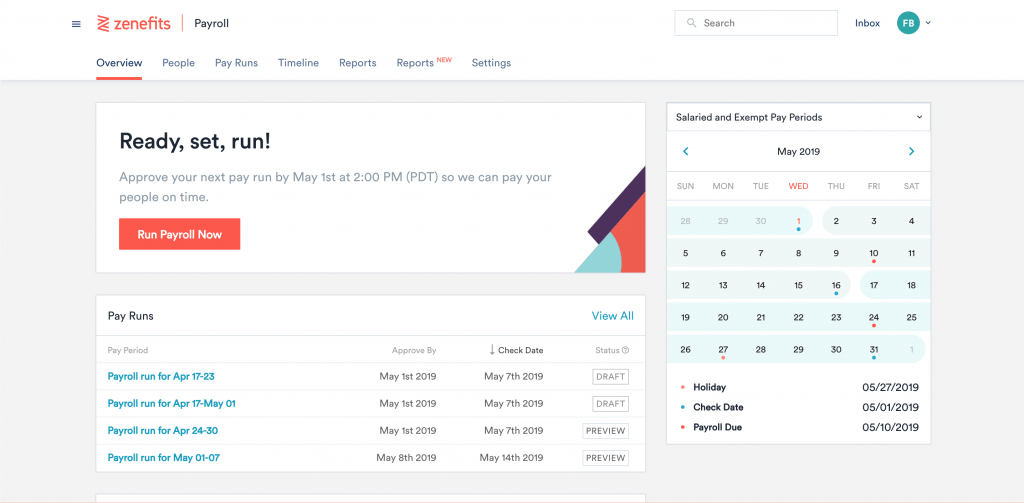 TriNet Zenefits, previously known as Zenefits, is a cloud-based human resources information system (HRIS) that includes the following features and more in all of its plans:
Benefits administration
Time tracking
Attendance management
Stock options management
Hiring and onboarding
Employee system of record
Document management
Reporting
Scheduling
Employee self-service portal
Compliance alerts and triggers
TriNet Zenefits' easy setup makes it a great choice for small companies that lack an in-house HR department and need to get up and running quickly.
TriNet Zenefits is a great BambooHR alternative that will scale to adapt to changing business needs with its flexible add-ons:
Recruiting
Payroll
Advisory services
Benefits administration using your own broker
With TriNet Zenefits, benefits administration works for health insurance, life insurance, commuter benefits, flexible spending accounts (FSA), and health savings (HSA) accounts. However, opting for your own third-party benefits broker — instead of Zenefits' broker — incurs a small monthly fee. BambooHR helps HR staff manage benefits packages and benefits groups, including ACA reporting, for the entire organization, but their website does not provide further details on whether it helps administer the benefits that Zenefits does.
While BambooHR lacks mobile access to its benefits features,benefits administration is accessible via Zenefits' mobile app, allowing employees to view and change their benefits anytime, anywhere.
Zenefits also includes automatic compliance to ensure your medical benefits are compliant with the Affordable Care Act (ACA). In fact, Zenefits' Compliance Assistant covers HR and payroll compliance and is included in all plans. BambooHR, on the other hand, offers a compliance control add-on for payroll, but ACA reporting compliance is included.
TriNet Zenefits also features payroll with several advanced features, and payroll is built-in, so there's no need to worry about integration compatibility. However, several users mention errors in payroll taxes when administered via TriNet Zenefits.
Why you might choose TriNet Zenefits over BambooHR:
Benefits administration
Enhanced security due to fewer third-party integration needs
Compliance alerts
---
Gusto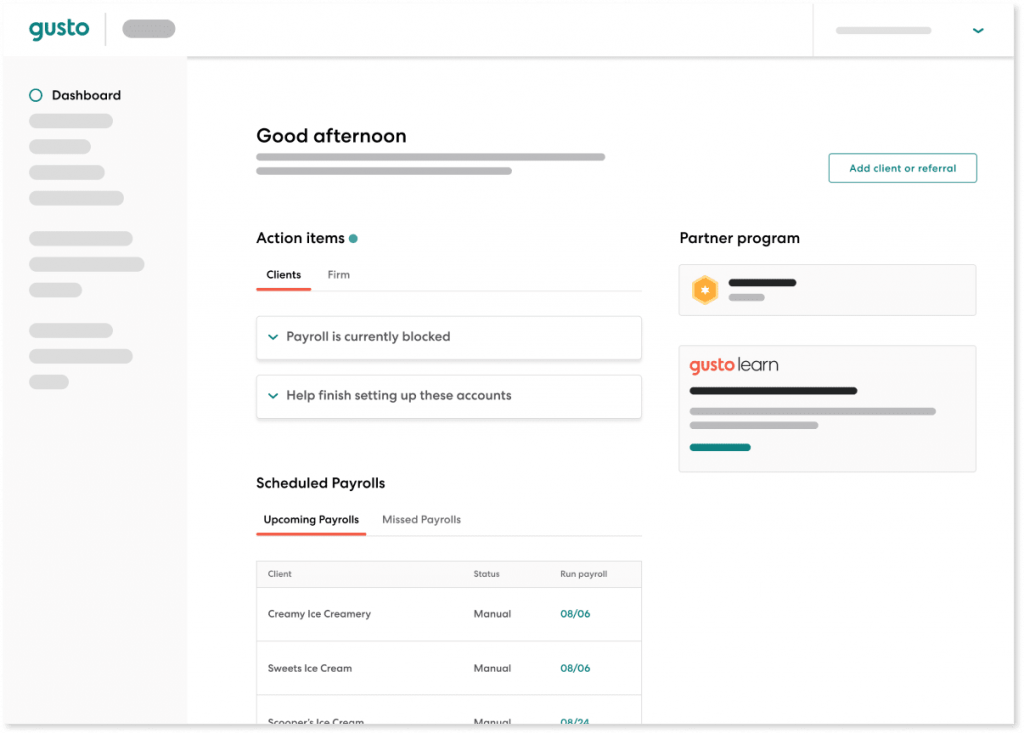 Gusto is a user-friendly HRM software solution that features built-in payroll, time tracking functionality, and a variety of automated features to save HR teams valuable time. If you're looking for automation and built-in compliance features, Gusto may be a better fit than BambooHR.
Gusto helps companies with a distributed remote workforce remain compliant with the latest state tax laws wherever it has employees. Gusto's payroll management tool automatically files payroll taxes at the local, state, and federal levels at the end of the fiscal year. This feature comes included while competitors — including BambooHR — charge an extra fee.
Gusto's AutoPilot feature automates payments to employees to ensure they always get their paychecks on time. Employee forms like I-9s and W-2s are securely stored and organized in Gusto's digital platform.
Administering payroll can be one of the most complicated tasks for any HR department due to time constraints, fluctuating laws and regulations, and varying work models and locations. But Gusto makes processing payroll easy, even for novices. However, beware of slow customer support if you run into an issue.
Why you might choose Gusto over BambooHR:
Automated HR tasks
Built-in payroll
Time tracking
Namely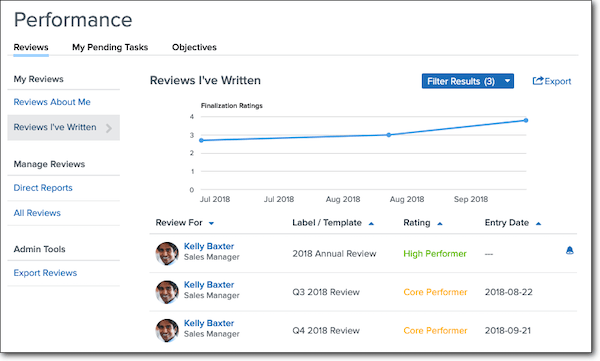 Namely is a cloud-based HR platform that enables a range of core and strategic HR functions:
An employee database with employee profiles
Benefits administration
Full-service payroll
Time and attendance tracking
Reporting
A company calendar
Onboarding
Performance management
What differentiates Namely from BambooHR is its built-in, full-service payroll features, user access control, customizable reports, and more robust performance management features.
Namely assists companies with payroll processing, tax withholdings, and year-end tax reporting all while remaining compliant with payroll laws. Administrators can also adjust user access based on department, team, or role, which is a frequent complaint cited among BambooHR users.
Namely's performance management features are detailed and configurable for specialized needs. It allows users to customize forms and assign multiple reviewers for an employee, enabling 360 feedback on their performance. Though both vendors tout a high level of customization in their performance management features, this is a source of frustration for BambooHR users, as they're overwhelmed with too many options, according to reviews. Yet, the customization options in Namely delight its users.
Why you might choose Namely over BambooHR:
Customizable performance management
Full-service payroll
Good value for the price
Dedicated customer service representative for your account
---
Zoho People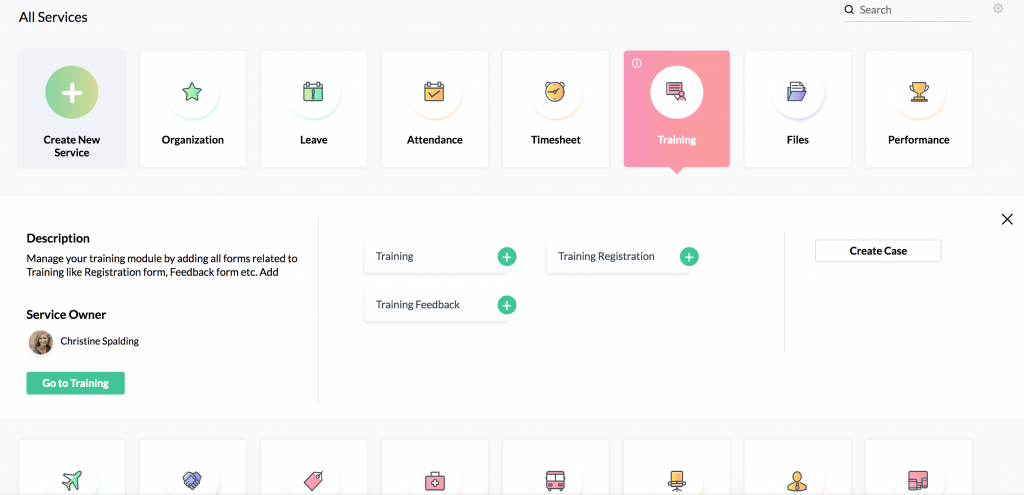 Zoho People is an all-in-one HR software solution known for its user-friendly interface. It stores employee information in one place, gathers 360-degree feedback, and helps HR onboard new employees with ease.
Zoho People's LMS sets it apart from BambooHR. The LMS enables organizations to train new and existing employees more easily through self-paced or blended learning modalities.
Self-paced learning in Zoho People allows employees to learn at their own pace and in a way that resonates with their learning style and abilities. Blended learning is great for hybrid workforces and keeps employees engaged through self-paced, live virtual, and traditional classroom learning methods.
HR or learning development teams can create a customized course from scratch in Zoho People by:
Defining learning modules
Uploading multimedia content
Creating learning paths for specific departments, roles, or skills
Developing assessments to ensure employees' learning outcomes
Building course schedules and accompanying notifications
Employees stay engaged with peers in the LMS' discussion boards. Employees can also give and receive feedback on the courses they take, even with managers. Managers are able to suggest courses to their employees, monitor their progress, and provide feedback on their performance in the course in Zoho People's LMS.
Why you might choose Zoho People over BambooHR:
LMS
Advanced automation
Analytics
Also read: 8 Ways to Increase Employee Engagement With Your LMS
---
Homebase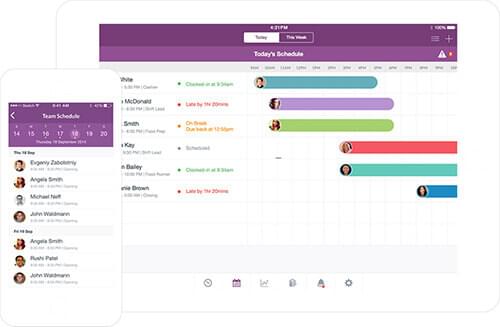 Homebase is a software provider that specializes in small business needs, especially those with hourly employees. Homebase provides solutions for:
Time tracking
Payroll management
Hiring and onboarding
Collaboration and communication
Employee satisfaction
Employee scheduling
Users are a fan of Homebase's scheduling feature in particular, which is an element that BambooHR lacks. Homebase allows managers to set and share schedules or let employees create their own right from the mobile app. In either case, everyone is on the same page with real-time information about when they're working.
Managers can create their own schedules or use one of Homebase's templates. It's easy to avoid time conflicts since Homebase provides managers with an overview of availability and time-off requests.
On the back end, Homebase syncs scheduling data with overall business performance and an overview of revenue and labor costs in real time. This software also helps businesses stay compliant with labor laws.
Why you might choose Homebase over BambooHR:
Built-in scheduling
Collaboration and communication tools
Choosing the Right Alternative to Bamboo HR
Small companies that prioritize the functionality that BambooHR lacks—LMS, built-in scheduling and payroll, user access controls, and more customized performance review processes—should check out these five solutions that fill in BambooHR's gaps.
If none of these alternatives fit your needs, use our HR Product Selection Tool to get free personalized recommendations.
Top Human Resources Software Recommendations
Stop chasing your company data! Workzoom consolidates and automates your people management into a single solution for a per-employee per-month price. Leverage best practices in all areas of people management so you can save time and money and get back to work.
monday.com Work OS is the flexible, no-code Human Resources software that allows HR managers to manage the entire employee lifecycle in one place. Track the recruitment process, onboard new employees with the help of pre-made templates, safely store personal information, plan team-building activities, and use automations to speed up and simplify all these workflows and many more.
Technology Advice is able to offer
our services
for free because some vendors may pay us for web traffic or other sales opportunities. Our mission is to help technology buyers make better purchasing decisions, so we provide you with information for all vendors — even those that don't pay us.