Choosing your first HR software or upgrading to a new software can be difficult. If you've researched Gusto but you're not sure whether that's the HR software for you, these 10 Gusto alternatives might work for you.
What is Gusto?
Gusto is an online HRIS/HRMS that performs core HR functions, such as payroll and benefits, and is geared toward SMBs. While Gusto is user friendly, generates reports, and automates the payroll taxation process, there are some functions that it doesn't carry out. For example, Gusto cannot reimburse employees for travel expenses unless you upgrade, track employee performance, submit retirement payments (unless you integrate the Guideline platform), or administer holiday pay for part-time employees. You can check out our full overview of Gusto here.
We found some Gusto alternatives that might be a better fit for managing your company's HR needs. Let's see how Gusto stacks up against these other options:
| | | | | |
| --- | --- | --- | --- | --- |
| | API | Benefits Management | Compliance Management | Payroll Management |
| ADP Workforce Now | Yes | Yes | Yes | Yes |
| Bamboo HR | no | Yes | no | Yes |
| Monday.com | Yes | no | Yes | no |
| Namely | Yes | Yes | Yes | Yes |
| Paychex Flex | no | Yes | Yes | Yes |
| Paycor | no | Yes | Yes | Yes |
| Rippling | Yes | Yes | Yes | Yes |
| Sage People | no | no | no | Yes |
| Worknice | no | no | Yes | no |
| Gusto | Yes | Yes | Yes | Yes |
| Zenefits | Yes | Yes | Yes | Yes |
Top Gusto Alternatives
ADP Workforce Now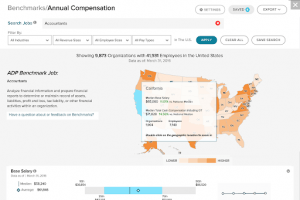 ADP Workforce Now is a one-stop, cloud-based hub for all your HR functions. It features versatile API, automated processes, benefits management, compliance management, recruiting/onboarding, payroll, time tracking, and analytical/reporting. Some features we particularly want to highlight here are API, benefits management, compliance management, and analytics.
ADP Workforce Now easily and securely integrates with several third-party applications. You can also automate and streamline your HR functions with customizable workflows and cloud document storage. ADP Workforce Now simplifies open enrollment periods with its OE Center and manages employees' selected benefits plans, all the while staying compliant with federal regulations. ADP Workforce Now leads the way in data security, so you can be sure that your business will remain compliant.
Knowledge is power. ADP Workforce Now enables you to not only track and take care of core HR tasks but also to make informed decisions backed by data. Get insights in real time, so that you can make decisions with confidence. See how you compare to competitors by industry and location. The analytics and reporting functions within ADP's Workforce Now portal makes decisions easier, as they are informed by the information contained in your company's database as well as industry data.
While great for SMBs, APD Workforce Now can grow as you do. Add features when you need them with a tiered pricing plan.
BambooHR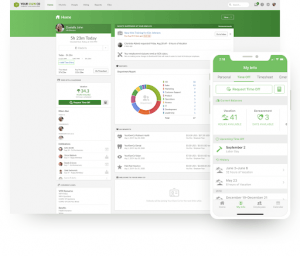 BambooHR is a cloud-based HR management software solution for SMBs and offers benefits administration, streamlined onboarding processes, payroll management, performance management, data analytics, and time tracking to manage employees at all stages of the employment lifecycle from hire to retire.
BambooHR's strength is in its recruiting and onboarding functions. It simplifies the recruiting process from application selection to training and allows for recruiting and hiring on the go with its mobile app for iOS and Android devices.
BambooHR is also great for checking the pulse on company culture. It maintains employee engagement by picking up on inactive employees and has tools to gather data on employee satisfaction.
Monday.com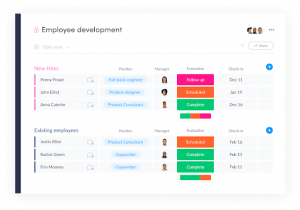 HR management is one of the many solutions that Monday.com offers. You can count on its HR management software to serve up ultimate versatility from its range of customizable features to its template libraries.
Monday.com also allows you to automate HR processes, so that you don't miss a beat when managing employee profiles. It helps you attract and recruit the talented professionals you need and to get them on-board easily and efficiently. Automation plays a key role to help you oversee who is at what stage of the hiring process and send reminders and notifications when necessary.
Namely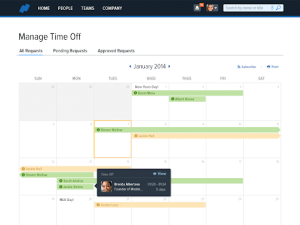 Namely covers your basic HR functions. It manages compliance and streamlines everything from payroll and benefits to the onboarding process. Namely, like Monday.com, is highly customizable to your company's needs but it fills in what Monday.com lacks, like benefits administration and reporting/analytics tools.
Namely takes care of time tracking, generates reports, handles payroll taxes and documentation, manages employee benefits elections, and tracks employee performance.
Paychex Flex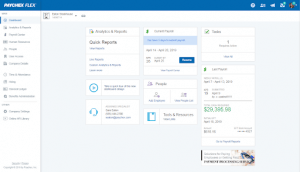 Paychex Flex is an all-in-one, adaptable HR management software that can run payroll, administer HR functions, and manage benefits all while staying compliant with federal regulations.
Paychex Flex is available in three different plans: Go, Flex Select, and Flex Enterprise. While Paychex Go charges you a flat fee, it may be difficult to get an accurate idea of how much the Select and Enterprise versions will cost you without asking for a quote. With Paychex Flex, you have the benefit of generating reports to make decisions based on up-to-date information, however, only Flex Enterprise will allow you to make customizable reports.
Paycor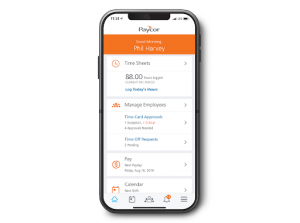 Paycor has kept an ear to top business leaders and their needs for the last 30 years. Paycor's human resources software reflects those needs by organizing information in a way that saves time and makes sense.
If you don't like using various platform integrations, Paycor is for you. It doesn't require different plug-ins to integrate all the apps you need; it's all in one place. Paycor's selling point is its analytics tools that give you actionable insights and help you make data-driven decisions.
Rippling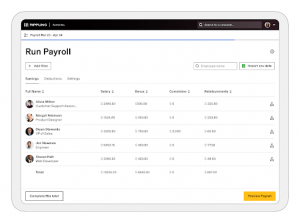 Rippling allows you to easily manage payroll, benefits, and HR all in one platform, but what we want to highlight here is its API and automation capabilities.
Through its interconnectedness with third-party apps, Rippling allows businesses to quickly set up an employee's payroll, health insurance, email, and other key HR functions with a simple click. Rippling contains the bedrock of information that connects to different apps that your company uses, so any changes that you make will instantly update across the other applications your employees use. All of this makes the onboarding process a breeze.
Rippling's automation functionality not only ensures that your company stays compliant with ACA and COBRA but also protects your company's data by encrypting devices and scanning for threats.
Sage People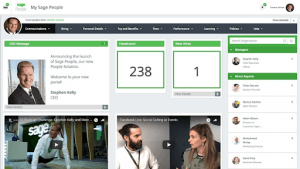 Sage People empowers your organization to build great workforce experiences, reduce inefficiencies through smart automation, and to make data-driven decisions based on real-time information.​
Sage People take care of your core HR needs, such as benefits administration, payroll, and time tracking, but also talent acquisition and retention. Sage People is user-friendly and customizable to your HR needs.
With Sage People you can automate the payroll management process with security and flexibility all while being sure to maintain compliance.
Sage People also provides a Talent Acquisition and Management module that allows you to attract, hire, and onboard the right candidates for your company's needs and goals. The module contains a candidate portal and gives you an overview of employee performance, skills, and competencies.
Worknice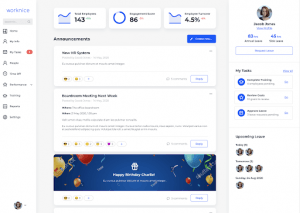 Australian-based Worknice is an emerging, high-performing player in the field of options, offering a suite of software solutions for your HR needs.
Its onboarding software allows you to customize and streamline the hiring process by setting deadlines for tasks/training, sending automatic reminders and notifications, and tracking various organizational metrics.
Keep your employees happy and motivated with Worknice's performance management software. It automates the review process according to the timeframes you'd like (quarterly, yearly, or custom) and sets clear, attainable goals for your employees to ensure their professional growth. The software prompts routine check-ins to facilitate open communication. Most importantly, when your employees achieve their goals, the software tracks those accomplishments and shares their wins and goals.
Worknice's HR reporting software produces actionable insights with its report generation and data visualization tools. It helps you to better understand your workforce, according to various metrics and demographics, and maintains your legal compliance with HR regulations.
Worknice does not have its own payroll or benefit management software solution but allows you to integrate your own payroll management system.
Zenefits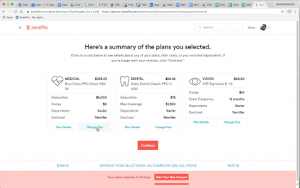 Zenefits is one of the few software solutions that checks all the boxes. It covers the basic HR functions and simplifies the on-boarding process. It's also super flexible with other applications.
Cut your onboarding time in half with Zenefits. Like Rippling, Zenefits adds or removes employees from the entire tech stack with one click. Payroll set-up is fast and easy, and you can easily add more features if you need them. Check out a direct comparison between Zenefit and Gusto.
Choosing the right HR software for your business
The right vendor for your company will ultimately depend on a couple of different factors:
Existing Applications
If you already use third-party applications that you're happy with, go with one of the vendors above that does not cover basic HR functions but that will integrate with other applications.
Comprehensiveness
If you want everything in one place, focus on the vendors that offer at least the core HR functions such as payroll, time tracking, and benefits administration. Then assess whether you want the other features that potentially come with that solution, such as performance management or automation. The only vendors listed here that offer all features are ADP Workforce Now, Namely, and Zenefits.
Reach out to the knowledgeable advisors at TechnologyAdvice. We're ready to put you in touch with the vendor of your choice!