Employee recruitment has never been easy, but The Great Resignation has made it even harder as companies must prove their commitment to their employees. Employees now recognize their value and are demanding a healthy work-life balance, truly competitive pay, and good benefits at a minimum. But even when companies genuinely have a great employee culture, it can be difficult to get job descriptions in front of the right candidates. Recruiters need the right tools to effectively recruit new employees.
To find the best recruiting software for your business, use our Recruiting Software Product Selection Tool. After answering a few questions, you'll get a short, personalized list of software recommendations. But recruiting software isn't enough on its own. You also need to know where to start your candidate search and how to draw applicants in.
Jump to:
Start with reputable job listing sites
Job listing sites tend to be the first stop for job seekers, but some sites, especially those that exclusively work with freelancers, sometimes take advantage of people trying to find a job. In order to get the best candidates, you need to post your jobs on reputable job listings sites that don't require job seekers to pay to search and apply for jobs. Not only is this practice harmful to people who might be out of work, but it also puts a major barrier to entry on your job and may cause you to miss out on quality candidates.
Depending on your industry, you may opt to post on general job boards or industry or role-specific websites. Ziprecruiter, Indeed, and LinkedIn for Business are all examples of general job boards and are great for posting jobs for accountants, sales reps, marketers, and other roles that almost every business needs. For jobs in technology, recruiters might consider posting on Dice or Stack Overflow, while healthcare organizations may post their jobs on HospitalRecruiting.com. 
Also Read: 8 Best Job Listing Sites for Employers
Use an applicant tracking system to manage multiple listings
In all likelihood, your business isn't just going to have one open job at a time, and even if you do, you'll want to post that job in several locations to make sure you get the best candidate. An applicant tracking system (ATS) allows you to write a listing once and then push it out to multiple job board sites. Then, you can track their performance and review applicants as they come in. 
ATS software standardizes the hiring process and makes sure each recruiter is following the same process. This gives applicants a better experience and keeps them from experiencing common frustrations, like long delays or showing up to interviews that hiring managers aren't available for. 
Best applicant tracking systems of 2022
Entice passive candidates with recruitment software
Sometimes, the best candidates for a role are already employed elsewhere. These passive candidates aren't actively looking for a job, but they also may be open to changing roles if their new employer is a better fit. The hard part is, not only do you have to find them, but you have to convince them to leave a job and company they know for one they don't. And to do that, your recruiting process has to be seamless.
Referrals are a great way to identify passive candidates and get them interested in your roles because they already know someone who works for or with you. Recruitment software allows you to track referrals and move them through the process as efficiently as possible. Most top candidates get a job offer within 10 days, so if you're serious about hiring someone, you need to move quickly.
Best recruitment software for 2022
Good recruitment software should include referral tracking, onboarding features, and automation to reduce the workload on your HR team.
Workable
Workable offers recruitment software that makes it easy to push your job postings to multiple sites and track employee referrals to find the best candidates. The AI Recruiter provides a list of the top passive candidates for each role you post, so you can reach out and gauge their interest. There are four pricing options to choose from depending on how often you hire and the features you need, and even the basic packages include interview scorecards, AI, and templates for job descriptions.
iCIMS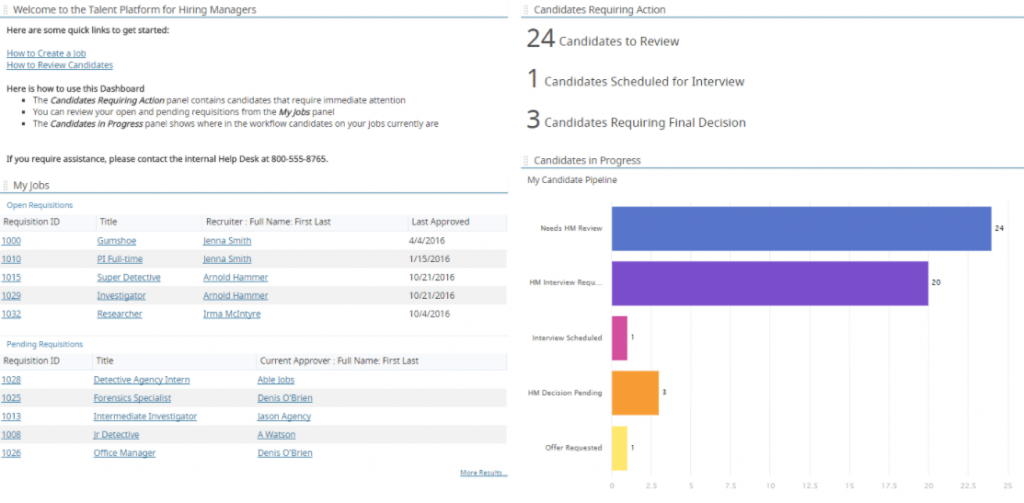 iCIMS helps you better communicate with candidates throughout the recruitment process to keep them more engaged and hire for roles faster. Automated text and email campaigns encourage candidates to apply, and you can host virtual career fairs through the platform. The new hire portal makes it easy to automatically send forms and track what paperwork you're waiting on. And the platform uses AI and machine learning to reduce hiring bias and match candidates with the role they're the best fit for.
Zoho Recruit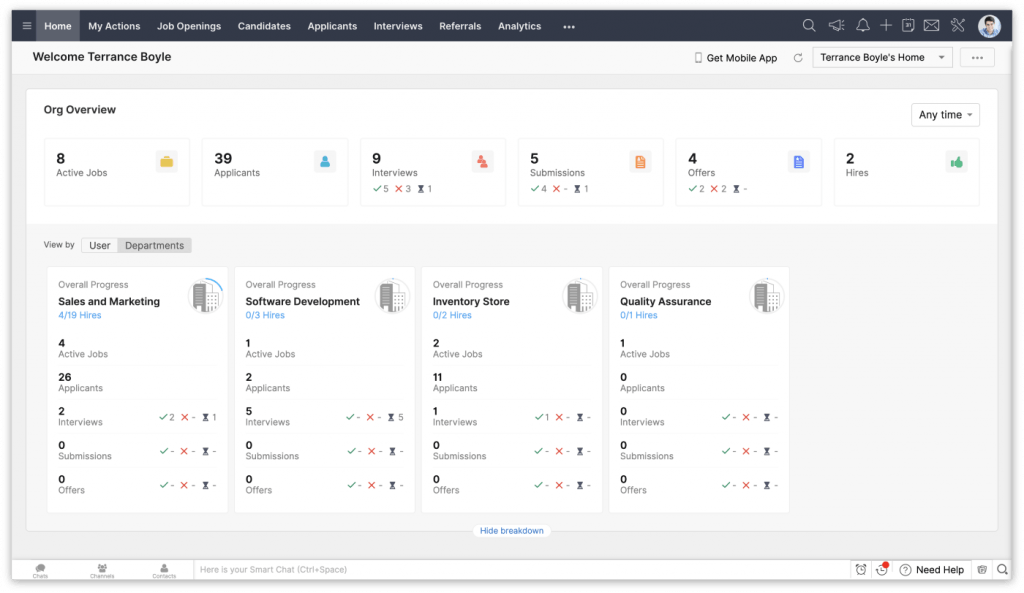 Zoho Recruit provides an employee referral portal and resume management tools that help you organize the resumes you receive and extract relevant information. The platform's AI identifies applicants that would be the best match for the position and scores each candidate based on how well they match up against the requirements. Zoho Recruit offers a free version that offers basic features, like interview scheduling and candidate management. However, if you want employee referrals, social recruiting, and AI candidate matching, you'll need to upgrade to a paid plan.
How to get candidates to apply for your open roles
In order to fill your open roles, you need to make your job descriptions clear and compelling. Stay away from vague terms that don't tell the candidate anything (e.g. "we're a family"), and focus on what makes your company different. You should also consider including some notes on salary, even if it's just a range or minimum salary. Then, applicants will know they aren't wasting their time with a company that won't offer them what they're worth. 
Additionally, give details about the benefits your company offers. Applicants care about flexibility, remote work options, and opportunities for growth, so make sure you're talking about those things if you offer them. And if you don't, consider adding them to your list of benefits.
Read Next: 6 Ways You May Be Driving Candidates Away Before They Even Apply