Key takeaways
The user-friendly interfaces and streamlined features of simple CRMs make adoption straightforward for all team members.
Simple CRM systems have lower subscription fees and require fewer resources for customization, training, and maintenance.
The lack of steep learning curves and complex configurations in simple CRMs makes them a prudent choice for small businesses.
Discover the best simple CRM platforms for business owners and find the perfect solution for you by exploring the features, pricing, and pros and cons of the top software on the market.
If you don't have a team of developers, this might be the solution for you.
Which simple CRM should I choose?
When choosing a simple CRM, businesses have unique requirements based on a number of factors such as team size, goals, and priorities. Whatever your individual needs and preferences, there is a simple CRM out there for your organization.
Top Simple CRMs
Really Simple Systems CRM: Best for usability
Living up to its name, Really Simple Systems stands out for its simplicity, offering an intuitive interface that streamlines content management, lead tracking, and sales pipeline management. The platform also offers integrated marketing automation tools that help businesses create targeted email campaigns and track their performance.
The GDPR-compliant data security features and built-in customer support module keep client and company information secure and provide assistance for users.
Really Simple Systems pros and cons
Pros
Ease of use
Affordable
Cloud-based
Customer support
Cons
Lack of advanced features
No mobile app
Limited third-party integrations
Really Simple Systems key features
Intuitive interface: Designed with simplicity in mind, the intuitive user interface helps users navigate and manage customer relationships without extensive training
GDPR-compliant data security: Robust data security features comply with the GDPR, ensuring businesses can protect customer data and maintain regulatory compliance
Built-in customer support module: Manage support tickets, track customer issues, and ensure timely resolutions
Why we chose Really Simple Systems
Really Simple Systems CRM was one of our top choices for the best simple CRM software for several reasons, the top of which being its exceptional usability. The platform boasts an intuitive and user-friendly interface that makes it easy for businesses to get started with the software and streamline their customer relationship management processes.
Really Simple Systems offers a customizable dashboard that allows users to easily view and access the information that is most important to them. Its integrated calendar, email marketing, and support ticketing features make it a comprehensive solution for managing customer interactions.
Another factor that contributes to the platform's usability is its affordability and scalability, with a free plan for up to two users and paid plans with additional features and users.
Less Annoying CRM: Best for customization
Less Annoying CRM combines user-friendliness with customization. Its primary focus is on providing a simple, intuitive CRM solution that eliminates the complexity and frustration often associated with more comprehensive CRM systems.
In addition to this, its highly configurable dashboard allows users to organize and prioritize tasks, events, and contracts according to their specific needs. The platform also offers seamless contact and lead management, making it easy to track interactions and monitor the progress of leads through the sales pipeline.
Less Annoying CRM pros and cons
Pros
Intuitive interface
Customer support
Personalization
Cons
Lacks enterprise reporting features
No AI-driven analytics
Limited marketing automation features
Less Annoying CRM key features
Phone and email support: One-on-one support is available for paying and free trial users to assist with account setup and customization.
Contact and lead management: The platform's clutter-free and intuitive interface simplifies tracking and nurtures leads
Why we chose Less Annoying CRM
LACRM is the epitome of a "simple" CRM. It manages contacts and allows sales teams to stay organized without complicated or unnecessary features. Pricing is straightforward—$15 per user—and there are no hidden fees associated with the platform. High rates of adoption by teams and the growing popularity of the solution make it a must-have on our list.
HubSpot: Best for large businesses
HubSpot's cloud-based CRM is designed to cater to small and medium-sized businesses. Its streamlined interface and ease of use make it a popular choice for those looking to get the essential features of a CRM without the complexities of advanced systems.
The free plan offered by HubSpot provides core features like lead management, email scheduling, and basic reporting. Another of the major advantages to the platform is the myriad training videos, tutorials, and documentation that allows teams to set up and maintain the system in-house.
HubSpot pros and cons
Pros
Live chat and email assistance
Free plan
Scalability
Cons
Limited free plan features
Pricing for advanced features
Limited native integrations
HubSpot key features
Marketing automation: Create and manage email campaigns, track website activity, and monitor lead generation
Task and activity tracking: Create and assign tasks, set reminders, and track activities to ensure all follow-ups and deadlines are met
Integrations: Integrate seamlessly with other HubSpot tools
Why we chose HubSpot
As a true trailblazer in the CRM space, HubSpot has managed to strike the perfect balance between functionality and ease of use. The user-friendly platform is designed to streamline sales and marketing processes by integrating with the tools users already know and love.
For example, HubSpot's seamless compatibility with Gmail and Outlook ensures teams stay connected and efficient, while its powerful reporting capabilities enable data-driven decision making without overwhelming users with complexity.
The free version of the CRM is impressive, offering contact and deal management, live chat, and even a chatbot builder. The scalable model allows users to unlock advanced tools as their business grows.
The platform's intuitive interface, rich ecosystem of integrations, and extensive educational resources make it the ideal choice for businesses seeking a simple, yet powerful CRM to propel them to new heights.
Keap CRM: Best for small businesses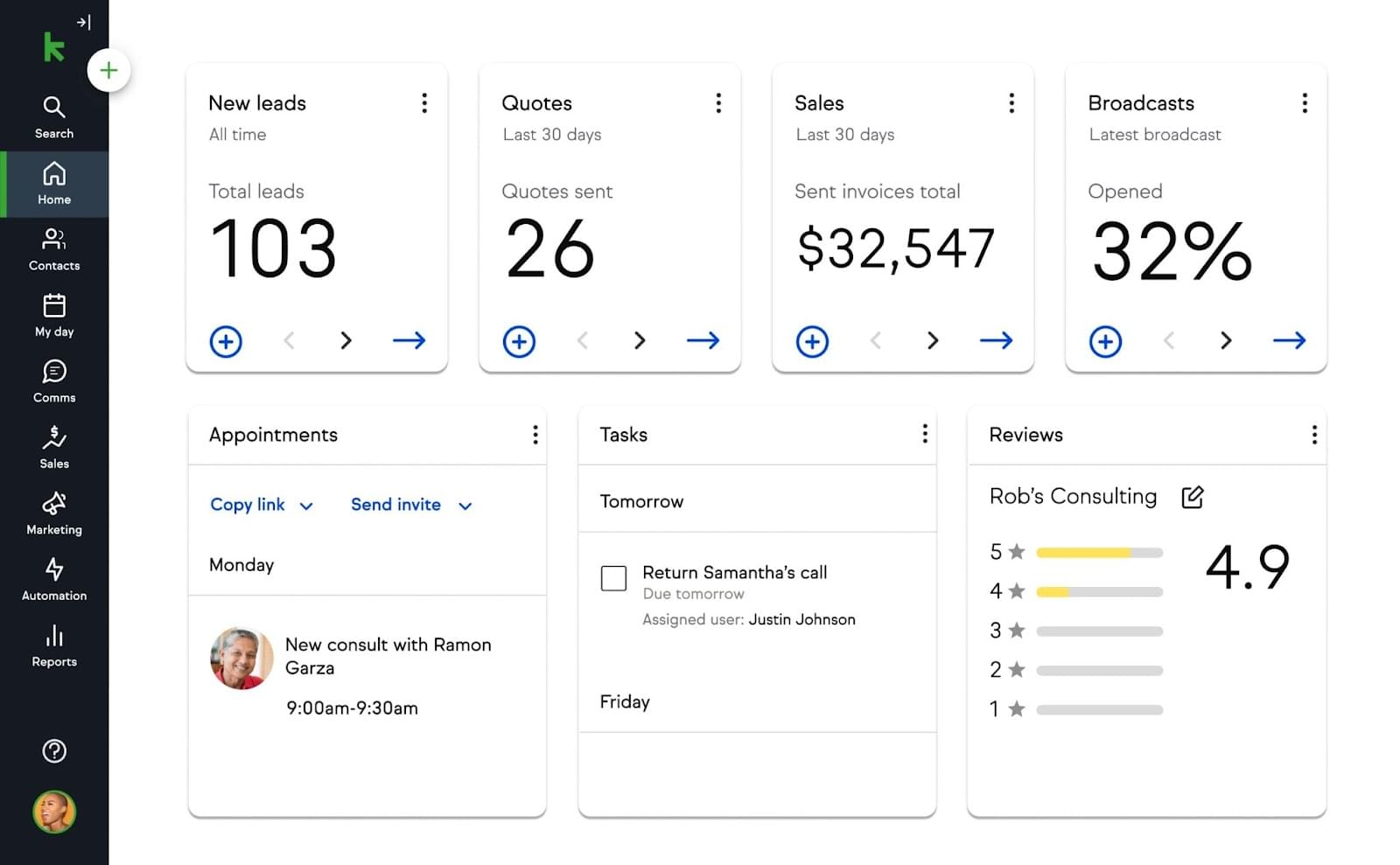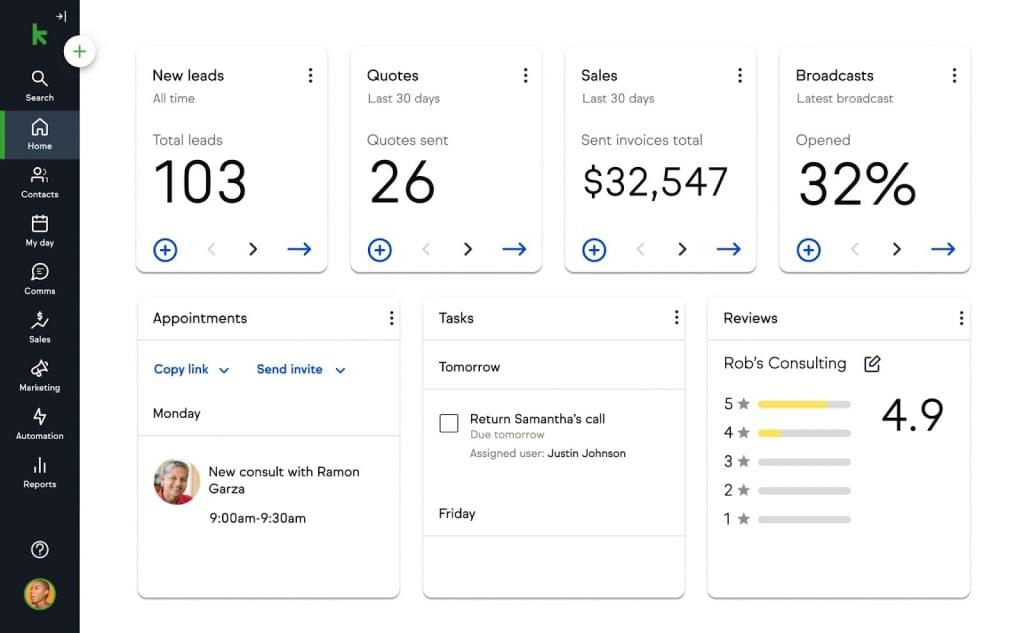 Formerly known as Infusionsoft, Keap is a cloud-based CRM geared toward small businesses and entrepreneurs. With more than 125,000 users, Keap's self-stated mission is to continue to grow small businesses as well as the company.
Keap offers robust marketing automation tools that allow users to create targeted marketing campaigns, build landing pages, and automate follow-ups. Lead conversion is front and center with this CRM, focusing on marketing and sales.
As with all simple CRMs, Keap prioritizes ease of use so small teams can automate the sales pipeline quickly and efficiently.
Keap CRM pros and cons
Pros
All-in-one platform
Mobile app
Customizable sales pipeline
Cons
Pricing
Learning curve
Low-quality customer support
Keap CRM key features
Sales pipeline management: The customizable sales pipeline enables businesses to visualize and manage deals and stages
E-commerce capabilities: E-commerce features such as order management, invoicing, payment processing, and product catalog management help streamline the online sales process
Integrations: Quickbooks, Zapier, and Xero are among the their-party applications Keap integrates with to connect and synchronize data
Why we chose Keap CRM
Keap CRM earns its place among the best simple CRMs due to its robust, all-in-one solution that is tailored specifically for small businesses. Keap has mastered the art of simplifying complex processes by combining CRM, sales, and marketing automation into a single, unified platform. This enables businesses to effortlessly manage their contacts, track leads, and automate follow-up tasks without getting bogged down in technical jargon.
One standout feature of Keap CRM is its visual campaign builder, which allows you to create and customize automated workflows with ease, ensuring that your marketing efforts are always on point.
Another reason why Keap CRM is a top pick is its dedication to helping small businesses succeed. This is evident in their rich library of resources, including webinars, blogs, and tutorials, designed to help users get the most out of the platform.
Moreover, Keap's customer support is second to none, offering personalized, one-on-one coaching and an active user community to assist you in navigating any challenges.
Insightly: Best overall
Boasting more than 1.5 million users, Insightly is one of the most popular choices for simple CRM users. Native integrations include Gmail, Office 365, MailChimp, and more. In addition to its CRM and product management features, Insightly provides reporting and analytics and many other tools. Users have stated Insightly is one of the most comprehensive simple CRMs on the market.
Insightly pros and cons
Pros
User-friendly interface
Integrated project management
Customization options
Cons
Pricing
Learning curve
Low-quality customer support
Insightly key features
Integrations: Third-party integrations include Slack, BambooHR, Magento, Shopify, NetSuite, and others
Project management: Insightly's unique integration of project management tools allows users to track projects, tasks, and milestones alongside their customer relationship and sales processes
Configurable profiles and page layouts: By customizing fields, objects, and layouts, businesses can create a personalized user experience that aligns with their unique workflow and data requirements
Why we chose Insightly
Insightly CRM emerges as the best overall pick among simple CRMs for its unique blend of powerful features and user-friendly design, making it an ideal choice for businesses of all sizes. This versatile platform shines with its intuitive interface, enabling users to manage contacts, track leads, and monitor project progress with ease.
What sets Insightly apart is its ability to adapt to various industries, thanks to its customizable fields and record types. For instance, its advanced relationship linking feature allows users to map out connections between contacts, organizations, and opportunities, providing valuable insights into your network and fostering more targeted sales strategies.
Insightly also has a commitment to scalability and integration. As your business grows, Insightly's flexible pricing plans allow you to access more advanced features, such as workflow automation, custom dashboards, and team collaboration tools.
Additionally, the platform's robust API and extensive list of integrations with popular tools, like Google Workspace, Microsoft Office, and QuickBooks, ensure seamless connectivity across your business ecosystem. With its adaptable, user-centric design and powerful feature set, Insightly CRM stands out as the ultimate choice for businesses seeking a simple yet comprehensive CRM solution that will grow alongside them.
Pipedrive: Best for sales
Another lightweight sales CRM option, Pipedrive requires minimum input but generates maximum output. Pipedrive can manage the sales pipeline effectively using all the necessary features CRM users have come to expect.
One of the features that sets Pipedrive apart from its competitors is its customizable pipeline stages. Users can create, modify, and rearrange stages in the sales pipeline to fit with specific workflows. Additionally, multiple pipelines can be created to accommodate different sales processes within the organization.
AI-powered tools also analyze outreach efforts along with traditional features.
Pipedrive pros and cons
Pros
AI-powered features
Sales-oriented
Multiple sales pipelines available
Customization of sales pipeline stages
Cons
Limited advanced features
Pricing structure reduces flexibility
Steep learning curve
Pipedrive key features
Visual sales pipeline management: Teams can track deals, leads and sales activities with ease and a high level of automation
Customizable pipeline stages: Users can tailor the CRM to natch their unique sales processes by customizing pipeline stages, ensuring a seamless fit with existing workflows
Colored cues: Coloring deals automatically draws attention to deals about to go cold, making this simple feature the difference between a sale and a missed opportunity
Why we chose Pipedrive
Pipedrive CRM rises to the top as the best pick for sales teams by delivering a laser-focused, sales-centric platform designed to streamline and optimize the sales process. Created by sales professionals for sales professionals, Pipedrive's intuitive and visually engaging interface ensures that teams can effortlessly manage leads, track deals, and maintain customer relationships.
Its standout feature, the customizable visual sales pipeline, enables sales reps to easily move deals between stages, providing a clear overview of the sales funnel and empowering data-driven decision-making.
Another factor that solidifies Pipedrive's position as the go-to choice for sales teams is its commitment to seamless integration with an extensive range of popular business tools. With native integrations for email, calendar, and over 150 other apps, Pipedrive ensures that sales professionals can access and update CRM data directly from their preferred platforms.
Furthermore, its powerful automation capabilities allow sales reps to eliminate tedious manual tasks, freeing up valuable time to focus on closing deals and nurturing relationships.
Why a simple CRM?
Simple CRMs typically have lower licensing or subscription fees compared to more comprehensive systems, making them a popular choice for startups or companies with straightforward customer relationship management needs.
Additionally, as the name suggests, a simple CRM can be easily implemented, requiring less training for team members than all-encompassing solutions. The result is quick adoption and full utilization of the CRM's various features.
The most simple answer is usually the best
Unnecessary complexity can often clog up the pipes of productivity. It can also drain resources. That's why easy CRMs have become the go-to option for many small businesses in search of a customer relationship management system that can handle essential processes like lead, sales, and contact management without the need for extensive customization or a team of specialized developers to install and update the platform.
Methodology: How we chose our top picks
At Technology Advice, we assess a wide range of factors before selecting our top choices for a given category.
By defining business needs, we can determine the essential CRM features organizations in various sectors require, and select platforms that will cover all bases. Reputable providers known for their ease of use and customer satisfaction are added to our compilation list for further analysis.
We then evaluate each CRM on the list based on the features they offer, considering the platform's usability, integration capabilities, customization option, mobile access, and any other relevant functionalities. Price plans, hidden fees, customer reviews, and customer support are also assessed in the selection process. Technology Advice writers will often take advantage of free trials and demos to get a first-hand user experience of the recommended CRMs.
Looking for the latest in CRM solutions? Check out our CRM Software Buyer's Guide.
---
FAQs
What are the benefits of a simple CRM?
Simple CRMs provide all the key features of comprehensive systems without the cost. Perfect for small businesses with straightforward management needs, simple CRMs are typically more user friendly than their comprehensive counterparts.
How to choose a simple CRM?
To ensure you select the right CRM for your business, consider several factors such as business needs, budget, ease of use, integration capabilities, and customization and scalability. Many CRMs offer free trials and demos that allow potential customers to explore the various features of the platform.
---
Featured Partners
1

Zoho CRM
Fully-customizable Zoho CRM provides unified solutions for businesses of all types and sizes. Conduct your Sales & Marketing analytics to gain insights using Dashboard views and Automate your daily routines. Customize your CRM theme based on your industry needs using Canvas, Omnichannel communication for streamlined communication between teams and customers, handle customer support from within the platform to improve customer relationships. Get Started with Zoho CRM now!
2

Rolldog
Rolldog is a Customer Relationship Management (CRM) and Sales Enablement solution that helps companies manage their business relationships, increase revenue, and boost sales & marketing effectiveness. Ease-of-use and an intuitive browser-based interface ensures that you can securely access the information you need, whenever you need it, from wherever you are.
3

HubSpot CRM
HubSpot is an intuitive CRM that makes managing your sales pipeline a breeze. Everything you need to track important metrics, set up time-saving flows and automations, manage clients seamlessly, and grow your business is available in one tidy dashboard. Plans are available for businesses at every stage of growth, starting at 100% free. Start taking the guesswork out of business management today with HubSpot CRM.
Technology Advice is able to offer
our services
for free because some vendors may pay us for web traffic or other sales opportunities. Our mission is to help technology buyers make better purchasing decisions, so we provide you with information for all vendors — even those that don't pay us.