Applicant tracking systems (ATSs) help your HR department track and standardize the entire hiring process, from the moment the candidate submits the application, all the way up through officially hiring them.
Even if you're a very small company with only a few employees, switching from spreadsheets and notepads to an official applicant tracking system will make it easier to scale your small business by hiring the right candidates.
What Is the Best Applicant Tracking System for Small Business?
Here are five software platforms specifically designed for use by small to midsize businesses (SMBs).
Zoho Recruit
Zoho Recruit is powerful, customizable ATS software that will scale with your small business as it grows to midsize. It offers lots of options for integrations and automation, removing repetitive tasks from your plate and making your software systems talk to each other seamlessly.
The platform is easy to navigate, so you don't have to be an HR software pro in order to use it. It also integrates perfectly with other Zoho software products, a big perk if you use anything else from them.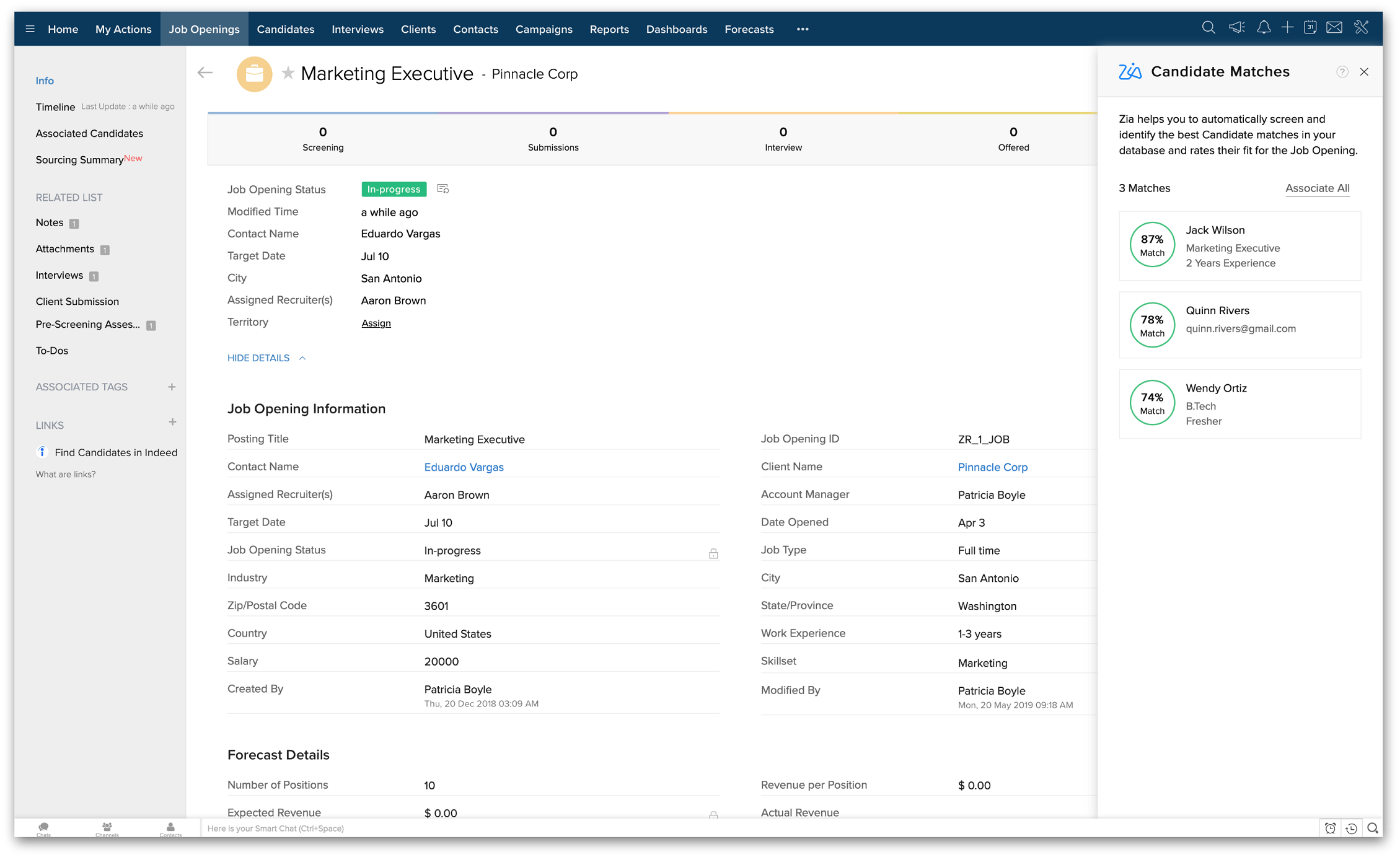 Workable
Workable offers fantastic features such as branded career pages, multiple language options, in-platform texting, and automated actions.
Users do note the software sometimes has small but annoying glitches. It sometimes lacks certain minor functionalities, such as automatically saving candidate notes to an interview profile. But these quibbles are small precisely because Workable is a best-in-class recruiting software option.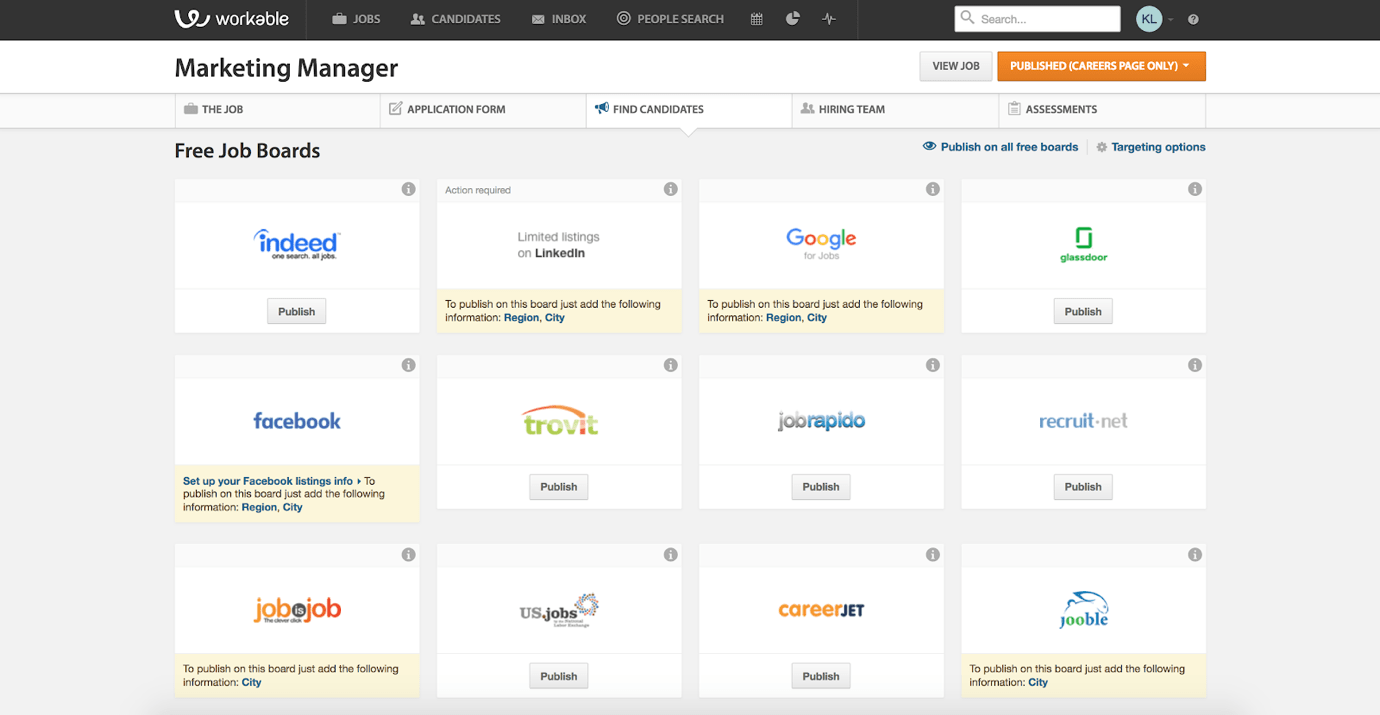 Paylocity
Paylocity offers an entire suite of product options, one of which is Paylocity Talent. This solution covers not just the recruiting process, but also onboarding, performance management, compensation management, and more.
Users love being able to have all their HR software in a single stack instead of having to cobble together multiple platforms. If you are already using Paylocity for your payroll, definitely check out their HR modules as well.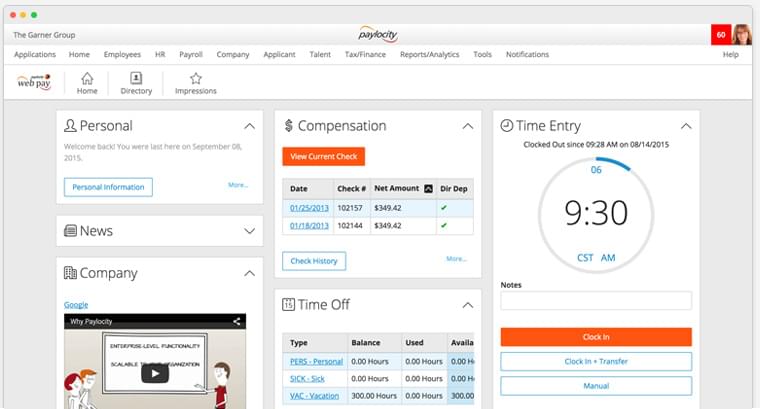 BambooHR
BambooHR is specifically designed for small to medium-sized businesses, making it a worthy option for SMBs who want not just an ATS but also other HR software functions.
The software is user-friendly from both an employee and an employer perspective. This simplicity does come with a certain lack of complexity, and some users noted it couldn't provide every single ATS functionality they needed once their business grew to a certain size. But for true small businesses, BambooHR is a fantastic option.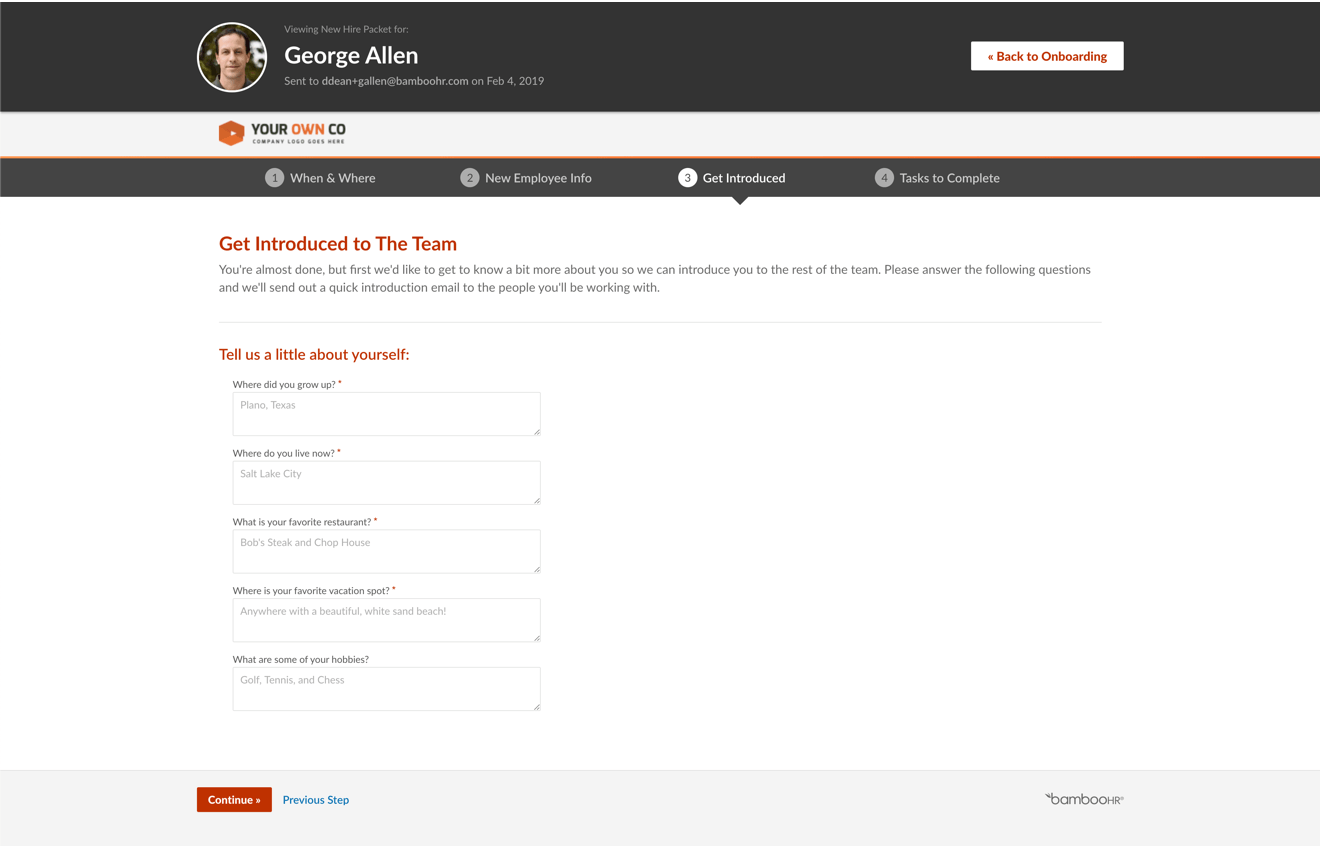 Greenhouse
Whether you currently have 10 employees or 100, Greenhouse will help you hire the people you need to take your business to the next level. The software will help you at every step of the way, from sourcing candidates to extending an offer to officially onboarding them.
Multiple users have mentioned the reporting function can be a little clunky and hard to navigate, but overall the software receives high marks from SMBs.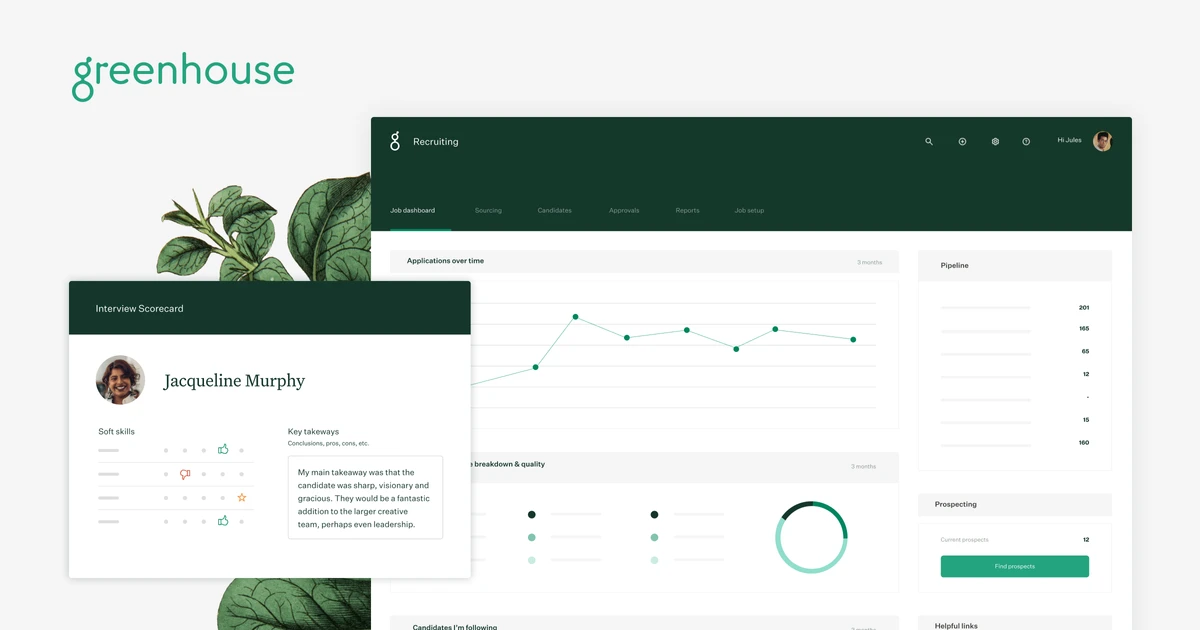 What Is an ATS and Why Is It Important for Small Businesses?
Very small businesses usually don't use ATS software because the same person oversees the entire hiring process from start to finish — and often only interviews a couple of candidates per position. However, as your business grows and more people get involved in the hiring process, you need to consider investing in applicant tracking software.
ATS platforms give businesses insight into the whole hiring process and automate time-consuming tasks, such as sending interview reminders. They can also help your company scale faster and make hiring a lot of people at once more efficient and less stressful.
When searching for the perfect ATS for your company, you might come across similar solutions, called recruiting software. Previously, recruiting software dealt with all aspects of the hiring process, including candidate sourcing, task management, onboarding, and more.
Over time, the lines between ATS and recruiting software have blurred, and some vendors that offer applicant tracking systems provide far more features than just tracking.
That being said, be sure to focus on the features you need most for your small business, and to let that be the deciding factor in which software you ultimately choose.
Read more: 8 Employee Recruitment Strategies to Improve Your Hiring Process
What Are the Must-Have Features in an Applicant Tracking System?
When comparing ATS software options, the possibilities can be overwhelming — especially if you're a small business. Here are the top features we recommend small businesses look for in applicant tracking systems.
Job Distribution
There are three main ways to advertise a job opening: on your own website, on third-party job distribution sites, and via paid ads. The ideal applicant tracking software will let you advertise on all three.
Most ATS software have partnerships with Indeed, Monster, and other job-posting websites, so you can automate this part of your workload. Ideally, they should also let you create and approve advertisements within the platform.
Candidate Management
Once your candidates have applied, you need to be able to segment them by category, or be able to search for a particular candidate. ATS software should let you sort and view candidates by degree type, as well as search for individual candidates using information in their profile.
Application and Resume Management
ATS software should be able to store application information, even after you take down a job post or make a decision on which candidate to hire. This allows you to refer the candidate internally for another position, or to reach out to promising candidates in the future if your hiring needs increase.
Interview Management
You should be able to message candidates, ask additional screening questions, and schedule interviews — all within the ATS platform. The ATS should also automate interview reminders in order to reduce no-shows and take this task off your plate.
Screening Tools
Screening candidates can begin as early as the application process, by asking applicants to answer some basic screening questions. If the ATS includes chat bot functionality, that can be used to further automate the early screening process. Finally, the ATS should also include resources for standardizing live interview questions and creating notes at the end.
Message Customization
Automated messages are great, but sending the exact same email to dozens of candidates can be off-putting. The best ATS platforms offer both automation and customization options, so you can send personalized messages to candidates with minimal effort and time spent on your end.
Team Collaboration
As your hiring team grows, they need to be able to seamlessly share candidate status across the whole hiring team. Thus, it should offer features that encourage this HR team collaboration, such as easy task reassignment and in-platform messaging.
Read more on eWeek: 5 Ways AI Can Improve Hiring for Both Employers and Candidates
Choosing the Right Applicant Tracking System for Small Business
Still not sure which of these ATS software options is right for your small business? Contact us today to schedule your free software consultation. One of our technology experts will help you find the perfect ATS software recommendations for your company's specific needs.
Top Applicant Tracking System Recommendations
Attract, hire, and onboard the right people with Pinpoint—the modern applicant tracking system designed for internal talent acquisition teams that care about flexibility, candidate experience, and want to spent less time on repetitive admin.

Simple, intelligent software and unlimited help from the Pinpoint team means you'll attract the right candidates, select the best, and wow your new hires from the moment they say 'yes'.
monday.com Work OS is a collaborative no-code work management platform that allows HR managers to manage the entire employee lifecycle in one place. Track the recruitment process, onboard new employees with the help of pre-made templates, safely store personal information, plan team-building activities, and use automations to speed up and simplify all these workflows and many more. And with 40+ integrations, monday.com lets you continue working with your favorite tools within the platform.
Need a Little Help?
Talk with a software expert for free. Get a list of software that's great for you in less than 15 minutes.
Crelate, an all-in-one ATS and recruiting CRM, helps users deliver results and scale their business. The single screen experience minimizes productivity loss. Functionality reduces the need for additional programs to operate a recruiting and/or staffing business. Flexible workflows allow users to work how they want.

A modern, sleek, and intuitive feel, Crelate offers built-in integrations, industry-leading reports, and powerful search. Letting you focus on what you do- changing people's lives.
ExactHire ATS--backed by a team of SHRM certified strategists--improves hiring outcomes by optimizing the hiring process. Our software extends the reach of job posts, simplifies the application process, and streamlines communication between applicants and employers. This increases traffic to online applications and quickly moves candidates through the hiring process. Along the way, applicant data and activity is organized into insights that are critical to making better hiring decisions.
Breezy HR is a modern recruiting and applicant tracking tool to simplify your hiring process. From advertising jobs to making offers, get everything you need to attract and hire the best employees, faster.