Here are some of the best JazzHR alternatives that might be a better fit for your ATS and general talent management needs:
Workable: Best all-around ATS
Workable is one of the best-reviewed applicant tracking systems on the market, and it's the one that will satisfy most businesses' candidate recruitment needs. Workable offers a great balance of features for various pricing tiers as well as a pay-per-job pricing plan that allows for flexibility if you don't necessarily need a full monthly subscription. Diversity, equity, and inclusion (DEI) is also built into the recruitment tools to assist companies in meeting DEI hiring goals.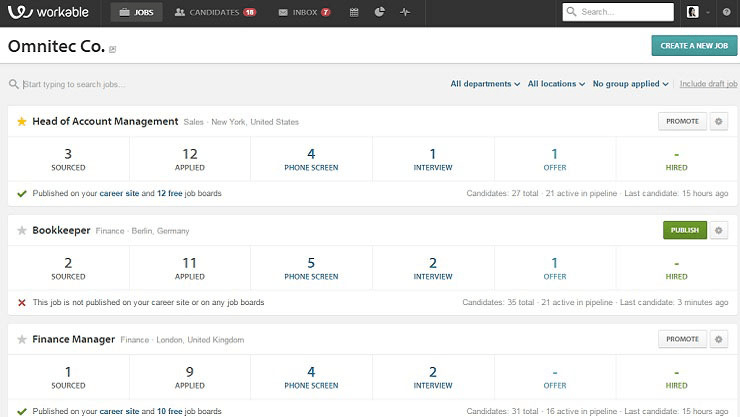 BambooHR: Best recruiting-enabled HR software suite
Sometimes, you don't just need an applicant tracking system but also an entire HR software suite, and that's where providers such as BambooHR come in. BambooHR is a highly rated HR management system that also includes an ATS, so you don't need separate HR tools.
Zoho's must-have HR system features cover the entire employee life cycle, from the recruiting process to payroll and benefits to performance management and offboarding. BambooHR is specifically designed for HR professionals at SMBs, so it's a great option if your company is growing fast but doesn't need enterprise-level HR tech yet.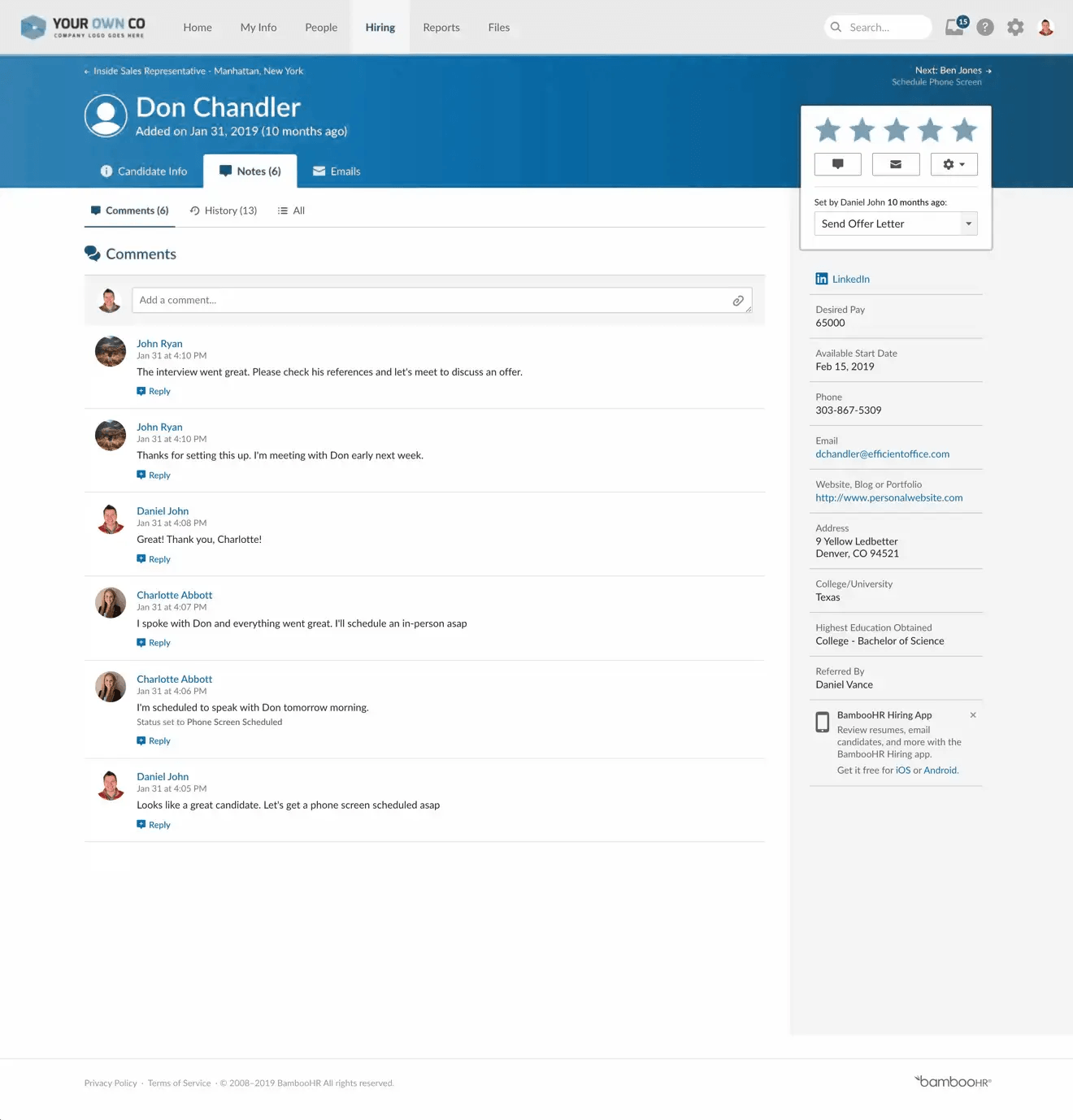 Greenhouse: Best ATS for growing businesses
Greenhouse is another recruiting software that optimizes the recruitment process, and it's probably the closest direct competitor to JazzHR. When compared directly, Greenhouse's features tend to be a touch more comprehensive and sophisticated than JazzHR's, and it offers significantly more built-in HRIS integrations.
The system has a well-designed user interface (UI), and the candidate-facing portal makes a great impression on potential hires. It's also GDPR-compliant, which is a plus for international companies hiring in Europe. However, the pricing isn't transparent, and there is no free trial, which is a big change from JazzHR.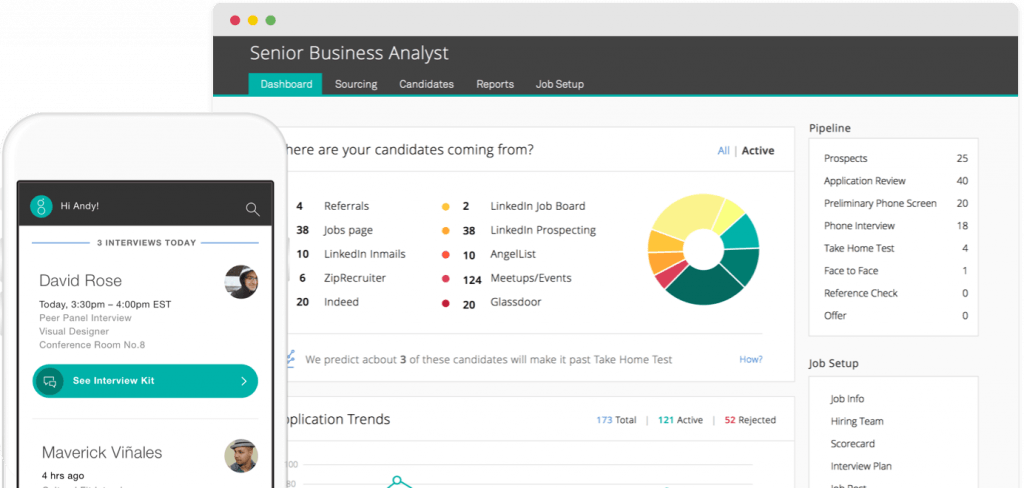 Breezy HR: Best ATS for small businesses
If you're specifically in the marketing for a recruiting and hiring tool, Breezy HR's applicant tracking system features an easy-to-navigate drag-and-drop interface plus dozens of integrations. This stand-alone applicant tracking system offers a forever-free version of its HR software for small businesses, which sets it apart as a JazzHR competitor. If you need to upgrade, the transparent pricing schedule has tiers that make sense for small and midsize businesses (SMBs).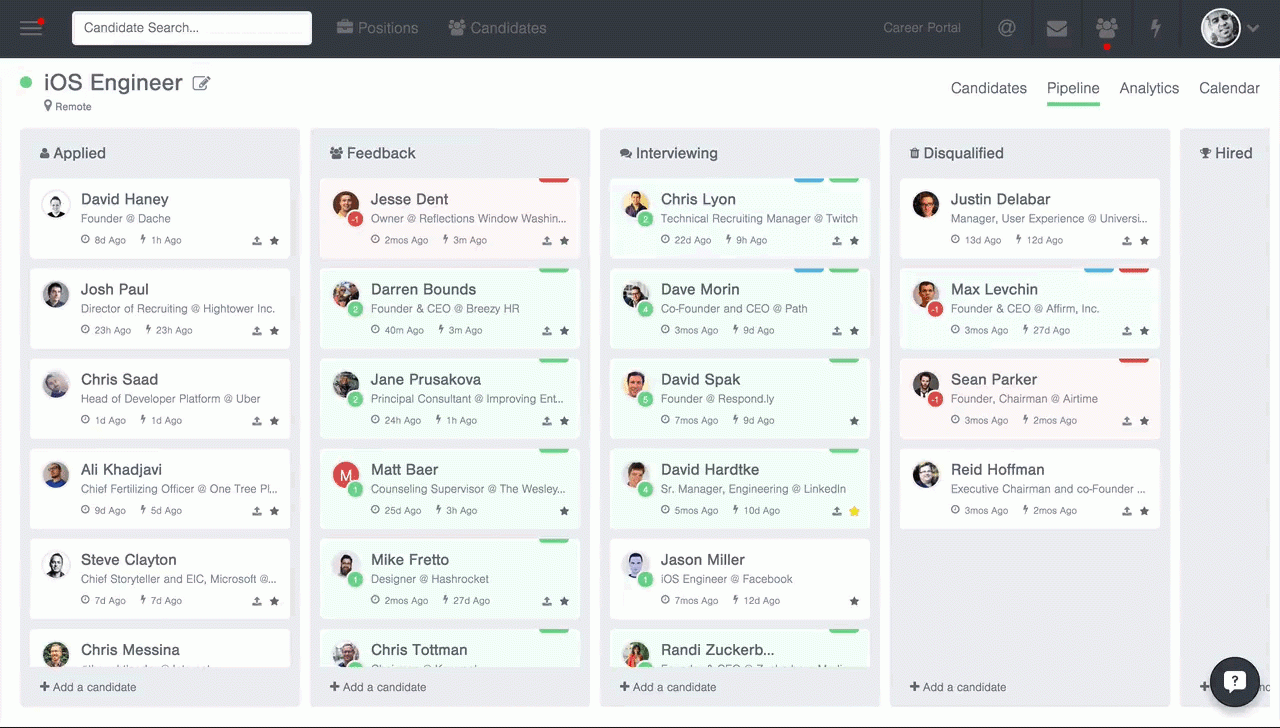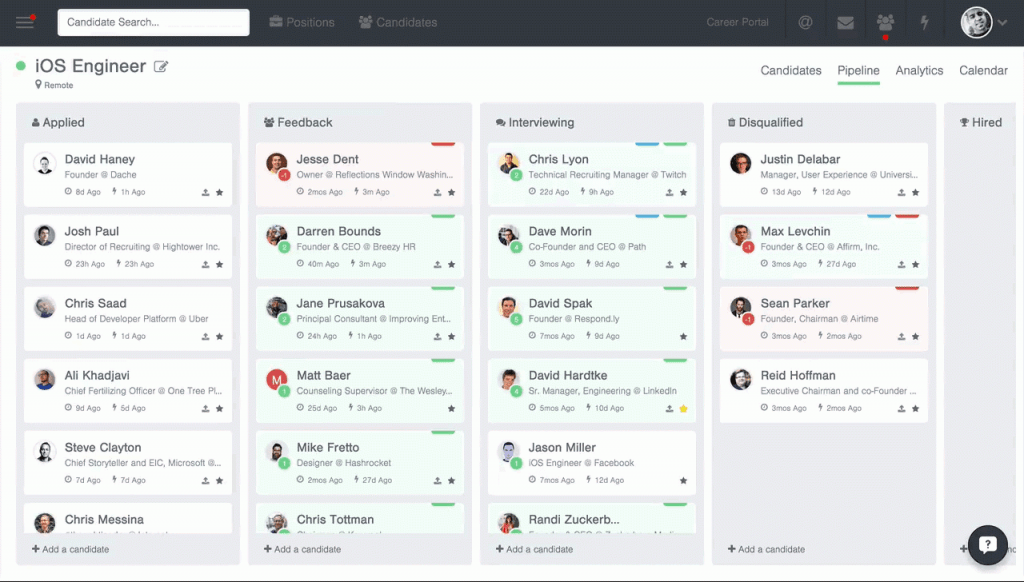 Zoho Recruit: Best business software stack
In other cases, your company is looking for even more than recruitment software or HR tech: You need an entire business software stack that works together seamlessly. While you can subscribe to the Zoho Recruit applicant tracking system on its own, it really shines when used in conjunction with not just Zoho's HRIS system but the entire Zoho software stack.
If you are looking not just for an ATS but for an entire suite of software that works together, then Zoho is definitely worth considering. While it's not as complex as enterprise solutions like SAP or Oracle, Zoho's products are much easier to navigate, making it a great option for small to large companies looking for a comprehensive software solution without a prohibitive learning curve.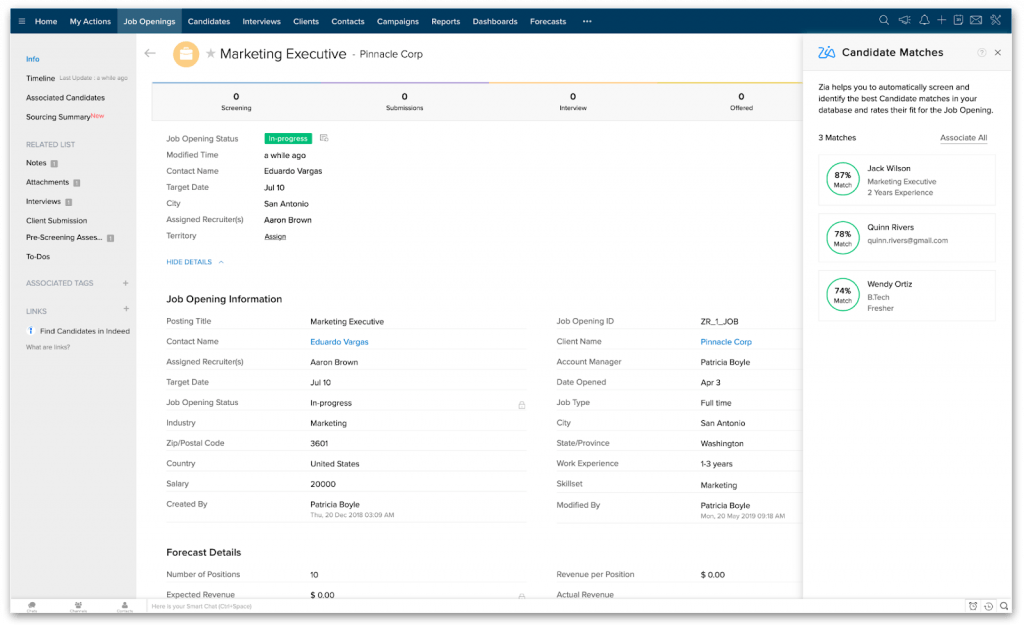 JazzHR Limitations
JazzHR has a lot going for it, which is why we included it on our list of the best ATS software for 2023. However, JazzHR also has its own drawbacks that may drive potential customers to seek out other recruitment software. Here are some of the limitations of JazzHR:
Learn more about JazzHR's pros and cons in the video below:
Choosing the right alternative to JazzHR
JazzHR is one of the most recommended stand-alone ATS platforms, but it's not the right fit for every business' recruiting strategies. If you're specifically looking for an ATS, there are several great JazzHR alternatives to consider:
Choosing an ATS is a complex decision. If none of these vendors meet your talent acquisition needs, check out our ATS Software Guide to browse other solutions.
Featured partners
1

ClearCompany
Create best-in-class candidate experiences and efficient recruiting processes for hiring success. ClearCompany helps your company find and hire more top talent with modern text, video, and interview scheduling tools. ClearCompany incorporates your job-specific requirements to optimize requisitions, elevate interview conversations, evaluate candidates fairly, and hire top talent aligned with your company's culture and mission.
2

Workable
Find the best candidates with Workable's applicant tracking software. Workable helps you source, track, and hire candidates, all in less time. Whether you're hiring Employee #2 or 200 new employees, Workable's scalable tools, know-how, and support comes wrapped in enterprise-grade tech that's as easy to use as your favorite app.
3

BambooHR
BambooHR is an award-winning HR platform that helps your growing organizations automate, centralize, and connect your people data all in one place. It gives you a one stop shop to manage data, hire talent, run payroll, and help employees grow.
Technology Advice is able to offer
our services
for free because some vendors may pay us for web traffic or other sales opportunities. Our mission is to help technology buyers make better purchasing decisions, so we provide you with information for all vendors — even those that don't pay us.