If you're looking for a new applicant tracking system (ATS), it's probably safe to assume that you've already looked into JazzHR. While JazzHR is an excellent and popular tool, this doesn't mean it's the right choice for every company
This article provides a general guide to comparing ATS solutions, but you can also receive a personalized list of the best ATS solutions for your needs by giving us a call at 877.702.2082 or by completing the form at the top of our Applicant Tracking Systems page.
Here are five of the best JazzHR competitors, in no particular order.
SmartRecruiters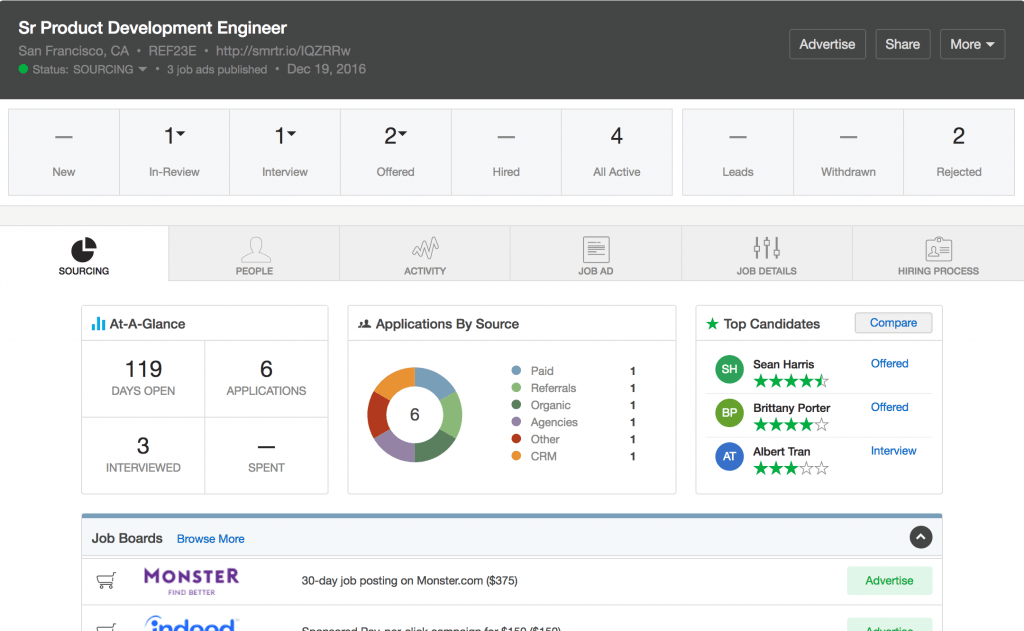 Based in San Francisco, SmartRecruiters is another industry-leading ATS with a full recruitment system. This solution allows recruiters and hiring managers to sync job postings across a number of different popular job boards in addition to creating your own Sourcing Dashboard.
The Sourcing Dashboard pulls together candidates from across a number of different job boards such as LinkedIn, CareerBuilder, Glassdoor, and others. SmartRecruiters regularly adds new features based on customer feedback, but this abundance of features may seem overwhelming to some people, especially those who work at smaller companies.
Jobvite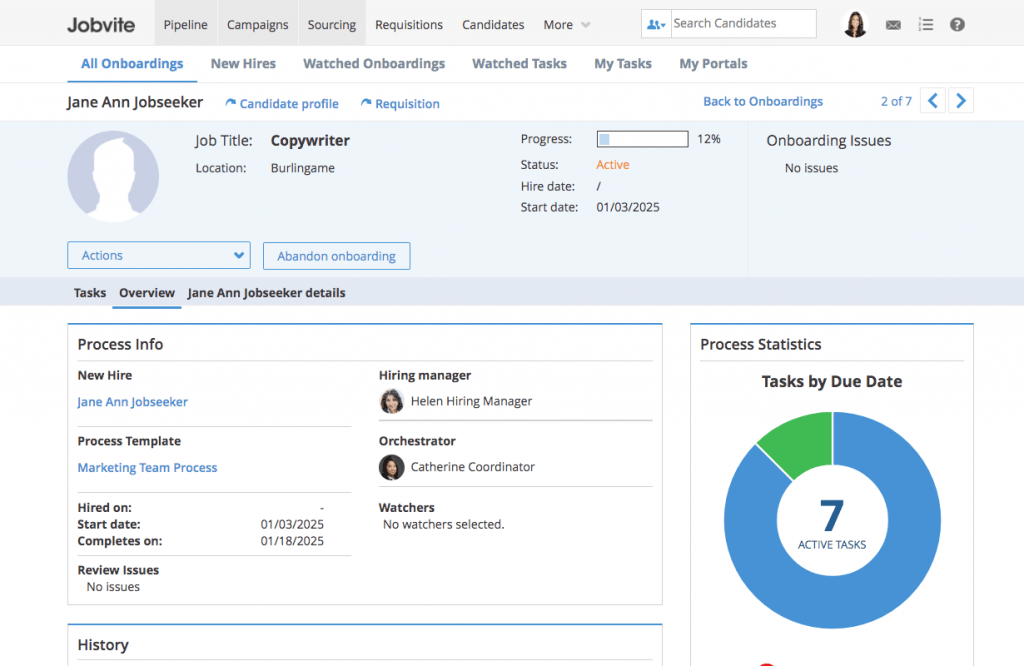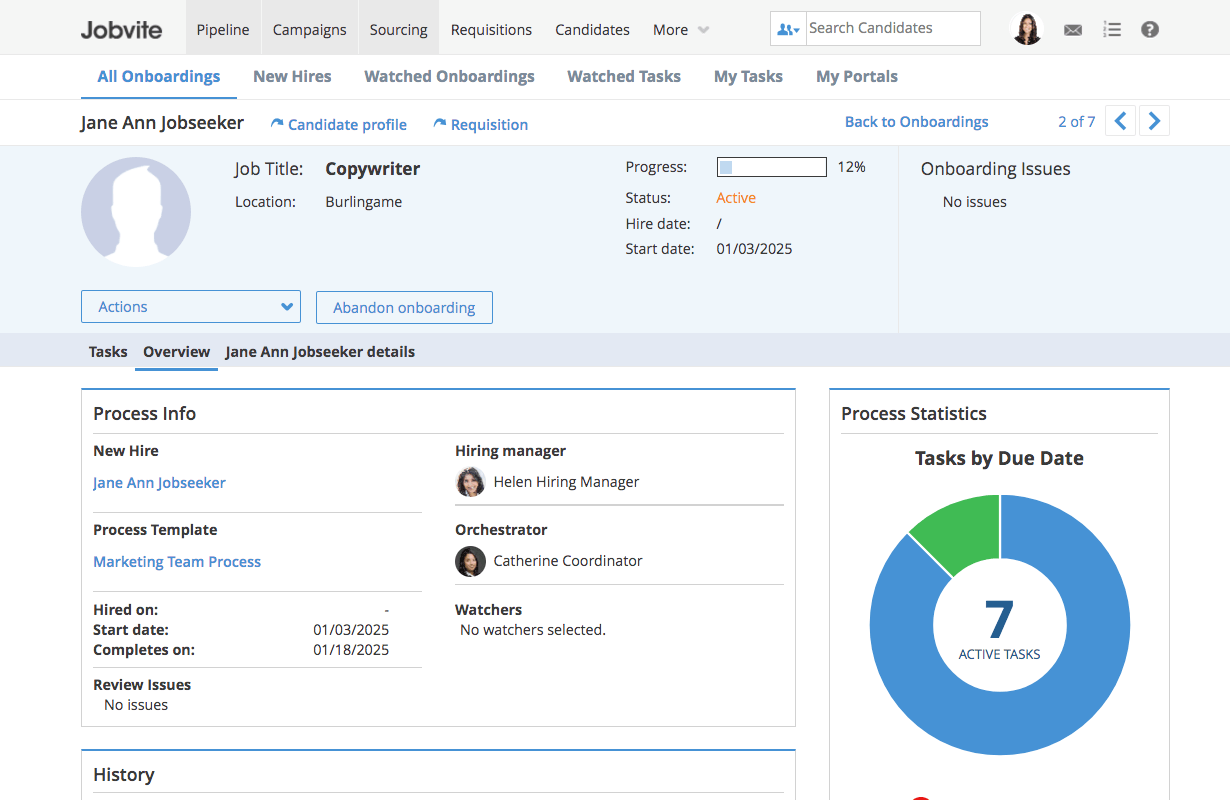 Candidate nurturing is a common feature among ATS solutions, but Jobvite takes a unique approach to candidate nurturing based on artificial intelligence (AI) and machine learning.
Using a method called Continuous Candidate Engagement (CCE), Jobvite sends intelligent nurture cadences that are designed to reach candidates at the optimal times and frequencies for receiving applications. This solution also integrates with social media platforms for finding candidates outside of job boards.
While Jobvite is short on drawbacks, it does offer little flexibility in the way of customizing recruiter emails. Email communication sent from your company to candidates will come from a Jobvite email address, and you can't add custom signatures to emails at this time.
RecruiterBox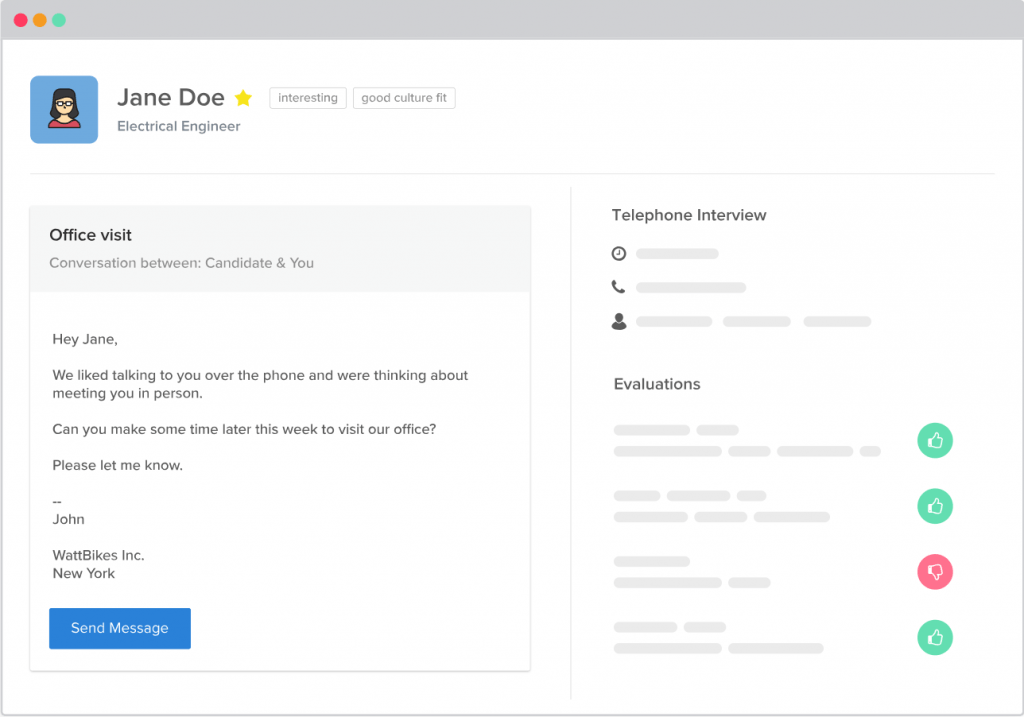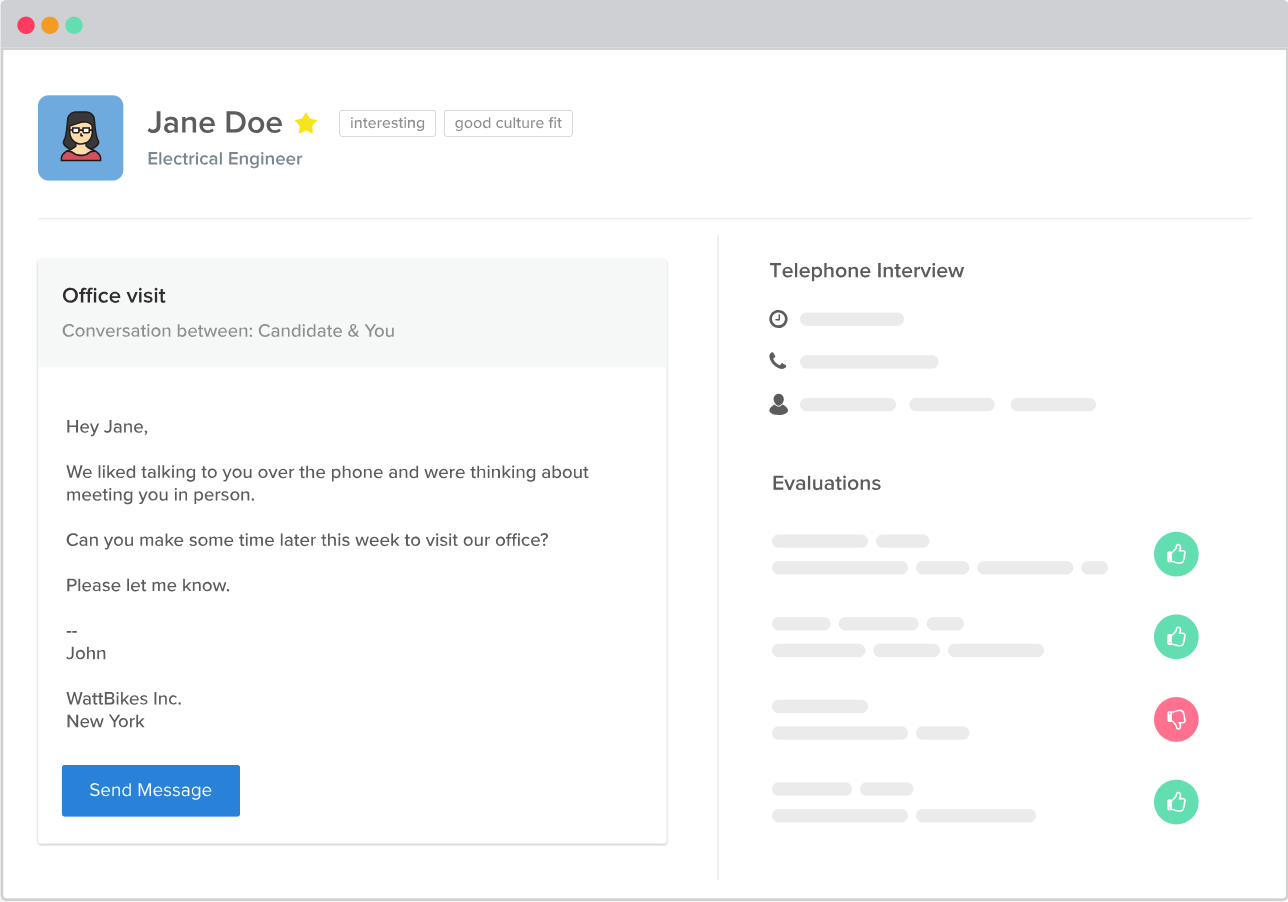 Most recruiters face a Catch-22: they either can't get enough applicants, or they get a lot of irrelevant applicants. RecruiterBox wanted to ease this pain point, so they developed an ATS that has candidates answer qualifying questions upfront.
This helps to weed out applicants that aren't a good fit, so you can spend more time focusing on candidates that show more promise. RecruiterBox also offers a lightweight design and good UX that makes for an easy-to-use tool.
Like Jobvite, though, RecruiterBox also doesn't allow you to customize email communication between you and a candidate, so you will probably need to send emails outside of the system if you want to ensure they aren't caught by spam filters.
Workable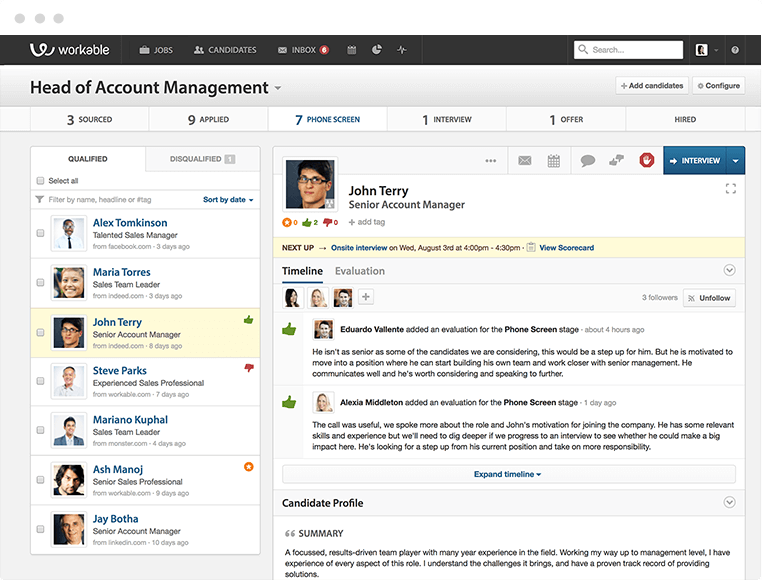 If you're a smaller team or looking for a no-frills solution that gets the job done, Workable might be for you. Workable's main selling point is its ease of use, but it also offers a People Search browser extension for Google Chrome.
People Search lets you find candidates' email addresses, résumés, and more, all from searching their names. This extension sources data from trusted sources, and it even lets you download candidate information as a PDF document.
Also Read: Best HR Software For Small Business
While Workable users sing its praises, they do acknowledge that it's built as an out-of-the-box solution. So if you're a larger company looking for a highly customizable ATS, Workable may not be for you.
Zoho Recruit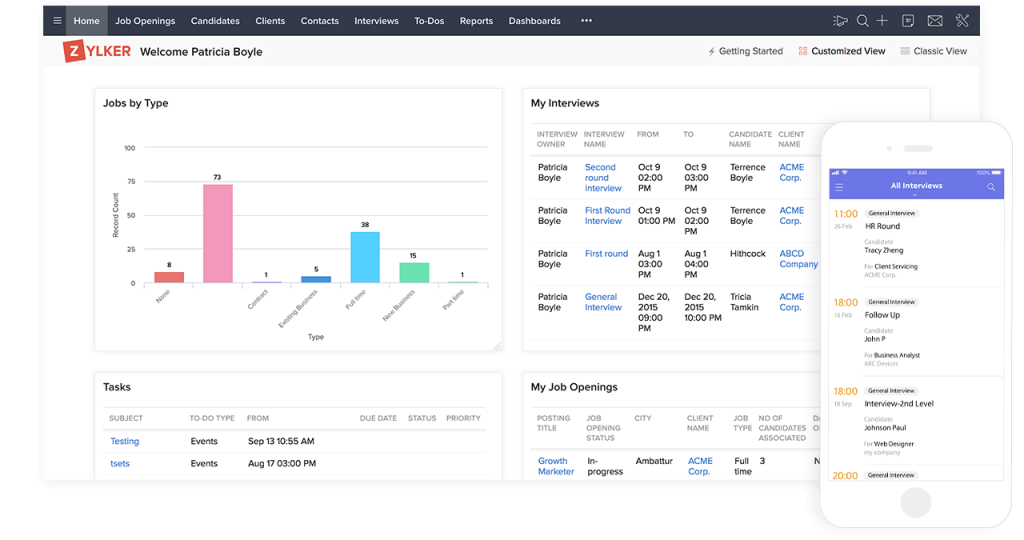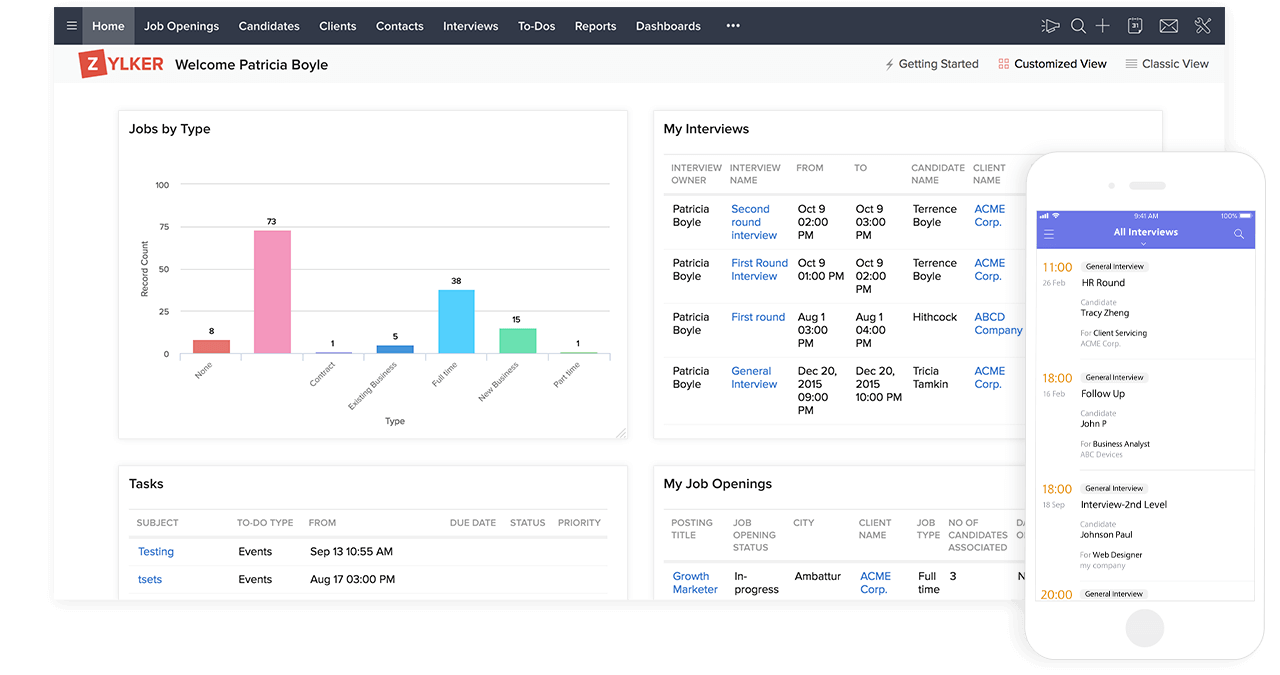 If you're an experienced ATS user, Zoho Recruit offers a standout solution with no limits on the number of candidates you can keep on record.
Zoho Recruit also integrates seamlessly with the other SaaS offerings from Zoho, so you can easily create CRM records for candidates if you also use Zoho CRM.
While this tool is highly customizable and flexible for a variety of different business' needs, it does leave something to be desired in terms of its UX. If you're a seasoned user of ATS software, you shouldn't have any problem getting up and running with Zoho Recruit, but for those new to ATS software, this tool presents a learning curve.
We can help with your search.
Just like finding the right candidate for a job, finding the right ATS software can be time-consuming and frustrating. That's why we're happy to offer you a free, five-minute consultation to learn more about your software needs.
Give us a call today at 877.702.2082 or email us at info@technologyadvice.com to receive a shortlist of the best ATS solutions for your business. If you'd like to do some more research first, we offer a comprehensive buyer's guide on our Applicant Tracking Systems page.
Top Applicant Tracking Software Recommendations
Attract, hire, and onboard the right people with Pinpoint—the modern applicant tracking system designed for internal talent acquisition teams that care about flexibility, candidate experience, and want to spent less time on repetitive admin.

Simple, intelligent software and unlimited help from the Pinpoint team means you'll attract the right candidates, select the best, and wow your new hires from the moment they say 'yes'.
Tracker is an Integrated ATS, CRM and Recruitment Automation Software. We help staffing & recruiting firms save hours and place candidates quicker in our all-in-one platform so they can increase revenue while cutting operational costs.
See why over 8,500 small and growing businesses trust JazzHR to find their next great hire. Try JazzHR commitment-free for 21 days (no credit card required!) and instantly access crowd favorite tools like one-click job posting to dozens of free and premium job boards, pre-screening questions with auto-reject features, integrations with all of the HR tools you need like Zoom video interviewing, and much more. Post your first job for free today.
Need a Little Help?
Talk with a software expert for free. Get a list of software that's great for you in less than 15 minutes.