An applicant tracking system (ATS) can help source, organize, and hire your next employee — check out our complete list of solutions in our ATS Software Guide.
6 creative ways to find employees
Creative sourcing methods can give you a competitive edge if conventional recruitment strategies fail to produce your desired talent. Some of the best ways to find employees include the following:
Leverage email and text campaigns.
Attend job fairs and parties.
Use social media.
Scout diverse job boards.
Offer apprenticeships.
Produce podcasts and videos.
By using these employee sourcing methods, you can create a more diverse, dedicated, and innovative workforce. However, they often involve more upfront work than simply posting job ads to online job boards or leaning on internal referral networks.
Most creative sourcing techniques require executive buy-in, specialized recruitment tools, or other time and budget commitments. Nevertheless, expanding your talent pools to reap quality new hires is worth the increased investment.
Explore strategies to improve your recruitment process in this video:
1. Leverage email and text campaigns
Marketing texts and emails remain highly effective ways to reach active and passive candidates with little effort. In fact, email marketing return on investment is £35.41 for every £1 spent ($41 for every $1 spent), according to Data & Marketing Association's 2020 Marketer Email Tracker.
What's unique about email and text campaigns is their customization. For example, if your first choice in a new hire does not work out, you can build an automated outreach campaign through emails and texts to engage silver medalists — those who made it to the interview stage but did not receive a job offer — and former employees. Attracting boomerang employees, in particular, can significantly shorten onboarding processes for critical roles.
Occasional email newsletters focusing on your company's culture, values, open roles, and perks can nurture candidates on the fence about applying. Sending quick texts can also remind candidates to finish their applications, inform them of available positions, or guide them through a text-to-apply feature. These help increase your job application count and improve the experience for deskless or on-the-go candidates.
Software can simplify the process of creating email and text campaigns. For example, HireEZ can source qualified candidates' email and phone numbers from over 800 million profiles. From there, you create candidate email sequencing, save email templates, and track click-through and reply rates to measure the success of your campaigns.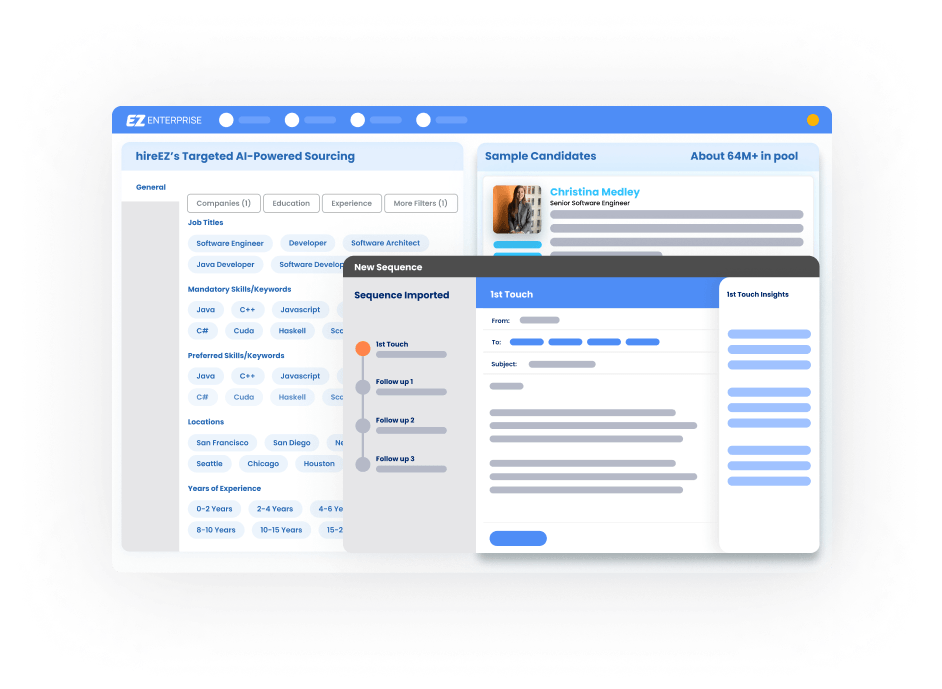 Pros of text and email campaigns
Cons of text and email campaigns
2. Attend job fairs and parties
High school or university job fairs allow recruiters to interact directly with candidates actively looking for work. As a result, these candidates are typically eager to start work with employers that are willing to offer the training and guidance to succeed in their fields of choice.
Industry job fairs like TechExpo can help advertise your role, create valuable networks of industry specialists, and increase your chances of meeting candidates with the right expertise. You can also promote your brand and entice candidates to apply by highlighting your company's innovations and benefits.
Informal events like parties, concerts, or volunteer opportunities are less rigid and promote open dialogue among prospects and recruiters. In fact, a recent LinkedIn study found that casual acquaintances, such as those from parties, influence jobseekers' next job decisions more often than close friends.
Software also helps capture candidate information from in-person events. For example, Greenhouse's Mobile Events App for iOS saves candidate applications, takes photos of applicant résumés, and adds their information to your hiring pipelines for screening follow-up. Recruiters can then focus on creating engaging events rather than collecting paperwork.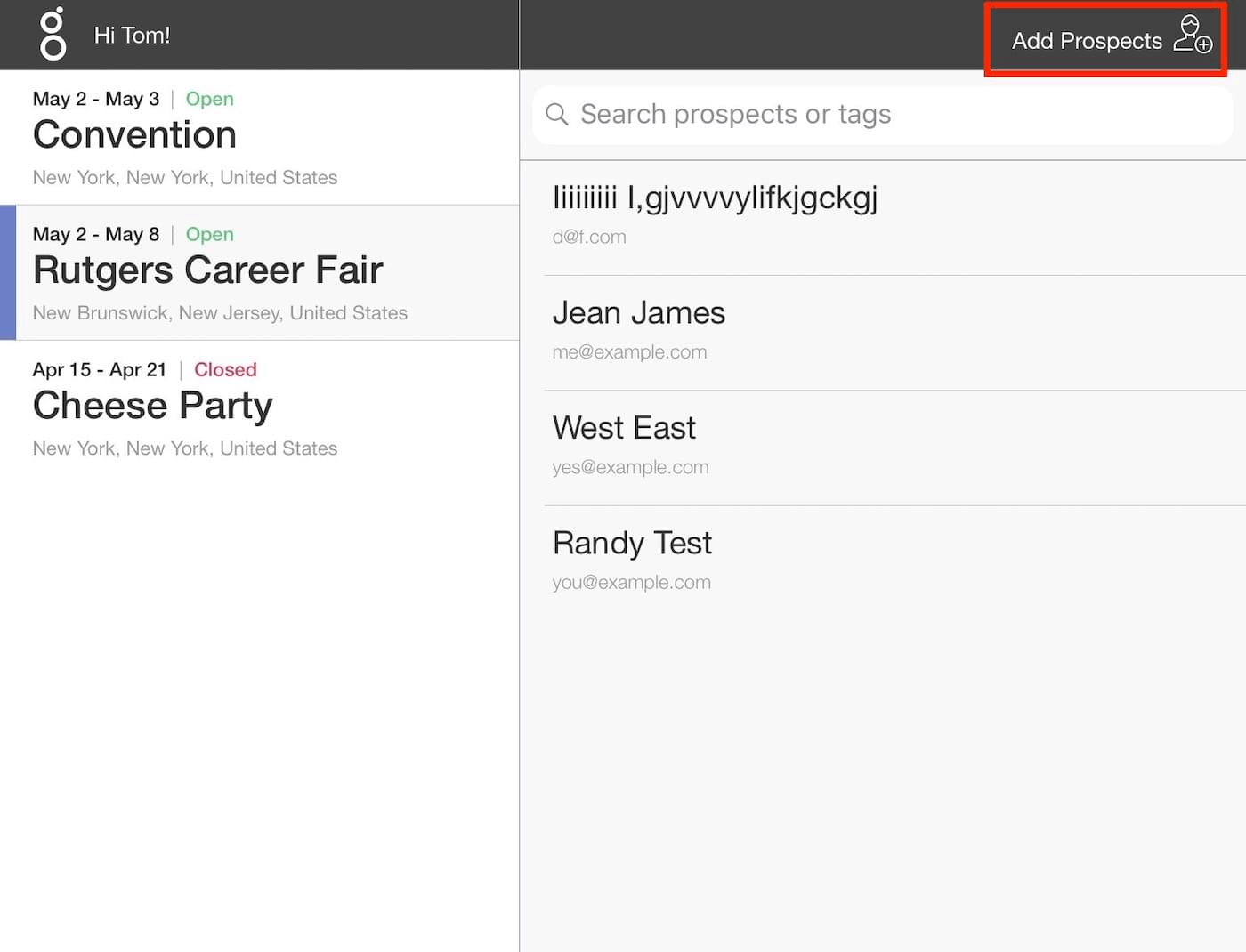 Pros of job fairs and parties
Cons of job fairs and parties
3. Use social media
Social media platforms, such as Facebook, Twitter, Instagram, and TikTok, can help companies cast a wider net when searching for top talent. While this may seem overwhelming, crafting strategic social media campaigns can help attract job candidates who fit your company's culture and values.
Companies can even refine where their job ads post to target the most relevant candidates through hashtags. For instance, if you are looking for a website designer for your company, you might tag your social media post with #designerjobs or #webdesign so that your ad reaches the right communities.
Alternatively, consider driving interest in your company through more inventive ways. Eyeglass company Warby Parker, for example, uses TikTok to showcase their "Halloweenies" event, highlighting their fun company culture to potential hires.
Additionally, companies may consider partnering with social media influencers to advertise their open roles. Influencer recommendations carry a lot of weight with their dedicated followers, so companies can expect application upticks through these partnerships.
TechnologyAdvice, for example, experienced a surge of applications to our Program Coordinator role after TikToker Shaque'l promoted the job on her channel. Although we did not partner with Shaque'l, her callout was a tremendous help and illustrates the power of leveraging social media influencers for talent sourcing.
Check out Shaque'l's callout of our role:
4. Scout diverse job boards
If you want to intentionally build a more diverse workforce, posting your open role to diversity job boards is an excellent way to find talent from traditionally underrepresented groups.
For example, online job boards catering to women, people of color, people with disabilities, immigrants, veterans, people with criminal records, or LGBTQIA+ folks can provide qualified candidates and expose companies to varying points of view and unconventional ideas.
If you're interested in posting your open positions to these broads to promote your diversity, equity, and inclusion (DEI) efforts, below are some sites to get started:
Some ATS apps already integrate with popular diversity job boards. BreezyHR, for example, syncs with both Diversity and Professional Diversity Network, as well as women, disability, and veteran-focused boards, to simplify your inclusive hiring efforts.
Pros of diverse job boards
Cons of diverse job boards
5. Offer apprenticeships
Although you may consider apprenticeship programs regulated to trade industries such as plumbing, electricity, or construction, this is a myth. Modern apprenticeship programs cater to businesses of all sizes and industries, including manufacturing, technology, and hospitality.
Apprenticeships can help you build diverse talent pipelines since many apprentices come from varying industries. Additionally, they help individuals without the means to complete higher education requirements to compete for positions in higher-paying fields, such as engineering.
"Apprenticeship graduates have skills that are currently in demand, and most have coveted soft skills employers look for," explains Paula Mathias-Fryer, Director at the non-profit SLO Partners. "Apprentices also tend to be hungry for new opportunities and have the attitude, aptitude, and drive to succeed, making them desirable job candidates," she says.
Although apprenticeship programs require dedicated time to train new recruits, apprentices tend to stay longer. Apprenticeships also foster a culture of learning as your managers develop crucial mentorship and training skills.
In fact, for Dr. Ximena Hartsock, co-founder of BuildWithin, hiring apprentices helped her previous company fill much-needed technical roles, including software development. Eight years later, apprentices made up 30% of her team.
"Apprenticeships gave us access to a diverse, highly underrated talent pool with transferable skills and the ambition to learn a new career," says Hartsock. Moreover, hiring and training apprentices was more cost-effective than competing with big tech companies for talent.
If you're interested in sourcing talent through apprenticeship programs, the first step is to check your state and municipality's apprenticeship website for resources. Funding opportunities are also available through federal, state, or local governments, including the U.S. Department of Labor.
Software platforms, like BuildWithin, can also help you craft an apprenticeship program unique to your open position — including training materials and analytics to monitor apprentices' progress.
6. Produce podcasts and videos
Podcasts and videos are fun ways to drum up interest in your company by showcasing company values and offering first-hand accounts of your organization's work life. Like social media platforms, producing a company podcast or video appeals to a broader audience and provides a personal view of the company.
Moreover, podcasts and videos can be paired with other recruitment methods to boost engagement. For example, you can link company podcast episodes or videos to your job ads, feature them on your career site, or make them the center of your email campaigns.
Bradley Evans, managing director of people at Prefect, describes adding hiring manager videos to their recruitment emails as the "winning formula." Their videos provide insights into their open roles by highlighting the position's appeal and the work life of other employees. "Giving candidates a glimpse of the hiring manager and the role through an authentic, engaging video significantly boosts our response rate of qualified applicants," says Evans.
Like videos, podcasts can help companies feel more down-to-earth and personable. Their easily digestible format caters to individuals not tied to a desk or who do not have time for long-form video content.
April White, founder and CEO of Trust Relations, developed a podcast about the dark side of the public relations (PR) industry to connect with PR and marketing professionals through relatable content. Despite jobseekers making up only a small proportion of the podcast's audience, the candidates it attracts exemplify their brand.
Many ATS solutions allow companies to include customized video and podcast content directly on their career site. Teamtailor, for example, allows companies to build out their career pages with videos through a simple block editor. Such content can market roles while leading candidates further down the hiring funnel.
Pros of podcasts and video marketing
Cons of podcasts and video marketing
Creative sourcing boosts retention and diversity
Using creative ways to find employees can help you build more diverse candidate pipelines and increase retention.
Getting creative with your hiring is one of the most obvious ways to show, not tell, your company's commitment to DEI initiatives. And, with a more diverse team, be prepared for increased innovation to drive your company's success.
If you're unsure where to start your talent search, check our Recruitment Software Guide for a complete list of solutions on the market.
1

Tracker ATS & CRM
Tracker is an Integrated ATS, CRM and Recruitment Automation Software. We help staffing & recruiting firms save hours and place candidates quicker in our all-in-one platform so they can increase revenue while cutting operational costs.
2

Breezy HR
Breezy HR is a modern recruiting and applicant tracking tool to simplify your hiring process. From advertising jobs to making offers, get everything you need to attract and hire the best employees, faster.
3

ClearCompany
Create best-in-class candidate experiences and efficient recruiting processes for hiring success. ClearCompany helps your company find and hire more top talent with modern text, video, and interview scheduling tools. ClearCompany incorporates your job-specific requirements to optimize requisitions, elevate interview conversations, evaluate candidates fairly, and hire top talent aligned with your company's culture and mission.
Technology Advice is able to offer
our services
for free because some vendors may pay us for web traffic or other sales opportunities. Our mission is to help technology buyers make better purchasing decisions, so we provide you with information for all vendors — even those that don't pay us.