Check out our HR Software Guide for solutions that can help you manage your distributed workforce.
What is a professional employer organization?
A professional employer organization (PEO) is a business partner that provides an array of HR services and employee benefits. One of the unique aspects of a PEO service is that it acts as a co-employer, meaning it shares the business's employees and employment liability.
PEOs mainly work alongside small to midsize businesses by taking over several administrative and HR tasks while the companies maintain control over their day-to-day operations. Although some PEOs might offer additional services like talent acquisition and management for an extra fee, most PEOs offer the following:
Payroll.
Tax filings.
Benefits administration.
However, companies that want to use PEO services must register their businesses in the country, state, or locality where they employ workers. In other words, companies need a local legal entity in an area before they can partner with a PEO.
When to choose a PEO
PEOs are better for small, domestic businesses looking for a strategic partner to reduce HR tasks and compliance risks long-term. Companies with limited growth plans can benefit from a PEO that supports their small or non-existent HR staff.
Moreover, with more flexibility over which HR responsibilities the company keeps or outsources, small companies can maintain control of the aspects most important to them, such as hiring.
Choose a PEO if you:
Already have legal entities in the areas your employees live.
Require a physical presence in the areas of your employees.
Need services for the entire workforce.
Have a minimum of 5-10 employees.
Want to maintain control over select HR functions.
What is an employer of record?
An employer of record (EOR) is a company that serves, on paper, as the actual employer of a business's employees. As a result, EORs provide companies with the greatest level of protection against employment-related compliance matters.
EORs provide similar services to PEOs, with the addition of state and global compliance, payroll, benefits, hiring, and onboarding services. Companies do not have to open a legal entity in their employees' locations to partner with an EOR.
Moreover, companies can choose how much of their workforce is covered by the EOR. Because of their international capabilities, some refer to EORs as global employment organizations (GEOs) instead.
Compared to PEOs, EORs typically have more control over aspects of a company's HR responsibilities, including recruitment practices, benefits offerings, and disciplinary actions. Because EORs manage these processes to reduce their compliance risk, this could be at the disadvantage of their client company, which may have different objectives.
Nevertheless, EORs are a quick, cost-effective way for companies to expand into other territories.
When to choose an EOR
In contrast, EORs are best for domestic or international businesses needing to mitigate risk for varied and diverse workforces. EORs can fast-track a company's global expansion and hiring efforts because they do not require it to register in the locations it wishes to hire.
Additionally, EORs offer the most protection for companies against employment law violations as it is the EOR's name on all legal documents.
Choose an EOR if you:
Do not have legal entities in the states or countries where you wish to hire.
Require HR services or benefits for only a subset of your workforce.
Want to substantially reduce your employment liability risk.
Need a cost-effective solution to hire abroad quickly.
PEO and EOR similarities
PEOs and EORs can take over most of a company's rote HR and administrative responsibilities, freeing up these teams to focus on the business's larger objectives. With similar services, access to payroll and benefits, and overall reduced employment compliance risk, partnering with a PEO or an EOR can help companies operate in unfamiliar markets. Both structures also offer advisory services to help delegate and manage projects for HR departments.
Differences between PEOs and EORs
PEOs and EORs take different approaches in structure, scope, compliance risk, growth, flexibility, services, and cost.
For instance, EORs require less upfront costs since they do not require businesses to register where they wish to hire employees. On the other hand, PEOs are generally more flexible with their services; they either control or share control only over the HR functions that their client requests.
The differences between PEOs and EORs are summarized in the chart below: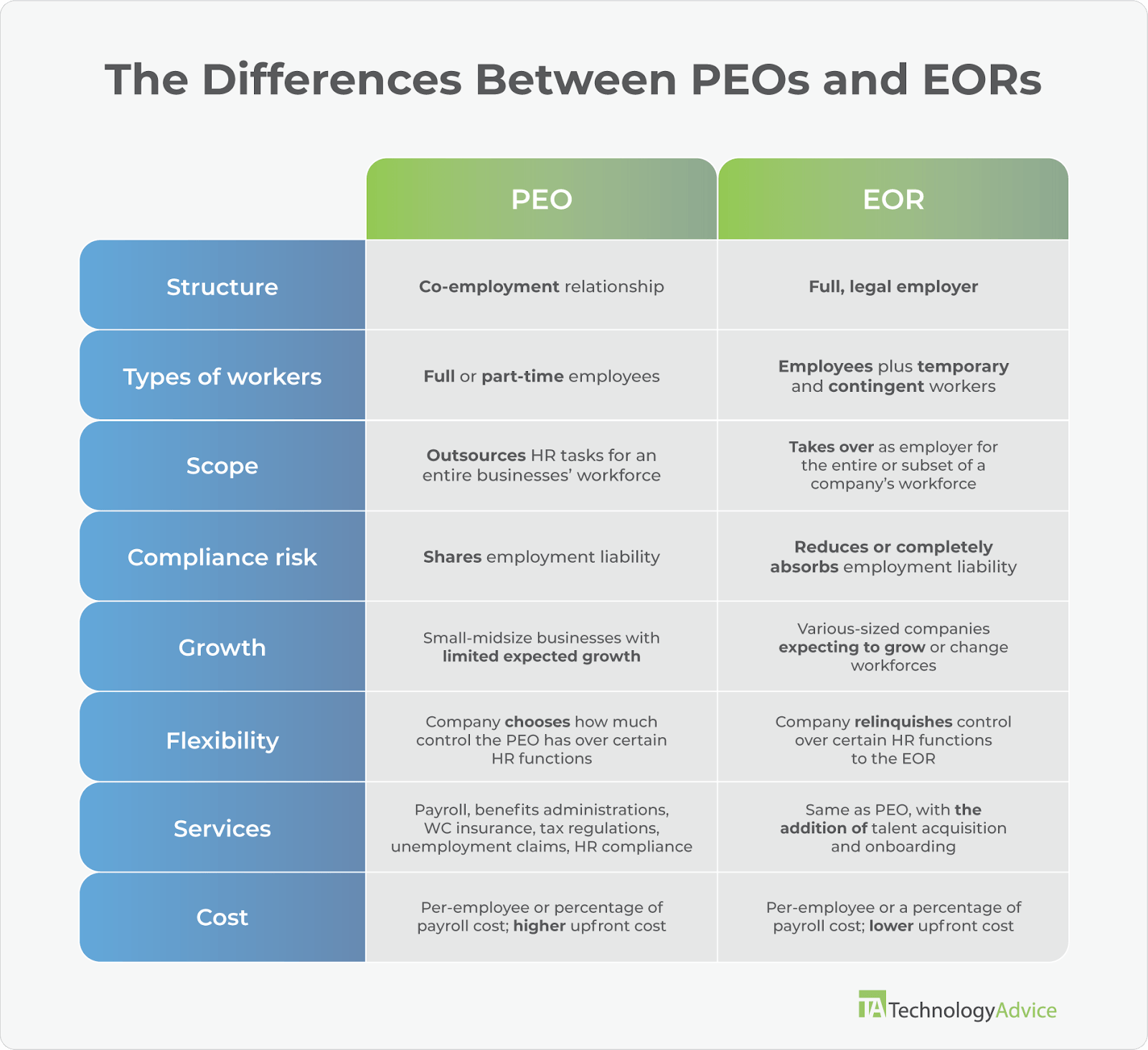 Using a PEO or an EOR to manage an international workforce
PEOs and EORs make it easier for small and midsize businesses to expand globally, but they aren't required. A PEO or an EOR may become too expensive for a company that has a large number of employees or complex needs. Instead, these companies can save money by creating their own legal entities or subsidiaries with internal HR staff.
In these cases, companies should look into different types of HR software to help. Solutions tailored to global companies' needs can notify employers of any compliance violations and create a consistent employee experience.
Rippling, for example, dynamically changes the information it needs from employees depending on their location. And, as a bonus, companies needing more than just Rippling's software can leverage their PEO or EOR services.
Watch how Rippling can help set up a new hire in this video:
Should you use a PEO or an EOR?
PEOs and EORs can help companies manage their workforces while drastically reducing their compliance risk and need for additional internal HR staff. As a result, both PEOs and EORs can be an appealing alternative to traditional employer-employee relationships.
However, comparing PEOs and EORs is a little like comparing apples to oranges; their scopes, services, and ease of implementation are vastly different. Deciding what's best for your business requires understanding your business objectives as well as the level of partnership you intend to maintain with the PEO or EOR for years to come.
To determine whether a PEO or an EOR will make the most impact on your company, consider the following questions:
Do I need a legal entity in every jurisdiction where my employees live?
How many employees does my company have?
What kinds of workers does my company employ?
How much do I want to reduce my employment liability?
How much am I willing to pay for the service?
Based on the answers to the above questions, you can narrow down which service best satisfies the HR needs of your diverse workforce.
Ultimately, a PEO is best for companies with a legal presence in other countries but wish to offload HR responsibilities and share compliance risk. An EOR is perfect for companies just starting to expand globally and needing extra support for their teams. And HR software can fill in the gaps between both services by offering employers a consistent source of truth as they expand and hire for the future.
However, if you don't know which software option is right for your business, check out our HR Software Guide for a list of solutions that may fit your needs.
Featured EOR Services
1

Deel
Ready to expand your business globally without opening an entity? Hire employees with Deel's EOR service—one of the world's top employer of record. Tap into the international talent pool and expand into new markets with ease. We hire on your behalf and can quickly onboard employees in 100+ countries—all while reducing costs and time-consuming admin. Basically, we take care of the complex paperwork and red-tape, while you save time and money.
2

Rippling
Rippling EOR allows businesses to hire international employees, even if the business doesn't have an entity in a particular country. And because Rippling EOR works seamlessly with Rippling Payroll, admins can process payroll in under 5 days, run off-cycle pay runs, reimburse expenses, pay commissions, automatically calculate pay for hourly employees, and more—all in one place.
3

Papaya Global
Papaya Global is a global professional employer organization provider that offers an all-in-one cloud-based integrated global system for processing payroll, employee benefits and workforce management. With its automated technology and end-to-end global capabilities, Papaya Global has gained popularity among businesses, particularly those managing international operations.
Technology Advice is able to offer
our services
for free because some vendors may pay us for web traffic or other sales opportunities. Our mission is to help technology buyers make better purchasing decisions, so we provide you with information for all vendors — even those that don't pay us.