What is an HRIS?
Human resources information systems (HRIS) are centralized repositories for employee data. They are designed to help HR teams streamline and automate a variety of functions ranging from basic HR tasks like payroll to more nuanced processes like performance management.
In some cases, an HRIS consists of multiple subsystems that work together to create a holistic view of an organization's workforce. In other cases, an HRIS is a specialized, standalone tool that drills into one or two subsystems.
Learn more in our video overview:
In either instance, an HR consultant can help you determine which type of HRIS is best for your business based on your HR needs, goals, and priorities.
Also read: HRIS vs HRMS vs HCM: What Is the Difference in 2023?
5 types of HRIS and their use cases
All HR information systems fall into five main types based on function or scope:
Both limited-function and comprehensive HRIS solutions may house different quantities and types of data that fall across the three different functional types of information systems.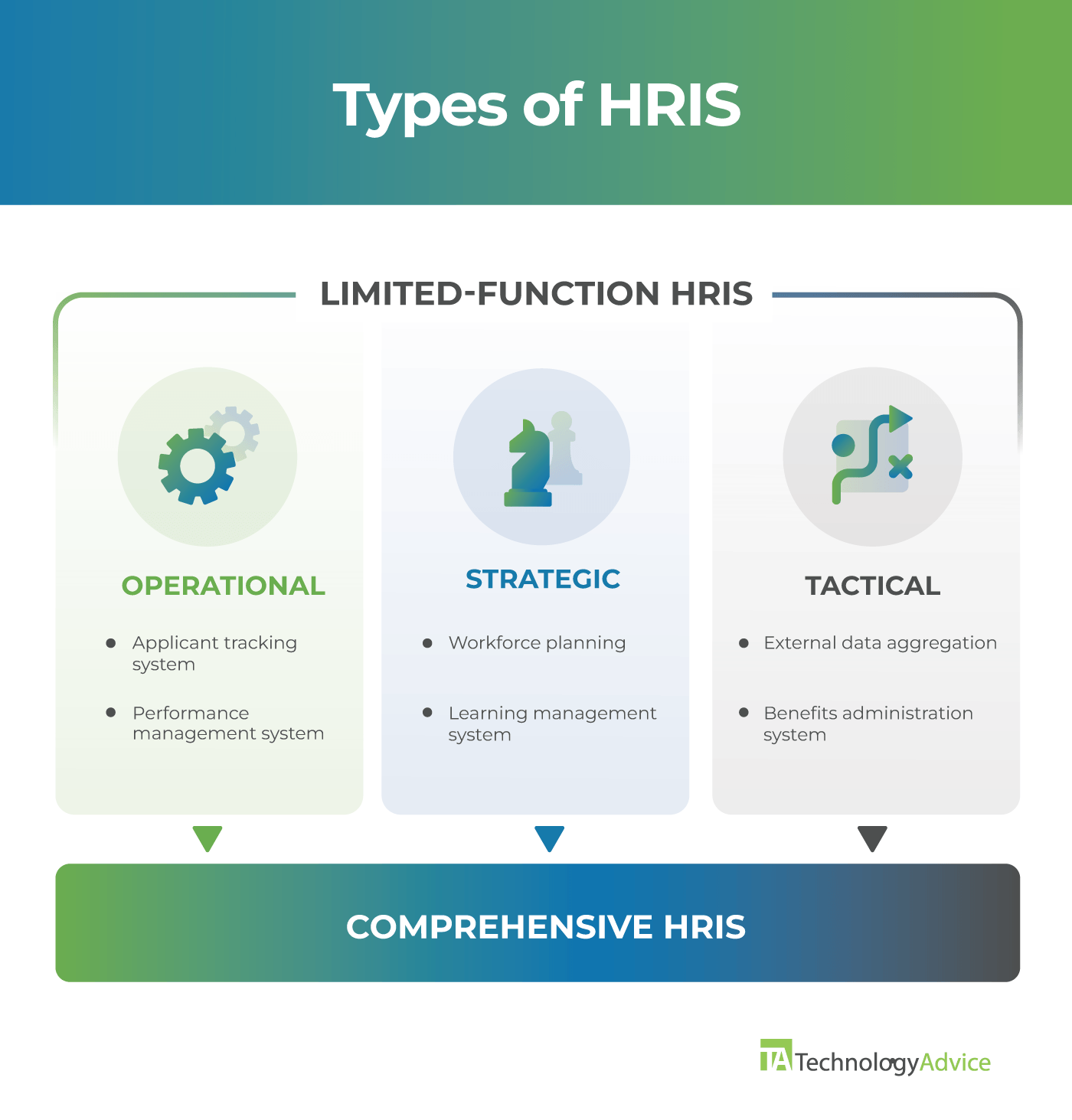 1. Operational HRIS
The operational HRIS category includes tools that assist HR staff and people managers with hiring, promotions, transfers, and other talent management needs. Operational HRIS solutions focus on improving existing systems by making them more efficient and impactful.
Applicant tracking system (ATS)
An applicant tracking system (ATS) logs all open positions within an organization and optimizes workflows to fill them as quickly as possible. ATS functions include syndicating job postings to multiple job boards, screening applications to identify qualified candidates, and identifying bottlenecks within the hiring process.
Performance management system
A performance management system stores employee information regarding performance appraisals. It supports employee retention, promotion, transfer, job rotation, contract termination needs, and other talent management concerns. A performance management system helps managers take action if an employee is under-utilized or in need of extra support.
2. Strategic HRIS
Modules and functions within strategic HRIS systems help with analysis, decision-making, and goal-setting in relation to human capital management. Strategic HRIS solutions often help companies with specialized hiring needs find — and retain — the right talent.
Workforce planning
Workforce planning tools help HR teams identify the necessary background and skills, responsibilities, reporting structure, and salary for any given role. This functionality helps develop strategies for filling skills and role gaps in the current workforce, which has downstream implications for recruiting strategies as well as learning and development plans.
Learning management system
A learning management system (LMS) supports succession planning as operational decisions are made regarding job rotations or promotions. It tracks skill sets for employees across the company and identifies employees who are ready to pursue additional training or certifications based on recent changes to their roles or responsibilities.
3. Tactical HRIS
The tactical HRIS category targets efficiency and compliance for internal workforce management. The tools and functionalities that fall in this category help HR leaders make decisions on how to best use existing resources for functions such as compensation, recruiting, training, and benefits.
External data aggregation
Tactical human resource modules aggregate external data related to a business's competitors, industry, and compliance requirements. For example, Deel tracks compensation data across international markets to help determine whether a proposed payment rate is higher, lower, or on-par with similar roles in a specific geographic region.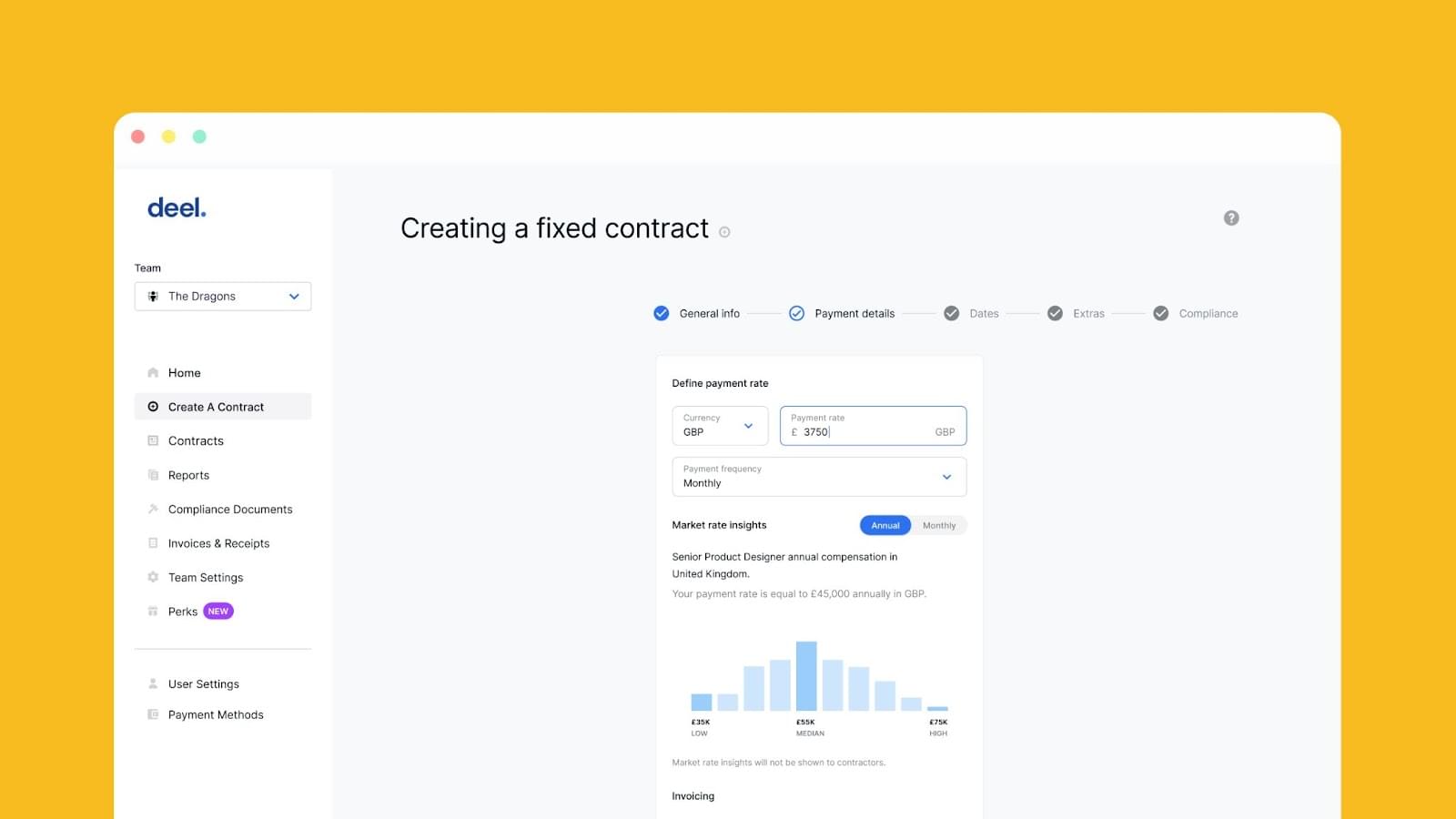 Also read: HRIS Integration: Everything You Need to Know
Benefits administration system
Compensation and benefits management impact employee experience and are two of the largest business expenses. Therefore, company leaders have a vested interest in regularly reviewing the organization's benefits package as part of an employee's total compensation. If an HRIS indicates a particular benefit is being underutilized among employees, HR leaders may need to remind employees about the benefit or decide to invest in a different benefit instead.
Also read: The Key Benefits of HRIS Software
4. Comprehensive HRIS
As the name implies, a comprehensive HR information system functions as a one-stop shop for storing any information needed to perform nearly all HR management functions. It serves as a central repository for a wider range of data that supports operational, strategic, and tactical HR functions combined.
These three functions don't operate in a vacuum; rather, they influence each other in different ways. For example, information about where a role fits into the reporting structure and how it contributes to the company's goals serves both operational and strategic angles of job analysis and design.
It makes sense for larger businesses to use a comprehensive HRIS since it consolidates data across all three types of functional systems. This information provides valuable insight so HR and business leaders can make informed decisions quickly. Conversely, a limited-scope information system may be a worthwhile investment if the business has specific tactical needs that can't be addressed by any all-in-one solution.
Smaller businesses, on the other hand, may want a simpler HRIS platform that fulfills only core human resources management needs such as payroll. In this case, a comprehensive HRIS may be overwhelming to implement and maintain. The higher cost also puts all-in-one HR suites out of reach for many smaller businesses' budgets.
5. Limited-scope or specialized HRIS
In contrast to a comprehensive HRIS, a limited-function HRIS focuses on one or a few core information systems. They typically support a narrow list of HR functions, such as payroll and benefits administration.
No matter what HR function(s) a company focuses on with a limited-function HRIS, an employee information system is essential to the HR software. This system collects, archives, and tracks personal and professional employee records, including name, address, minority status, citizenship, education, past professional experiences, and much more.
Limited-function HRIS platforms are often less expensive compared to comprehensive HRIS solutions, and solo HR professionals can manage this kind of software alone. For these reasons, small companies with lean HR teams may find limited-function HRIS platforms more manageable.
Also read: Best HR Software for Small Businesses
How to choose the right type of HRIS
There are many HRIS solutions available that fit a wide range of needs, so the quest to find the best fit comes down to two questions: What kind of HR management functions does the business need, and how will it use the data it collects from those processes?
Companies that only need one or two core HR functions should look into a limited-function or specialized HRIS. These functions only require basic employee information, such as name, address, and Social Security Number, and demographic information. Because these systems are relatively lean, they can often be managed by a small HR team or even a sole HR manager or HRIS analyst.
As a company and its data grow in terms of both quantity and type, however, it will require a more comprehensive HRIS platform to handle that information effectively and appropriately. Comprehensive HRIS solutions are typically a bigger financial investment, but the efficiency and strategic insight businesses gain by adopting a robust system usually make the cost worth it.
Aside from function, businesses must consider their HR priorities when evaluating HRIS platforms. Operational HRIS modules focus on developing a company's current workforce. Strategic modules support a company's growth and succession planning efforts. Tactical modules house data to help HR make informed decisions about how to best use its existing resources.
Ultimately, the right type of HRIS depends on the unique needs your company faces now and in the future. Keep these needs top of mind as you explore our comprehensive list of solutions in our HR Software Guide.
Featured partners: HR software
1

Rise People
# 1 people management platform in Canada.
Rise is an all-in-one people management platform offering a modern suite of easy to use HR, benefits, and payroll solutions that's used by thousands of employers across Canada.
2

Deel
Deel's full-suite of HR tools allows companies to manage the entire employee lifecycle—from recruitment and onboarding and beyond—in 150 countries. All this from a single, easy to use interface. US and Global Payroll allows you to pay any type of worker in 100+ countries, and all 50 states, in whatever currency you choose. And with 200+ in-house legal experts and entities in 120+ countries, using Deel means you'll always be compliant with local regulations.
3

Humi
Humi is Canada's leading HR, payroll, and benefits solution. Equip your HR team and employees with a flexible, all-in-one software for your people operations needs so you can get back to managing the full employee journey – from onboarding to offboarding and everything in between. Pay your employees on time and stay compliant with Humi Payroll and save money for your company while providing customizable group benefits by switching to Humi.
Technology Advice is able to offer
our services
for free because some vendors may pay us for web traffic or other sales opportunities. Our mission is to help technology buyers make better purchasing decisions, so we provide you with information for all vendors — even those that don't pay us.