Quick summary
Payroll software can be ugly, clunky, and difficult to use.
Good payroll software is out there, and we're here to help you find it.
---
"I never remember how to access pay stubs through the portal. It's too complicated."
"Onboarding new employees takes forever."
"I have to get to work at least fifteen minutes early because clocking in can be so glitchy."
If you're a payroll manager or HR professional, these complaints may seem to follow you wherever you go. No matter how good other applications are in a company's tech stack, payroll software usually seems to be the biggest pain to work with. Thankfully, there are some truly exceptional payroll solutions out there, and we're here to help you find them.
Also Read:  Is Doing Payroll By Hand Cheaper Than Using Software?
Read on for some of the top payroll software systems for enterprise, medium, and small business, or complete the form on our payroll software page. Our Technology Advisors will talk through your specific needs to provide you with a free, no-hassle shortlist of payroll software recommendations. Getting started is easy and takes less than five minutes.
Payroll software for enterprises
Enterprises have multiple and complex needs when it comes to a payroll system, and this can sometimes lead management to choose the solution that promises everything but fails to deliver. Legacy systems can also be a problem at enterprises, as switching lots of people over to a new system is a tough sell, especially if they've been using an older system for years.
With these unique challenges in mind, here are the top payroll systems for enterprises.
Oracle HCM Cloud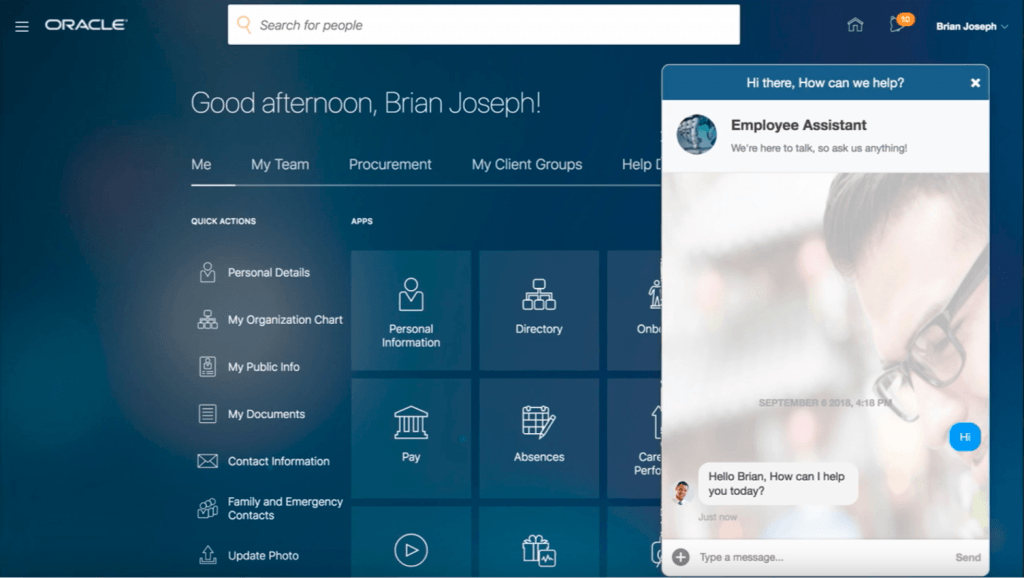 TechnologyAdvice rating: 4.5/5
Pros: Clean and intuitive user interface (UI), runs quickly, supports wide variety of payroll functions, highly-rated mobile app
Cons: Only supports payroll in select countries
Overall: Oracle HCM Cloud offers a suite of human resources applications, including payroll. Users appreciate this system for its user experience (UX), wide range of capabilities, and quick performance. Oracle HCM Cloud walks users through the payroll process step-by-step, offering significant freedom for customization and warning payroll managers about problems that may prevent payroll from running properly.
---
Workday
TechnologyAdvice rating: 4.5/5
Pros: Intuitive and easy to use, fast and high quality reporting, excellent mobile app
Cons: User experience can be inconsistent in some parts of the system
Overall: As a comprehensive human capital management (HCM) software, Workday is a direct competitor to Oracle HCM Cloud. Workday consistently ranks as a top HCM software for its performance across multiple functions, and this holds true for payroll as well. The payroll feature in Workday allows users to be in complete control throughout the entire process, and a self-service employee portal makes it easy for stakeholders to view and update personal information without having to go through the payroll or HR department.
---
Kronos Workforce Ready HCM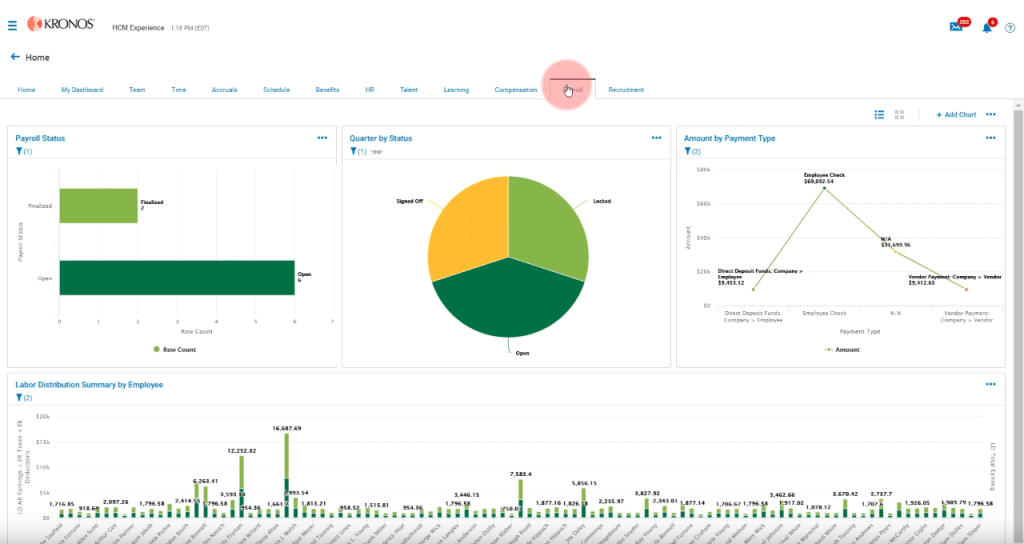 TechnologyAdvice rating: 4/5
Pros: Top-notch customer support, simple and easy to use user interface (UI), fully integrated with HR functions
Cons: Occasional system outages, unable to filter custom fields in reports, poorly-rated mobile app
Overall: Kronos Workforce Ready HCM increases collaboration and communication between HR and payroll by seamlessly integrating processes. While the software itself is easy to use and works well, users also enjoy the responsive customer support for help with solutions not found in the community and learning resources. Reporting leaves something to be desired, and the mobile application currently has overwhelmingly negative reviews.
---
Payroll software for SMBs
While small and medium sized companies don't need as many features in a payroll system as enterprises do, they still need a scalable solution that offers solid reporting. Payroll managers at these businesses may not need to calculate dividend payments or process payments in multiple currencies, but they still need to properly handle deductions, health benefits, and filing.
Zenefits
TechnologyAdvice rating: 4/5
Pros: Fast and easy-to-use payroll that covers the essentials, alerts for upcoming payruns, good mobile app
Cons: No ability to customize reporting, guides and tutorials don't cover much detail
Overall: Zenefits routinely ranks among the best HCM solutions for small to medium sized businesses due to its standout user experience (UX) and ease of use. The software offers all the basic HCM features an SMB needs without being too slim in its offerings. This allows businesses to grow with Zenefits and offers a better return on investment.
---
Gusto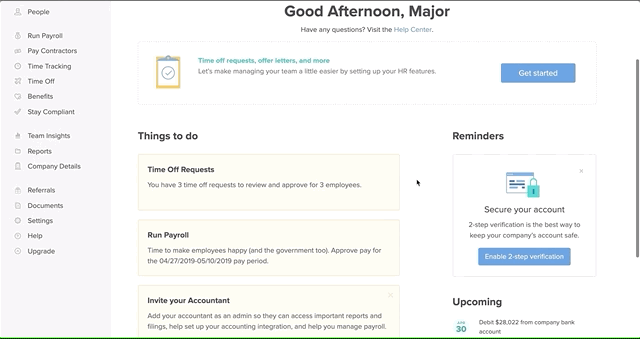 TechnologyAdvice rating: 4.5/5
Pros: Easy to use, simple user interface (UI), excellent customer support
Cons: Limited options for companies that run irregular pay cycles
Overall: For small businesses in need of a payroll solution, Gusto is one of the best options on the market. Gusto is easy to use, and it offers personalized, responsive support. While it may not be right for companies in need of comprehensive HR features, Gusto makes it fast and easy for small businesses to pay employees.
---
Patriot Payroll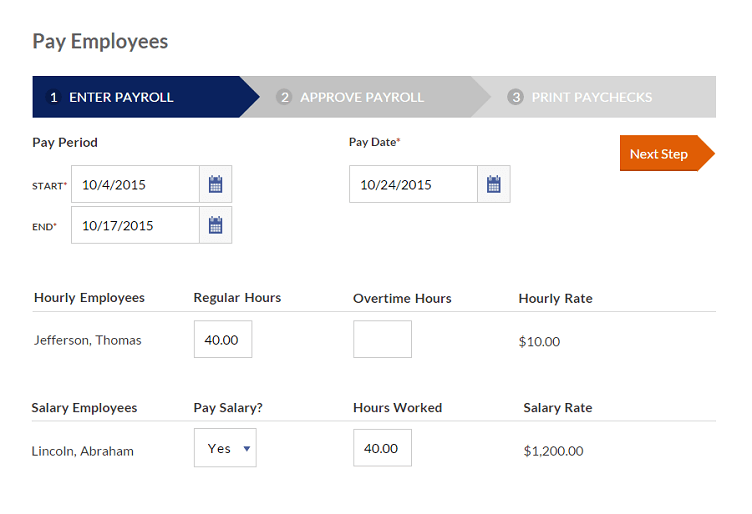 TechnologyAdvice rating: 5/5
Pros: Offers an easy, three-step process for running payroll, lets users print employee paychecks and pay by direct deposit
Cons: Does not file new hire reports, no sick pay accrual
Overall: Patriot Payroll offers an easy-to-use and cost-effective payroll solution for small to medium sized businesses. While the system doesn't offer as many features as some of its competitors, it performs well on the features it does offer. Simplicity lies at the core of Patriot's approach, and managers appreciate being able to print employee paychecks in addition to paying employees through direct deposit.
Navigating the payroll software market can be confusing. We can clear it up.
When working in a highly-regulated field like payroll and HR, you want nothing but the best software for your business. Take the stress out of finding the best payroll solution for your business by contacting our Technology Advisors for a free, no-hassle consultation.
We'll walk through your specific needs and send you a shortlist of our top five recommendations for payroll software so you don't have to spend hours and hours on product research. Complete the form on our payroll software page to get started.  
Also Read:  How Payroll Software Improves Your Business Operations
Top Human Resources Software Recommendations
Rippling is the first way for businesses to manage all of their HR, IT, and Finance — payroll, benefits, computers, apps, corporate cards, expenses, and more — in one unified workforce platform. By connecting every business system to one source of truth for employee data, businesses can automate all of the manual work they normally need to do to make employee changes.
Paycor's HR software modernizes every aspect of people management, which saves leaders time and gives them the powerful analytics they need to build winning teams. Paycor provides a full suite of HCM solutions with a single source of truth for employee data, so users never have to switch platforms, log-in to multiple systems, re-key data or open multiple spreadsheets. Everyday processes become simplified, allowing organizations to focus on their most important work.
GoCo is modern HR, benefits, and payroll, built for flexibility and ease-of-use in mind. Manage records, performance, time off, onboarding, benefits, and more all in one place. GoCo is a secure, compliant hub for sending, digitally signing, and organizing your sensitive HR documents and data. Unlike other HRIS platforms, GoCo is built to be flexible enough to support existing processes, policies, and providers, so you don't have to change the way you work just to adopt a modern HR system.
Need a Little Help?
Talk with a software expert for free. Get a list of software that's great for you in less than 15 minutes.