Consider the following:
As a result, more and more companies have to change their onboarding practices to accommodate their increasingly remote workforces. However, traditional onboarding practices do not translate to the remote experience, as they rely heavily on in-person conversations and training.
To prevent this, companies must craft an onboarding program that targets the particular challenges remote workers face. In doing so, companies illustrate their commitment to making their remote employees feel safe and welcomed while setting them up for success.
Check out our Onboarding Software and HR Software guides for solutions to help streamline your onboarding processes.
Challenges of onboarding remote employees
Companies can expect three main challenges when onboarding remote employees: limited social interaction, reliance on individual learning, and technical difficulties. Failing to plan for these challenges results in poor employee onboarding experiences and jeopardizes new hire retention metrics.
Also read: The Future of Remote Work
Limited social interaction
Remote onboarding can feel siloed or rushed, with sporadic meetings, disjointed time zones, and various asynchronous communication methods to juggle. This can dishearten new employees, especially those from traditional in-person workplaces.
In addition, heavy reliance on technology for communication can result in miscommunication or misunderstandings, as employees don't have the opportunities to gauge company culture from meet-and-greets, office tours, or department lunches from in-person orientation and onboarding events.
Reliance on individual learning
Businesses expect new remote employees to learn to complete their work tasks through video training, process documents, or virtual meetings with managers and peers. As a result, remote employees lack the hands-on, one-on-one learning that in-person employees receive.
Requiring employees to learn the work of their new positions independently does not accommodate everyone's learning styles. In fact, it could make remote employees nervous about making mistakes when they don't have a controlled environment to practice with peers or managers first.
Technical difficulties
New remote employees act as their own IT department. Even if employers provide their remote employees with thorough instructions on setting up their new work equipment, difficult setups can frustrate employees and inhibit time-to-productivity metrics.
Moreover, learning new systems or troubleshooting problems adds a layer of challenges. While onsite employees can consult co-workers for technology help in real time, remote employees must communicate their technical questions or difficulties over the internet. This can cause delays and downtime that slow the pace of onboarding for new remote staff.
How to onboard remote employees: best practices for success
By integrating the following strategies into virtual onboarding processes, companies can ensure their remote new hires receive the information necessary to succeed without overwhelming them:
1. Develop a preboarding program
Preboarding refers to the period between an employee's acceptance of a job offer and their first day on the job. Companies can use this time to start integrating new employees into the organization, even if they have yet to perform any work for the company.
Preboarding programs help companies complete necessary new hire administrative tasks ahead of time while reducing the anxiety of the new employee before their first day.
Examples of preboarding tasks:
To help with the preboarding experience, companies can leverage the features in their HR software. For example, ClearCompany's virtual onboarding program automatically sends new hires onboarding packets and information on their new team member after accepting their job offers.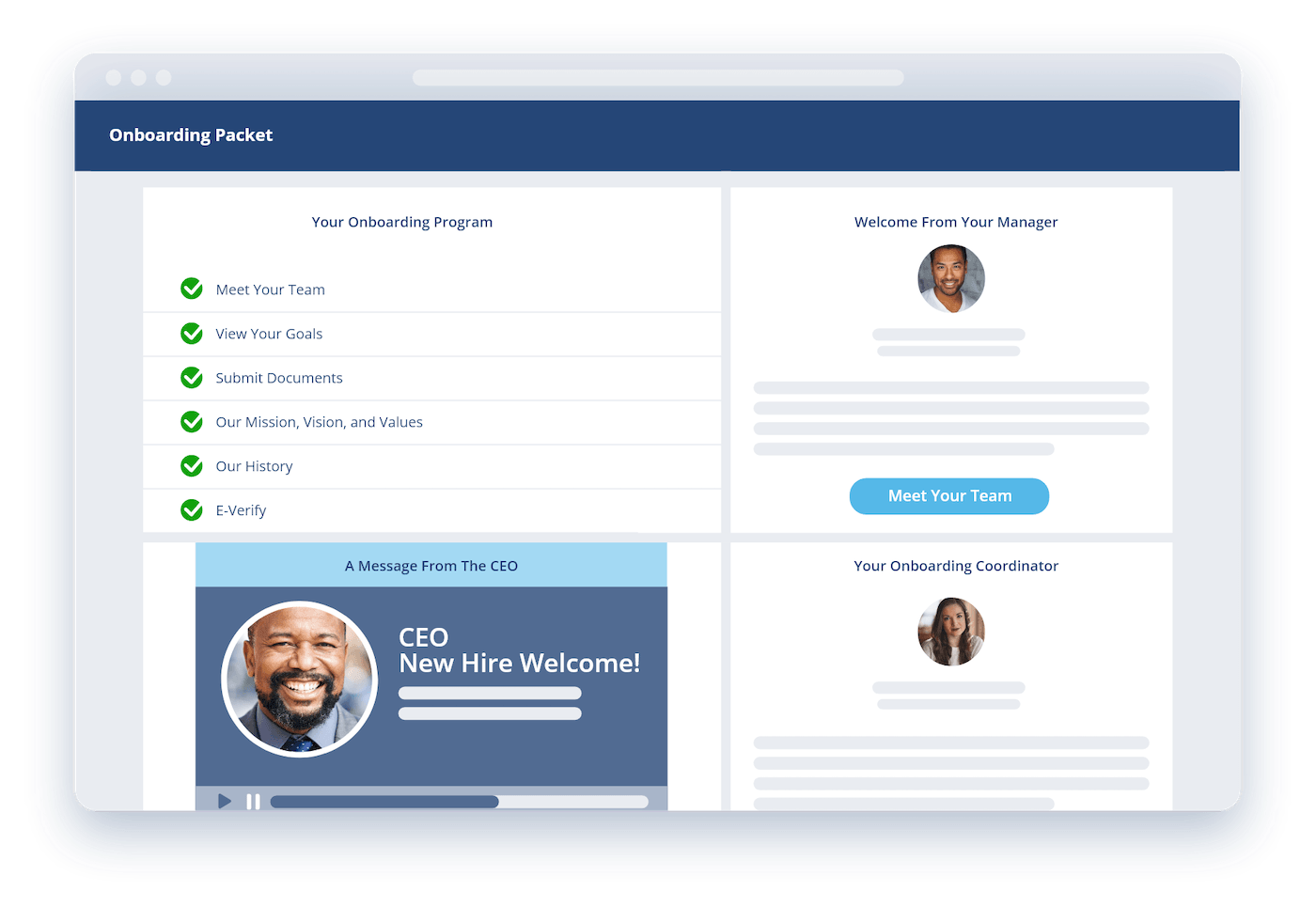 2. Assign an onboarding buddy
Onboarding buddies are current employees assigned to remote new hires as mentors or guides during onboarding. Onboarding buddies should enjoy helping new employees get acquainted with the less formal side of the team, such as cluing new hires in on unique traditions, communication tool channels to join, or company events.
So there is less stress to impress, onboarding buddies should be someone other than the new employee's direct manager. Instead, they should be a peer or manager from another department who can provide the new employee a safe space to ask questions and share struggles during onboarding.
Ideally, onboarding buddies should introduce themselves as the new hire's go-to person before their first day and schedule regular follow-ups to check in. Initiating an onboarding buddy program is a great way to ease the transition for new hires into their new role and provide coaching and mentorship experience for the onboarding buddy.
3. Set realistic goals and expectations
Companies should be thoughtful about the expectations for their remote employees and provide them with plenty of time to make mistakes and grow. It is unrealistic to expect them to be fully trained in the role within a few weeks, let alone one day.
Instead, HR teams and direct managers should avoid providing too much information at once and carefully craft realistic onboarding key performance indicators (KPIs). Involving the new hire in creating these goals can also give them a sense of agency while ensuring their learning is happening at a pace that works well for them.
Examples of reasonable onboarding goals range from training video completion deadlines to healthy work-life balance safeguards. As long as new hires understand their expectations, they are less likely to feel directionless and more likely to acclimate to their new roles sooner.
4. Provide flexible training options
With the loss of traditional, in-person training, companies should provide multiple ways to train their remote employees to accommodate various learning styles. Managers should be intentional about the training they schedule for their new hires, starting with a watch-and-learn session and then additional sessions for the new employees to demonstrate their knowledge in a controlled environment, free for them to make mistakes and learn from them.
Managers should also double up on one-on-ones with their direct reports for the first few weeks as they adjust. Sporadic check-ins, or leaving it up to new hires to reach out for concerns, not only leaves employers in the dark about their new hire's progress but can also make employees feel uncomfortable reaching out for help.
Additionally, including gamified elements in virtual onboarding programs can make training more engaging and fun for new hires. Many learning management systems (LMS) let businesses customize their gamified learning modules to help new hires get familiar with company culture, core values, benefits packages, health and safety, and other essential onboarding lessons.
For example, TalentLMS includes points, levels, badges, and leaderboards to keep employees motivated and focused on learning. It even integrates with HR software like BambooHR and Sage People to streamline the new hire's onboarding experience.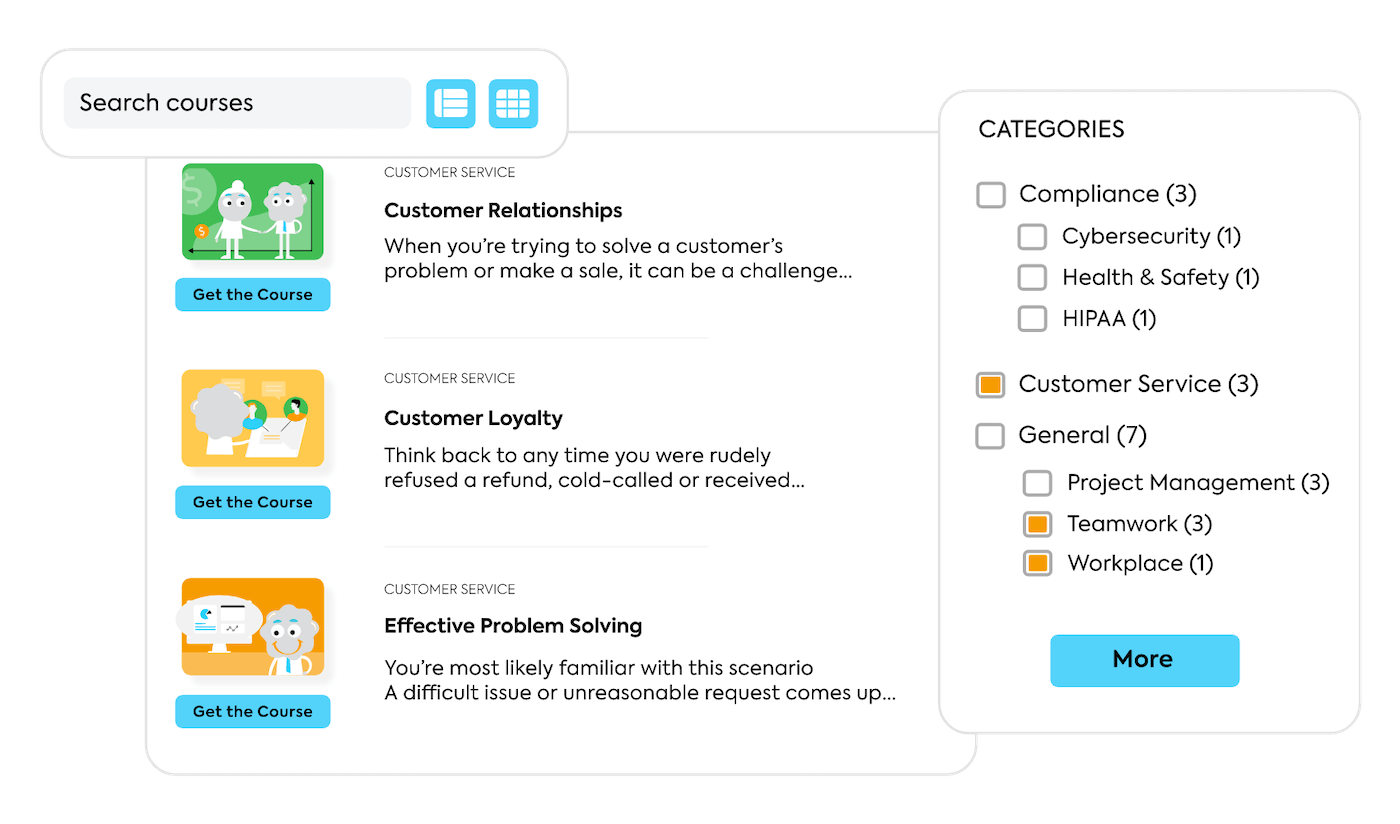 5. Create informal social opportunities
It's hard for companies to replicate the social interactions that are common in person, including the informal opportunities onsite employees have to learn about their employees around water coolers, break rooms, or hallways.
In fact, over 67% of Millennial and Gen Z workers indicated they've found it harder to make friends and maintain relationships with coworkers since working from home, according to a 2021 Kadence survey.
Employers, more than ever, must facilitate these meaningful interactions to prevent feelings of loneliness and disengagement in their workforces, especially for their new employees. People managers, for example, can formally create informal activities by putting meetings on the schedule specifically for team-building exercises or laid-back chat sessions.
Teams should also intentionally introduce new team members to colleagues with similar interests, employee resource groups, or fun channels on the company communication tool or HR software. Doing so provides opportunities for new hires to build relationships with folks outside their direct team while fostering a strong, supportive remote working culture.
Effective remote onboarding promotes employee retention
Onboarding is the employee's first impression of the company. A well-developed virtual onboarding program can set up new employees for success and assure them that they made the right choice in the company and position. Conversely, a bad virtual onboarding experience can push employees away, damage the company's reputation, and reduce productivity.
However, companies that take the time to live their core values and demonstrate empathy and excitement for their remote new hires through their onboarding process can ensure they retain their new talent and have them contribute to the company for years to come.
If you're unsure where to start with your remote onboarding program, take a look at our Onboarding Software and HR Software guides for solutions to help.
Featured Partners: Onboarding Software
1

Wrike
Wrike is an online onboarding solution used by 20,000+ companies across 140 countries. Simplify the hiring process and improve your HR processes with Wrike´s all-in-one platform. Get started with an employee onboarding template and use custom request forms to set up your new employee with IT and other departments. Create a task list with daily activities for week one onboarding. Integrate your favorite messaging apps to communicate and schedule 1:1 meetings. Streamline the process with Wrike.
2

Qooper
Automate Onboarding Buddy and New Hire Programs on Qooper. Acclimate new hires to the company and their roles by pairing them with an onboarding buddy and creating learning opportunities. Start running Qooper's employee onboarding buddy program today.
3

Rippling
Rippling gives businesses one place to run HR, IT and Finance. It brings together all of the workforce systems that are normally scattered across a company, like payroll, expenses, benefits and computers. So for the first time ever, you can manage and automate every part of the employee lifecycle in a single system. Take onboarding, for example. With Rippling, you can hire a new employee anywhere in the world and set up their payroll, corporate card, computer and benefits—all within 90 seconds.
Technology Advice is able to offer
our services
for free because some vendors may pay us for web traffic or other sales opportunities. Our mission is to help technology buyers make better purchasing decisions, so we provide you with information for all vendors — even those that don't pay us.