If you feel like your human resources (HR) team is spending too much time manually completing low-value, repetitive tasks, then you're probably right. Fortunately, recent advances in HR automation allow teams to leverage the power of software to offload these rote tasks and spend their time and effort on more valuable projects.
These automations span a range of HR functions, so there are numerous opportunities to increase efficiency and productivity. Implementing even one automation can also save time, which can make a tremendous difference for lean HR teams.
Looking for HR software to help with process automation? Check out our HR Software Guide to browse solutions.
Recruiting
Start automating HR processes at the beginning of the employee life cycle with applicant tracking systems (ATS) and other tools. This category of software allows hiring teams to source potential candidates, optimize job descriptions, and post listings to multiple job boards with a few clicks.
Once applications start rolling in, the software can help recruiters automatically scan résumés for important keywords, identify the best interview times, and transcribe interview recordings. Not only does this speed up recruiting processes, but it also helps identify top candidates, so recruiters can prioritize their time more effectively.
Onboarding and offboarding
Once a candidate has accepted a job offer, HR software can help automate the onboarding process. The right platform will remind new employees to fill out the required digital paperwork and complete necessary training courses to ensure compliance without manual follow-up from HR staff.
Certain HR software, such as BambooHR, also offer offboarding features when it's time for employees to depart from the company. The automation features make it easy to log notice of resignation or firing, notify them of COBRA and other insurance options, and revoke any necessary access or credentials.
Time and attendance
Whether employees are exempt, non-exempt, or a mix of both, HR teams need to track hours and PTO (paid time off) requests — a process that is tedious to complete manually. Thankfully, time-tracking tools like Harvest offer automation features that track hours and days worked, manage PTO requests, and ensure adequate staffing for shifts.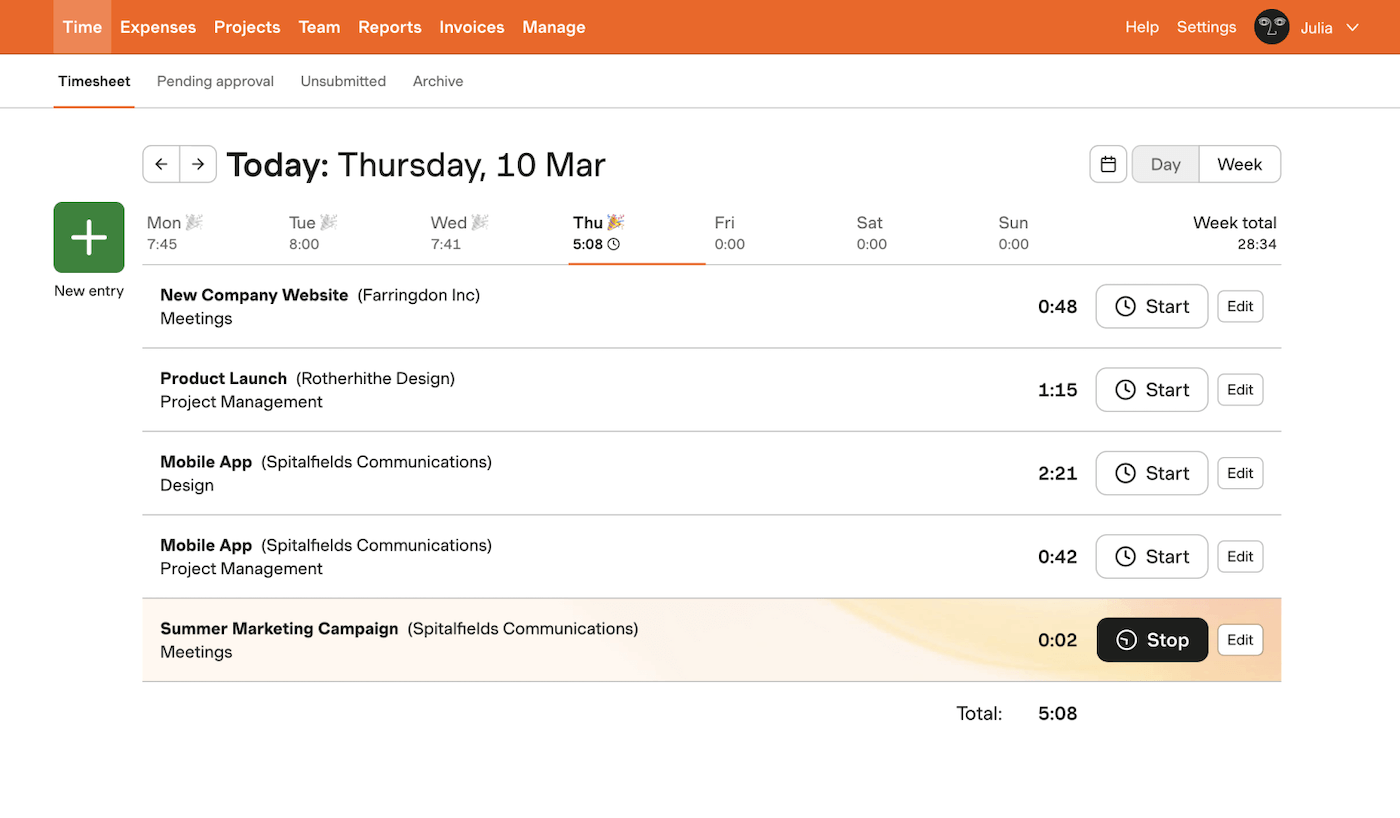 Many HR software platforms combine time, attendance, and payroll functionality. This allows time-tracking data to flow automatically into payroll systems and calculate how much each employee should be paid based on hours worked. It can also help determine PTO usage and flag irregularities like overtime compensation.
Payroll and taxes
Payroll automation can significantly reduce the possibility of human error as well as the time it takes to calculate payroll every period. An HR tool such as Gusto can perform automatic calculations for taxes, deductions, overtime, commissions, and more. Unlike many other platforms, Gusto also offers fully-automated payroll, so HR teams don't have any manual tasks associated with payroll.
Many HR systems will also digitally store employee tax records for the required number of years, then automatically archive the records after the audit window has passed. This ensures compliance with federal, state, and local laws and helps provide clarity in the event of an audit.
Benefits administration
Manually performing benefit administration is tedious and time-consuming. These processes are also often prone to human error, which is why HR teams should take advantage of a human resources information system (HRIS) that offers a benefits administration module. With HR process automation, the software can digitize paperwork and data entry, taking the burden off of the HR department's shoulders.
There should also be a self-service portal for employees to make benefit selections themselves during open enrollment, and the software should allow employees to make changes to benefits when they experience a life event (i.e., getting married or having a baby) outside of open enrollment. The software should also notify the insurance companies of changes in selection.
Performance management
If managers are always forgetting to schedule check-ins, performance management automation will remind supervisors to schedule regular performance reviews without HR having to email them over and over again. More robust HR automation will provide suggestions and structure for performance reviews and offer coaching resources for supervisors.
Taking things a step further, HR teams can also automatically request 360-degree feedback from both managers and employees via an anonymous digital survey using a tool like Zoho People, which has a dedicated performance management module.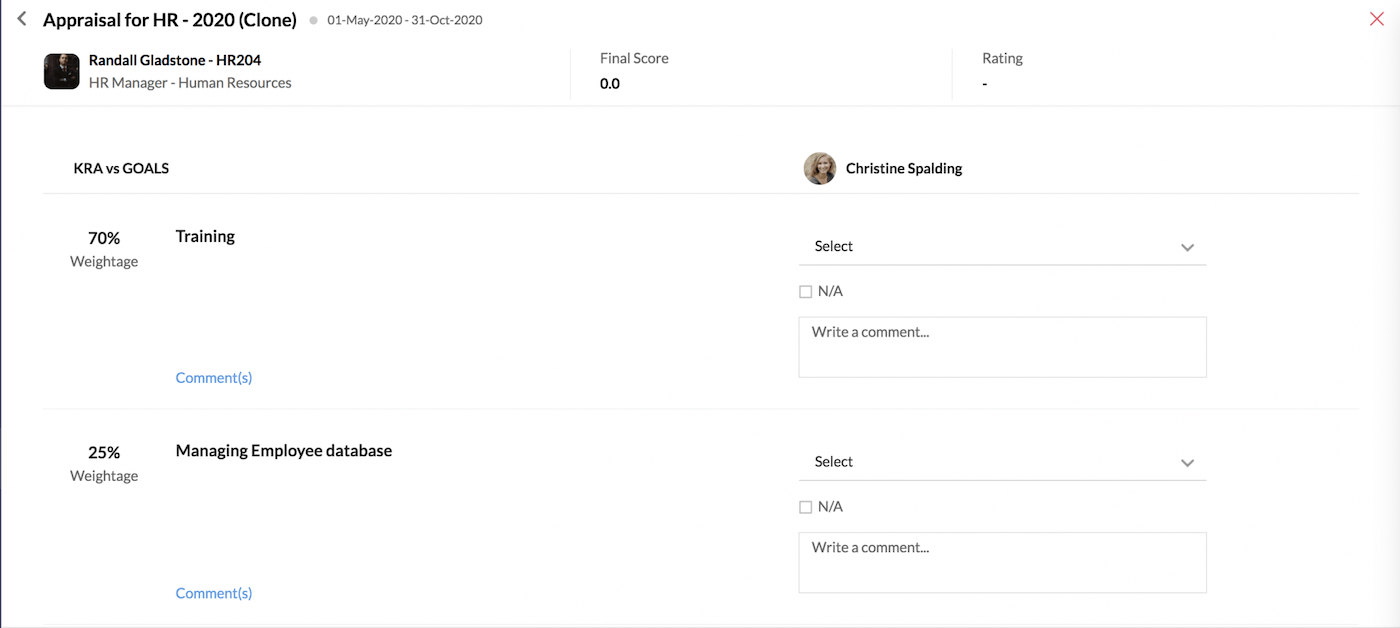 Employee development and training
Nobody in HR wants to repeatedly remind employees they need to complete a necessary compliance training module. The right HR process automation can prompt both new and current employees to complete necessary training modules that get them up to speed on company software and processes.
On the professional development front, HR software can remind managers to create development plans and see if goals are being met. Finance integrations will also help the HR team track expenses and monitor the budget for employee development activities, ensuring they use up the budget without overspending.
Data analytics
One of the greatest benefits of integrated software is the ability to track various KPIs across the company, including HR metrics. Whether it's basic software for small businesses or comprehensive HRIS software for enterprises, the platform should allow users to track all relevant aspects of HR performance, including employee turnovers, cost per hire, benefits participation rate, absenteeism, and more.
Those metrics won't be any good if users can't analyze them, which is why the best HR software will also automatically generate reports and call out specific metrics for insight. Once users set up the dashboard and select the reporting frequency, the report will automatically refresh itself as often as needed to offer new insights for evidence-based decisions.
Data and record storage
Data and record storage isn't going to win any awards for being the sexiest HR process automation on the market, but they're an essential feature that can save a company a serious headache in the future. Cloud software options ensure users always have everything backed up in an emergency, which is why platforms such as Sapling include data and document storage as part of its HR automation platform.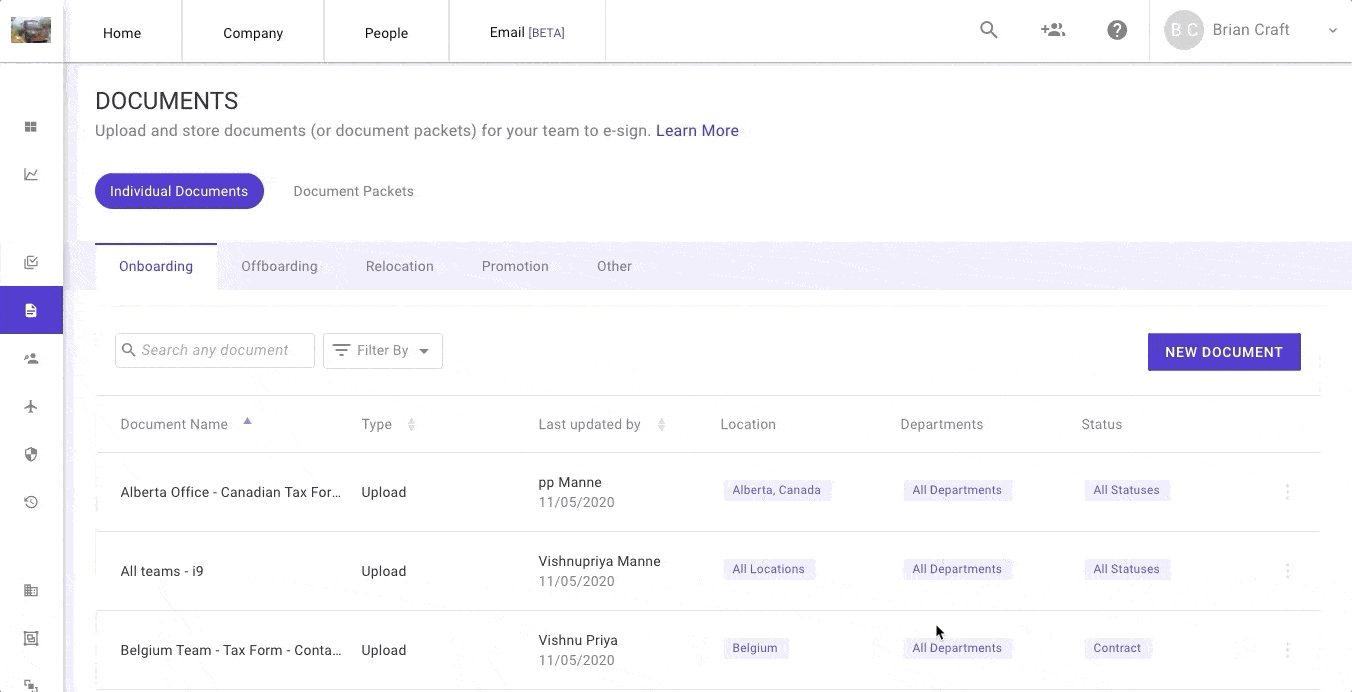 What software helps with HR process automation?
Looking to learn more about what automation options are available to your HR team? Check our Human Resources Software Guide, which will break down what features to look for and offer our top recommendations across various categories.
Featured partners: HR software
1

Rippling
Rippling is the first way for businesses to manage all of their HR, IT, and Finance — payroll, benefits, computers, apps, corporate cards, expenses, and more — in one unified workforce platform. By connecting every business system to one source of truth for employee data, businesses can automate all of the manual work they normally need to do to make employee changes.
2

GoCo
Elevate your HR with a modern, easy-to-use HRIS designed for small businesses. GoCo is a secure, compliant hub for sending, digitally signing, and organizing your sensitive HR documents and data. Manage records, performance, time off, onboarding, benefits, and more – all in one place. With the best support in the industry, every GoCo customer is assigned a dedicated Customer Success Team that is readily available to provide guidance and ensure a smooth and reliable HRIS experience.
3

Paycor
Paycor's HR software modernizes every aspect of people management, which saves leaders time and gives them the powerful analytics they need to build winning teams. Paycor provides a full suite of HCM solutions with a single source of truth for employee data, so users never have to switch platforms, log-in to multiple systems, re-key data or open multiple spreadsheets. Everyday processes become simplified, allowing organizations to focus on their most important work.
Technology Advice is able to offer
our services
for free because some vendors may pay us for web traffic or other sales opportunities. Our mission is to help technology buyers make better purchasing decisions, so we provide you with information for all vendors — even those that don't pay us.