This post has been updated for 2020.
Payroll management isn't sexy, but it's part of running a business. You have to pay your employees—accurately and on time. Thanks to the growing popularity and decreasing price of payroll management solutions, many small and medium-sized companies are taking the DIY road instead of outsourcing to a third-party.
The same is true for accountants, except in their case, DIY payroll represents an opportunity to expand their service offering for clients.
The global human resource software market is on track to reach $9.2 billion in value by 2024, and payroll represents only a small portion of that growth—in many cases, a single feature offered by vast human capital management suites. If you're shopping for a payroll management tool for the first time, the search can feel overwhelming.
Instead of comparing 140+ vendors from scratch, how about starting with seven of the most reputable options specifically built for payroll?
ADP
ADP is the oldest and most well-known provider of payroll and human capital management solutions. From talent management to business process outsourcing, ADP offers a wide variety of solutions for businesses of every size. Their expansive portfolio brought in over $14 billion in revenue last year.
ADP's payroll services are designed to help businesses manage cash flow and compliance and file taxes through a secure, online platform. Meanwhile, employees can access their records and pay information through a self-service portal available on any device. In addition to the payroll platform, ADP customers will gain access to a team of payroll and tax experts and a dedicated business advisor. As your business grows, you can decide whether to outsource more of the process to ADP's staff, versus managing it on your own.
The specific products you consider will depend on the size of your business. RUN is a good choice for small businesses, Workforce Now for midsize companies, and Vantage HCM for enterprises. Most of these solutions include additional features beyond basic payroll, such as talent management, benefits administration, and time/attendance tracking. In addition, ADP Celegro is offered to manage payroll services through a platform that centralizes your international payroll into a single system of record.
Paychex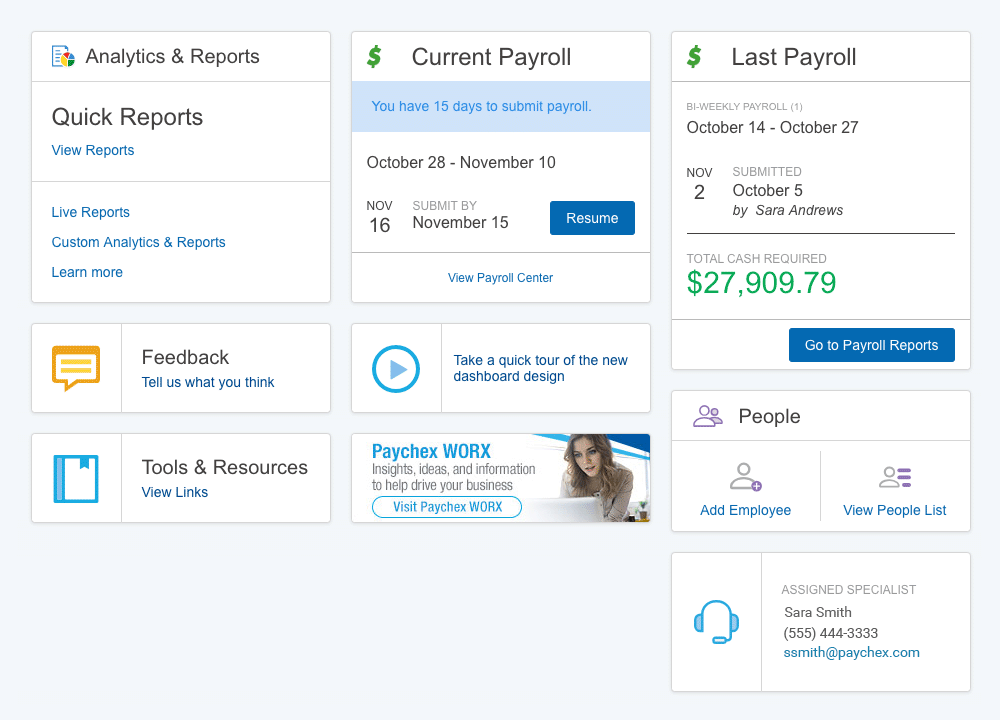 By contrast, Paychex is more exclusively focused on payroll processing and benefits administration (although they do offer an enterprise edition with added features). Even so, they're a pretty big player in the payroll space, serving the needs of over 670,000 clients across the globe.
Paychex can scale up or down, depending on your needs, but they're an especially popular choice among small businesses (between 1-49 employees). Paychex Flex is their flagship product for this market—a cloud-based platform where employers and accountants can upload payroll data, create custom reports, and manage benefits.
Similar to ADP, Paychex provides personalized customer support from their team of payroll specialists. If you need to export data to your accounting software, you can use their "general ledger service," which integrates with several leading providers (Kashoo, Sage, QuickBooks, Intacct, etc.)
Patriot Software
Patriot Software is a lesser-known, but solid choice for small business payroll. What's unique about Patriot is that they offer both accounting and payroll, so customers can potentially manage all of their financials from one system. Compared to some of the larger vendors on the market, their payroll service is remarkably affordable, depending on if you want to do it yourself, or have it outsourced.
Patriot Software is also one of the simpler solutions on the market, especially if you choose their full-service edition. Just enter hours worked, approve payroll, and process. Checks can be sent via direct deposit for free, or you can print paper checks. Unlike some of their competitors, Patriot doesn't offer a native mobile app, so the self-service options for employees might be a little more limited.
Quickbooks
Thanks to their massive customer base and accountant partner network, Quickbooks has long enjoyed fame as one of the world's top accounting solutions.
Quickbooks Payroll Core is the simplest option, featuring automatic payroll and a full suite of employee services such as health benefits and workers' comp. Payroll Premium gives you the ability to maintain full control by granting user permission, manage your money with same-day direct deposit, and automate payroll. Payroll Elite offers Tax Penalty Protection, certified HR support, and a payroll professional to set up payroll and answer questions.
If you're interested in accounting products from Quickbooks, you'll probably also be interested in Xero, which has its own built-in payroll.
Gusto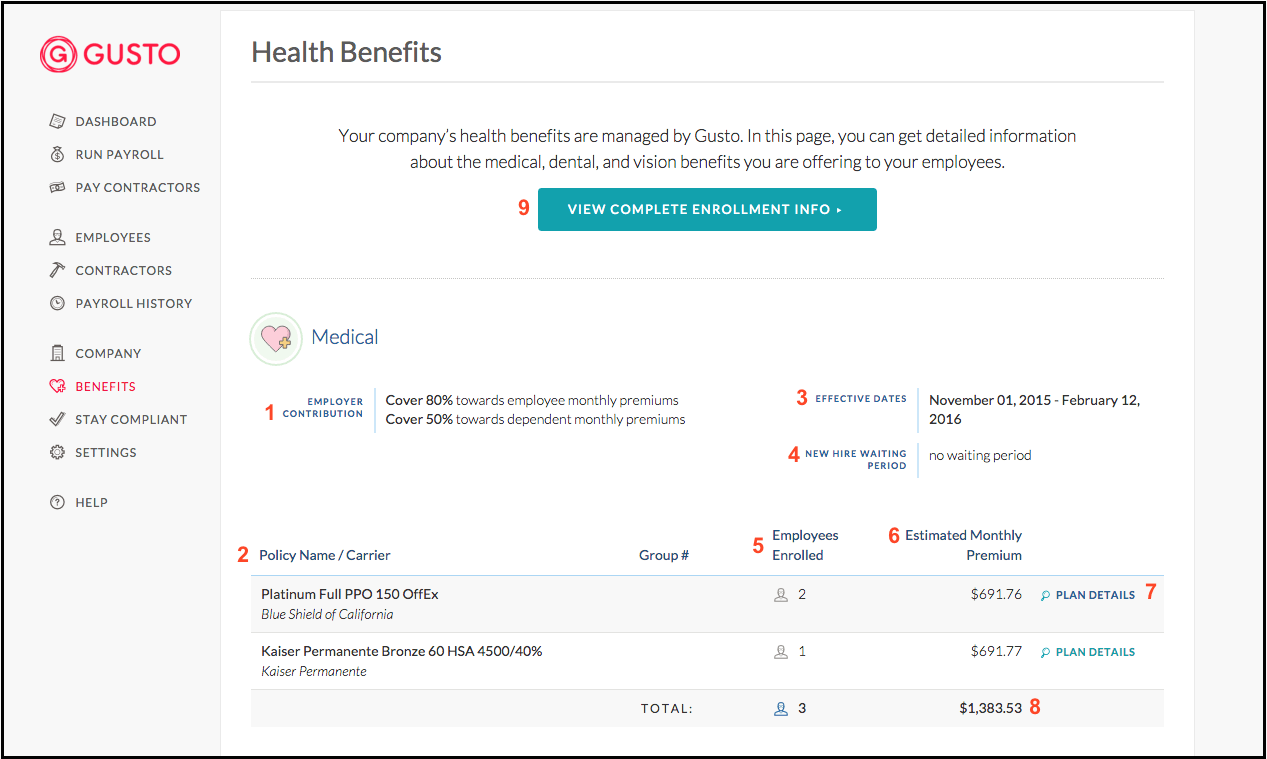 Gusto provides online payroll, health benefits, and workers comp, all rolled into one solution. Gusto will also help you file federal, state, and local taxes, track time off, and issue W-2s and 1099s—all fairly standard for a payroll management tool, but good to know, nonetheless.
Gusto differentiates itself from the competition in small but memorable ways, like their pay stubs with personal notes, or the charitable giving feature (employees can contribute to nonprofits directly from their check), or the fact that they'll call the IRS on your behalf to address any payroll problems. Employees can use the online portal (or native mobile apps) to update their personal information and access pay stubs while they work for your company and for an unlimited period of time after.
Gusto offers three plans: Core, Complete, and Concierge. Core gives full-service payroll, paid-time-off policies, and employee support. Complete is the next step up, tacking on employee offers and onboarding, surveys, and simple time tracking to the list of features. Concierge is the all-inclusive plan, allowing users access to certified HR professionals and resource centers.
Zenefits
Zenefits is a "core HR" solution that includes payroll as a prominent feature—more a platform than a best-of-breed tool like others on this list. Zenefits has built a lot of acclaim in the startup world for the astronomical growth they achieved in seven years, since their founding in 2013.
Some of Zenefits' features include synchronizing new hire onboarding, dynamic pay stubs, direct deposit, custom earning codes, payroll timeline reporting, and automatic tax filing. Zenefits integrates with tools such as Xero,Guideline, and Copilot.
Pricing is broken up into three plans: Essentials, Growth, and Zen. Essentials includes Core HR, time and scheduling, integrations, and the mobile app. Growth has two added features: compensation and performance management. Zen adds on features that cuts the cost of stress, such as assessments to measure well-being. Just keep in mind, Zenefits makes their money by acting as a benefits brokerage service, so that may be part of your customer experience.
ALSO READ: Namely vs. Zenefits: Choosing the Right HR Software
Wagepoint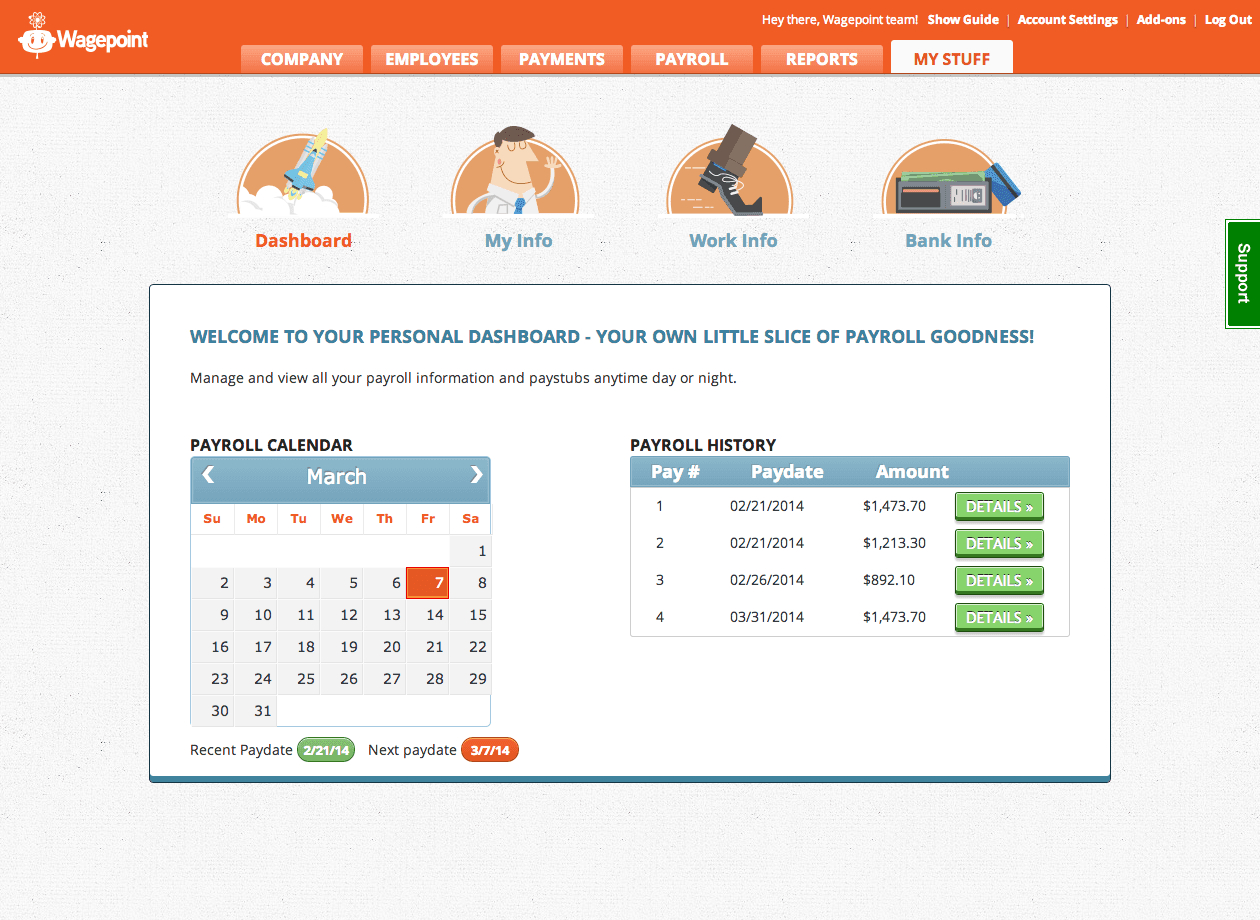 Wagepoint is a payroll automation solution tailored specifically to the needs of small businesses. It's one of the more affordable solutions on the list—cheaper than Gusto, but comparable to Patriot Software.
Their solution covers direct deposit, federal/state/local taxes, 1099s and W-2s, independent contracting, online pay stubs, and basic reporting features. If you're looking for a tool that's incredibly easy to set up and use, Wagepoint is definitely worth considering. Their pricing model is also straightforward: instead of using separate product tiers for varying levels of functionality, they charge a single per-payroll fee, and an additional amount per-employee.
You won't find some of the more advanced features in Wagepoint (like benefits administration or built-in time tracking), but then again, it's a best-of-breed tool, not an HR suite. They do have a 95 percent customer satisfaction rating, if that helps.
* * *
As you can see, there are more than a few software options your business or firm can use to manage payroll. Whether you want to handle it yourself or simply submit hours and let someone else mind the details, the solutions on this list can accommodate a wide variety of needs.
Still don't see what you're looking for? Use our Product Selection Tool to compare payroll options and get a custom recommendation based on your needs.