In the world of human resources (HR), software users, buyers, and vendors often use the terms human resources information system (HRIS), human capital management (HCM) software, and human resources management system (HRMS) interchangeably.
Though HRIS, HRMS, and HCM overlap in core HR areas that run on basic employee data, HRM and HCM systems offer an increasingly enhanced set of features. A specific software product's features don't always align with how the vendor markets or labels itself, making it confusing for buyers to find the level of functionality that's right for their business.
Refer to our HR Software Guide to explore vendors in all three categories and find a solution that fits your business needs.
What are the differences between HRIS, HRMS, and HCM?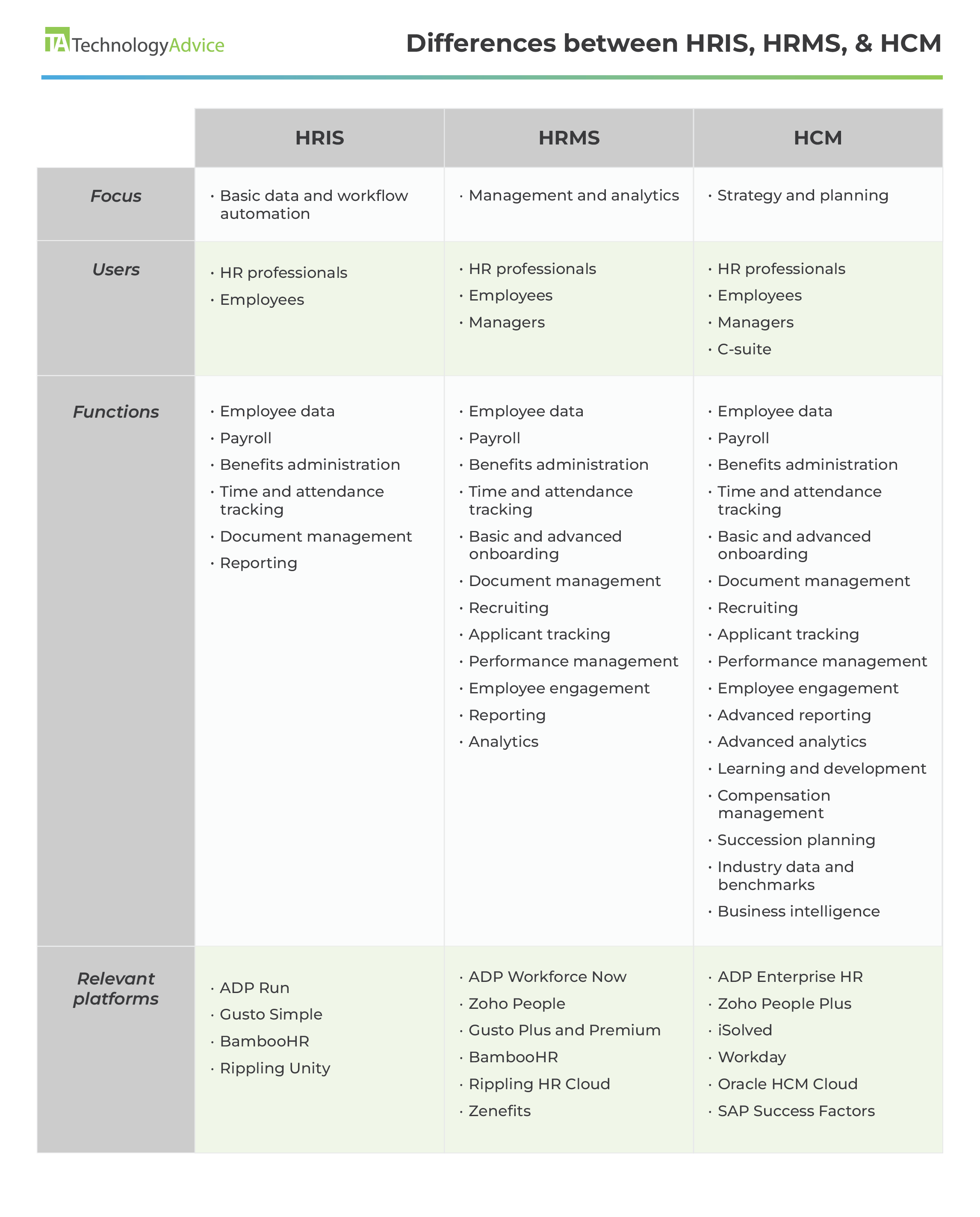 HRIS, HRMS, and HCM aren't three separate types of software. Rather, they build upon one another to offer increasingly sophisticated features as a company's needs evolve.
To illustrate, an HCM platform encompasses and expands upon HRIS and HRMS capabilities. It has the capacity to store and track an employee's basic information when they start a position, thanks to the bedrock of data managed in the HRIS.
Beyond that, the HCM also connects the employee's performance management data and learning management activities. Managers can then monitor the professional growth of their direct reports over time. This falls within the scope of what an HRMS can do.
At the broadest level, the HCM platform aggregates workforce data from performance and learning management and funnels that information into the compensation management metrics and succession planning modules. HR leadership is vested in this information to ensure employees are getting paid fairly and are following career paths that serve both the employee's and the organization's goals.
Also read: Gusto vs Zenefits
HRIS
An HRIS is a centralized repository for employee data—like name, date of birth, and Social Security number (SSN)—and houses various types of information systems. These information systems, in turn, support different HR functions.
An HRIS is the most basic solution to store and manage employee data. It's a step up from managing this information in spreadsheets and typically includes payroll, benefits administration, and time tracking. However, some HRIS solutions, like Rippling Unity, offer even more stripped-down functionality where a company can bolt on capabilities like payroll and time tracking.
When a business might choose an HRIS
An HRIS is best for small businesses with one-person or small HR teams that need basic HR functions like payroll, benefits administration, and time tracking.
HR professionals can leverage the data in an HRIS to streamline and automate tactical HR tasks like payroll. Top HRIS solutions in this regard include ADP Run, BambooHR, and Gusto Simple.
Also read: The Best HRIS Systems
HRMS
An HRMS expands upon HRIS to offer additional functionalities that draw on data from the HRIS and is thus best suited for small to medium businesses. Added capabilities include performance management and recruiting.
HRIS and HRMS are often blended together. While the HRIS handles raw employee data in its database, HRMS platforms layer functionality on top of that data to gain greater insights and make data-driven HR decisions. As such, an HRMS can't exist without the database of an HRIS to support it.
When a business might choose an HRMS
HRM systems best support small to midsize businesses in not only managing more data but also acting on it in ways that keep the business growing.
Part of keeping an upward momentum means focusing on attracting and retaining top talent. Companies therefore use an HRMS to:
Attract, hire, and onboard employees in a streamlined, user-friendly way.
Develop employees via performance management.
Engage employees by soliciting and acting on their feedback.
The HRMS draws on the various data stored in the HRIS to help HR professionals make data-driven decisions around attracting, hiring, and retaining top talent in an organization. Top vendors include ADP Workforce Now, Zoho People, Rippling HR Cloud, Gusto Plus, and Zenefits.
HCM
HCM platforms are the most sophisticated level of HR software. They help companies develop and leverage employee strengths on a broader scale to increase the return on investment (ROI) of the workforce. Because of this, HCM platforms are tools designed for the strategic, people-focused aims of large businesses.
The main difference between HCM software and HRMS is the level of complexity of the tools the HCM system offers in order to support a bigger workforce. Tools in an HCM platform augment HRMS functionality to include more complex analytics that drive alignment between talent and overall business strategy.
To that end, HCM systems typically include strategic workforce management features like employee engagement, compensation management, and a learning management system. These tools are designed to help businesses optimize their workforces and develop internal talent.
When a business might choose an HCM
Large companies, especially those with employees in different parts of the world, need an HCM platform to acquire more complex analytical insights than an HRIS or HRMS can offer. Compared to an HRIS or HRMS, an HCM integrates information from all modules across one central platform to deliver insights and added security. Companies use these insights to manage and extend the employee life cycle from hire to retire.
HCM systems support a business's strategic goals via comprehensive analytics and industry data and benchmarks. This means it generates and analyzes internal as well as external data sets to help a company:
Leverage existing talent in the best way possible.
Anticipate workforce needs in terms of recruiting, developing, and promoting employees.
ADP Enterprise HR, iSolved, Zoho People Plus, Oracle HCM, and Workday HCM are key HCM software vendors.
Also read: Workday vs. Oracle HCM
Should you choose an HRIS, HRMS, or HCMS?
Headcount is a good starting criterion but isn't the only deciding factor for which type of system to invest in. Other factors to consider include:
Scalability of Features Within a Given Solution: Companies should ask what kind of functionality they need given the size of their workforce and what areas they'll need to scale first. An increasing number of external party integrations becomes untenable, so a vendor that offers different product levels and add-ons is best. This helps avoid the trouble of switching solutions entirely, which only adds to a company's growing pains
Business Maturity: An HRIS is ideal for managing a young company's growing database, an HRMS helps companies that are poised for growth, and an HCM solution helps more mature companies strategize against competitors.
Pain Points: A company with high employee turnover, for example, benefits from an HRMS or HCM that includes advanced recruiting tools as well as performance management and employee engagement.
As the number of employees grows, an organization will eventually need to upgrade to a system that can handle more data storage (HRIS), management (HRMS), and/or analytics (HCM). Check out our HR Software Guide to explore vendors in all three categories and find a solution that fits your business needs.
1

Rippling
Rippling is the first way for businesses to manage all of their HR, IT, and Finance — payroll, benefits, computers, apps, corporate cards, expenses, and more — in one unified workforce platform. By connecting every business system to one source of truth for employee data, businesses can automate all of the manual work they normally need to do to make employee changes.
2

Paylocity
Paylocity's modern HR and payroll software just doesn't simplify administrative tasks to save you time and money. Our flexible solutions can help you attract the talent you need and keep them engaged – improving retention, productivity, and the bottom line. See the Paylocity difference and get to know your people better so you can build a thriving, resilient workforce for the future.
3

Paycor
Paycor's HR software modernizes every aspect of people management, which saves leaders time and gives them the powerful analytics they need to build winning teams. Paycor provides a full suite of HCM solutions with a single source of truth for employee data, so users never have to switch platforms, log-in to multiple systems, re-key data or open multiple spreadsheets. Everyday processes become simplified, allowing organizations to focus on their most important work.
Technology Advice is able to offer
our services
for free because some vendors may pay us for web traffic or other sales opportunities. Our mission is to help technology buyers make better purchasing decisions, so we provide you with information for all vendors — even those that don't pay us.