TechnologyAdvice Guide to Onboarding Software
Table of Contents
Comparing the best onboarding software
The best onboarding software helps teams organize the paperwork and processes required to bring on new employees and meet regulations. The tools listed below help your team onboard new employees quickly. Click on the product name or logo to read a review of the tool.
| Products | Forms And E-Verify | Self-Service Portal | Background Checks  | Applicant Tracking Software |
| --- | --- | --- | --- | --- |
| | Yes | Yes | No | Yes |
| | Yes | Yes | Yes | Yes |
| | Yes | Yes | No | Yes |
| | Yes | Yes | No | Yes |
| | Yes | Yes | No | No |
Top onboarding software reviews
These are the top onboarding software vendors on the market, in no particular order.
WorkBright
WorkBright is an onboarding software that streamlines the process of collecting paperwork and signatures from new hires. It turns onboarding paperwork into mobile-friendly forms that new employees can fill out on their own time before their start date.
WorkBright even includes an applicant tracking system to help you find and interview the best candidates for your position. Candidate information is automatically transferred to the onboarding workflows when an offer is accepted, reducing manual work for HR.
Standout features
Direct E-Verify connections
Audit trails and compliance tracking
Analysis and reporting
Hireology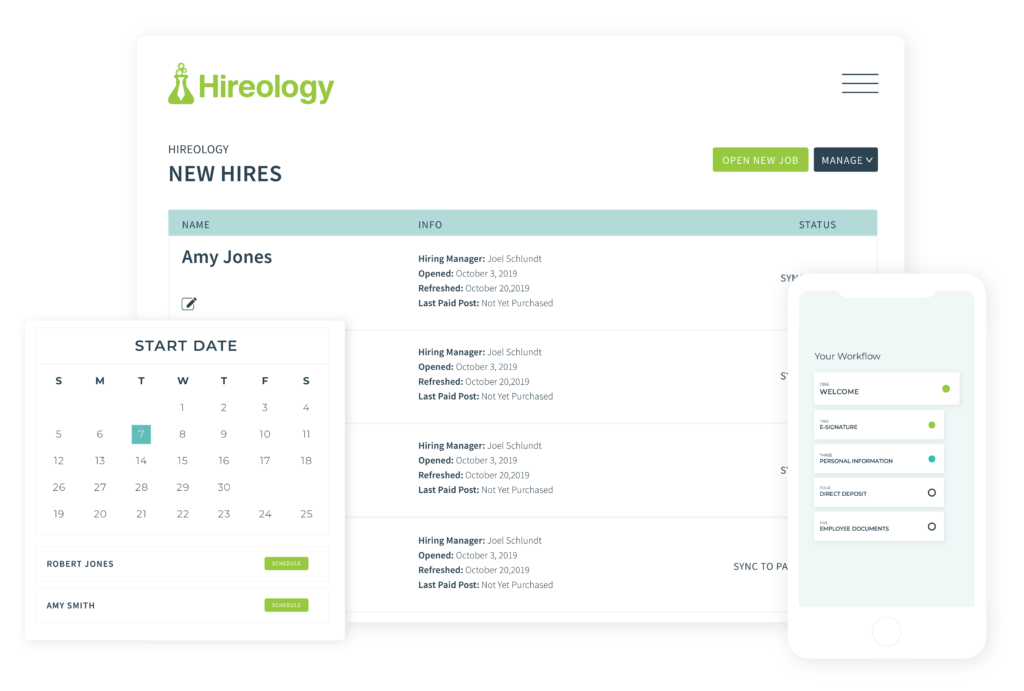 Hireology is a full-service recruitment, onboarding, and HR software that can manage tasks throughout the hiring lifecycle. It offers a careers page, ATS, recruitment marketing capabilities, and candidate verifications. Because the onboarding tools exist in the same software as benefits and payroll offerings, new hire information transfers seamlessly from candidate forms through to payroll.
Hireology is designed for companies who experience high volume hiring and complicated onboarding processes. The tools automate form dispersal, remind candidates of deadlines, and centralize all collected information in a secure platform. Candidates and new hires can access, fill out, and sign their documents from any device.
Standout features
Integrated background checks
Skills testing
Recruitment marketing reporting
Gusto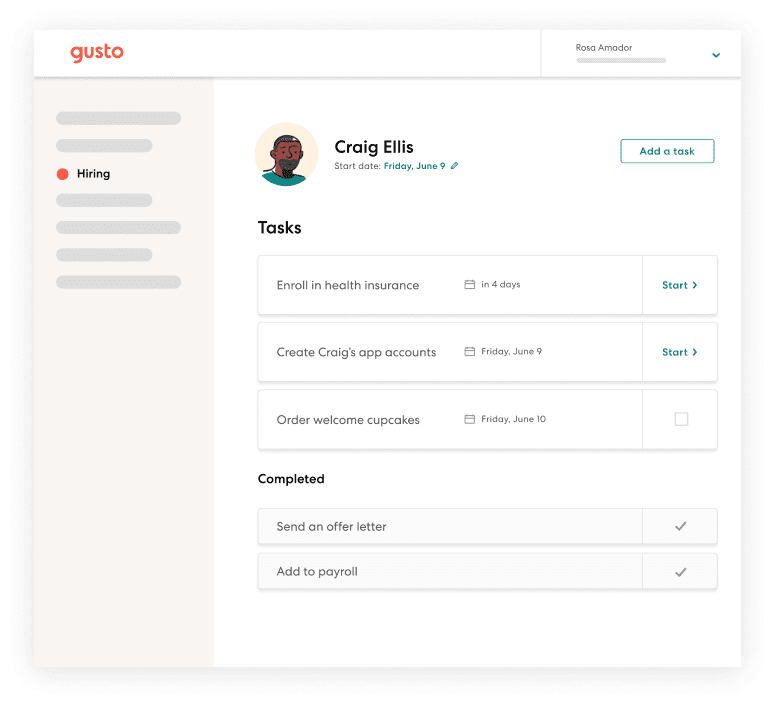 Gusto is a human resources software that covers employee needs for onboarding through payroll and benefits. The software collects new hire information through self-service forms and e-signature documents, and then automatically uses this information in the employee profile to populate payroll, benefits, and core HR data. The new hire checklist uses project management-style tasks to ensure that your team doesn't miss a step and the whole process finishes on time.
Software provisioning features give HR the power to quickly assign email, document management, and remote work tools at the time of hire and without needing to involve the IT department.
Standout features
Templated onboarding checklists
E-signature features included
Software provisioning tools
Also Read: Zenefits vs. Gusto: Choosing The Best HR Solution for Your SMB
BambooHR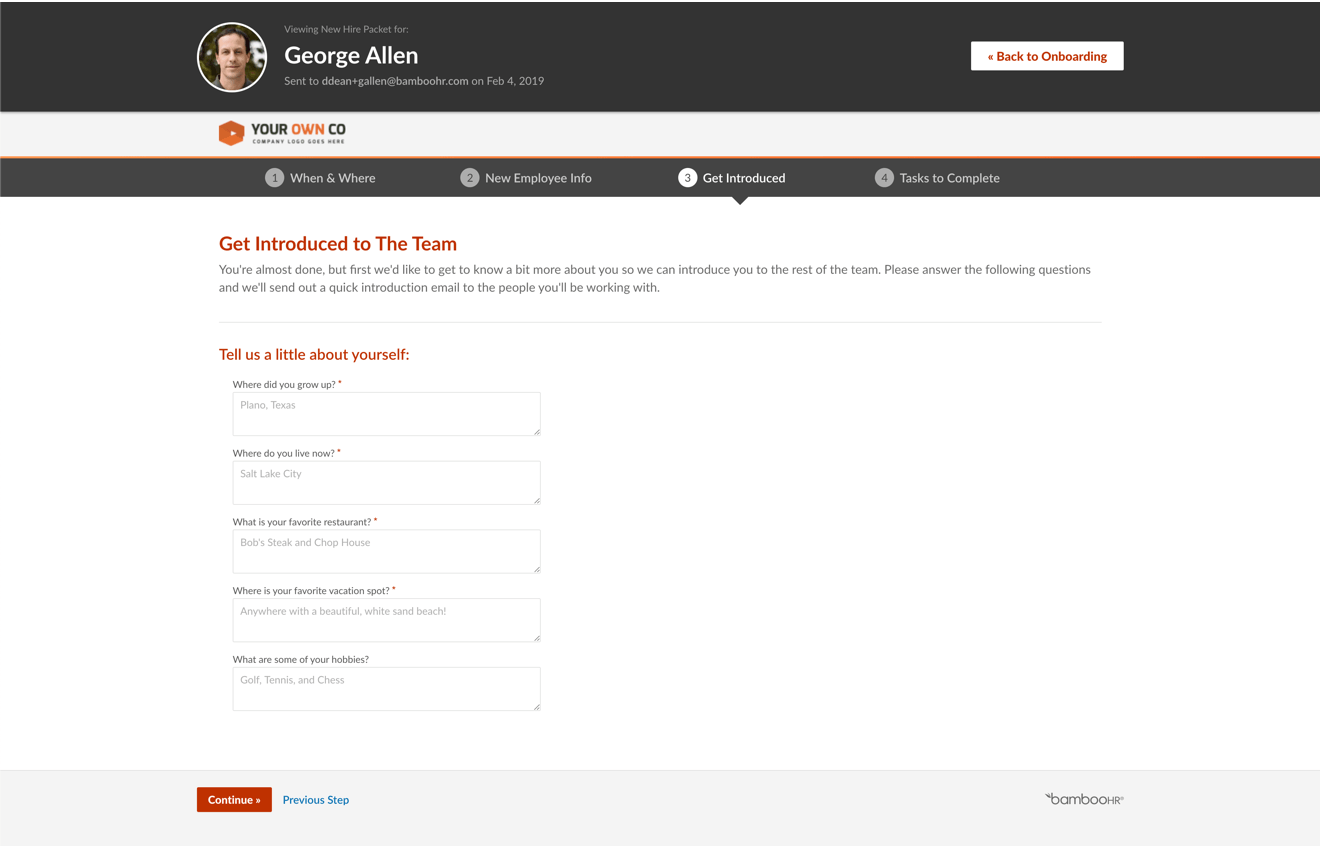 BambooHR is a full-service HRIS software with hiring, onboarding, culture, people analytics, and compensation tools. The onboarding features provide a structured and engaging framework to help new hires and their managers get much of the initial data collection out of the way before the first day.
The onboarding features let your team set up templates that cover the important information that is needed from every new hire and allow for personalization to ensure that departmental needs are met. The data is connected to HR, payroll, and benefits tools so HR doesn't spend extra time re-entering personal information.
Standout features
Culture-forward new hire email series that highlights common interests
Progress tracking with reminders
Also Read: BambooHR Pricing, Features, and Customer Dedication
Sapling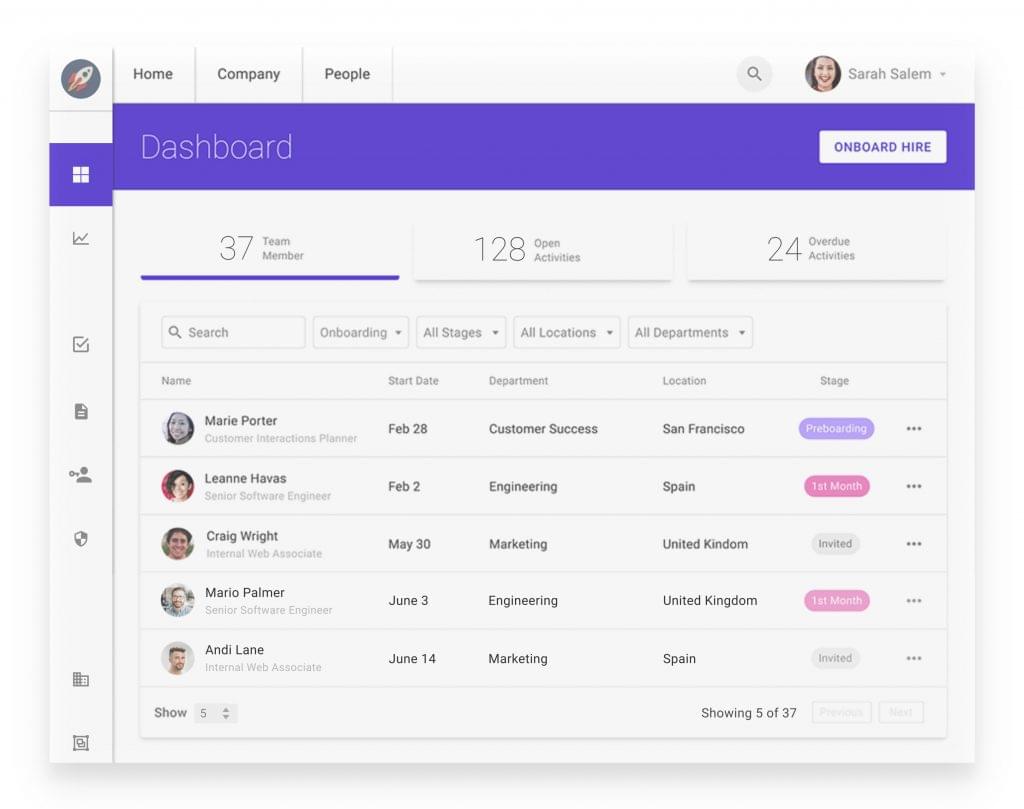 Sapling is a people management platform that helps companies streamline their employee information from hire to offboarding. The onboarding tools include customizable workflows, integrated e-signature tools, and personalized individual profiles. Set up a full preboarding system for new employees to set up their profile, read important company culture and information documents, and sign vital forms before their start date.
Sapling includes native connections with several hiring tools including LinkedIn, Indeed, and JazzHR, and connections with Zapier, ADP, and Workday give teams full access to employee data wherever they need it across the employment lifecycle.
Also Read: 8 Zapier Alternatives for Seamless Data Connections
Standout features
Personalized employee profile documents
Auto-assign workflows to bulk update documentation
Fully mobile capabilities for new hires
Which Onboarding software is right for your business?
What is employee onboarding software
Employee onboarding software manages the documents, forms, and processes that businesses use to onboard new hires. These tools give new employees access to new hire documents either through an employee portal or email drip campaigns.
Human resources and hiring managers can use checklists, e-signature tools, automatic workflows, and document management features to set up templates for each new hire or job description. When the new hire accepts the position, the hiring manager or HR representative enters the hire's email address, and the new employee can begin to work through the documentation before their first day on the job.
Onboarding software creates an employee file by gathering essential employee data points, automatically sending this information to electronic verification services, and sharing the information with critical HR tools like payroll and benefits management software.
Onboarding software vs. learning management systems
Onboarding software manages the myriad administrative details involved in getting a hire ready for their first day. Because onboarding software often works as a data collection tool and pipeline into larger HR software, they rarely include skills training and culture acclimation features that help individuals learn about the company and their role in it.
Most companies will also employ a learning management system (LMS) to standardize and scale their training tools. From ensuring that sales teams follow the right protocol to teaching developers about the company's microservices architecture, companies can make sure that their employees start their careers on equal footing. To learn more about how an LMS can improve your onboarding and training process, visit our learning management software page.
Onboarding software features
Onboarding software fills the gap between the hiring process and everyday employment. These tools collect data that's necessary for employees to get paid and companies to stay compliant. Purchase an onboarding software with these features to speed your data collection and audit processes.
Task management
Task management features are checklists, automations, and deadline tools that help HR, hiring managers, and new hires get all of the necessary paperwork completed before the employee's start date. These tools act like project management software for the onboarding process by showing a new employee's completed forms, reminding hiring managers of important dates, and keeping the HR staff updated as to everyone's progress. Look for task management tools that let you set up a template for recurring jobs, allow for individual customization based on role or other factors, and provide automatic notifications and alerts for upcoming deadlines.
Mobile forms
Businesses have largely moved away from paper-based HR systems, and the most technologically advanced companies use onboarding software that makes HR forms easy to fill out with mobile devices. While not everyone has a computer at home that they can use to complete your onboarding tools, nearly everyone can access the internet on their phone. Mobile-ready HR forms in the onboarding tools increase engagement and participation from new hires by making these forms more accessible to the wider population.
E-Verify connections
E-Verify is a US-government supported program that checks a person's employment eligibility within the United States. The program can check employment eligibility for both US and foreign citizens, and is required for some government agencies and contractors. Onboarding software that includes connections to E-Verify will automatically submit your new hire's information to the system to jumpstart the process and get your employees to work faster.
E-signature features
The onboarding process requires employees and employers to certify documents with their signatures. Traditionally, these signatures would be obtained in a mass document-signing session on the initial employment date. But since more teams work remotely and fewer companies keep paper copies of records, it's increasingly important to obtain these signatures digitally. Whether the onboarding software connects via an API to an e-signature tool or includes these features within the software, this is a critical feature for any onboarding process.
Automatic email drip
While these features are most commonly found in marketing automation and email marketing software, an automatic email drip is a great way to keep new hires engaged with the onboarding process before their first day. With an automatic email drip, the HR rep chooses a program to send to the new hire, and that program automatically sends a new email every couple of days to remind the new hire to complete paperwork, engage in pre-work training, and sign important documents. Advanced features will turn off the drip when the employee has completed all of their paperwork.
Background checks
Background checks are increasingly used by employers to flag up any troubling history for new hires, and are especially important in childcare, education, and healthcare industries, or companies that take on government contracts. An onboarding software may have a direct integration or data exports to enable background checks in bulk.
Employee testing
Outside of background checks, you may want to use skills, personality, and communication types testing to gain insight into how to best begin the new hire's integration into your team. Onboarding software does not usually include employee testing features within the software itself, but many will provide integrations with testing tools and the ability to include the data from these tests in the employee's file.
Benefits of onboarding tools
Choosing an onboarding software may feel like an extra expense without much payoff at first — can't HR remember to send these emails? Of course they can, but by automating and streamlining the onboarding process, the HR team can refocus their efforts on providing a great candidate and employee experience instead of data collection. Here are a couple of benefits your company should expect when they purchase an onboarding software.
Streamlined workflows
Onboarding tools are designed to ensure that the most important documentation is sent to new hires, completed, signed, and stored for compliance or audit. The automated workflows simplify this process for the HR department by automatically sending the right forms and storing the employee data. And an automated workflow means that the software will prompt employees to fill out the right documents at the right time and in the right order. A workflow can even send notifications and reminders to reduce delays and improve compliance.
Fewer documentation errors
It's so easy to miss a signature or not print a form during the bustle of the employee's first day — and gets even easier when you're onboarding multiple employees on the same day. When each employee logs in to a self-service portal or is emailed their individual documents, the forms automatically upload to the employee's new HR profile. This means less data entry for the HR team and fewer documentation errors overall.
More engaged employees
A signed acceptance letter isn't a sure thing, and some new hires may have second thoughts in the weeks leading up to their first day. But onboarding software can quell those fears
by sending automatic welcome emails and getting the employee involved in filling out their new hire documentation quickly. These tools reassure the employee that you're looking forward to their start date and can reduce attrition before the first day.
How to compare onboarding tools
Onboarding doesn't require special software or tools. A company can get by — for a while — with a written checklist, a project management software template, or relying on the HR team's memory to ensure that all the onboarding tasks are completed. But as a company grows, their hiring efforts will need to scale. And choosing the right onboarding software is critical to that scaled growth.
When you're choosing your onboarding software, consider whether you're going to need to upgrade your HRIS, or whether you need a tool that will bolt onto your existing system. Consider whether you perform background checks and E-Verify lookups. If so, you'll want these features included in your software.
And consider the user experience (UX) for new hires. You're reaching out to a new hire at a vulnerable time. You need a tool that aligns with your company culture, your business needs, and the positive, helpful impression you want to give your new employee.
Our unbiased Technology Advisors can help you find the right onboarding software for your team's needs. Enter your requirements in the form at the top of the page, and we'll send you a short list of vendors who are right for your company. Or give us a call at 877.702.2082. In just five minutes you have a list of the best onboarding software for your company.