This post has been updated for 2020.
Leave management can be a minefield of personal, legal, and regulatory problems. The U.S. government regulates this process to clarify common and edge cases and to ensure that companies protect employee rights. While these regulations can complicate the leave process, compliance will ensure smooth transitions between leave and work for your entire team.
We all want to provide our employees with a safe, healthy, and happy work environment, but even the healthiest employees may require leave at some point to care for family members or unexpected personal issues. HR professionals and supervisors need carefully planned policies and access to regulatory requirements to make sure employees who request leave are treated fairly.
Table of contents
Looking for the right leave management software? Check out our HR Product Selection Tool. Answer a few questions and you'll get a short, unbiased list of software customized for your company.
Legal implications of leave management
Failure to take Family Medical Leave Act (FMLA) requests seriously could result in complicated and expensive legal troubles for both the company and the individual supervisors. For example, in the 2019 court case DaPrato vs. Massachusetts, the court ruled against the employer and awarded the employee $1,937,961 in damages and attorney fees.
Thankfully, HR software has kept pace with regulatory changes and the increasing need for information privacy. A combination of internal policy and carefully-implemented software support can set your company up for leave management success.
Leave Management Best Practices
1. Document
Every interaction, email, phone call, and meeting should be documented to ensure compliance and reduce the risk of legal intervention. For privacy reasons, your documentation should remain secure and private, beyond the reach of unauthorized parties. If you can centralize your HR, time and attendance, and compliance management to a single system with access controls, even better. Human capital management (HCM) software is a good place to start.
2. Make a policy and stick to it
All management should be briefed on your leave management policy and follow it to the letter. Consider:
Notification requirements (including 30-day notice and as soon as practically possible notice)
Request official or certified documentation. If the employee doesn't provide certified documentation (from a doctor or medical provider) within the 15-day window, the request can be denied. Ask for second and third opinions to settle disputes.
Careful tracking of intermittent leave days, reasons, and call outs (use tracking software to do this)
Centralization. While supervisors and managers should be involved in the process, have a single source of truth for all decisions and one centralized group who advises on leave-related matters.
3. Regulations and Compliance
HIPAA and FMLA can change, putting your company and individual employees in danger of lawsuits or audits. Stay up to date and make sure this information is readily available to all responsible parties. Use your company's policy to define privacy standards based on current industry regulations.
4. Measure
Setting a policy isn't the end of the line. Measure the policy's effectiveness through setting goals and KPIs, measuring the return-to-work rate, and ensuring compliance. Monitor the effectiveness of the policy and update requirements as needed.
HR Software Features that Support Leave Management
Time and attendance tools or integrations: These tools will give your employees freedom to request time off at their leisure, and gives exact tracking of requests, approvals, and denials. Use this information later for efficiency and compliance analytics.
Compliance tracking: The best tools let you set your policies and include the ability to log conversations. You shouldn't have to use an outside database or spreadsheet in addition to your secure HR platform. Document every interaction with employees during their requests and leave periods to keep yourself covered. Regulatory integrations make these even more useful.
Security/Privacy: Leave management brings with it serious privacy issues regarding what you can ask an employee and what can be shared with other employees. Granular user permissions and access management bring tighter security to the private data you store.
Tools that Support Leave Management
Mitrefinch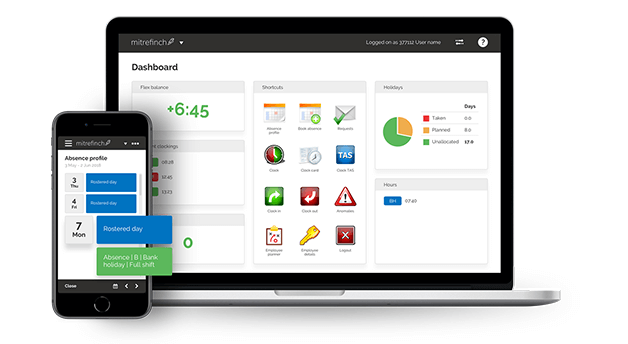 Mitrefinch is a UK-based company that specializes in time and attendance management with HR components. Set up leave requirements in the absence management system that match your own leave policy.
Key features:
Employee self-service portal
Multiple clock in/out options including mobile and desktop
GPS tracking to verify employee hours
TrackSmart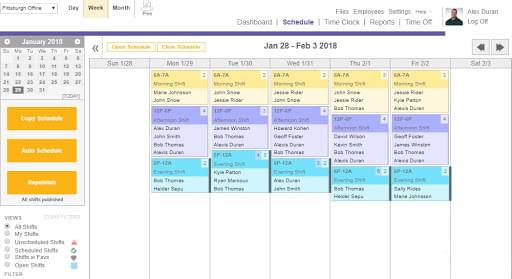 TrackSmart time and attendance tool lets you access centralized employee data privately alongside their leave management tool. Use the reporting features to monitor your progress toward leave-related KPIs.
Key features:
Automatic schedules based on employee availability
Real-time views of which employees are clocked in
Centralized calendar showing key dates and employee time off
Zenefits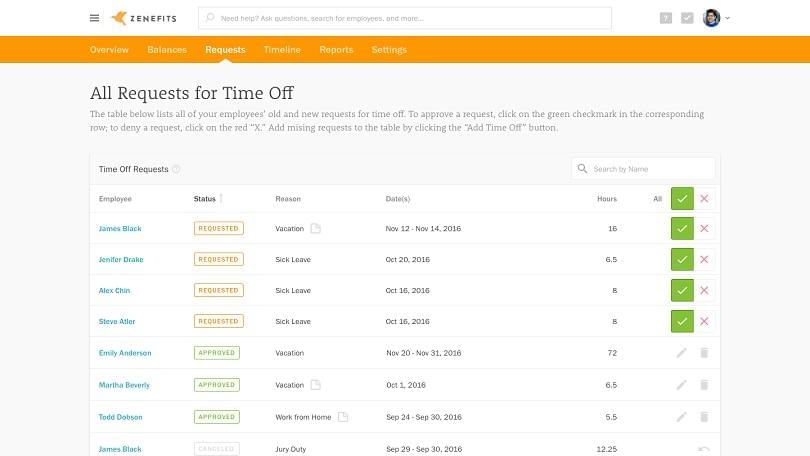 Zenefits offers a full-service HR software platform that integrates time, benefits, compliance, and payroll. Use the attendance tracker and compliance tools to program your leave policy and track your progress towards goals.
Key features:
Real-time data on employee activities
Built-in compliance tools
Time card fraud protection
Bindle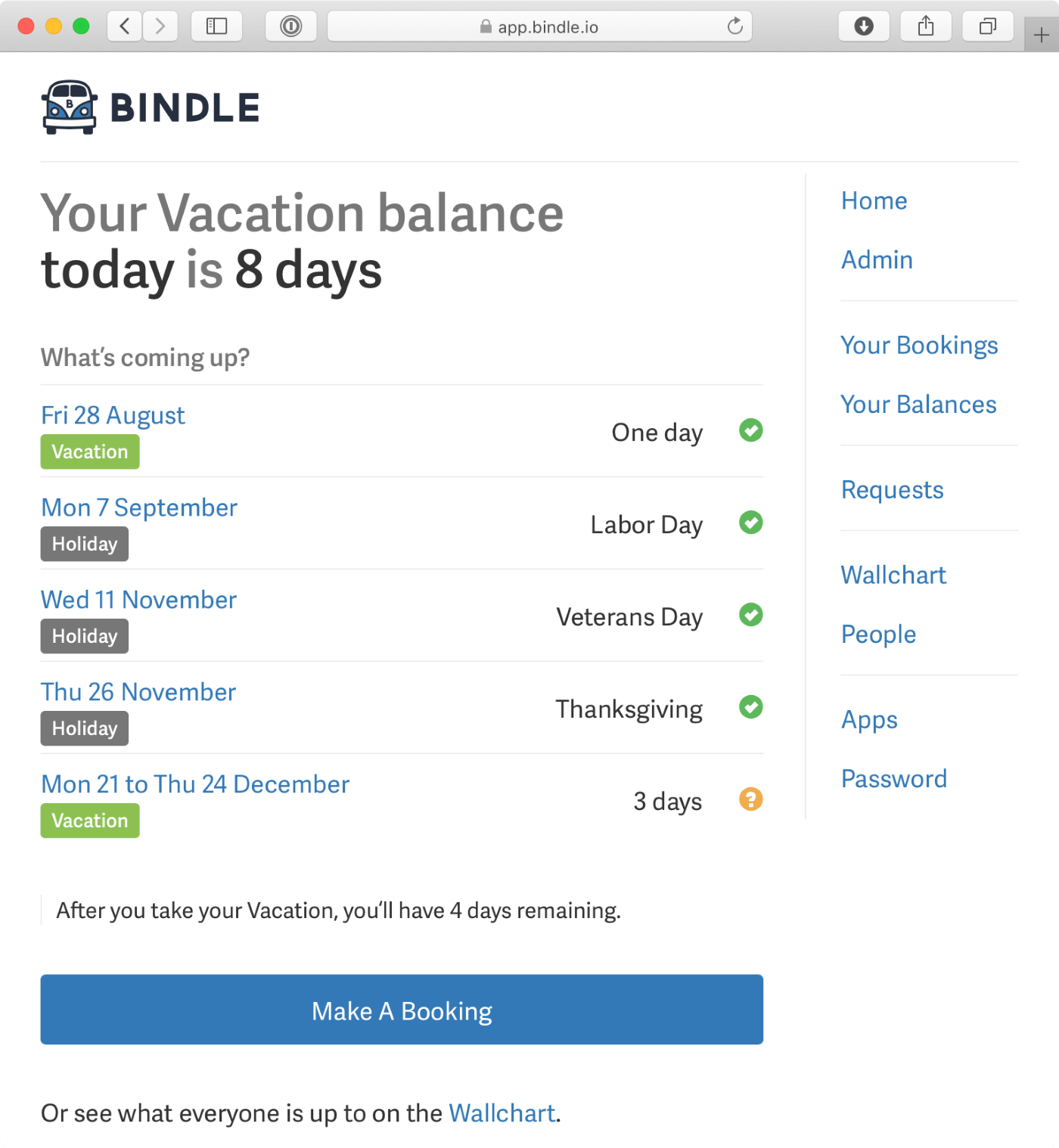 Bindle is a leave management tool that gives your team a centralized location to request time off. Use the audit tools to document requests, approvals, and denials, and the calendar to ensure you fully staff for planned absences.
Key features:
Automatic calendar updates
Time-off balances and carryover limit settings
Full audit trails for time off booking
Zoho People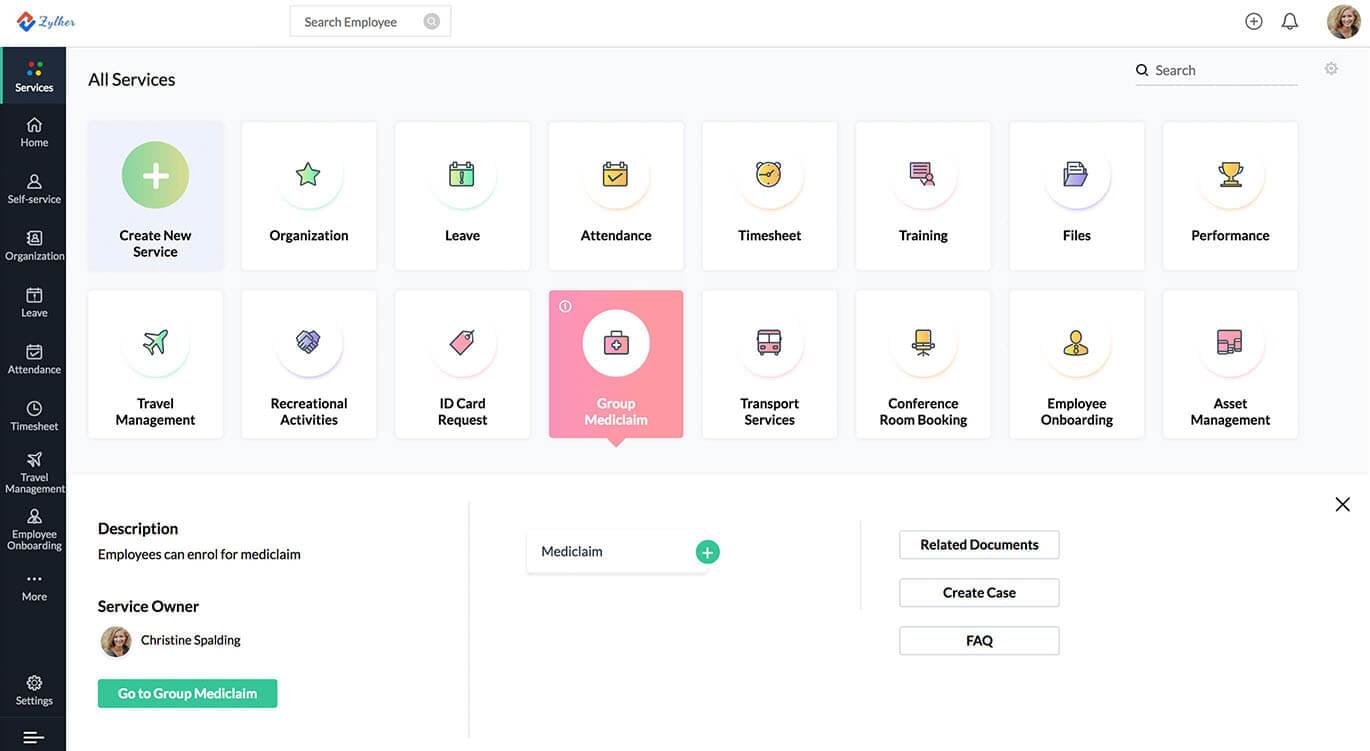 Zoho People makes a wide variety of business-related products, and People is their branded HR system containing time and attendance, leave management, and HR processing. The leave management tools contain analytics reports and mobile self-service features.
Key features:
Custom leave policies
Unplanned absence measurement with the Bradford score
Employee self-service dashboard with time off requests and company announcements
eFMLA
eFMLA is an online workspace that gives employers access to all required forms and includes tracking features to document all interactions. As a dedicated FMLA tool, this subscription software does not include other HR features like time and attendance tracking.
Key features:
Customizable FMLA forms
Electronic form and notice delivery
Expert advice and support for FMLA-related issues
To browse and compare more time/attendance tracking and HR solutions, use our HR Software Product Selection Tool. After answering a few simple questions, you'll get a short list of HR software tailored to your company's needs.
Top Human Resources Software Recommendations
Processing routine HR tasks by hand and entering data in multiple systems can be time consuming and risky. That's why leaders depend on Paycor for a modern, adaptable, and unified system for all things HR. From engaging employee self-service, mobile push notifications and company updates to unlimited workflows, reminders, and notifications, Paycor's HR software helps you get out of the weeds so you can focus on bigger priorities like attracting, retaining and developing employees.
Rippling is the first way for businesses to manage all of their HR, IT, and Finance — payroll, benefits, computers, apps, corporate cards, expenses, and more — in one unified workforce platform. By connecting every business system to one source of truth for employee data, businesses can automate all of the manual work they normally need to do to make employee changes.
Meet Bob, the modern HR platform for modern business. With Bob, HR teams get everything they need to operate efficiently and engage employees in one HRIS. Use automation and workflows to save hours on HR admin time. Connect employees from anywhere with a social media-like homepage that drives culture with communications, kudos, and recognition. Centralize all people data in one place for a holistic view. Share accurate reports for stronger insights and better decision-making.
Need a Little Help?
Talk with a software expert for free. Get a list of software that's great for you in less than 15 minutes.