Considering human resources information systems (HRIS) include only basic human resources (HR) like payroll, benefits, recordkeeping, and reporting, an HRIS integration can help you enhance the key benefits of your HRIS. Integrating standard tools with your HRIS allows you to maximize its efficiency without leaving your trusted vendor or spending extra on an HR software upgrade.
Check out our HR Software Guide for a complete list of HRIS solutions to help manage your workforce. Or, learn more about the importance of an HRIS in the video below:
What is an HRIS integration?
HRIS integrations connect an HRIS and another software tool to facilitate data sharing, storing, and updating. Typically, HRIS integrations involve application programming interfaces (APIs) — sets of protocols that allow two or more programs to "talk" to each other.
HRIS integration workflow example
At its most basic, HRIS integrations work through a series of triggers and actions to exchange data between two software applications, whether internal or external. A trigger acts as a prompt to start fetching or receiving data. Triggers inform actions, which determine how the system should act on the data it receives.
For example, say new employees become eligible for benefits 90 days following their first day of work. You'd like to email their enrollment forms from your HRIS automatically after 90 days. To do this, you will most likely need to integrate your company's email service since HRIS software doesn't typically have built-in email capabilities.
The HRIS integration trigger and action workflow would look something like this: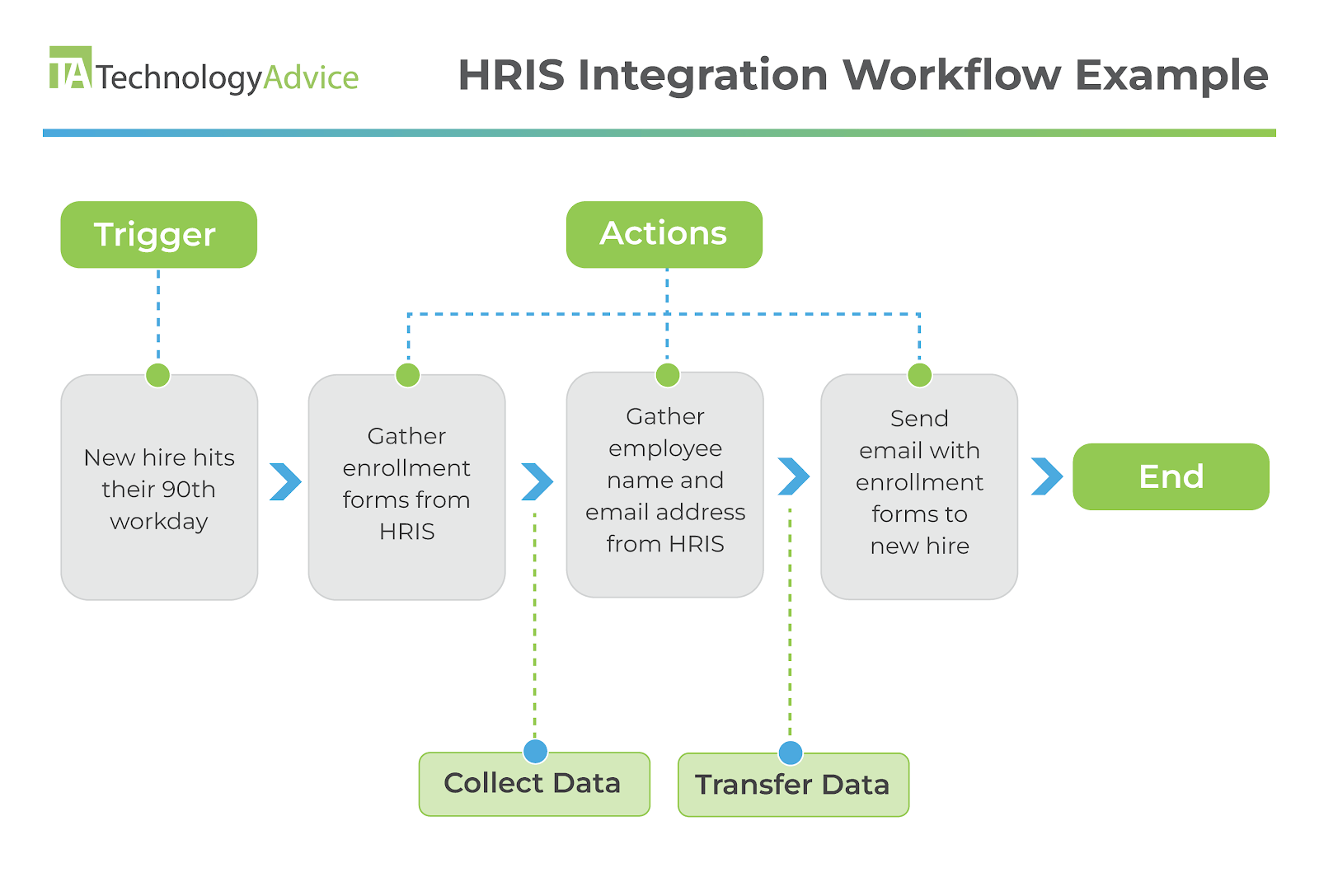 This example illustrates a straightforward integration for a narrow use case. However, more complex integrations can help consolidate HR processes, automate tedious tasks, and free up time for bigger priorities.
What are the most common HRIS integrations?
Most HRIS integrations fall into one of the following categories:
Payroll.
Benefits administration.
Talent acquisition.
Workforce management.
Learning management.
Collaboration and productivity.
All of the above categories have some relation to HR. However, you may consider additional integrations for your HRIS that fall outside of HR. For instance, enterprises may want to integrate their enterprise resource planning (ERP) solution to drive full-scale data flow among their entire tech stack.
Other valuable integrations include accounting, risk management, project management, and industry-specific software solutions. Whatever the case, integrating the right tools can significantly reduce the need to duplicate data across various systems while extending the life of your HRIS.
Payroll
Payroll integrations helps your company complete payroll-related tasks. If your HRIS lacks a payroll module, you may integrate with another vendor's tool to take over this function.
Other ways you can integrate payroll-related functions include:
Transferring payroll data to your business's financial accounts.
Collecting new hire payroll information from your recruitment software.
Sending payroll information to an outsourced payroll vendor.
For example, ADP includes both full-suite HRIS and standalone solutions for payroll, including global payroll functionality. In particular, Workforce Now and Vantage HCM integrate their global payroll functionalities with several popular talent management platforms, such as ClearCompany. As a result, companies can support their international workforce with one system.
Completing payroll requires essential HRIS data, such as employee names, addresses, social security numbers, pay rates, and timesheets. Therefore, communication between these systems is crucial to avoid the risk of errors from manual data entry.
Benefits administration
If your HRIS does not include benefits administration features, you must integrate with a third-party system or risk managing employee benefits enrollments, changes, and cancellations manually.
Typical benefits administration integrations include:
UKG's EverythingBenefits is an example of a benefits administration platform that supports HRIS platforms with integrated features like benefits management, enrollment support, and COBRA administration. It also connects to over 600 insurance carriers, reducing the time your HR teams spend negotiating with multiple carriers' diverse systems.
Talent acquisition
Unlike a human resources management system (HRMS), an HRIS does not usually include talent acquisition features like an applicant tracking system (ATS). As a result, your company can benefit from an array of recruitment integrations, including:
These integrations help you streamline your recruitment processes by accessing various sourcing methods or developing robust reports that draw data from your HRIS and talent acquisition solutions.
TriNet Zenefits, for example, lacks a native ATS. Instead, it partners with JazzHR to offer recruiting capabilities that customers can add to a base plan. Zenefits' integration with JazzHR enables users to post job ads, review applicants, and send offer letters without leaving the Zenefits HRIS.
Check out how JazzHR's features integrate with TriNet Zenefits Recruiting in the video below:
Workforce management
Workforce management HRIS integrations help manage and retain employees after recruitment. They include things like:
Integrating workforce management tools into your HRIS can prevent you from working out of disparate systems, especially for daily tasks such as scheduling or paid time off requests. Having these functions occur in one system simplifies the employee experience while providing you with an overview of your company's health and employee satisfaction.
For example, you can integrate your HRIS with a performance and employee engagement solution like Lattice to conduct performance reviews and track employee improvement over time. When connected to your HRIS, Lattice can track each employee's progress toward performance objectives and update their employee record automatically.
Learning management
By integrating learning management systems (LMS) with your HRIS, you can view data on completed training courses to monitor your employees' professional development. In addition, syncing a LMS with your HRIS can help you identify organizational training needs and skill deficiencies.
For example, with BambooHR's integration capabilities with TalentLMS, HR teams can automatically assign new recruits onboarding training from TalentLMS as soon as they are added to BambooHR. With additional features, like local language support and gamification elements, employees feel valued by the company while having fun learning.
Watch how to integrate BambooHR with TalentLMS in the video below:
Collaboration and productivity
Integrating your HRIS with collaboration and productivity tools can streamline the administrative work of HR tasks. Standard collaboration and productivity HRIS integrations include:
For instance, you can integrate your HRIS with your calendar application to manage interviews with potential candidates or track performance reviews. Or, you can integrate with tools like Adobe, Google Workspace, or Microsoft 365 to craft employee policies and collect legal electronic signatures.
Meanwhile, communication and collaboration tools, such as Gmail, Slack, or Microsoft Teams, can help keep internal and external teams apprised of important company announcements or changes in employment data, such as new paystubs or requests for employee feedback. Integrating these platforms can offload these tasks to optimize productivity and work efficiency in your HR department.
How do I integrate a program into my HRIS?
While there are multiple ways to integrate a program into your HRIS, the three main ways are custom integration, native integration, or iPaaS provider.
Custom integration
A custom integration means companies develop an integration between a software tool and their HRIS themselves using both platforms' APIs. Although this is the most personalized method, small businesses without dedicated development or IT teams may struggle to maintain custom integrations as their platforms evolve.
Native integration
Some HRIS vendors partner with other software companies to offer organizations pre-built integrations between their platforms. Because of their partnership, these out-of-the-box integrations are usually more intuitive and stable as they are consistently updated and maintained. However, companies sometimes have to pay an additional fee to take advantage of these integrations.
iPaaS provider
Integration platform as a service (iPaaS) companies can help build and maintain integrations between an HRIS and another tool on the company's behalf. Although an excellent solution for organizations without development or IT teams, configuring integrations with an iPaaS vendor can be a lengthy process that incurs additional company expenses.
How to choose the right HRIS integrations
Keep your company's unique needs in mind when determining the most important integrations for your HRIS. Outside of the cost, time, and resources it takes to integrate software tools, you should also consider the following when evaluating integrations:
Necessary HR functions the HRIS doesn't satisfy.
Bottlenecks in current HRIS workflows that add time to overall processes.
Time HR teams spend on manual data entry.
Budget constraints that prevent HR software upgrades.
While integrations can maximize the effectiveness of your current HRIS, at some point, too many integrations become unwieldy and counterproductive — ultimately weighing your HRIS down. In that case, it may be time to research comprehensive HR software that includes native functions for more efficient HR workflows.
To start understanding what you need from your HRIS, check out our video overview: The 5 Main Types of Human Resources Information Systems (HRIS)
Featured Partners: HR Software
Rippling is the first way for businesses to manage all of their HR, IT, and Finance — payroll, benefits, computers, apps, corporate cards, expenses, and more — in one unified workforce platform. By connecting every business system to one source of truth for employee data, businesses can automate all of the manual work they normally need to do to make employee changes.
Paycor's HR software modernizes every aspect of people management, which saves leaders time and gives them the powerful analytics they need to build winning teams. Paycor provides a full suite of HCM solutions with a single source of truth for employee data, so users never have to switch platforms, log-in to multiple systems, re-key data or open multiple spreadsheets. Everyday processes become simplified, allowing organizations to focus on their most important work.
BambooHR is an award-winning HR platform that helps your growing organizations automate, centralize, and connect your people data all in one place. It gives you a one stop shop to manage data, hire talent, run payroll, and help employees grow.
Technology Advice is able to offer
our services
for free because some vendors may pay us for web traffic or other sales opportunities. Our mission is to help technology buyers make better purchasing decisions, so we provide you with information for all vendors — even those that don't pay us.