If you're looking to keep your team connected and improve employee morale, recognition and reward software like Assembly and Kudos might be a solution. Both employee engagement platforms support organizational engagement strategy. They provide several ways to engage employees and their managers by enabling them to:
Give praise
Measure employee performance
Garner employee feedback about the workplace
These two employee engagement tools often get compared to each other; while they do have a lot of similarities, they also have some key differences. Understanding your business's unique needs will help you determine which solution is right for you while comparing these two platforms.
Assembly vs. Kudos: Employee Recognition
Don't neglect employee engagement, as it is key to an organization's success and has actually dropped for the first time in the last decade. Feeling undervalued is a major contributing factor to a lack of engagement. In fact, lack of recognition is the reason behind more than three out of four exits, according to OC Tanner Research data from pre-pandemic times. This number is likely to be higher now, given the balance of power shifting toward employees.
Having a tool to share recognition of achievements is therefore an excellent start to foster a more supportive workplace culture. Both Assembly and Kudos allow users to recognize top performers.
Did an employee demonstrate a core company value or help out last minute? Assembly's employee recognition program allocates a monthly amount of points to each employee. Throughout the month, users send points to team members they want to recognize, and those points can be redeemed for rewards.
Read more: 5 Inspired Digital Rewards & Recognition for Remote Workers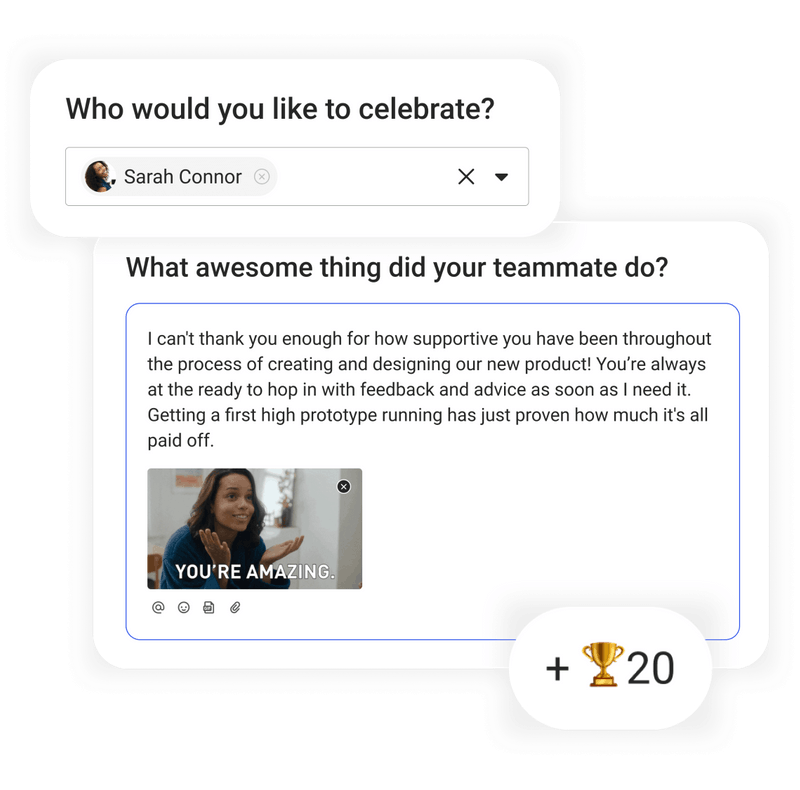 You can also nominate employees for Employee of the Month (or whatever reward you want to create) and celebrate their birthdays or work anniversaries within the program.
Comparatively, Kudos offers an employee recognition solution. Similar to Assembly, Kudos operates based on a points allocation system, which can be redeemed for specified awards, such as gift cards.
However, there are a few key features to call out. For one, Kudos allows users to send various levels of recognition that distinguish between appreciation and outstanding performance. For example, to show appreciation, the system allows employees to send recognition alongside a celebratory note and GIF, as well as custom badges for special occasions. Employee activity is posted to a Kudos Wall that showcases everyone's recognition in a highly visible way.
The other callout for Kudos is that the vendor has added tangible rewards, experiences, donations, and other types of rewards to its catalog.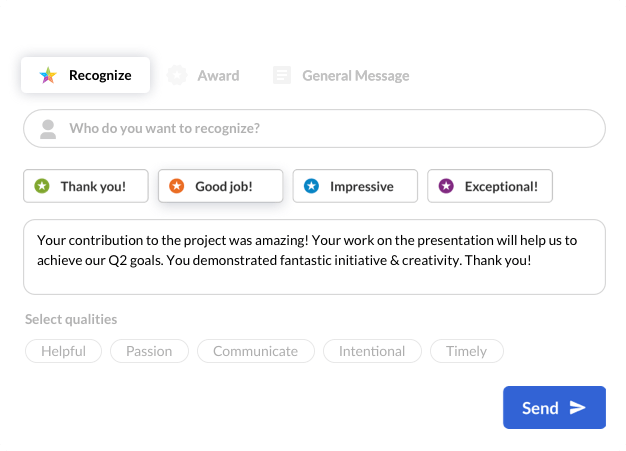 Kudos' employee engagement platform also offers a Culture Accelerator to amplify and streamline your culture programs and a Spaces area to store photos and create custom content that reflects your company culture.
Read more: 9 Employee Recruitment Strategies to Improve Your Hiring Process
Not only is recognition important for morale, it's important for personal motivation, too. Providing employees a way to show appreciation for one another is key to motivating them in their work. In fact, 37% of workers said that frequent recognition for their personal achievements would encourage them to produce better work.
Assembly vs. Kudos: Employee Performance Management
Employee engagement platforms help cultivate an atmosphere of praise for top performers, but how do you monitor and improve employee performance? Performance management is another avenue by which to engage employees. It also helps detect and manage employee burnout.
Assembly includes a performance management tool by providing structure, transparency, and accountability for one-on-one meetings between employees and their managers. It gives a dedicated space to:
Document goals, KPIs, and outcomes
Create and edit points for discussion
Collect feedback from the meeting
Capture notes from past one-on-one meetings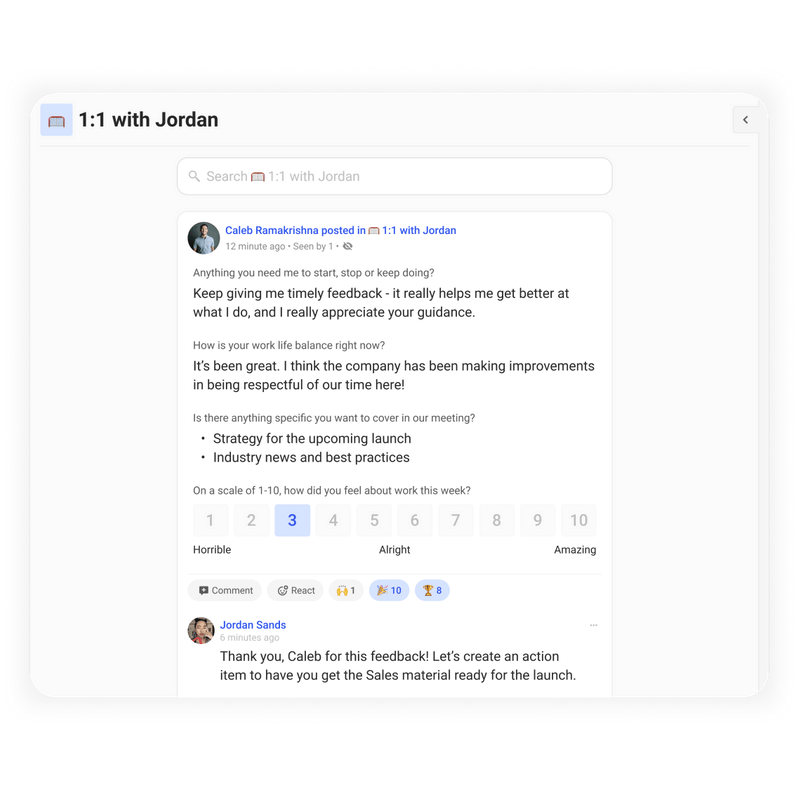 In this match-up, Assembly is the standalone solution when it comes to engaging employees with a performance management tool. Kudos relies on the power of recognition alone to boost motivation. It does not offer a concrete performance management tool to provide context to employee development and manager-employee relationships.
When you can gauge an employee's performance, you can, in turn, give more praise but more importantly also coach them in their professional development and even give them a raise. These things demonstrate more than anything else your organization's commitment to employee experience, development, and satisfaction.
Read more: The Importance of Performance Management
Assembly vs. Kudos: Employee Satisfaction
If your organization seeks regular employee feedback about their happiness as employees of your organization, Assembly is the engagement software to go with, as it offers more variety in the types of survey tools. Kudos offers sentiment analysis pulse surveys that connect directly to its analytics to help HR professionals discover trends in employee satisfaction.
Assembly makes it easy to track employee sentiment and get a better sense of overall employee experience. It accomplishes this through anonymous employee feedback collected through a variety ot survey types, such as:
Career development surveys
Manager feedback surveys
Pulse surveys
Employee net promoter score (eNPS) surveys
All of these have customizable templates, so human resources does not have to draft these from scratch.
The pulse survey, for example, is a tool to quickly measure employee experience on a regular basis. Starting with an employee engagement survey template, Assembly users can reorder questions, select question types, and even tweak the wording in questions to surface precisely the insights you're looking for.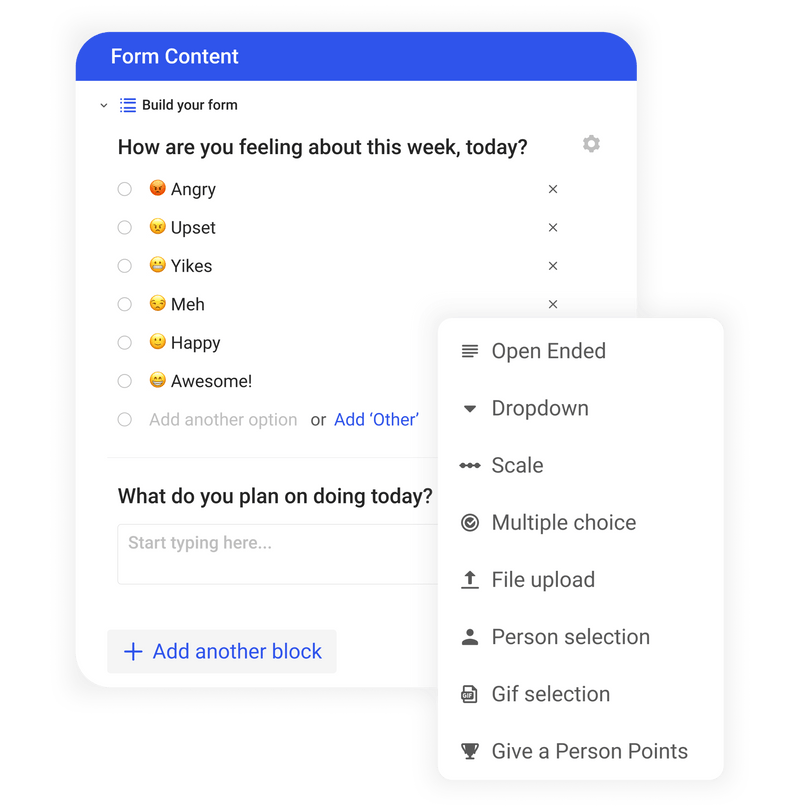 Surveys are a great way to set up internal communication—whether through anonymous feedback or a more open, candid form of employee feedback—to manage employee experience and engagement. Beyond giving and receiving recognition, survey tools like Assembly make it a cut above Kudos, providing deeper insights into what it's like to work at your organization.
Assembly vs. Kudos: Analytics
An employee survey tool is of no use without analysis of survey results so human resources and management can gain actionable insight from employee feedback. That's why Assembly and Kudos offer analytics to help your organization improve employee retention, reduce employee turnover, analyze the employee lifecycle, and discover what makes for engaged employees.
Assembly just launched their new FLOW Insights analytics toolkit in early 2022, meaning Kudos is no longer the only employee engagement software to offer analytics. However, Assembly's website does not tout this new offering. Assembly provides analytics tools that generate reports and at-a-glance insights in one central dashboard.
For instance, it's possible to see how many people responded to an employee satisfaction survey broken down by department, average time to complete, and what percentage of respondents selected each rating or answer.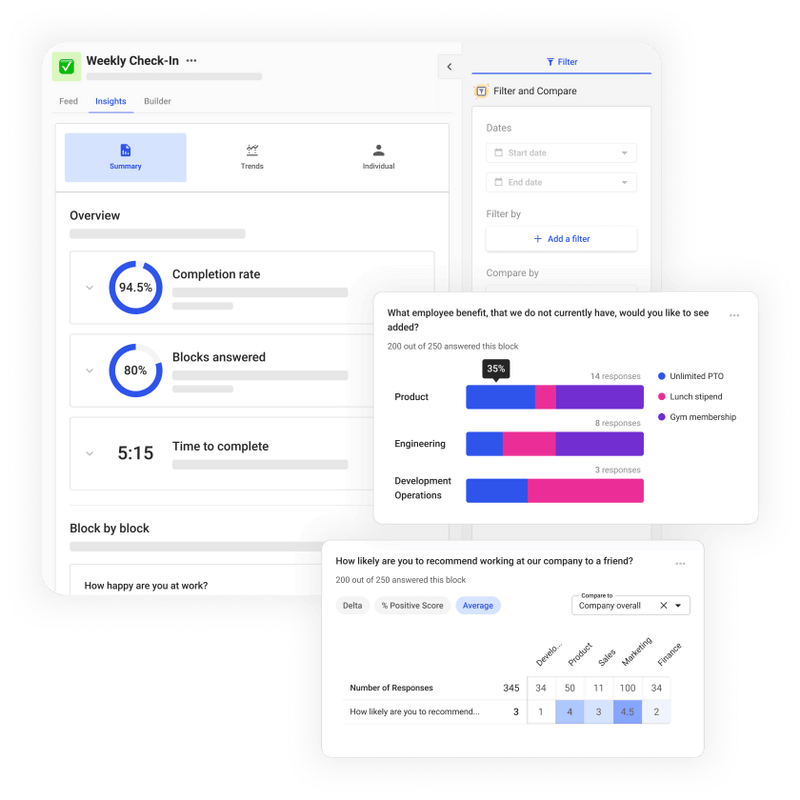 On the other hand, analytics have been a part of Kudos for a while. In Kudos, each employee recognition message can be tagged with what company values the employee has exhibited (for instance, "creative thinking" or "teamwork").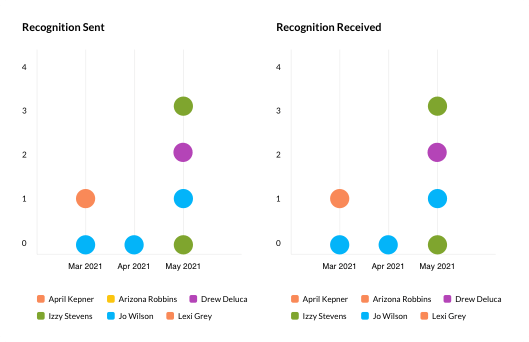 With Kudos analytics, the user can track trends over time to see which company values are most demonstrated among employees and which ones are languishing behind. Kudos also lets you see who is giving and receiving kudos to gain more insight into team dynamics.
Assembly vs. Kudos: User-Friendliness
Both Assembly and Kudos receive high marks for their user-friendliness. Considering that both software solutions are intended to be used by every employee in your company—no matter how technically inclined they are—this is important.
Users say Assembly is easy to set up, but it is unfortunately not available as a mobile app, only as a browser-based product. If your employees are on their computers all day, then Assembly will probably suffice for your needs. However, given the prevalence of remote work, employee engagement app functionality is becoming more of a must-have rather than a nice-to-have.
Kudos offers mobile and desktop apps in addition to the browser experience for versatile functionality no matter where the user is. Users report that there is a learning curve to set up Kudos, but they also say it is easier to use in the long run.
A demo should give you a good idea of whether one user interface over the other will be more accessible and familiar to your employees.
If your employees are constantly on the go and have access to their phones or tablets more often than their laptops, then you should consider going with Kudos due to their app offerings.
Read more: Best HR Apps for Mobile
Assembly vs. Kudos: Integrations
Both Assembly and Kudos offer a wide range of software integrations, ranging from single sign-on (SSO) solutions to team collaboration.
Employee recognition is just one of many employee engagement tools from Assembly. It also offers tools for workflow automation and hybrid work that seamlessly integrate with its employee engagement software product as well as everyday collaboration tools, such as Microsoft Teams. Assembly has several out-of-the-box integrations listed on its website.
Kudos' open API, on the other hand, means you can create custom integrations for just about anything you want as long as your team has the technical skills.
If you need a ready-to-go integration without messing with an open API, there's a slightly higher chance Assembly will have it. However, Kudos still has a lot of existing integrations with popular software, so don't count it out without checking first.
Regarding integrations, you can't go wrong with either engagement software, as they both offer a range of integrations. However, Kudos' customizability may be a plus for tech-savvy organizations with specialized workplace needs.
Read more: 8 Important LMS Features for Your E-Learning Program
Assembly vs. Kudos: Pricing
Assembly and Kudos also differ largely in their pricing structures. Kudos doesn't offer a free trial or a free entry tier to let try before you buy, and it doesn't make pricing available on its website—it's all based on custom quotes.
Meanwhile, Assembly offers small teams of up to 10 people a free account with limited features, which is a big perk. Its prices for paid accounts are listed on its website for transparency as well. This difference in pricing may be the deciding factor for small businesses.
Assembly vs. Kudos: Which Employee Engagement Software Should You Choose?
Both Assembly and Kudos are worthy options when it comes to employee engagement software. They offer slightly different feature sets, but there's still a lot of overlap and similar levels of user-friendliness. The biggest differentiators between the two is Kudos' mobile app and its open API, versus Assembly's suite of integrated software.
Not sure if Assembly or Kudos is right for your company's needs? There are lots of other employee engagement software solutions out there. Reach out to us today to schedule a consultation with one of our software experts, and we'll help you find the perfect fit for your business.
Technology Advice is able to offer
our services
for free because some vendors may pay us for web traffic or other sales opportunities. Our mission is to help technology buyers make better purchasing decisions, so we provide you with information for all vendors — even those that don't pay us.