When was the last time that you audited how well your marketing stack is working for you? Do you know how many hours you spend working in that marketing software, how many manual processes and work-arounds you perform to send an email or schedule your social media posts for the week?
Whether you're looking to save time by automating your marketing for the first time, or you're hoping to gain a couple of hours a week by breaking out of a sunk cost fallacy mindset, this list of marketing software can connect you with the right marketing system.
Want a personalized list of the top five marketing software options for your company's needs? Click on the image below or contact us. Our unbiased Technology Advisors will turn your feature needs into a list of vendors that work for your price range and company size.

We've curated this list of the top five software options in the categories of marketing automation, email marketing, and social media marketing.
Please note that some of the links below are affiliate links and at no additional cost to you, we will earn a commission.
Top 5 Marketing Automation Software
Traditionally, marketing automation software is a platform that combines multiple marketing channels into a single application where marketers can build workflows that run without intensive oversight. The platforms on this list are the top five marketing automation software options for 2019.
Marketo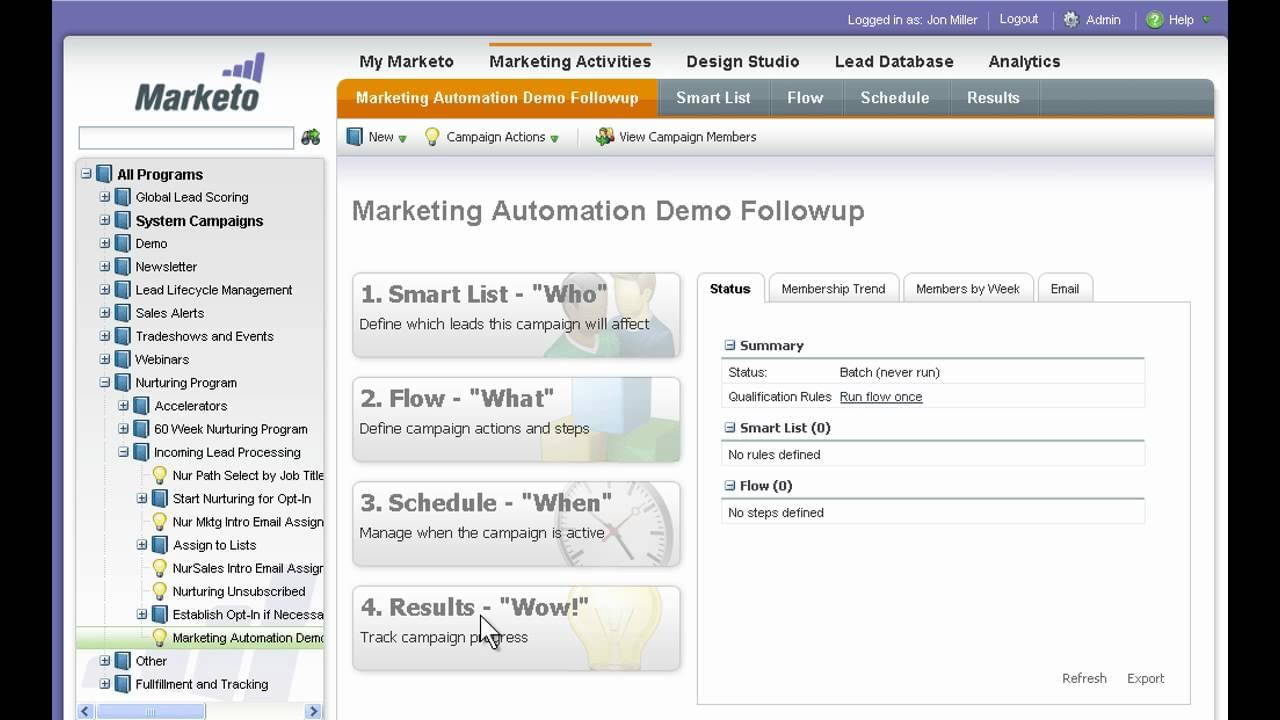 Marketo is a leading marketing automation platform that combines your CRM with email marketing, social media marketing, lead tracking, and other marketing tools that attract, track, and optimize your interactions with your audience. After its acquisition by Adobe in October, 2018, the platform has expanded to include connections with the Adobe Experience Cloud, a customer experience management platform that tracks a customer's actions across multiple channels.
Choose from five pre-set bundles for customer engagement, mobile marketing, consumer marketing, email marketing, and lead management, or custom combinations.
Pardot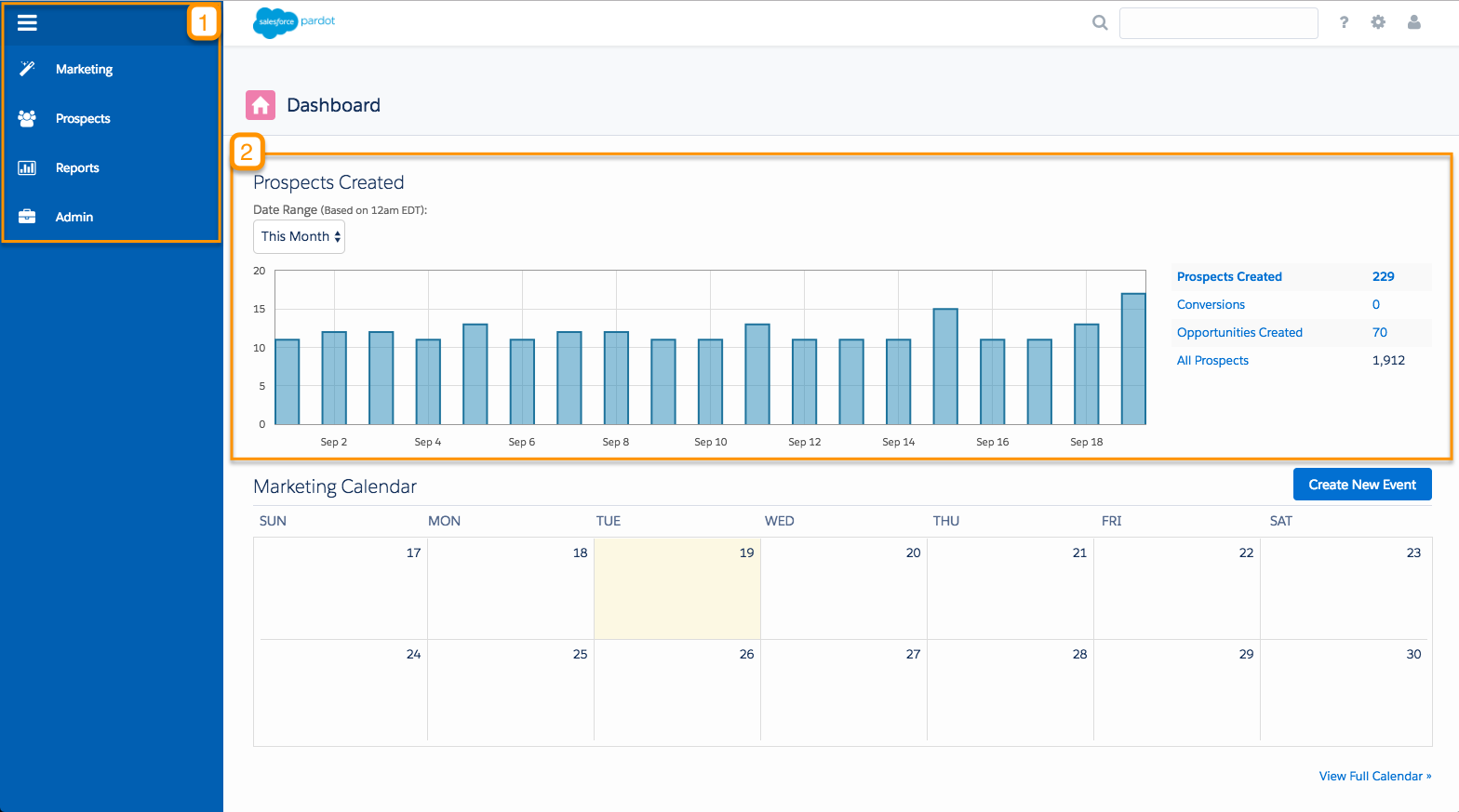 Pardot is the B2B marketing automation tool from Salesforce. The tool combines marketing workflows, lead management, and sales alignment through the Salesforce CRM. While you can use Pardot alone, combining it with Salesforce CRM and the Salesforce Einstein artificial intelligence tools can significantly reduce the effort your team expends moving leads down a sales pipeline and identifying the right time to follow up with prospects.
Choose from three main feature plans for up to 10,000 contacts in your database. Customers are billed annually, and Einstein and Salesforce Engage tools are available as add-ons to any plan.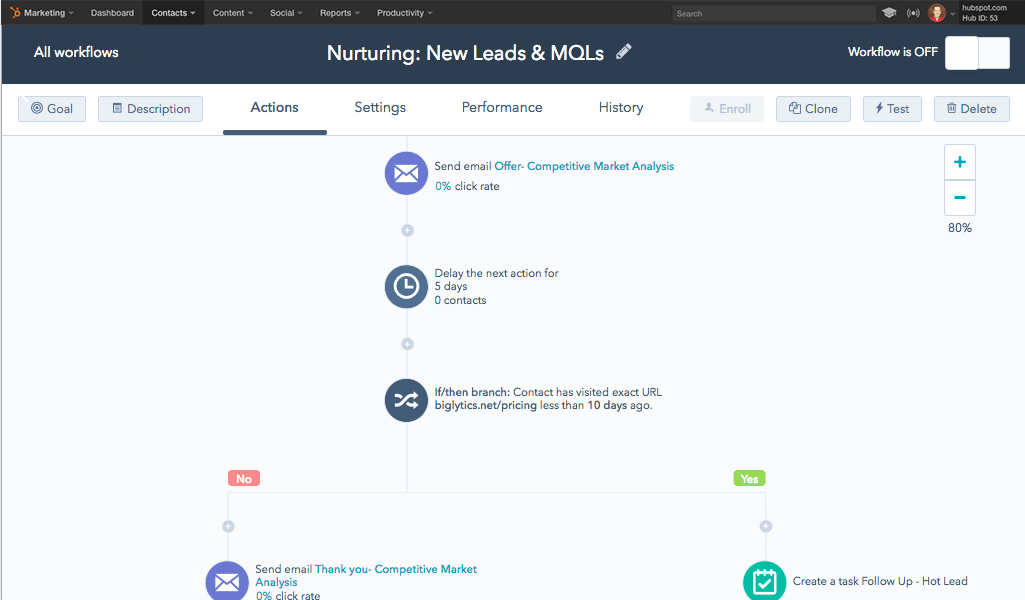 HubSpot's marketing platform provides advanced marketing features for even the smallest of businesses. The HubSpot marketing platform provides companies with a way to connect marketing campaigns to their existing website or gives companies a tool to build their website with HubSpot hosting. Add landing pages, drip campaigns, lead tracking, and content marketing tools, and HubSpot's marketing platform turns your website into a professional lead magnet.
All of the HubSpot plans for marketing, sales, and customer experience start at $0 per month, and the CRM is free forever. Choose your plan based on the number of contacts in your database, the number of email sends you'll need to make each month, and the level of lead management features you need.
Sugar Market (formerly Salesfusion)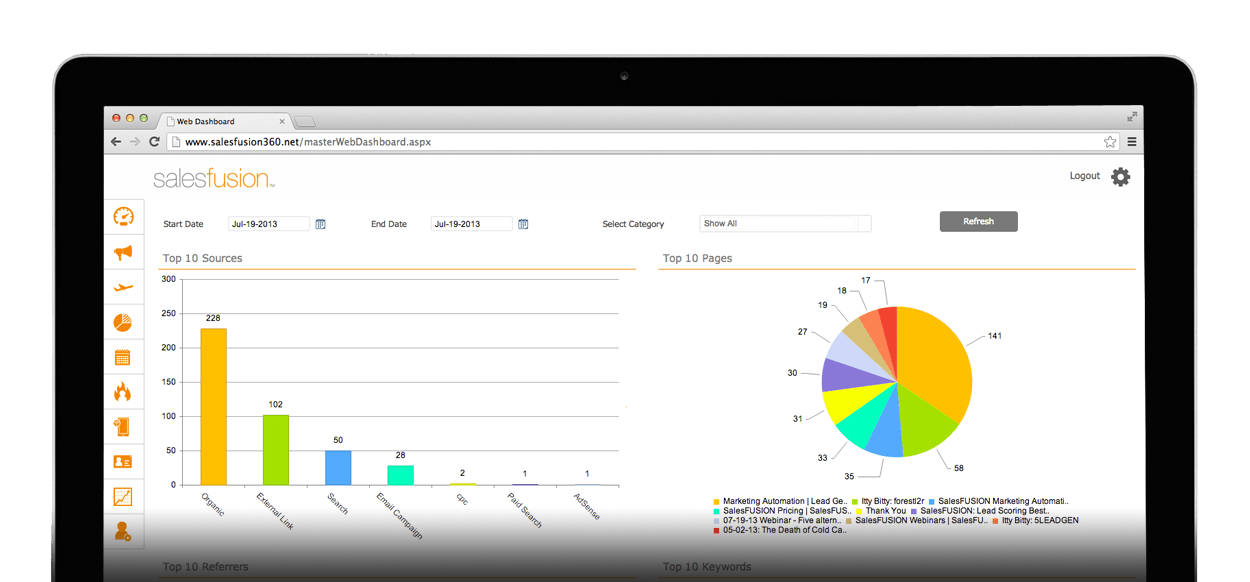 Sugar Market is a marketing automation tool for marketers at mid-sized businesses. The tool is now owned by SugarCRM, an integration partnership that gives direct contact and lead management right in the marketing automation tool. Combine SEM, SEO, and social media marketing with lead forms and landing pages to capture new leads, and follow up quickly with personalized email marketing campaigns that drive conversions and nurture contacts down your conversion funnel.
Combine the Sugar Market tools with the Sugar Sell and Sugar Serve sales and customer experience platforms, or purchase each separately. Sugar Market's first tier plan includes up to 10,000 contacts.
Drip
Drip is an ecommerce CRM that uses customer data from your ecommerce site and email marketing list to personalize marketing outreach. Advanced customer segmentation, marketing workflows, and multiple channel marketing give ecommerce marketers a full command of their customer outreach and conversion funnels. All this customer data flows into an analytics tool that gives retailers insight into where they should increase their marketing or tweak their campaigns for better conversions.
Drip's monthly subscription pricing is partially based on the number of "active people" in your account. You can mark contacts as inactive at any point, but the software will not continue to gather data points on those people.
Also Read:
Top 5 Email Marketing Software
These tools are best known for their email marketing capabilities. Many of these tools have recently expanded their offerings to include traditional marketing automation features like automatic responses, lead tracking, and social media channel integrations. Nevertheless, these are the top five email marketing software options for 2019.
Campaign Monitor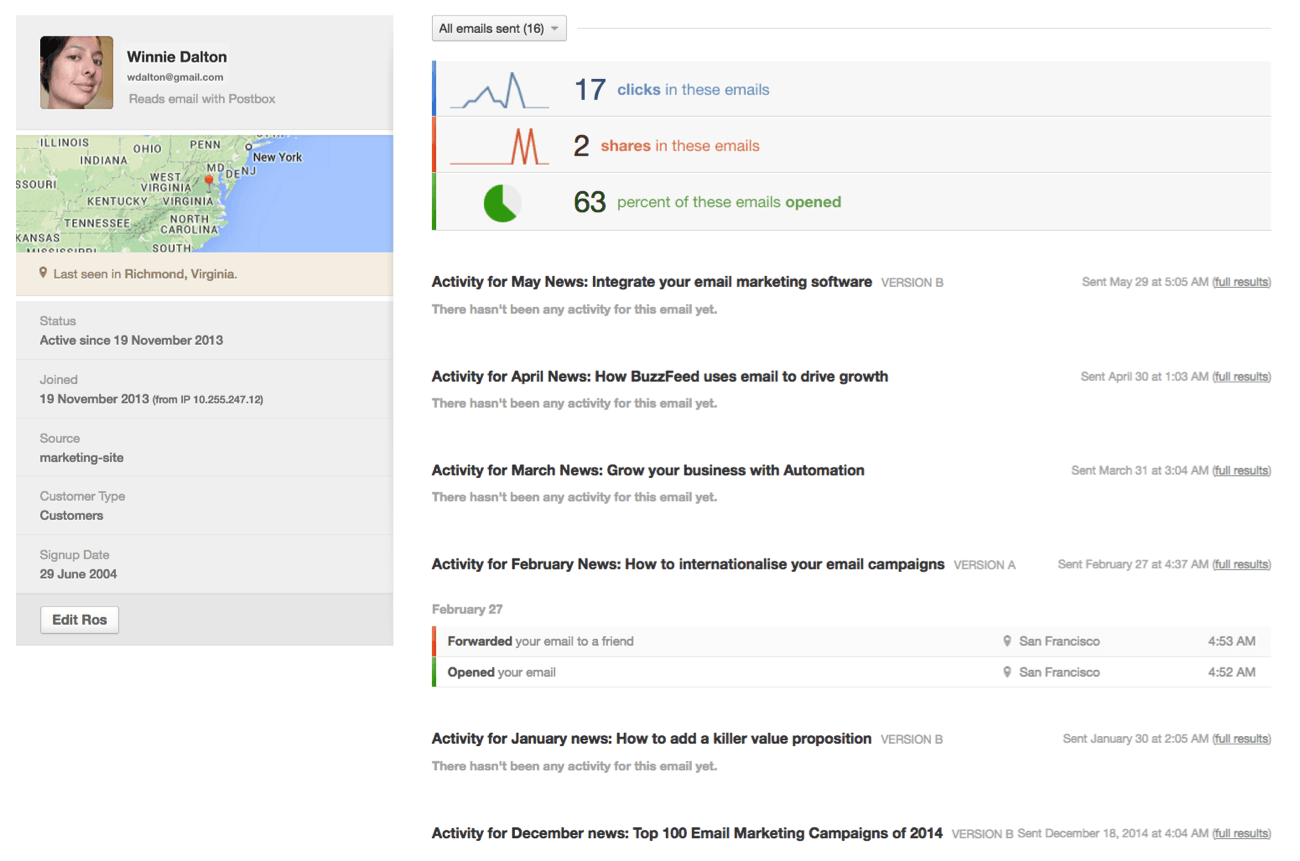 Campaign Monitor is email marketing software with advanced visual editing features and personalized segmentation. The visual editor allows for drag-and-drop email builds, or you can code custom templates with the HTML builder. Use Campaign Monitor's library of templates or quickly build your own emails and turn them into branded templates for repeated use. Companies can also use the advanced segmentation tools to drill down into their data and find the best personalized message for each customer.
Pricing is based on the number of emails you send per month and what level of support you'll need. The HQ edition manages email campaigns for several locations at a custom price.
Mailchimp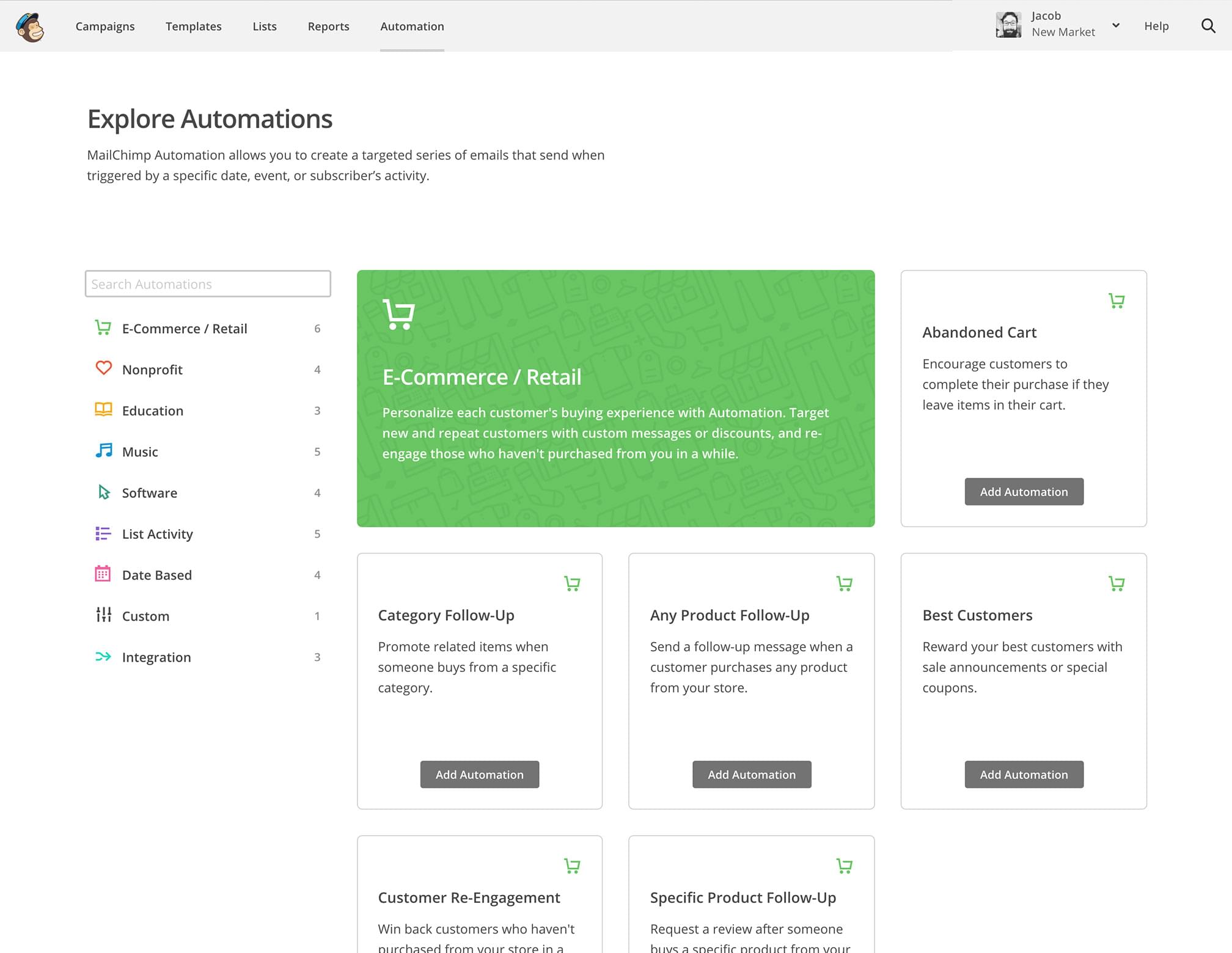 Mailchimp is an email marketing software that's backed by a whole platform of marketing tools. Set up automated email campaigns connected to your customer data, and choose from a variety of email templates or build your own with the visual editor. Mailchimp is designed for small businesses, ecommerce companies, and larger retailers who are growing their online connections.
Purchase Mailchimp in a monthly subscription or annual package, and choose from three levels of service based on the number of contacts. Mailchimp also provides a free version of their tools for companies with fewer than 2,000 contacts.
Act-On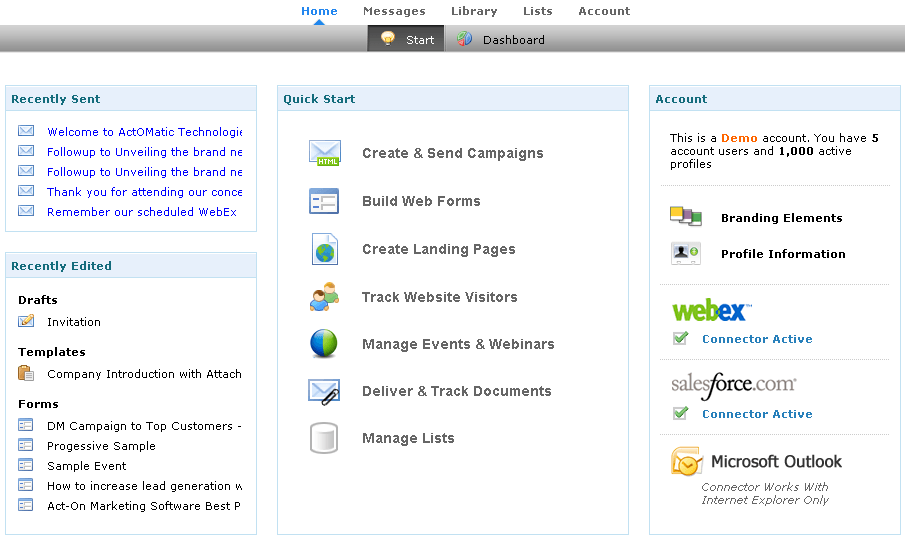 Act-On is an enterprise marketing automation platform that combines email features with automated workflows and customer tracking. Build your email from scratch in a drag and drop editor, or choose a modern template to customize. Set up automated campaigns to follow up on leads and nurture contacts to conversion. Act-On's tools include landing pages and social media tools to expand your marketing to all channels.
Act-On's pricing is aimed at enterprise companies with more than 2,500 contacts in their database. Different levels of support and set up assistance are available at an additional cost.
GetResponse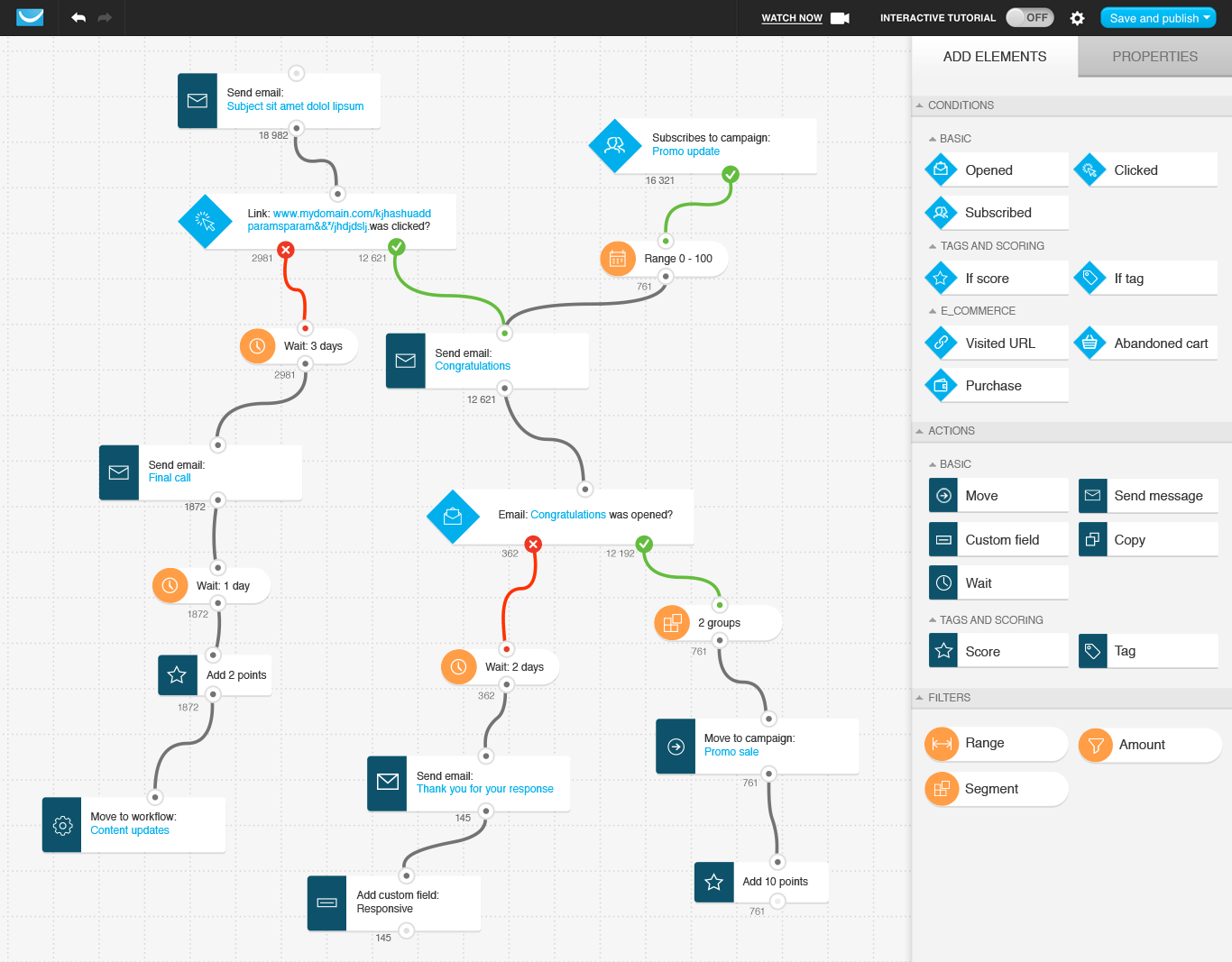 GetResponse is a marketing automation tool with a focus on email marketing as the central hub for all your other marketing activities. Build matching emails and landing pages to increase your brand recognition throughout the conversion funnel. Use one of over 5,000 templates with a wide variety of Shutterstock images and customizable automation features for a cohesive customer experience. The dynamic content features you can access through GetResponse allow high personalization with less work.
GetResponse is available in 4 plan sizes that act as price ranges. Your exact pricing will depend on the number of contacts in your lists and the number of automation features you need.
Constant Contact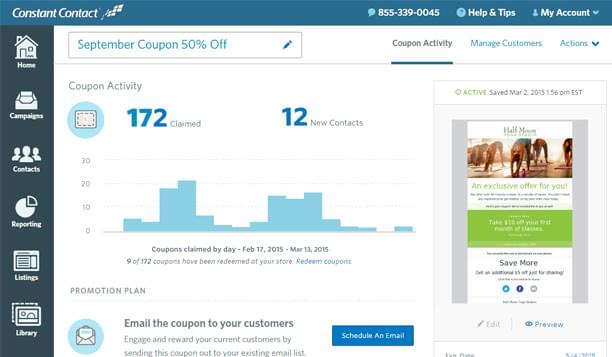 Constant Contact is the only application on this list that bills itself as an email marketing software with marketing automation features instead of the other way around. The Email plan includes strong templates, connections to ecommerce contacts, tracking and reporting, and integrations with other tools. Upgrade to Email Plus to add automatically triggered messages, A/B testing, and dynamic content, among other features.
Constant Contact's pricing is based on your plan and the number of contacts in your lists. Non-profits receive a discount, and prepayment discounts are also available if you pay biannually or annually.
Also Read:
Top 5 Social Media Marketing Software
These social media marketing tools give you the best mix of scheduled posting, account monitoring, and post boosting around.
Hootsuite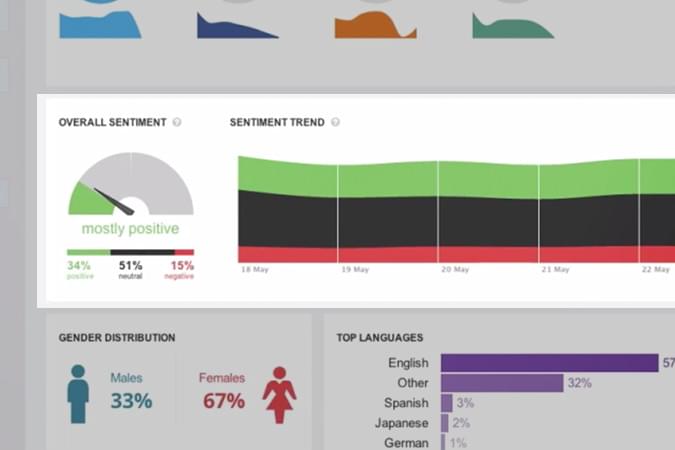 Hootsuite's social media marketing software allows teams to plan, schedule, approve (or disapprove), and boost content. The content curation tools let you build social posts directly from websites you browse, and a full featured content library lets individuals browse approved content to include in their posts. Hootsuite also comes with connections to over 250 applications to streamline your workflow.
Pricing is based on the number of social profiles you need to manage, and there's a free option for up to three profiles.
Buffer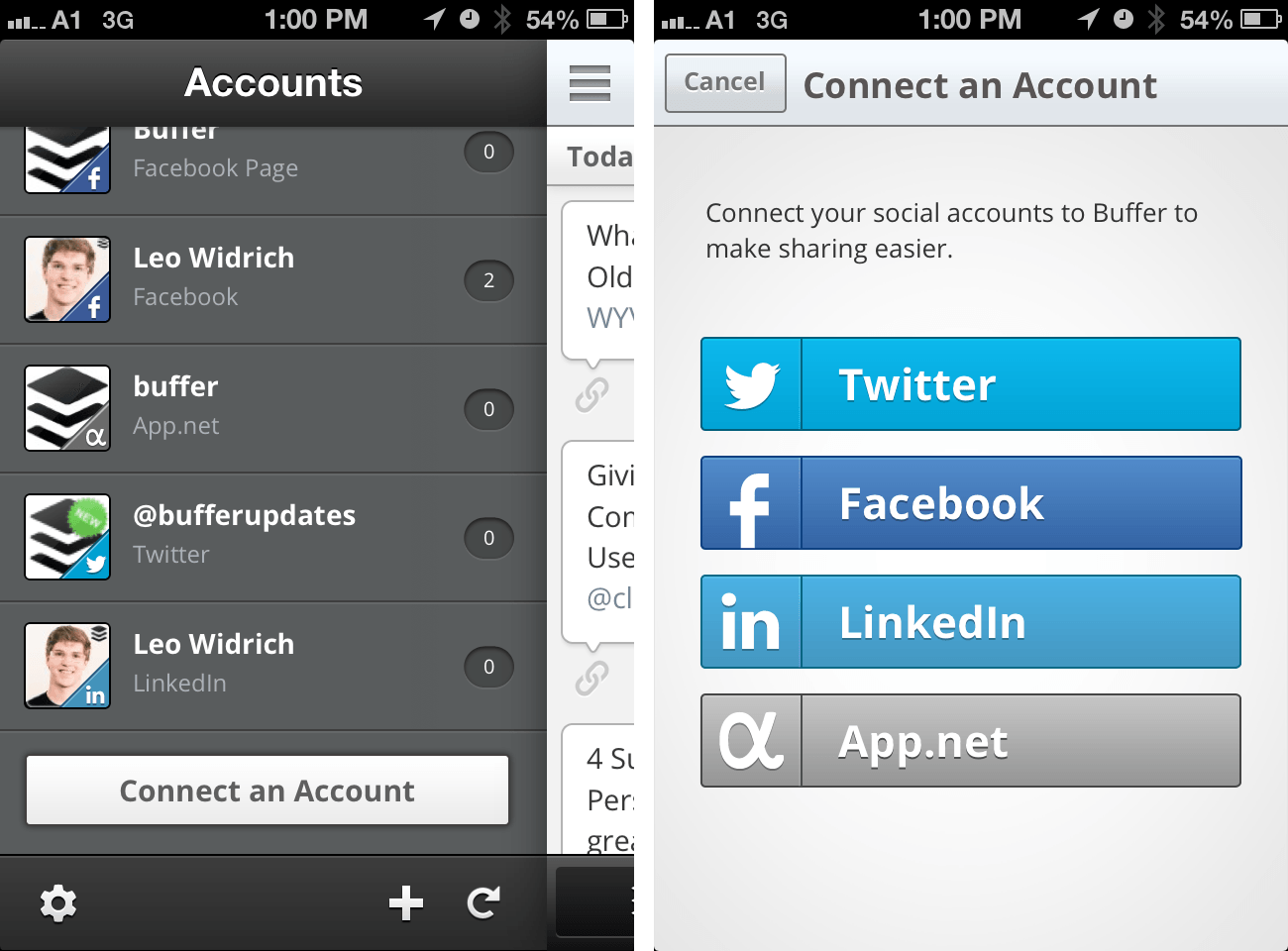 Buffer is a social media marketing software built for content teams looking to grow their social media presence. Set up user permissions in Buffer to decide who can share content immediately, and see the whole team's social post schedule in a single calendar view. Buffer's plans come in three flavors: Publish for posting to profiles, Reply for responding to customers, and Analyze for reporting on campaigns.
Sign up for any of Buffer's service plans, or mix and match to get the right level of functionality for your business.
Oktopost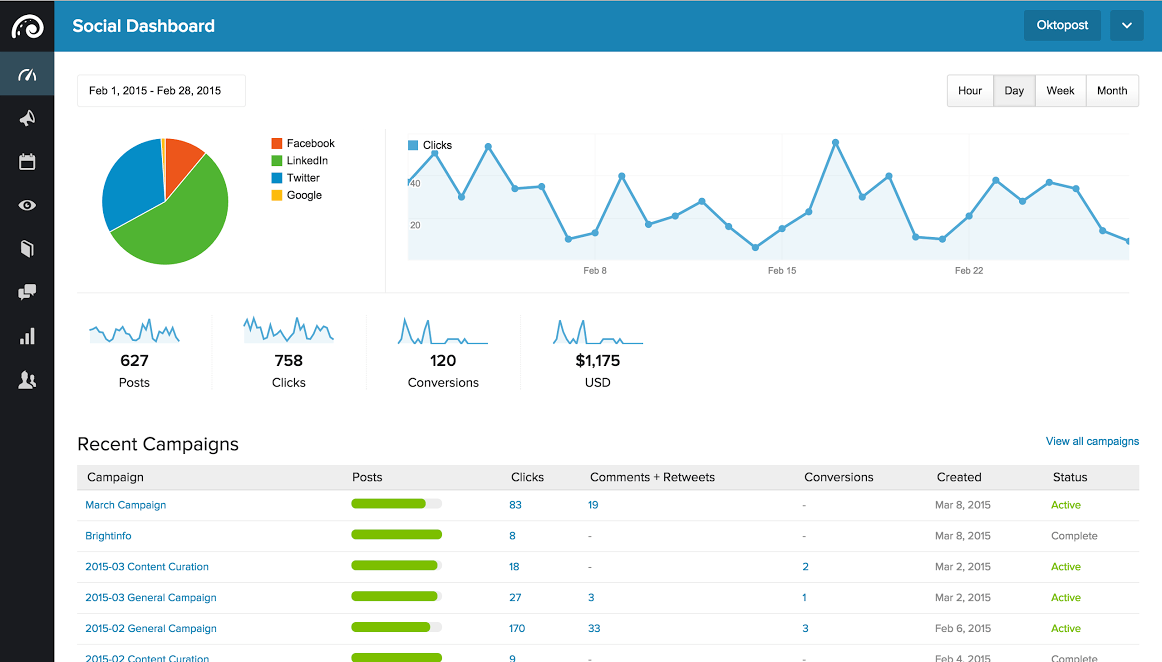 Oktopost is a B2B enterprise social media marketing software. It connects seamlessly with most of the marketing tools in the first 2 sections of this list, and gives teams the ability to schedule, share, and promote social media posts across their platforms. Employee advocacy features make employees into thought leaders and brand ambassadors. Use the social listening features to track conversations across the web, and manage your whole set of accounts from your phone with the mobile app.
As an enterprise tool, Oktopost's pricing is available upon request.
Sprout Social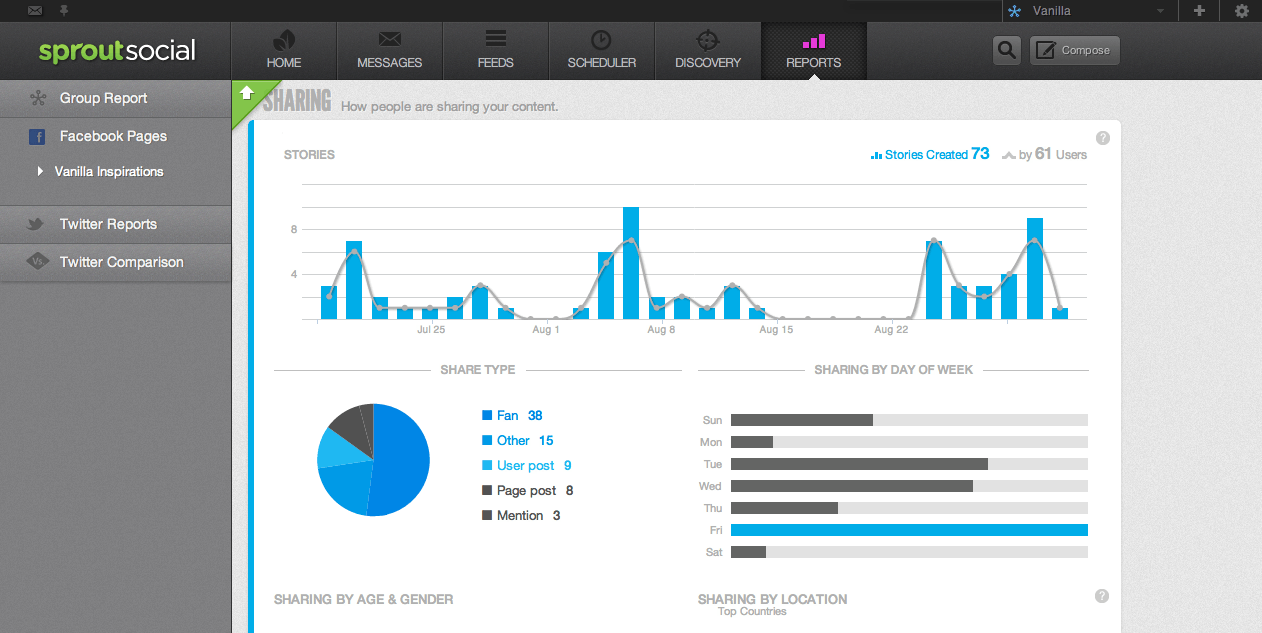 Sprout Social is a social media marketing software that scales from small business solutions to enterprise capabilities. With lots of features for social media scheduling, messaging, promotion, and analytics, the tool can support agencies and single entities alike. Companies can use the social listening tools to better understand their marketing environment, and extensive analytics give teams a full view of each post's effectiveness.
Sprout Social is available in three major plans: Standard, Professional, and Advanced. Add-on features Listening and Advocacy can be added to any plan.
Zoho Social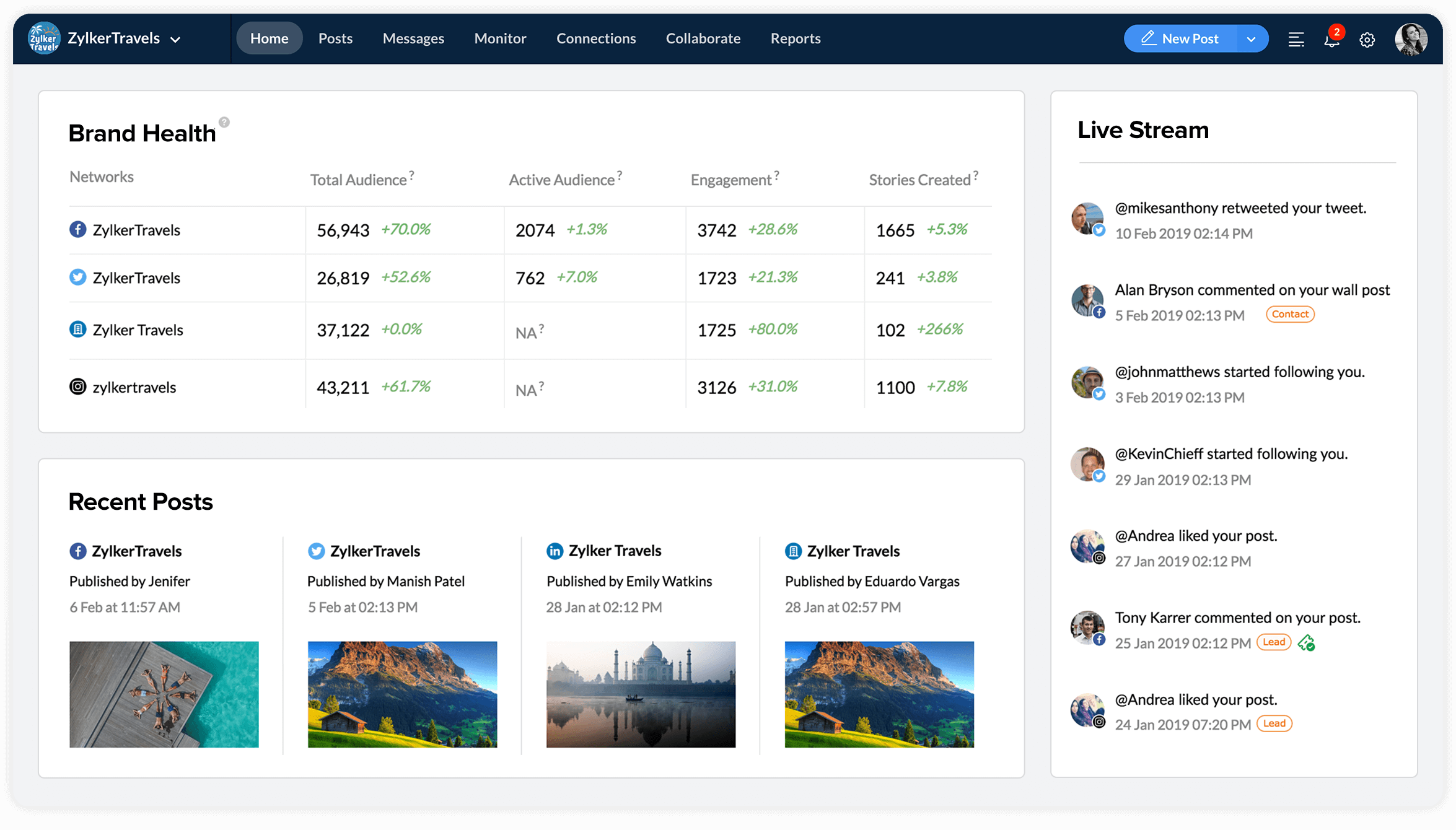 The Zoho Social software works for brands and agencies of all sizes, and includes publishing, curating, social listening, and collaboration features. Assign team members different roles to match their posting needs, and drill down into analytics to understand where your team and content make the biggest impact. The smart scheduler will choose the best time for each of the posts in your queue to go out, or you can schedule each of your post individually. Build your own dashboard to monitor each of your channels for brand mentions, and interact directly with customers through the messaging feature.
Zoho Social has a free version that allows publishing on all networks. Sign up for the Standard, Professional, or Agency plans to increase the number of team members or brands you manage. Add additional brands or team members to any plan for a monthly fee.
Also Read:
Compare the top marketing software quickly
The next step is to check out the plans and features of each of these marketing software options individually to see which is best for your needs. Or, you can save hours off your process when you contact us today. Our Technology Advisors will match you with a shortlist of marketing software vendors who have the right features at the right price.