HubSpot and Salesforce work better together, especially if your company is large enough to require a full-service CRM like Salesforce.
As you compare HubSpot vs. Salesforce, you'll want to think about the platforms your sales, marketing, and development teams will need.
Overview
Instead of being in direct competition, think of HubSpot vs. Salesforce as a symbiotic relationship. They have similar audiences and features, but the companies aim to serve different purposes. HubSpot's CRM works as a free enhancement to the paid software for sales and marketing teams, while Salesforce's CRM forms the core platform that the company's thousands of apps, integrations, and features interact with. And both companies seem to understand the value of the others' platform, as they both offer app integrations so you can get the best of both worlds.
While this article focuses on the similarities and differences of HubSpot vs. Salesforce in particular, there are many other customer relationship management tools out there that might be a better fit for your company. Check out our Product Selection Tool on the CRM software page to get fast, free recommendations from one of our Technology Advisors, or click on the image below to get started.
Please note that some of the links below are affiliate links and at no additional cost to you, we will earn a commission.
Top CRM platforms
Hubspot and Salesforce are both well-known in the CRM space and for good reason. However, each company is going to need something different from their CRM, meaning you may need some more options. Here's a short list of top CRM software to make your search easier.
HubSpot has built an SMB smarketing thought leadership machine between their informative blog, research, white papers, and the B2B community at Inbound.org. HubSpot is highly trusted in the business world as a source for tactical marketing and sales advice, backed by a comprehensive inbound and content marketing machine.
Also read: HubSpot vs. Zoho CRM: An In-Depth Look To Help You Choose Your New CRM
HubSpot's CRM Free covers contact management, deal and task management, and integrations with social and email to track interactions with leads. Deal and task management are shown on a kanban-style board, with each prospective deal or task assigned to a card that can be moved across the dashboard. It's a pretty cool use of a project management-style dashboard within a CRM.
Salesforce CRM
Salesforce is the fastest-growing CRM in terms of revenue generated, bringing in $13.3 billion for the full fiscal year of 2019, which is a growth of $3 billion over 2018. They're a juggernaut of the CRM world, where really their name is a synecdoche — people say "put it in Salesforce" even if they use a different CRM. Some of this fame is due to their highly active user base and customer support and training teams, who take over San Francisco every year for Dreamforce and TrailheaDX training events. A robust user certification program means that those who choose to dig deep into the tools can make a career out of specializing in all the minutiae of Salesforce customization.
Salesforce is anything but a basic CRM. Companies adopt it because of its customizability and the extensive network of add-ons for sales, marketing, customer service, platform as a service, and more. The basic component of the CRM is contact and account management with the ability to record contact and conversation details in a central hub. Project management, revenue and lead goals, and reporting quickly make the tool robust enough for enterprise companies.
Analytics and reporting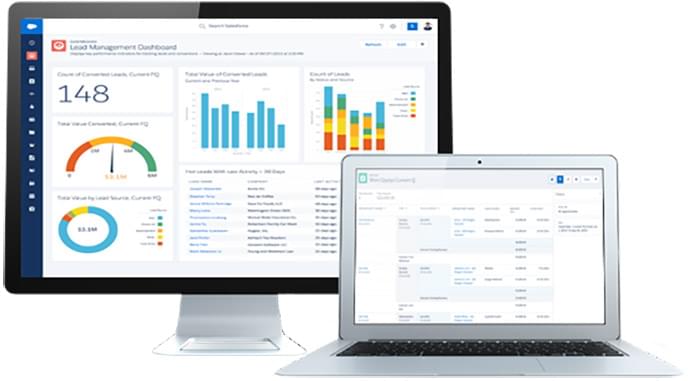 HubSpot's Free CRM gives users access to lead, company, and task reporting dashboards. The CRM is free forever for nearly unlimited users and up to 1 million contacts, which is nothing to sneeze at. But because the data storage within the CRM is somewhat limited, the analytics are similarly limited. To gain the full features of analytics and reporting, you'll want to upgrade to either the marketing or sales hubs. The Marketing Hub includes analytics dashboards with the Basic plan and above, with custom analytics tools built into the Enterprise tier. The Sales Hub includes reporting at the Professional plan, and you can purchase custom dashboards and reports for an extra fee. There are also several third party reporting tools you can use to improve upon the capabilities built into the tool.
Salesforce has built reporting into the customization of all of their tools. Because each of the contacts and account settings can be fully customized with tags and custom objects that work with the way that your company does business. The reporting features several types of charts and graphs including fuel gauges and line or bar charts, all of which can be built without the need to hassle IT or the Salesforce developer in-house. As long as you can drag-and-drop and know the metrics you want to report on, anyone can build a dashboard or custom report to fit their needs.
Marketing features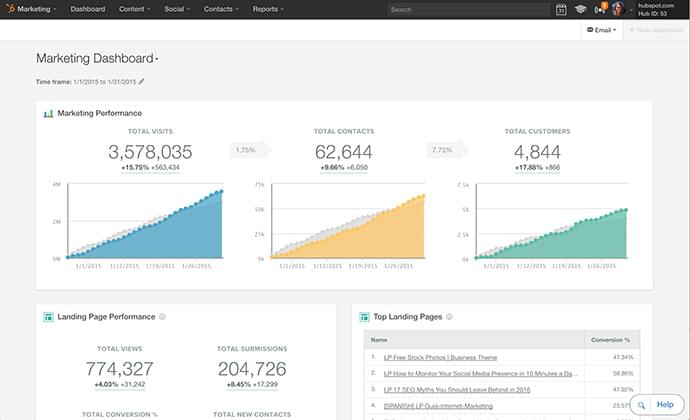 You'll find a couple of helpful marketing tools included in HubSpot's CRM Free: lead analytics, collected forms, and lead flows. Each of these tools is meant to help build a lead pipeline that collects interested leads and starts moving those leads toward the sales team.
The tool also tracks website activity for 7 days for new contacts, giving you a taste of what you could do with the full Marketing Hub. The important thing to remember with HubSpot is that it was first built as a marketing automation tool, so the paid capabilities are really powerful and fairly easy to use, especially for SMBs that don't have dedicated developers for the marketing team.
Salesforce offers a robust and multi-featured marketing cloud with several bundles to choose from, including different feature and pricing packages for:
Email web and mobile marketing
Social media marketing
Advertising
B2B Marketing Automation
Each of these modules provides marketing and marketing automation tools that make it easier for marketing teams to collect and pass leads to the sales team. The mobile platform gives teams the ability to text and notify customers directly where they spend most of their time: their smartphone.
Sophisticated social listening tools within Salesforce mean that teams don't have to use a 3rd party app to follow conversations on social media and the web. The Advertising Studio connects CRM data with omnichannel marketing tools that ensure the right message gets to the right lead at the right time. And to bring it all together, the Salesforce Data Studio connects data from across the tools to help marketing teams visualize their success.
Sales features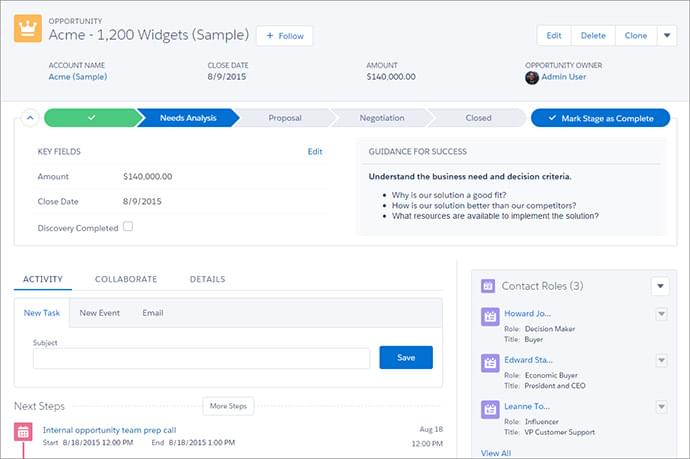 Users will find HubSpot's sales features within the Free CRM a little more limited in scope than the HubSpot marketing tools, other than unlimited email scheduling. Most of the limited features are things that would cost HubSpot a lot for tracking and memory storage for the free accounts: you get 5 saved email templates, a stream of up to 200 email notifications–which feels like a lot but for really busy sales departments could get overwhelmed pretty quickly. Other free versions of the sales tools are meant to give you a taste–and since they're really helpful, they present a really good reason to upgrade:
calling limited to 15 min/user/month–integrated VoIP tools mean that you click on a contact's phone number in HubSpot to call from where you do your work. Each VoIP call from HubSpot is tracked in the CRM and reps can add details directly to the record.
5 canned snippets (responses)–Since these are such a huge time saver, teams will probably find that the free 5 get quickly used up.
5 documents/account– these can be dropped into email responses and forwarded directly to leads to keep them informed and interested in your product–tracking is also included for documents, meaning you can see who actually clicks the link and engages with your content, so you can follow up.
Scheduled meetings: This is a really cool feature that is probably the most limited for CRM Free– you only get a single scheduled meetings link, meaning that you can only use this for one of your reps in the free version. Embed the link on your website and visitors can schedule meetings with you immediately, on their own time. New contacts who sign up for a meeting are automatically added to the CRM.
Salesforce was originally built as a CRM to drive sales growth, and so most companies will find themselves introduced to Salesforce as a software option when they start building out their sales teams. The software comes with built-in contact, lead, and opportunity management tools, and different pricing and feature levels mean that even SMBs can use the Salesforce Sales Cloud Lightning Essentials plan to get started with customizable lead flows, contact and account management, email and app integrations, and other really helpful features. Built to scale, Salesforce Sales Cloud has several pricing tiers and additional add-ons, so should you want to tap into Einstein artificial intelligence tools or the Pardot B2B marketing automation, those at the Professional pricing level and above can extend their tools to almost unlimited capabilities.
Integrations & Extras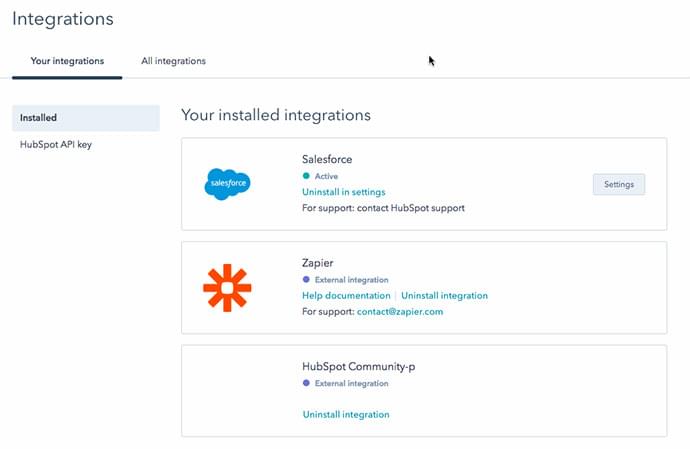 A key complaint you'll find in many HubSpot vs. Salesforce reviews is that HubSpot is built for SMBs and therefore has only a few integrations to offer. That may have been the case when the Free CRM first rolled out, but HubSpot has since grown their total integrations to 153, including tools for lead management, data transfer, mobile apps, ecommerce integrations, and more.
Salesforce has hundreds of app integrations and built-in features that work together nearly seamlessly to extend the basic CRM capabilities of the tool. Some of these integrations plug right into the tools: Apps and Components come ready-made and need no developers to fully integrate into your system. Connect other apps and software through custom API connections or a full integration hub through MuleSoft (at the time of publication, Salesforce has moved to acquire MuleSoft to make the tool more widely available to its customers).
And while this article's title may give the impression that there's a CRM competition for HubSpot vs. Salesforce, the two software companies actually have a pretty helpful partnership where you can connect your HubSpot tools to Salesforce. HubSpot recognizes its capabilities as sales and marketing tools with a good-enough free CRM. Salesforce knows they have a ground-breaking CRM, but extending their features to fully support sales and marketing teams can quickly get expensive, especially for small or medium sized businesses.
HubSpot vs. Salesforce: TL;DR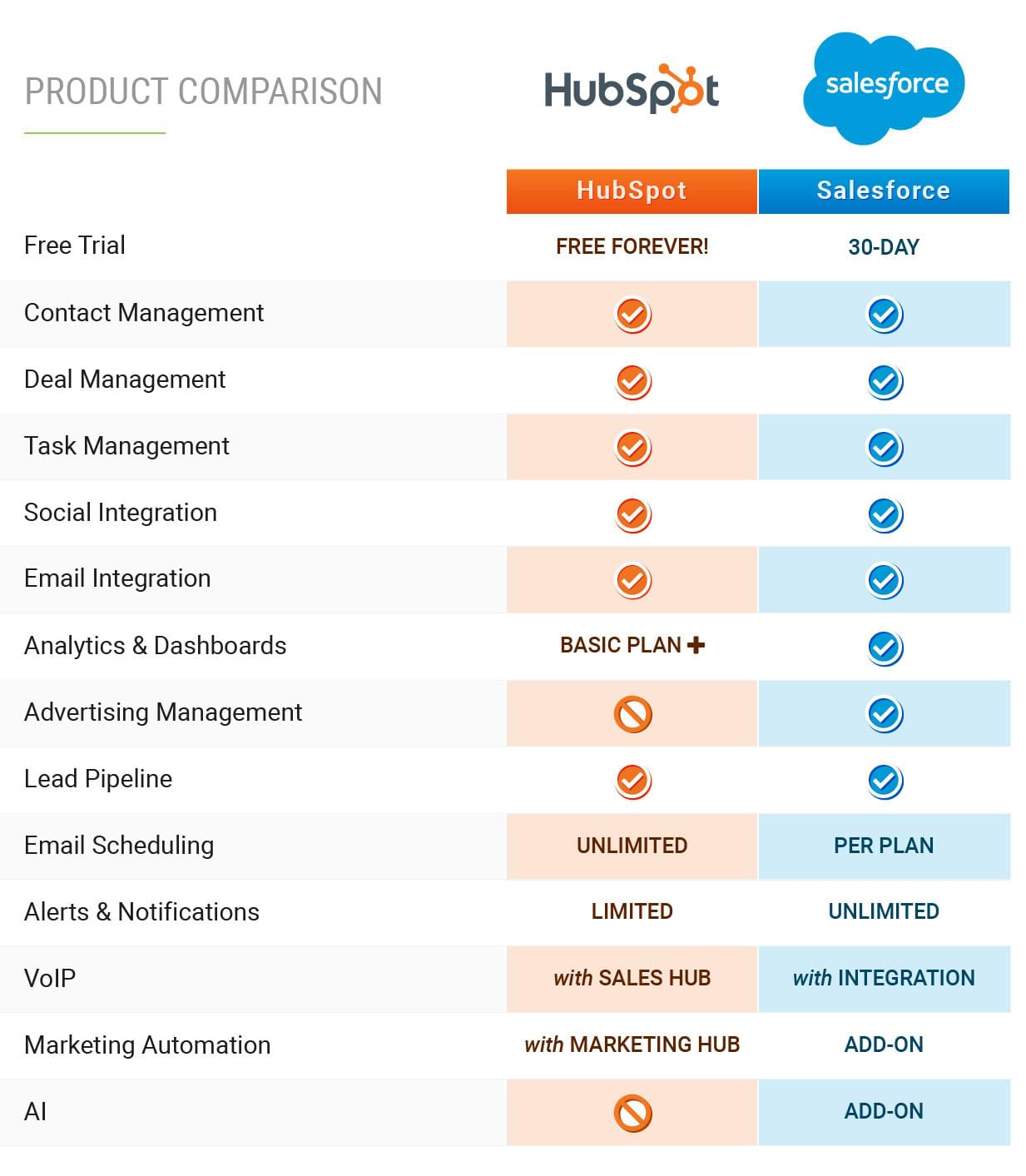 To really boil it down to its essence, the differences you'll want to pay attention to when choosing HubSpot vs. Salesforce CRM have to do with external resources and company focus. Startups and SMBs with a tight budget and able to complete more manual follow-ups with sales and marketing leads should take a look at HubSpot, which offers several powerful features included in the CRM Free to help teams begin to automate their sales and marketing processes. More established companies with larger lead and contact lists will want to investigate Salesforce to see if the features justify the per-user price tag. Because the two tools integrate, companies can start in Hubspot and move to Salesforce as they grow with minimal disruption.
Of course, HubSpot vs. Salesforce isn't the only CRM choice out there. We've got reviews and recommendations for 170 CRMs, one of which is sure to fit your company's needs. Try our CRM Product Selection Tool for fast, free recommendations, or call a Technology Advisor right now at 855.718.1369 for a custom CRM recommendation in 5 minutes or less.
Technology Advice is able to offer
our services
for free because some vendors may pay us for web traffic or other sales opportunities. Our mission is to help technology buyers make better purchasing decisions, so we provide you with information for all vendors — even those that don't pay us.