Pipedrive and HubSpot are two of the leading CRM software platforms favored by small and medium-sized businesses across the globe. Both platforms are designed to streamline sales processes and improve customer relationships without overwhelming the teams with complexity. However, each shines in its unique areas—Pipedrive for its user-friendliness and rapid setup, and HubSpot for its comprehensive inbound marketing capabilities and all-in-one suite of services.
Whether you're contemplating a switch from one platform to the other, or you've whittled down your shortlist to Pipedrive and HubSpot, it's crucial to compare these two platforms. You'll want to compare features, user experience, and pricing to determine which aligns more accurately with your business objectives and needs.
Pipedrive
HubSpot
Ease of Use
Pipedrive's clean, intuitive interface is often praised for its simplicity and user-friendliness, allowing users to navigate seamlessly through the platform.
HubSpot's design is user-friendly, with logically organized features, drag-and-drop interface, and straightforward navigation. It might have a steeper learning curve due to its comprehensive features.
Sales Automation
Pipedrive offers robust sales automation features like workflow automation, enabling teams to automate repetitive tasks and focus on selling.
HubSpot provides comprehensive sales automation with its workflows, allowing users to automate tasks based on a variety of triggers, ensuring efficient lead nurturing and conversion.
Customization
Pipedrive offers high customization, allowing users to tailor pipelines, dashboards, and reports to fit their specific needs.
HubSpot offers extensive customization options, from dashboards to reports, emails, and landing pages, making it a versatile tool for varied business needs.
Scalability
Pipedrive's features can scale to accommodate growing businesses, but may lack some advanced features needed by large enterprises.
HubSpot shines in scalability with its extensive suite of tools in sales, marketing, and service, supporting businesses from startup phase to large enterprises.
Who is Pipedrive best for?
Pipedrive tends to excel when it comes to ease of use and quick setup. It is built with a focus on sales professionals who may not have the same level of technical expertise as a dedicated IT department.
This CRM software provides a clean, intuitive interface that requires little to no coding knowledge to set up or manage, allowing teams to get up and running quickly. It's designed with simplicity in mind, which makes it easier for sales teams to adopt and start using almost immediately.
Intuitive interface
Quick setup
Customizable pipeline management
Email integration
Good mobile app
Built-in calling
Integration limitations
Limited reporting
Lack of hierarchical views
Who is HubSpot best for?
HubSpot was built around the inbound marketing methodology. They offer multiple tools to help businesses attract customers through content marketing, social media marketing, search engine optimization, and branding. With blogging tools, SEO recommendations, social media scheduling, and more, HubSpot is a comprehensive platform for inbound marketing needs.
HubSpot's marketing automation capabilities are often praised for their sophistication. With its visual editor, users can create complex workflows without needing to know how to code.
Another considerable plus for Hubspot is that the platform offers an entire suite of applications, including marketing automation, CRM, CMS, sales, and service hub. This all-in-one solution allows teams to manage their activities in one place, leading to increased collaboration and efficiency.
Pipedrive vs. HubSpot: A detailed comparison
Pricing
Pricing structures for HubSpot and Pipedrive are distinct, making it a task to discern which vendor might be more cost-effective. It essentially depends on the specific needs of a company and the size of its user base.
Pipedrive
Pipedrive's pricing model is straightforward and based on a tier system. There's no minimum user requirement, making it a flexible choice for small businesses or teams.
Pipedrive offers four tiers of pricing, detailed in the table below:
Package
Essential
Advanced
Professional
Enterprise
Cost per month (USD)
$12.50
$24.90
$49.90
$99
Customizable Pipelines
Included
Included
Included
Included
Email Sync
Included
Included
Included
Sales Management
Limited
Included
Included
Included
Reporting and Analytics
Basic
Advanced
Advanced
Advanced
Customer Support
Email and Chat
Email and Chat
Priority Support
Priority Support
Pipedrive also provides add-on options including:
LeadBooster
Web Visitors
Workflow Automation
As the needs of a business change, they may consider upgrading to a higher tier or adding specific functionality via the add-ons. This way, Pipedrive allows businesses to only pay for what they need, potentially offering a more cost-effective solution than HubSpot for businesses with simpler CRM requirements.
HubSpot
HubSpot's pricing structure is also tiered, starting with a free version for users needing basic features and scaling up depending on the complexity of features and number of users.
HubSpot provides four tiers of pricing for most businesses, which are broken down in the table below:
Package
Starter
Professional
Enterprise
Cost per month (USD)
$50
$800
$3,200
CRM Features
Basic
Advanced
Advanced
Marketing Automation
Limited
Included
Included
Reporting
Basic
Advanced
Advanced
Email Marketing
Limited
Included
Included
Customer Support
Email Only
Email and Chat
Priority Support
The above prices apply when billed annually and the prices can change if you opt for monthly billing. Additional contacts and multiple users can increase the cost.
In addition to the core features, HubSpot offers a range of add-on services including:
Additional contacts
Transactional emails
More reporting dashboards
Phone support
Onboarding and training services
As a company's requirements evolve, they might consider upgrading to a higher-tiered plan to access more features. In such instances, the total cost of HubSpot may exceed what customers might pay for similar functionality with other platforms like Pipedrive.
These prices apply when billed annually and the costs can change for monthly billing.
Which should I choose based on pricing?
The decision isn't black and white; it really depends on your specific business needs and size. There are three key differences to highlight in terms of pricing between HubSpot and Pipedrive.
Firstly, HubSpot operates on a scaled pricing model, where users have access to more features as they upgrade, whereas Pipedrive provides more essential features across all plans.
Secondly, Pipedrive tends to be more affordable for smaller businesses or teams, offering more flexibility in terms of user count. HubSpot, on the other hand, can become quite costly as your contact list grows.
Lastly, while HubSpot provides a comprehensive suite of tools encompassing CRM, marketing, sales, and service, Pipedrive focuses on delivering a streamlined, sales-focused CRM, potentially making it the more cost-effective choice for teams that mainly need a user-friendly CRM.
For small businesses with relatively simple CRM needs, Pipedrive is likely the more cost-effective option. Its pricing is straightforward and scales according to the number of users. On the other hand, HubSpot offers more value in terms of the number of features and tools, making it a worthy consideration for larger teams or businesses that require a comprehensive all-in-one solution.
To illustrate, a team of 20 salespeople might find Pipedrive's Professional plan to be more budget-friendly, at $49.90 per user per month, totalling $998. On the contrary, HubSpot's comparable Professional plan stands at $800 per month, but this cost could rise significantly as the number of users and contacts grows.
With this in mind, HubSpot's pricing model might benefit midsize-to-large companies with ambitious growth plans. They could reap more value from the comprehensive suite of tools, even if it means a higher short-term cost. Smaller companies or those primarily focused on sales might prefer Pipedrive's cost-effective and sales-centric CRM platform, offering the flexibility to add more functionality as needed.
Pipedrive vs. HubSpot: Setup and implementation
A successful CRM solution isn't just about the powerful features it boasts; it's also about the ease of setup and seamless implementation. Here, we'll unravel how Pipedrive and HubSpot navigate these crucial stages.
Installation and onboarding
Starting with Pipedrive, it takes the baton for simplicity. As a web-based platform, it eliminates the need for any software downloads or installation. The platform facilitates user engagement from the get-go with prompts and tooltips steering the process. User reviews across multiple platforms consistently highlight its user-friendly onboarding process. It stands out particularly for teams focusing on sales, as the setup is quickly completed, and they can start working on their deals immediately.
HubSpot, offering an integrated suite of marketing, sales, and service tools, requires a more comprehensive onboarding process. However, it doesn't leave users stranded. The platform provides detailed guides and tutorials to facilitate the setup process. User reviews frequently highlight these educational resources as crucial assets that transform the setup phase into a manageable and structured task.
Data import and export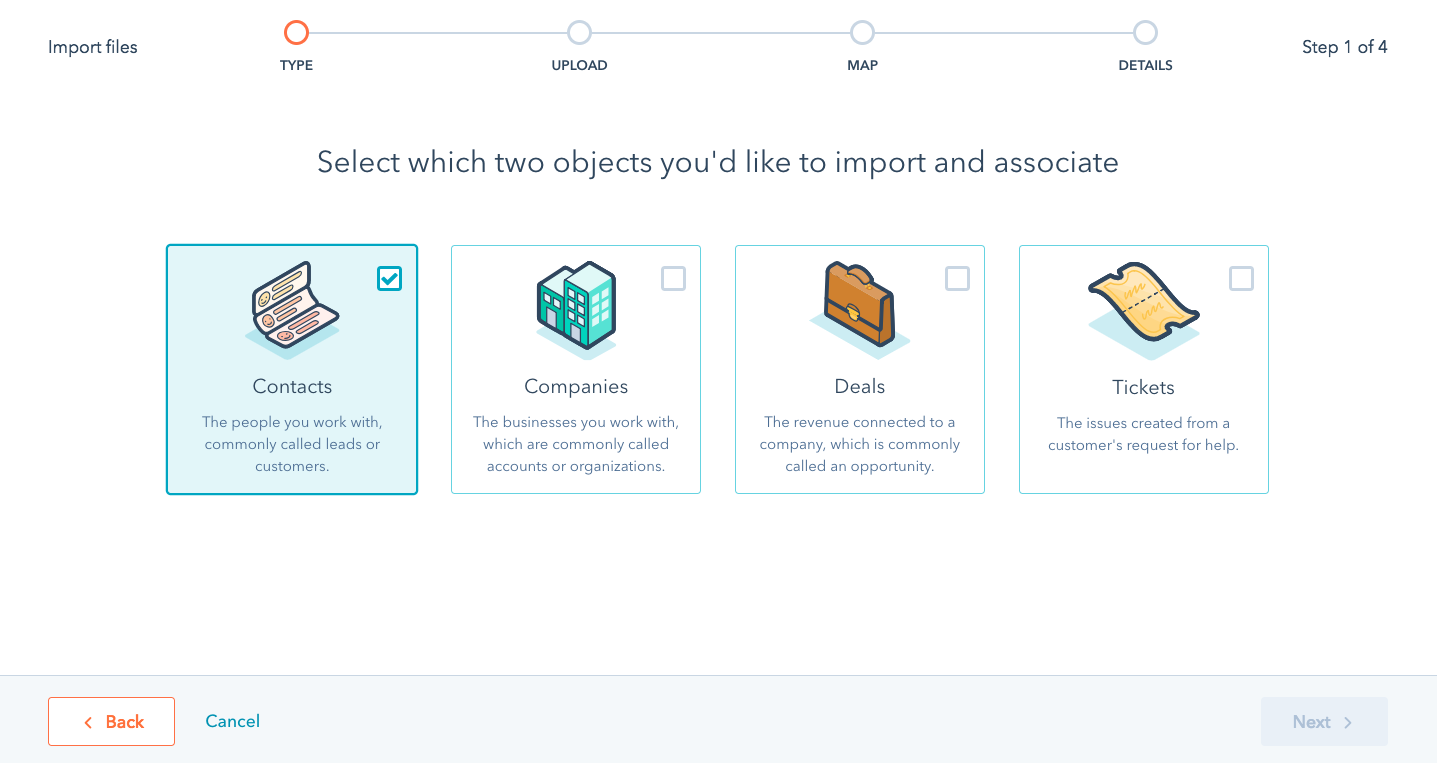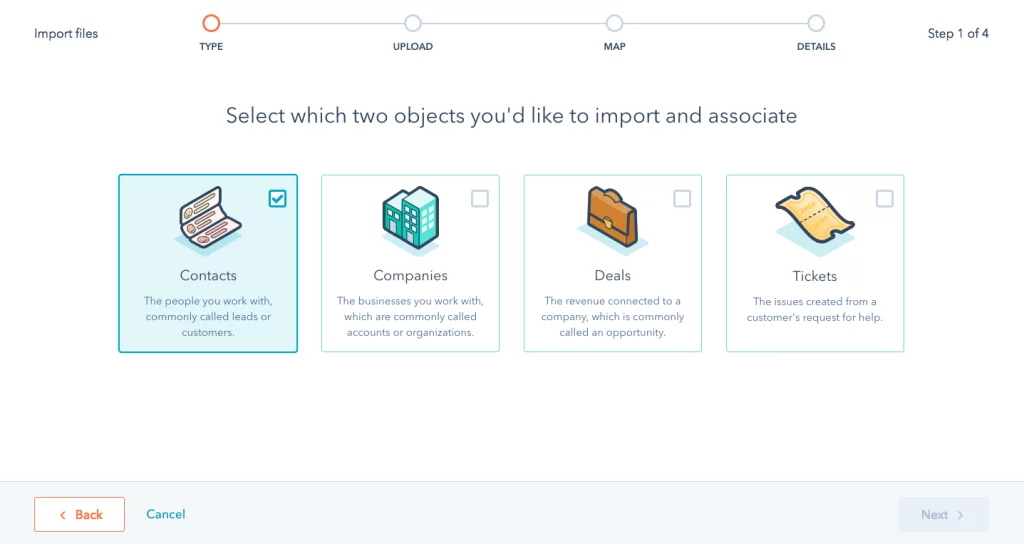 Let's now tackle data migration, a cornerstone of the setup process. Pipedrive ensures the transition is smooth. Its data import function supports spreadsheets and offers compatibility with other CRM systems, streamlining the migration process. The platform's dedicated support team is also available to help, reinforcing Pipedrive's commitment to a smooth transition.
HubSpot also holds strong in the realm of data migration. It supports a broad range of file types for import, and its compatibility with popular CRM systems is commendable. The process is designed to ensure users don't lose valuable data during the transition. Users have consistently acknowledged the smooth data import process and the effective assistance of the support team.
User interface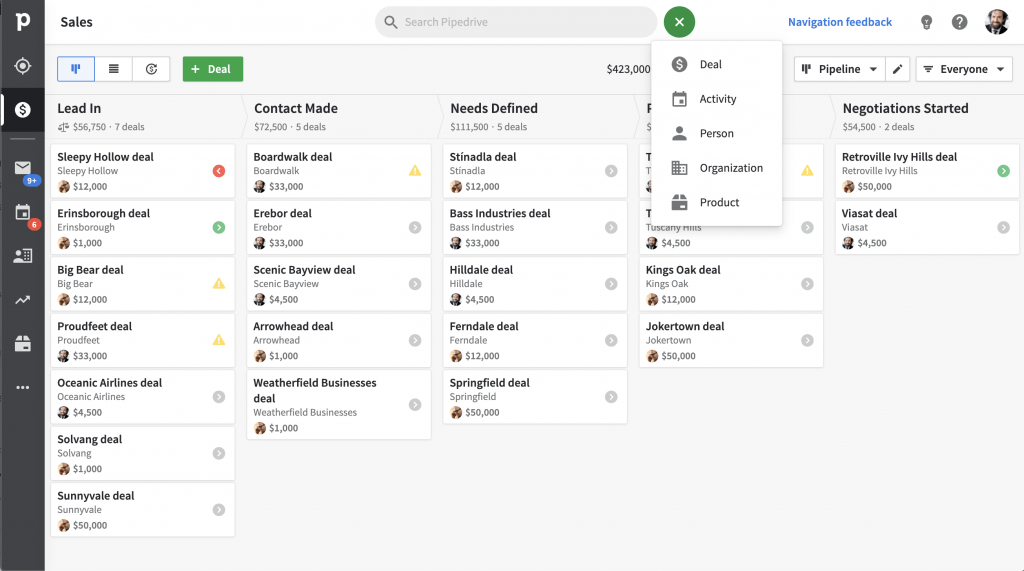 In the arena of user interfaces, Pipedrive employs a minimalist design strategy. Its clutter-free, intuitive interface facilitates effortless navigation, ensuring teams can get started without undue delay.
Conversely, HubSpot, with a plethora of features to incorporate, still maintains an intuitive and user-friendly interface. Despite its comprehensive range of tools, users don't find themselves lost but rather appreciate the simple and organized layout. This balance of offering an all-encompassing suite of tools while retaining usability makes it an attractive choice for businesses.
Pipedrive vs. HubSpot: Reporting and Analytics
Every business thrives on insights, and having the right CRM tool to effectively track, analyze, and interpret data can be the key to unlocking growth. So, let's take a look at how Pipedrive and HubSpot fare in terms of their reporting and analytics capabilities.
Data Visualization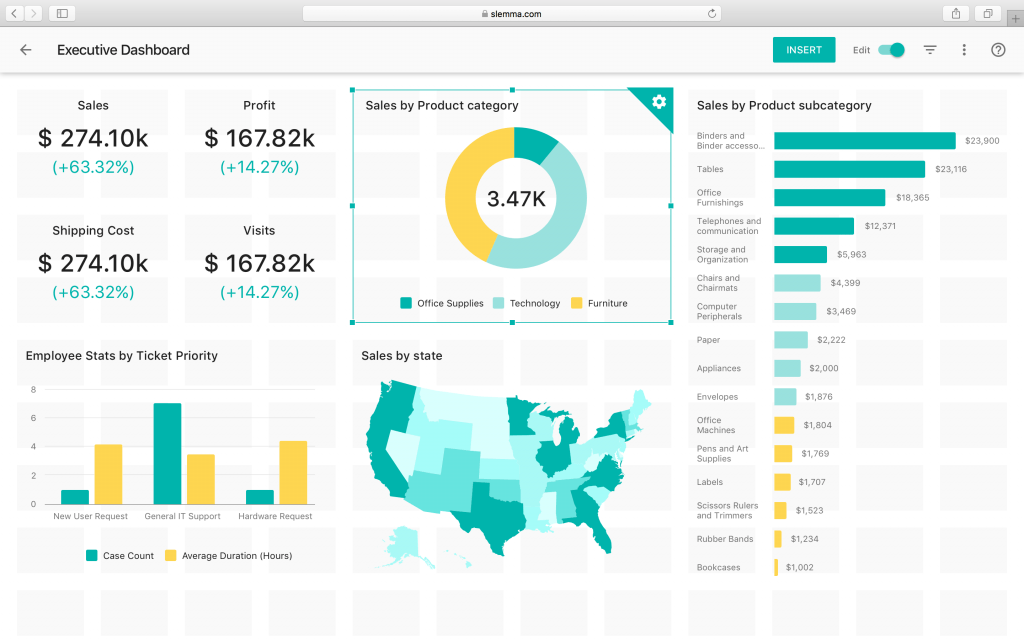 Pipedrive makes data interpretation less of a chore and more of an enlightening experience. Its clean, intuitive dashboards provide a visual treat to the users, making it easy to digest complex data. With customizable pipelines, it's easy to track deals and sales progress at a glance. Users often highlight the simplicity and clarity of Pipedrive's data visualization as one of its strengths.
HubSpot also excels in providing a visually pleasing and comprehensive dashboard. With a wide array of customizable widgets and reports, users can create a unique dashboard that truly caters to their needs. Users find it beneficial to have all their vital data at their fingertips, making decision-making a smoother process.
Report Customization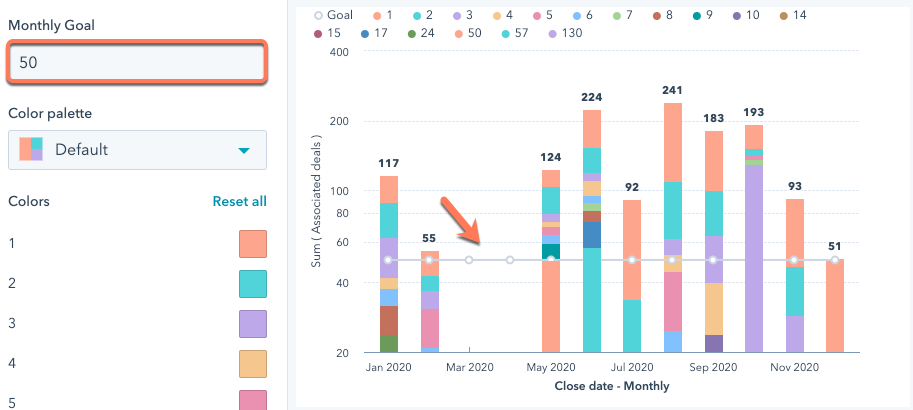 Pipedrive is highly applauded for its customizable reporting features. The flexibility to tailor reports based on unique business needs is an invaluable feature for users. Not only can you track deal progress, but also measure sales activities and forecast revenues. This has been commended by users seeking to monitor their sales objectives closely.
HubSpot isn't one to be left behind in this aspect. It provides a report builder that allows users to dive deep into data and extract meaningful insights. With a comprehensive range of pre-built and customizable reports, it offers a more granular analysis of sales, marketing, and service activities. Users appreciate the depth of insights that HubSpot's reporting allows.
Predictive Analytics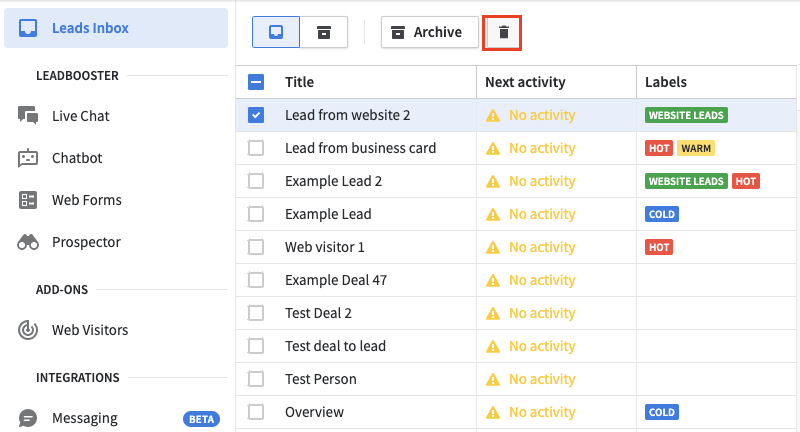 Pipedrive steps into the realm of advanced analytics with its AI-powered sales assistant. This tool, known as LeadBooster, provides predictive insights about deals and leads, enabling users to prioritize their efforts effectively. Users have recognized the potential of these insights in making strategic decisions.
HubSpot, too, understands the power of predictive analytics and offers features such as predictive lead scoring and forecasting. These capabilities enable users to identify high-value prospects and anticipate future sales trends. Users acknowledge the advantage of HubSpot's predictive analytics in enhancing their sales strategy.
When it comes to reporting and analytics, both Pipedrive and HubSpot deliver impressive offerings. Pipedrive's straightforward and customizable approach appeals to users seeking simplicity, while HubSpot's extensive and detailed reporting capabilities make it a favorite among businesses needing more complex analysis. Your choice will depend on the depth and breadth of analytics your business requires.
Pipedrive vs. HubSpot: Email marketing
The art of email marketing is crucial for building and maintaining customer relationships. Both Pipedrive and HubSpot offer tools to support this, but let's dive deeper to see how each platform shines in this domain.
Email templates and personalization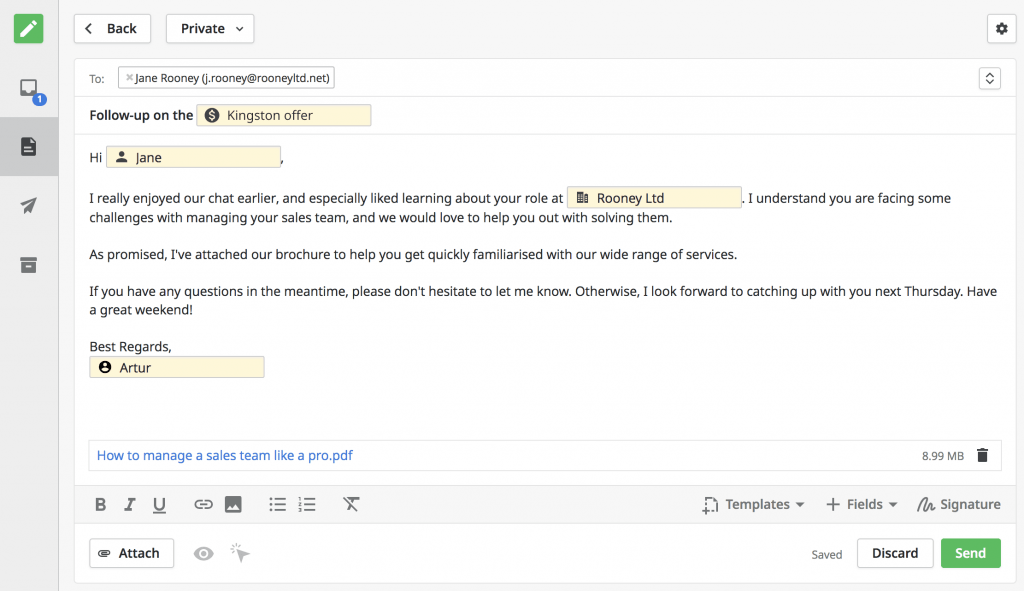 Pipedrive enables users to create customized, professional-looking email templates to streamline communication. With the added advantage of personalization tokens, you can tailor each message to resonate with individual recipients. Users find Pipedrive's template creation and personalization features particularly helpful in saving time and ensuring consistency in communication.
In contrast, HubSpot takes personalization to another level. Along with customizable email templates, HubSpot supports dynamic content insertion, allowing users to tailor emails based on the recipient's characteristics and previous interactions. Users often highlight the power of HubSpot's personalized emails in creating more meaningful connections with their audience.
Email tracking and automation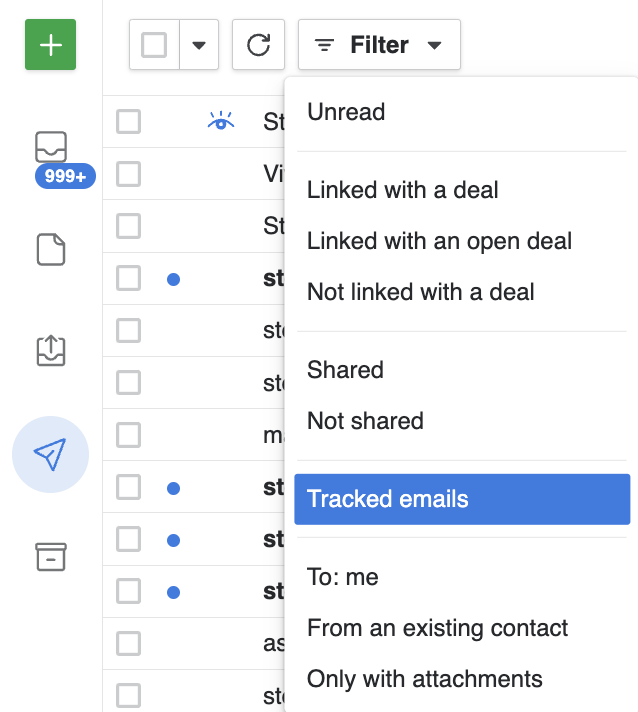 When it comes to email tracking, Pipedrive impresses with its robust features. It provides real-time notifications when emails are opened or links are clicked, helping users follow up effectively. Its automation capabilities also allow users to trigger actions based on email engagement, praised by users for enhancing efficiency.
HubSpot showcases its strength in email automation, allowing users to create intricate workflows based on a variety of triggers. Coupled with its strong email tracking, it's easier for users to nurture leads and convert them into customers. Users frequently appreciate HubSpot's robust automation tools for improving their email marketing efficiency and response times.
Email analytics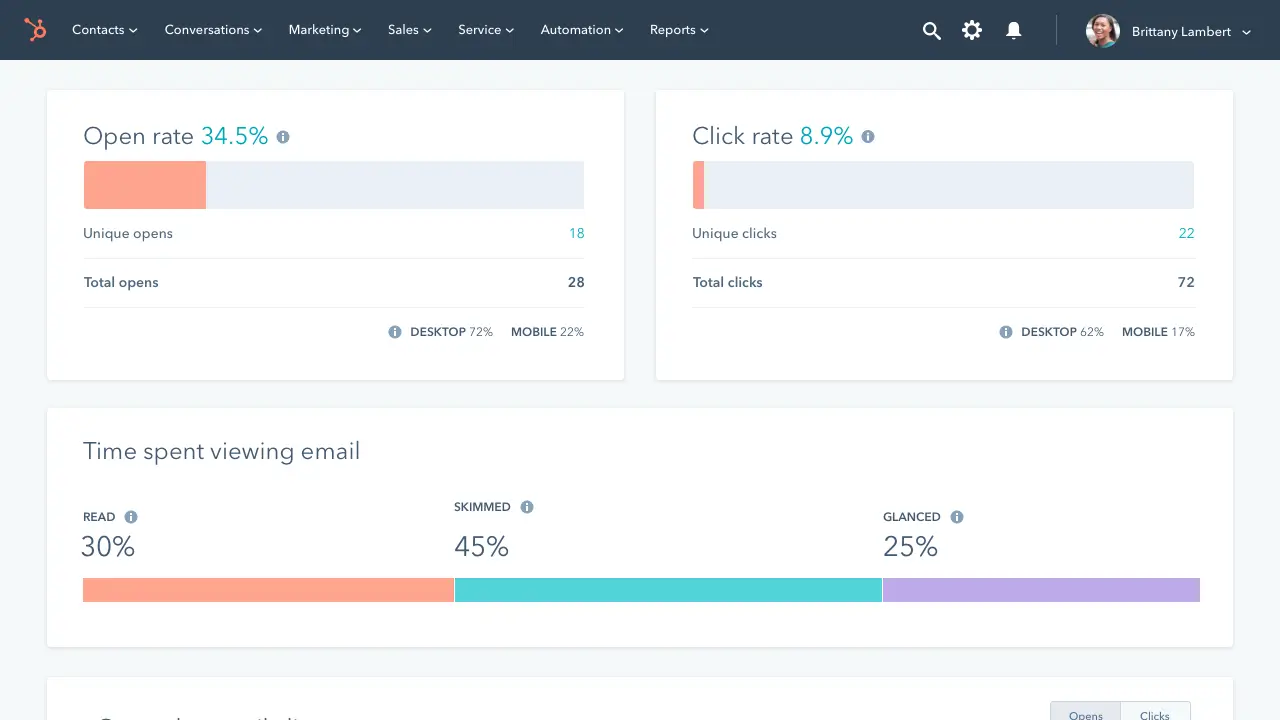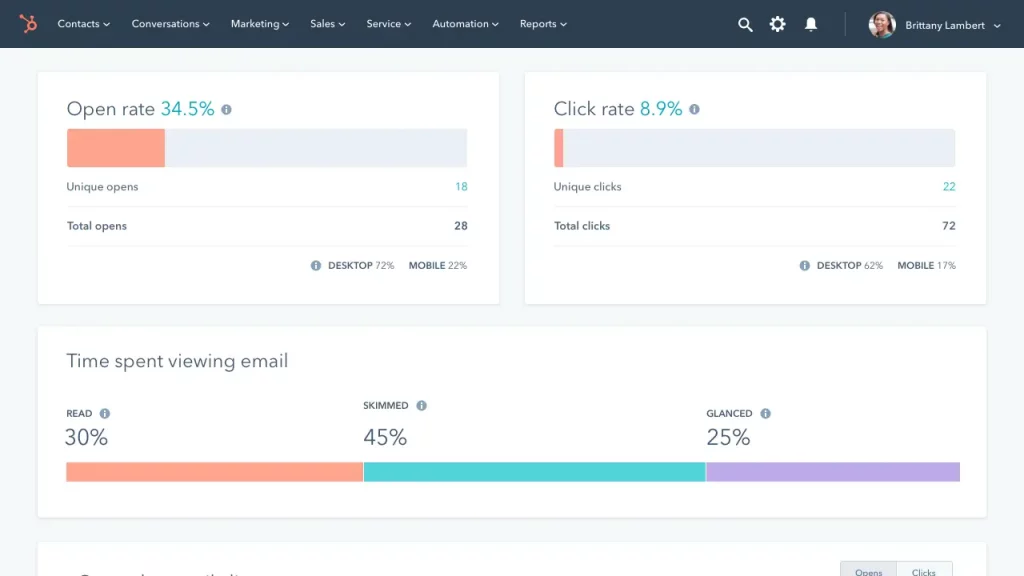 Pipedrive provides substantial insights into email performance. Users can track key metrics like open rates, click-through rates, and bounce rates. These insights can significantly inform future email strategies. Users enjoy Pipedrive's straightforward email analytics for its role in enabling data-driven decision-making.
HubSpot, however, offers comprehensive email analytics. Besides tracking the basic metrics, HubSpot provides detailed reports on recipient engagement, delivery rates, and conversion metrics. Users rave about HubSpot's email analytics for providing a deeper understanding of their email campaigns' success and areas for improvement.
In the realm of email marketing, both Pipedrive and HubSpot have robust offerings. Pipedrive's easy-to-use and practical approach appeals to those seeking straightforward solutions, while HubSpot's advanced personalization and analytics make it an excellent choice for businesses looking for in-depth email marketing tools.
Pipedrive vs. HubSpot: Ready to choose?
In this thorough comparison of Pipedrive vs. HubSpot, we've examined key areas including pricing, setup and implementation, email marketing, and reporting and analytics. Each platform presents a unique set of strengths that make it a suitable choice for different businesses.
Pipedrive stands out for its affordability, straightforward setup, and strong focus on sales-centric features. Its streamlined interface and simplicity make it ideal for small to mid-sized businesses, particularly those with sales teams seeking an easy-to-use, dedicated CRM solution.
HubSpot has the edge when it comes to features that encompass CRM, marketing, sales, and service. Its comprehensive reporting and analytics, coupled with its advanced email marketing tools, make it a powerful all-in-one platform. If your business seeks to unify various functions under one umbrella, HubSpot is worth considering, despite its potentially higher cost.
Ultimately, the decision between Pipedrive and HubSpot hinges on your business size, growth plans, and specific needs. While Pipedrive offers cost-effective, focused CRM capabilities, HubSpot provides a comprehensive suite that grows with your business. Analyze your specific requirements, weigh the pros and cons, and make an informed decision that aligns with your strategic goals.
If neither software meets your company's unique needs, explore other solutions on the market through our CRM Software Guide​​.
FAQs
Is Pipedrive or HubSpot better for small businesses?
A: Both Pipedrive and HubSpot can serve small businesses well. Pipedrive is often praised for its simplicity and affordability, making it a good choice for small businesses on a budget. However, HubSpot's free CRM and scalability can also make it an excellent option as your business grows.
Which has better customer support, Pipedrive or HubSpot?
Both platforms provide strong customer support with extensive online resources, webinars, and email support. However, HubSpot tends to stand out with its additional offerings like phone support and a community forum, making it a slightly more comprehensive choice for customer assistance.
Technology Advice is able to offer
our services
for free because some vendors may pay us for web traffic or other sales opportunities. Our mission is to help technology buyers make better purchasing decisions, so we provide you with information for all vendors — even those that don't pay us.