TriNet Zenefits is one of the best human resources (HR) software for small businesses to scale up their HR functions efficiently. However, companies that want full-service payroll, robust reporting, native recruiting tools, and performance management might want to switch from Zenefits or compare it to alternatives.
If none of the Zenefits' competitors presented here seem like a good fit, explore our HR Software Guide to find the right solution for your business's unique needs.
Zenefits Alternatives & Competitors
Zenefits includes most of the key tools HR needs to run efficiently and scale up as needed, and it's known for its benefits administration capabilities. However, Zenefits' main drawback is its limited payroll, reporting, recruiting, and employee engagement functionalities. Plus, it relies more on partners rather than native solutions, which means data can get lost or duplicated when spread across a patchwork tech stack.
Zenefits alternatives to consider include:
Gusto: Best for automated payroll and employee financial wellness
ADP Workforce Now: Best for flexible, international payroll
Paylocity: Best for employee engagement
BambooHR: Best for applicant tracking and onboarding in one platform
Zoho People: Best for future-ready recruiting and performance management
Gusto: Best for automated payroll and employee financial wellness
Gusto specializes in payroll, but it also performs a range of capabilities that pertain to HR. Its intuitive user interface, market-leading support, and affordable price point make it a popular HR software solution for many small and midsize businesses (SMBs).
Automated payroll
Gusto's winning feature is AutoPilot, which allows HR to set up payroll to run automatically. Zenefits offers automations to remind staff to run payroll on time, but this pales in comparison to the benefits of Gusto's fully automated system.
All of Gusto's plans include payroll, whereas it's an optional add-on for Zenefits users. The Simple tier includes single-state payroll, while Plus offers multi-state payroll. Companies opting for Gusto that have distributed, remote work models will thus need to start out with Gusto's Plus plan. Gusto also offers international payroll in 80+ countries.
Gusto has broad payroll functionality and a variety of automated features to save HR teams valuable time. Small businesses or those with complex payroll requirements are particularly likely to find more success with Gusto than Zenefits.
Gusto Wallet app
Gusto's Wallet is a free app included in Gusto plans. It helps employees set and track their budgets and other financial goals. From the app, employees can easily access pay stubs and monitor how they spend each paycheck.
The Gusto Wallet app enables employee self-service and financial wellness. For instance, employees can use the app to decide which accounts their paychecks go into without asking HR to set it up for them. Zenefits lacks features specifically for paycheck self-service, but it does provide retirement planning and investment tools via partnership with Betterment, which is an external app.
Read also: Why You Should Add Employee Financial Wellness to Your Company's Benefits
Reasons to choose Gusto over Zenefits
Automated payroll.
International payroll in more than 80 countries.
Employee self-service and financial wellness tools in the Gusto Wallet app.
Read also: Gusto vs Zenefits
ADP Workforce Now: Best for international payroll
ADP is one of the world's largest providers of payroll and HR software. Its ADP Workforce Now platform is built with small businesses in mind and includes HR, payroll, benefits, time, and talent management tools as well as analytics.
While ADP Workforce Now includes core payroll features in all of its plans, Zenefits offers payroll as an add-on module. Since payroll is a core HR function many businesses seek in a platform, this means they won't have to pay extra for it with ADP.
Global payroll
ADP Workforce Now supports compliant payroll in more than 140 countries with its Celergo and GlobalView products, which are available as add-ons to any plan. Zenefits, on the other hand, does not offer international payroll, making ADP Workforce Now the clear choice for companies with employees and contractors located outside of the United States.
Flexible payroll methods
ADP Workforce Now enables employers to pay employees via multiple payroll methods. The basic plan allows direct deposit into as many as four accounts, and ADP Workforce Now's partner apps enable payment via carrier mail or a Visa payroll card.
Employees also have access to on-demand pay via the Wisely by ADP and ZayZoon Wages On-Demand apps that integrate with ADP Workforce Now. Wisely services can be added to Workforce Now plans for free, but certain terms and conditions may incur fees for both employers and employees.
Employers can offer ZayZoon service as a benefit employees can elect and pay for at their discretion. A variety of payment methods with this solution means employers have flexibility in how they pay employees.
Reasons to choose ADP Workforce Now over Zenefits
Global payroll in more than 140 countries.
Multiple payroll methods.
Also read: Top ADP Alternatives and Competitors
Paylocity: Best for employee engagement
Paylocity offers an entire suite of products to cover the main HR needs and then some, so users don't have to rely as much on third-party integrations as Zenefits users do. Having most, if not all, tools in one platform reduces the chance of security breaches, is more user-friendly, and enables better data analytics.
Paylocity particularly stands out from Zenefits for its employee experience products, which offer a variety of ways for employees to stay in touch with each other. Companies that prioritize a distributed yet well-connected workforce should consider Paylocity over Zenefits.
Community module
Paylocity goes beyond automated employee check-ins and pulse surveys by streamlining communication in its Community employee experience module. Community is embedded in its platform and replaces external social tools like Slack and even teleconferencing tools like Google Meet and Zoom.
Community lets employees chat, share files and schedules, and give and receive recognition. Employees can engage in text-based or video chats directly from within Paylocity's platform. In addition, users can participate in live or recorded videos and even apply a script to read from for a more polished presentation.
For more formal announcements and communication from organizational leaders, built-in customizable templates save time by eliminating the need to create special announcements from scratch. Administrative users can also schedule, send, manage, and track announcements through Community's convenient dashboard to see who's viewed and engaged. If needed, additional push notifications and reminders can be sent out to boost engagement.
Employee feedback analytics
Though Paylocity features employee surveys like most human resources software, HR has a way to garner and analyze open-ended employee feedback via sentiment analysis tools that create text-based sentiment scores. This approach goes beyond numbers on a Likert scale, which tell a limited story about how employees feel about their jobs and the organization.
Even remote contractors and freelancers who don't have corporate email accounts can take advantage of these features. This helps companies keep all stakeholders in the loop on critical work processes.
In comparison to Zenefits' People Hub, Community supports more varied social engagement and advanced ways to measure employee sentiment in its survey tool.
Reasons to choose Paylocity over Zenefits
Global payroll in 100+ countries.
More advanced employee engagement features.
Built-in learning management system.
Explore other solutions that promote employee engagement: Employee Engagement Software Guide
BambooHR: Best for unified, data-driven hiring
BambooHR is a user-friendly HR solution designed to meet small business administrative needs and give employees efficient self-service access. It features a native applicant tracking system and onboarding solution in one platform.
BambooHR and Zenefits' respective ATS and onboarding functionalities are quite similar, but their technical specifications and pricing are different.
ATS and onboarding in one solution
BambooHR's built-in ATS and onboarding tools work together from within BambooHR's platform to provide a more seamless experience for job candidates than those using Zenefits. While Zenefits has its own onboarding tools, it relies on partnerships with JazzHR, Breezy HR, Greenhouse, and Lever to fulfill customers' recruitment needs.
BambooHR's joint ATS and onboarding in its platform stores hiring data in one central place, which enables more comprehensive and accurate reporting analytics compared to data stored across at least two different systems with Zenefits.
ATS and onboarding capabilities are only available in BambooHR's Advantage plan, which is one step up from its basic plan. By comparison, recruiting is available as an add-on for Zenefits, starting at $35 per month.
Also read: Top Applicant Tracking Systems
Hiring analytics
BambooHR further stands out from Zenefits for its hiring-specific reports and analytics to measure time-to-hire, identify bottlenecks, and spot gaps or inconsistencies in the hiring process. These analytical capabilities help hiring teams continuously improve their hiring process. Zenefits provides a reporting and analytics module but doesn't specify recruiting-related reports and dashboards.
Reasons to choose BambooHR over Zenefits
Native ATS and onboarding in one interface.
Recruiting and hiring analytics.
More than 1,300 varied integrations add versatility.
Performance management as an add-on to any plan.
Also read: Top BambooHR Alternatives & Competitors
Zoho People: Best for automated recruiting and performance management
Zoho People is a comprehensive HR platform that includes various modules focused on specific HR tasks. For instance, in contrast to Zenefits, Zoho People has a native recruiting tool — Zoho Recruit — that automates recruiting and helps managers guide employees to perform their best.
Companies can opt into Zoho Recruit as an add-on or get it included in Zoho People's Enterprise plan. Regardless, users receive access to all of Zoho Recruit's features.
Recruiting automation
Zoho Recruit is a recruitment software solution and all-in-one ATS for reaching, assessing, and hiring qualified applicants. Zoho Recruit also lets outside vendors like staffing agencies participate in a company's hiring process.
When added to Zoho People, Zoho Recruit includes advanced automation, such as customized, drag-and-drop candidate pipelines. Candidates automatically move through or exit the pipeline based on specific conditions or actions like passing an assessment or submitting references. These automated recruiting workflows:
Ensure candidates remain informed about their candidacy.
Eliminate errors and redundancies that arise with manual data entry.
Let recruiters focus on value-added activities like sourcing and evaluating candidates.
Zenefits features automation in its recruiting tool as well, but its automation focuses on candidate matching which is only a part of the entire process.
Predictive analytics gives HR teams an advantage by leveraging past data to make more informed decisions about recruiting strategy and hiring needs.
Performance management
Zoho People includes the same performance management features as Zenefits, except it enables managers to act on the data they collect from performance reviews to discern an employee's potential and their next steps in the organization.
Over time, as appraisal data for an employee accumulates and gets stored in Zoho People, managers can identify and visualize an employee's strengths in a 9-box Skill Set Matrix. This helps managers analyze an employee's performance and make strategic development decisions.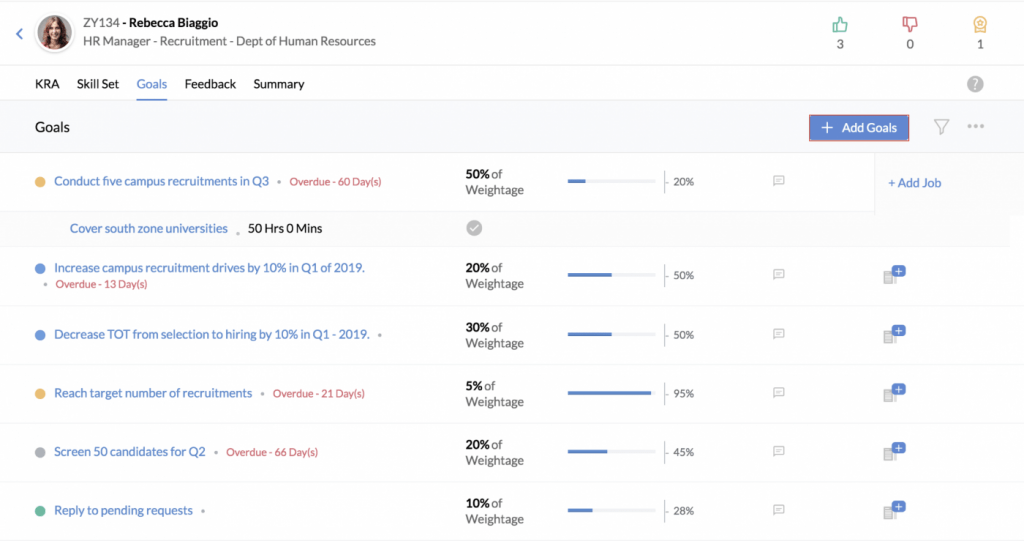 Reasons to choose Zoho People over Zenefits
Robust recruiting automation.
Predictive analytics for recruiting.
Document management.
Performance management analytics.
Also read: Performance Management Software Guide
Choosing the Right Alternative to Zenefits
Zenefits offers a lot of value for the money, delivering most HR functions, including its core strength: benefits administration.
However, Zenefits has some drawbacks. These include:
Lack of native recruiting tools and analytics, which could lead to lost or duplicate employee data.
Limited payroll automation, which means more manual processes.
No global payroll support.
Basic standard employee engagement and performance management tools.
For companies focusing on broader payroll functionality, ADP Workforce Now and Gusto are great alternatives to Zenefits. Companies looking for enhanced employee engagement to keep remote employees connected should consider Paylocity, and companies looking to nurture current employees through robust performance management features should look into Zoho People. Finally, companies prioritizing recruiting and hiring should choose BambooHR or, for even more capabilities, Zoho People.
If none of these Zenefits alternatives meet your company's unique business needs, check out our HR Software Guide to browse other solutions.
1

Workable
Find the best candidates with Workable's applicant tracking software. Workable helps you source, track, and hire candidates, all in less time. Whether you're hiring Employee #2 or 200 new employees, Workable's scalable tools, know-how, and support comes wrapped in enterprise-grade tech that's as easy to use as your favorite app.
2

ClearCompany
Create best-in-class candidate experiences and efficient recruiting processes for hiring success. ClearCompany helps your company find and hire more top talent with modern text, video, and interview scheduling tools. ClearCompany incorporates your job-specific requirements to optimize requisitions, elevate interview conversations, evaluate candidates fairly, and hire top talent aligned with your company's culture and mission.
3

BambooHR
BambooHR is an award-winning HR platform that helps your growing organizations automate, centralize, and connect your people data all in one place. It gives you a one stop shop to manage data, hire talent, run payroll, and help employees grow.
Technology Advice is able to offer
our services
for free because some vendors may pay us for web traffic or other sales opportunities. Our mission is to help technology buyers make better purchasing decisions, so we provide you with information for all vendors — even those that don't pay us.