We're all constantly bombarded with information, both at work and in the day-to-day. At some point, (typically early in our careers), email shifts from a convenient way to hear what's new to a never-ending chore. Fall behind on clearing your inbox, and you'll drown in unread emails.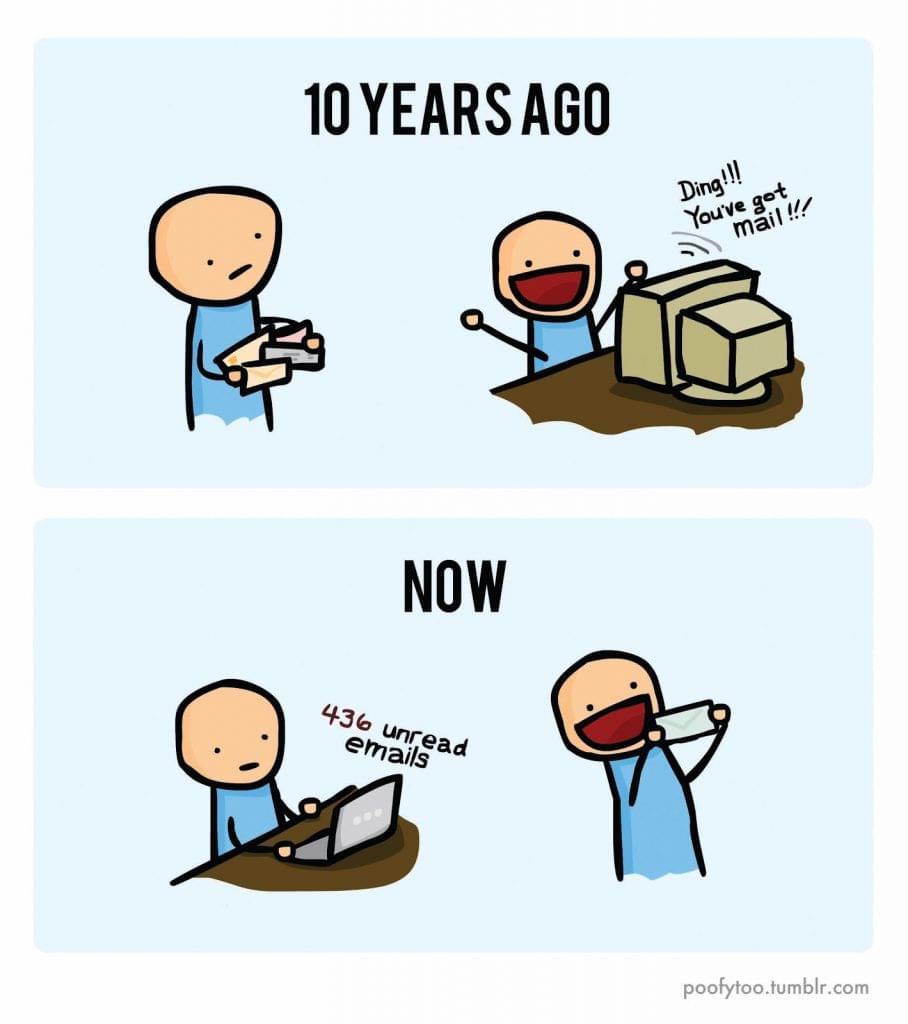 "Email overload is a common phenomenon in many companies," says Andy Jankowski, founder of Enterprise Strategies. "This creates an environment where employees are often out of the loop because of the emails they have not read."
So, if we're decreasingly receptive to email, where has our attention gone? What methods of communication actually get our attention?
One answer is mobile. The average American spends 198 minutes a day on his or her phone, but only 20 minutes on email. If your company is especially forward-thinking and large enough to warrant the effort, you may have experimented with SMS communication. SMS can be very effective at delivering short pieces of information, especially when the information is time-sensitive. But SMS platforms are also notoriously expensive, and some may consider them invasive, depending on the perceived value of the message.
ALSO READ: Choosing a Time Clock App: Top 7 Solutions
Let's think a step further and explore the value of an actual native mobile app. Whether or not you've considered it before, you have the ability to create a custom mobile app for your organization that could help with communication, scheduling, file sharing, company updates, and more. All you need is an internet connection and a few hours to spare.
The whole "app platform vs. custom build" debate is another discussion entirely, but in short, app platforms offer a scalable and cost-effective way to create a branded app that includes hand-picked features, where a custom build allows you to create an app entirely from scratch, albeit you're looking at spending tens of thousands of dollars. This handy tool gives you an idea of what you may spend on custom development.
What's so great about custom mobile apps? They let you stake permanent real estate on your employees' phones and deliver information in an effective, engaging way. It takes recipients an average 6.5 hours to view an e-mail, but only 15 minutes to view push notifications from a mobile app.
Chances are, you've used a custom event app at a conference or trade show at some point, but now we're seeing companies of all sizes using mobile for more quotidian, internal needs:
1. Onboarding & Welcome Programs
Onboarding and welcome programs inherently require that you provide need-to-know information and resources to new employees. Why not make this available on their personal mobile devices? Ideally you'd like them to have access to this information in their downtime, but if it's buried in their desktop inbox, you're only creating barriers.
We're seeing some companies actually building out apps to help new employees transition into their new role. Dedicating a portion of your organization's app to talent development is a great way to get new hires up-to-speed without overloading them.
2. Events, Trade Shows, Conferences
Off-site meetings like leadership summits and trade shows are a great chance to leverage your mobile app. With employees from multiple regions meeting in person to hone their skills, creating a mobile presence for the event ensures you have a central hub of communication. Not only that, but you can use custom engagement features to increase interaction with your brand.
E.g. a real-time, interactive news feed, or push notifications and private messaging. Networking and engagement features extend a corporate mobile app's utility far beyond training.
3. Intern Season
You just hired a new batch of interns, and you need them to get acclimated quickly. Why not create a mobile guide that houses all the information they need, and store this in your company mobile app? Send reminders and encouragement through push notifications, provide resources on-the-go, and get their feedback on training sessions with built-in surveys.
If you've chosen to build onto an app platform, your interns will also have the ability to access interactive feeds and private messaging features. Building a stronger sense of community, even through a mobile app, is a nice bonus.
4. Push Messaging
Whenever your calendar alerts you about an upcoming event, or Uber pushes a message that your driver is waiting outside, that's a push notification.
With a native mobile app, your managers and administrators can use push notification to communicate important updates with your employees. You might even consider connecting your app to company calendars, so team members can receive notifications about upcoming meetings and deadlines. Where email open rates tend to hover around 23 percent, on average, open rates for push notifications approach a whopping 90 percent. Craft the right message for a push notification, and you've got a powerful communication tool at your disposal.
Mobile has grown from a nice-to-have to a need-to-have.
Since about 2012, custom event apps started becoming the norm for large conferences and trade shows. Outside of that, most companies you'd see leveraging mobile were large enterprises with customer-facing apps.
Nowadays, this isn't the case. We're seeing even small organizations use custom mobile apps for more and more use cases, including the ones above. Whether it's a specific internal event, or a year-round resource for your employees, the advantage of mobile is that you're create a presence for your company on a platform where your employees are already spending a lot of their time.
---
Matt Oney is a content creator and community manager at Guidebook, Inc. Guidebook offers a self-service platform that lets you effortlessly create beautiful mobile apps. Through a simple drag-and-drop process, you can create powerful HR apps for your organization, no technical expertise needed.
Top Human Resources Software Recommendations
Rippling is the #1 Rated All-In-One HR Platform. You can onboard new hires in 90 seconds, and easily manage your company's payroll, benefits, HR, and IT -- all in one, modern system. It brings all of your employee systems and data together, and helps automate your busy work. Take onboarding, for example. With Rippling, you can click a button, and take care of a new hires' I-9, offer letter, payroll, health insurance, and more -- 100% online and paperless.
Processing routine HR tasks by hand and entering data in multiple systems can be time consuming and risky. That's why leaders depend on Paycor for a modern, adaptable, and unified system for all things HR. From engaging employee self-service, mobile push notifications and company updates to unlimited workflows, reminders, and notifications, Paycor's HR software helps you get out of the weeds so you can focus on bigger priorities like attracting, retaining and developing employees.
Designed for mid-market organizations (100+ employees). PeopleGuru develops and supports cloud-based Human Capital Management (HCM) software to help mid-market organizations attract, retain, and recognize their people and streamline back-office HR and Payroll functions. PeopleGuru HCM is a cloud-based, agile solution residing on one database that includes: HR, Payroll, ACA, Benefits Management, Time & Labor, Recruiting, Onboarding, Performance, Learning, Analytics, Salary.
Need a Little Help?
Talk with a software expert for free. Get a list of software that's great for you in less than 15 minutes.