If your human resources department still relies on manual payroll, paper employment applications, and disparate spreadsheets, then it's time you upgraded to HR software. From sourcing, recruiting, and payroll, to performance management, employee training, and employee engagement, HR software offers a system for the entire hiring and managing process. The market's many specialized options provide a solution for nearly every pain point an HR department experiences.
However, that's exactly what makes finding and choosing the right HR software for your business so complex. Though there are large software suites that offer all the functions above, not all companies need (or want) a system that does it all. Your businesses may just need a single product for one specific task – like payroll, for example.
To help you navigate the market, we've done the research for you and neatly summarized it in the decision tree below.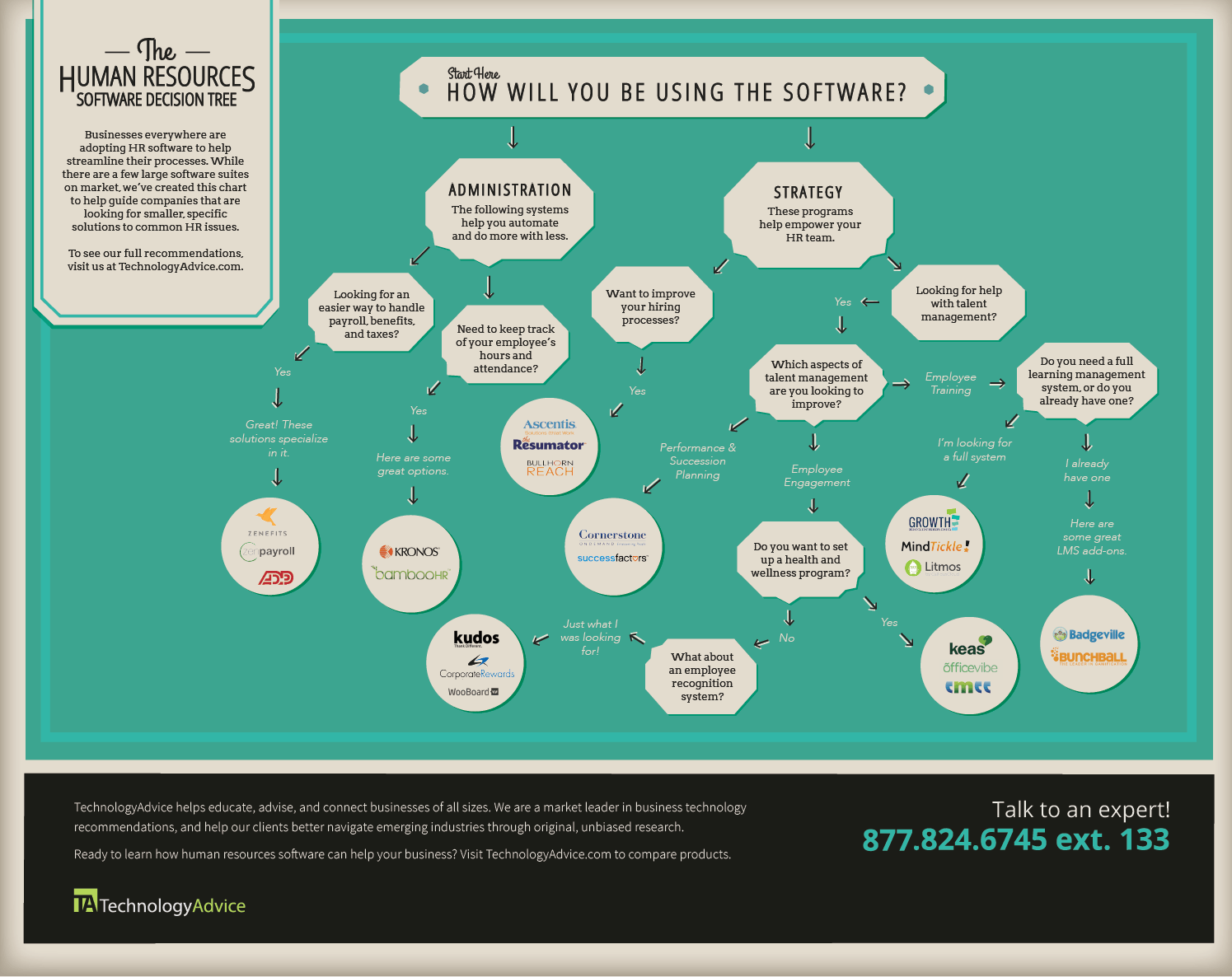 Of course, this is only a way to help you get started – no one infographic can determine the perfect software for your specific business needs. Contact one of our Tech Advisor experts or download our free HR Software Buyer's Guide below to help you learn more about the industry and narrow your choices.
Top Human Resources Software Recommendations
Rippling is the #1 Rated All-In-One HR Platform. You can onboard new hires in 90 seconds, and easily manage your company's payroll, benefits, HR, and IT -- all in one, modern system. It brings all of your employee systems and data together, and helps automate your busy work. Take onboarding, for example. With Rippling, you can click a button, and take care of a new hires' I-9, offer letter, payroll, health insurance, and more -- 100% online and paperless.
Processing routine HR tasks by hand and entering data in multiple systems can be time consuming and risky. That's why leaders depend on Paycor for a modern, adaptable, and unified system for all things HR. From engaging employee self-service, mobile push notifications and company updates to unlimited workflows, reminders, and notifications, Paycor's HR software helps you get out of the weeds so you can focus on bigger priorities like attracting, retaining and developing employees.
GoCo is modern HR, benefits, and payroll, built for flexibility and ease-of-use in mind. Manage records, performance, time off, onboarding, benefits, and more all in one place. GoCo is a secure, compliant hub for sending, digitally signing, and organizing your sensitive HR documents and data. Unlike other HRIS platforms, GoCo is built to be flexible enough to support existing processes, policies, and providers, so you don't have to change the way you work just to adopt a modern HR system.
Need a Little Help?
Talk with a software expert for free. Get a list of software that's great for you in less than 15 minutes.