Any business that handles digital data should be familiar with document management systems. Businesses of all sizes use document management system software to manage their digital files, spreadsheets, and documents. These tools are available as both a product and a document management service, and can increase the efficiency of a business immediately. Using a good document management system can increase the efficiency of a business immediately.
What are Document Management Systems?
A document management system (DMS) manages, creates, tracks, and stores images of physical documents and electronic documents such as word processing files, and PDFs. It provides automatic organization and tracking for files that are made or edited many times a day, as well as version control to allow users to go back to previous versions of documents to check for errors. Permissions can be restricted based on department so no one is opening the files they shouldn't. Backups and data protection are also critical components of document management systems. Any business that functions will have some amount of its work online. A document management system is the easiest way to store and manage data for any business in any industry.
For businesses that need a document management system, there are many options to choose from. The amount of choices can be overwhelming, and the variety of DMS tools on the market aren't necessarily all geared for the same kind of work. Some are made with specific industries in mind, and others are made for users with a higher level of computer use understanding. There are entry level programs and more involved platforms for larger scale operations.
Compare document management systems by feature
Many document management systems platforms provide very similar functionality. This comparison distinguishes between some of the major features: cloud backup, major integrations, and real-time sharing.
| | | | |
| --- | --- | --- | --- |
| | Cloud Data Backup | Integrations | Real-time Sharing |
| | Yes | Yes | Yes |
| | Yes | Yes | Yes |
| | Yes | Yes | Yes |
| | Yes | No | Yes |
| | Yes | Yes | No |
| | Yes | No | Yes |
| | Yes | Yes | No |
| | Yes | Yes | Yes |
| | No | Yes | No |
| | No | Yes | No |
The best document management systems and software
Here is a list of 10 document management systems solutions and what they offer for businesses of all kinds.
OnlyOffice
Ascensio System brings OnlyOffice, an online cloud storage document management system which is incredibly cheap and geared for smaller businesses. It has a strong set of core features and exists as an excellent entry point for utilizing document management systems in a regular business environment.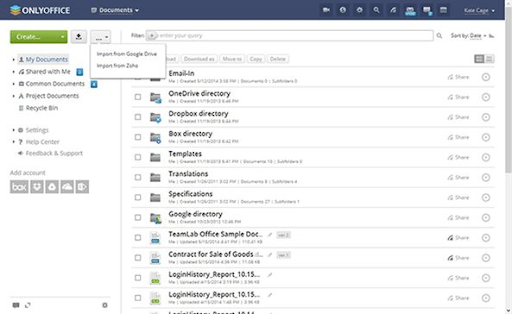 The main draw it offers is the shared online space where documents can be uploaded and simultaneously edited by multiple users. This way, files can be seen and shared for the entire company or for teams within a company, as the file system also allows multiple folders with different names and permissions to be made in the shared cloud server.
OnlyOffice can cost as low as $1 per user for larger businesses and starts at a low monthly subscription service that comes with 40 gigabytes of online storage. It can also connect with DropBox, Google Drive and Microsoft OneDrive business accounts for increased integration with pre-existing company software.
Also Read: SharePoint vs. OneDrive for Business
OnlyOffice is excellent for businesses that don't have experience with how document management systems tools work and need a stepping stone to learn. It's not as feature rich as other solutions, but it's priced for entry-level users and smaller businesses. It allows administrators to bring the entire company together and give them all a level field to work and collaborate from.
SharePoint Online
Microsoft's SharePoint Online comes directly from the same software suite as other Microsoft Office products, and integrates them easily. It even comes with Microsoft Office 365 and functions as the default sharing and collaboration tool provided by Microsoft itself.
SharePoint is geared as a major business infrastructural document management system, something that comes with a matching price point, and requires assisted installation to fully integrate an environment by Microsoft software engineers. Once that's completed, it will open up online, shareable versions of essential Office software like Word, Excel, PowerPoint and Outlook.

SharePoint synchronizes files for all users, which allows for real-time updates across wide networks and multiple users. Documents can be shared or restricted to specific people, and all changes and edits are logged with individual versions that can be accessed and recovered as necessary.
It also has enhanced safety features compared to other solutions. In addition to basic data loss prevention and document retention, documents can be given labels that give them restricted access. These documents may include sensitive information like credit card numbers, and will be locked from sharing except by privileged parties who are given administrative access within the system by supervisors. It's an excellent service for legal or healthcare fields and even comes with pre-made HIPAA compliant securities to keep patient confidentiality safe online.
DocuWare
DocuWare has been around since Windows 3.0 — right when document management and interconnected networks became part of business environments. This is a long lasting enterprise system made for larger businesses and carries a larger price tag than some other options on this list.
With decades of experience to build on, DocuWare Cloud offers advanced features that increase effective collaborations between teams in shared files and documents. Its main draws are how it handles document importation and forms.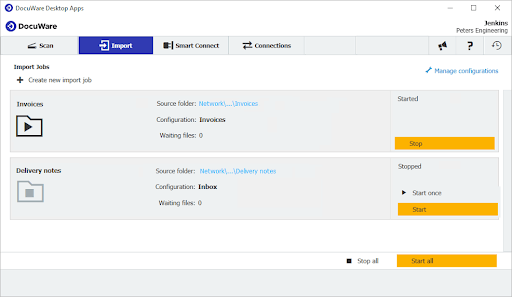 Importing documents into DocuWare gives users several options for increased efficiency, such as scheduled uploads from select directories across multiple user workstations. This allows documents to be uploaded automatically to the cloud on a set timeline. Documents can also be directly uploaded and placed within the cloud environment by admins. Optical Character Recognition is also a built-in feature with highly customizable parameters so each document uploaded will be automatically scanned and checked for business-related keyphrases and hard to spot errors.
Forms can be designed and filled out based on content sent through documents into the cloud. The forms can be worked with and built in the cloud system without any additional software, and the editing process can be controlled so only select members can edit and work with the forms before they are put into use.
Hightail
Hightail specializes in sharing and editing images and video files, and is much more of a creatively geared sharing space for editors and content creators who work with large files that need to be uploaded and shared repeatedly. It's cheap enough to work for solo artists who work by commission or smaller businesses that do video editing for high end customers.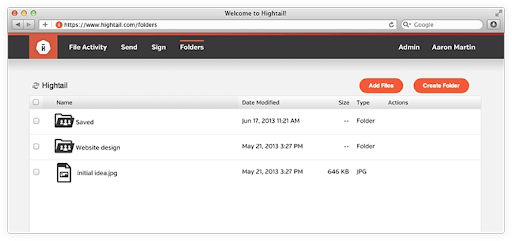 It starts with a free plan that has limited support and sharing space. The Lite plan has 2 gigabytes of storage and a maximum file size of 100 megabytes, which works for smaller video files and moderate quality images. The Pro plan is still geared towards single individuals as a business but opens up to 25Gb files and unlimited storage. It also adds more security and support. More expensive plans are open for established teams and small business sized operations.
Hightail is centered around image and video sharing and storage, primarily the MOV video type, JPG and PNG images, MP3 for audio and DOCX or PDF for basic text. It also has a customer-access feature that allows end users and customers to collaborate with threaded comments and suggestions, so that the work can continue without either side having to download or re-upload the content. It also has an Uplink feature, where customers can upload their files with a special one-use hyperlink that sends their content directly to the cloud for receipt.
Rubex
Rubex is a highly mobile document management systems software with a focus on data sharing and security, and less of an emphasis on live editing and collaboration. Documents cannot be edited in the system itself, but every new upload and change is tracked and monitored carefully, detailing where the new forms came from and what changed between them.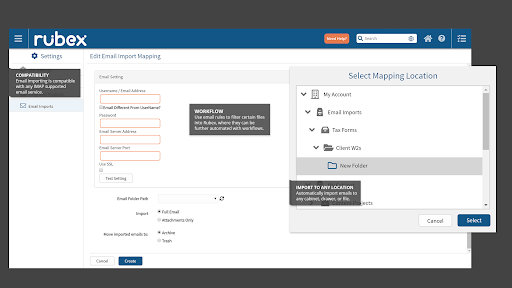 Rubex primarily focuses on the storage and security aspect of a document management systems. The most basic package is priced by user with up to 25 GB of storage, and the plans scale up from there. It integrates with Microsoft Office products. Higher tiers of payment plans come with more features that are made to assist with enterprise-scale smaller businesses that can make use of the higher level features regularly.
The main feature the storage tool boasts is advanced search. Users can search with a wide array of parameters to find documents in a highly populated environment. It also uses OCR capture and various automated processes to store and describe documents as soon as they are uploaded.
User experience is prioritized to make searching and finding documents as easy as possible for all end users. It scans all documents for keywords so they can be found and picked through, not unlike a digital filing cabinet, and then downloaded at will.
eFileCabinet
eFileCabinet Online is, as described, like a filing cabinet that can be accessed online. It's a quick and efficient storage solution for all kinds of documents. Its main focus is on searchability with OCR implementation and file compatibility with Microsoft Office and all forms of text based documents.
While it is fairly pricey, it does have a 30 day money back policy, so a company can try it before committing to it fully. If they do stick with eFileCabinet the business will find a decent suite of features newly built to support strictly online file processing and storage.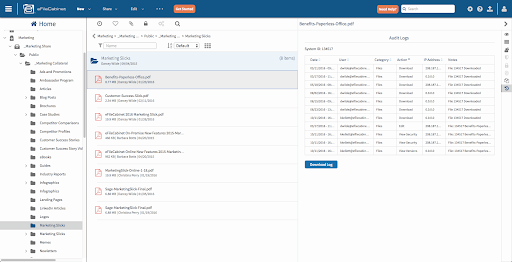 One thing it can't do is edit files on its server. It makes up for that by having in-depth tracking and version control of the files that are downloaded and then uploaded with changes in place. Higher tiers of service will track each change and scan files using OCR integration for keywords and phrases to make later sorting even easier.
File sharing comes with built-in protections. Users can add password protection so that files can only be shared with specific users or even add expiration times to files that will automatically be removed if not accessed in time, for sensitive information that shouldn't stay online for long.
Ademero Content Central
Ademero has a strong following for people who regularly use business document management systems tools. This is because it is highly customizable, and offers as many features as its competitors with even better implementation. It's a solid choice for a business that is already used to document management systems but wants more in the way of direct control over the system at hand, which makes it an administrator's choice in document management systems.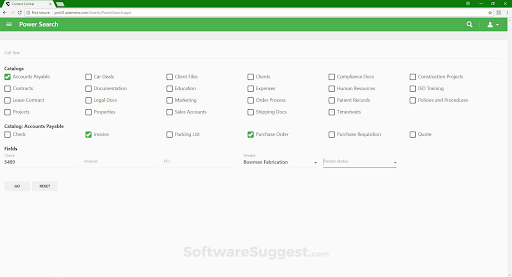 Part of Ademero's appeal is its integration with other business software such as QuickBooks and Workday. Its integration is so good that it has a developed feature called Zonal Recognition, where documents uploaded will be scanned, compared to other documents, and any patterns found will become part of an automated template that Ademero will recognize as a specific kind of form. It can detect forms without needing directly programmed instruction on what those forms are.
But direct programmed instructions are also part of its powerful suite of customization. Admins can program search and retention functions directly into the system so that it will automatically scan and receive data from documents. It can even do the reverse and output data received from documents into structured forms that can then be sent out to other users.
It takes some extra education to learn all of Ademero's more complicated tools, but using them can put a business far ahead of its competition in terms of data retrieval.
Adobe Document Cloud
Part of the ever popular Adobe software suite, Adobe Cloud offers all the support and integration with its basic PDF format for teams on desktop and mobile. As it is focused on Adobe, it lacks compatibility with most file types and strictly focuses on PDF files. It's more of a sharing and tracking application that can come standard with the rest of Adobe's products.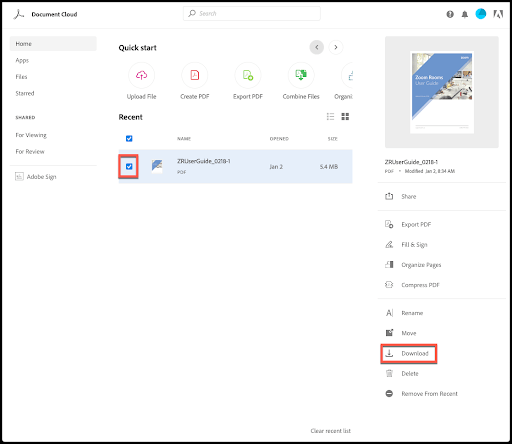 The main benefit of Adobe Document Cloud is if you're already signed up for Adobe's other services which includes its other applications and programs, you can add this to it easily on your existing account. Its main features are sharing and Adobe Sign, which allows PDF forms to be filled out with signatures collected either as digital signatures or as image files from writing pads.
It utilizes OCR to scan documents and provide enhanced search ability within its own database. While it is an Adobe-first product, it can still export documents in Microsoft Office compatible formats as well. It can also store those files, but they must be converted into PDFs to be edited, which can be limiting.
If your business works primarily with PDFs or uses mostly Adobe related programs, you may as well add this to the working suite.
Fluix
Fluix is a document management system made specifically for the Apple computer systems, and is geared for use with the iPad and its touch screen functionality. This means that it has a direct focus on working with Apple document types that other programs struggle to manage. It's also highly mobile, allowing for data sharing to be managed from anywhere an iPad can connect.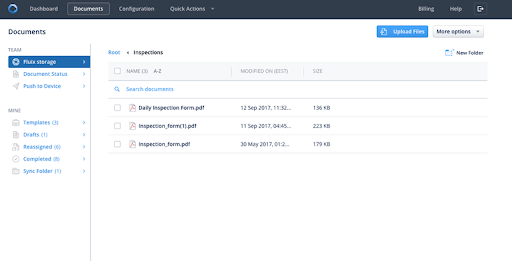 While it is made for the iPad, it still integrates the more common PC file types and integrates other common sharing networks such as Google Drive and Dropbox. Files can be restricted and users can have certain features restricted as well to prevent unwanted editing or alteration of content on the system.
These feature controls extend to the iOS application behavior as well. Password and two-factor authentication can be managed to provide heightened levels of security that fit for the mobile factor that the application is made to handle.
The main goal of Fluix is to provide fluidity of data so that a business can trade all of their paper formats for digital and carry it easily in an iPad. It is limited by its preferred hardware in terms of what is frequently made using iPads, but its integration across other networks makes up for that.
PaperTracer
PaperTracer is a business-first document management solution with high amounts of customization but a relatively low field of use. It's only suited for PCs on Microsoft's IE 11 browsers with the Silverlight 5 plug-in, as it was programmed specifically for that browser-based environment.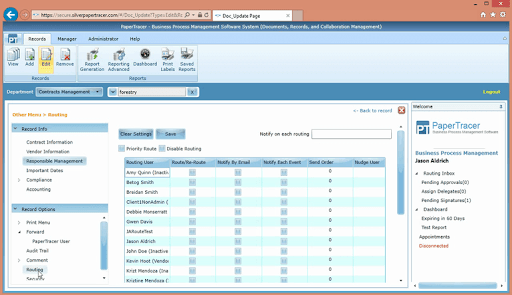 Despite that, it offers a large degree of customization with granular control for users. Administrators will find a wide range of permission variability for all users, allowing data to be handled with precision and care across the board.
It also has customizable metadata fields, allowing users to differentiate documents at multiple levels for easier search and retrieval.
PaperTracer specializes in Contract Management for legal fields, and allows for contracts to be authored with special permissions by an administrator. This means only the legally distinct and correct users will be able to interact with the contracts they have authored and the client signatures will be verified and secured by the system.
With many workflow templates and excellent data handling, PaperTracer brings high end performance to smaller businesses that have a legal focus which many other platforms can't quite deliver.
Choosing the right document management system
Document management software should not be ignored, even for the smallest business. More and more information is produced digitally and that information will become a hassle to handle by regular means. A good document management system that fits with your company is essential. Any office that handles data and digital information needs a complimentary document management system so the data is put in the most important position it can be. Don't think that a simple email and desktop folder system is enough. Consider the security implications, the utility of file sharing, the benefits of automatic sorting, live editing and cloud hosting. If you understand data sharing, you should understand the importance of document management systems.
Technology Advice is able to offer
our services
for free because some vendors may pay us for web traffic or other sales opportunities. Our mission is to help technology buyers make better purchasing decisions, so we provide you with information for all vendors — even those that don't pay us.